Fresh Cranberry Relish is the easiest Thanksgiving recipe. It comes together in less than 10 minutes and can be made the night before. This Cranberry Orange Relish will add the perfect bright flavor to your holiday plate.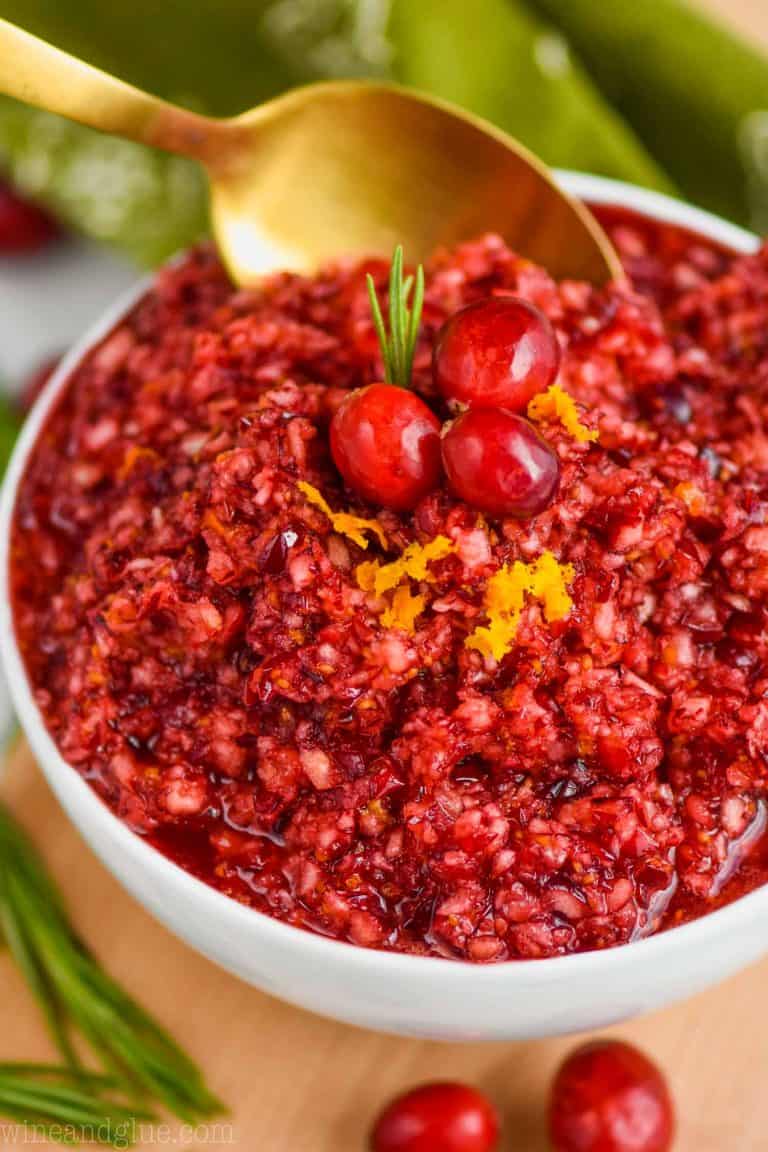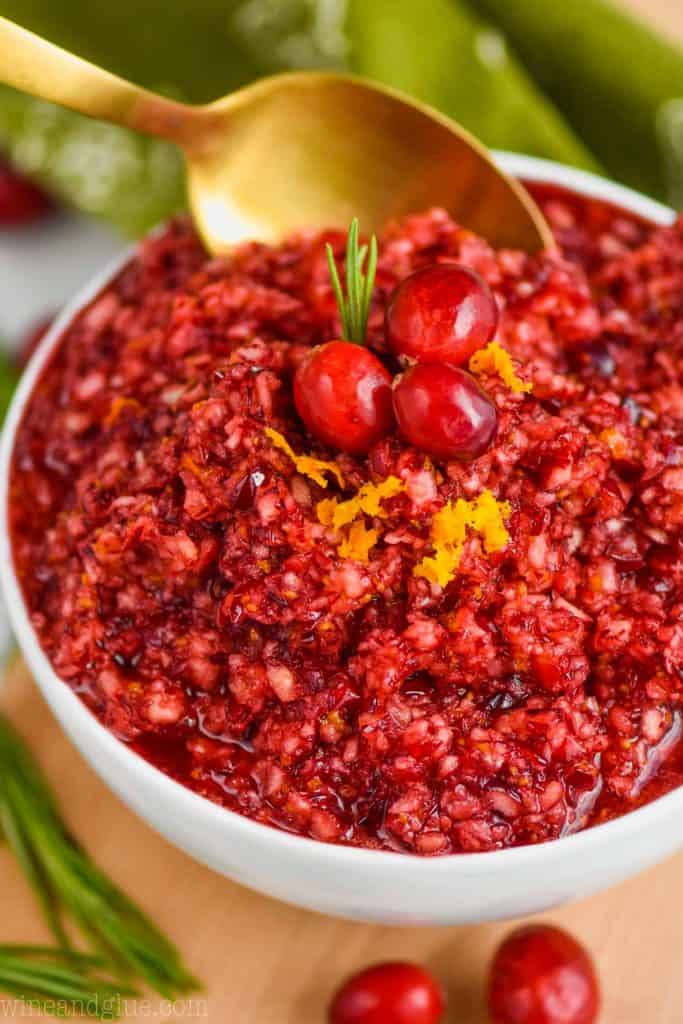 Recently we posted this Homemade Stuffing recipe on our Facebook page and commented that it is the true star of the show. No joke, I could eat only stuffing on Thanksgiving and be a happy happy girl.
I was shocked when SO many people commented that it wasn't true. That Cranberry Relish was, in fact, the actual star. Additionally, Cranberry Relish, the fresh and raw cousin of Cranberry Sauce, is perfect eaten with Thanksgiving Turkey.
Fair enough, guys! It's time to add a Cranberry Relish recipe to our Thanksgiving plates.
Reader Review
Fantastic!!! My family loved it!!! I will definitely make this again. So so good, better than cranberry sauce.
What is Cranberry Relish
Cranberry Relish is essentially chopped up cranberries with orange juice and zest and some sugar. The raw cranberries combined with the other ingredients truly shine. When you start with bright, plump, fresh cranberries, you are bound to create something amazing.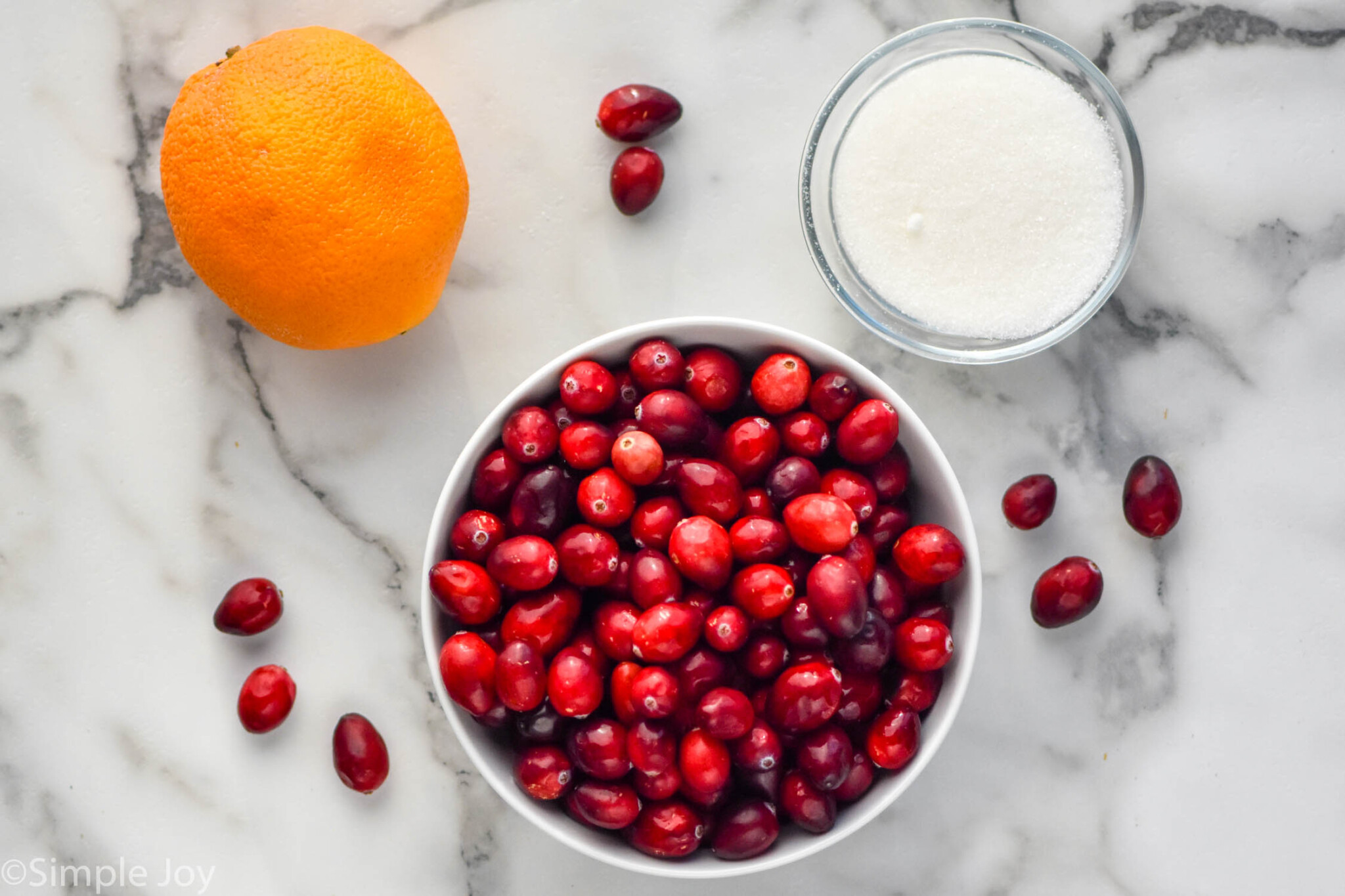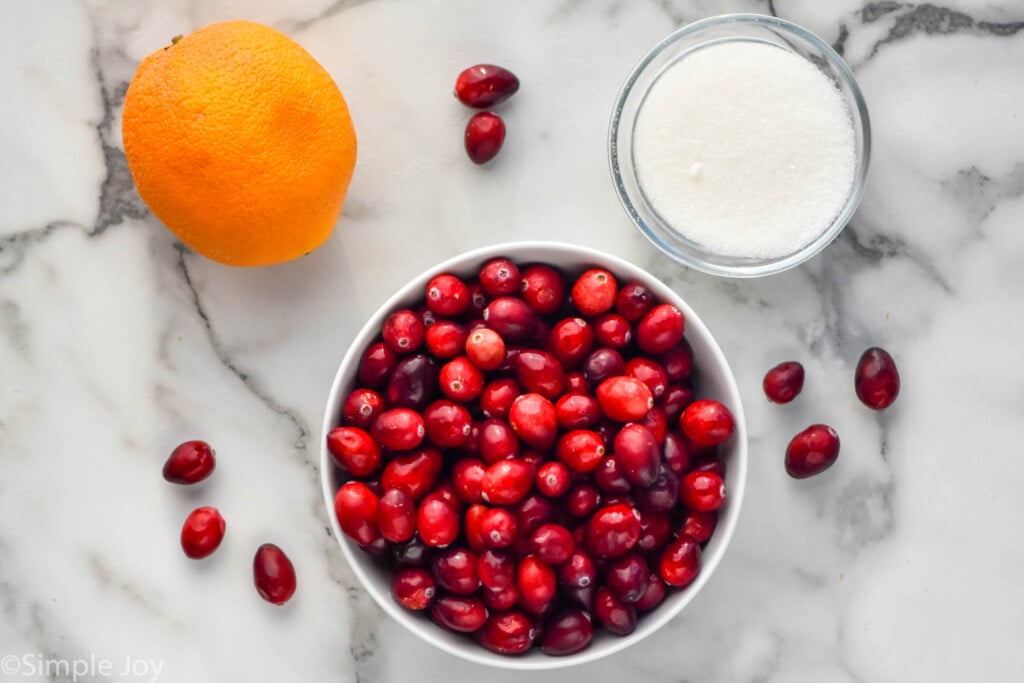 Cranberry Relish Ingredients
You literally only need three ingredients for Cranberry Relish.
Fresh Cranberries: Take a good look at the bag and make sure that most of the cranberries are nice and plump. Give them a good rinse before making this recipe and pick out any cranberries that are wilted.
An Orange: Look for an orange that is nice and firm and seems heavy for its size. Skip over any that have soft spots on them.
Sugar: This recipe does call for a decent amount of sugar. My feeling is that we only have this once a year, so we better go for it. You can always start with less sugar and add more. Read more about this below.
How to Make Cranberry Relish
This is a brief overview to show you how simple this cranberry relish recipe really is. For the full recipe with all of the measurements be sure to see the recipe card at the bottom of the post.
Add the cranberries to a food processor. Make sure to not over pulse your cranberries. If you don't have a food processor, you can use a grinder (stand alone or one you attach to a stand mixer) or a blender.
Mix in the remaining ingredients. Stir in the sugar, orange zest, and orange juice.
Allow to marinate. While you can eat this right away, it is best if it sits for at least an hour.
TOP PICK
Ninja Blender Set
I am obsessed with this set. The food processor is perfect for this recipe. I use one of the pieces almost daily.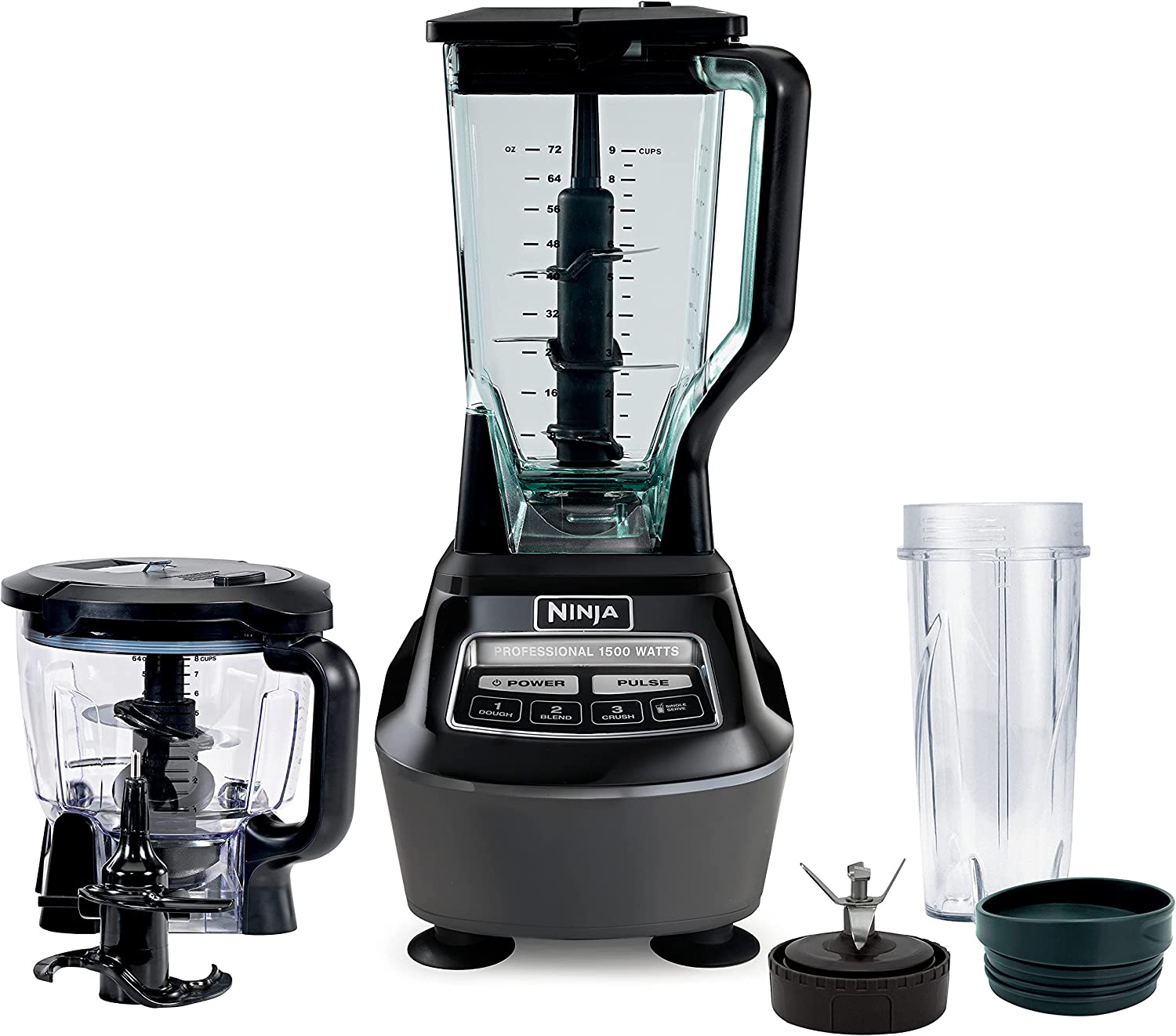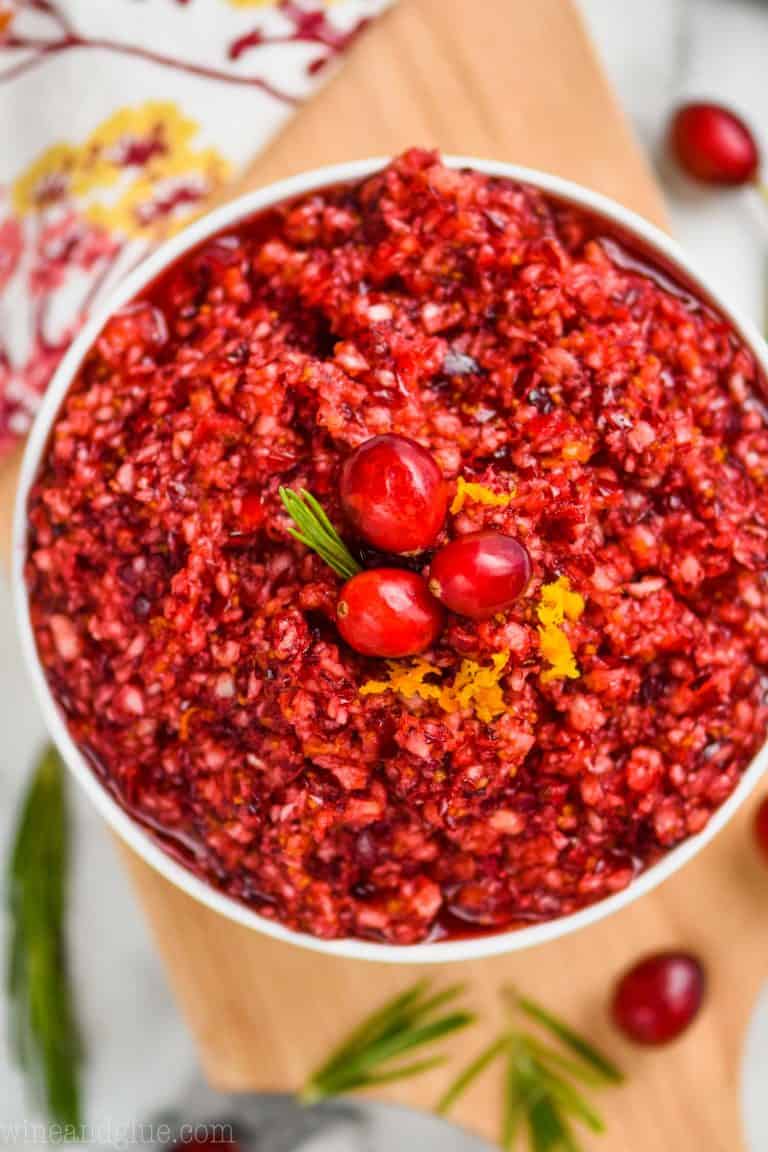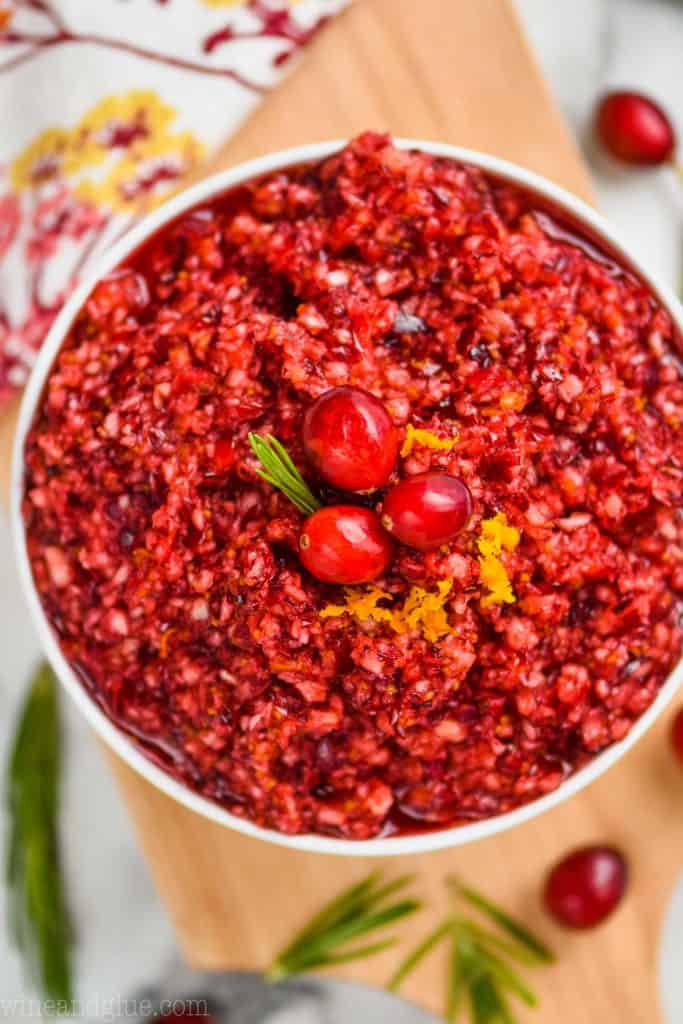 Sugar in Cranberry Relish
This recipe does have half a cup of sugar in it. I think that is the perfect amount for this cranberry relish recipe. Keep in mind that cranberries and oranges are both acidic. In cooking, sugar is often used balance acid, and that is part of it's job here.
If you are worried about how much is added here, start with half and taste it until you reach an amount that tastes good to you. Another great option is to replace the sugar with monkfruit.
Cranberry Relish Variations
If you want to change things up there are a few things you could try. I wouldn't recommend trying all of these! Pick one variation. I love experimenting with recipes.
Add apple slices to the food processor when you chop the cranberries.
Or pull in another flavor completely by adding pear slices. Be sure to choose a pear that is still somewhat firm.
Really take things down a different path by adding a few fresh jalapeño slices.
Add the orange zest, but not the orange juice and replace that with pomegranate juice.
Throw in a pinch of cinnamon at the very end.
Kick it all up a little by adding a shot of orange liqueur, such as Cointreau.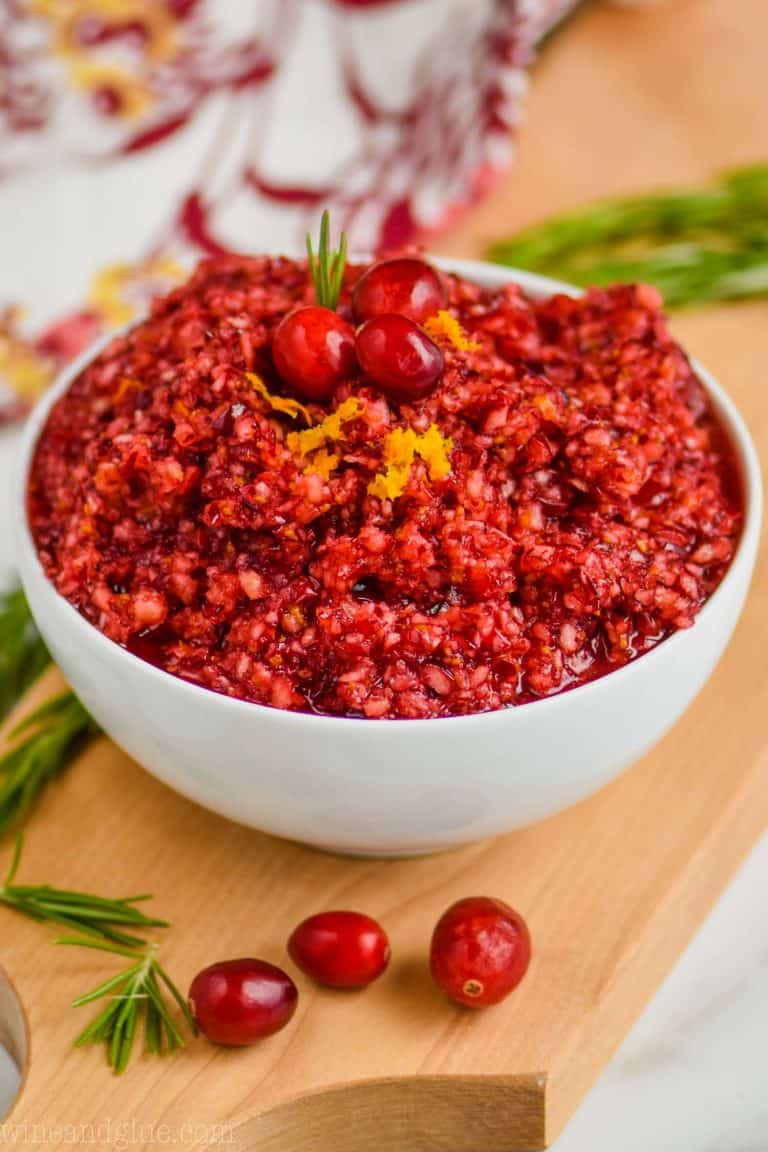 How to Eat Cranberry Relish
Cranberry Relish is delicious eaten straight just like cranberry sauce. Or pop a little on a piece of turkey and get a delicious combo of flavors. But if you want to get creative here are some ideas!
Storing Cranberry Relish
This is a great recipe to make ahead of time. It will last in your refrigerator up to one week and is best served cold.
While I personally would recommend making this the day of or the day before serving, you can freeze cranberry relish. Store in an airtight container and freeze. Use within one to two months. Let thaw in the refrigerator for a few hours before serving.
FAQ
Can you freeze cranberry relish?
Yes! I think it is best when it is made fresh, but it can be frozen. Store it in an airtight container in the freezer for up to three months.
What is the difference between cranberry sauce and cranberry relish?
The primary difference is that cranberry sauce is cooked and cranberry relish is raw. Because of this the texture is quite different as well as the taste.
How long is homemade cranberry relish good for?
Cranberry relish leftovers will last in your refrigerator for up to one week.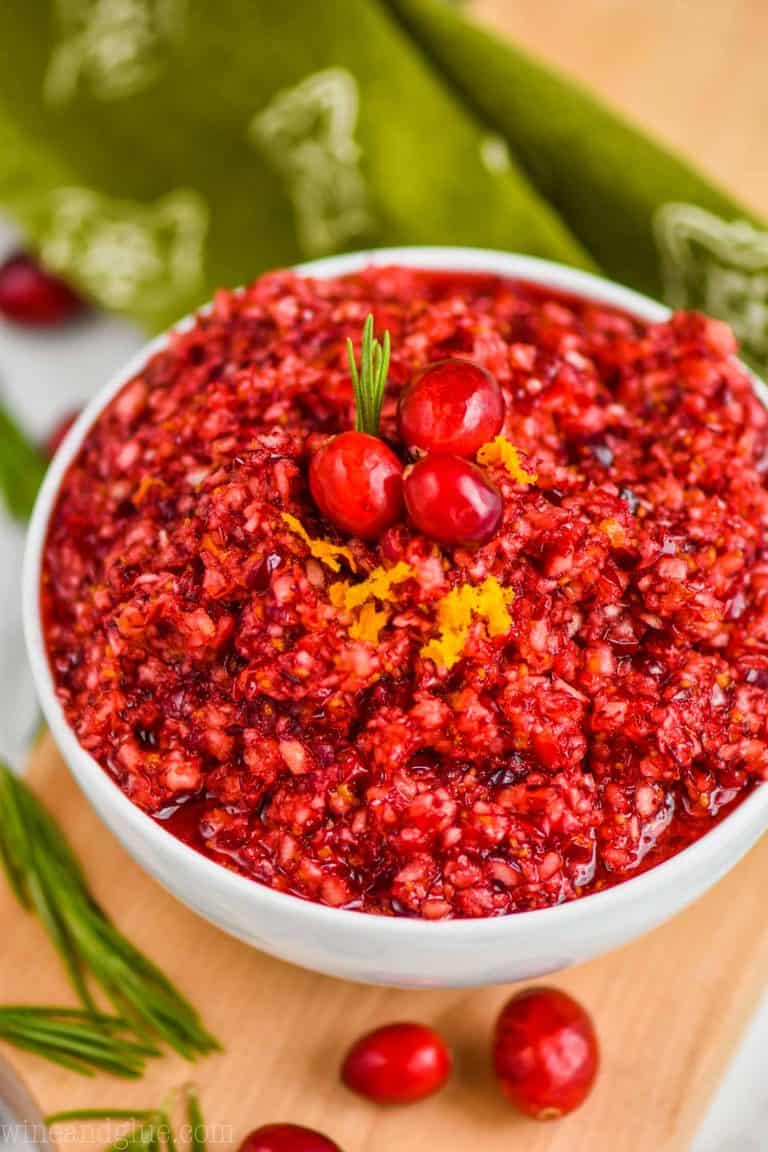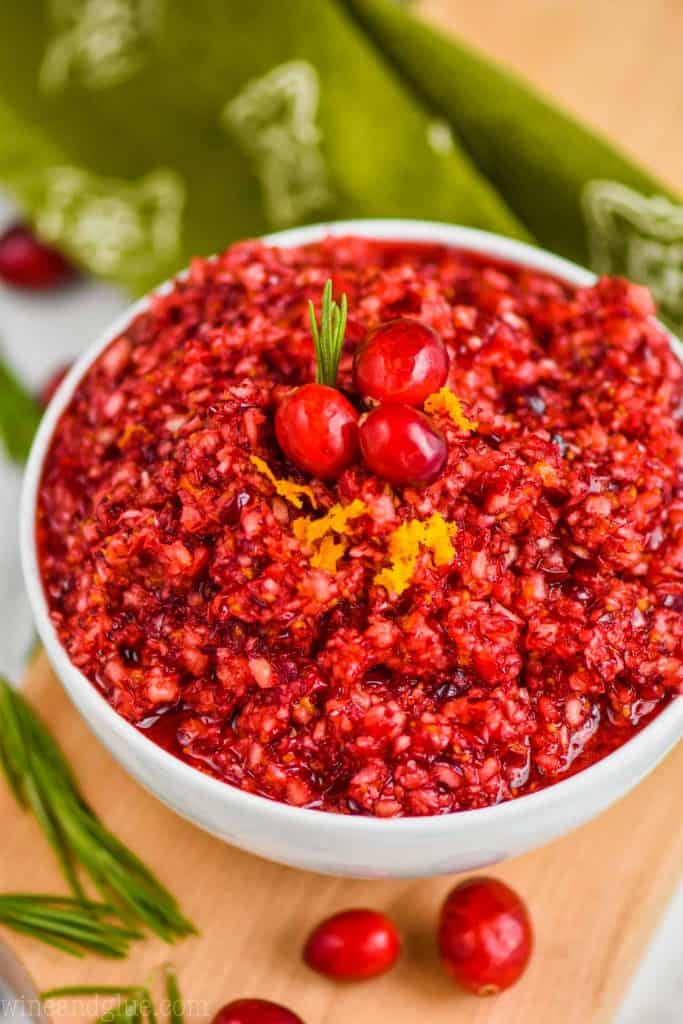 Great Thanksgiving Recipes
If you are looking for more great holiday recipes, you can find them here: Thanksgiving Recipes. Here are some of my very favorites.
If you try this cranberry orange relish recipe or any of my other holiday recipes please leave me a comment and let me know what you think!
And I'd love to hear if your family eats Cranberry Sauce or Cranberry Relish!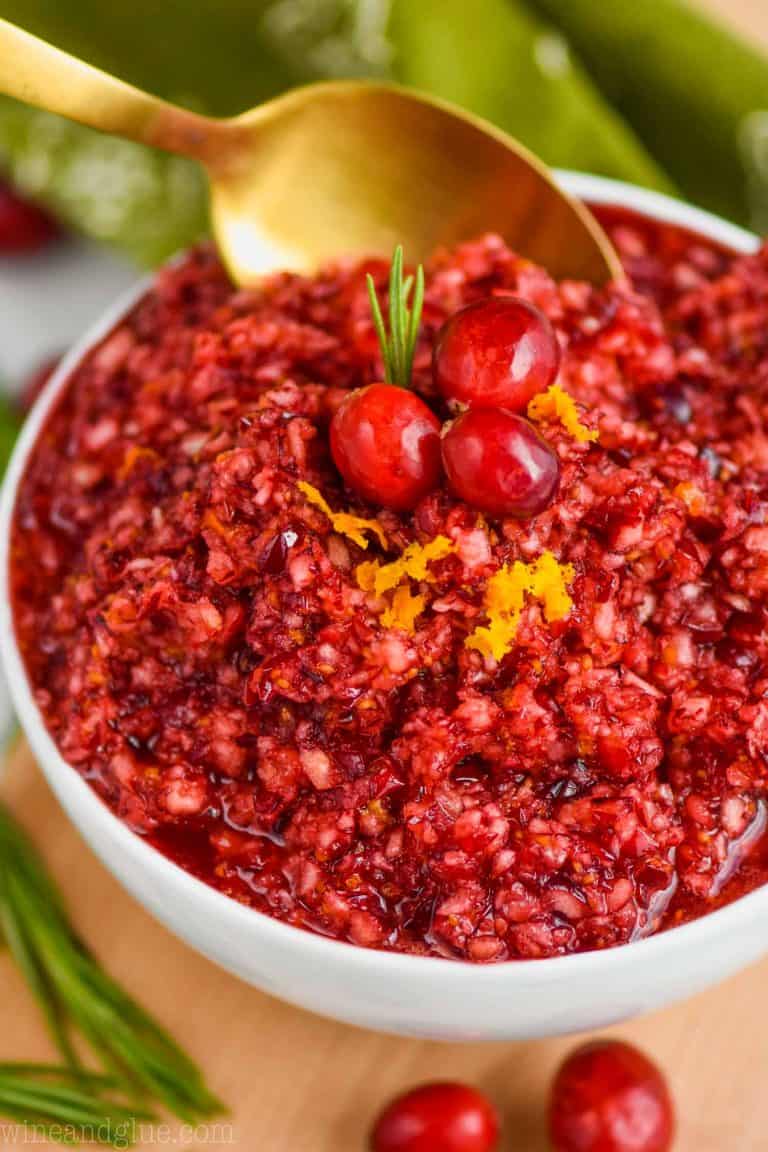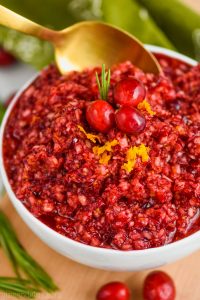 Cranberry Relish
Cranberry Relish is the easiest Thanksgiving recipe. It comes together in less than 10 minutes and can be made the night before. This Cranberry Orange Relish will add the perfect bright flavor to your holiday plate.
Ingredients
1

orange

(or 2 teaspoons orange zest and 1/4 cup orange juice)

12

ounces

fresh cranberries

(thrown in raw)

1/2

cup

granulated sugar
Instructions
Zest the orange peel with a zester. You want to zest just until you begin to see the white under the skin and not further. You will need 2 teaspoons of zest. (Read about my variations on cranberry relish here: Cranberry Relish Variations.)

Cut the orange in half and juice it. You will need 1/4 cup of orange juice.

Add the cranberries, orange juice, orange zest, and sugar to a food processor and pulse just enough to finely dice the cranberries. Be careful not to over pulse.

Store in an airtight container and refrigerate for an hour before serving for best flavors.
Serving:
0.25
cup
Calories:
71
kcal
(4%)
Carbohydrates:
18
g
(6%)
Sodium:
1
mg
Potassium:
52
mg
(1%)
Fiber:
2
g
(8%)
Sugar:
15
g
(17%)
Vitamin A:
1
IU
Vitamin C:
13
mg
(16%)
Calcium:
1
mg
Iron:
1
mg
(6%)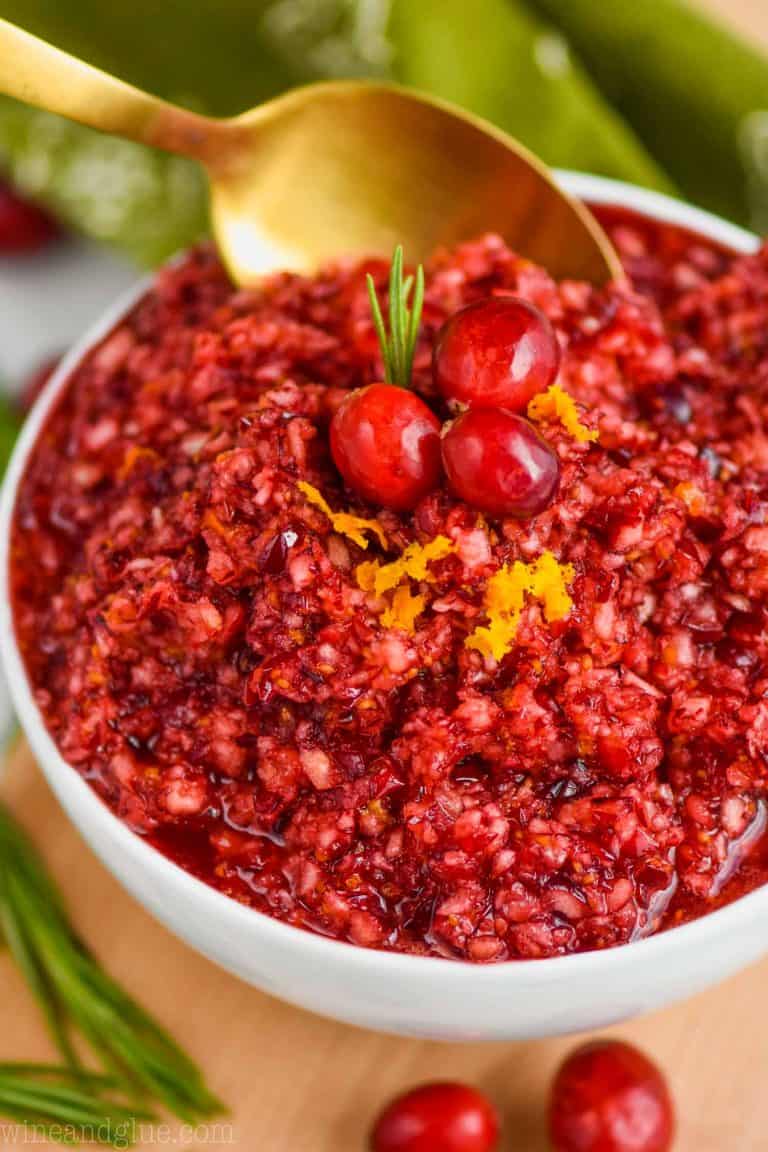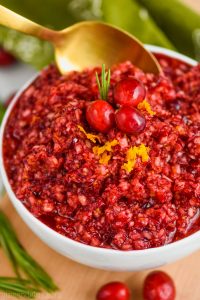 did you make this
Cranberry Relish