Cranberry Relish is the easiest Thanksgiving recipe. It comes together in less than 10 minutes and can be made the night before. This Cranberry Orange Relish will add the perfect bright flavor to your holiday plate.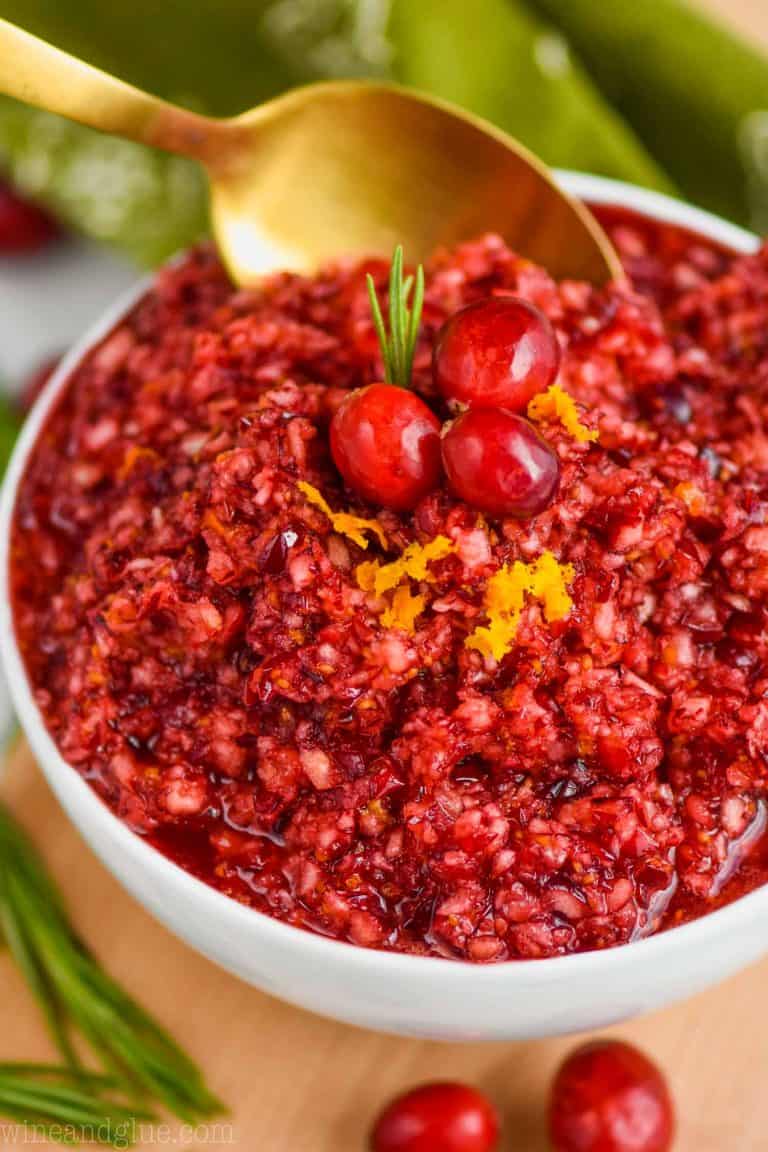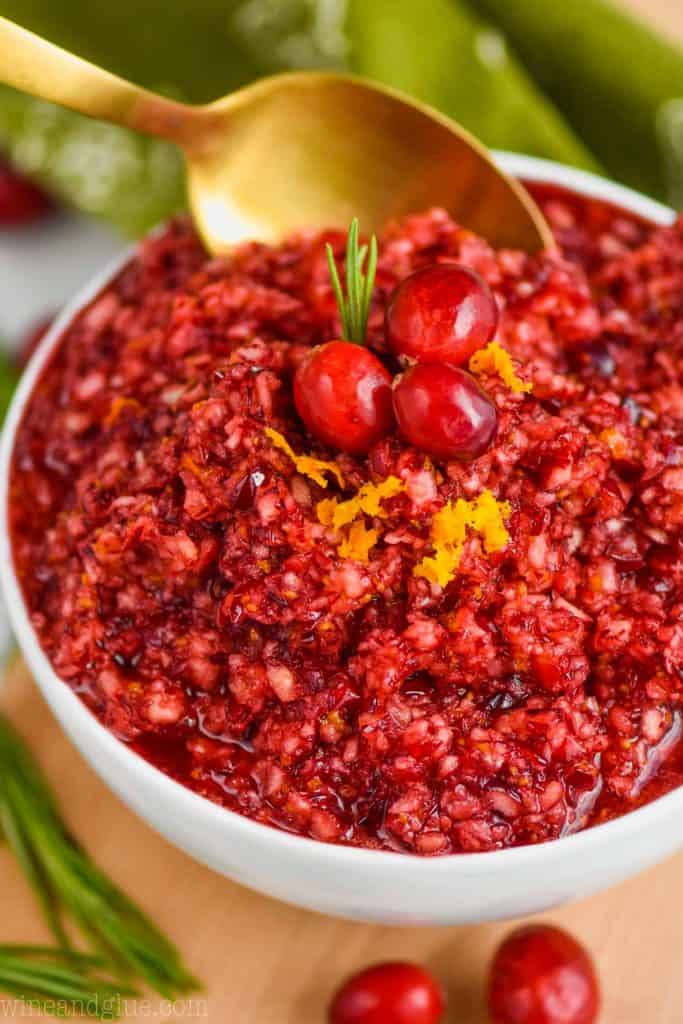 Recently we posted this Homemade Stuffing recipe on our Facebook page and commented that it is the true star of the show. No joke, I could eat only stuffing on Thanksgiving and be a happy happy girl.
I was shocked when SO many people commented that it wasn't true. That Cranberry Relish was, in fact, the actual star. Additionally, Cranberry Relish, the fresh and raw cousin of Cranberry Sauce, is perfect eaten with Thanksgiving Turkey.
Fair enough, guys! It's time to add a Cranberry Relish recipe to our Thanksgiving plates.
Reader Review
Fantastic!!! My family loved it!!! I will definitely make this again. So so good, better than cranberry sauce.
WHAT MAKES CRANBERRY RELISH PERFECT
When you start with bright, plump, fresh cranberries, you are bound to create something amazing.
Cranberry Relish is essentially chopped up cranberries with orange juice and zest and some sugar. The raw cranberries combined with the other ingredients truly shine.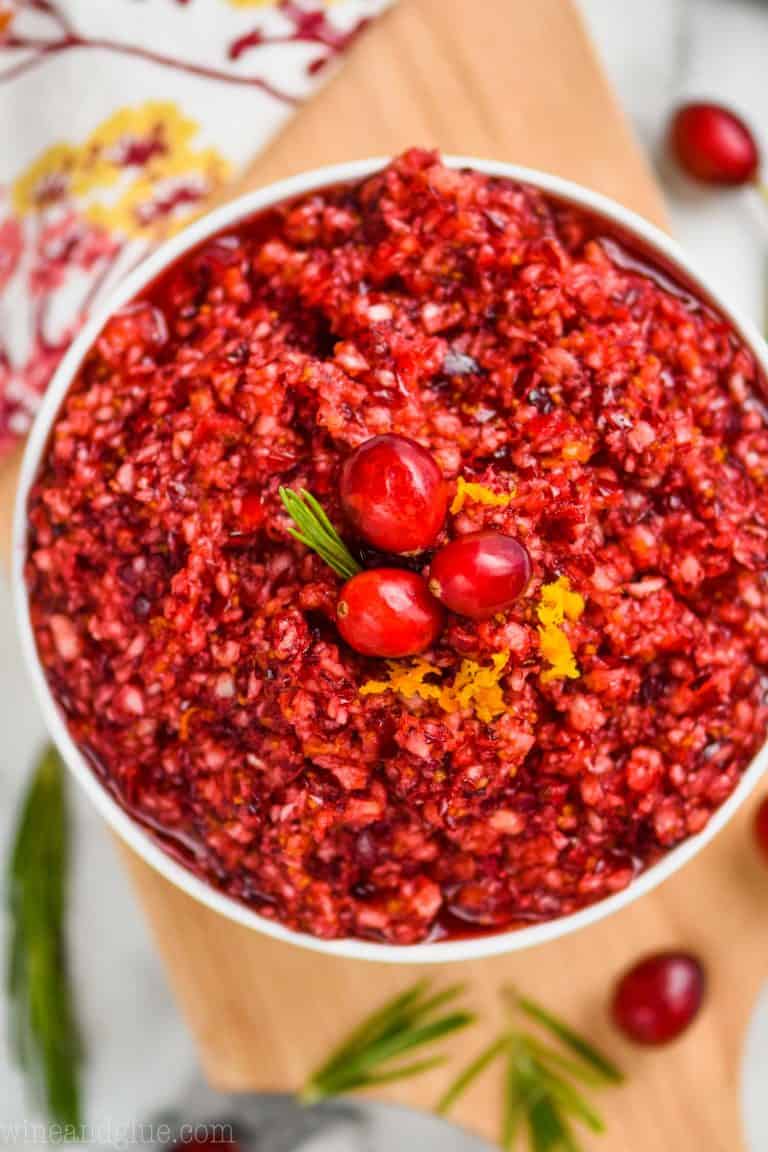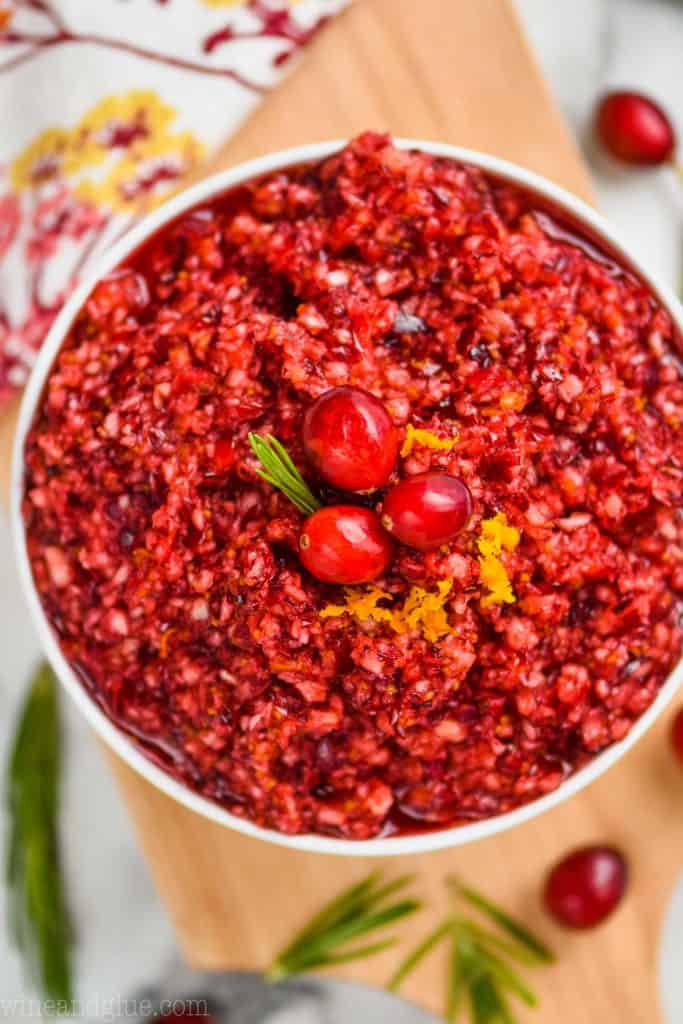 HOW TO MAKE CRANBERRY RELISH
All good cranberry relish starts with very finely chopped fresh cranberries. I made this Cranberry Orange Relish very simply in my food processor. If that is the method you plan on using, make sure to not over pulse your cranberries.
You want your relish to have some texture to it and not be a pile of cranberry mush.
An alternative, if you don't have a food processor, is a grinder that you attach to a stand mixer.
I wouldn't recommend chopping by hand. This will be very difficult with the cranberries as you want them chopped very fine.
After your cranberries are chopped you simply add the three remaining ingredients.
I love how simple this recipe is.
For best flavor, refrigerate for an hour before serving to allow the flavors to fully combine.
CRANBERRY RELISH VARIATIONS
If you want to change things up there are a few things you could try. I wouldn't recommend trying all of these! Pick one variation. I love experimenting with recipes.
Add apple slices to the food processor when you chop the cranberries.
Or pull in another flavor completely by adding pear slices. Be sure to choose a pear that is still somewhat firm.
Really take things down a different path by adding a few fresh jalapeño slices.
Add the orange zest, but not the orange juice and replace that with pomegranate juice.
Throw in a pinch of cinnamon at the very end!
HOW TO EAT CRANBERRY RELISH
Cranberry Relish is delicious eaten straight just like cranberry sauce.
Or pop a little on a piece of turkey and get a delicious combo of flavors.
But if you want to get creative here are some ideas!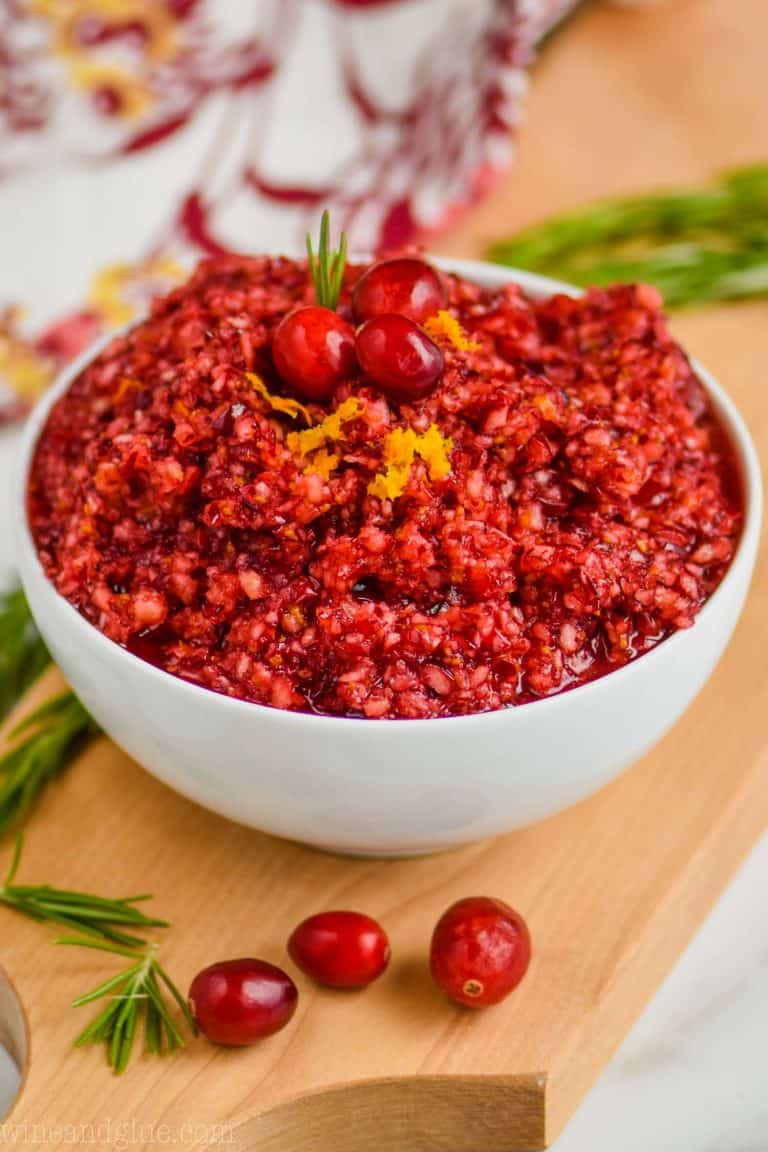 STORING CRANBERRY RELISH
This is a great recipe to make ahead of time. It will last in your refrigerator up to one week and is best served cold.
While I personally would recommend making this the day of or the day before serving, you can freeze cranberry relish. Store in an airtight container and freeze. Use within one to two months. Let thaw in the refrigerator for a few hours before serving.
OTHERE GREAT THANKSGIVING RECIPES
If you are following along you know that this week I've been adding tons of Thanksgiving recipes. You can find them all here.
Here are some from previous years that I still love:
If you try this cranberry orange relish recipe or any of my other holiday recipes please leave me a comment and let me know what you think!
And I'd love to hear if your family eats Cranberry Sauce or Cranberry Relish!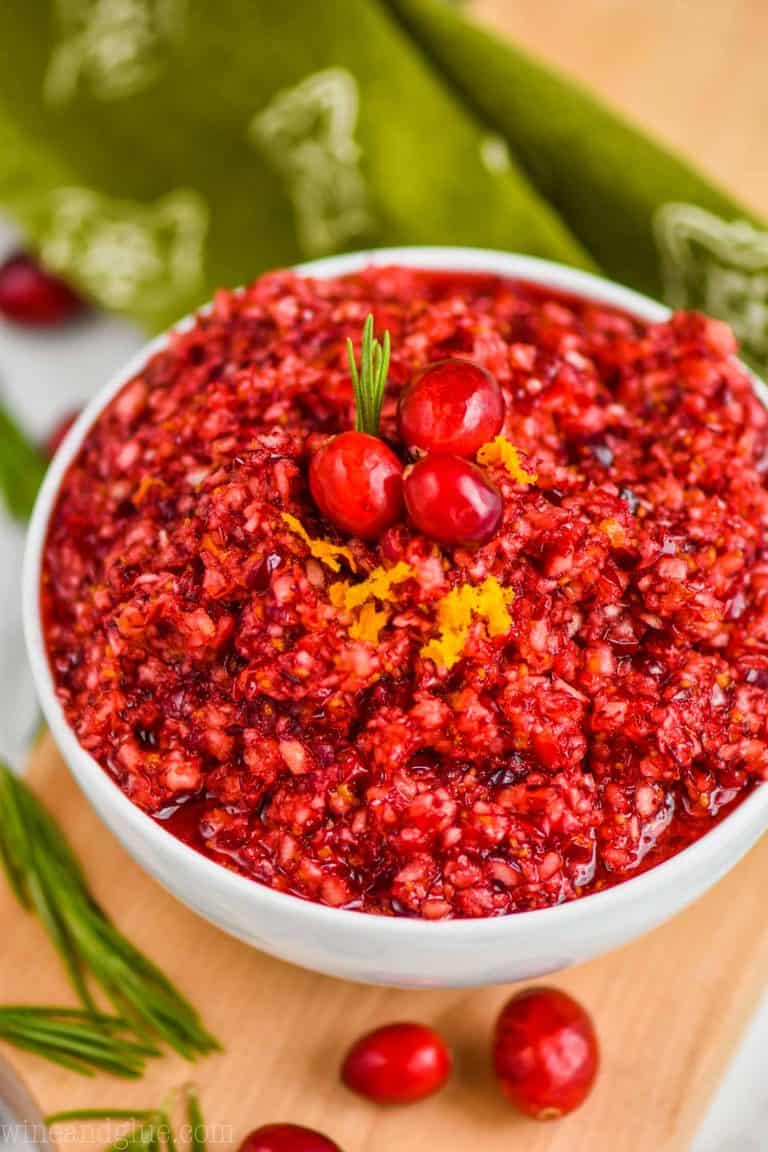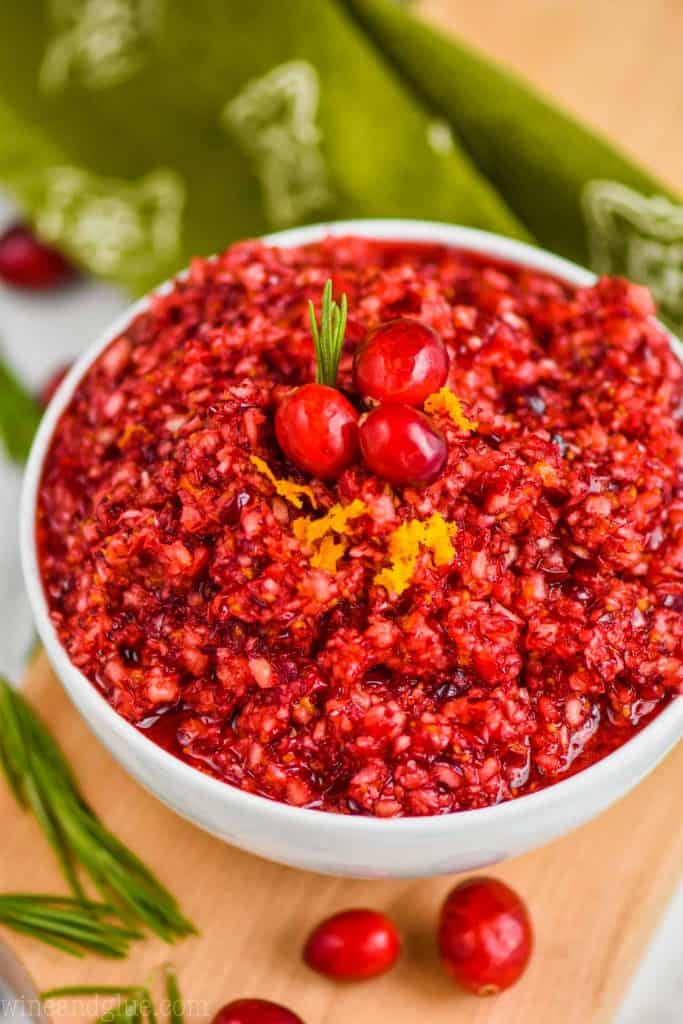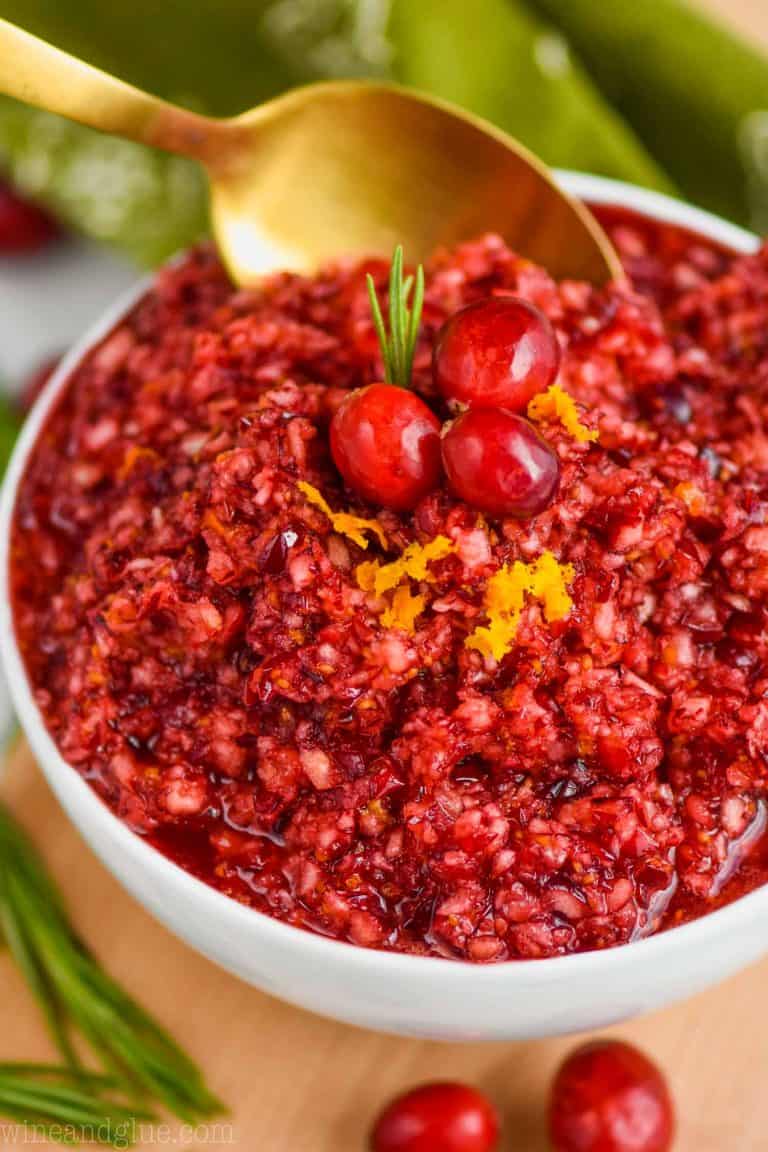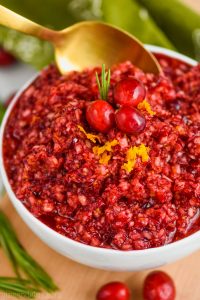 Cranberry Relish
Cranberry Relish is the easiest Thanksgiving recipe. It comes together in less than 10 minutes and can be made the night before. This Cranberry Orange Relish will add the perfect bright flavor to your holiday plate.
Ingredients
1

orange

(or 2 teaspoons orange zest and 1/4 cup orange juice)

12

ounces

fresh cranberries

(thrown in raw)

1/2

cup

granulated sugar
Instructions
Zest the orange peel with a zester. You want to zest just until you begin to see the white under the skin and not further. You will need 2 teaspoons of zest.

Cut the orange in half and juice it. You will need 1/4 cup of orange juice.

Add the cranberries, orange juice, orange zest, and sugar to a food processor and pulse just enough to finely dice the cranberries. Be careful not to over pulse.

Store in an airtight container and refrigerate for an hour before serving for best flavors.
Serving:
0.25
cup
Calories:
71
kcal
(4%)
Carbohydrates:
18
g
(6%)
Sodium:
1
mg
Potassium:
52
mg
(1%)
Fiber:
2
g
(8%)
Sugar:
15
g
(17%)
Vitamin A:
1
IU
Vitamin C:
13
mg
(16%)
Calcium:
1
mg
Iron:
1
mg
(6%)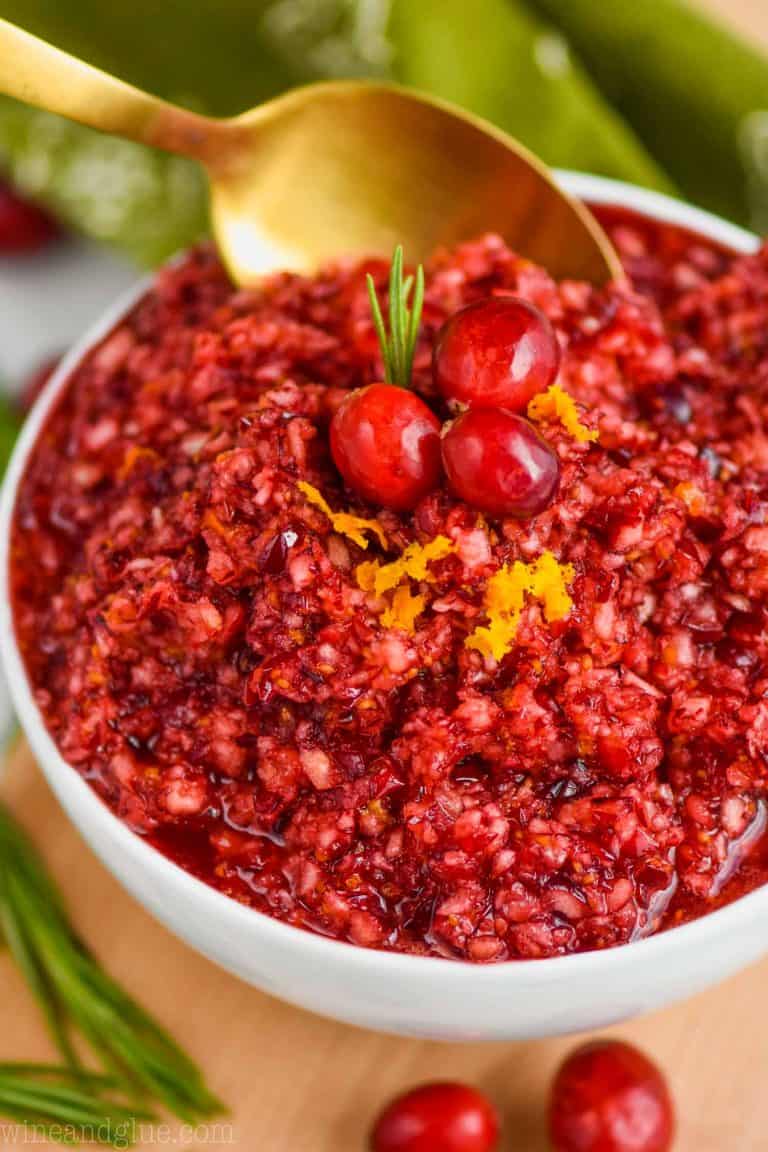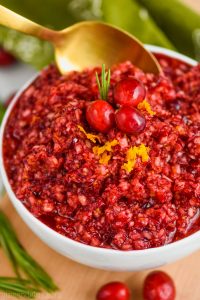 did you make this
Cranberry Relish