This Roast Turkey recipe is the best! With my detailed video and step by step instructions you will know how to brine a turkey like a pro.
This is the perfect Thanksgiving Turkey; after making this recipe you'll never use another again.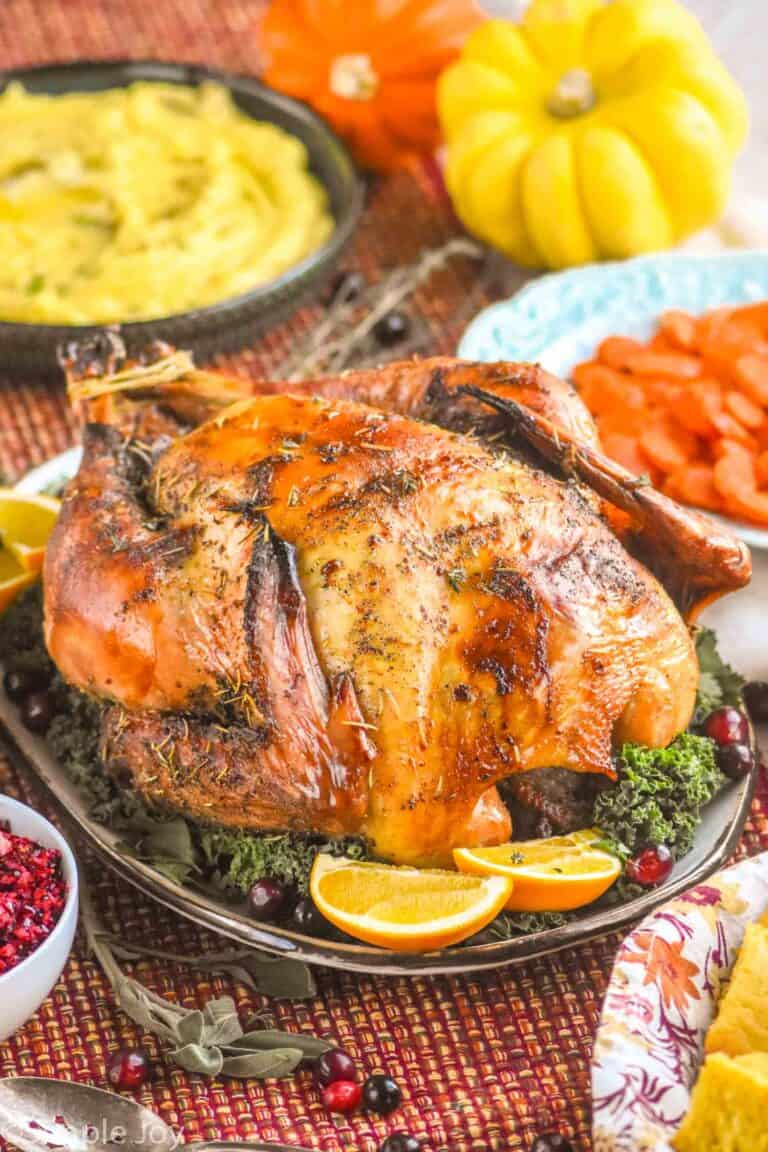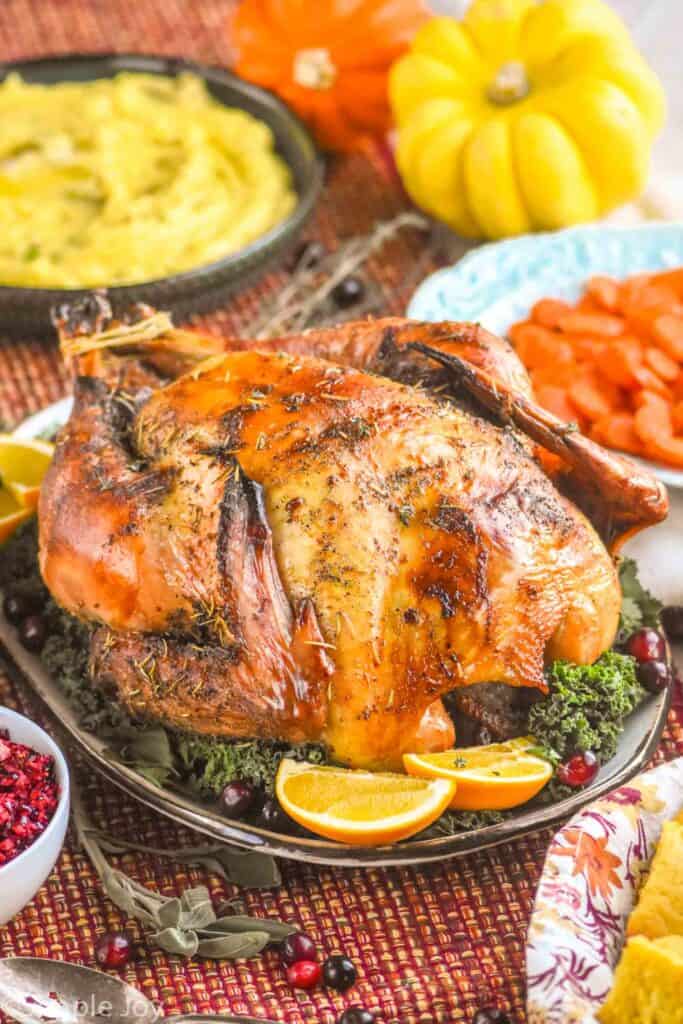 Today I'm going to share with you the best Roast Turkey recipe, and I could not be more excited! This truly is the best recipe. This was passed to us by my sister in law's mother years ago, and we have treasured it ever since.
This recipe has several steps, but it is far from complicated. I am going to lay out for you everything you need to know in easy to follow steps. We've even included a step by step video with tips so you can feel confident making your Thanksgiving Turkey.
We are starting at the beginning here. If you have made a turkey before and don't need some of the basic instructions, feel free to jump right to recipe card and print out the instructions there.
If you are overwhelmed by making a whole turkey, start with my Turkey Breast recipe or my Crockpot Turkey Breast.
START THIS RECIPE THE DAY BEFORE
This recipe must be started the day before roasting. Please be prepared, and read through this whole recipe in advance of making it. I want your turkey to be perfect.
What Turkey to Buy
Turkey brands are not created equal. Two tips passed down with this recipe are:
If you buy a free range turkey, you may find that even with brining it, it will still be dry. That is because they are so low in fat content.
Look to make sure that your turkey wasn't pre-brined. If the ingredient list on it includes salt and sugar that is a clue that it was. In that case, cut the salt in this recipe by 1/3.
How Much Turkey Per Person
When looking at what size turkey to buy use this rule of thumb: 1 pound of turkey per person.
If you are hosting a small thanksgiving, consider making just a Turkey Breast. But of course, we always love having left over turkey and have lots of great recipes for that.
How to Thaw a Turkey
Most turkeys will be bought frozen. It typically takes three to four days in a refrigerator for a turkey to thaw.
In my experience, I always think I've given my turkey enough time to thaw, only to pull it out the day before Thanksgiving and find it is still frozen in the middle.
You can thaw your turkey quickly (in a few hours) by submerging it in cold water. I use the same bucket that I brine the turkey in to surround it with cold water. Change the water every 30 minutes until the turkey is thawed.
Do not thaw your turkey on your counter.
What to Brine Your Turkey In
We bought a "turkey bucket" years ago. It was a $5 bucket from the store meant for mopping the floor, and we only use it to thaw and brine our turkey. It works perfectly because it fits the turkey snug. This means that we don't have to make a ton of brine, and it also means that it fits perfect in our refrigerator overnight.
Bottom line: Pick something big enough to hold the turkey but not so big that there is a lot of room around it.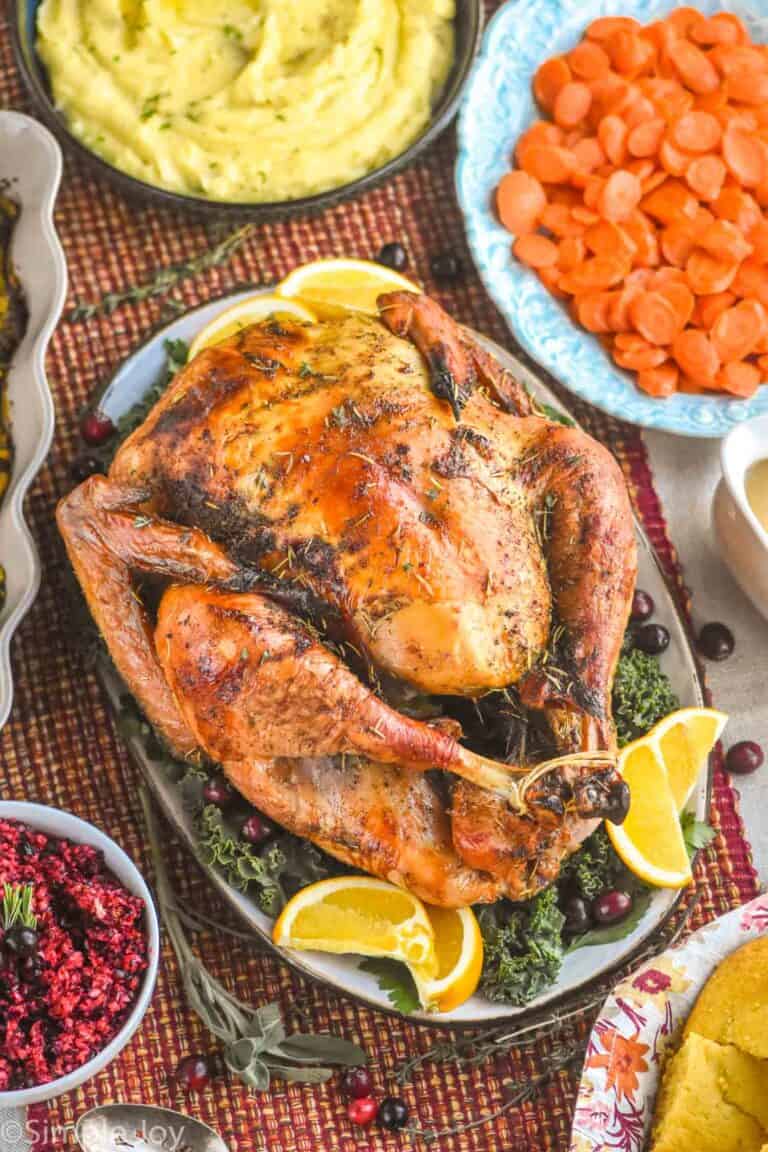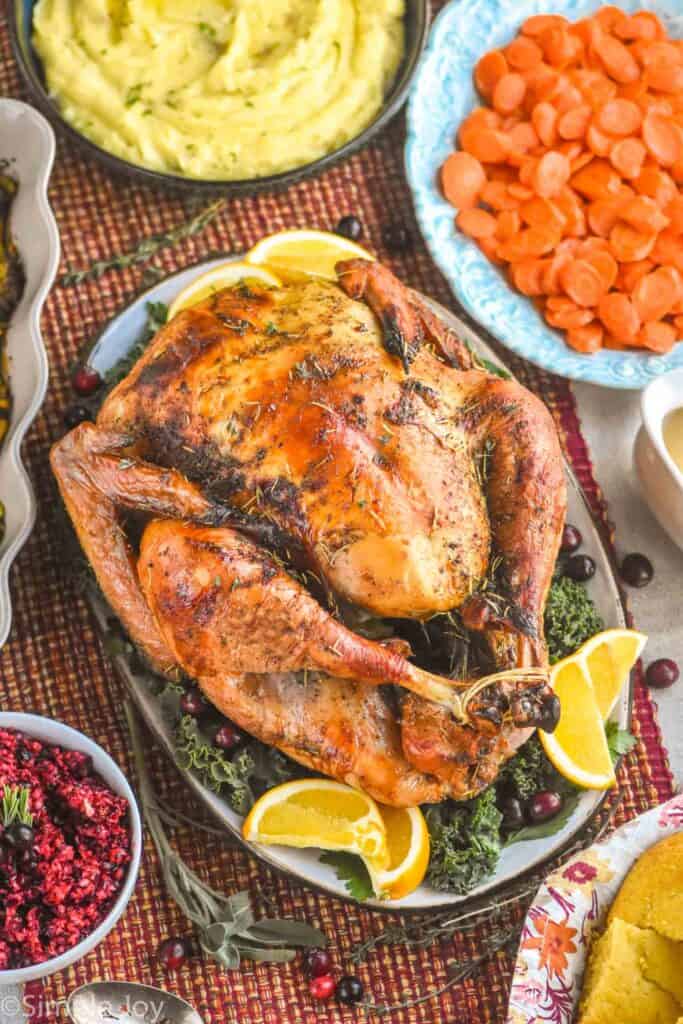 How to Brine a Turkey
The key to the perfect turkey recipe is brining it! A brine is a mixture of water, salt, and sugar. Science and homeostasis play a big roll here. The brine mixture works to pull moisture in the turkey. In this recipe we add some other great flavors to make for the perfect turkey.
Please see the recipe card for detailed ingredients and instructions.
You will need to brine the turkey for 10 to 24 hours.
Remove the neck and giblets from the inside of the turkey.
Combine cold water, salt, and brown sugar in a container. Whisk until the sugar and salt are completely dissolved.
Add in lime juice, rinds, black tea bags, and mint leaves.
Put the turkey in the liquid.
If you need to make extra brine to make sure the turkey is completely covered, dissolve 1/4 cup salt and 1/4 cup brown sugar in 4 cups cold water.
Refrigerate the turkey in the brine for 10 to 24 hours or keep in a place below 40 degrees.
The next day, take the turkey out of the brine and pat dry.
Make a dry rub, and rub all over the turkey.
Make basting sauce and pour it into the bottom of a roasting pan fit with a wire rack. Add in two leeks and basting sauce to bottom of the pan.
Add the rind from one lime and fresh rosemary sprigs to the inside of the turkey. Make sure there is still empty space within the turkey and those ingredients aren't packed in.
Roast the turkey, breast side down for one hour.
Flip the turkey after an hour, and baste it. Continue roasting, basting one or two more times or until the turkey is 165 degrees using an instant read thermometer.
Tent the turkey for 20 minutes, slice, and serve.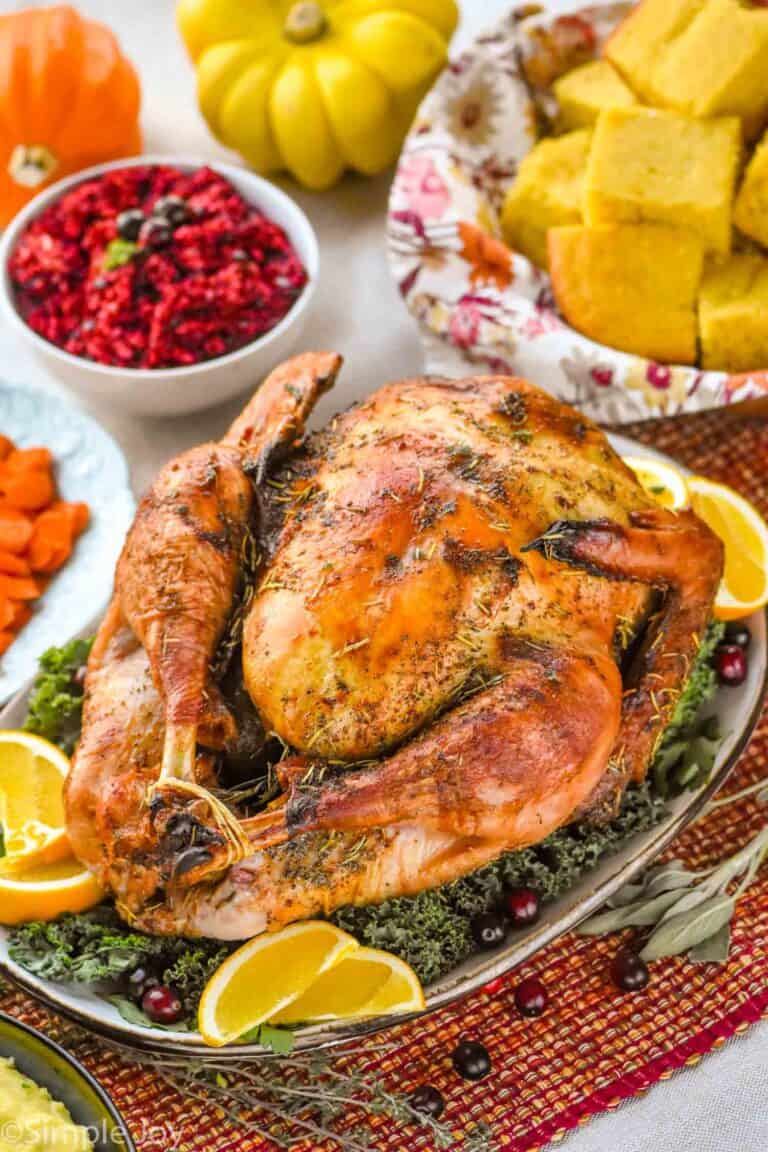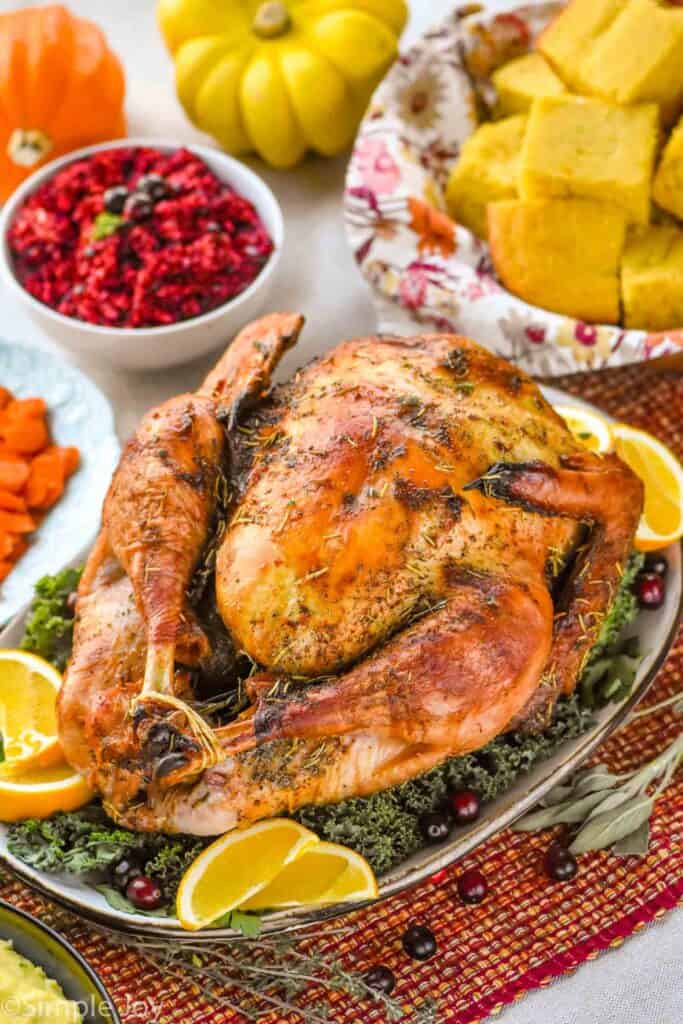 What Pan to Roast Turkey In
There are two choices when it comes to roasting your turkey:
A roasting pan that is fit with a wire rack.
A free standing roaster to free up oven space.
Whichever you choose, make sure that the turkey is on a wire rack and not directly in the pan. The air circulating around the turkey will help it cook evenly.
Turkey Cook Time
Generally speaking, it takes 20 minutes for every pound of turkey to cook. So that means if you have a 15 pound turkey, it will take 5 hours.
Things That Can Affect Turkey Cook Time
If your turkey is stuffed, it will take longer to cook. I do not recommend cooking your stuffing inside the turkey.
If your turkey cavity is packed full of the rosemary and lime rinds it will take longer. Go easy on those ingredients.
In our experience, a stand alone roaster cooks the turkey faster.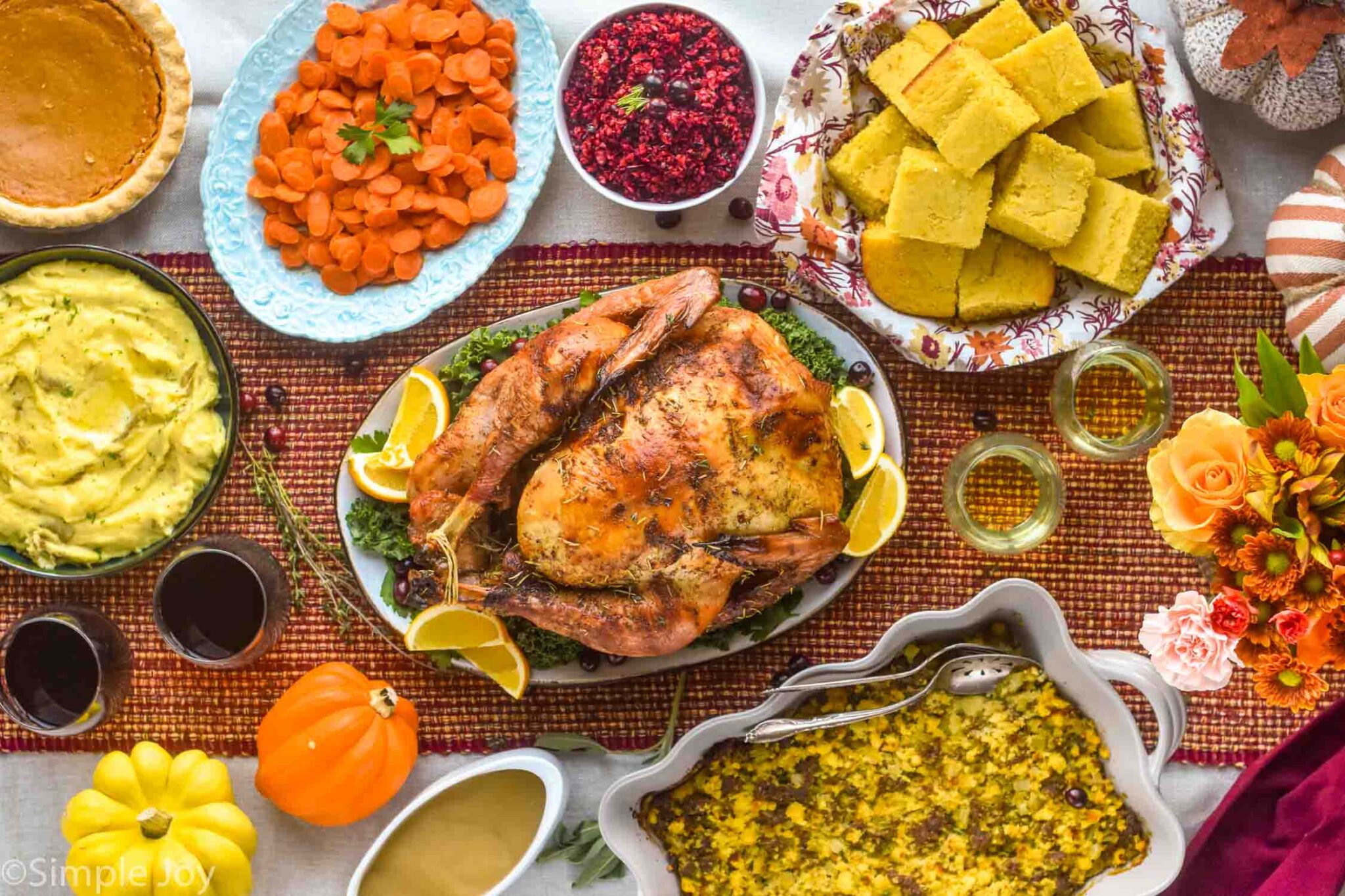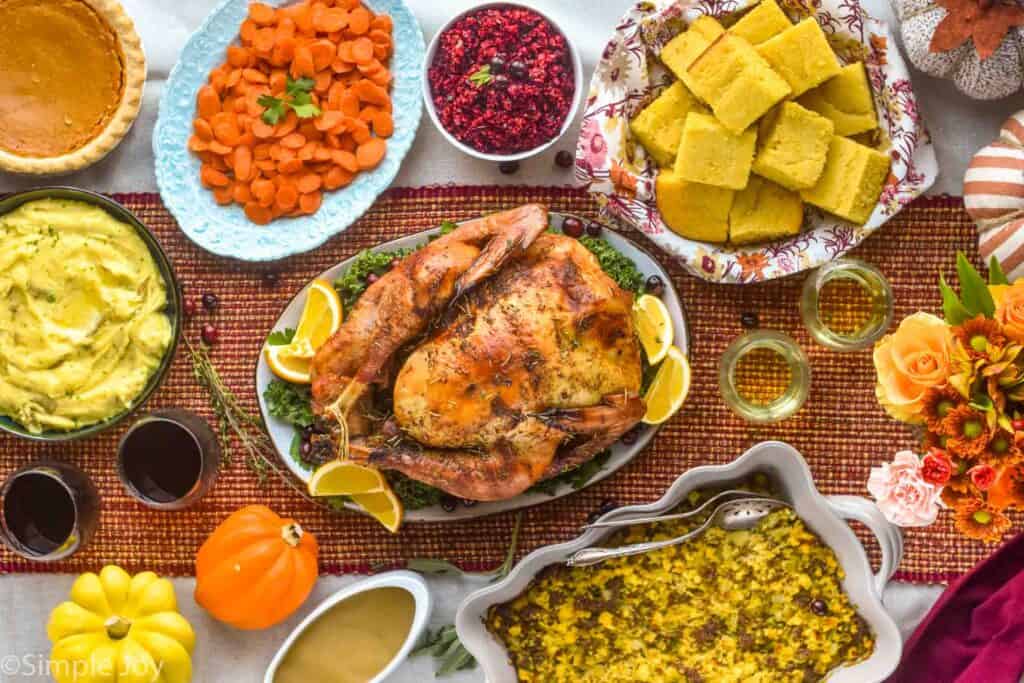 Classic Thanksgiving Recipes
If you are looking for great dishes to make with this perfect turkey, here are some of my very favorites.
If you make this amazing Thanksgiving Turkey, please come back and let me know what you think! I can't tell you how honored I am to be part of your holiday with this recipe, and I would love to hear all about it.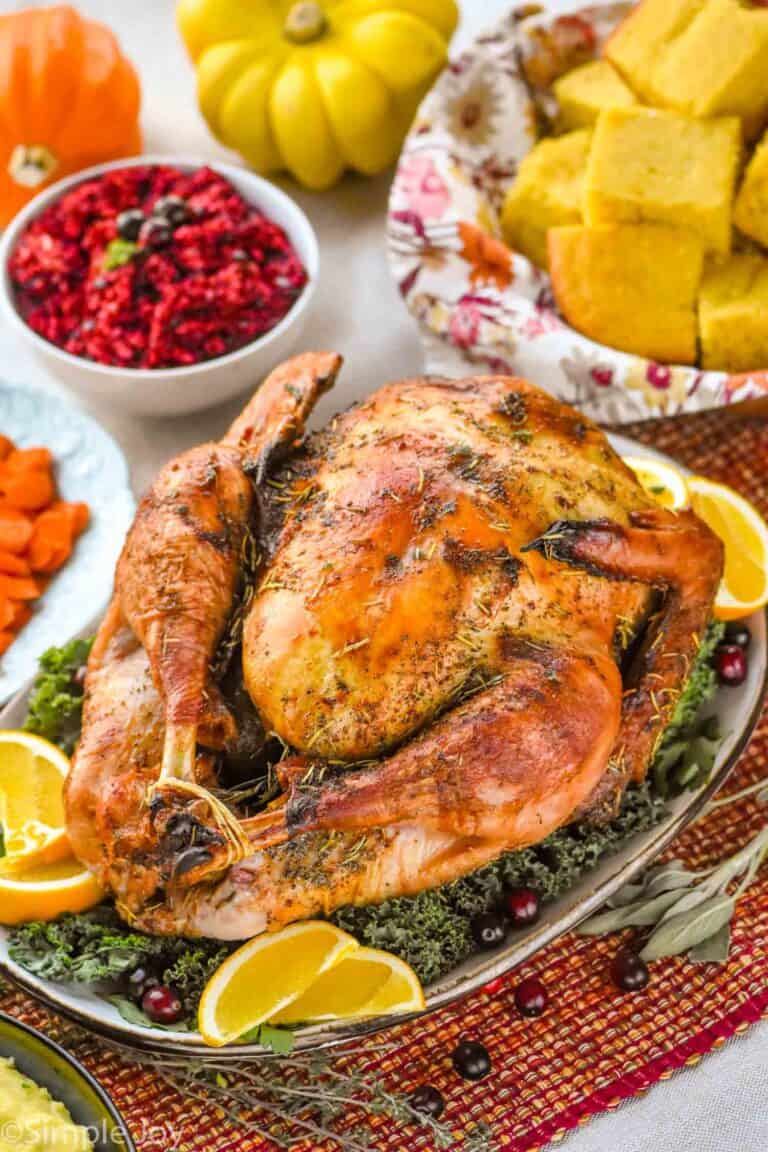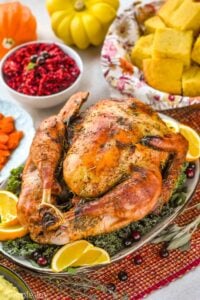 Roast Turkey
This Roast Turkey recipe is the best! With my detailed video and step by step instructions you will know how to brine a turkey like a pro.
Ingredients
13 to 20

pound

thawed turkey
Brine
16

cups

cold water

1

cup

kosher salt

see note in the post about turkey brands – some are pre basted and require less salt

1

cup

brown sugar

5

black tea bags

string and tag removed

2

limes

1

bunch of fresh mint
Basting Sauce
1/2

cup

olive oil

2

cups

chicken or turkey stock

1/3

cup

honey

do not substitute with agave syrup

juice of one lime

bringing the total lime count to 3
Dry Rub
3

tablespoons

Mrs. Dash Seasoning

see note for alternative

1 1/2

tablespoons

ground black pepper

3

tablespoons

dried rosemary
For Roasting
1

bunch

fresh rosemary sprigs

reserved limes from brine

2

whole leeks
Instructions
Dissolve the brown sugar and salt in the water. (See the post for what to brine the turkey in.) Make sure that they are completely dissolved before moving on.

Squeeze two limes into the water, and add in the rinds. Add the mint, and the tea bags.

Add the turkey to the brine. If the brine does not cover the turkey, mix 4 cups cold water with 1/4 cup kosher salt and 1/4 cup brown sugar. Keep doing this until there is enough liquid to completely cover the turkey.

Brine the turkey over night (between 10 and 24 hour) in a cold place that is 40 degrees.

The next morning, preheat your oven to 325.

Mix together dry rub and basting sauce. Pour the basting sauce in the bottom of the roasting pan. Add two leeks, and then a wire rack for the turkey to cook in.

Remove the turkey from the brine and pat dry with a paper towel.

Set the turkey in the roasting pan breast side up and use half the rub liberally on the turkey. Flip the turkey over and use the rest of the rub. Put 1 to 2 lime rinds inside the turkey, plus a few rosemary sprigs. Do not pack the turkey. Add the remaining rosemary sprigs to the pan.

Roast the turkey for 1 hour (breast side down). After an hour, flip the turkey over, baste, and return to the oven. Continue roasting, basting occassionally, until a thermometer reads 165 degrees in the thickest part of the thigh and juices run clear. (Be sure to insert the thermometer deep enough, without hitting the bone.) If the top begins to brown too much, cover losely with foil.

Remove from the oven, tent loosely with foil for 20 minutes, carve and enjoy.
Notes
Mrs Dash Seasoning is a combination of dried onion, black pepper, dried herbs (Rosemary, Sage, Thyme), and dried citrus fruit. If you can't find it in the store you can make your own using a combination of the above to make 3 tablespoons. Eliminating the dried citrus fruit is totally fine.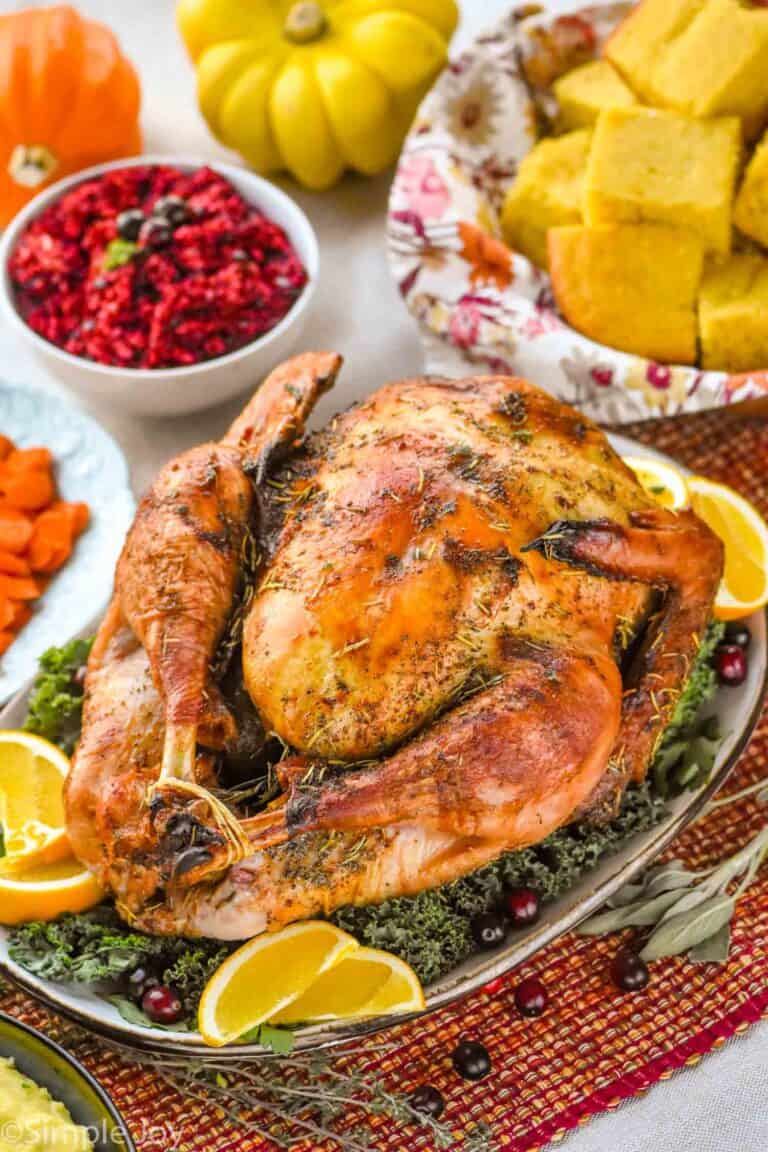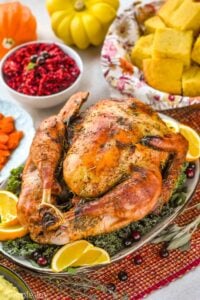 did you make this
Roast Turkey
you might also like . . .