If making a roast turkey scares you, or it always comes out dry, then you need these instructions on how to brine a turkey! You will never make it another way again!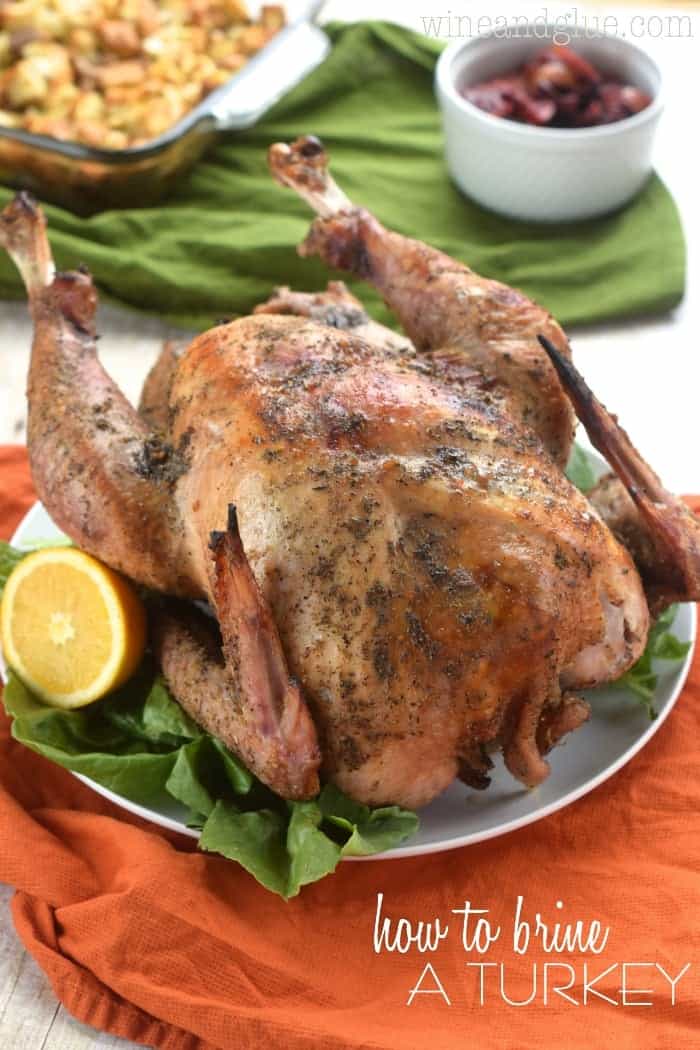 A while back, I posted this recipe for the World's Best Roast Turkey. It is PACKED full of tips and has the instructions for the best roast turkey evvvvver. BUT! I've used the instructions myself . . . and they're a little annoying. They are long and have lots of if this and not that's. Plus the pictures make me shudder.
Also, there is a recipe for a gravy and a maple glaze in there that I've watched family members make (and I've totally enjoyed eating), but I've never made them myself. I'm just too lazy. This post gives you a better sense of what I do with that wealth of information. I've made this brine and roasted many a bird this way. YUMMY.
So! Here is the recipe again. Same recipe, more concise. I have three kids now, I don't have time to jerk around with turkeys. And I'm sure you don't either. Plus these pictures are just a little more pretty. 🙂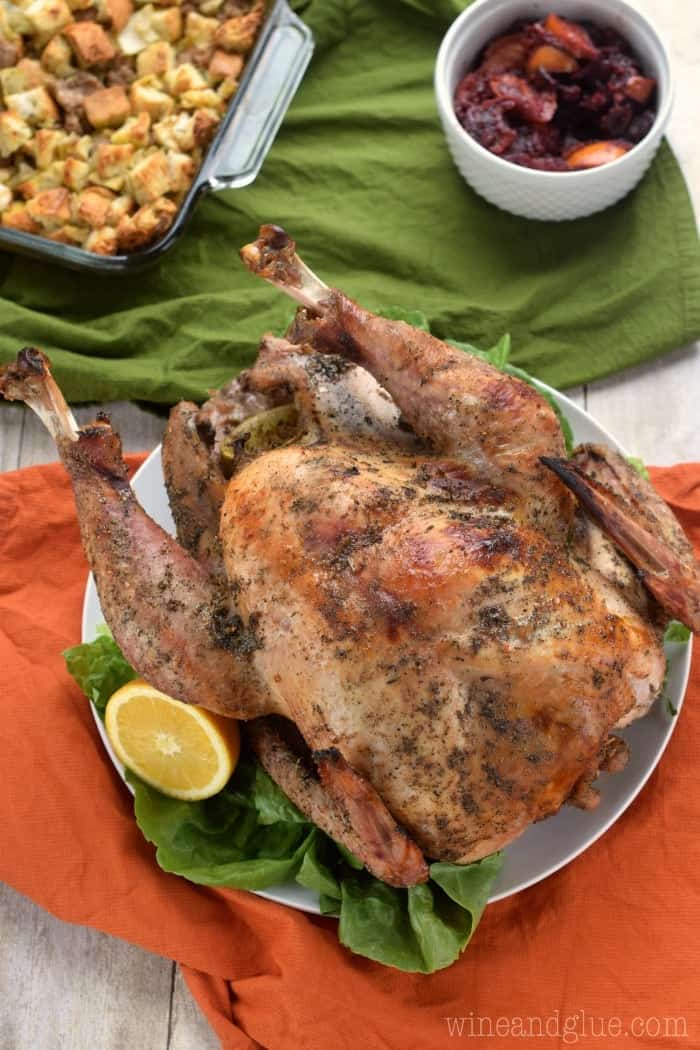 HOW TO BRINE A TURKEY
Turkeys take a long time to thaw, so plan accordingly. If you are tight on time, buy fresh (Trader Joes is reasonable for price). Or thaw in the kitchen sink using a water bath.
You need to start brining the day before you are serving.
We brine our turkey in a 20 gallon bucket that we bought just for brining turkeys. It was a worthy investment.
If you finish making the brine and there isn't enough liquid to cover your bird, mix 4 cups water, 1/4 cup salt, 1/4 cup brown sugar and add it on top. Still not enough? Do it again.
If you don't have enough room in your refrigerator for your brining turkey, you can fill a milk gallon with water, freeze it, and put that and the bucket with the turkey in it in a cooler.
Turkeys should be brined for at least 10 hours, but not more than 24.
Unless your bird is under 8 pounds. Then you want to keep it to just under 10 hours.
The rub recipe calls for dried rosemary, which is fantastic. But if you don't have it, you can substitute sage rub, and its equally good.
When you are stuffing the limes in the turkey, make sure that it is not too jammed. In my experience, you need air to circulate inside the bird, otherwise it doesn't cook as well.
If you are in charge of the turkey for more than one or two years, invest in a roasting pan. This is the one I have, and I really like it.
Make sure that you don't hit bone when you take the temperature of the bird, but also make sure that you are deep enough in the meat so you get an accurate reading.
AN IMPORTANT NOTE ON TURKEY BRANDS
This recipe will work with all turkey brands. That said, keep in mind that some brands pre brine or pre baste their birds.
Look for that language on your packaging and plan accordingly.
If using a Butterball you need to use only 1/3 the salt listed in this recipe.
If you are using another brand that says they are pre basted, use 1/2 the salt listed.
I have had really good results with Jennie-O turkeys and store brand Meijer Turkeys (a great mid-Western grocery store chain).
TURKEY BREAST RECIPE
If you don't need to serve 18 people, and are looking to serve more like 6 to 8, check out my recipe for turkey breast instead.
OTHER GREAT THANKSTIVING RECIPES
Check out some of my other Thanksgiving classics!
If you make this recipe or any of my others, leave me a comment and let me know what you think!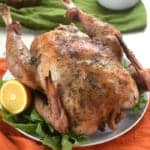 Print Recipe
The Perfect Brined Turkey
If making a roast turkey scares you, or it always comes out dry, then you need these instructions on how to brine a turkey! You will never make it another way again!
Ingredients
FOR THE BRINE
16

cups

of cold water

1

cup

of kosher salt

see note in the post about turkey brands - some are pre basted and require less salt

1

cup

of brown sugar

5

black tea bags

2

limes

1

bunch of fresh mint
FOR THE BASTING SAUCE
1/2

cup

olive oil

2

cups

chicken or turkey stock

1/3

cup

honey

do not substitute with agave syrup

juice of one lime

bringing the total lime count to 3

For the Rub

3

TBSPs

Mrs. Dash

original

1 1/2

TBSPs

black pepper

3

TBSPs

dried rosemary

or sage
FOR ROASTING
Fresh Rosemary Sprigs

Reserved limes from brine & basting sauce

2

whole leeks
Instructions
Rinse your thawed turkey inside and out, removing the neck and all the innards from inside. Set aside

Dissolve the brown sugar and salt in the water. Squeeze two limes into the water, and then throw in the rinds. Add the bunch of mint, and the tea bags (I usually cut off the paper tag).

Add the turkey to the brine. If it doesn't cover your turkey, add more water/brown sugar/salt mixture (see the tips and tricks section).

Keep cold and brine overnight (see tips and tricks on keeping cold).

Preheat your oven to 325. Mix together your basting sauce and pour it into the bottom of the roasting pan. Add the leeks. Set the rack in the roasting pan.

Remove the turkey from the brine, reserving the lime rinds. Rinse the turkey, and pat dry. Spread the rub all over the turkey.

Put the reserve lime rinds inside the turkey along with some of the fresh rosemary. Put the rest of the rosemary around the turkey in the roasting pan.

Place the turkey breast side down in the roasting pan and roast for one hour. Remove the turkey from the oven, baste it, and flip it over, basting again. (I use two large set of tongs and some prayer to flip).

Continue roasting until a thermometer reads 165 degrees in the thickest part of the thigh and juices run clear.

Remove from the oven and let rest for 20 minutes, tenting the whole bird with aluminum foil before carving.
This post contains affiliate links. Thank you in advance for supporting Wine & Glue.