This is literally the best Homemade Stuffing Recipe. It has everything you love about a classic stuffing recipe plus instructions for how to make this Thanksgiving stuffing recipe the night before!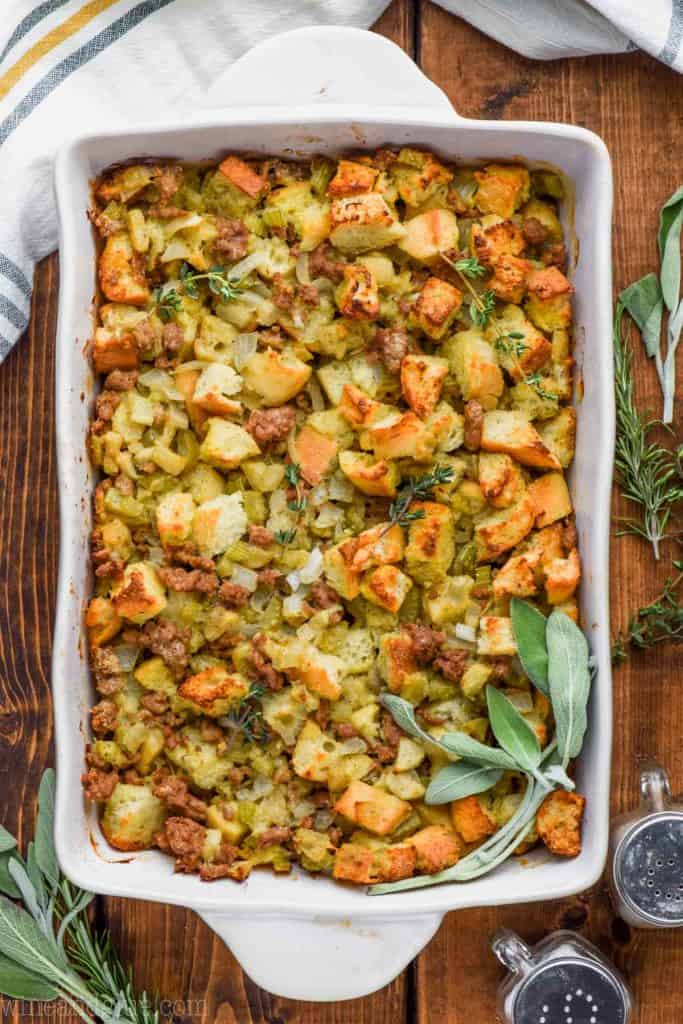 My all time favorite Thanksgiving recipe is stuffing. I could eat it and nothing else on the holiday and be the happiest woman in the world. This recipe has been served on our Thanksgiving table for ages, and my family requests that I make it year after year.
It started from an article in a magazine I read eons ago in which they gave different ingredients for stuffing that you could mix and and match. I'm convinced that this combo of ingredients here is perfection. Try this recipe, and I just know your family will fall in love with it too.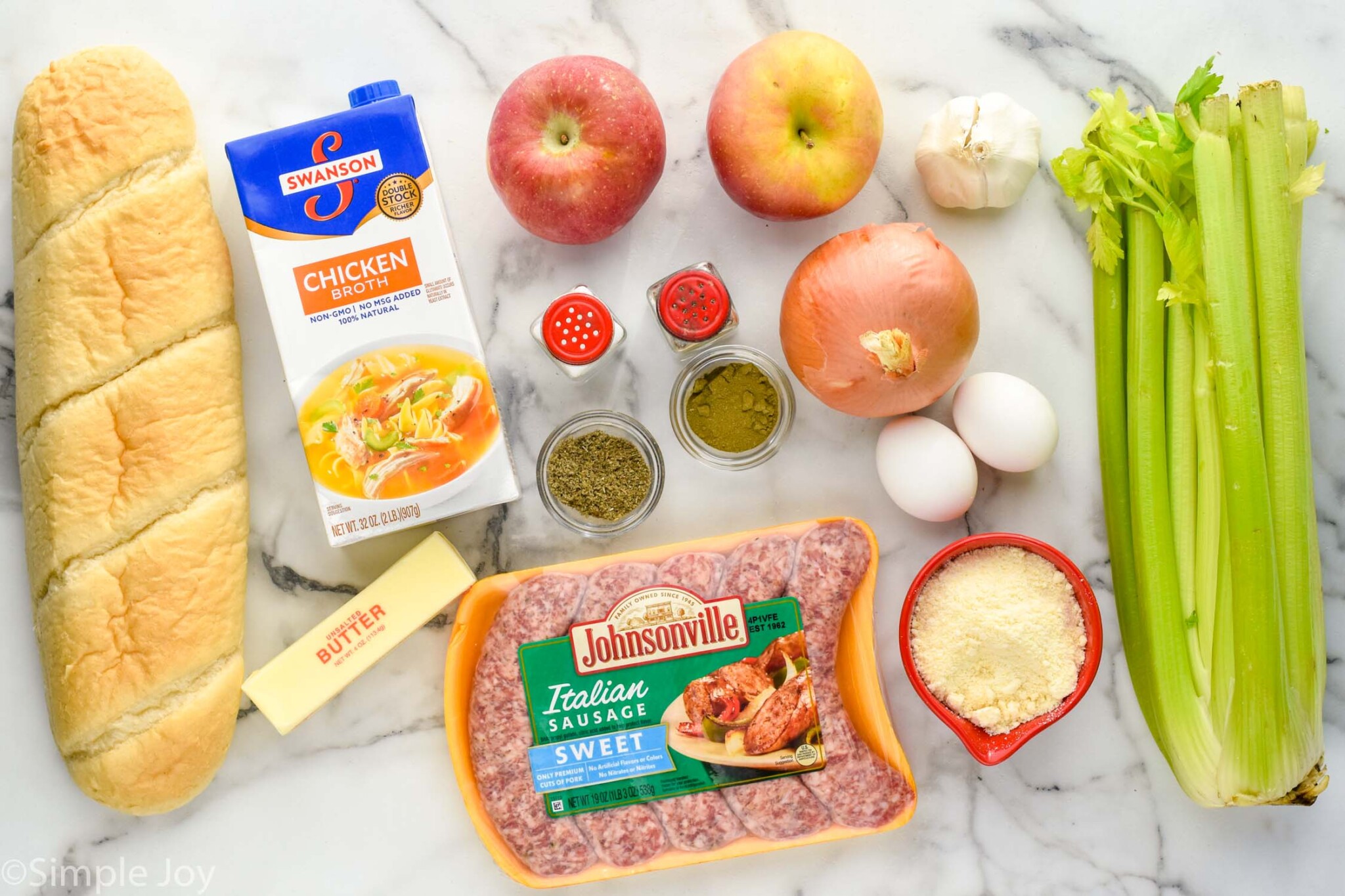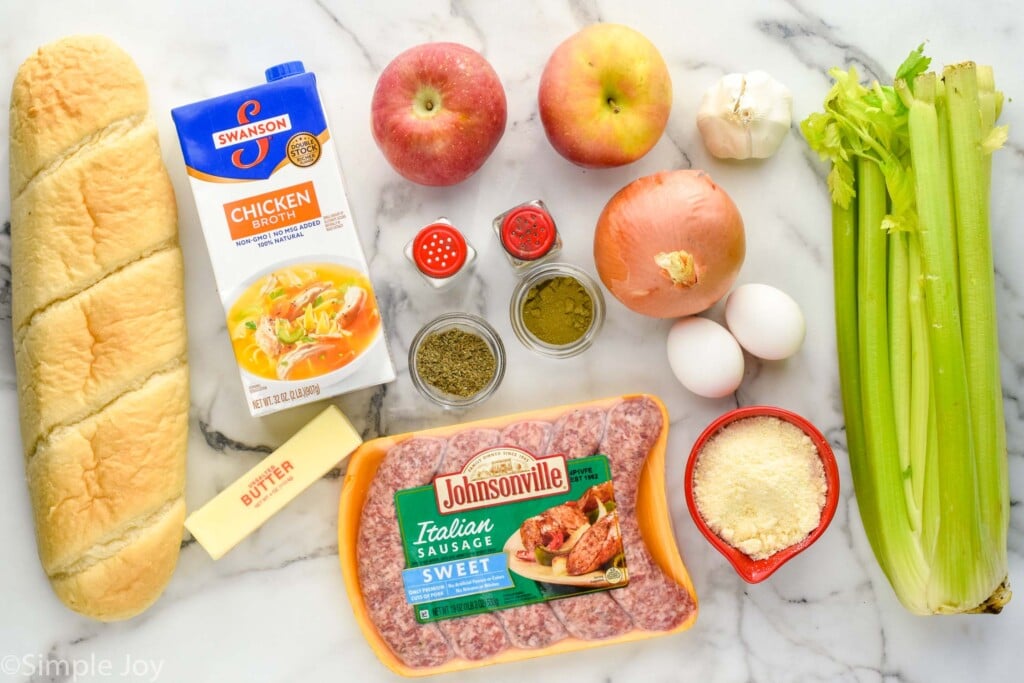 Stuffing Ingredients
This recipe holds up over time because it's got all the basics plus a few surprising ingredients.
Dry Bread: I like buying a loaf like you see pictured here, cutting it into cubes, and leaving those out overnight. Alternatively, you can bake the bread cubes after cutting the bread, place it on a baking sheet and bake it at 250 degrees Farenheit for 45 to 60 minutes or until it has dried out, flipping it at least once during baking.
Sausage: Using Italian sausage adds so much great flavor to the recipe. If you want to cut back on calories and fat, you can used Italian turkey sausage and you won't even notice the difference.
Onion and Celery: These two are basic to so many recipes for good reason. They add a subtle, yet delicious flavor.
Apples: This ingredient might come as a surprise, but it pairs perfectly with the flavors in this dish. The slightest hint of sweetness balances out the other flavors happening here in the best way.
Dried sage and Dried Thyme: These go together like peanut butter and jelly and just the smell of them makes me think of Thanksgiving. I like to use ground versions of both of these herbs.
Unsalted Butter: We are going to use this to saute the vegetables, but we are using a lot more than is needed to saute because the butter will add flavor and a richness to this stuffing recipe.
Eggs: These are used to bind everything together. You just can't go wrong when you combine eggs and dried bread. Just ask my French Toast Casserole.
Cheese: While Parmesan might not be something you are used to in sausage stuffing, I am begging you to try it. It adds cheesiness, obviously, but also great flavor.
Chicken stock: This helps make your stuffing recipe moist, flavorful, and perfect.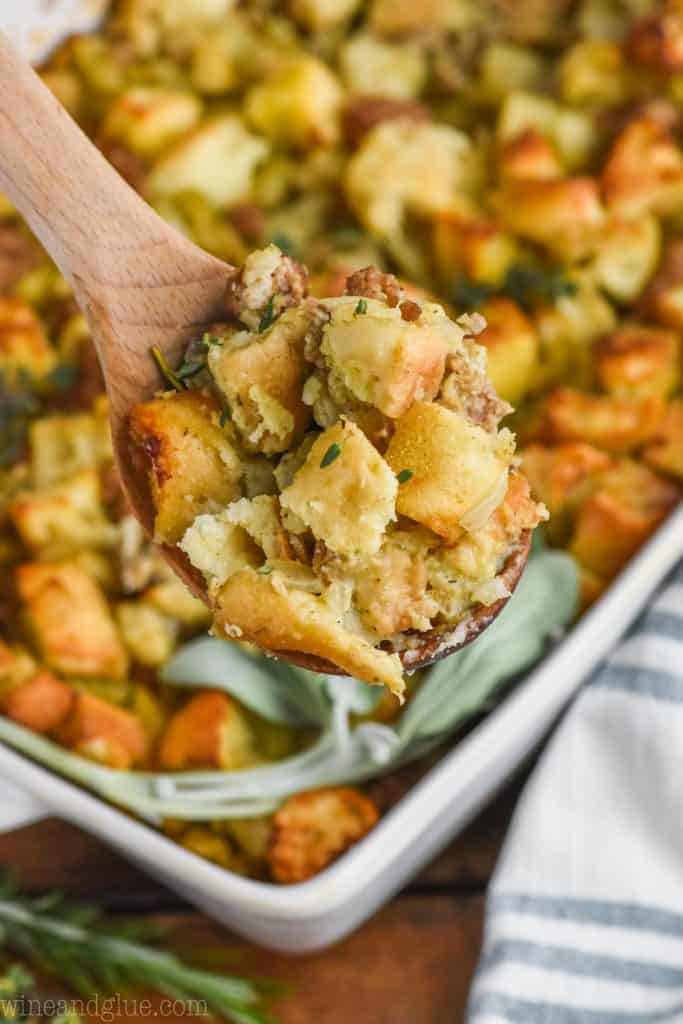 How to Make Homemade Stuffing
This is a brief overview so you can see just how easy this stuffing recipe is. For the full recipe with all the measurements, please scroll to the bottom of the post. There you will find the recipe card, which you can print out and have on hand for the big day.
Dry out the bread. We want it to soak up everything. You can bake it, cubed in a single layer, at 250 degrees Fahrenheit or you can just leave it out overnight.
Cook the sausage. The sausage needs to be browned before adding it to the skillet. The added bonus is that we are able to drain all of the grease off of it before adding it to the dish.
Sauté the vegetables. Melt the butter in the pan and add the vegetables, apples, and spices. Cook until soft.
Combine the bread and eggs. In a very large bowl, mix together the dry bread, and the whisked eggs.
Combine everything. Add in the the sausage, cooked vegetables, and then the cheese. Pour chicken stock over everything and give it a good mix.
Put everything into the prepared baking dish. Bake the recipe and enjoy!
How to Make Stuffing in the Crockpot
This same delicious homemade stuffing recipe is perfect to make in the crockpot. It's literally the same recipe, but the difference is that instead of pouring it all in a baking dish, you toss it in the slow cooker and leave your oven free.
Crockpot Stuffing
Crockpot Stuffing frees up your oven while still giving you the best Thanksgiving stuffing recipe you could ask for. This is going to become a family favorite!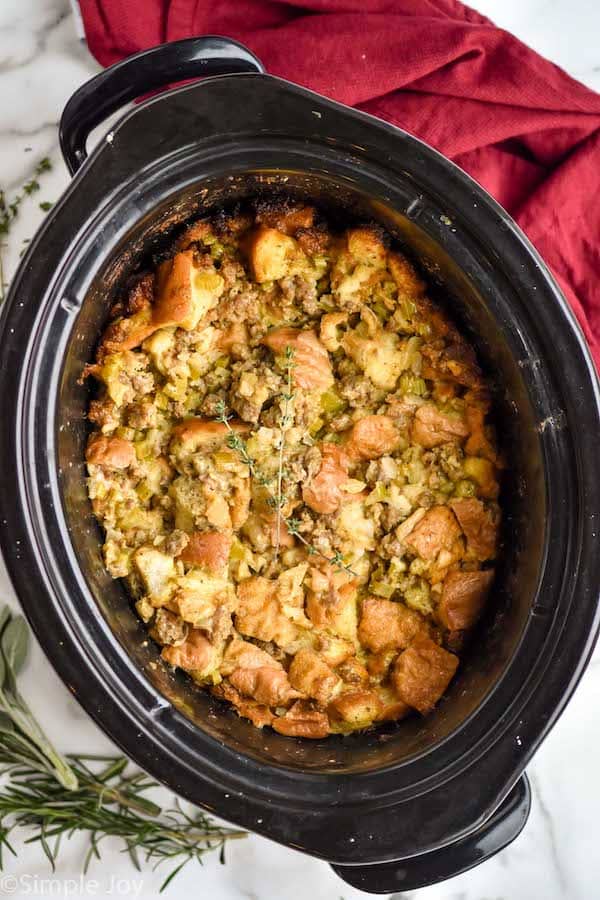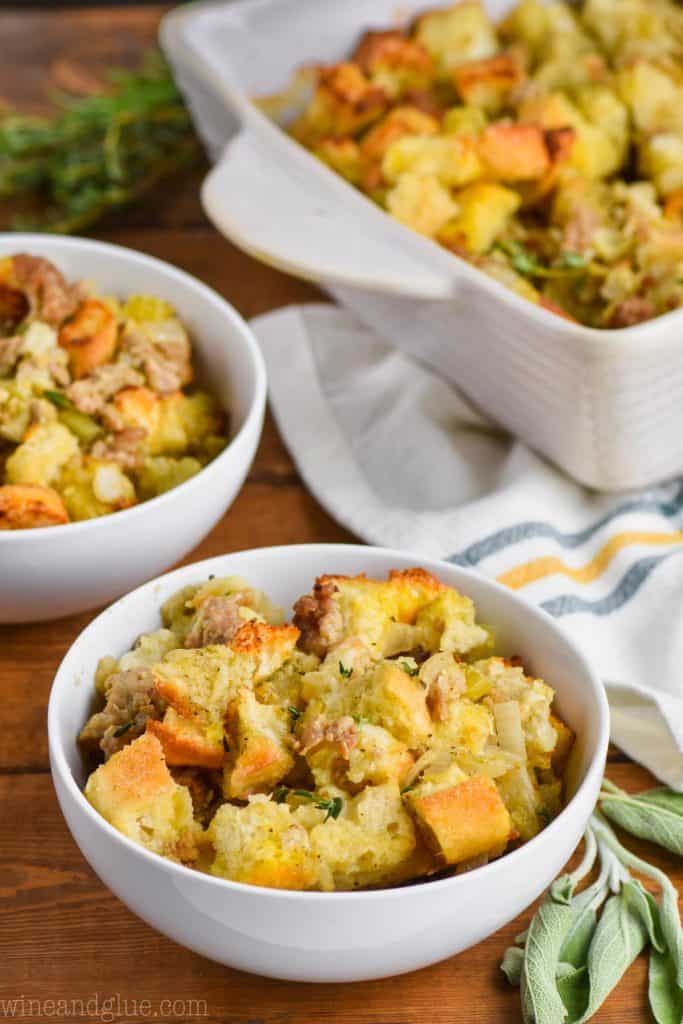 Dry Bread for Stuffing
Dried out bread is key for this home made stuffing. There are two ways you can make this happen.
Cut up the bread and leave it on a rimmed baking sheet overnight. In the morning it will be dried and ready for this recipe. It helps I you toss it once right before you go to bed.
Cut up the bread and put it in the oven at 250 degrees Fahrenheit for 45 minutes to 1 hour. Toss the bread once while it bakes.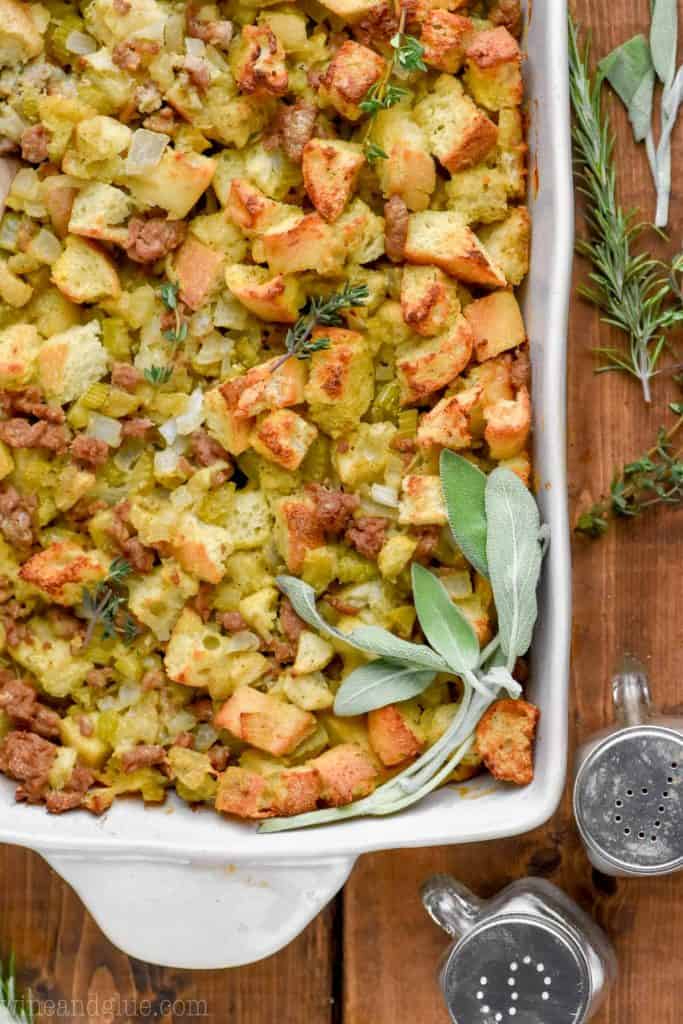 Make Ahead Stuffing
This is a great recipe because you can totally make it the night before by following some simple steps:
Do all of the steps above, but instead of putting it in the oven, just put it in the refrigerator over night.
The next day bring it out of the refrigerator 30 minutes before you want to bake it. This will allow it to come to room temperature.
Give it a good mix before putting it in the oven.
Baking Stuffing vs. Stuffing the Turkey
I don't recommend stuffing this recipe in your turkey before roasting it. It keeps the air from circulating through the turkey and makes it take longer for the turkey to roast. Additionally, it can keep things from fully cooking, which presents a risk with food safety. I recommend baking this stuffing recipe in a baking dish separate form the turkey.
That being said, this recipe for easy stuffing pairs perfectly with my Roast Turkey recipe. My turkey recipe comes with very detailed instructions that will help you make the perfect turkey every single year without fail.
Roast Turkey
This Roast Turkey recipe is the best! With my detailed video and step by step instructions you will know how to brine a turkey like a pro. This is the perfect Thanksgiving Turkey; after making this recipe you'll never use another again.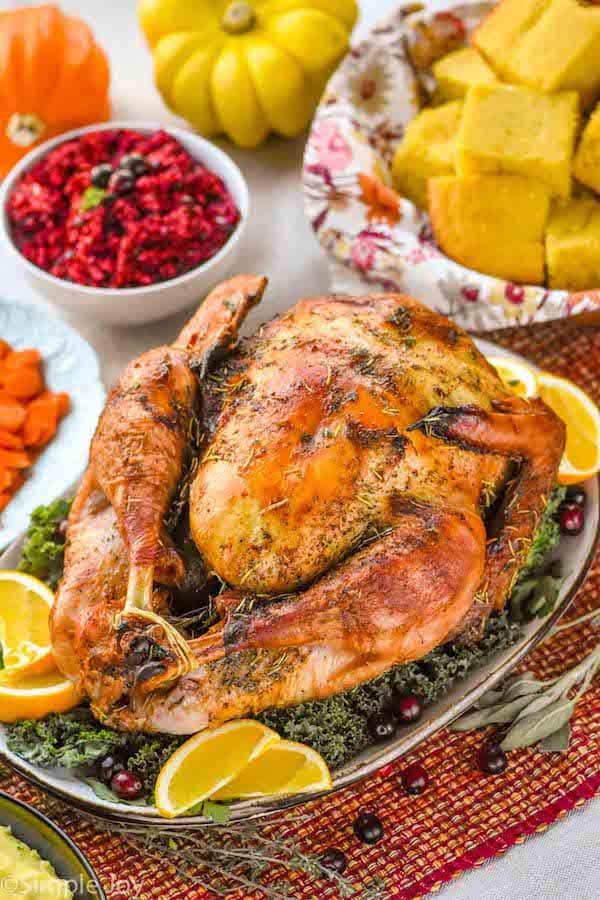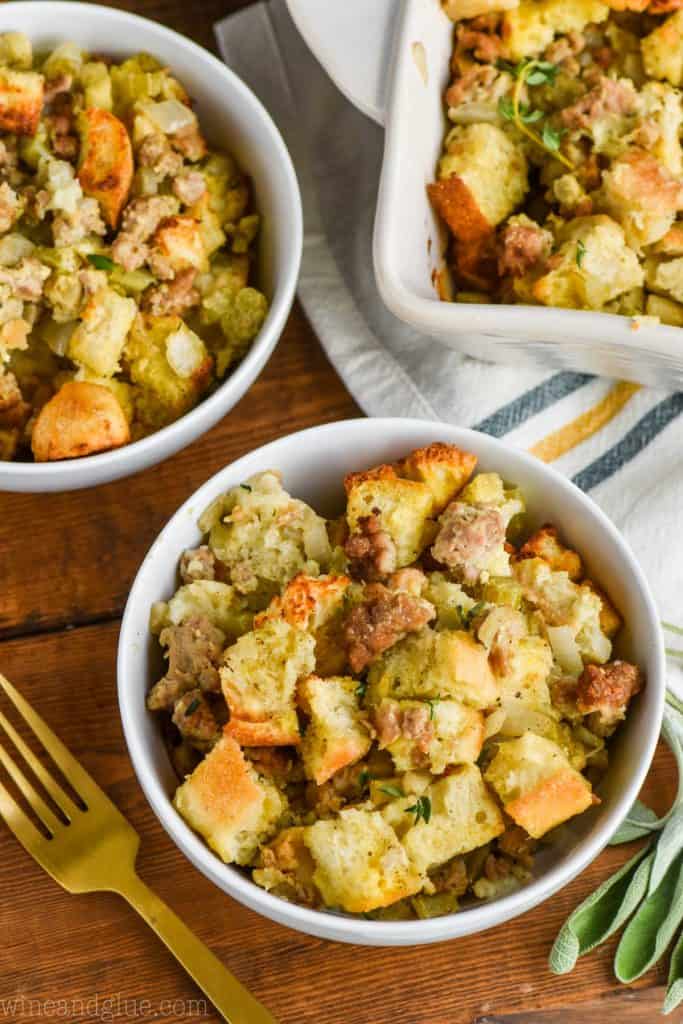 Storing and Reheating Homemade Stuffing
This recipe can be stored in an airtight container for up to 5 days. When reheating leftovers, only take out the portion that you plan on eating. The reason for this is that best practice for food safety is to only reheat leftovers once.
To reheat the leftovers, place them in an oven safe container. Cover them and bake for 30 minutes at 250 degrees.
FAQ
What is traditional stuffing made out of?
Traditionally, stuffing is a combination of sautéed vegetables, dried bread, eggs, herbs, and chicken stock. In this version we are adding cheese, sausage, and apples because it puts the recipe over the top.
Can this homemade stuffing recipe be made ahead?
Absolutely! I regularly make this dish the night before Thanksgiving. Make it up to the point of baking, refrigerate it, and then the day of, take it out of the refrigerator 30 minutes before you want to bake it.
What bread is beast for homemade stuffing?
We always make this recipe with Italian bread. Realistically, any loaf of bread will work with this recipe, and the type you pick is primarily dependent on personal preference.
Does homemade stuffing need eggs?
Yes, the eggs are what helps bind the stuffing together and make the texture that you are used to.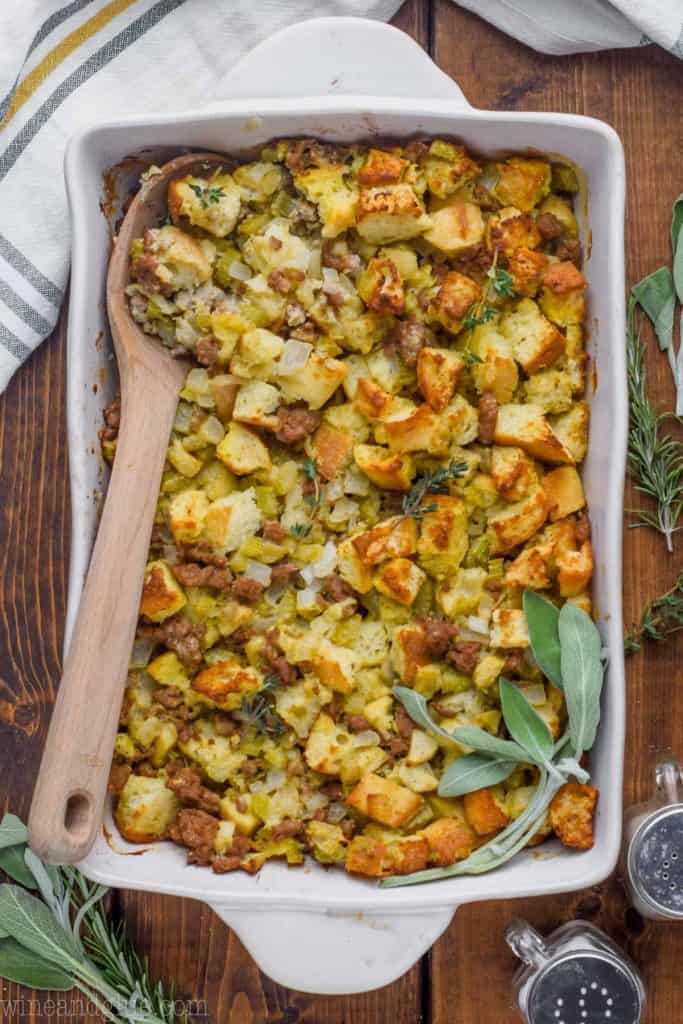 Great Thanksgiving Recipes
If you make this homemade stuffing or any of my other Thanksgiving side dishes, please leave me a comment and let me know what you think.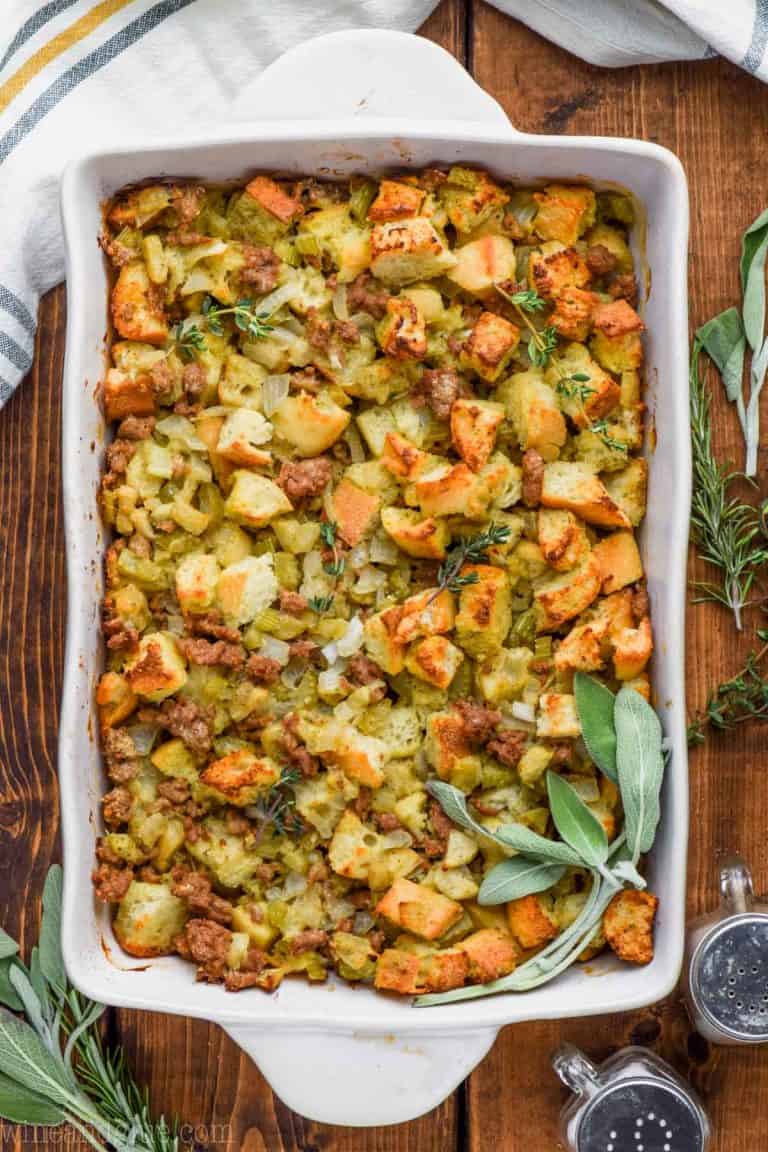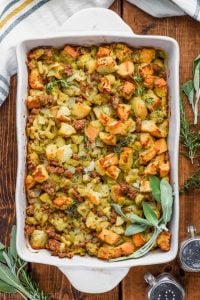 Homemade Stuffing
This is literally the best Homemade Stuffing Recipe. It has everything you love about a classic stuffing recipe plusinstructions for how to make this Thanksgiving stuffing recipe the night before!
Ingredients
8

cups

dried Italian bread cubes

(read here about drying out bread for homemade stuffing)

4

ounces

unsalted butter

1

medium yellow onion

diced

4

celery stalks

diced

2

small apples

peeled and diced

1/2

teaspoon

kosher salt

(if using table salt, use 1/4 teaspoon)

1/8

teaspoon

black pepper

1

teaspoon

dried sage

1

teaspoon

dried thyme

1

pound

sweet Italian sausage

(or sweet Italian turkey sausage)

2

eggs

whisked

1

cup

grated parmesan cheese

2 1/2

cups

chicken stock
Instructions
This recipe calls for dried out bread. You can do that by cutting it up and leaving out overnight or by cutting it up and baking it at 250 degrees Fahrenheit for 45 to 60 minutes.

8 cups dried Italian bread cubes

Spray a 9 by 13 inch baking dish with cooking spray and set aside.  Preheat your oven to 375 degrees Fahrenheit. (Unless preparing the day before.)

Melt the butter in a large frying pan. Add the onions, celery, and apples to the butter and season with salt and pepper. Sauté until the celery and onion are translucent, about five minutes. Mix in sage and thyme. Remove from the heat.

4 ounces unsalted butter,

1 medium yellow onion,

4 celery stalks,

2 small apples,

1/2 teaspoon kosher salt,

1/8 teaspoon black pepper,

1 teaspoon dried sage,

1 teaspoon dried thyme

In a separate pan, cook the sausage, breaking it up until no longer pink. Remove from the heat and drain the grease.

1 pound sweet Italian sausage

In a large bowl, coat the bread with the eggs. Mix in both the meat and the vegetables in butter. Then mix in the cheese, then pour the chicken stock over it. Give the stuffing a good mix to make sure everything is well coated.

2 eggs,

1 cup grated parmesan cheese,

2 1/2 cups chicken stock

Pour in the stuffing mixture into the pan. Cover the dish with aluminum foil and bake for 30 minutes. Remove the foil and continue baking for 25 to 30 minutes longer. (Read here for how to make this stuffing recipe ahead of time.)
Serving:
1
cup
Calories:
468
kcal
(23%)
Carbohydrates:
36
g
(12%)
Protein:
30
g
(60%)
Fat:
22
g
(34%)
Saturated Fat:
12
g
(75%)
Polyunsaturated Fat:
1
g
Monounsaturated Fat:
7
g
Cholesterol:
94
mg
(31%)
Sodium:
1418
mg
(62%)
Potassium:
276
mg
(8%)
Fiber:
2
g
(8%)
Sugar:
5
g
(6%)
Vitamin A:
550
IU
(11%)
Vitamin C:
2.5
mg
(3%)
Calcium:
590
mg
(59%)
Iron:
3.1
mg
(17%)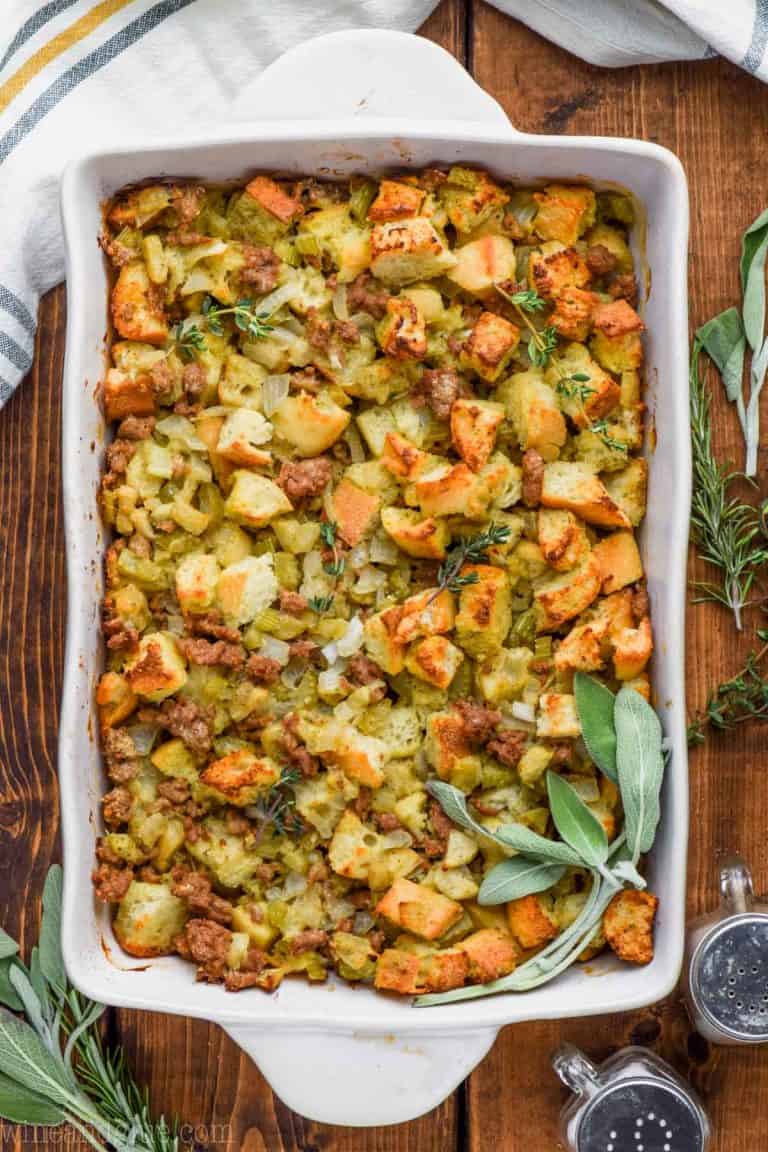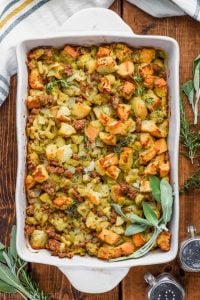 did you make this
Homemade Stuffing