My Green Bean Casserole from scratch will put the canned version to shame. Creamy, delicious, and with the perfect green bean texture your family will love.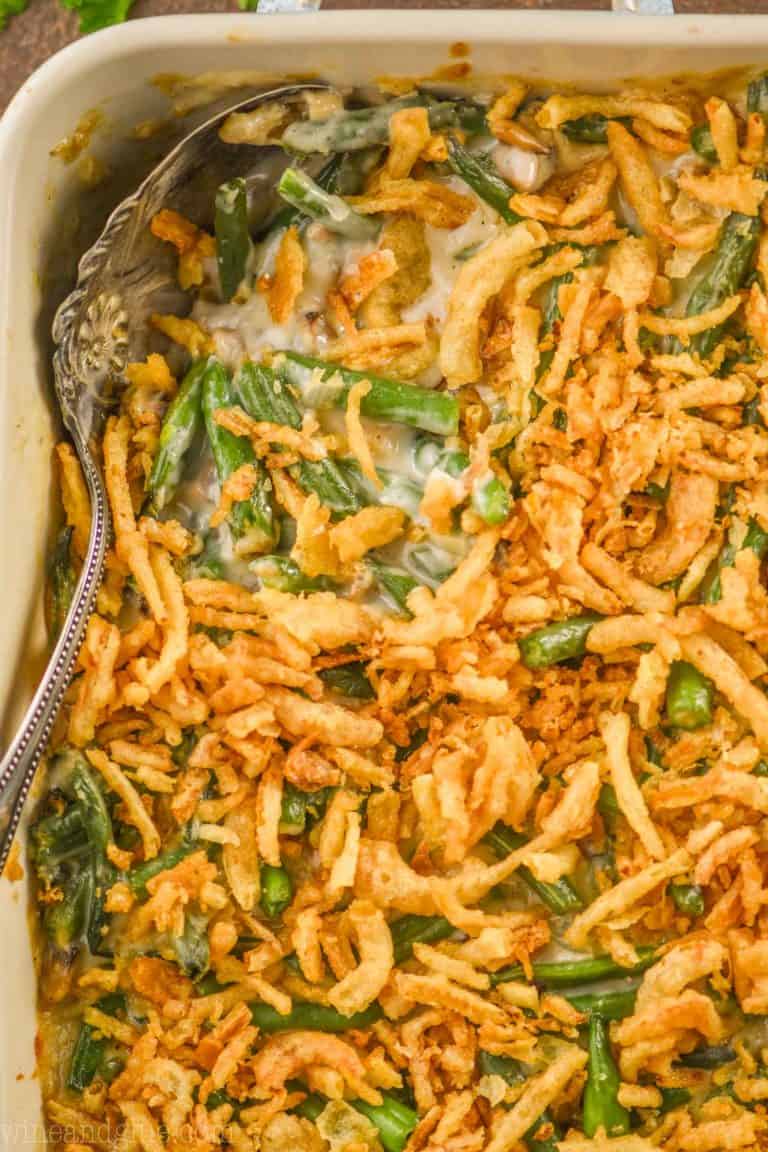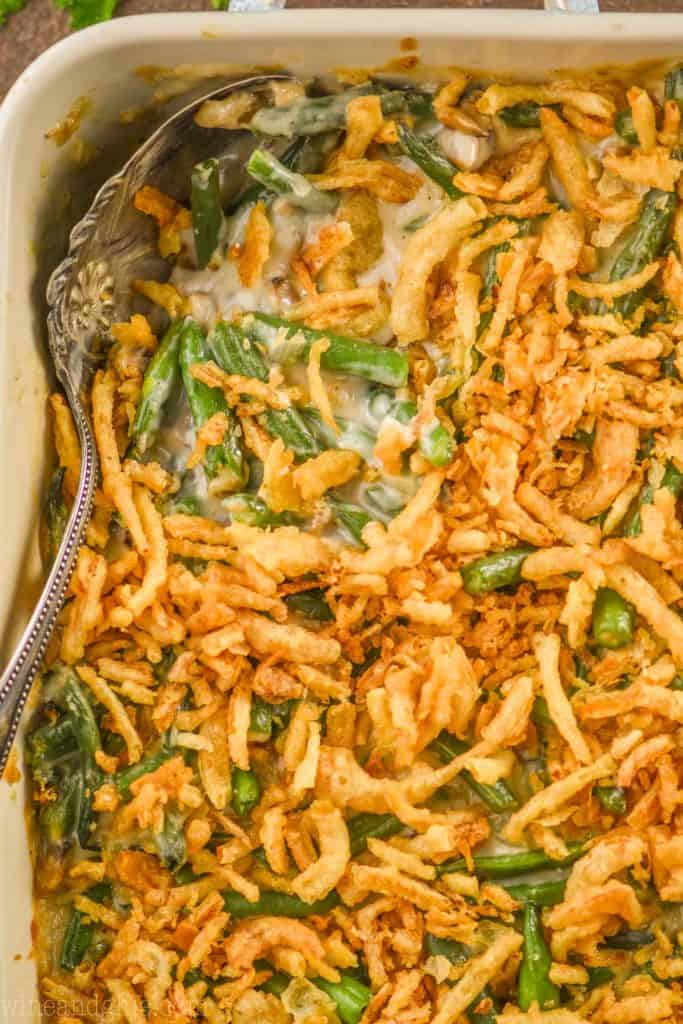 If I'm being totally honest, green bean casserole has never been at the top of my list for Thanksgiving. Give me all the moist perfect turkey. Pass me extra helpings of stuffing. But the from the can green bean casserole? I'm going to pass.
Until now!
This homemade green bean casserole will put the recipe that uses canned green beans and condensed cream of mushroom soup to shame. No judgement if that is how you want to make it. It's fast!
I just think this version tastes so much better. And recipes on holidays are worth a little extra effort and a little extra time.
Reader Review
I love this recipe and make it every year.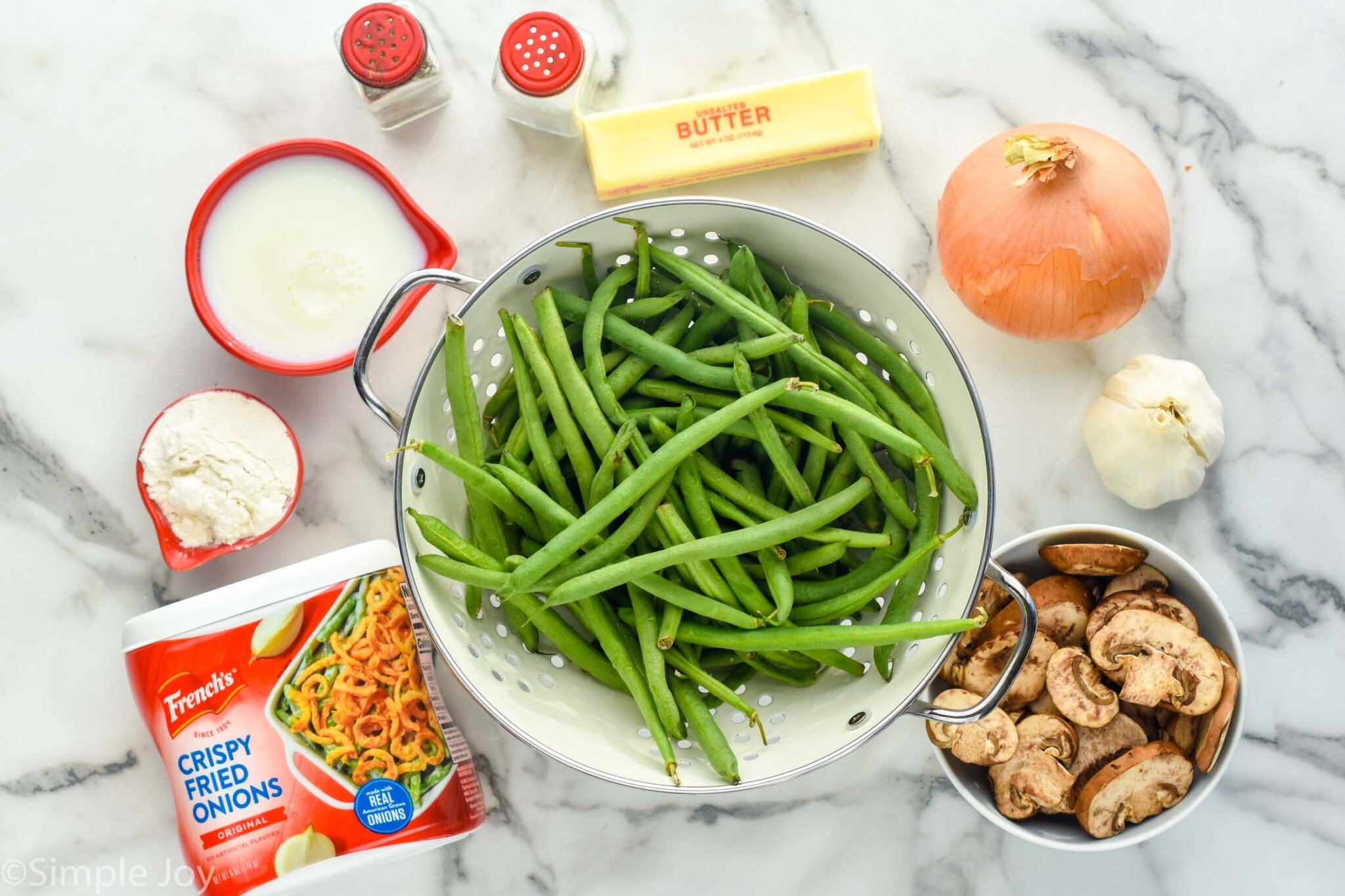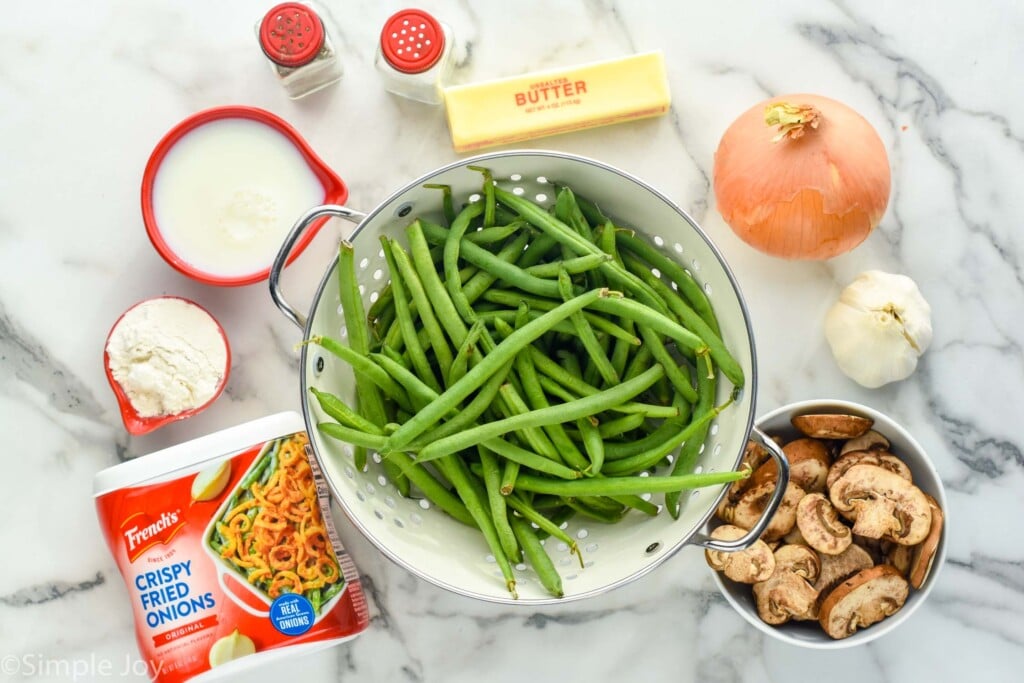 How to Make Green Bean Casserole From Scratch
Parboil green beans. Cook green beans in boiling water for just three minutes and then transfer them to an ice bath. Read more on this below
Make homemade condensed cream of mushroom soup. This involves sautéing onion, garlic, and mushrooms in butter and then adding flour to make a roux. Finally, you add in some milk. (You can read more detailed instructions below.)
Put it all together. Combine the beans and condensed soup in a casserole dish and top with fried onions before baking.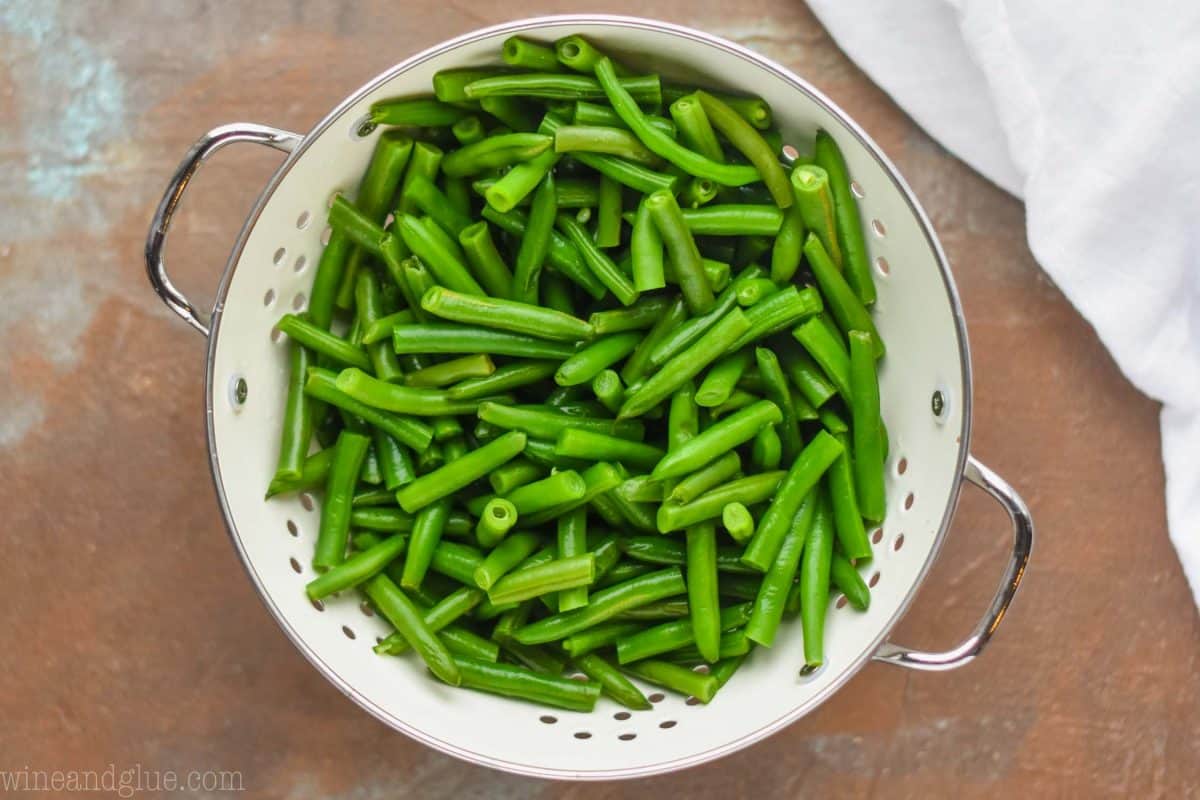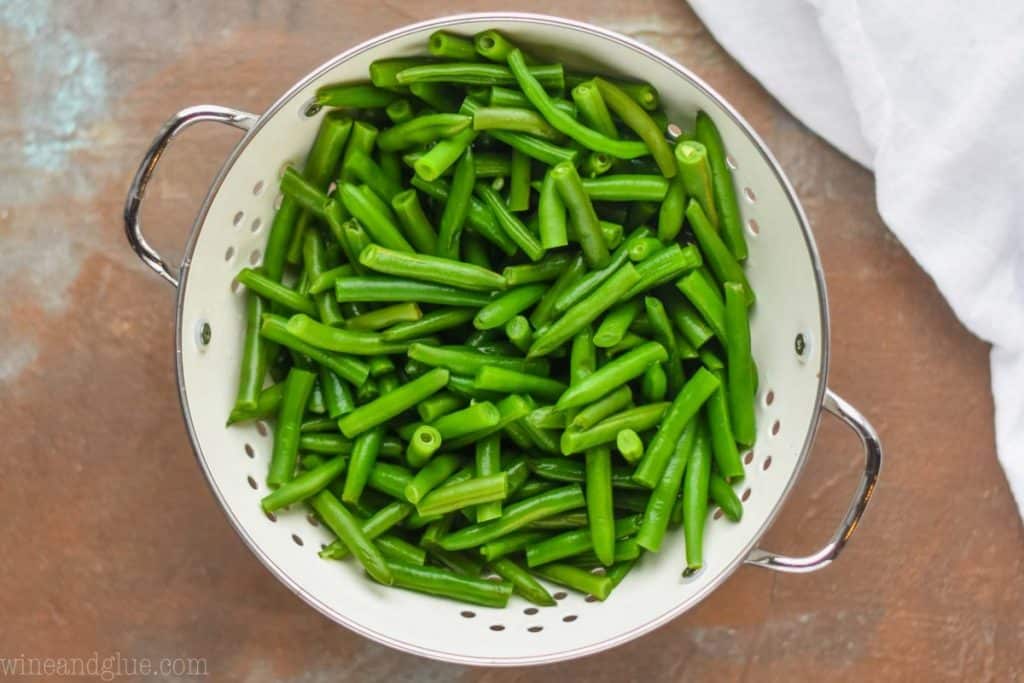 Par Boiling Green Beans
The green beans are the star of this show, they need to be perfect. Par boiling is the best way to make them this beautiful green color and soft without being over cooked.
Par boiling a vegetable is to partially cook it before cooking it more using another method. In this green bean casserole we par boil and then cook further in the oven.
Tips and Tricks for Par Boiling
Fill a large bowl with cold water and ice to create an ice bath while the water is coming to a boil.
When you put the green beans in the boiling water set a timer for 3 minutes. Don't step away, it goes quick and you want to pull them out right away.
Use a large mesh strainer with a long handle to pull them out quickly and transfer them to the ice bath.
Drain well from ice bath once they are cold – about two minutes.
Using Canned or Frozen Beans Instead
You absolutely can used canned green beans or frozen green beans. If you go that route, skip the boiling step and get:
2 14.5 ounce cans of green beans OR
16 to 20 ounce frozen green beans that you have thawed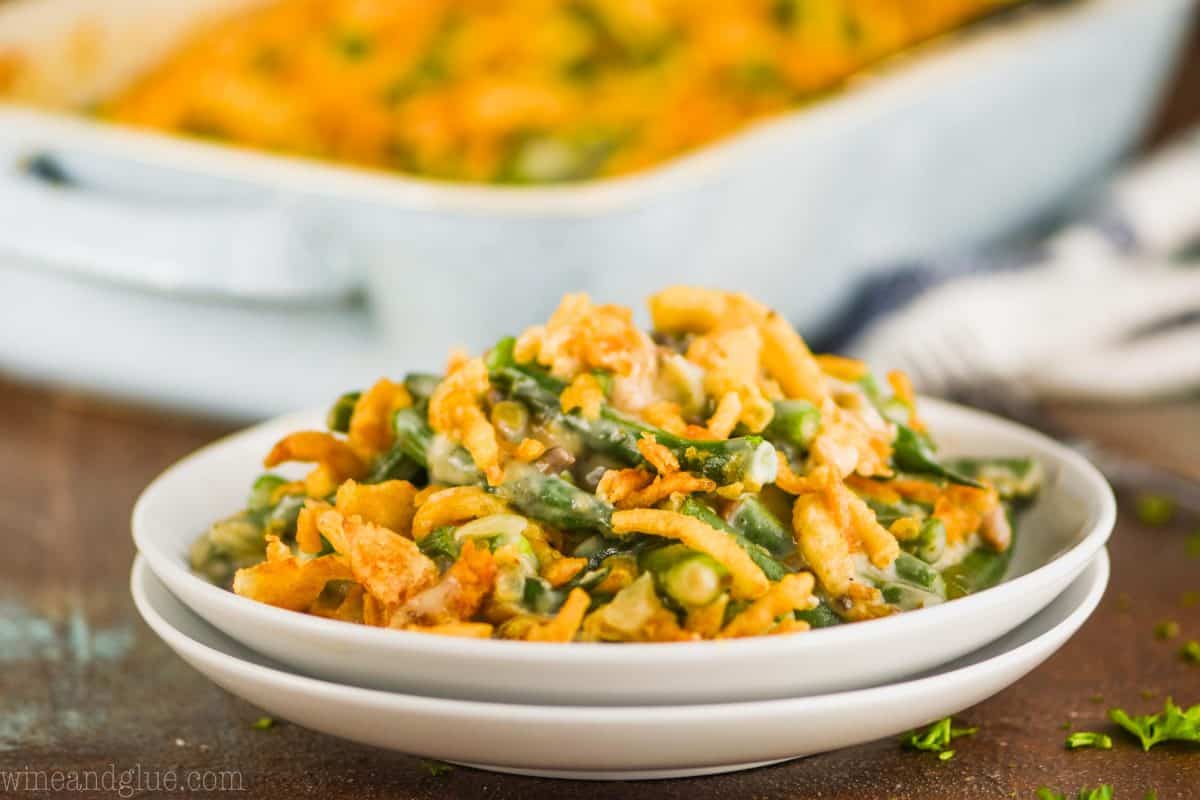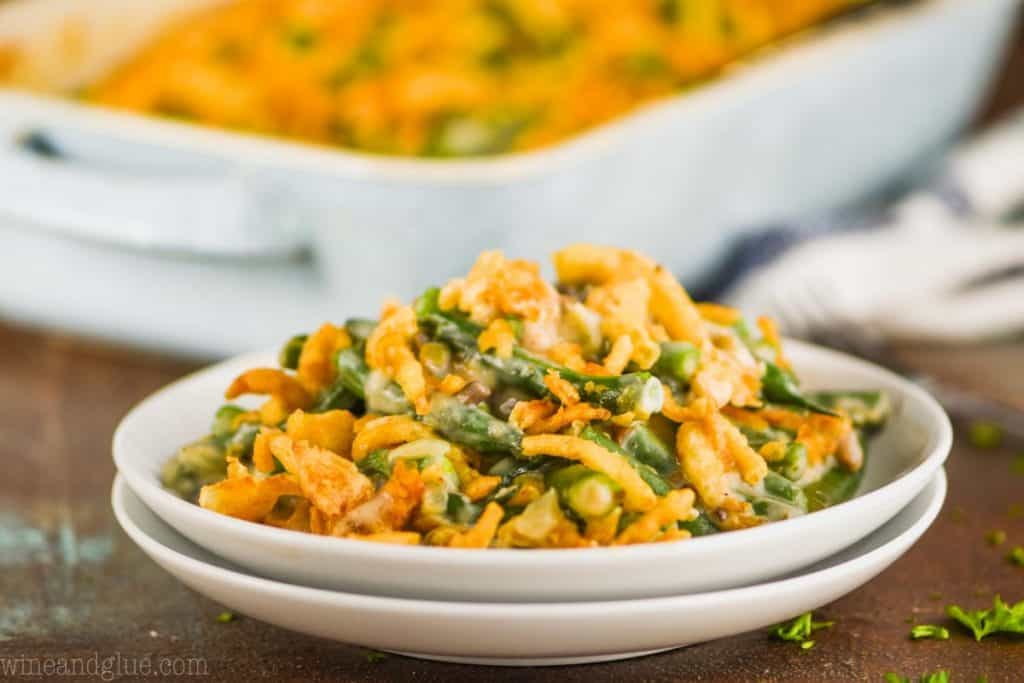 Making Homemade Condensed Cream of Mushroom Soup
The foundation for a green bean casserole is condensed cream of mushroom soup. Making condensed soup at home is really simple.
I tried this sauce a few different ways before coming up with the perfect balance of flavors that I know you'll love. See the link before for this stand alone recipe that can replace the an anytime you need.
Melt 2 tablespoons in a large skillet.
Add garlic and onions and cook until the onions are translucent, about 5 minutes.
Add very finely diced mushrooms (see tip in the notes of the recipe card) and cook for another three minutes.
Add more butter and allow it to melt before whisking in flour and creating the roux.
Slowly add milk. You want to add about 2 tablespoons at a time initially, only adding more milk once the previous has fully absorbed.
Once all the milk is added, allow to simmer for 5 minutes stirring regularly. The mixture will thicken and make the perfect saucy base for the casserole.
If you are a confident cook, you can definitely start this step while you are boiling the water for the green beans. If you are hesitant, stick to one step at a time.
Homemade Condensed Cream of Mushroom Soup
Homemade Condensed Cream of Mushroom Soup is an easy homemade swap for a grocery staple. Use this to replace the can when you want a from scratch dinner!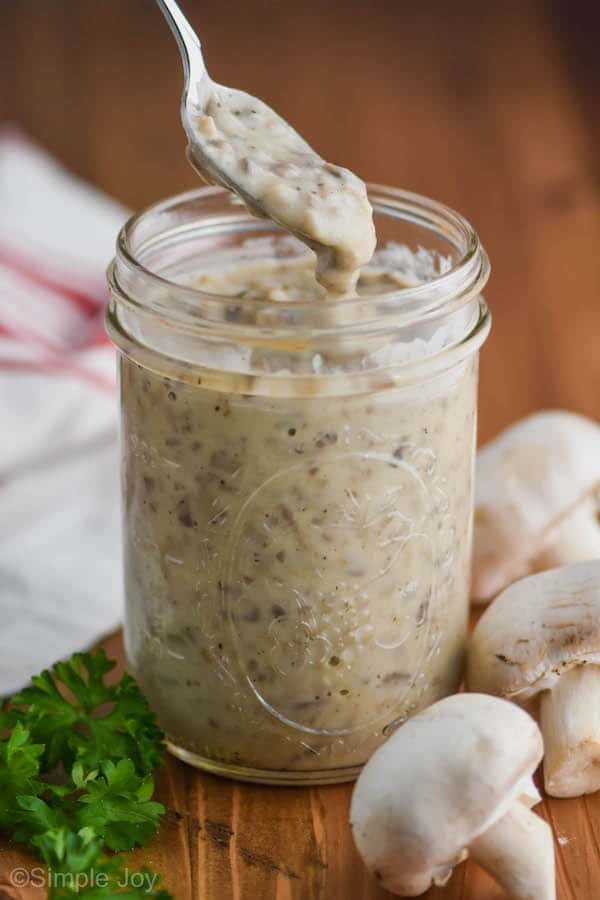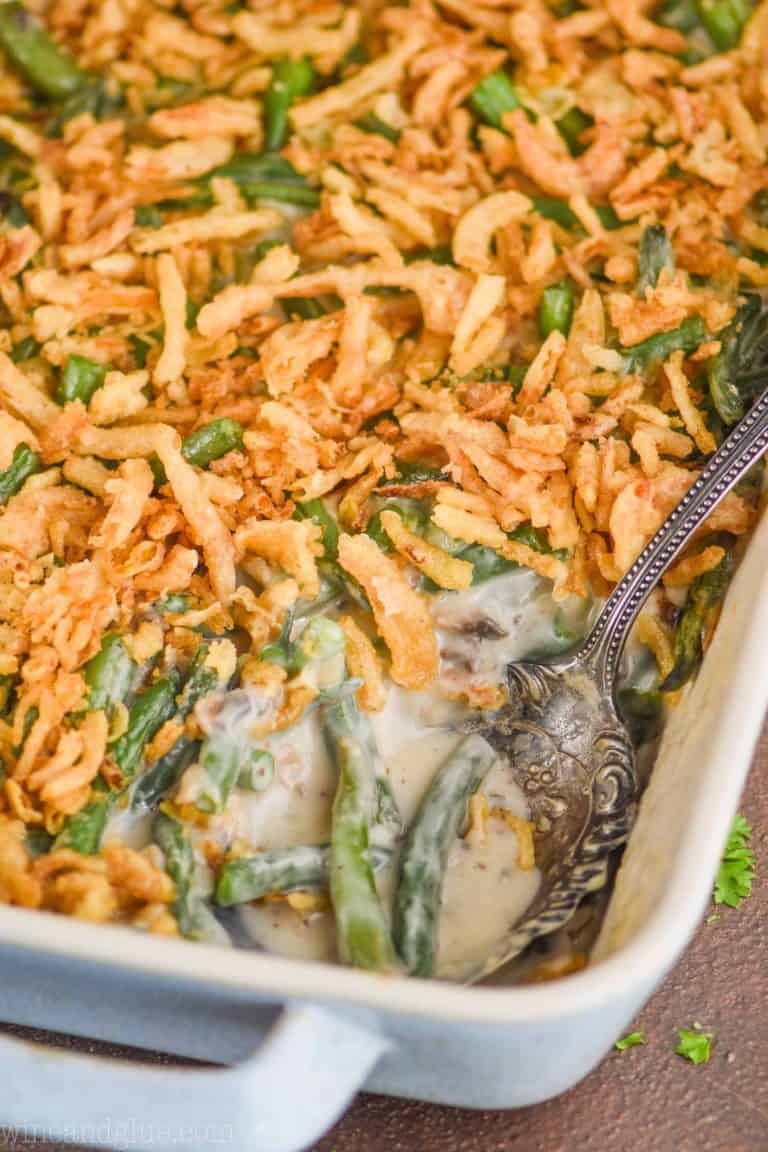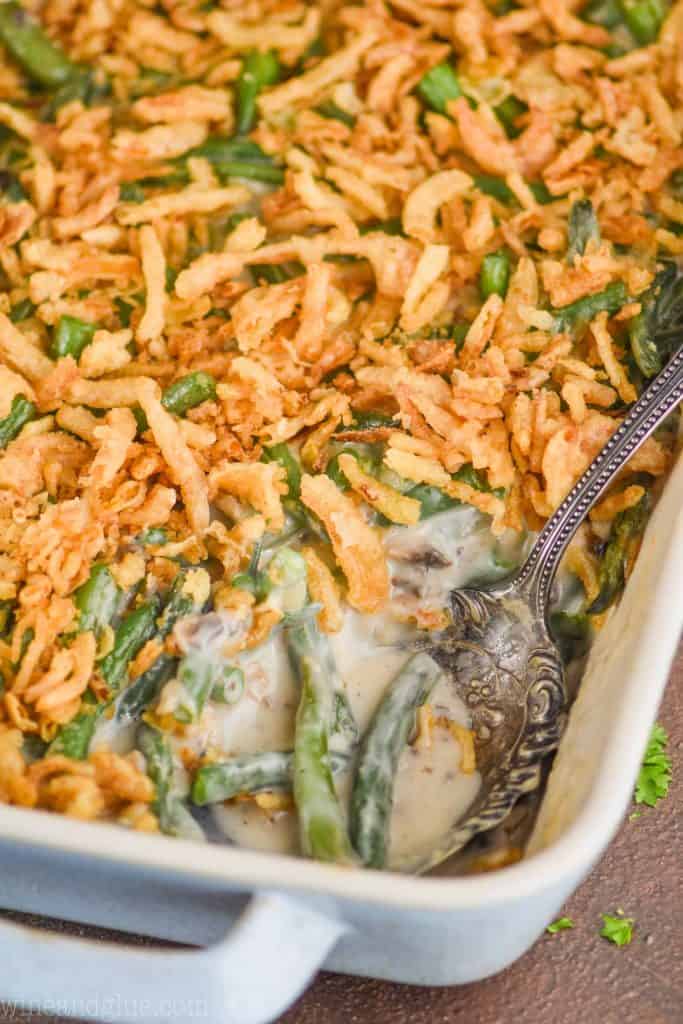 Make Ahead Green Bean Casserole
This is a great recipe to make ahead of time to save you some time on Thanksgiving day.
Follow the instructions up until you are putting it in the oven. Instead of putting it in the oven, wrap it well with aluminum foil and put it in the refrigerator for up to 24 hours.
When you are ready to bake, take the casserole out of the refrigerator. Unwrap and let it sit on the counter while the oven is preheating. You will need to bake it an extra 5 minutes (so 35 minutes) before pulling it out of the oven and adding fried onions.
Serving Size
This recipe makes 4 cups. I have 8 servings listed, which is a hearty 1/2 cup serving. If you have a lot of side dishes on your Thanksgiving table, this recipe will be stretched further than 8 people.
That being said, I always error on the side of making too much food. Especially at the holidays, I don't want a guest to reach for something only to find it all gone. This recipe will easily double or triple.
Freezing Green Bean Casserole
This is a great recipe to make ahead and freeze. I recommend using a disposable baking dish so that you can take it right from the freezer to the oven without worrying about the dish breaking. It will last in the freeze for three months.
Just like in the make ahead instructions you should make it right up to the point of putting it in the oven. Instead of baking it, cover it with foil and then wrap the whole dish three times with plastic wrap. When you are ready to cook it, remove it from the freezer, take off the plastic wrap. Bake at 350 degrees covered for 15 minutes. Take off the foil and bake for 30 minutes. Then add the fried onions and bake for 3 to 5 more minutes.
FAQ
Is green bean casserole gluten free?
As written, this recipe is not gluten free. If you are serving someone with a gluten allergy, you can replace the flour with almond flour. As always, double check all of your ingredients to ensure none contain gluten.
Is green bean casserole vegan?
This recipe is not vegan. It uses both butter and milk. But you could easily swap the butter for vegan butter and the milk for unsweetened soy or almond milk.
Can green bean casserole be made ahead?
Can green bean casserole be frozen?
Why is my green bean casserole runny?
More than likely, you added the milk too quickly to your roux and it wasn't able to thicken properly.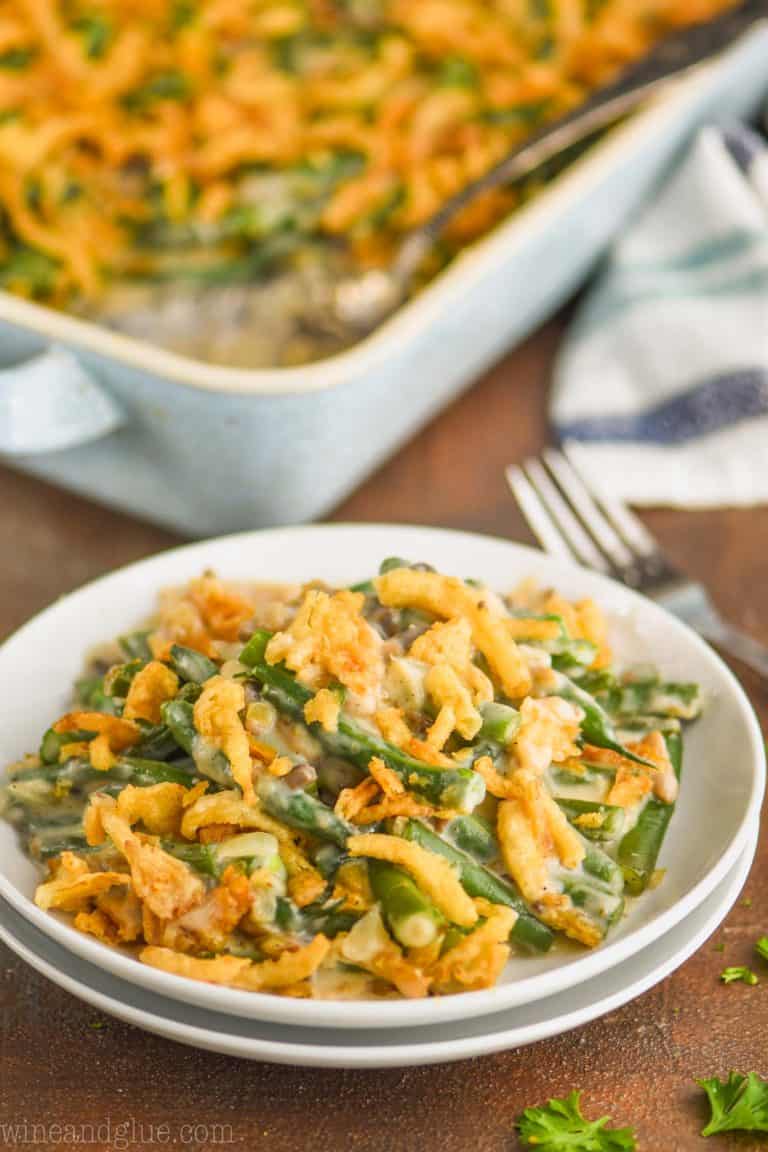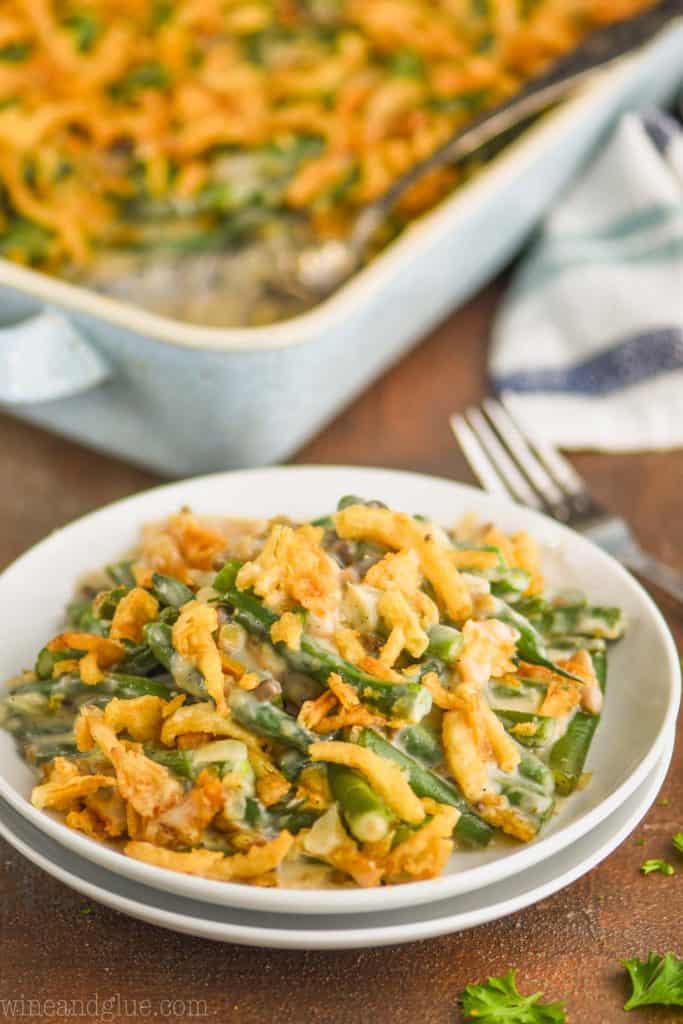 Other Thanksgiving Side Dishes
If you make this green bean casserole recipe and love it be sure to leave me a comment and let me know!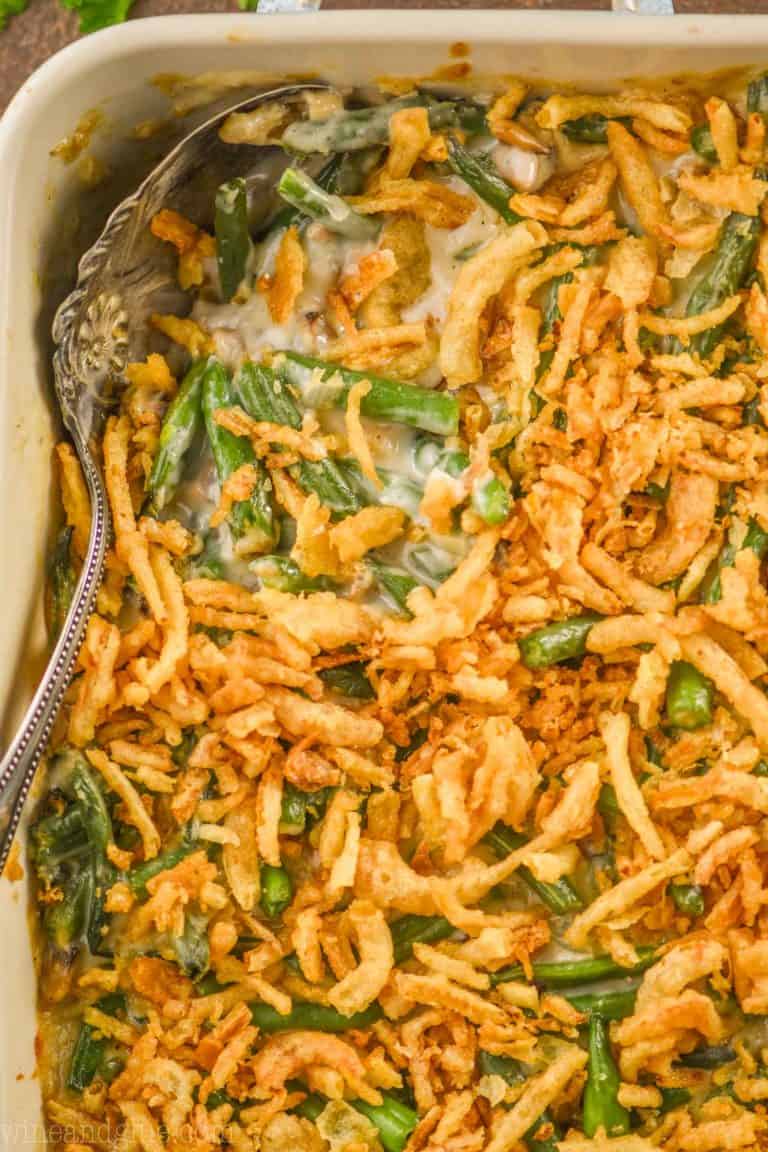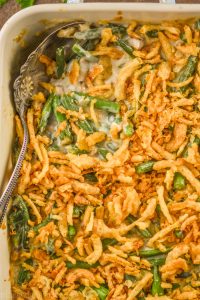 Green Bean Casserole from Scratch
This Green Bean Casserole from scratch will put that other version to shame. Creamy, delicious, and with the perfect green bean texture your family will love.
Ingredients
1 1/2

pounds

green beans

trimmed of rough stems and chopped into thirds

6

tablespoons

unsalted butter

divided

1

small yellow onion

diced small

2

cloves

garlic

minced

8

ounces

mushrooms

diced small (see note)

1/4

cup

all purpose flour

2 1/2

cups

milk

1 1/4

teaspoon

salt

1/4

teaspoon

black pepper

1

cup

fried onions
Instructions
Prheat your oven to 350 degrees. Spray a 1 1/2 quart baking dish with cooking spray. Set aside.

Create an ice bath by filling a large bowl with water and ice cubes. Set aside.

Bring a large pot of water to a boil. Add in the green beans and cook for 3 minutes. Remove the green beans quickly with a mesh strainer. Transfer them to the ice bath for a minute. (If you are feeling confident you can start step 4 while your water is boiling.) (Read more about par boiling green beans for green bean casserole.)

In a large skillet, melt 2 tablespoons butter over medium heat. Add the onion and garlic and cook until soft and tender, about five minutes. Add the finely diced mushrooms and cook until soft, about another 3 minutes.

Add the additional four tablespoons of butter. Stir until it is fully melted.

Whisk in the flour. Cook for about 30 seconds. (We are waiting for a slightly nutty smell, but not waiting until it burns.)

Whisk in the milk, a little at a time. Add just enough to be absorbed by the flour mixture, whisking it in before adding more. Continue adding milk until you have added all of it, going more quickly towards the end.

Stir in the salt and pepper. Continue stirring bringing the mixture to a simmer. Let the mixture simmer for 5 minutes, stirring regularly. The mixture should have a thick consistency – easily pourable, but it can coat the back of a spoon. If it seems thin, just let it simmer a little longer. Taste the mixture and add more salt and pepper to taste.

Add the green beans to the skillet. Stir to combine.

Pour the mixture into the prepared dish. Bake for thirty minutes. Top with fried onions and bake 3 to 5 more minutes.
Notes
Chopping Mushrooms:  Slice the mushrooms length wise. Turn, and slice again. You will have long strips of mushroom. Once you have done this with all your mushrooms, roughly chop them so they are small pieces. At biggest, you want the pieces to be a 1/4 inch by a 1/4 inch.
Serving:
0.5
cup
Calories:
227
kcal
(11%)
Carbohydrates:
21
g
(7%)
Protein:
7
g
(14%)
Fat:
14
g
(22%)
Saturated Fat:
9
g
(56%)
Monounsaturated Fat:
3
g
Cholesterol:
28
mg
(9%)
Sodium:
530
mg
(23%)
Potassium:
270
mg
(8%)
Fiber:
4
g
(17%)
Sugar:
9
g
(10%)
Vitamin A:
19
IU
Vitamin C:
31
mg
(38%)
Calcium:
117
mg
(12%)
Iron:
6
mg
(33%)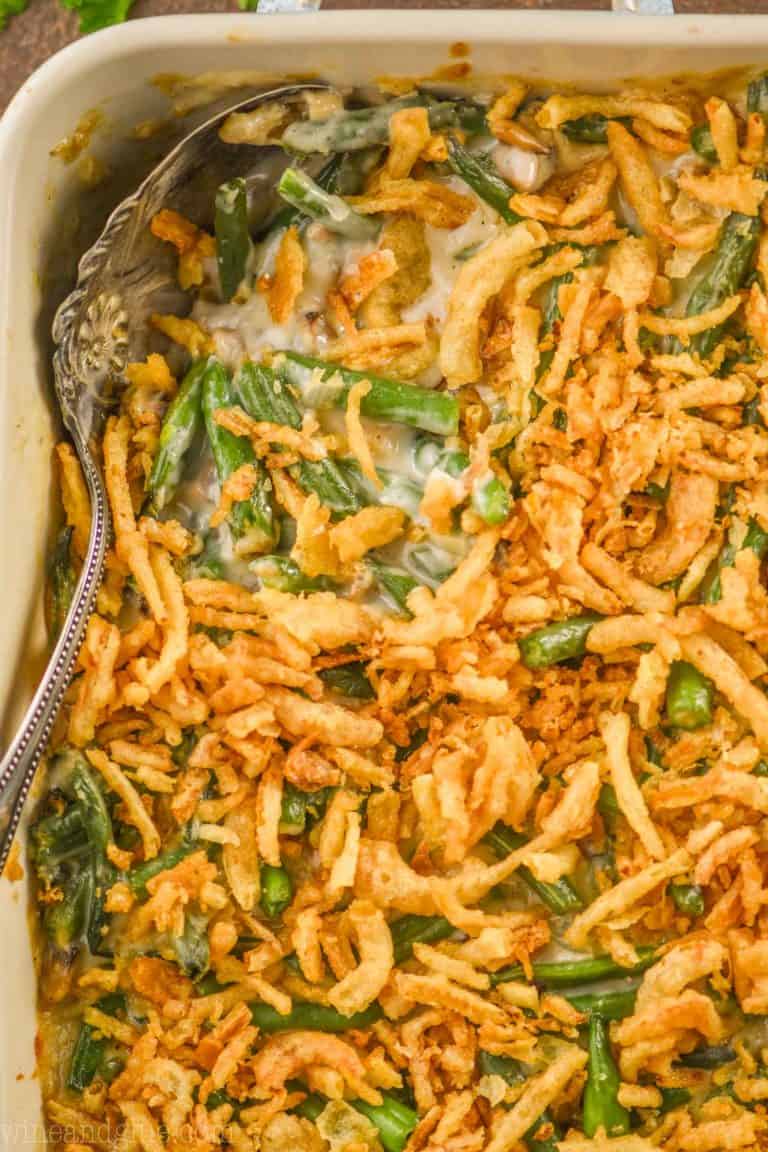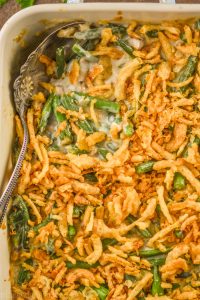 did you make this
Green Bean Casserole from Scratch