Dinner Rolls that come together in about an hour are basically magic. These homemade dinner rolls are easy to make, light and fluffy, and perfect for weeknight dinners or holiday meals!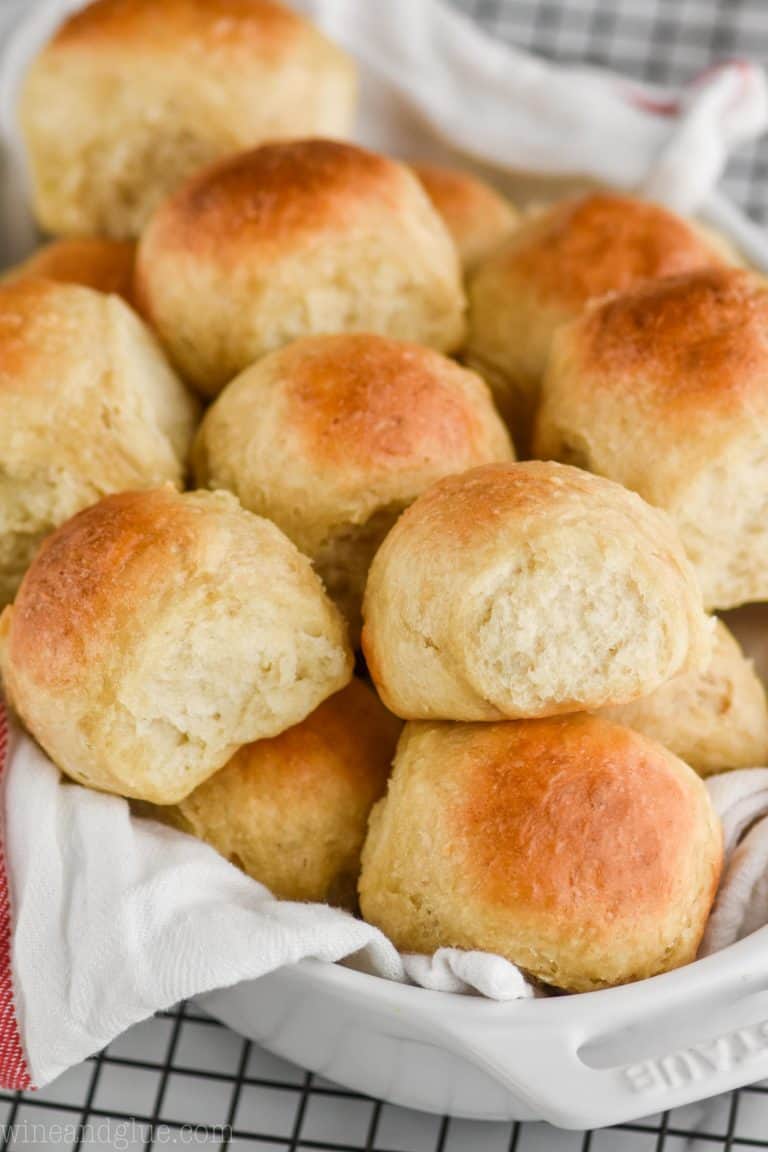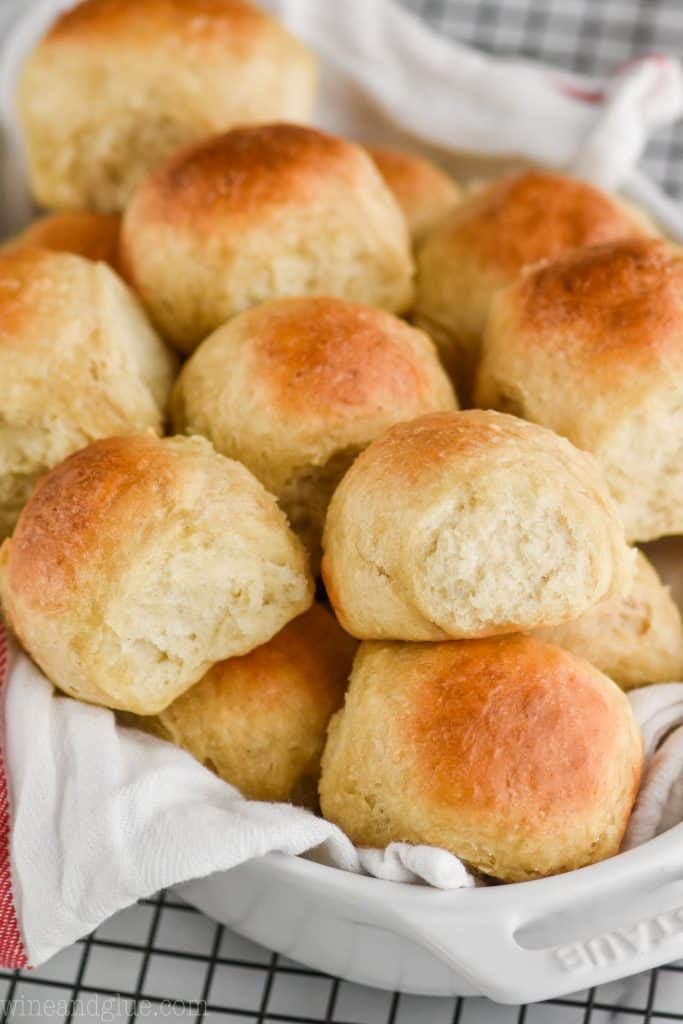 My friend Rebecca Lindamood from Foodie with Family wrote a book! And the title makes me love her more than I already did, if that's possible. "Ready, Set, Dough!" is full of so many amazing bread recipes that I had trouble picking just one.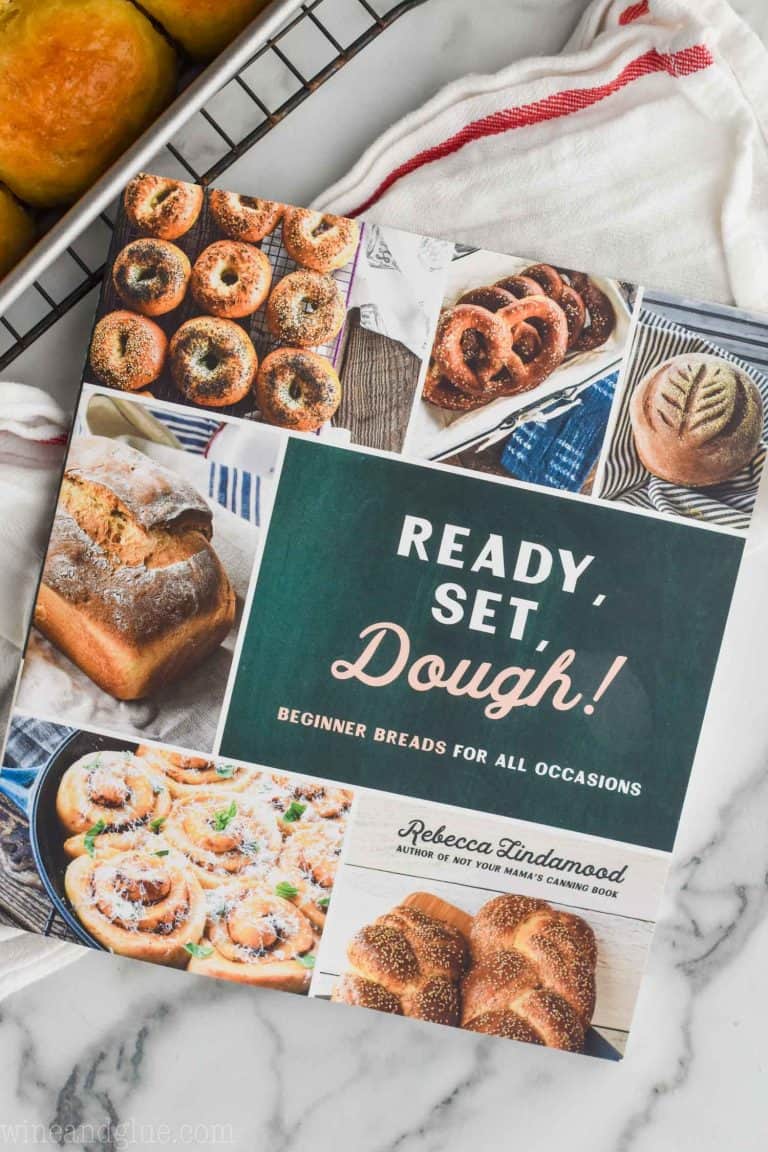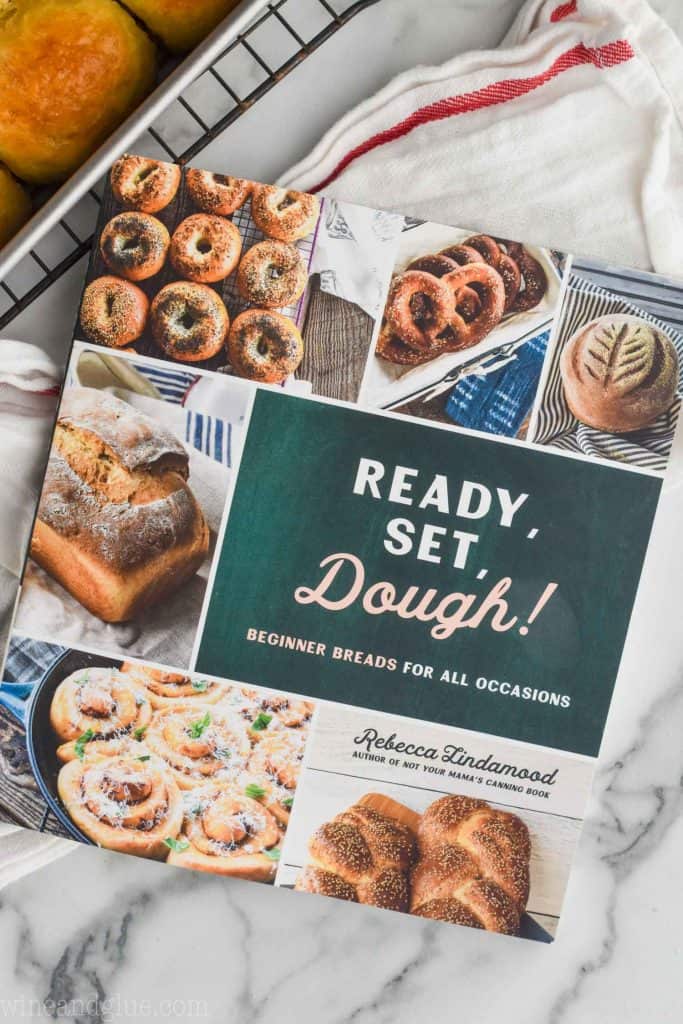 Rebecca is an amazingly talented baker and chef. If you don't already follow her, you should. You can absolutely count on every single recipe in her book being fantastic. Plus her easy to follow instructions are a dream. If you know an aspiring baker in your life, this book is the perfect Christmas gift.
These easy Dinner Rolls come out of the first section of her book that are all breads made in about an hour. They are perfect for the holiday season and after my husband had one bite he declared them the new go to in our house. And then my kids vacuumed up the rest.
Ingredients for Homemade Rolls
I love that the ingredients for this dinner roll recipe are always on hand in my house:
all purpose flour
dry yeast
sugar
salt
butter
The Difference Between Instant and Active Dry Yeast
The major difference between instant and active dry yeast is in their proofing. Both need warm water and food for the yeast to feed off of (like sugar) to grow. But instant yeast can be thrown in with the other dry ingredients and allowed to rise. Active dry yeast needs proofing time on it's own in warm water before it is added to the recipe.
You can read more about the differences between the two here.
For this recipe you want to use instant yeast. This recipe will work with active dry yeast, but you will find that it creates a more dense dinner roll. You will enjoy this recipe much more if you use instant yeast.
How to Make Easy Dinner Rolls
These homemade dinner rolls come together so quickly. Even a novice baker can tackle this recipe.
Start by combining flour, dry yeast, sugar, salt, and warm water in a bowl. Just like in my pizza dough recipe, the key is to make sure the water is hot enough to activate the yeast but not so hot that it kills it. I loved using a thermometer when I started baking.
Use a stiff wooden spoon to stir it until a shaggy dough forms. It should look like this.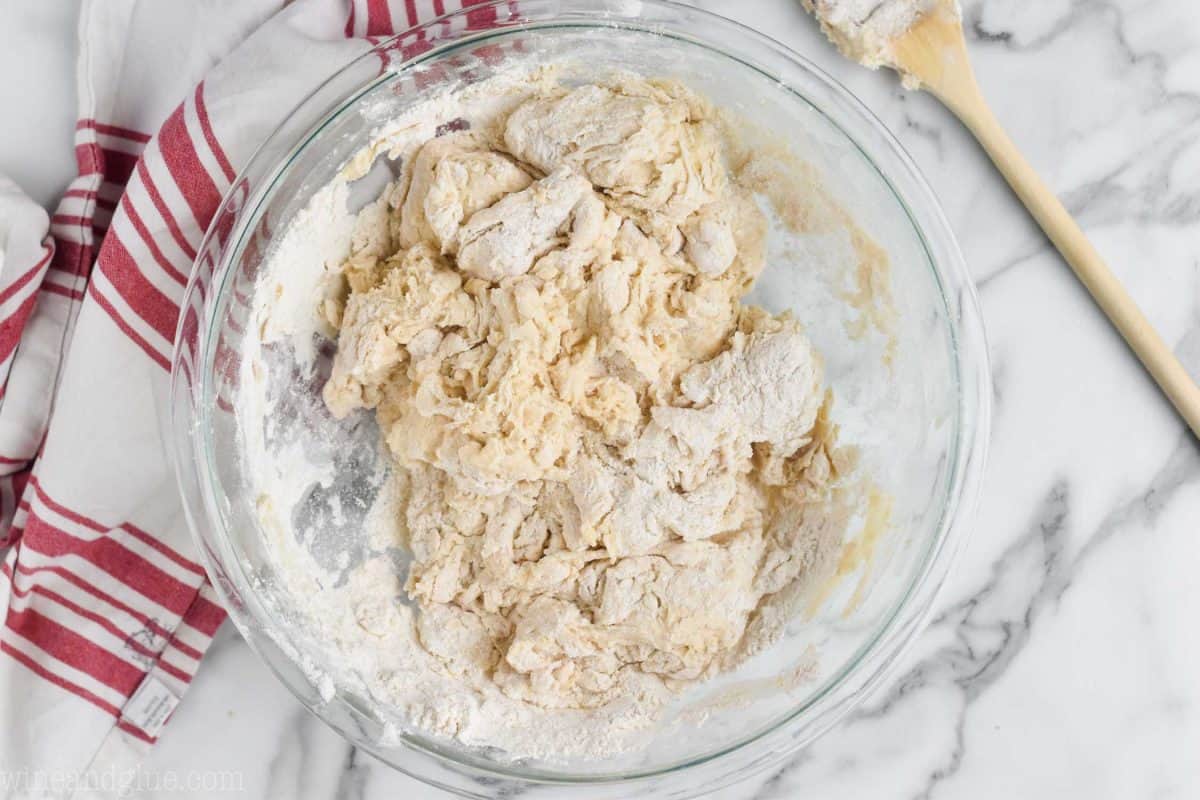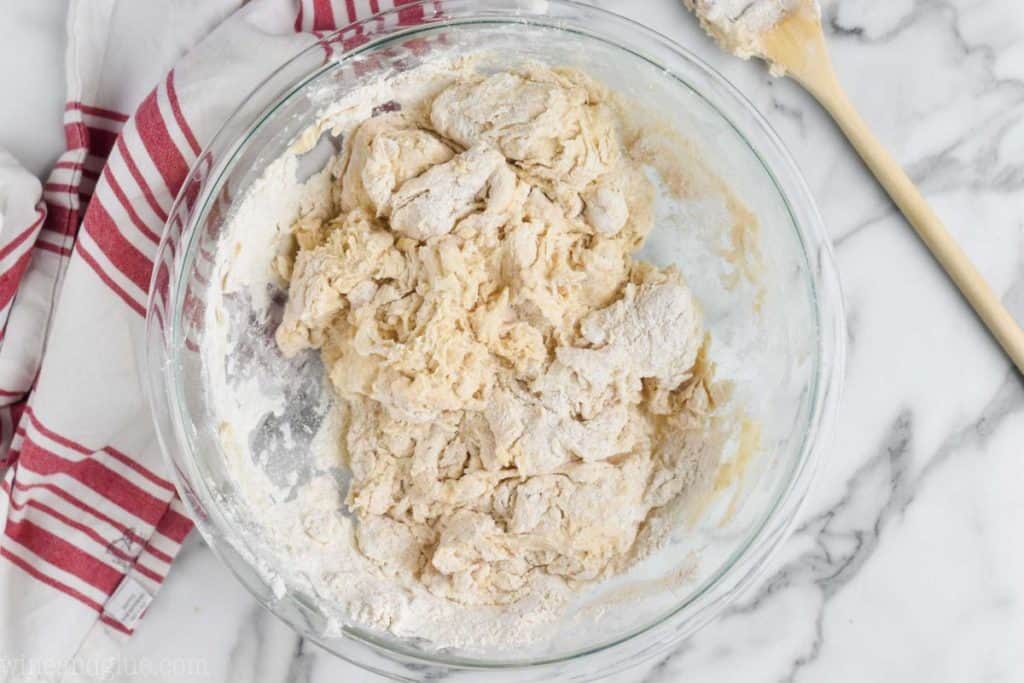 Now use your hands to form it into a nice smooth dough ball on your clean counter top. This should take about four minutes. It will seem like it's not happening, like you need more water. You don't! Hang in there.
It should look like this.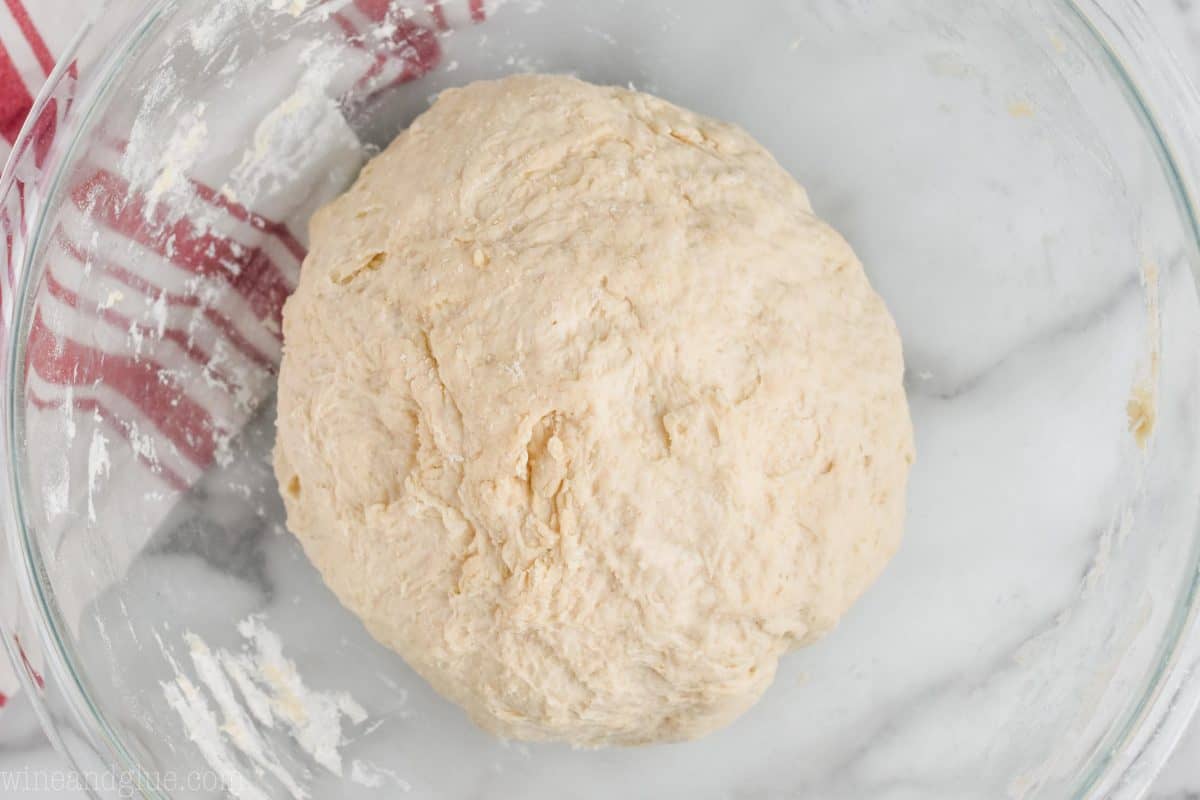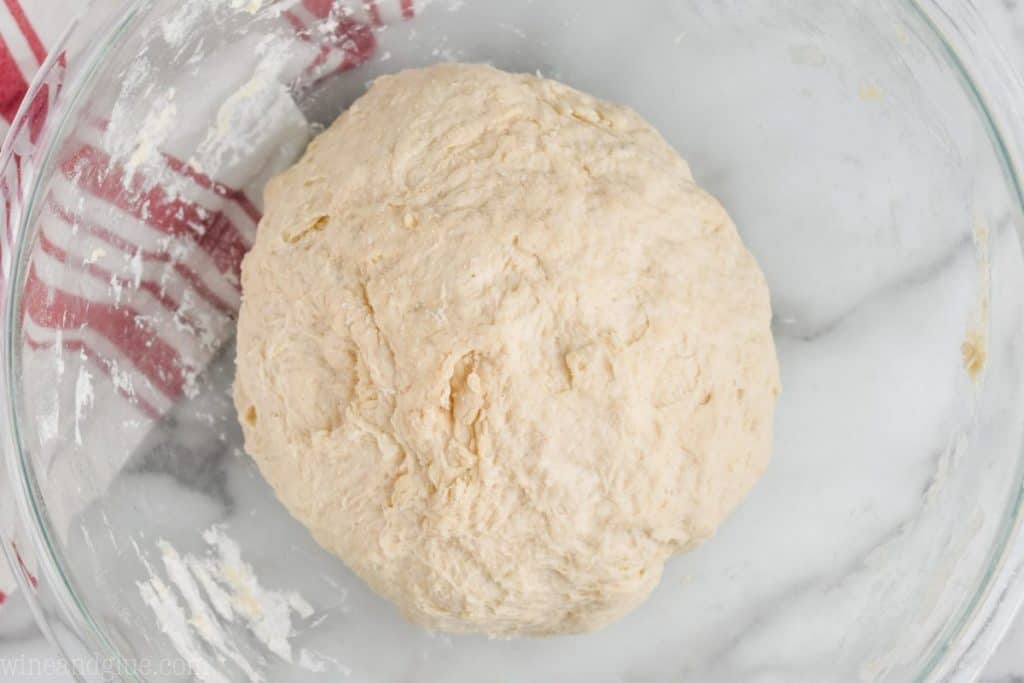 Now let it rest and rise in a nice warm place for 15 minutes.
Divide the dough into 20 equal pieces. (Do your best, they will taste great even if not perfectly equal.) To form the pieces into balls, gently tuck the edges of the piece underneath, working your way around until it forms a nice smooth ball.
Place the 20 dough balls into four rows of five, evenly spaced in a greased 9 by 13 inch pan.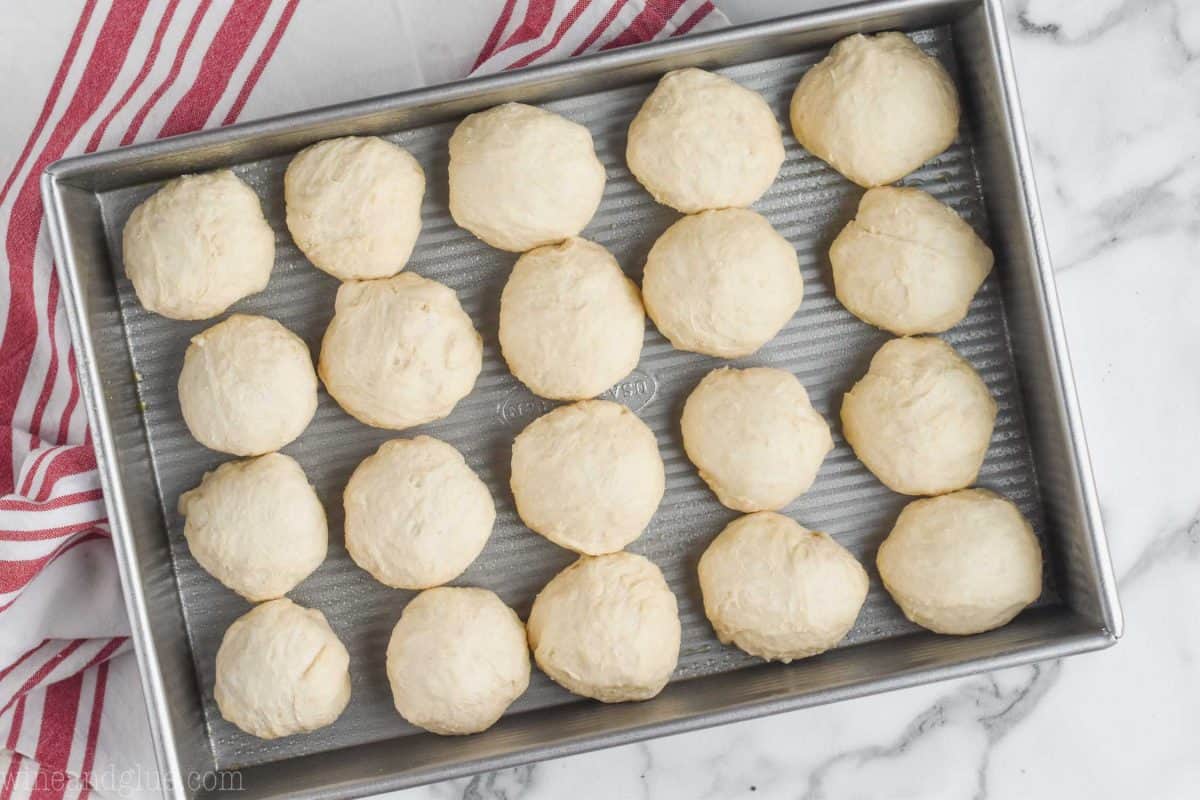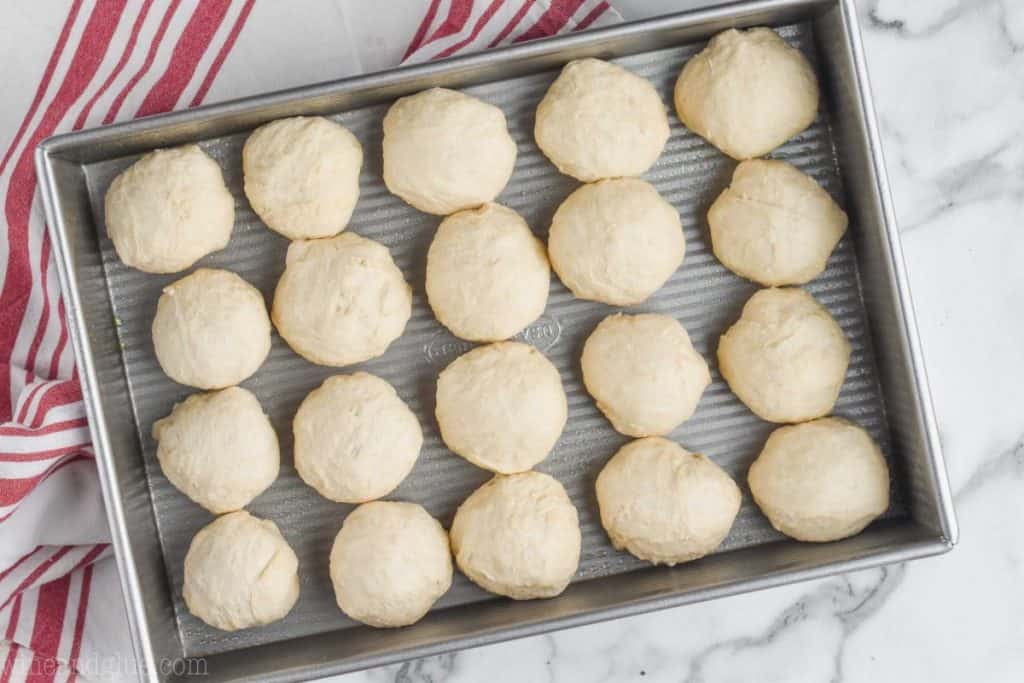 Put the prepared pan of dinner roll dough balls into a cold oven. Put a rimmed baking sheet with hot water in it underneath the dough. Turn the oven to 400 degrees and bake for 35 minutes. (That is right, we are not preheating it.)
After 35 minutes, remove the rolls, brush with 1/4 cup melted butter. Let cool for 10 minutes and enjoy.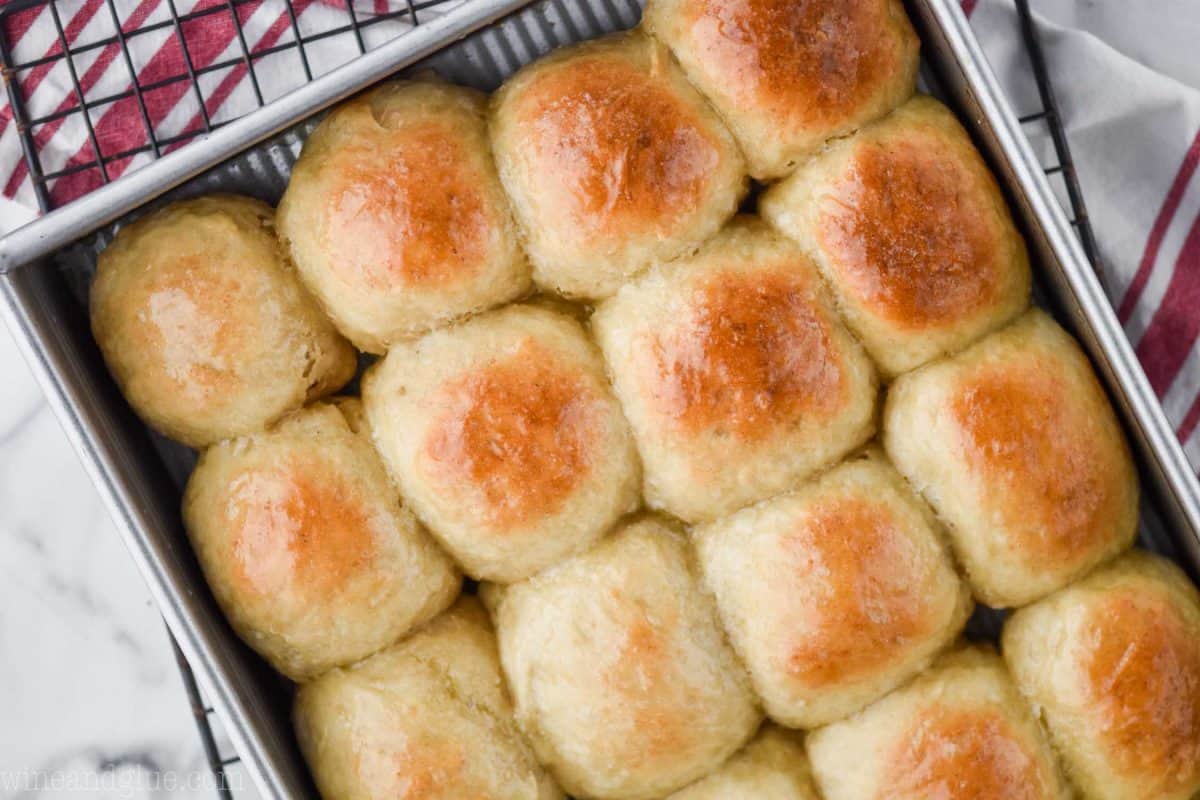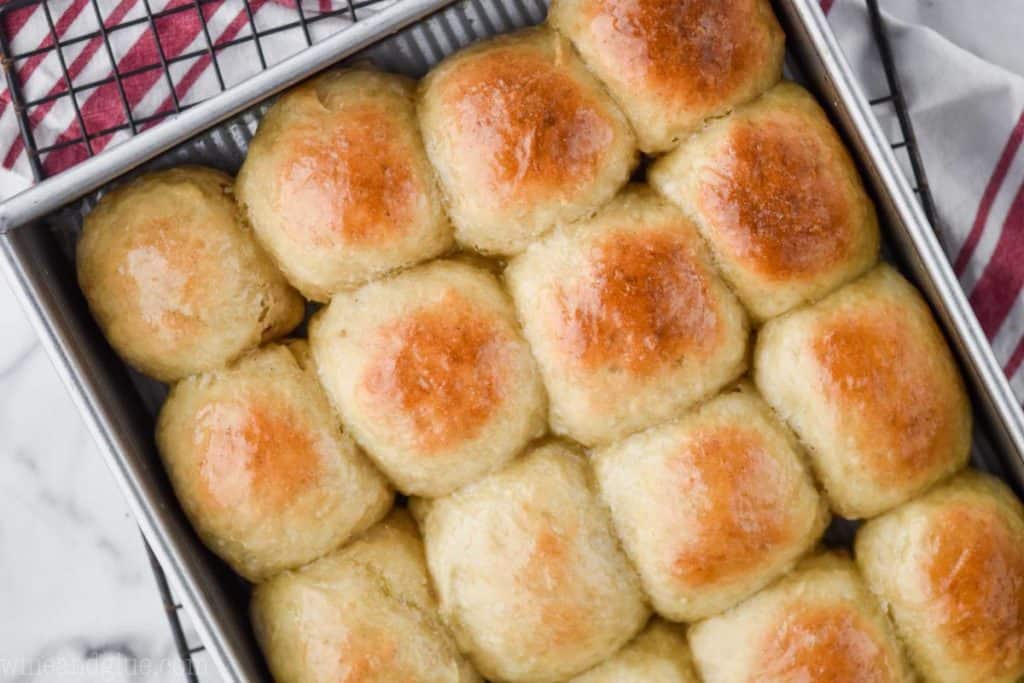 Storing
I find it unlikely that these won't all disappear as quickly as you made them.
That said, you can store these rolls for up to three days in an airtight container. They taste best after 24 hours, but my kids were still devouring them 3 days later.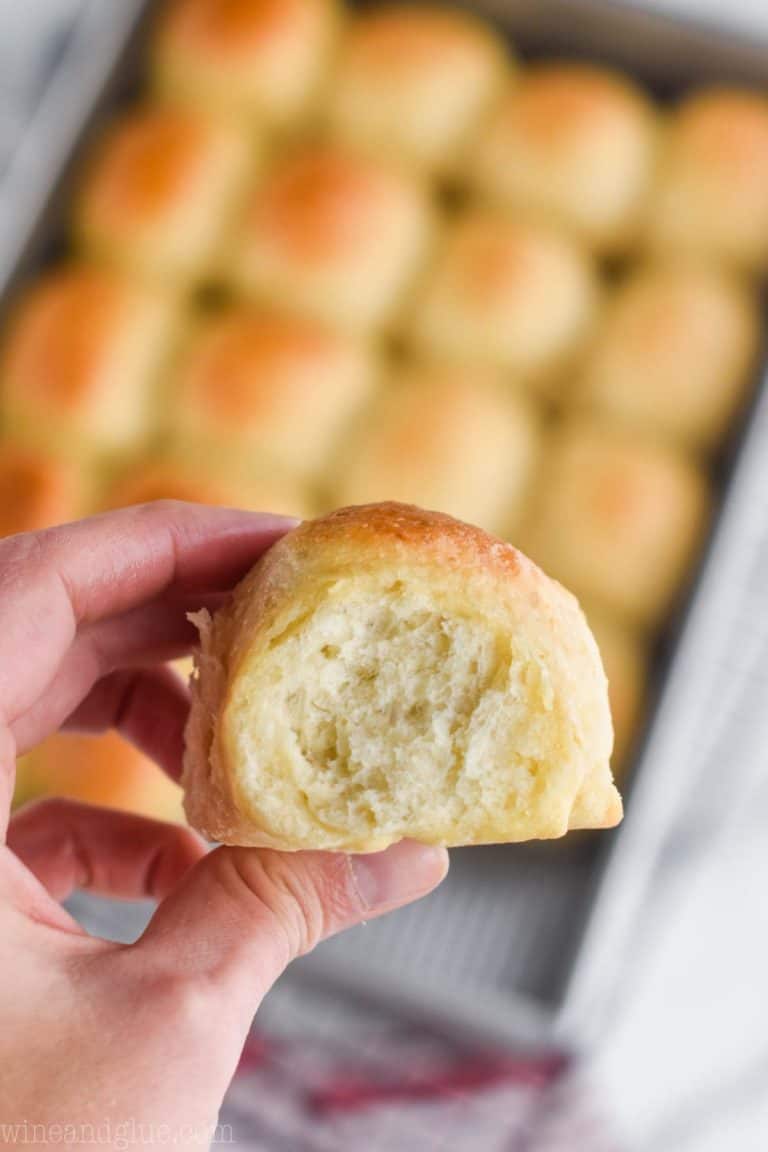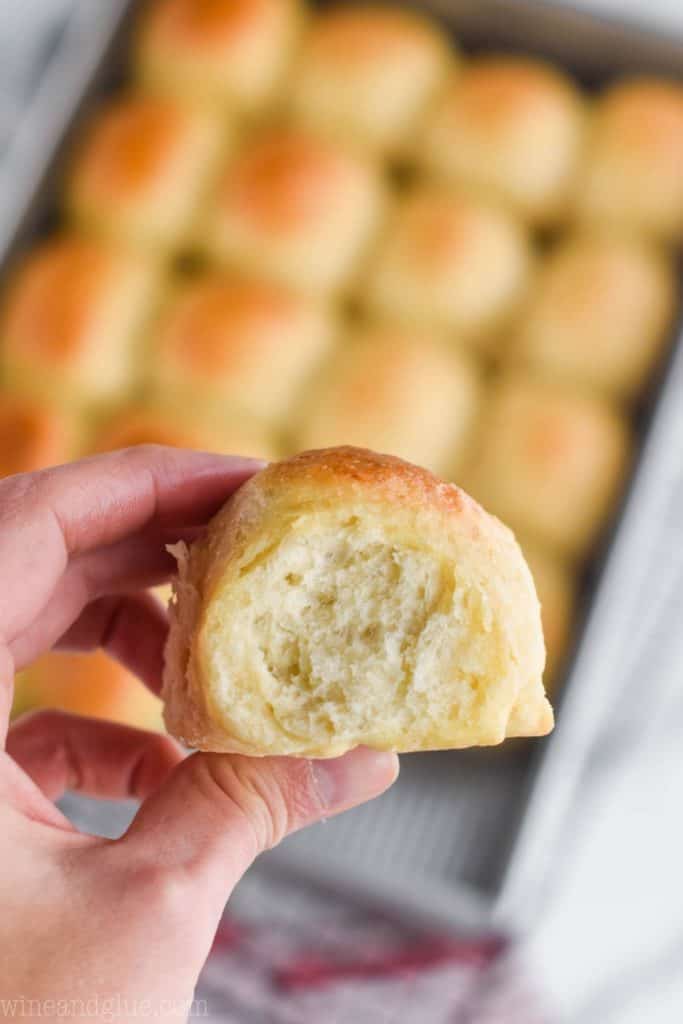 Making Sliders Using this Recipe
That's right! This is a great recipe to use to make sliders! Allow the buns to cool completely. Then using a serrated knife, gently cut through the whole batch at once.
Wouldn't you know it, I have a few slider recipes that would be great for this.
If you make these for your holidays, let me know! And give Rebecca a shout out too!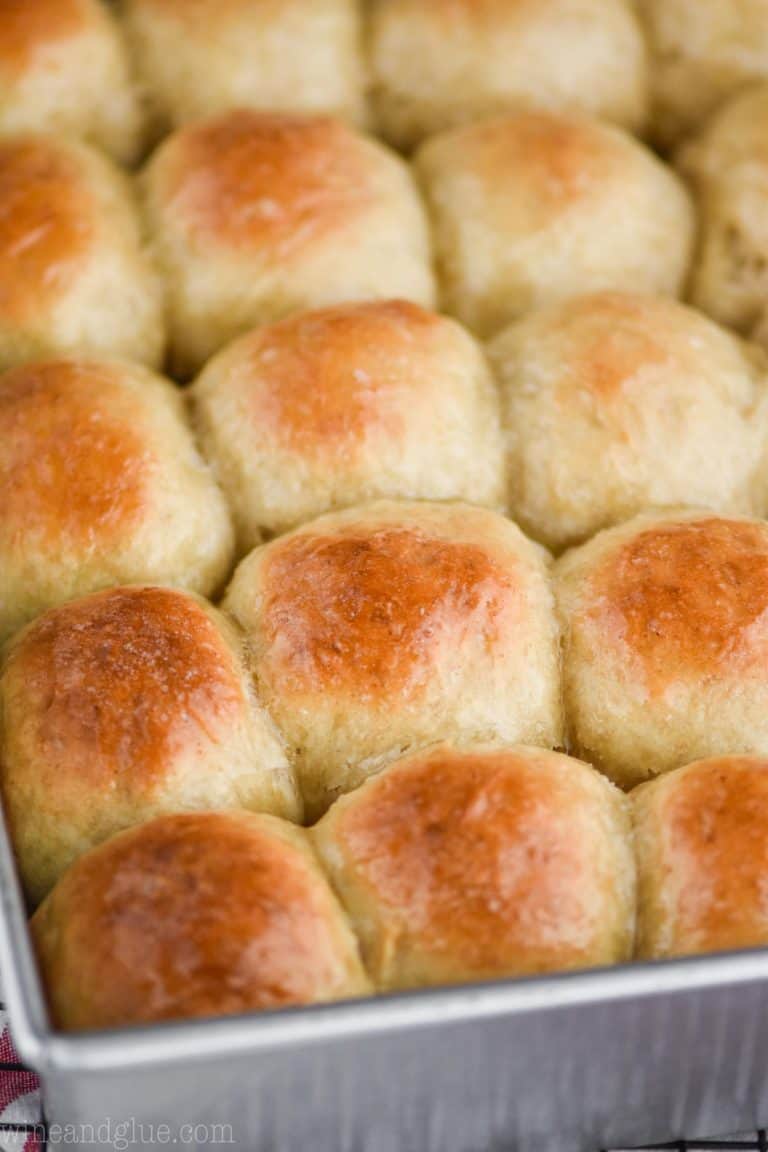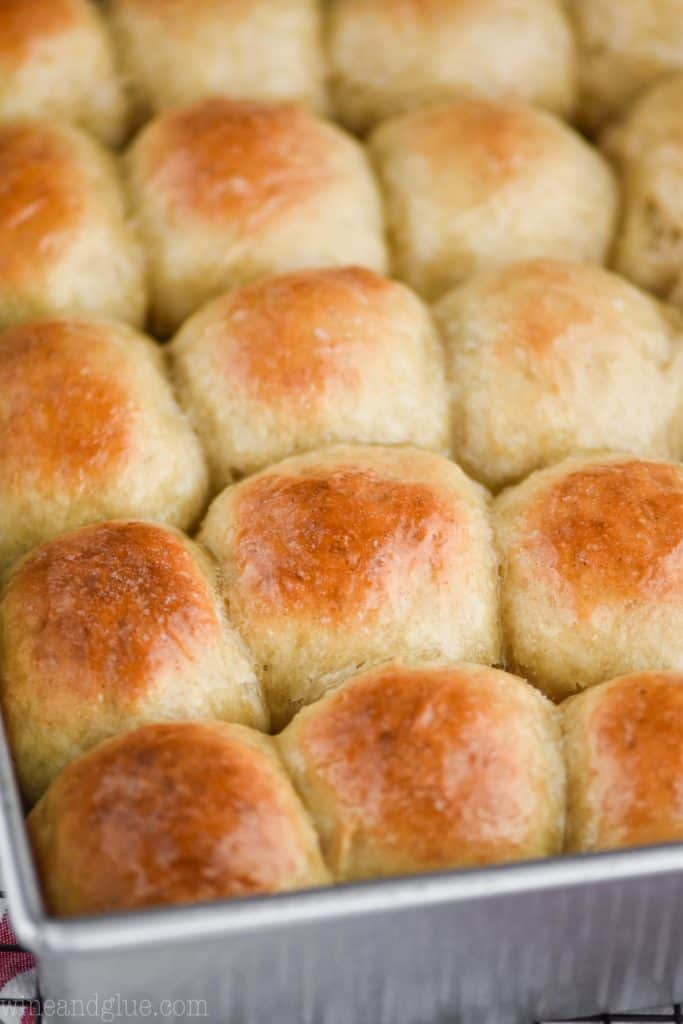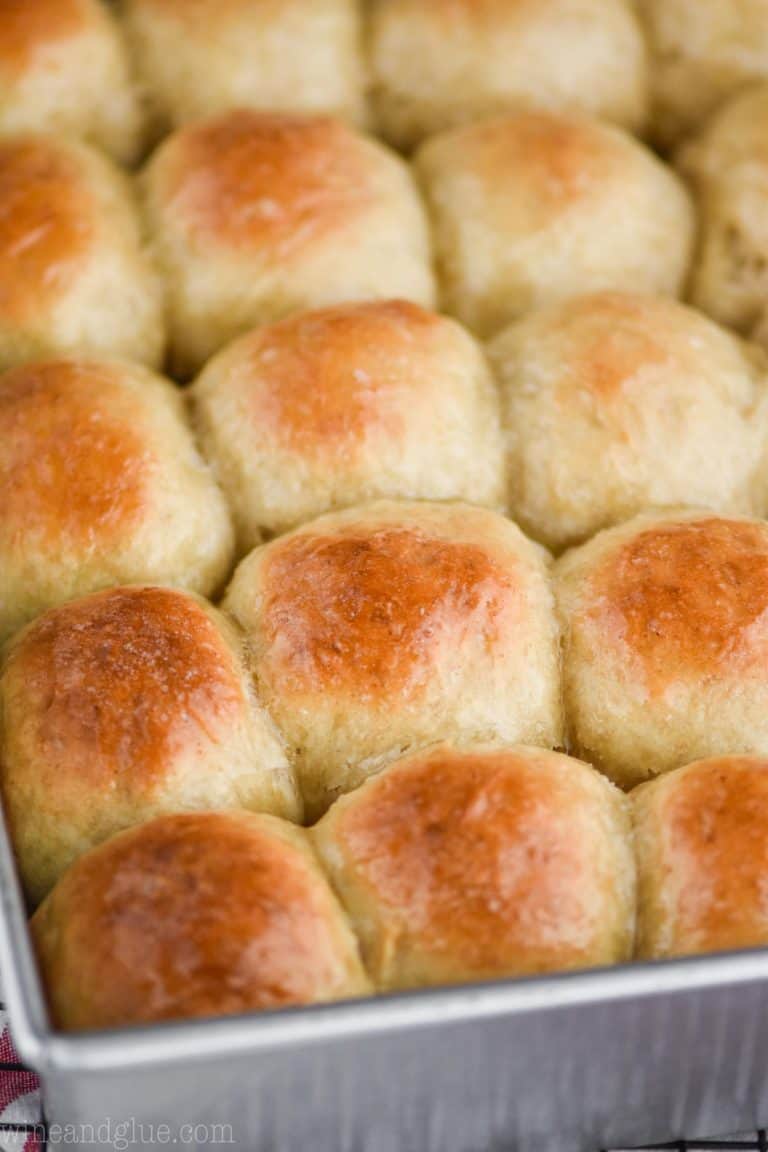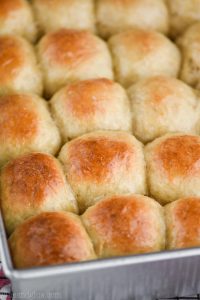 Dinner Rolls
Dinner Rolls that come together in about an hour are basically magic. These homemade dinner rolls are easy to make, light and fluffy, and perfect for weeknight dinners or holiday meals!
Ingredients
6

cups

all purpose flour

1 lb 9.5 ounces (or 723 grams) by weight

2

tablespoons

instant yeast

24 grams (read more about yeast here)

2

tablespoons

sugar

25 grams

1

tablespoon

kosher salt

if using table salt, reduce to 1 1/2 teaspoons (9 grams)

2

cups

warm water

(about 120 degrees F or 50 degrees C)

1/2

cup

melted butter

divided (120 ml)
Instructions
In a large bowl, mix the flour yeast, sugar, slat, water, and 1/4 cup (60 ml) of the melted butter together using a stiff wooden spoon until a shaggy dough begins to form. (See photo in the blog post.)

Continue to knead the dough by hand (or using a machiene) until it becaomes smooth. It will seem as though it is not coming together and then it will! This will take about four minutes.

Return the dough ball to the bowl and cover with a clean towel and let rest in a warm place for 15 minutes.

Spray a 9 by 13 inch with cooking spray and set aside.

Divide the dough into 20 equal pieces. Roll the dough into balls by gently pulling the edges of the dough down and tucking it under the bottom. Turn the dough 1/4 turn and continue this process until you've made a dough ball.

Place the dough balls into the pan with the tucked side down. You should have four rows of five that are evenly spaced in the pan.

Place the pan of prepared rolls into a cold oven on the middle rack. Place a rimmed baking sheet that has hot tap water below it. Close the oven and set the temperature to 400 (200 C). Bake for 35 minutes.

Remove the rolls from the oven and brush generously with the remaining 1/4 cup melted butter. Place the pan on a wire cooling rack for at least 10 minutes before serving the rolls. To use the rolls for sliders, allow them to cool compltely.
Serving:
1
roll
Calories:
181
kcal
(9%)
Carbohydrates:
28
g
(9%)
Protein:
4
g
(8%)
Fat:
5
g
(8%)
Saturated Fat:
3
g
(19%)
Monounsaturated Fat:
1
g
Cholesterol:
12
mg
(4%)
Sodium:
169
mg
(7%)
Potassium:
13
mg
Fiber:
2
g
(8%)
Sugar:
30
g
(33%)
Vitamin A:
39
IU
(1%)
Calcium:
1
mg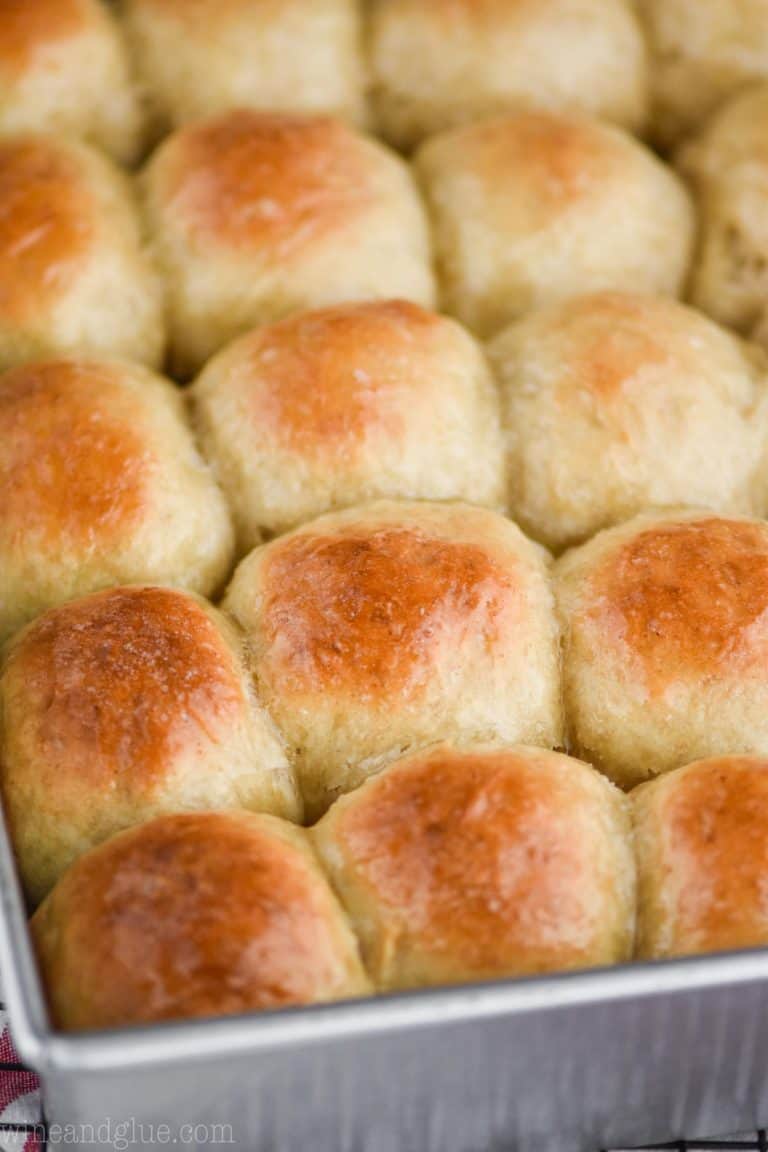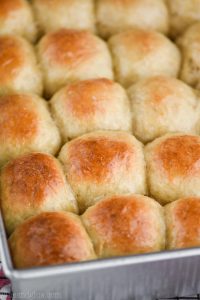 did you make this
Dinner Rolls