This Cornbread recipe is absolute perfection! It has the best taste of corn while still being slightly sweet and moist. Best of all, it is very easy to make!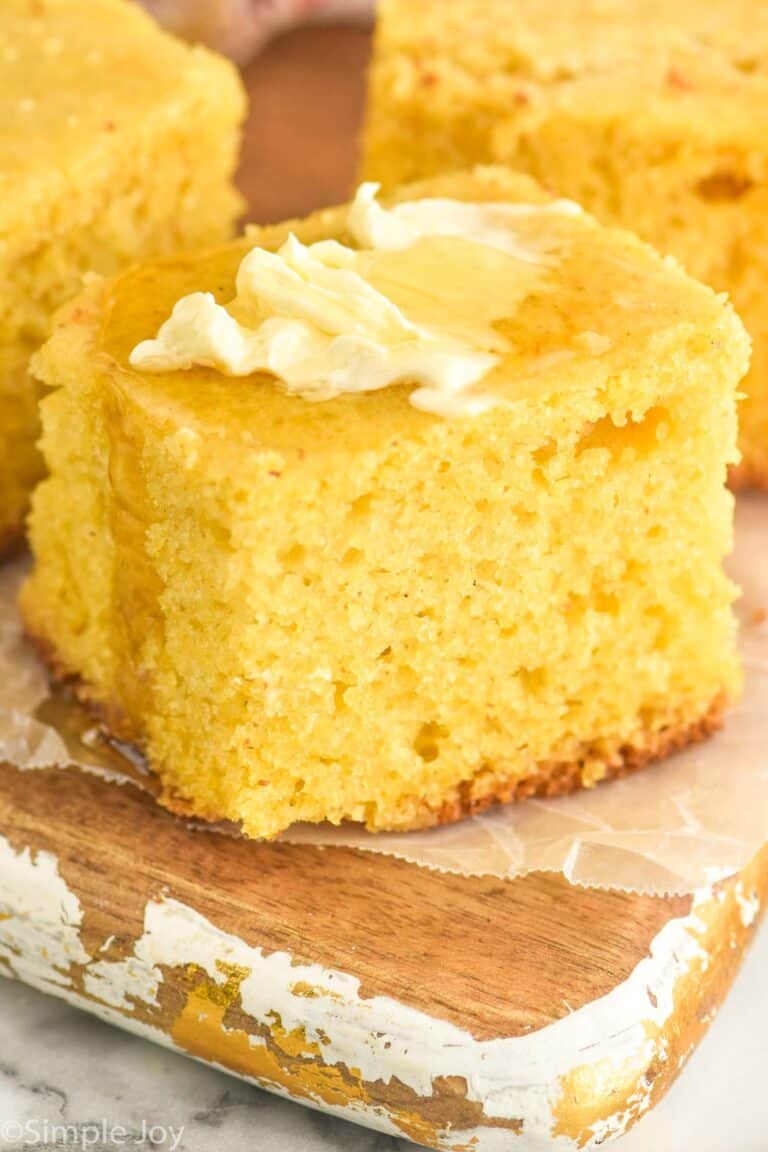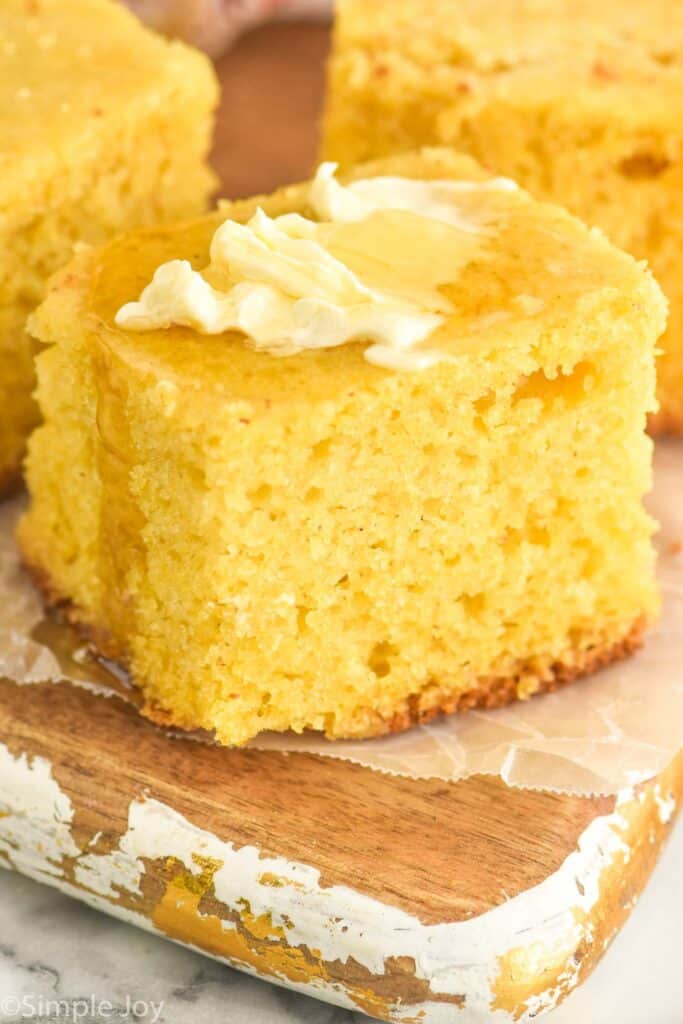 I'm so excited to share this cornbread recipe with you guys! This recipe went through tons of rounds of testing until we had a winner that was the right taste, texture and consistency. It is moist without being dense, light without being dry, and the exact right amount of sweet.
My Kids Fell In Love
When I finally had the winning recipe, my oldest tried it and yelled, "This is it mom! This is amazing!! I love cornbread so much."
You will love this easy cornbread recipe. It has simple to follow instructions, and basic ingredients that keep in your pantry and refrigerator. You can make this recipe any time you are having chili and it is perfect for Thanksgiving.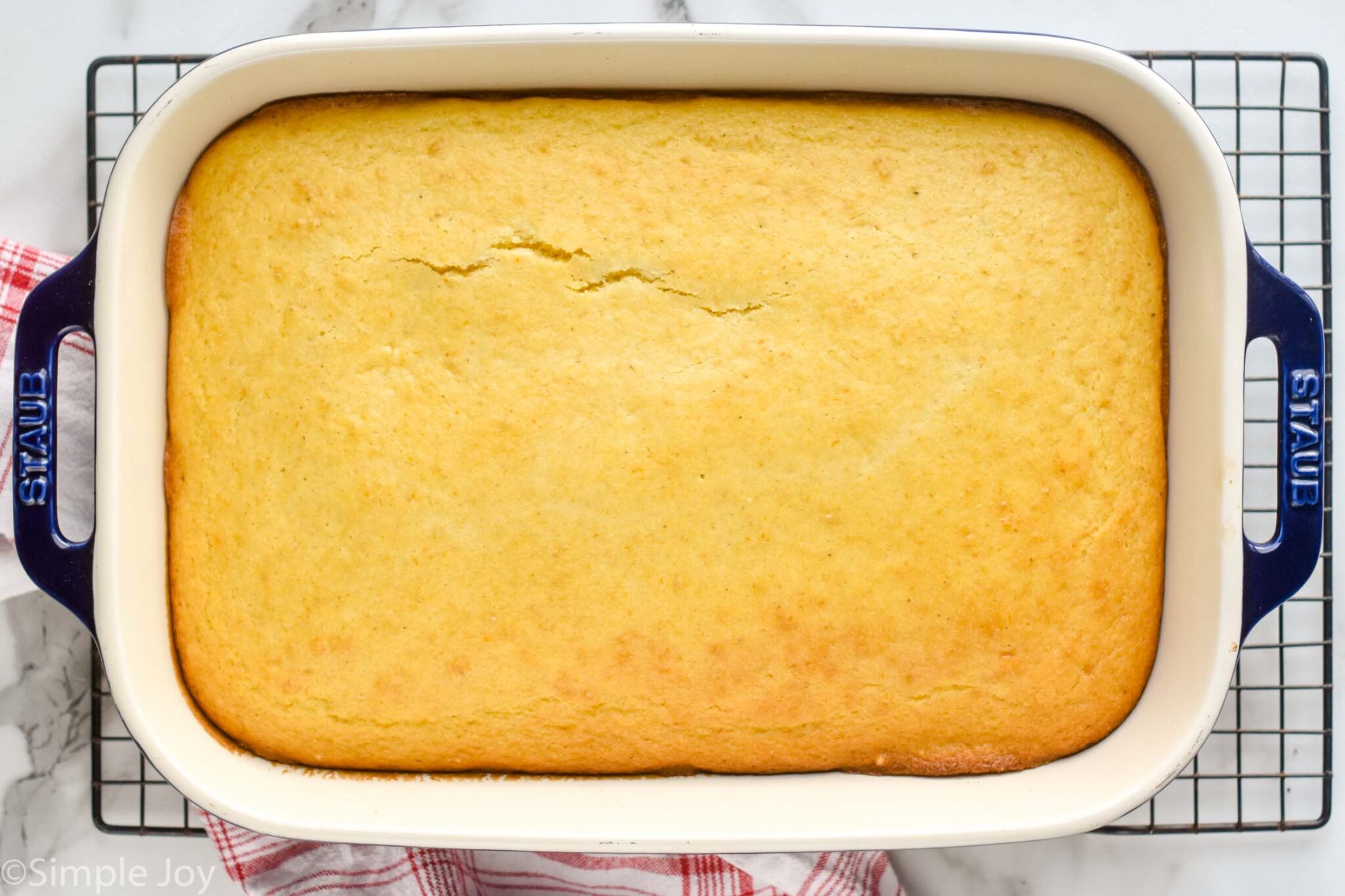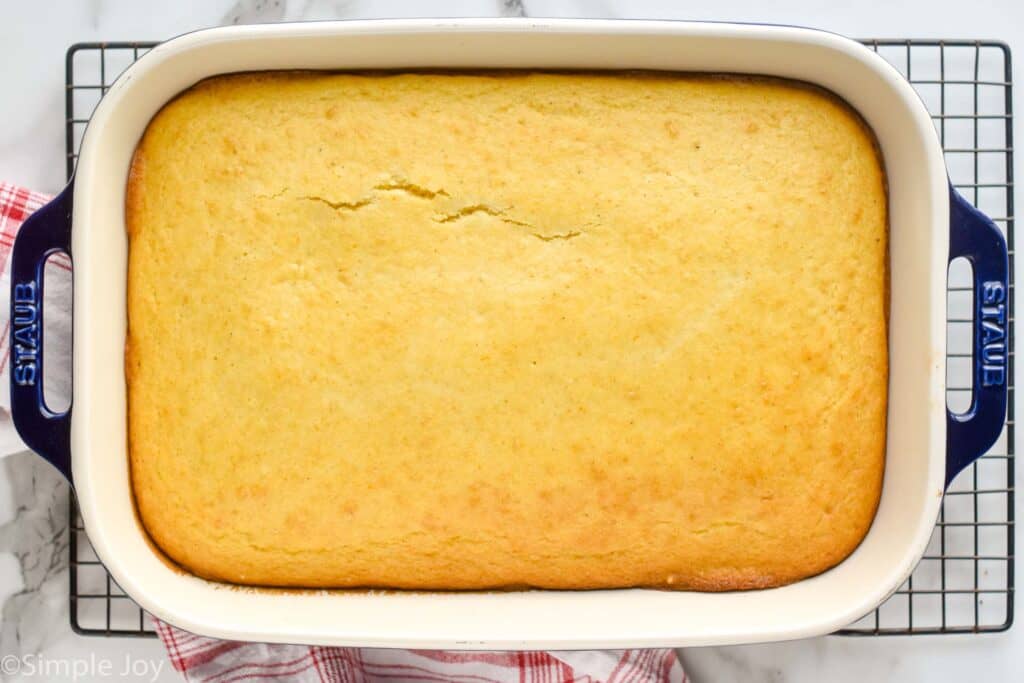 How to Make Cornbread
Keep the boxed mix on the shelf and make cornbread from scratch tonight! It's super easy with just a couple of simple steps. Make sure to read the recipe card at the bottom of the post for full instructions and ingredient measurements.
First, preheat the oven to 400 degrees and grease a 9×13 pan.
Next combine milk and vinegar and let it sit for five minutes – a key step in this recipe.
Whisk together the dry ingredients, and then mix the remaining wet ingredients into the milk.
Then, fold together the wet and dry ingredients until just mixed. Don't overmix!
Then bake for 20-30 minutes. That's it!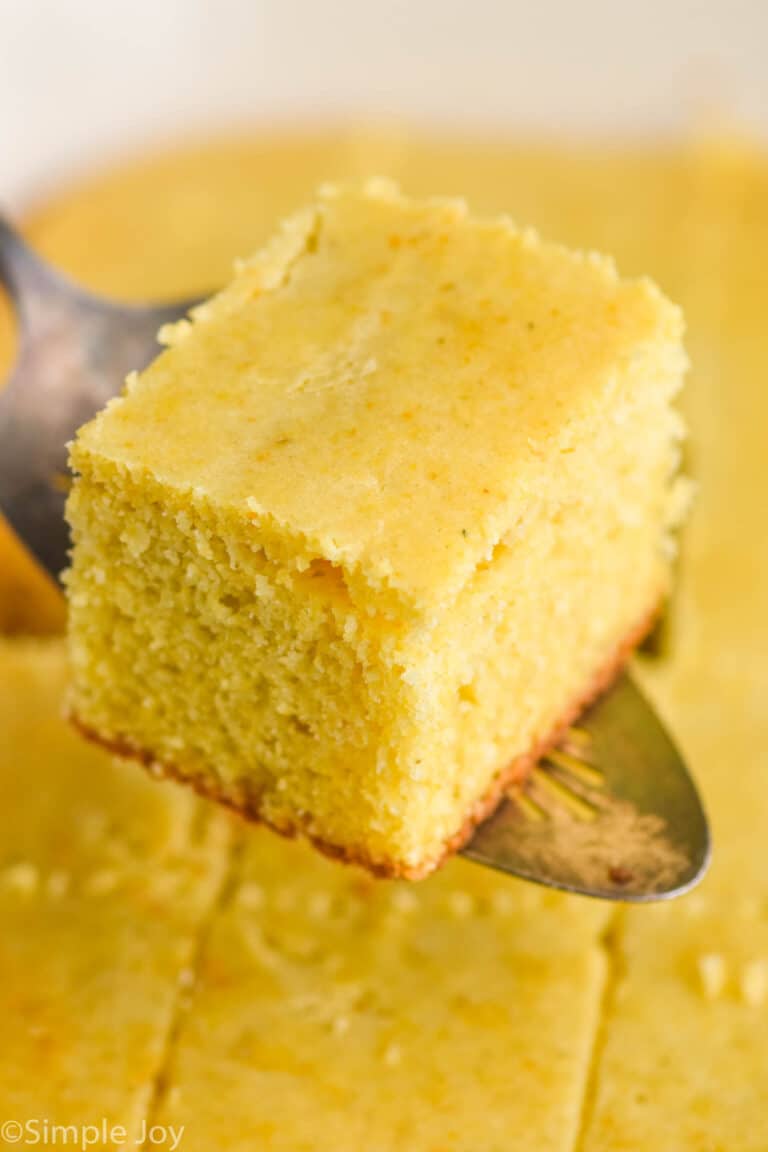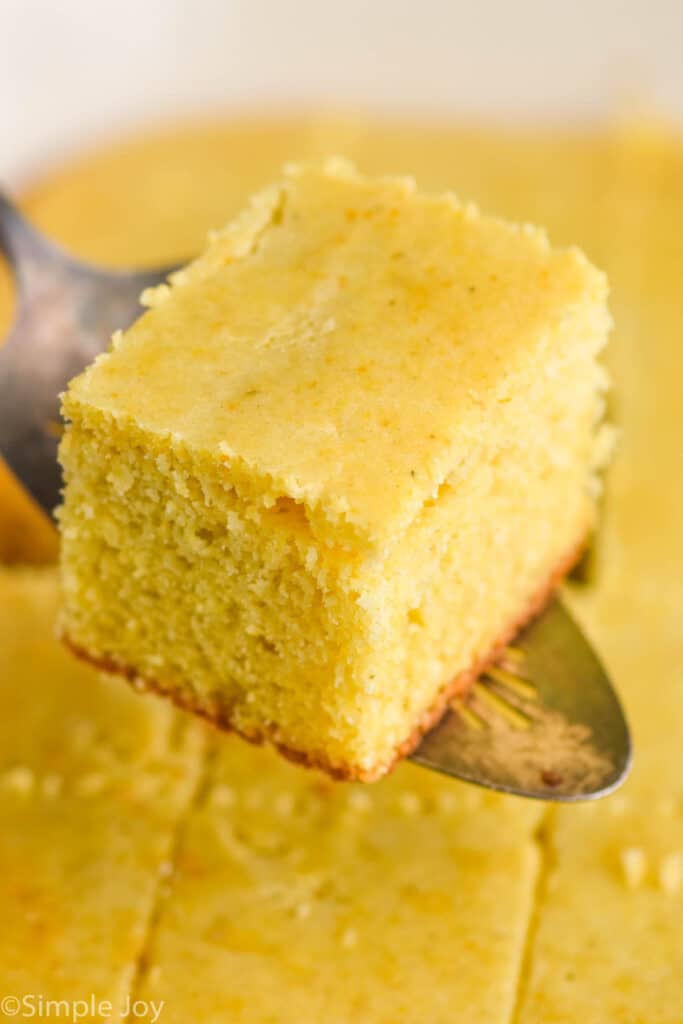 Why This Recipe Works
The key to the best homemade cornbread is the right ratio of ingredients. This recipe has:
Less corn meal than flour. Some recipes will call for equal parts cornmeal and flour, but I find that leads to a dense bread.
Uses milk with vinegar. Instead of needing buttermilk, we are using a combination of milk and vinegar to replace buttermilk and make this a recipe you can make all the time.
Uses both baking powder and baking soda. Because we are using vinegar, we can use baking soda as a leavener in this recipe. We then add in baking powder too to get the perfect amount of rise in this recipe.
Reader Review
Even my extremely picky eater loves this! I usually halve the recipe. Also have added a can of corn (or 1 cup of precooked frozen corn) we like the added texture in cornbread.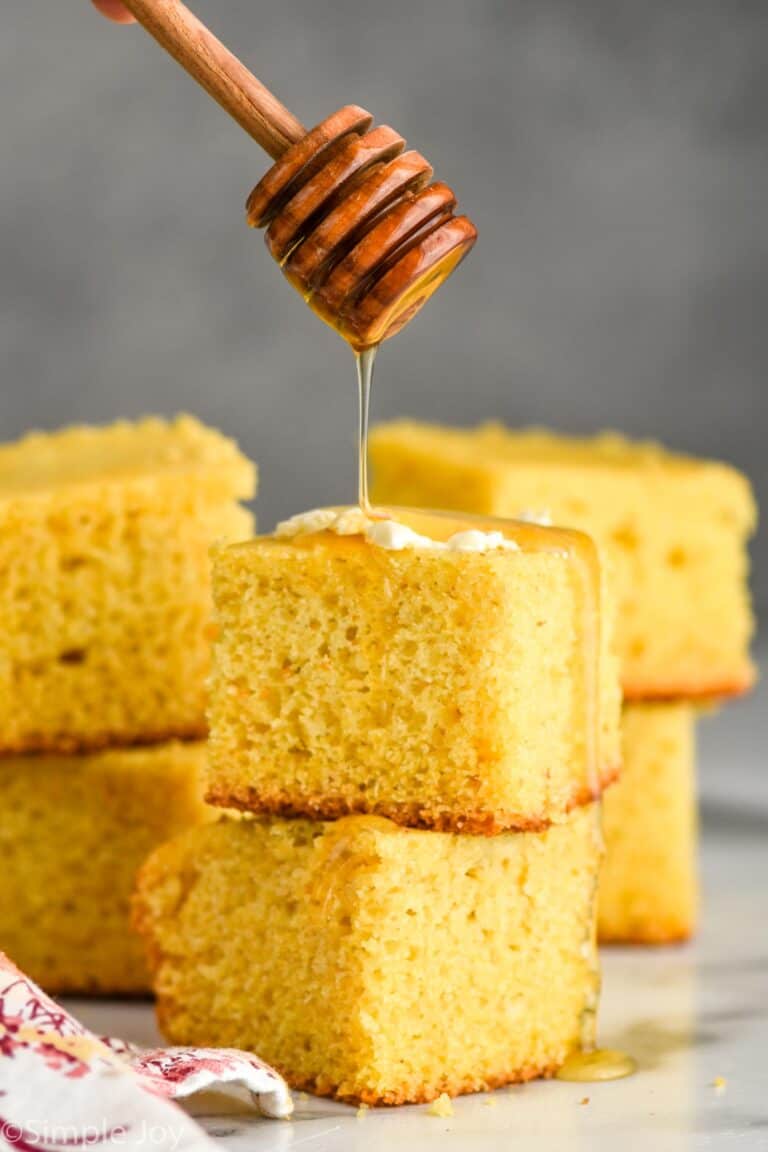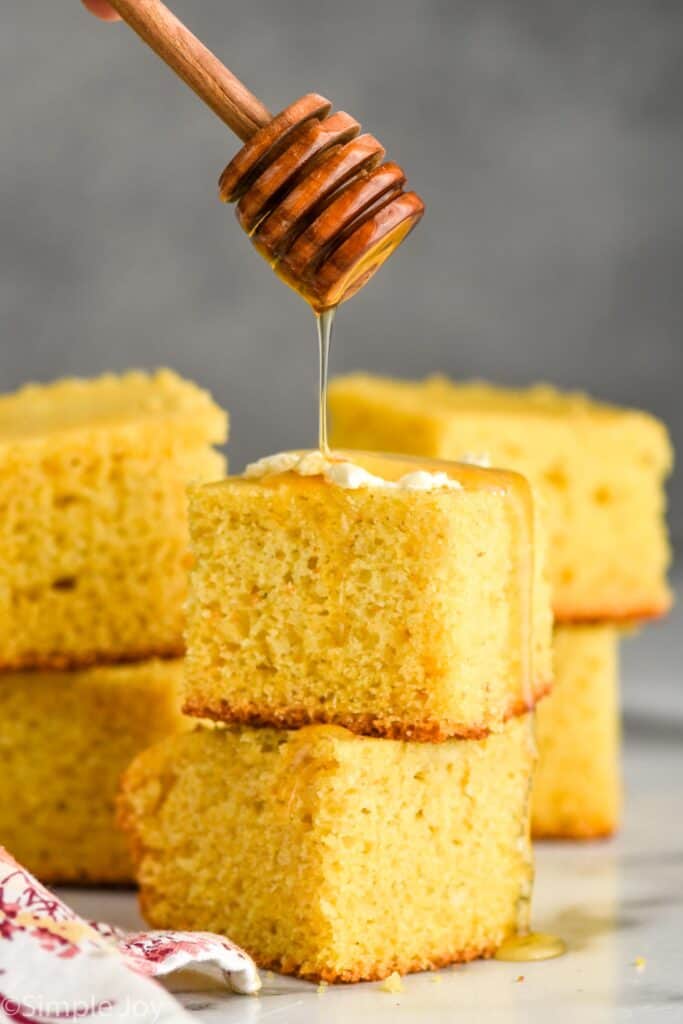 A Note on Sugar
There are a lot of different thoughts out there on whether or not sugar belongs in cornbread. As with most controversial topics, most people believe they are right.
We love this homemade cornbread with sugar. We tried it with 1/2 cup sugar and did not care for it as much. So, I suggest you make it as written.
That being said, if you believe sugar has no place in cornbread, leave it out. If you don't like a sweet cornbread, cut it back to 1/2 cup. Isn't it wonderful how you can make something in your own kitchen the way you like it?
Tips and Tricks
Here are a few tips to make sure this recipe works perfect for you:
Measure the flour correctly. Scoop the flour out of the container into a dry measuring cup with a spoon and then level it off with the flat edge of a spatula. This will prevent too much flour.
Make sure the baking soda and baking powder are fresh. Test the baking soda in vinegar and the baking powder in water. Both should bubble right away. Each needs to be replaced about every six months.
Give the milk and vinegar a full five minutes. In order for the milk and vinegar to do their thing, you do need to let them sit for five minutes. Don't rush this.
FAQ
Is Cornbread Gluten Free?
No, as with most cornbread recipes, this one is made with all purpose flour, and therefore it does contain gluten.
What is Corn Meal?
Cornmeal is essentially dried corn, ground to either coarse, medium or fine consistencies. You can find it at any grocery store in the baking aisle.
How Many Does This Serve?
You can get 24 good sized pieces from this easy cornbread recipe. You could also make 24 cornbread muffins using a muffin pan instead.
Can Cornbread Be Made the Day Before?
Yes! Just make sure to store the cornbread either in an airtight container, a resealable bag or tightly covered with plastic wrap after cooling.
Can these be made into cornbread muffins?
Yes! Make the batter exactly as written. Divide it into 18 muffin cups, and bake for 15 to 20 minutes at 400 degrees, or until you can stick a toothpick in the center of one and just a few crumbs remain.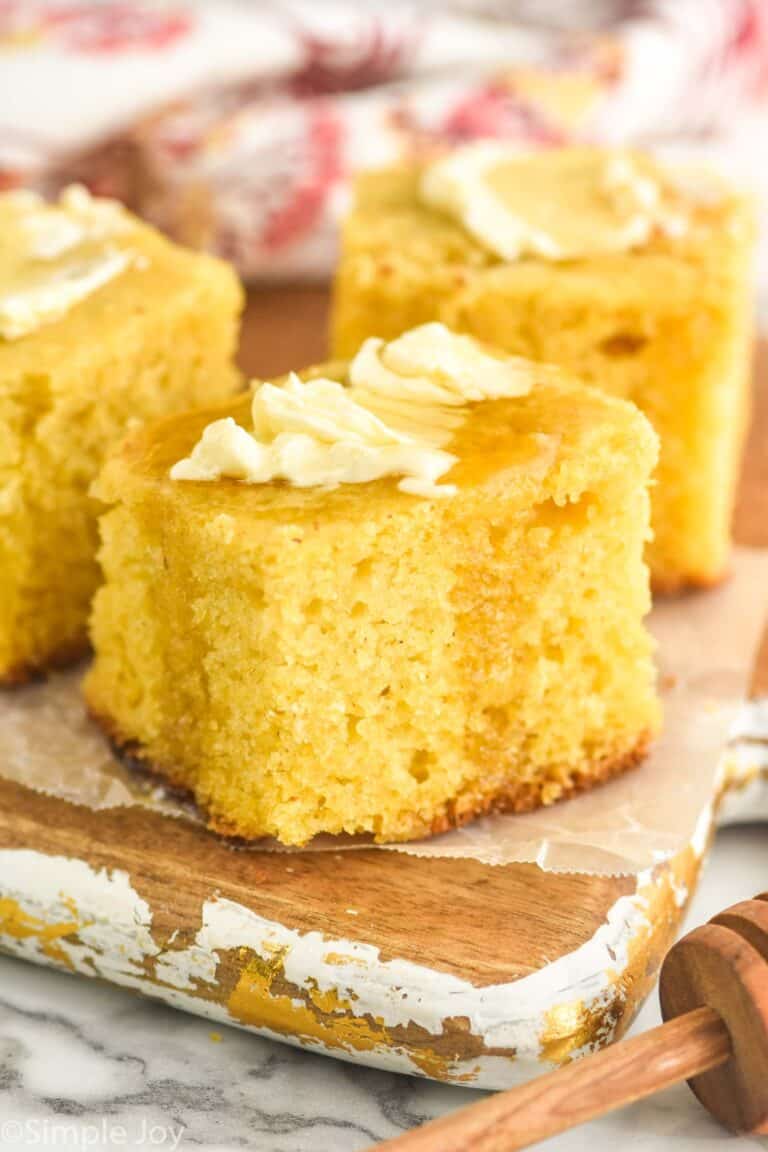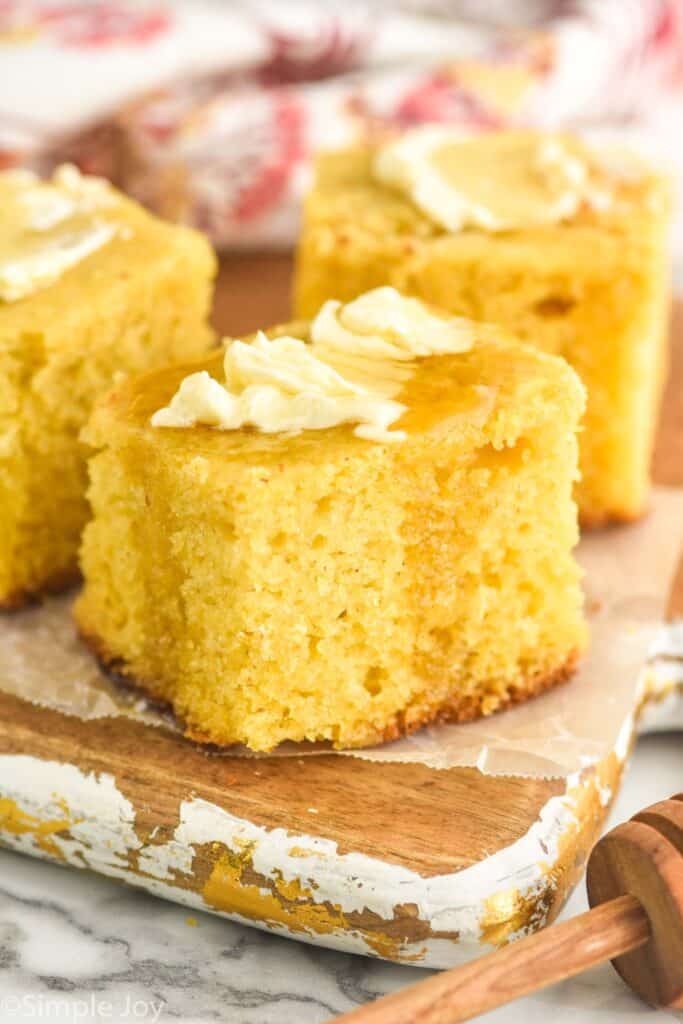 what to serve with cornbread
This recipe is also perfect to make my Cornbread Croutons or my Cornbread Stuffing.
This homemade cornbread recipe is so easy and yummy! It's the perfect side for your favorite soups, stews or chilis. I love it warm with a drizzle of honey and butter. So delicious!
Leave a comment below and enjoy every bite!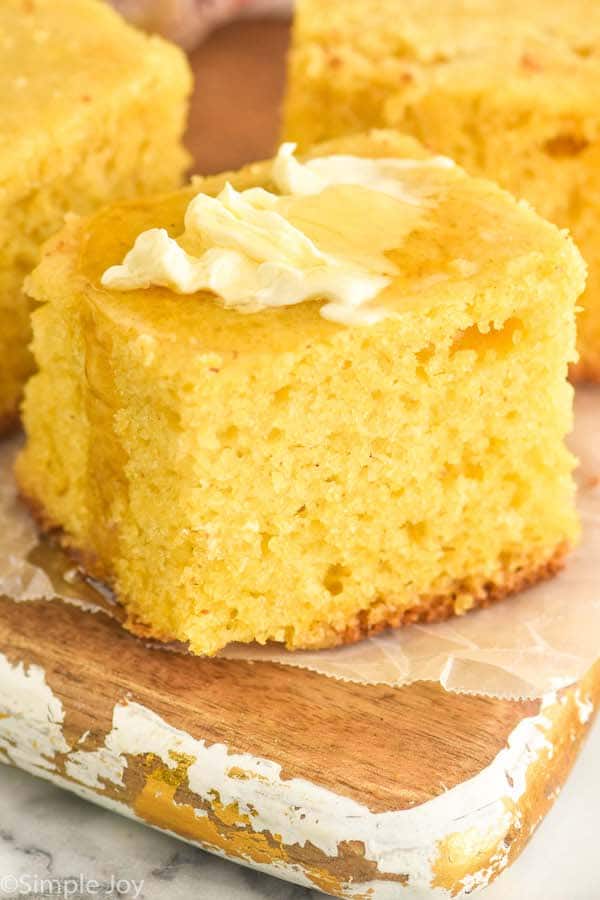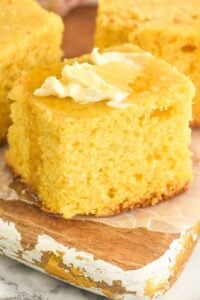 Cornbread
This Cornbread recipe was tested and retested to perfection! It has the perfect taste and texture, and it is so easy to make.
Ingredients
2

cups

milk

2

tablespoons

vinegar

2

cups

all purpose flour

1 1/2

cup

cornmeal

2/3

cup

sugar

(read my thoughts on sugar in cornbread)

1/2

tablespoon

baking powder

1/2

tablespoon

baking soda

1

teaspoon

salt

2

eggs

1/2

cup

vegetable oil
Instructions
Preheat oven to 400 degrees. Grease a 9 x 13 inch baking pan.

Whisk together the milk and the vinegar. Let sit for five minutes.

In a large bowl whisk together the flour, cornmeal, sugar, baking powder, baking soda, and salt.

In another bowl whisk together the milk + vinegar, eggs, and oil.

Gently fold the wet ingredients into the dry ingredients until just combined.

Pour the batter into the prepared pan. Bake 20 to 30 minutes. At the end of the baking time, the center should be puffed up and bounce back when you push down on it gently. The edges will be golden and a toothpick inserted into the center of the bread will come out clean.
Serving:
1
piece
Calories:
139
kcal
(7%)
Carbohydrates:
14
g
(5%)
Protein:
2
g
(4%)
Fat:
5
g
(8%)
Saturated Fat:
1
g
(6%)
Polyunsaturated Fat:
3
g
Monounsaturated Fat:
1
g
Cholesterol:
16
mg
(5%)
Sodium:
197
mg
(9%)
Potassium:
38
mg
(1%)
Sugar:
7
g
(8%)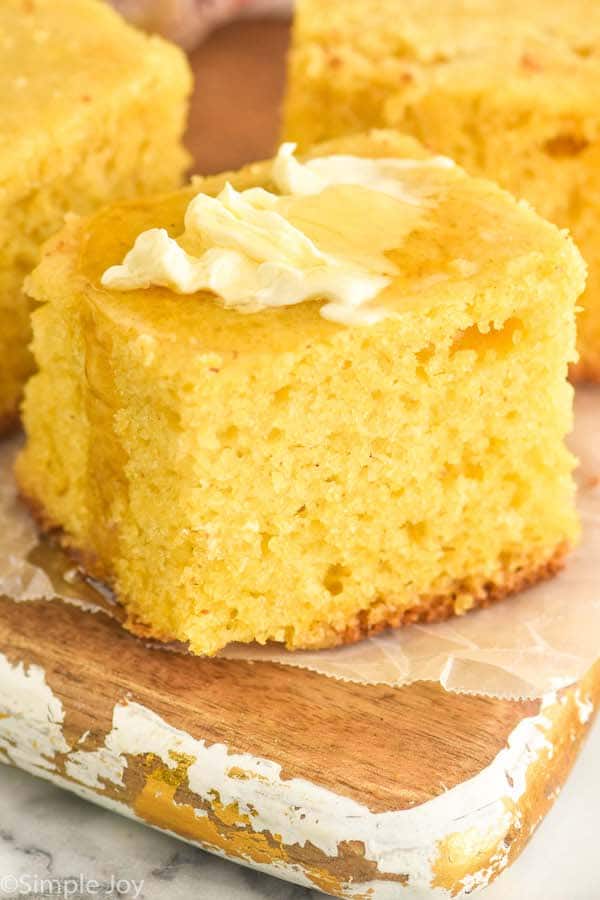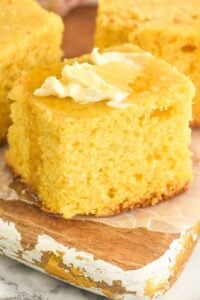 did you make this
Cornbread
you might also like . . .