This Drop Biscuit recipe gives you the most buttery soft biscuits. These easy biscuits come together in about 20 minutes and are perfect on the side of so many different recipes!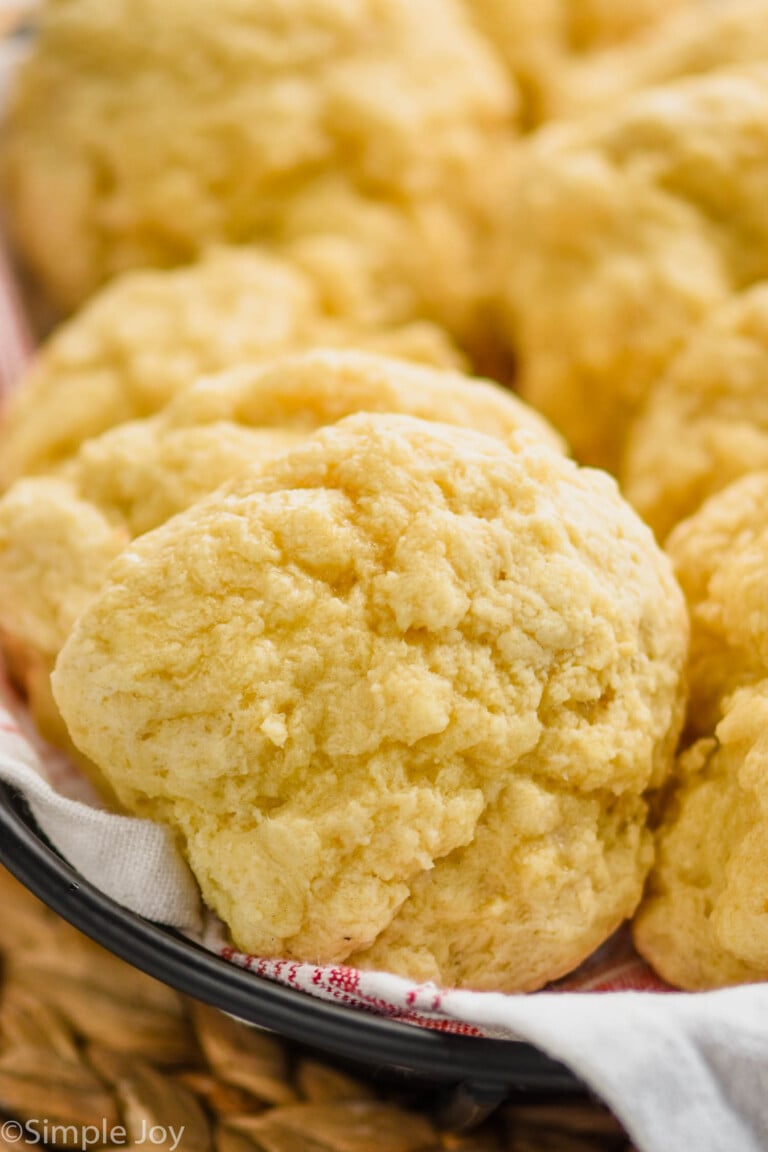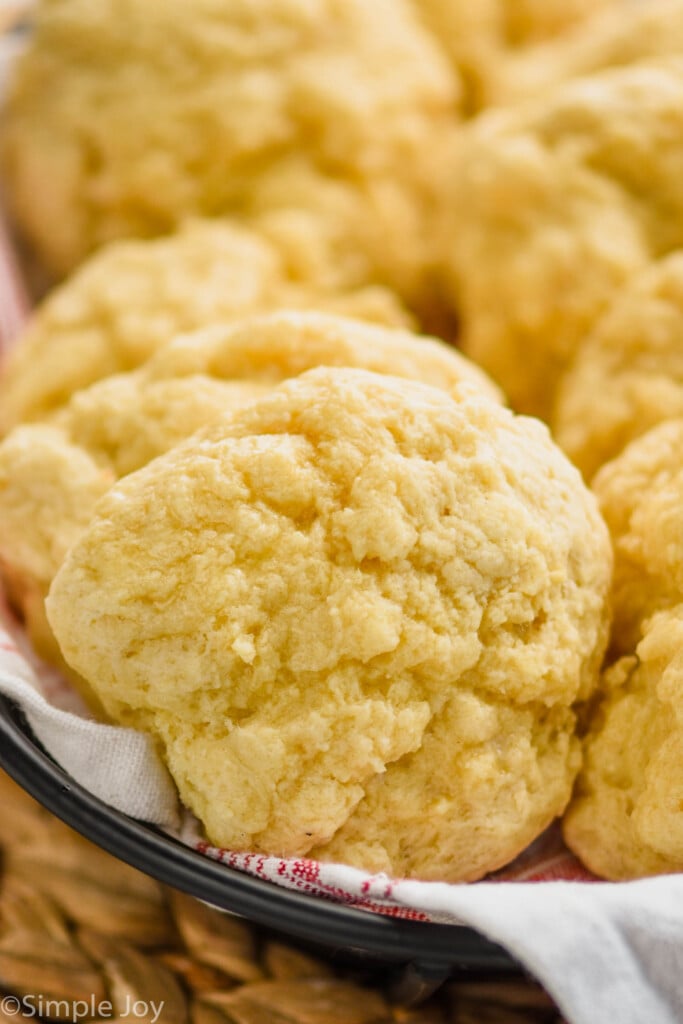 If you have been holding back from biscuits at home, let this be the sign for you that that should change! This Drop Biscuit recipe is insanely easy and is bound to become a favorite in your home.
This recipe is courtesy of America's Test Kitchen. They are such a great source if you are just learning how to cook. Their cookbooks don't just provide great recipes, they teach you the why's behind cooking that are so invaluable and can translate to other recipes.
I love this recipe for so many reasons. Mostly, I love how fast these come together – just 20 minutes start to finish! Besides being so fast, I love that these biscuits rise perfectly. They are soft, moist, and don't crumble. Finally, they have the perfect balance of ingredients so they don't taste bitter, overly sweet, or greasy. They just taste like perfection.
We have step by step photos for this delicious and easy recipe. Even though this recipe is quite simple, sometimes having photos can be really reassuring. If the photos are too small, you can tap on them and they will open in a new window to show you exactly what your dough should look like at that stage.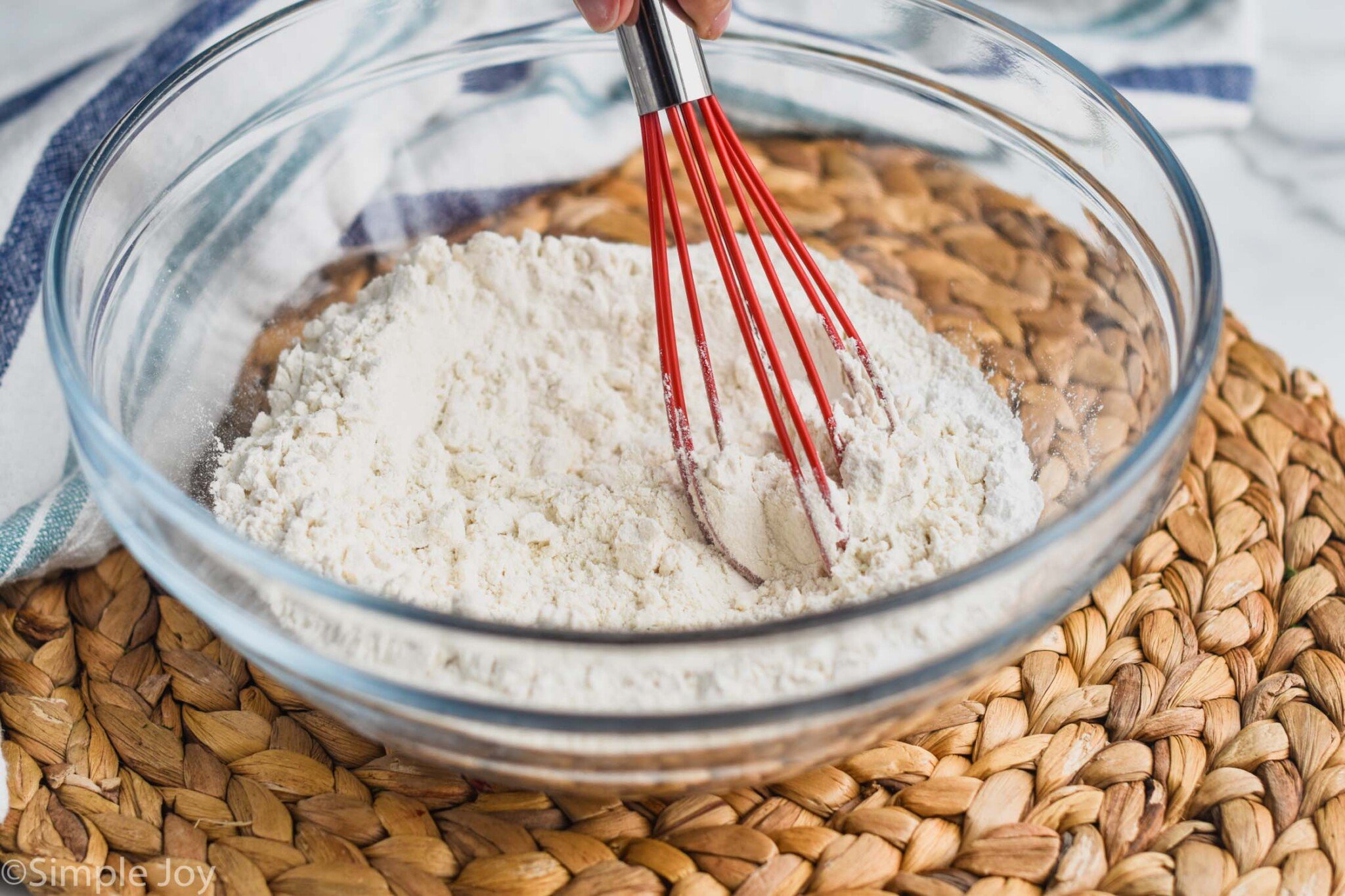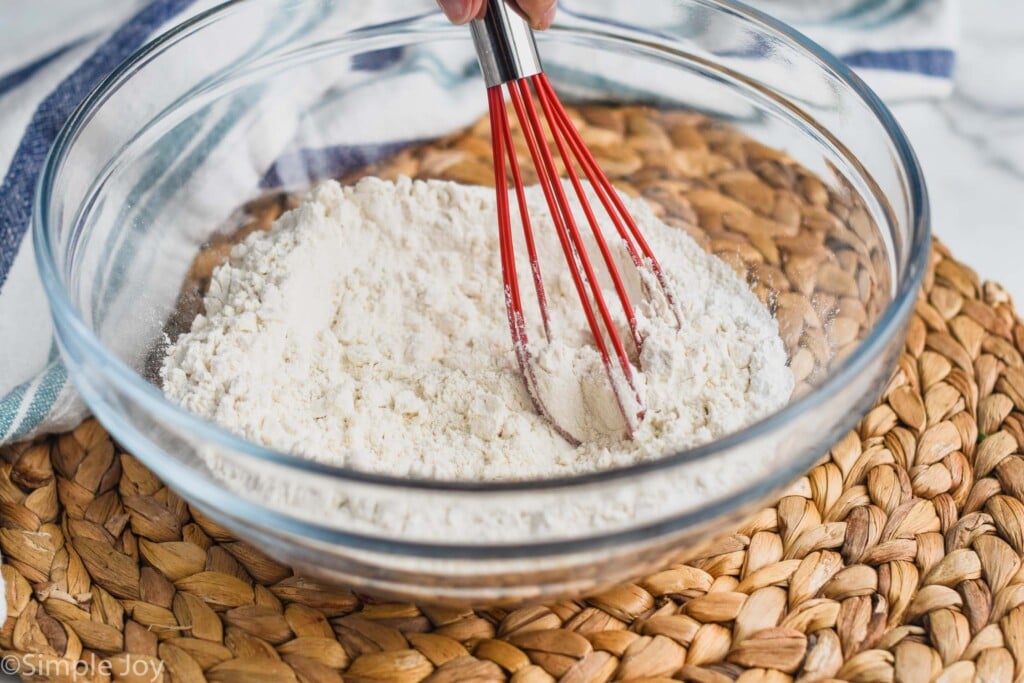 Key Ingredients for Easy Drop Biscuit Recipe
There isn't a lot to this very easy drop biscuit recipe. To call it simple is an understatement. But here are the three key ingredients:
Cold buttermilk: It is important that the buttermilk is cold and full fat. The cold butter when mixed with the hot melted butter creates clumps of butter, which is key to the final biscuit. Additionally, we have made these with lower fat buttermilk and didn't get the same results. Stick with full fat buttermilk.
Hot melted butter: As mentioned above, when the cold buttermilk mixes with the hot melted butter it creates little clumps of butter. When that is added to the batter and baked, the butter melts and creates beautiful little pockets of steam which leaves you with the perfect biscuit.
All purpose flour: Read below on how to ensure that you have properly measured flour.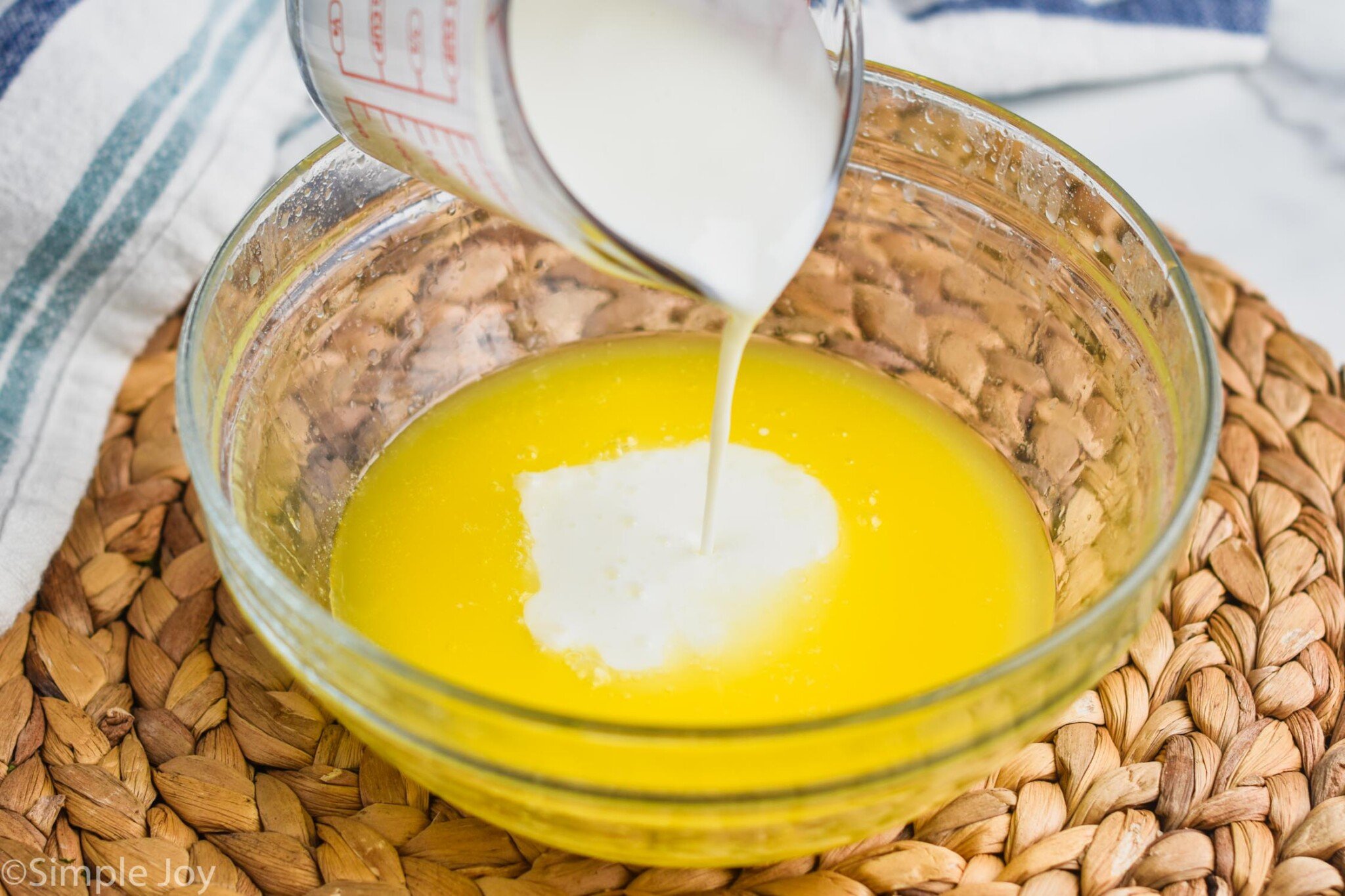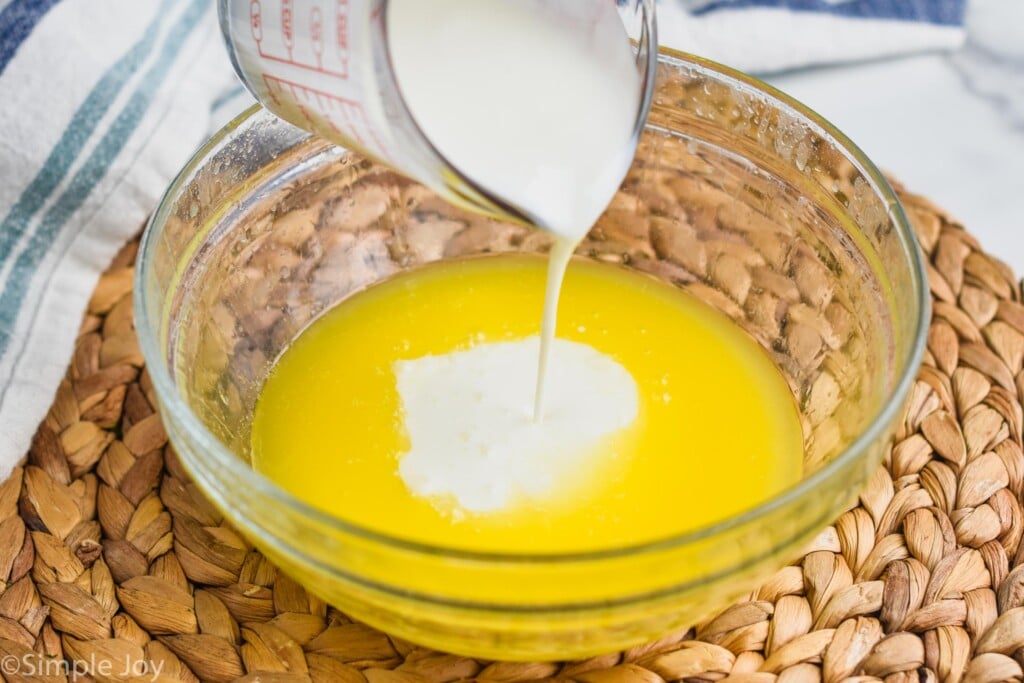 How to Make Drop Biscuits
This is a brief overview to show you just how easily this quick recipe comes together.
Mix together the dry ingredients. In a bowl whisk together the flour, baking powder, baking soda, sugar, and salt.
Combine the cold buttermilk and hot melted butter. I suggest leaving the buttermilk in the refrigerator until right before you add it to the butter. Do this in a separate bowl from the flour mixture.
Combine the ingredients. Pour the buttermilk mixture into the flour mixture and combine just until you don't see streaks of flour and the dough starts to pull away from the sides of the bowl.
Drop into biscuits. I like to do this with a greased 1/4 cup measuring cup. Drop the dough onto a prepared baking sheet.
Bake and enjoy! These bake in the oven for 12 to 14 minutes and are great hot right out of the oven.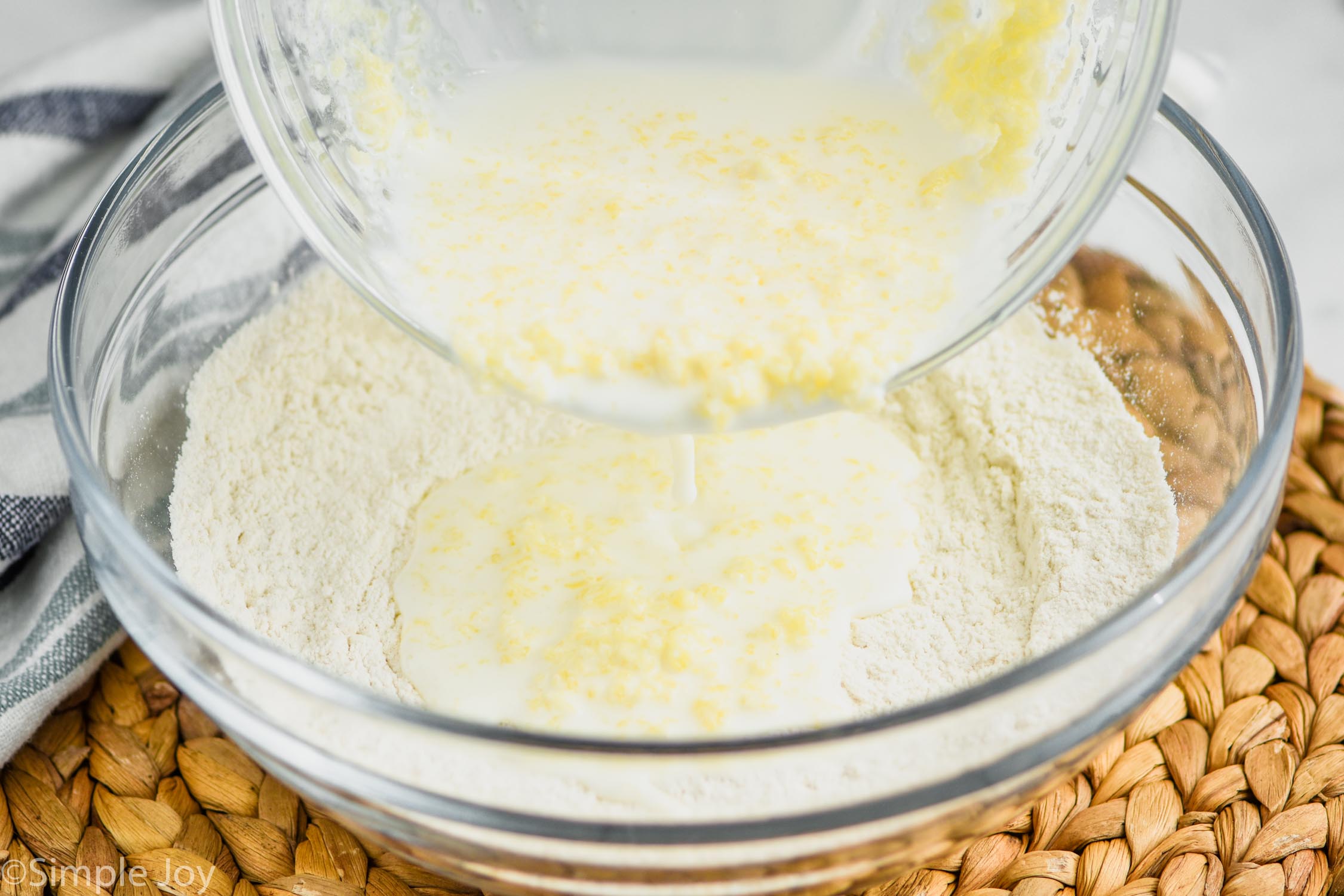 Measuring Flour for Baked Goods
A key mistake in so many baking recipes is packing flour. This results in more flour than the recipe calls for, which means dry and crumbly baked goods. The best solutions for this, hands down, is to weigh your flour. But, many home cooks don't have kitchen scales. If you would like like to go that route, this is the scale I recommend. Otherwise, the following steps will ensure that you have the correct amount of flour.
Whisk the flour in whatever container you store it in. Whether it is in a cute jar on your countertop or the bag it came in the pantry, you will want to whisk the flour in that container before measuring.
Scoop the flour using a spoon. Most commonly, this is where the error occurs. People will use the dry measuring cup to scoop the flour and this is when the packing happens. Packing flour can lead to 25% more flour in your recipe. Use the spoon to scoop the flour into the dry measuring cup.
Use a dry measuring cup. Measuring cups in the U.S. are sold as dry measuring cups that come in the amounts of 1 cup, 1/2 cup, 1/3 cup, and 1/4 cup and stack. Glass measuring cups are sold in 1 cup, 2 cups, and 4 cups. They are glass, see through, and have the measuring marks on the side. Those are used for measuring liquid and should never be used to measure flour.
Level the flour off. Once you have scooped it into the measuring cup, level it off with the flat edge of a spatula.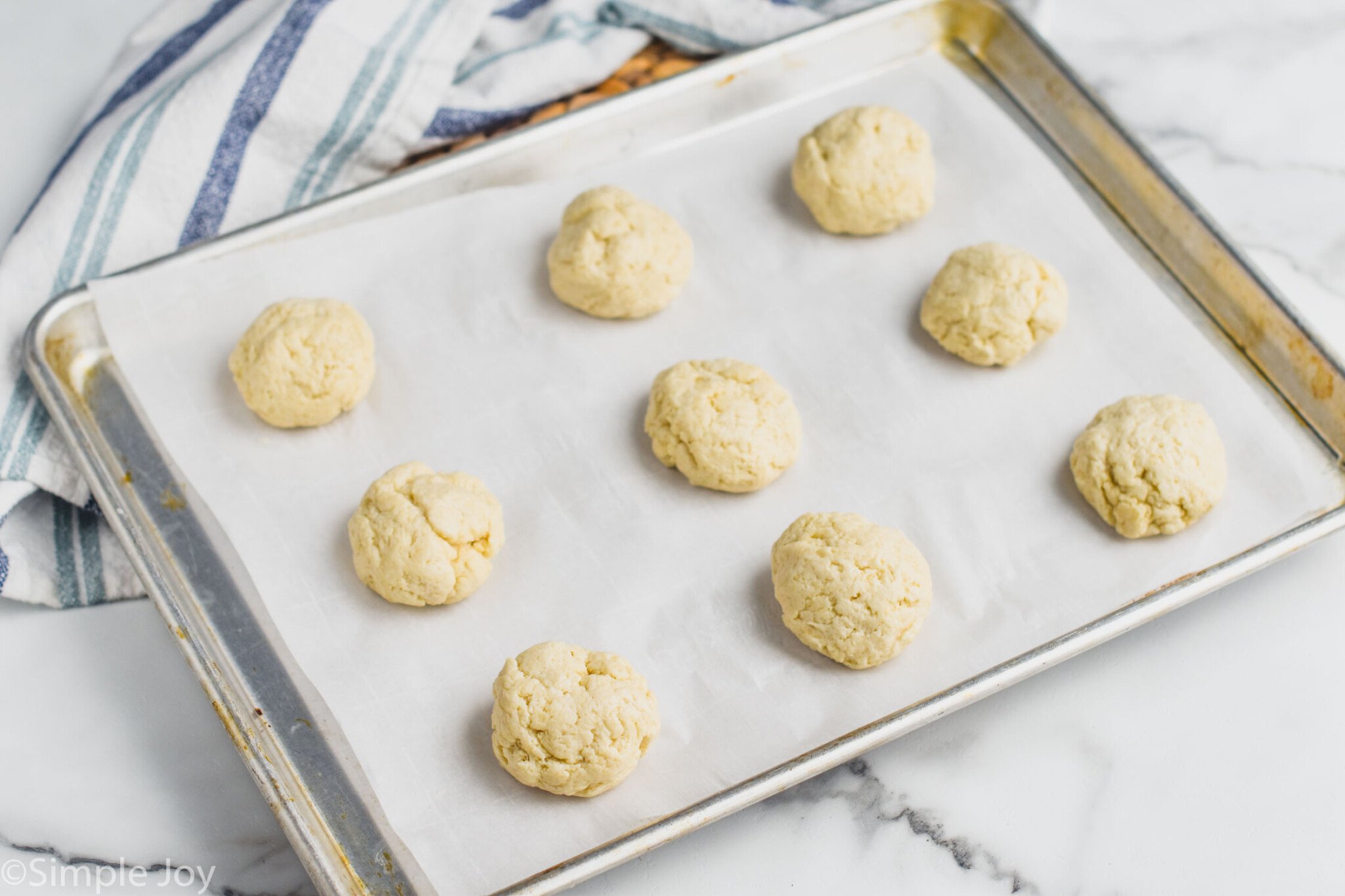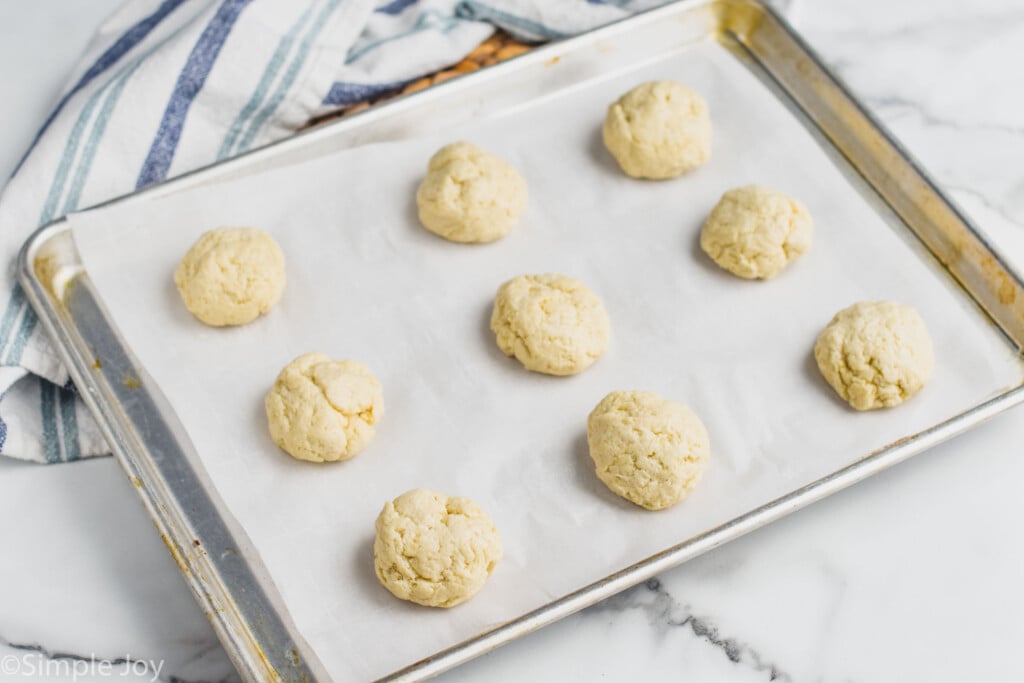 Tips and Tricks for Drop Biscuit Recipe
Preheat your oven. This is such a common step in recipes, that I rarely mention it. But in baking recipes, especially recipes that bake for such a short amount of time, it is key. If your oven is cold when you put these in they won't bake properly. The oven needs to be preheated to 375 degrees Fahrenheit before you add the drop biscuits.
Measuring the flour correctly. As mentioned above, packing flour and using too much is a common error in baking. Follow the steps above to ensure you have the correct amounts.
Grab both baking soda and baking powder. This recipe calls for both and they are not interchangeable. You will need to use both ingredients in this recipe.
Use fresh baking soda and baking powder. This recipe calls for both. Baking soda and baking powder need to be replaced about ever six months. They are responsible for the chemical reaction that creates the rise in baked goods. If they aren't fresh, that reaction can't take place.
Use buttermilk. The baking soda in this recipe requires buttermilk, which is acidic, in order to have its chemical reaction. It can't be replaced with regular milk unless you add an acid. Read more on this below.
Use great baking sheets. The equipment you use to bake with can make a huge difference in the outcome. See my preferred baking sheets linked below.
TOP PICK
Rimmed Baking Sheets
These are my absolute favorite rimmed baking sheets. They are work horses that produce the most perfect cookies and biscuits.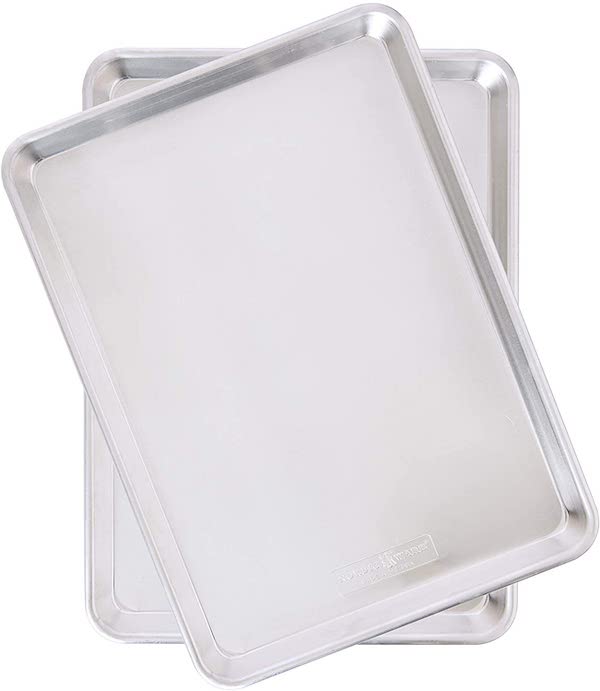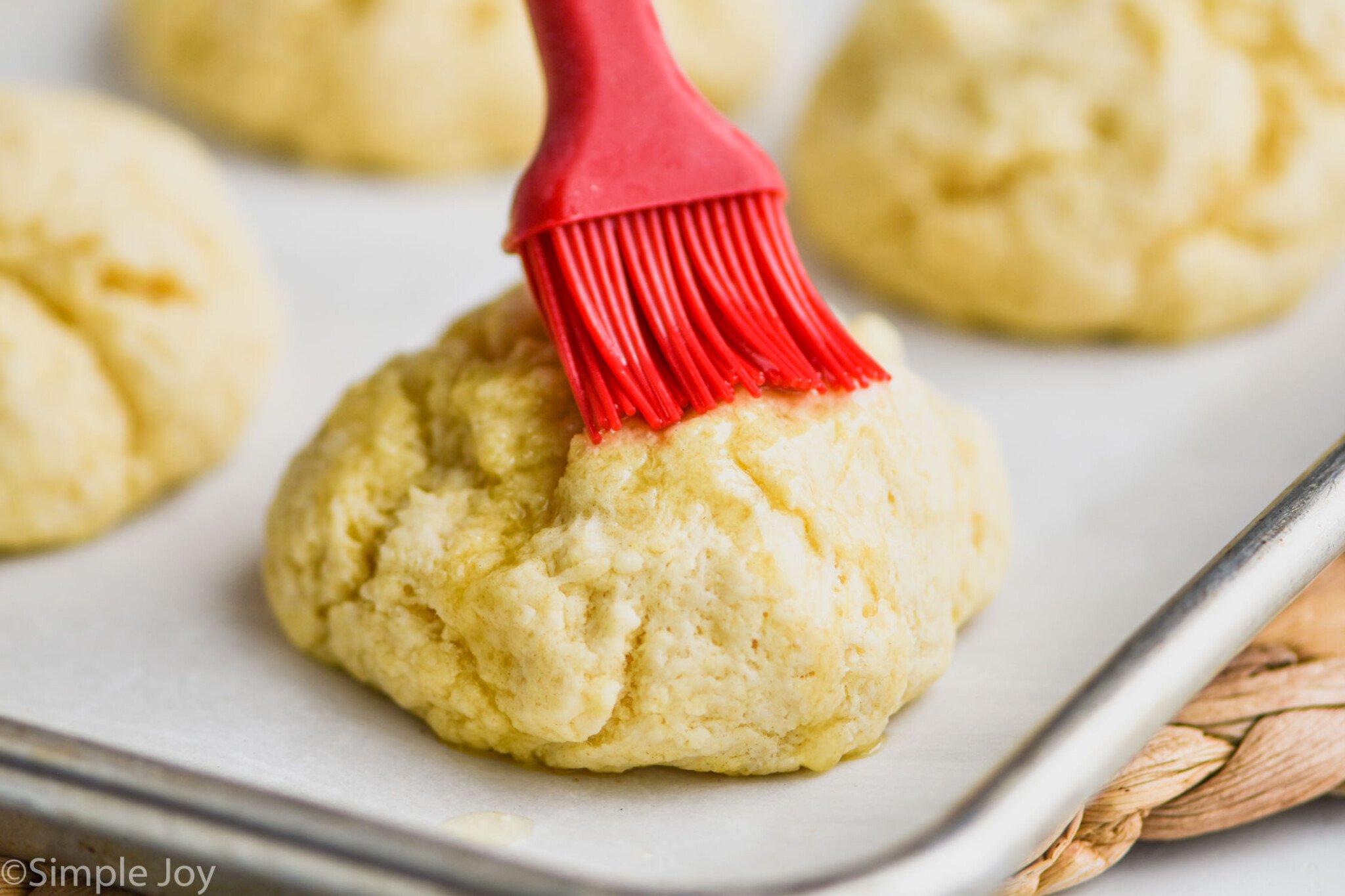 Making Buttermilk
If you don't have buttermilk on hand and you are craving these biscuits, I have an easy solution for you.
Pour one tablespoon of vinegar (or fresh lemon juice) into a glass measuring cup.
Add milk up to the 1 cup mark. The higher the fat content of the milk, the better the results of the final biscuits will be.
Give it a stir and then let it sit for 5 minutes.
While it won't be the same exact results as using store-bought buttermilk, you will end up with absolutely delicious biscuits.
Storing Drop Biscuit Recipe
If you add melted butter to the top of these, you will want to eat them the same day. If you don't, they will keep in a sealed container at room temperature for two to three days.
Freezing
These biscuits freeze really well. To freeze them, skip brushing them with melted butter when they come out of the oven. Then place them on a wax paper lined tray for a few hours in the freezer before transferring them to an air tight container. Store in the freezer for up to three months. These will take just about 30 minutes to thaw at room temperature.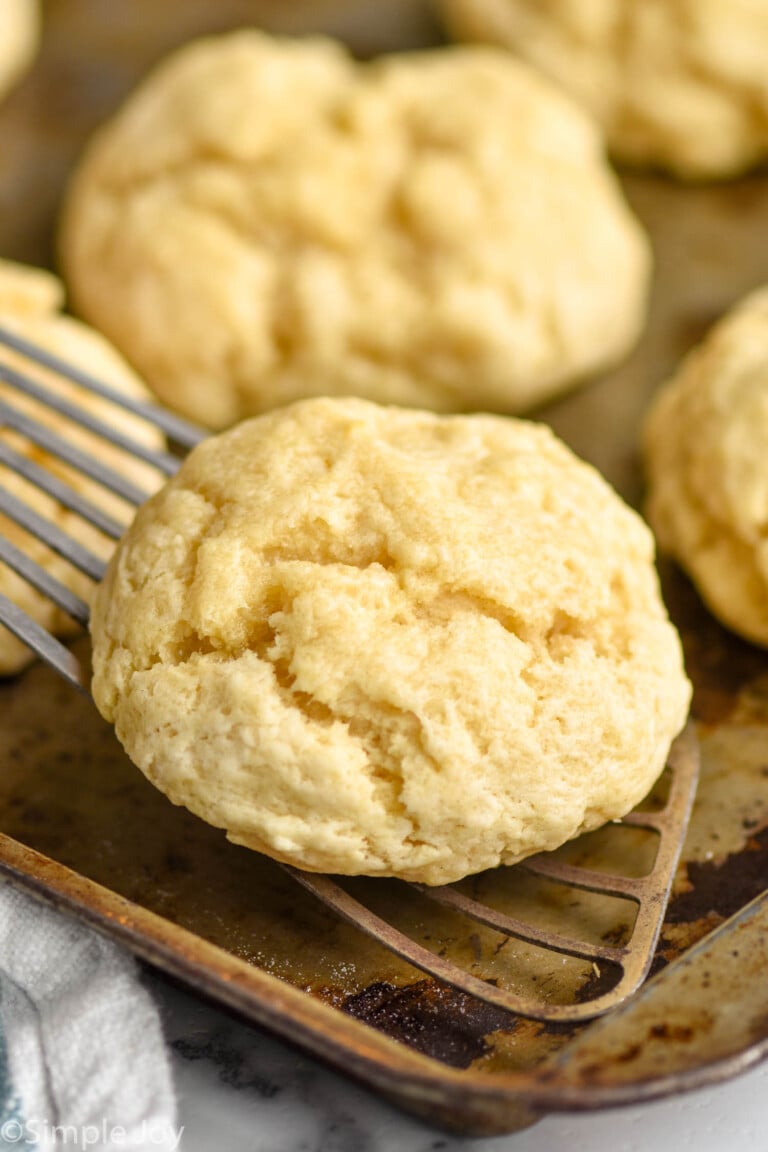 FAQ
Can you make biscuit dough ahead of time?
No, I wouldn't recommend making the dough ahead of time. As soon as you combine the wet ingredients with the dry ingredients, the chemical reactions of the baking soda and baking powder start, so you want to run with that.
Can I use milk instead of buttermilk?
No, the recipe won't work with that swap. However! I have instructions above for how to use this recipe with regular milk.
What is the difference between drop biscuits and regular biscuits?
Regular biscuits require a dough that can be rolled out and cut. In this recipe we literally are just dropping the dough onto a baking sheet and baking them without any rolling or cutting.
Can this recipe be doubled?
Yes! This recipe as written makes 12 biscuits, which is perfect for a family dinner. If you are hosting, you may want to double the recipe.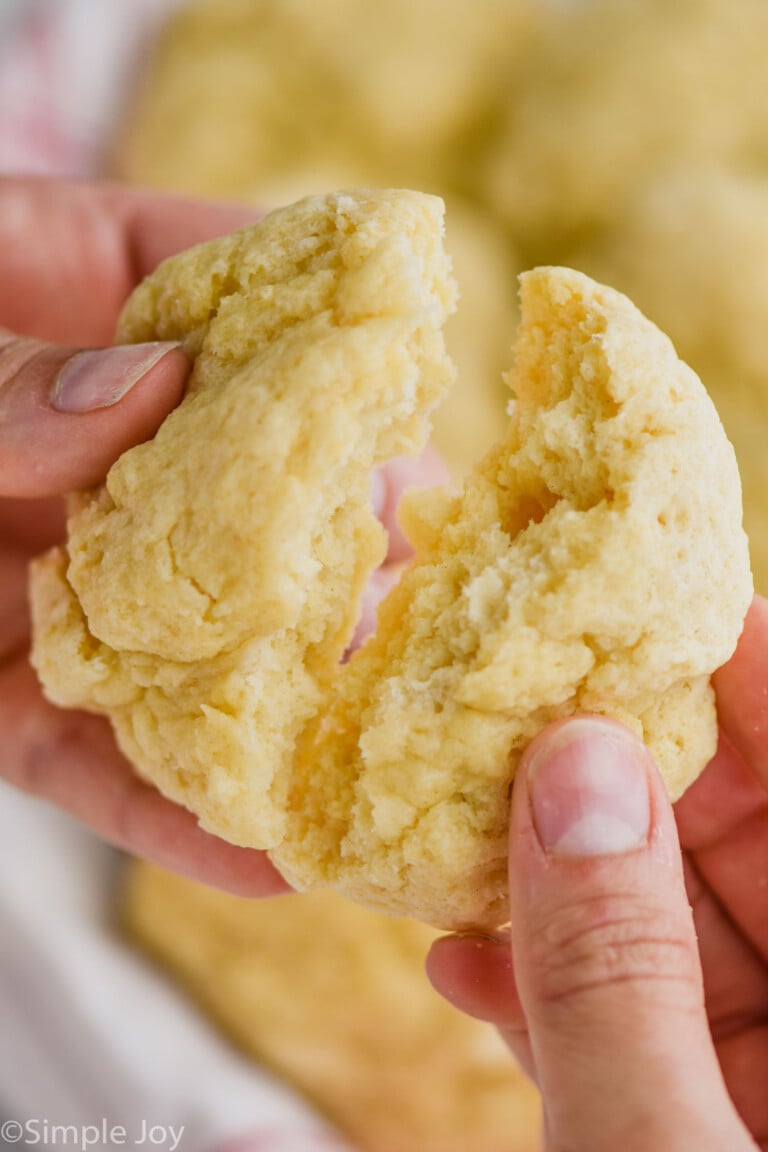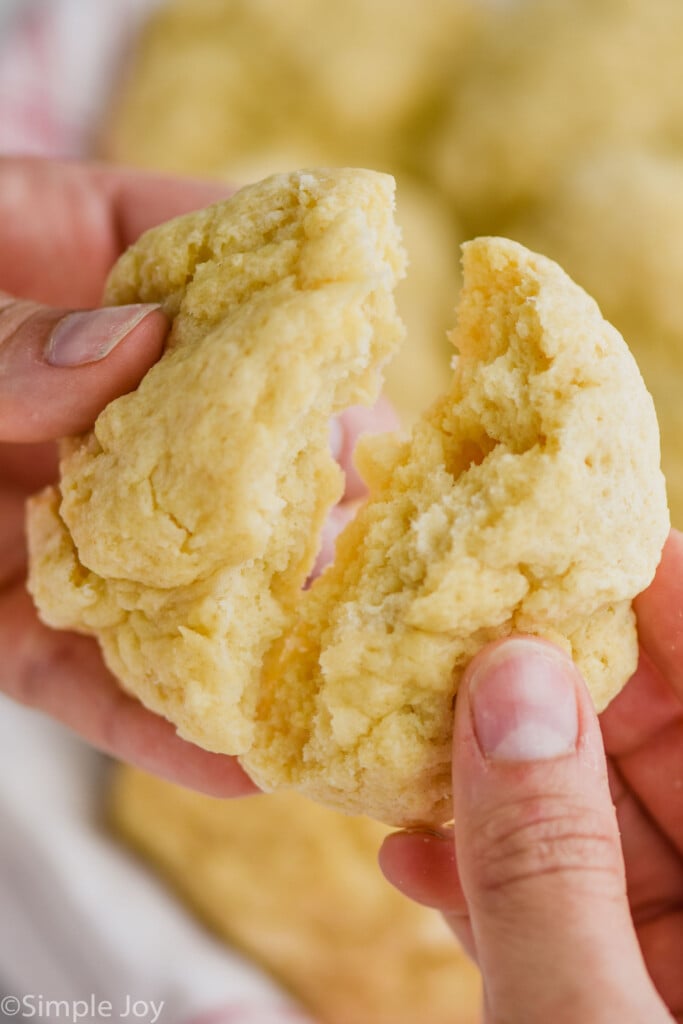 What to Pair with Drop Biscuits
We have countless dinner recipes that these would pair perfectly with. But here are some recipes that always make me want to grab this biscuit recipe.
If you make this super easy biscuit recipe or any of my other recipes, leave me a comment and let me know what you think!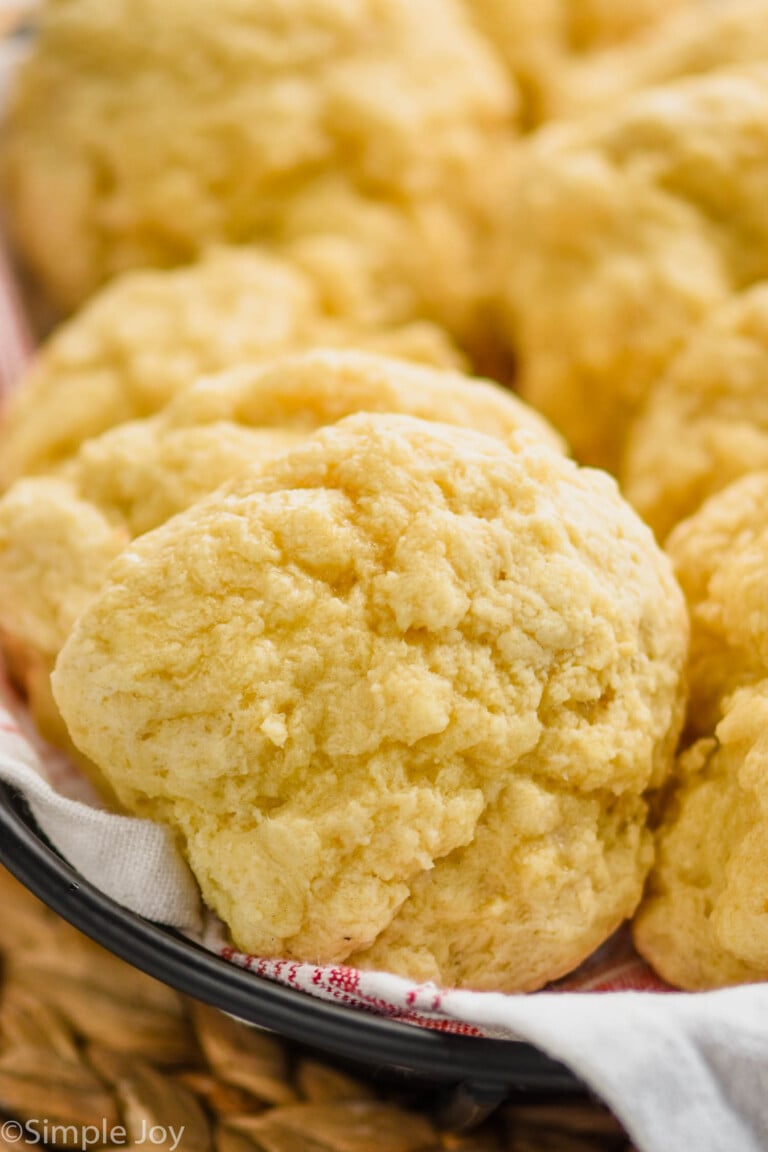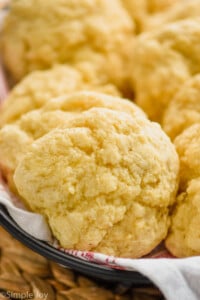 Fast Easy Biscuits
This Drop Biscuit recipe gives you the most buttery soft biscuits. These easy biscuits come together in about 20 minutes and are perfect on the side of so many different recipes!
Ingredients
2

cups

all purpose flour

(240 grams) read here about measuring flour

2

teaspoons

baking powder

1/2

teaspoon

baking soda

1

teaspoon

sugar

3/4

teaspoon

salt

1

cup

buttermilk

(236.6 ml) cold

8

tablespoons

melted butter

(113 grams) cooled slightly

2

tablespoons

melted butter

(28.25 grams) for brushing on at the end, optional
Instructions
Preheat your oven to 375 degrees Fahrenheit and line a baking sheet with parchment paper.

In a large bowl, whisk together the flour, baking powder, baking soda, sugar, and salt.

2 cups all purpose flour,

2 teaspoons baking powder,

1/2 teaspoon baking soda,

1 teaspoon sugar,

3/4 teaspoon salt

In a smaller bowl whisk the cold buttermilk and melted butter. It will start to clump together, as the cold buttermilk drops the temperature of the butter.

1 cup buttermilk,

8 tablespoons melted butter

Stir the liquid into the dry ingredients just until it starts to pull away from the side.

Using a well greased 1/4 cup measure, drop just less than a quarter cup of batter onto the baking mat keeping an inch and a half between biscuits. You may have to bake in two batches.

Bake 12 to 14 minutes until they are golden brown. Remove the biscuits from the oven brush with butter if serving right away. Serve warm.

2 tablespoons melted butter
Serving:
1
biscuit
Calories:
171
kcal
(9%)
Carbohydrates:
17
g
(6%)
Protein:
3
g
(6%)
Fat:
10
g
(15%)
Saturated Fat:
6
g
(38%)
Polyunsaturated Fat:
0.5
g
Monounsaturated Fat:
3
g
Trans Fat:
0.4
g
Cholesterol:
27
mg
(9%)
Sodium:
356
mg
(15%)
Potassium:
52
mg
(1%)
Fiber:
1
g
(4%)
Sugar:
1
g
(1%)
Vitamin A:
317
IU
(6%)
Calcium:
68
mg
(7%)
Iron:
1
mg
(6%)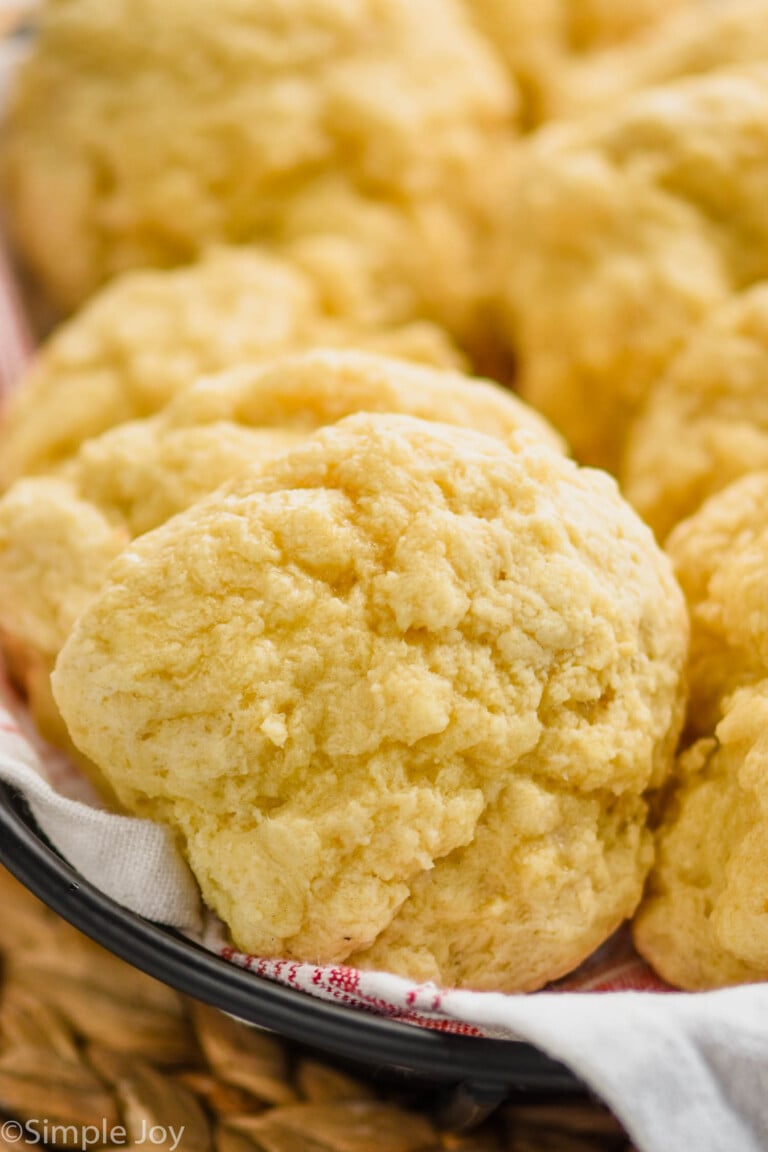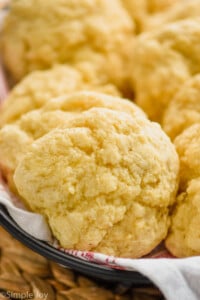 did you make this
Fast Easy Biscuits
you might also like . . .
Recipe from America's Test Kitchen
SaveSave