Cheddar Bay Biscuits are easy to make, and will be a huge hit with your family. My kids can't get enough of this quick biscuit recipe.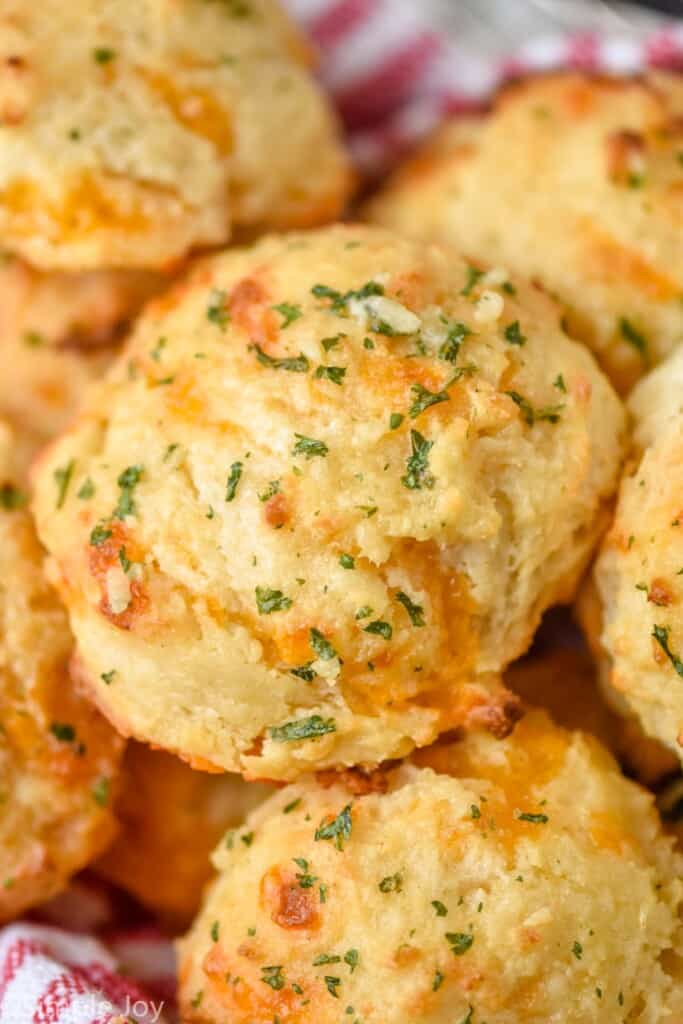 If there is one thing that makes my kids more excited to come to the dinner table, it is the enticing smell of freshly cooked bread. These little carb loving monsters are most definitely mine.
With how easy dinner rolls are to make, and how happy it makes them, I'm not sure why I don't do it more often.
This amazing Cheddar Bay Biscuit recipe is going to have you making rolls for your carb lovers weekly. These taste just like Red Lobster Cheddar Bay Biscuits, and they are truly simple to make at home. We have tons of tips and tricks to make sure this recipe turns out perfect for you every time.
Reader Review
I was so excited to try these as soon as I read they were just like Red Lobster's biscuits! Have made these now, a number of times, and they never disappoint. And they don't only pair with seafood; they go with chili, pot roast, chicken, soups & salads… you name it!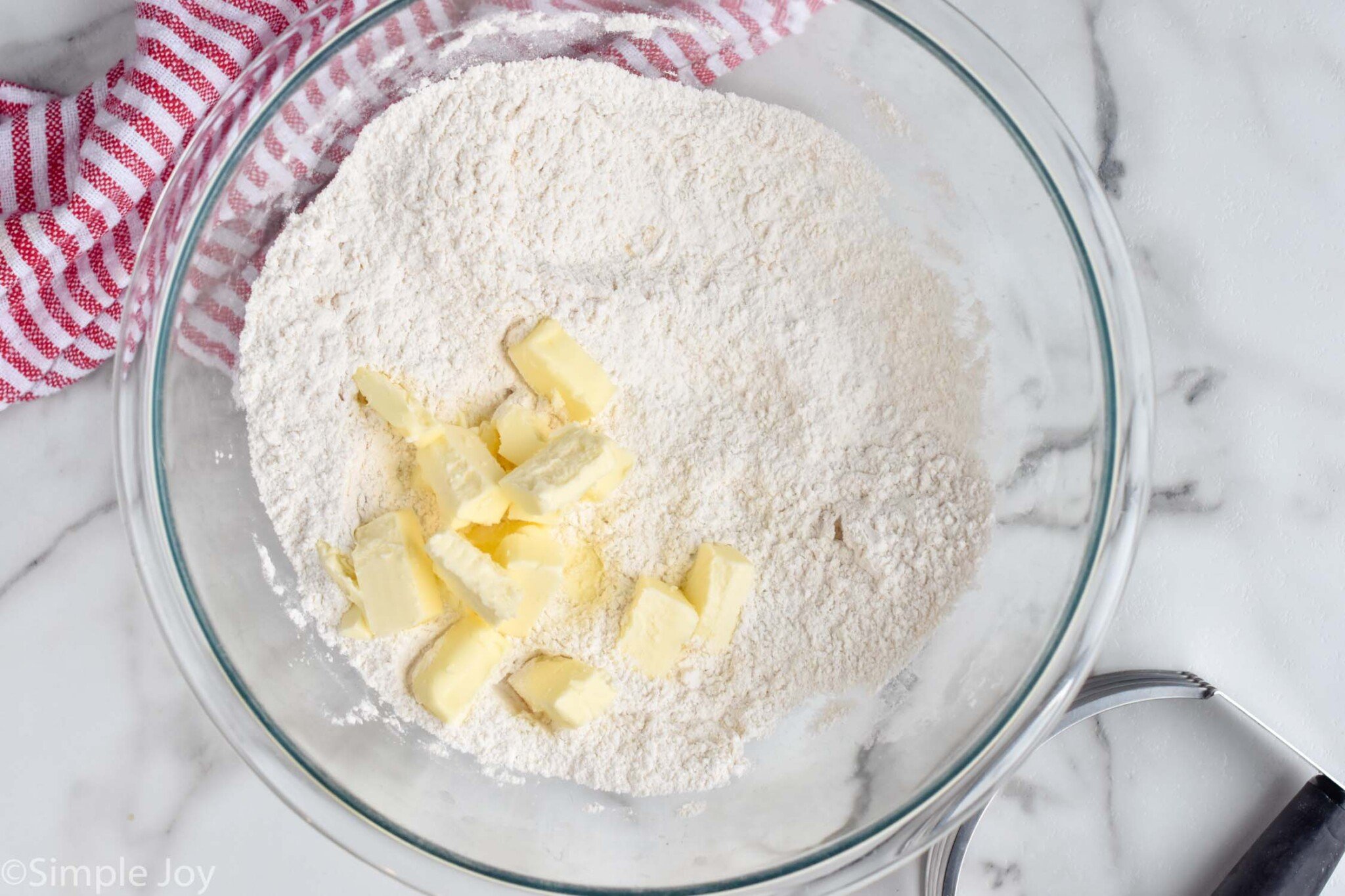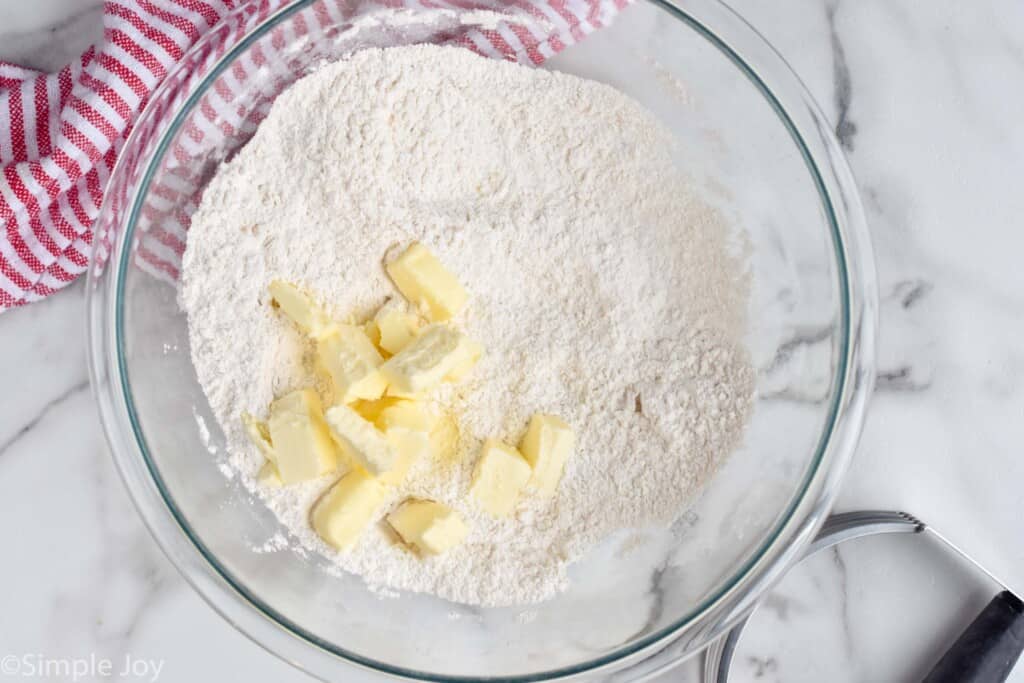 How to Make Cheddar Bay Biscuits
For the full recipe with all of the measurements see the recipe card at the bottom of the post or click the jump to the recipe button above.
Preheat your oven: Before you start this recipe, preheat your oven to 450 degrees and line a rimmed baking sheet with parchment paper.
Make buttermilk: If you are making your own buttermilk, it will need to sit for about five minutes, so be sure to do this right away.
Whisk together dry ingredients: In a medium bowl, whisk together the flour, baking powder, salt, and garlic powder.
Cut in the butter: Using two forks or a pastry cutter, cut in the butter. The mixture will be light and crumbly when you are done.
Stir in the buttermilk and cheese.
Scoop and bake: I like to use this cookie scoop (it holds 3 tablespoons) to make easy work of this recipe. Otherwise you can just use a spoon, scooping up large spoonfuls.
Make the butter topping: The key to perfection in this biscuit recipe is the butter topping. Whisk together melted butter, garlic, garlic powder, and dried parsley. When the hot biscuits come out of the oven, brush them with this amazing combination.
Serve hot: These biscuits are best when served hot, but I assure you we love them cold as well.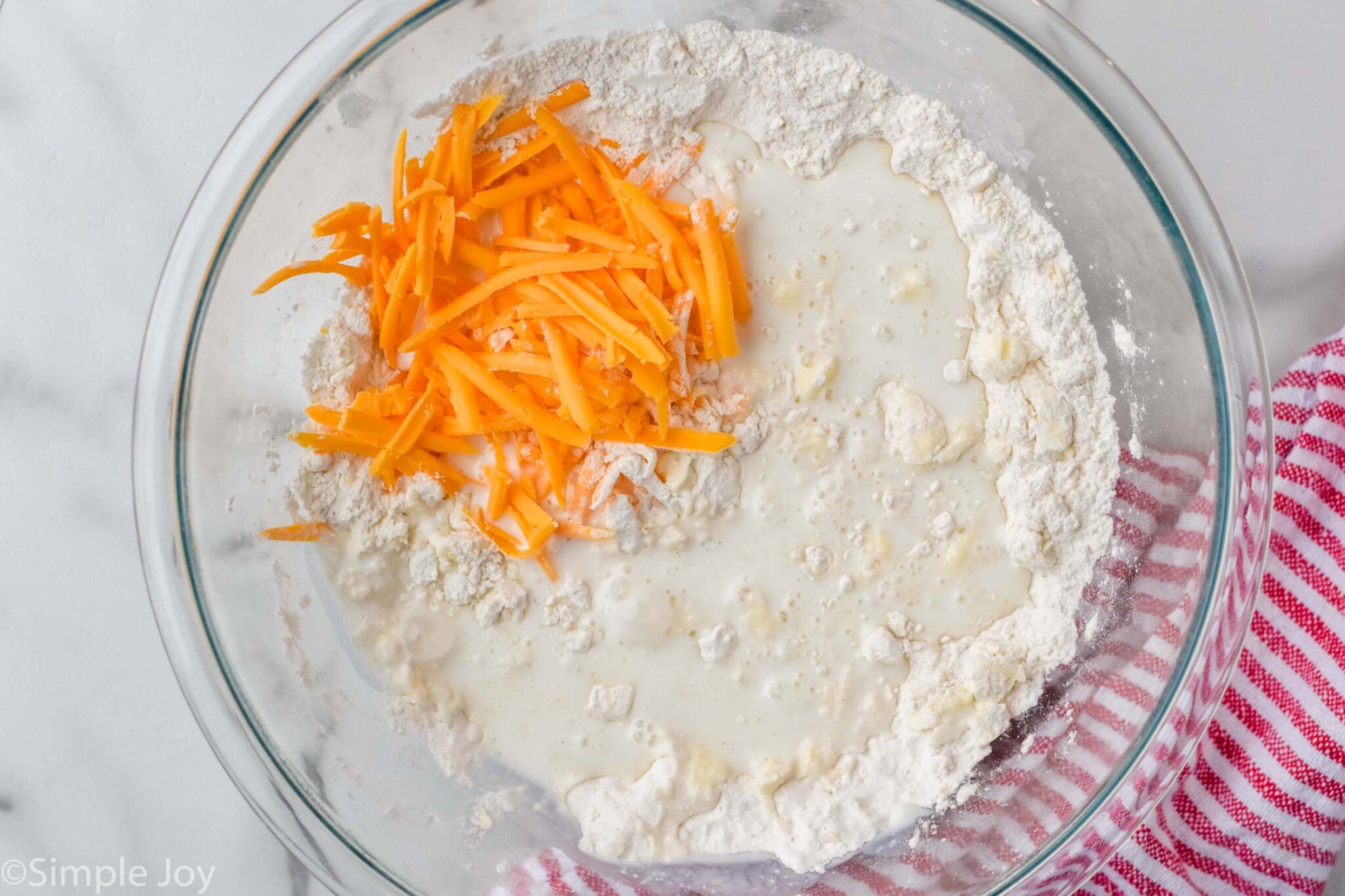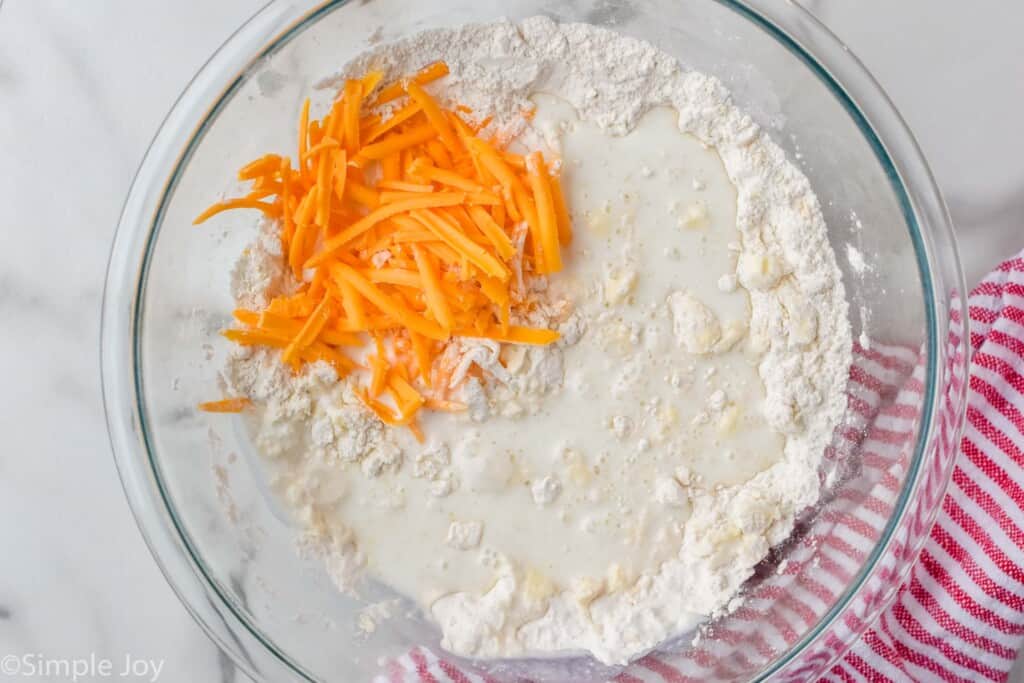 Room Temperature Butter
For ease of cutting the butter into the dry ingredients, you want room temperature butter here. Room temperature butter is actually cold to the touch. Mind blowing, right? You should be able to dent it easily with your finger, but it shouldn't be so soft that your finger pushes all the way through.
To easily bring your butter to room temperature, cut it into 1 inch pieces and leave it on the counter for 30 minutes. Alternatively, you can heat up a drinking glass with boiling water, dump out the water and place it over the wrapped stick of butter for 5 minutes.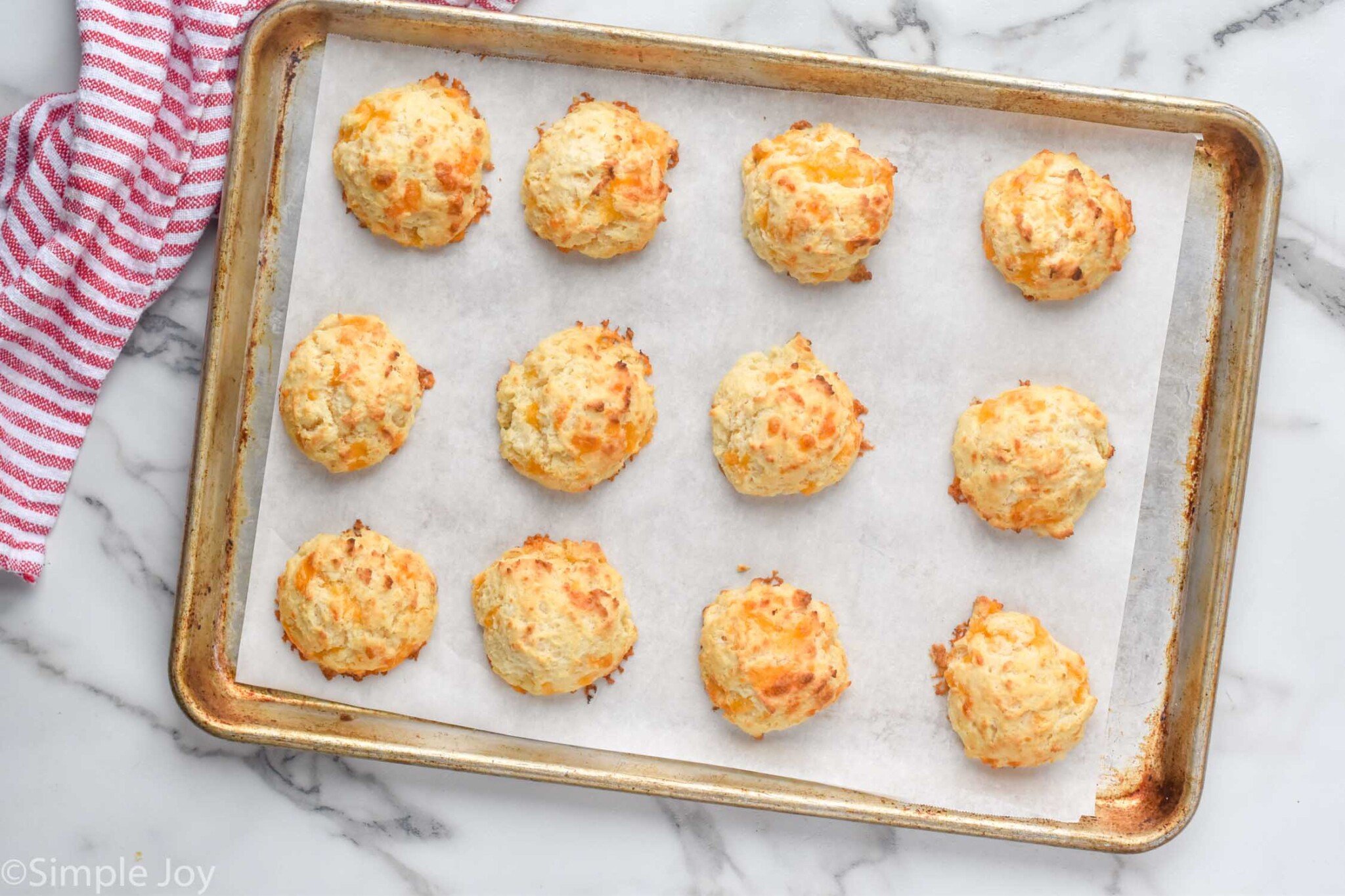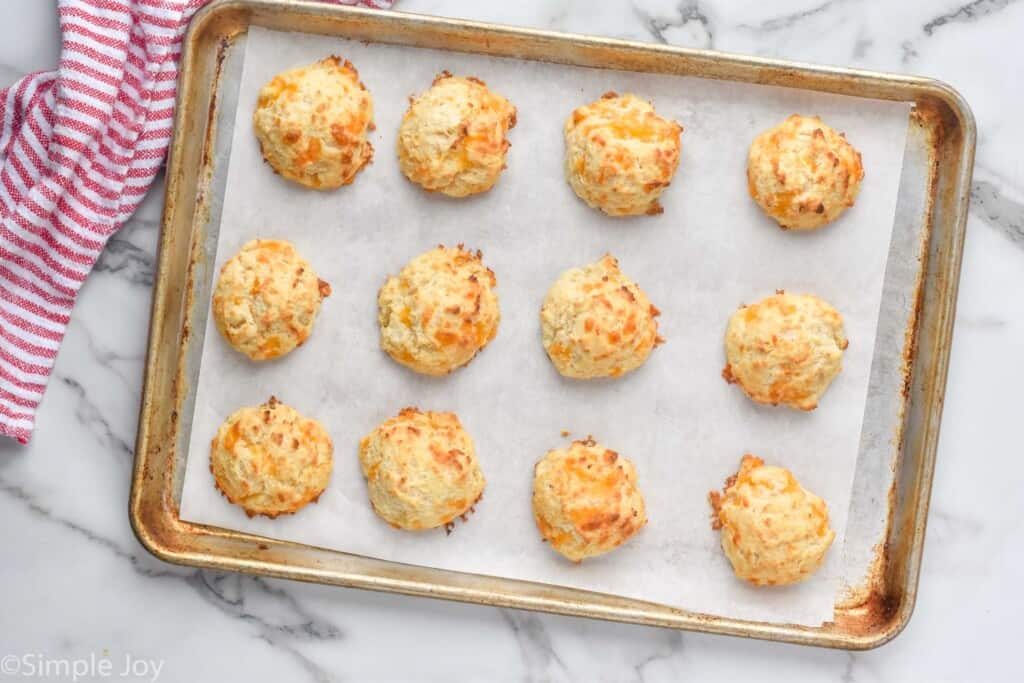 Making Buttermilk
If you don't have buttermilk on hand, you can substitute with milk and vinegar.
Pour 1 tablespoon of vinegar (or lemon juice) into a 1 cup glass measuring cup.
Then fill the measuring cup to the 1 cup (8 ounce) line with milk.
Stir and let the mixture sit for five minutes.
This substitution works perfectly in this recipe.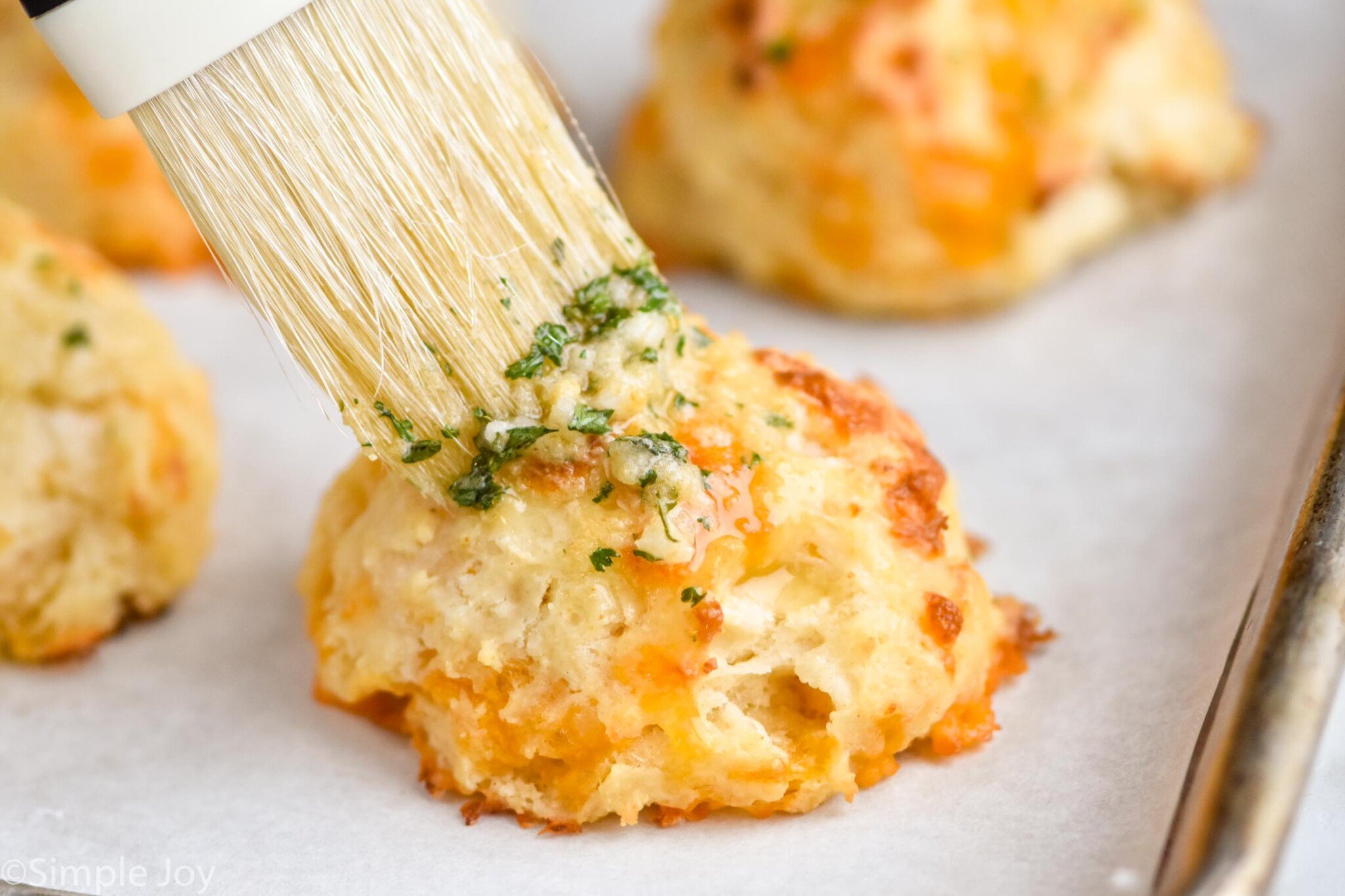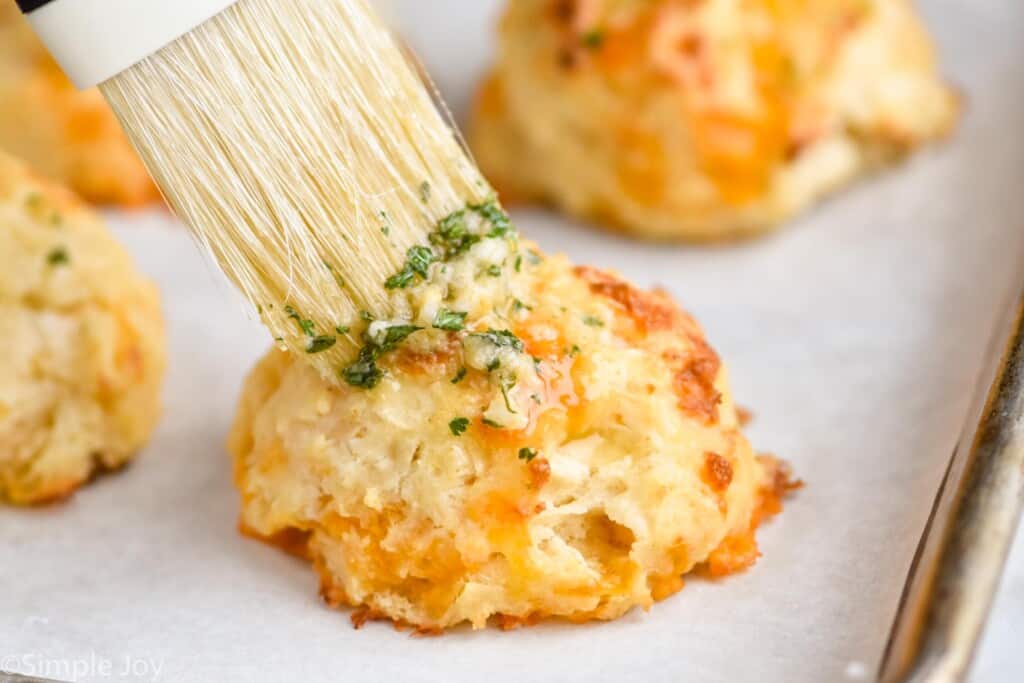 What Cheese to Use
As always, I suggest buying a brick of cheese for this recipe. While it is tempting to save time with pre-shredded cheese, the taste and texture of cheese you shred yourself can't be beat.
I take a lot of short cuts in the kitchen, but this time saver just isn't worth it to me.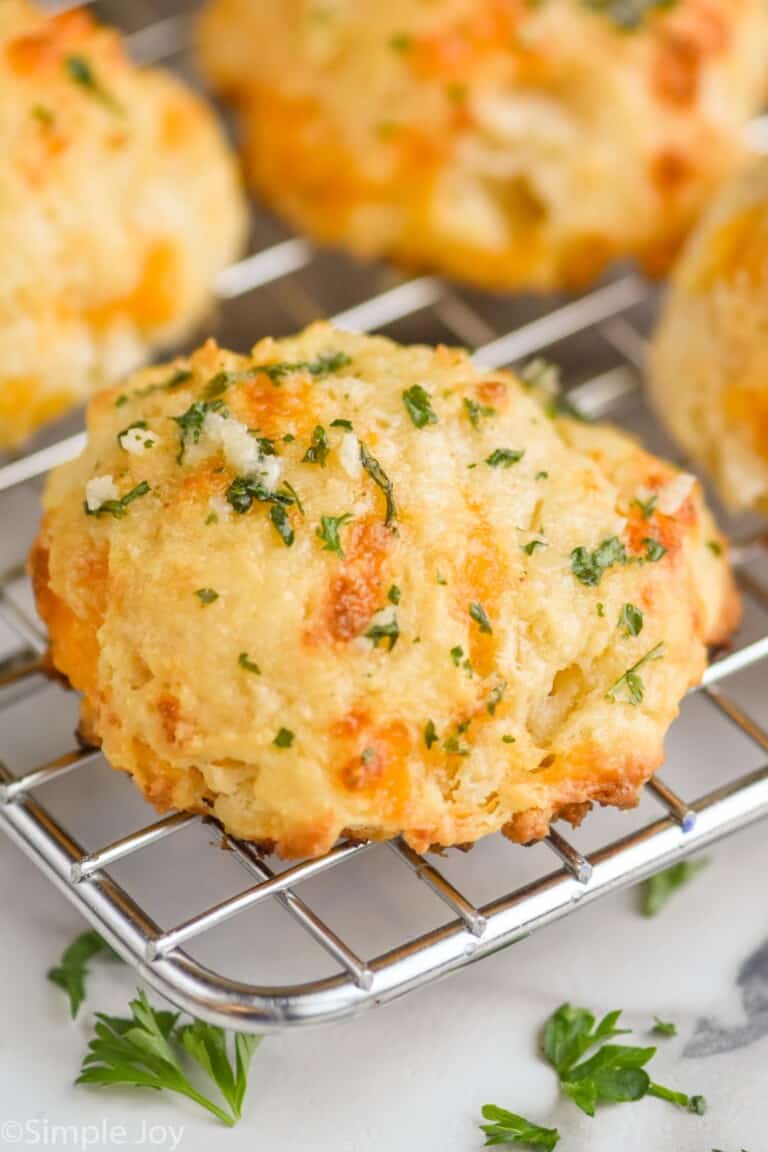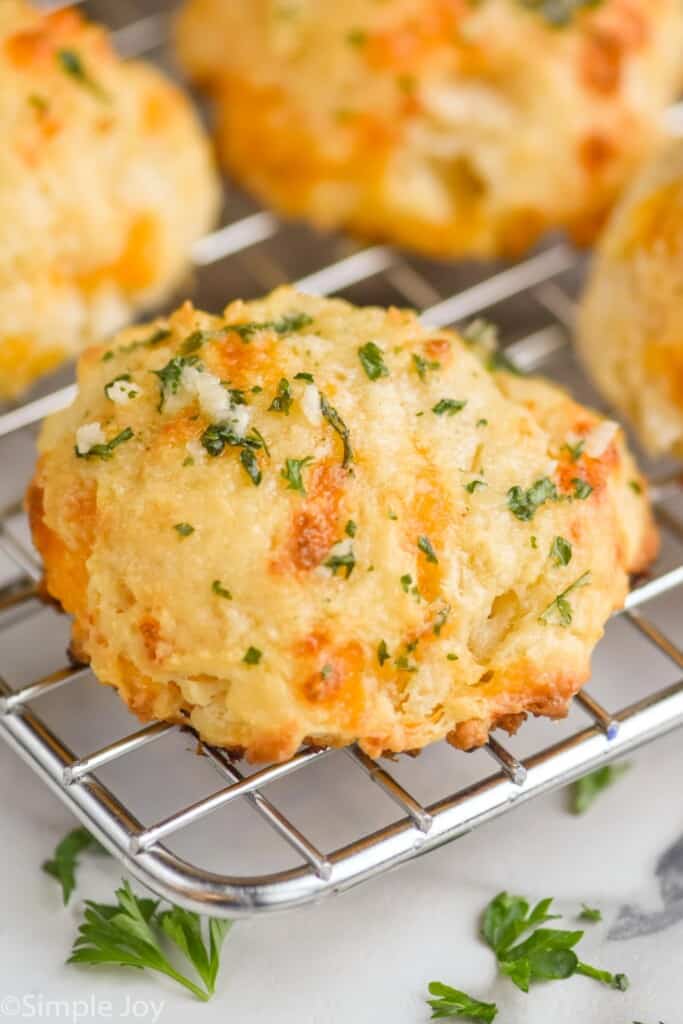 Tips for Cheddar Bay Biscuit Recipe
As with all baking recipes, I like to include a few simple tips to keep in mind. Baking can be tricky but these will help guarantee success with any recipe.
Measure your flour properly. Resist the urge to scoop the flour from the container with the measuring cup. Instead use a dry measuring cup and scoop the flour from the container into it with a spoon. Now level off with the flat edge of a spatula. You can see this in action in my Oatmeal Raisin Cookie video.
Use fresh baking powder. Baking powder can go bad and thus be less reactive in your recipes. It should be replaced every 6 months. To test that it is still reactive, drop a little in some water. It should bubble right away.
Use room temperature butter. This was discussed above, but the proper softness of butter does make a big difference in recipes. Read above for more details.
Preheat your oven. This is a simple step, but one that if overlooked will really mess up a recipe. Here the biscuits are in the oven for a short amount of time, but if the oven isn't completely hot when they go in, it will mean they don't cook evenly.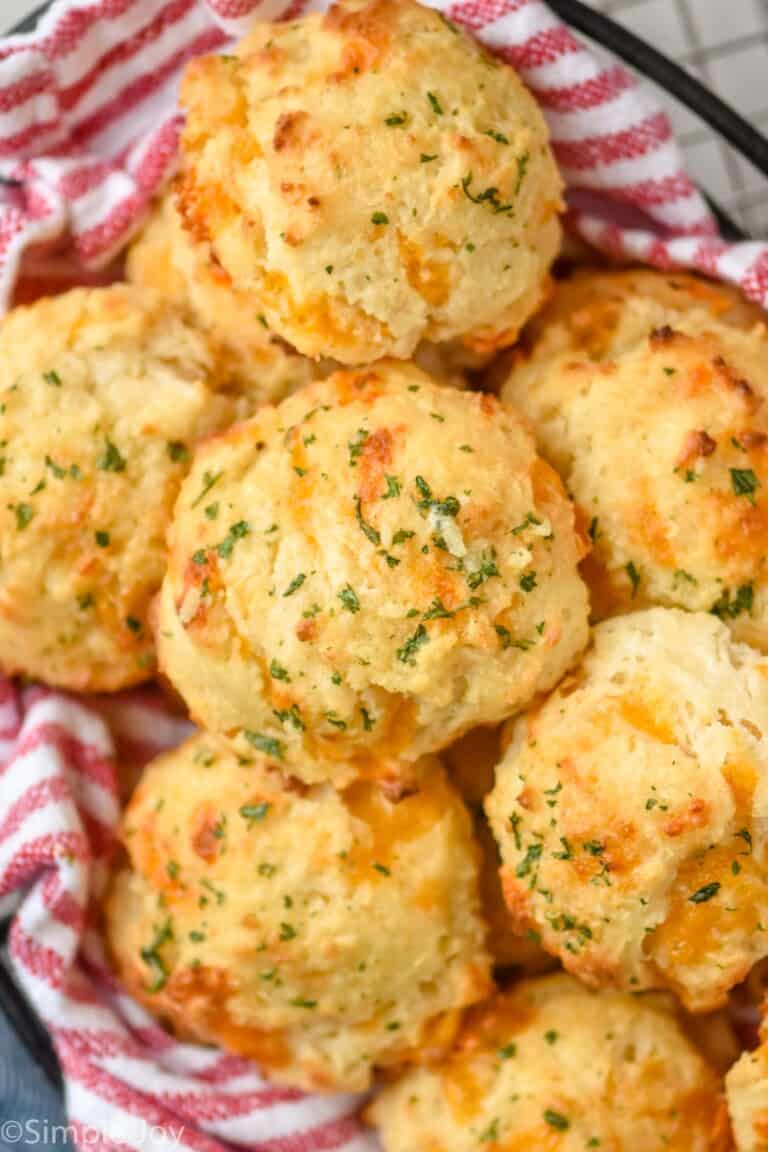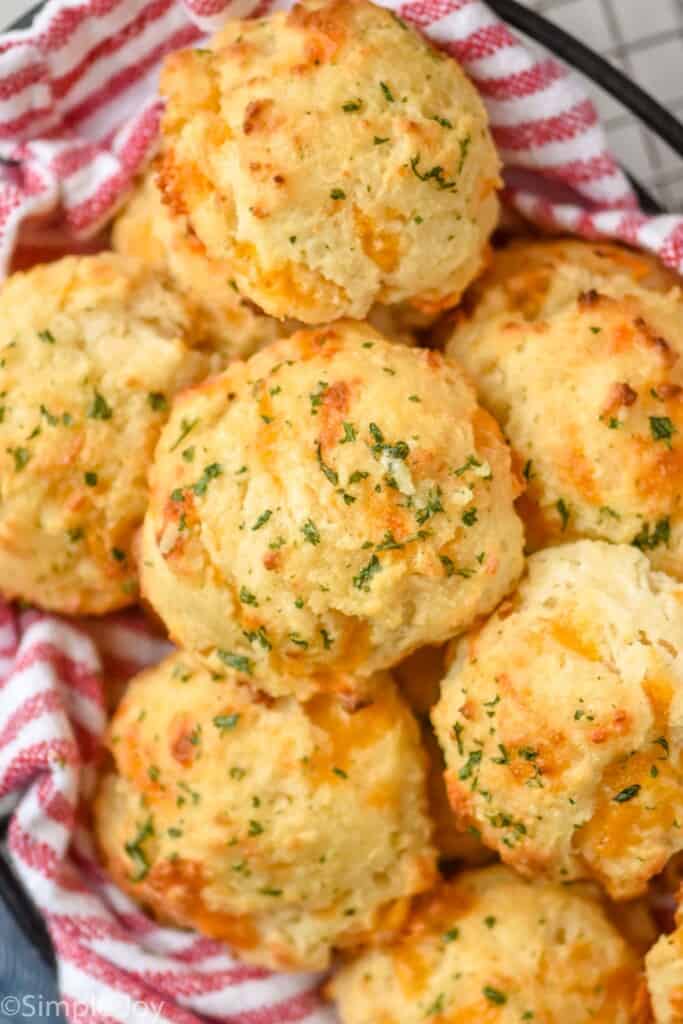 What to Serve with Cheddar Bay Biscuits
These great biscuits would be perfect as the side to so many recipes. I have a roast coming in a few weeks that we enjoy them with, but in the meantime here a few other options:
If you make these great biscuits or any of my other recipes, please leave me a comment and let me know what you think!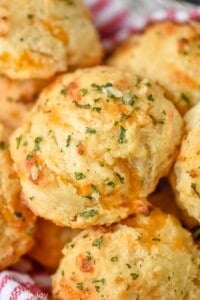 Cheddar Bay Biscuits
Cheddar Bay Biscuits are easy to make, and will be a huge hit with your family. My kids can't get enough of this quick biscuit recipe.
Ingredients
2

cups

all purpose flour

2

teaspoons

baking powder

1

teaspoon

sugar

1

teaspoon

garlic powder

(not garlic salt)

1/2

teaspoon

salt

1/2

cup

unsalted butter

room temperature and cut into 1 inch pieces

1

cup

mild or medium cheddar cheese

shredded

1

cup

buttermilk

read above on how to make buttermilk
Butter Topping
3

tablespoons

unsalted butter

melted

1

garlic clove

minced

1

teaspoon

dried parsley

1/2

teaspoon

garlic powder
Instructions
Preheat your oven to 450 degrees. Line a rimmed baking sheet with parchment paper.

In a large mixing bowl, whisk together the flour, baking powder, sugar, garlic powder, and salt.

Using a fork or pastry cutter, cut the butter into the flour mixture. It will be crumbly.

Add in the cheese and buttermilk. Stir together until just combined. Using a 3 tablespoon cookie scoop or a large spoon, scoop out the biscuits and place them approximately 2 inches apart on the prepared baking sheet. Bake for 10 to 12 minutes or until golden brown.

While the biscuits are baking whisk together the ingredients for the butter topping. As soon as the biscuits come out of the oven, brush them with the butter topping. Serve warm.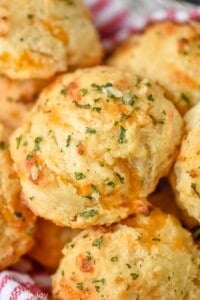 did you make this
Cheddar Bay Biscuits
you might also like . . .