Ham and Pea Pasta is a quick 30 minute dinner that the whole family will love. Easy to find ingredients, combined with a cream sauce and fettuccine make this recipe a total winner.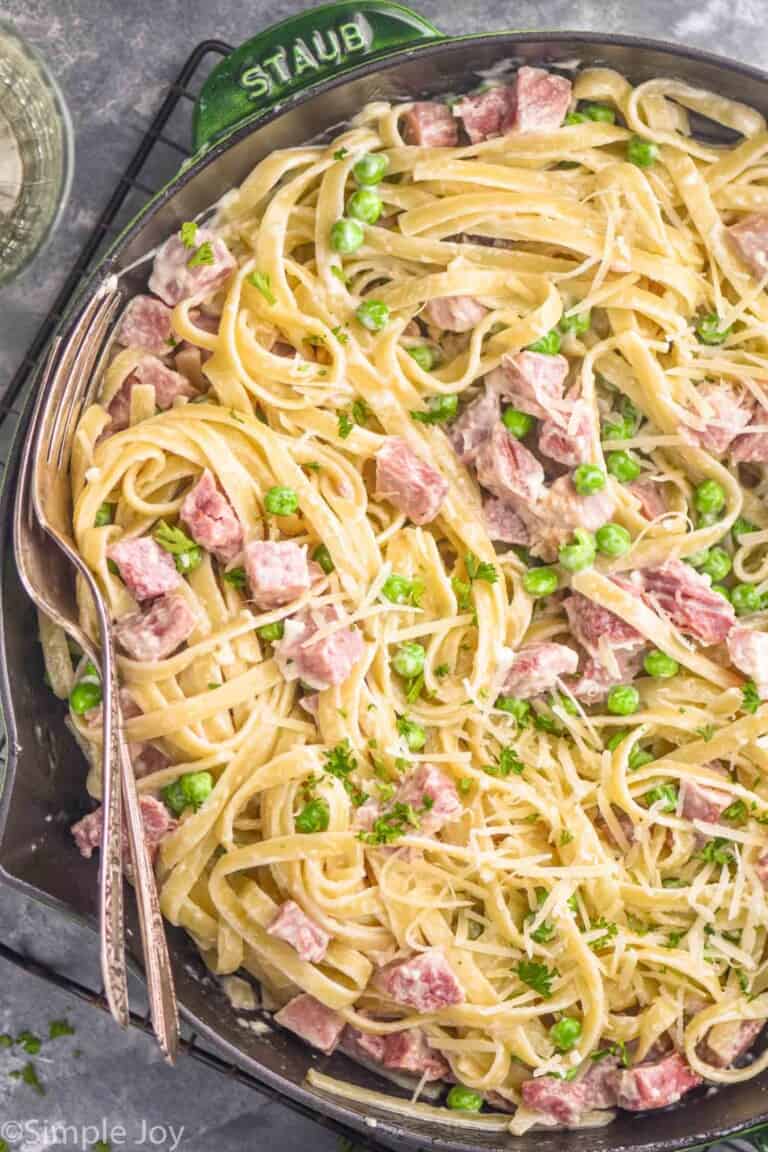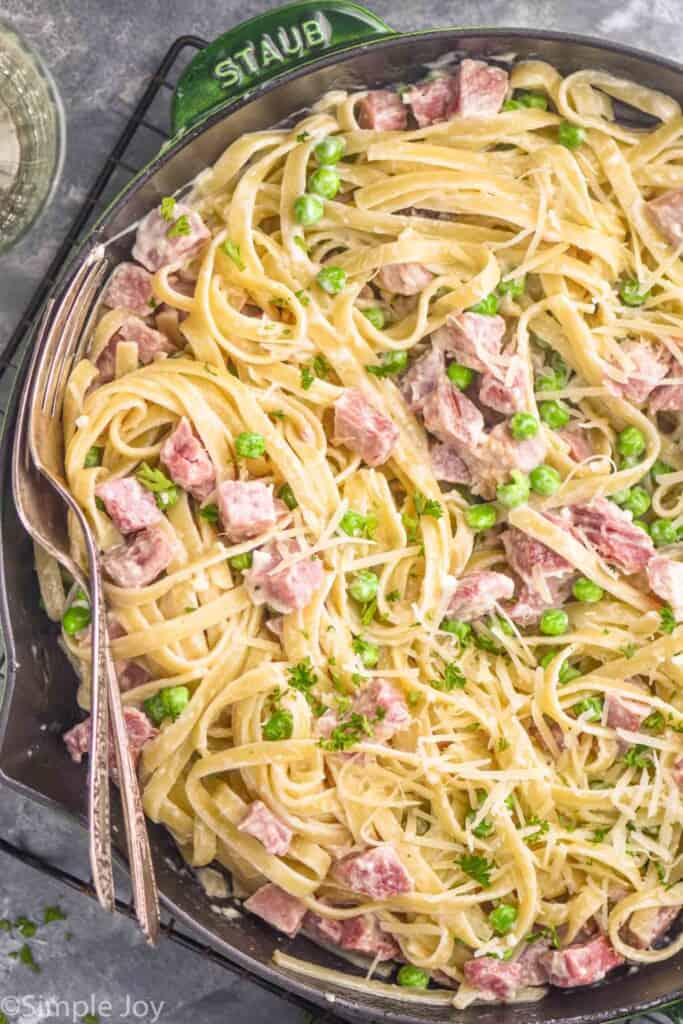 In the process of testing my Honey Baked Ham recipe, I ended up with a fair amount of ham leftovers. This turns out to be very fortunate for you and me, because my left over ham recipes ended up being amazing.
The first left over ham recipe I made for you this year, was my Scalloped Potatoes and Ham. This is a creamy and easy casserole you are sure to fall in love with.
The next left over ham recipe is this amazing Ham and Pea Pasta. This recipe is the definition of family friendly. It is sophisticated enough for grown ups while being simple enough for kids. It is an all around crowd pleaser.
(Be sure to come back Tuesday for the last of the left over ham recipes. It is a winner too!)
READER REVIEW
My husband loves veggies but absolutely hates peas, but I love peas myself….tried this recipe a d we both loved it! It's definitely a keeper!
How to Make Ham and Pea Pasta
Cook the Fettuccine: Bring a large pot of water to a boil before you do anything else. Be sure to see my tips on cooking pasta listed below.
Sauté the Garlic: Melt some butter in a pan and sauté the garlic in it. Be careful not to burn the garlic, it only needs about 30 seconds in the butter. If it does burn, just start over with a clean skillet.
Make the Sauce: Add in the wine and bring to a boil. The wine should reduce by half, and then you will whisk in the heavy cream, allowing it to simmer for two minutes. Finally stir in the Parmesan cheese so it melts.
Toss with Remaining Ingredients: Remove the skillet from the pan and toss the creamy sauce with the pasta, peas, and diced ham.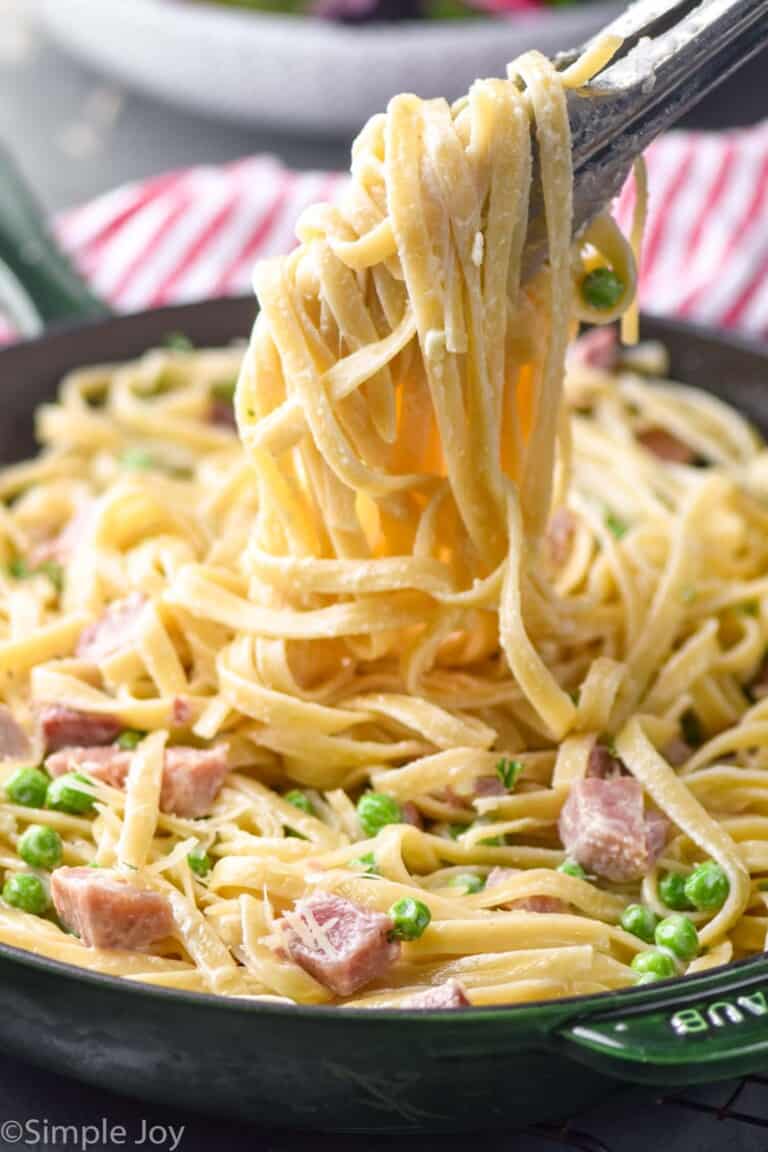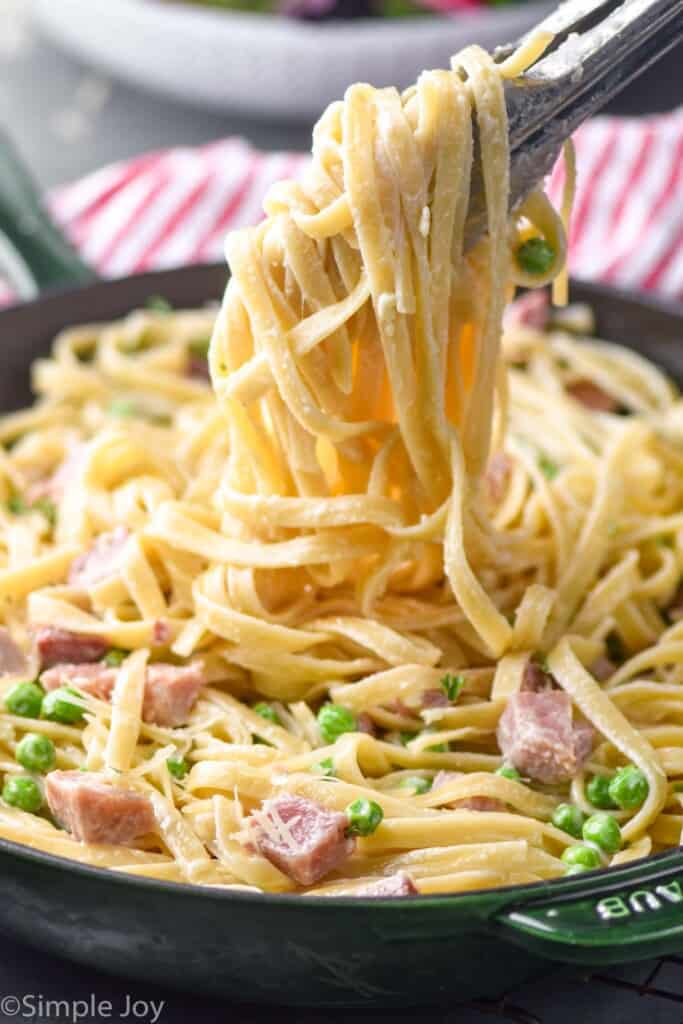 Tips for Cooking Pasta
While pasta is a pretty straight forward thing to cook, I always like to give a few tips that will ensure it turns out perfect.
Bring the water to a full boil. You want to your water to be at a roaring boil before you add the fettuccine. You need to see big consistent bubbles. Throwing the pasta in too soon will lead to poorly cooked noodles.
Salt the water before putting in the noodles. Adding 2 teaspoons of kosher salt to your pasta water brings a whole new level of life to your final dish.
Set a timer. When you throw in the fettuccine note the length of time that the box suggests cooking it for and set a timer for the bottom end of that time range. This will help ensure your noodles are cooked perfectly.
Taste the noodles and then drain. When the timer goes off, test one of the noodles. It should still have a little bite left to it. Then drain the noodles.
Using Freshly Grated Parmesan Cheese
One of my favorite parts about this recipe – besides how quickly it comes together – is the creamy sauce. It is a simple sauce made from butter, white wine, heavy cream, and Parmesan cheese, similar to an Alfredo Sauce.
However, because the sauce is so simple, you really need to use freshly grated Parmesan cheese here. It will make a world of difference in how much you enjoy this recipe. The kind of Parmesan that comes in a jar will lend a very gritty texture to this sauce that you will not enjoy. Take the extra time to grate your cheese, it is well worth it.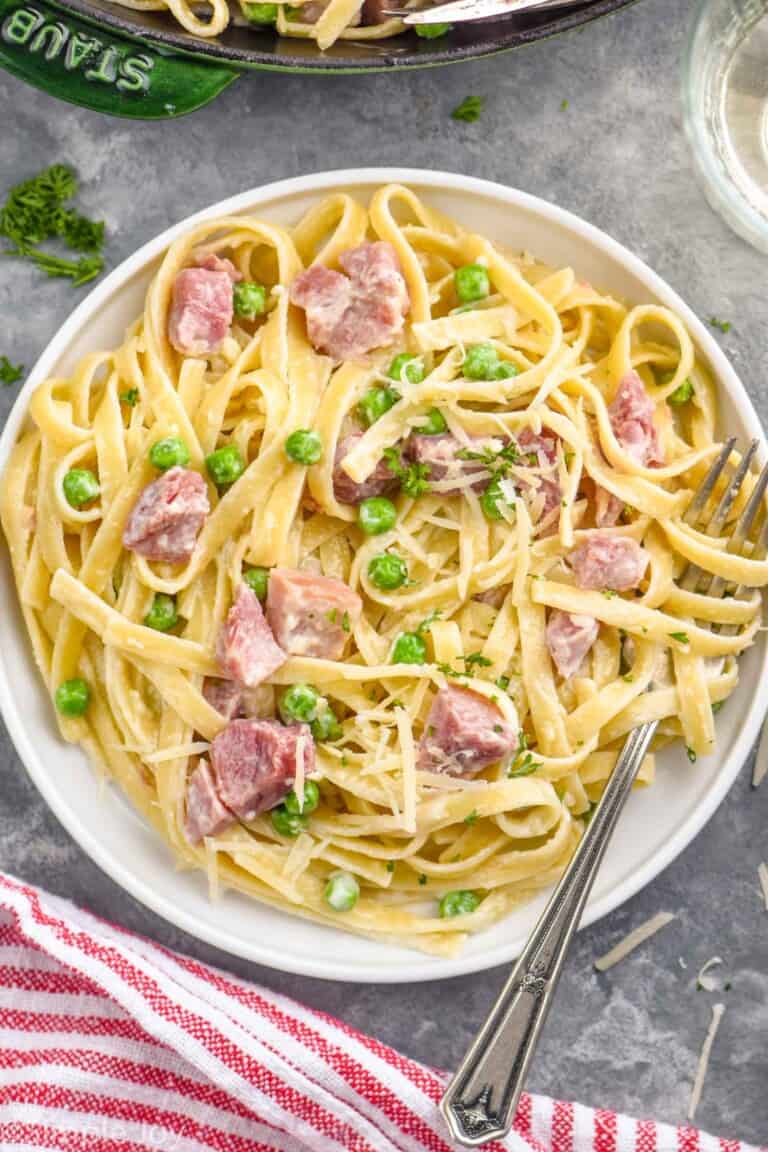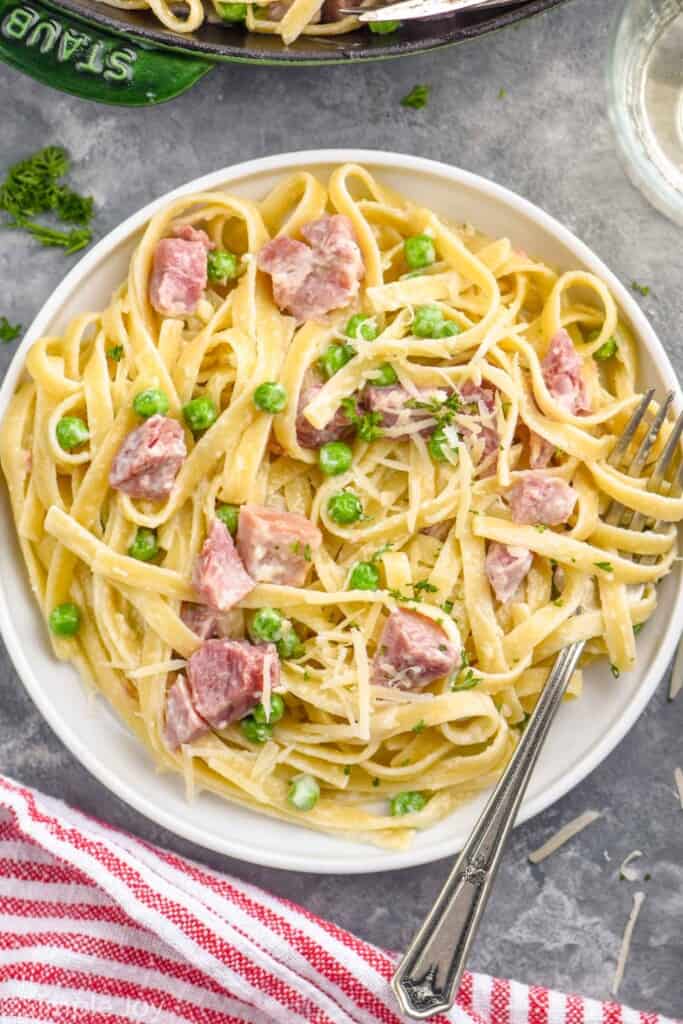 Frozen Peas Don't Need to be Thawed
So often when I make recipes that call for peas, we are throwing them in frozen at the last minute. Frozen peas are fully cooked. They really just need to heat through to be perfect in a dish. If they are thawed or added too early in a hot dish, they will end up a brownish green color and mushy. Throwing them in at the end allows them to heat through from the heat of the dish and remain vibrant green while holding their shape.
Heating Leftovers
Leftovers of this Ham and Pea Pasta can be stored in the refrigerator in an airtight container for 3 to 4 days.
When reheating, place in a large skillet over low heat. Add a few tablespoons of milk, and stir to combine. Cover, stirring occasionally, until the dish is heated through, about 20 to 25 minutes.
Please remember to only reheat the amount that you plan on eating. Leftovers should not be refrigerated more than once.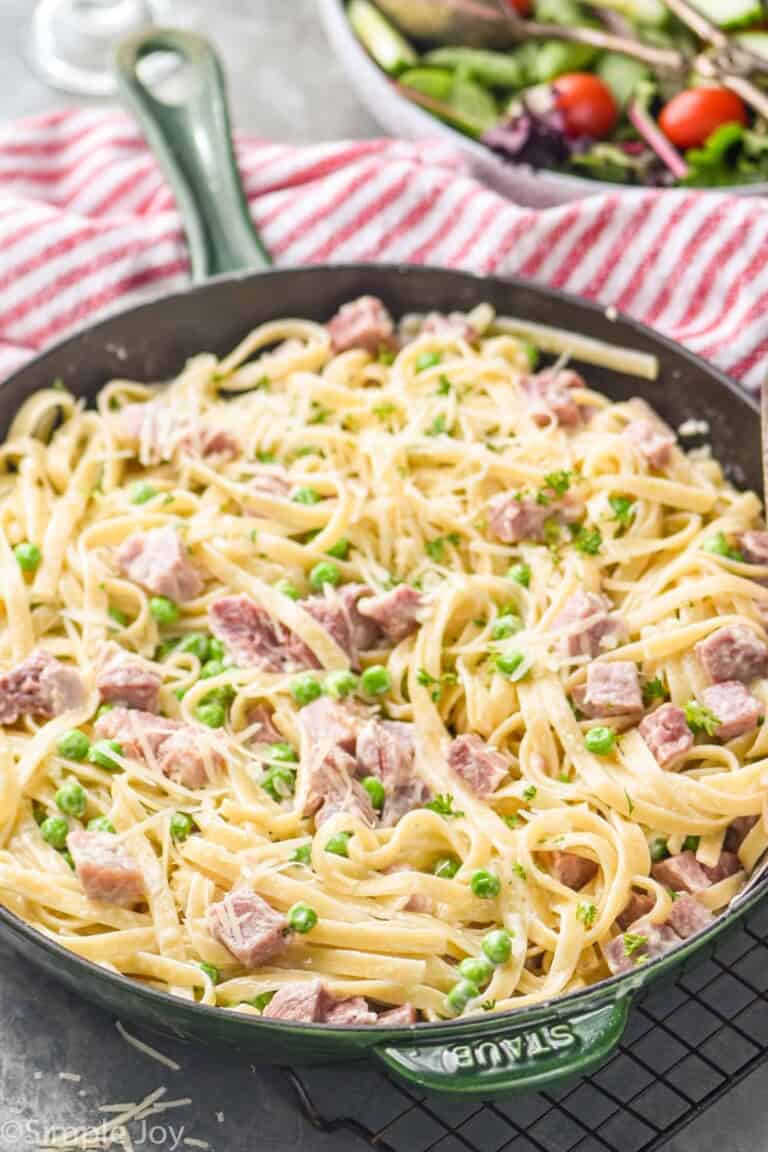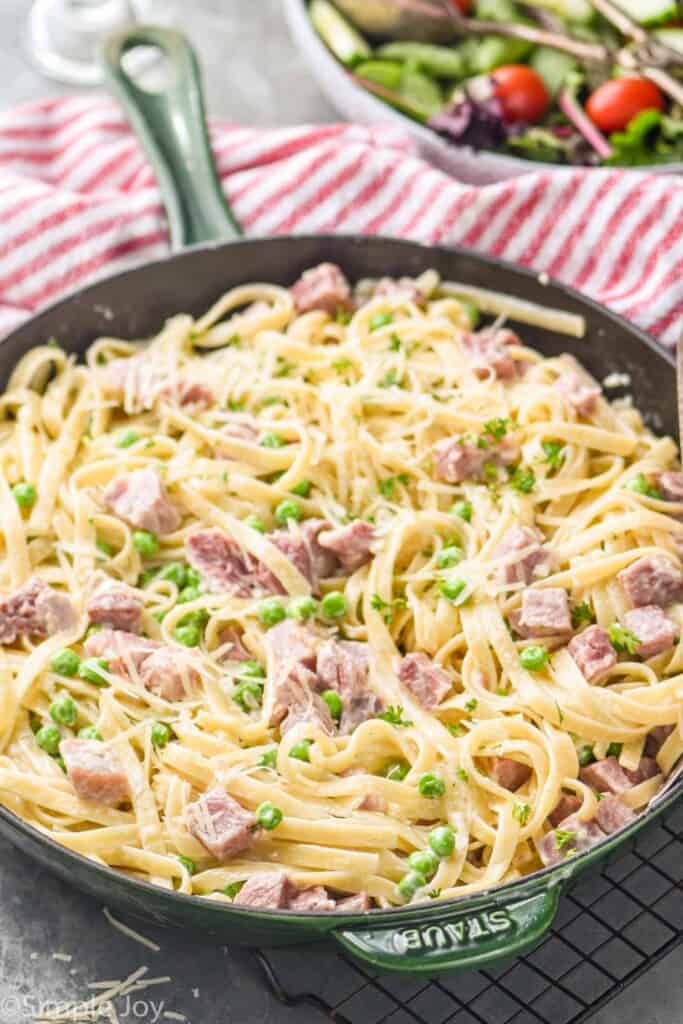 Other Leftover Ham Recipes
If you still have more ham from the holidays that needs to be used up, try some of these other great recipes.
If you make this Ham and Pea Pasta or any of my other recipes, leave me a comment and let me know what you think! Or tell me what you do with your left over ham!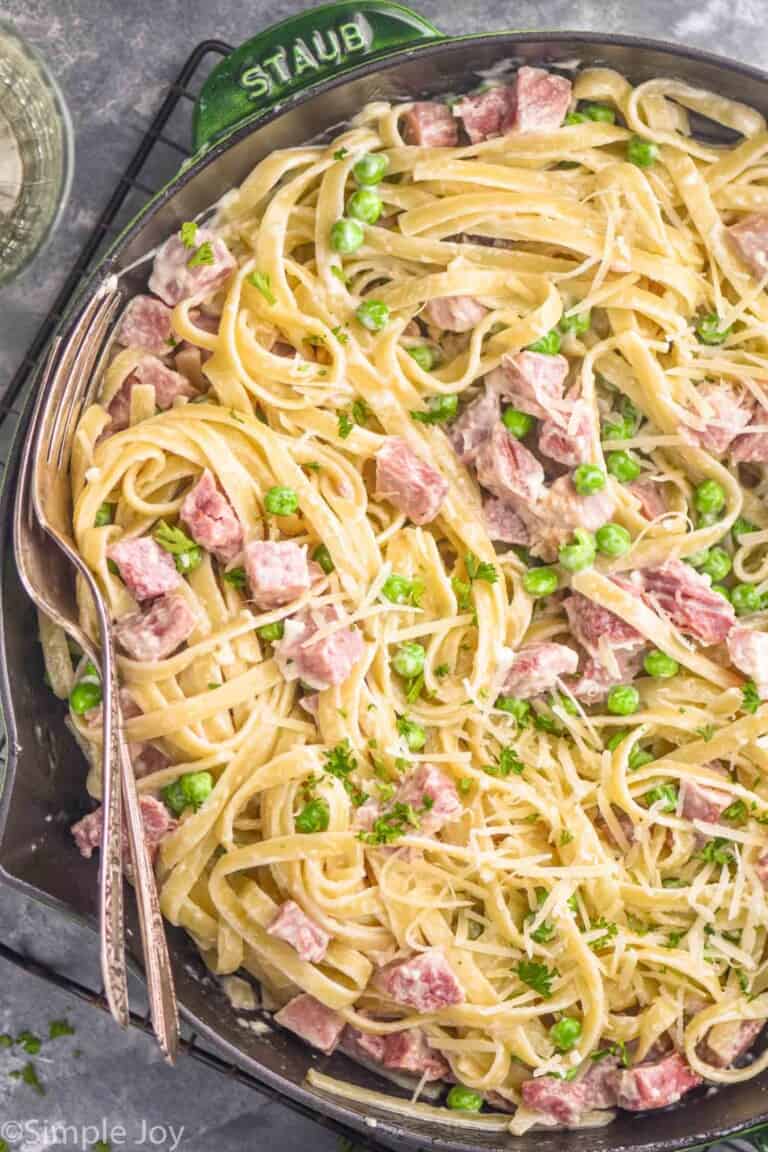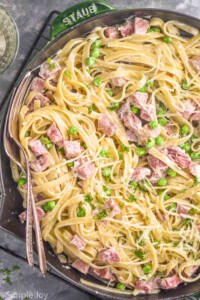 Ham and Pea Pasta
Ham and Pea Pasta is a quick 30 minute dinner that the whole family will love. Easy to find ingredients, combined with a cream sauce and fettuccine make this recipe a total winner.
Ingredients
16

ounces

fettuccine

cooked according to package instructions

2

teaspoons

kosher salt

2

tablespoons

unsalted butter

2

garlic cloves

minced

1/2

cup

white wine

1

cup

heavy cream

1/2

teaspoon

kosher salt

1/3

cup

fresh parmesan

plus more for serving

2

cups

cooked ham

cubed

1

cup

frozen peas
Instructions
Bring a large pot of water to a roaring boil. Add in 2 teaspoons of kosher salt. Add the fettuccine and cook according to the package instructions.

While the water is coming to a boil, melt 2 tablespoons of butter in a large skillet over medium heat. Add the garlic and cook for 30 seconds being careful not to burn the garlic.

Add the wine to the pan and bring to a boil. Cook for 3 to 5 minutes until it has reduced by half. Whisk in the heavy cream and 1/2 teaspoon kosher salt and bring to a low boil. Simmer for 2 minutes. Stir in the parmesan and let the cheese melt.

Remove the skillet from the heat and toss in the pasta, ham and peas. Top with fresh parsley and additional parmesan if desired and enjoy!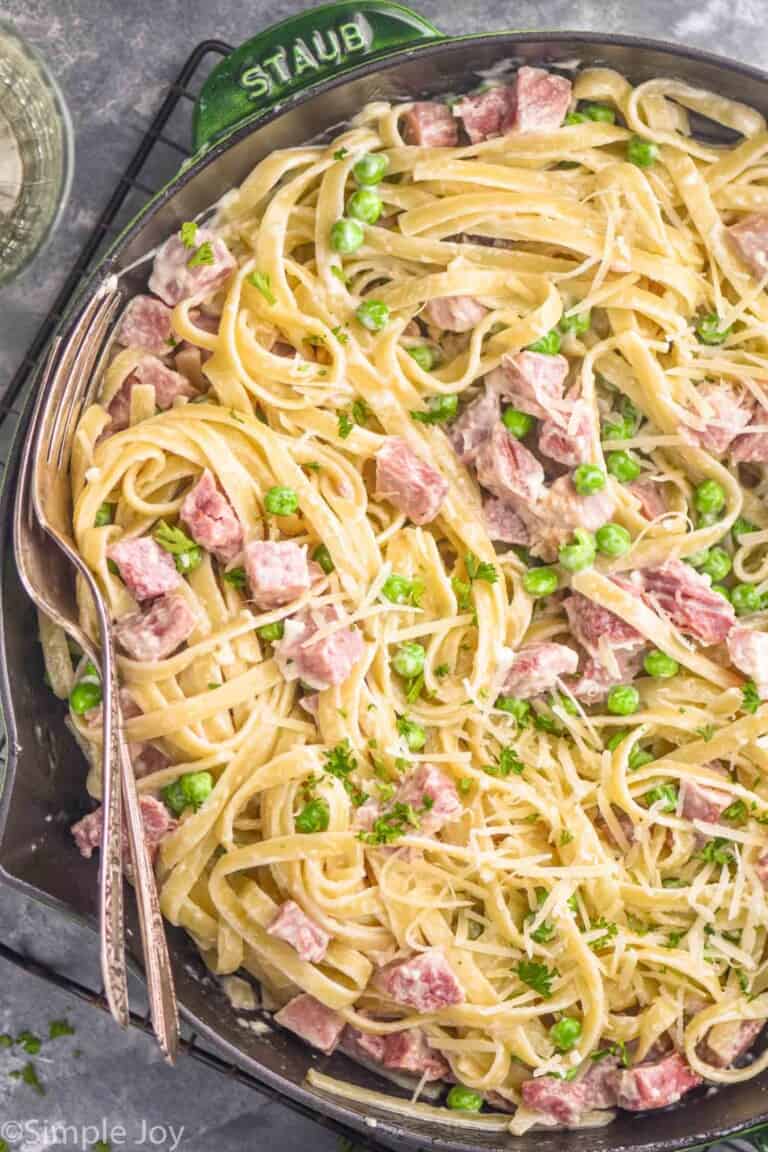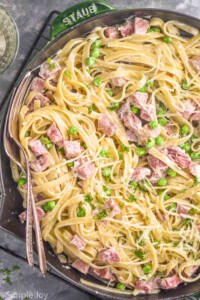 did you make this
Ham and Pea Pasta
you might also like . . .