Ham and Cheese Egg Muffins are such an easy delicious breakfasts on the go. Made with simple ingredients, and easy to freeze, your family will love these muffin tin eggs.
Need another great breakfast egg muffin recipe? Make these Cheese and Sausage Egg Muffins!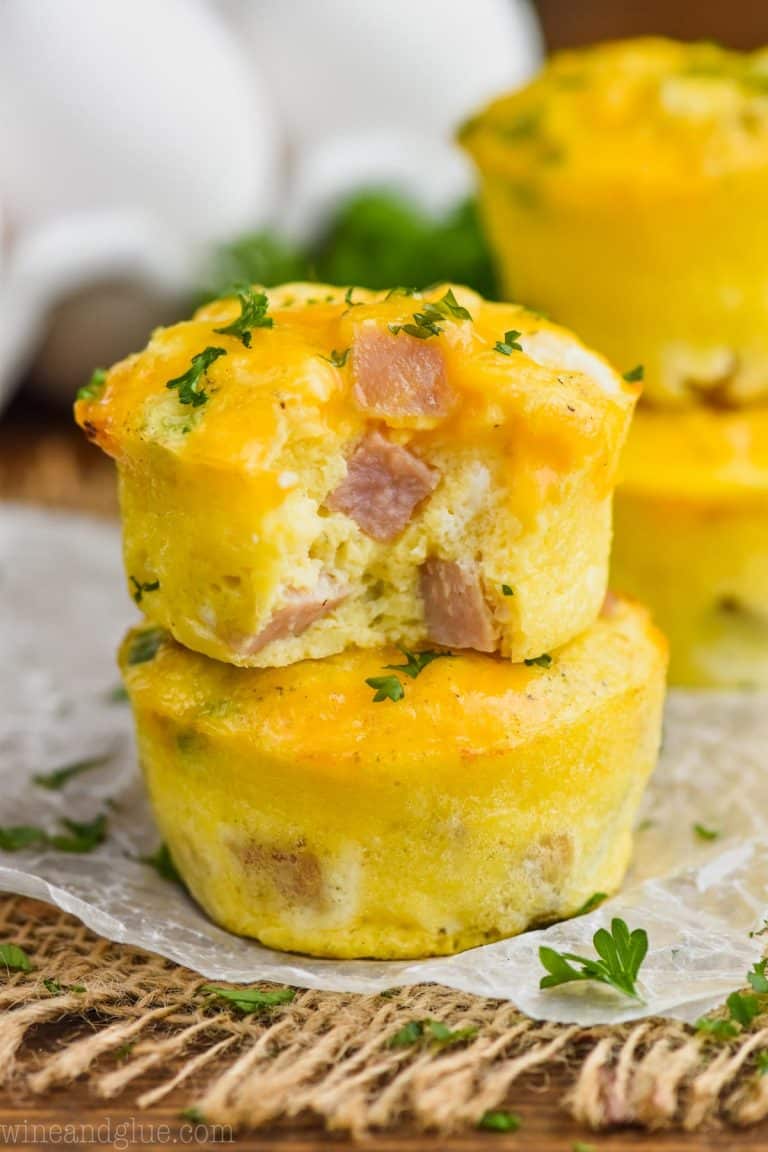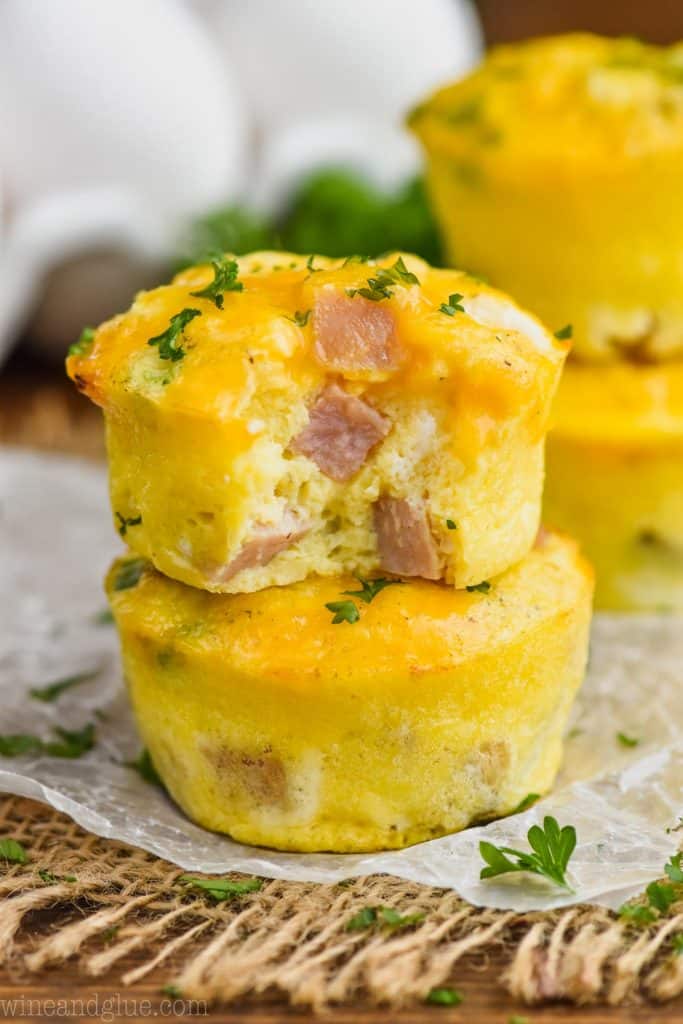 Before and right after school in our house has always been the most challenging. Just trying to help three little people stay organized and put together for their busy lives (while dealing with our own busy lives) is a lot. But when you throw in the fact that they have to be fed too . . . it's a real lot.
Something that definitely helps out our family is a pre-made breakfast. Meals and snacks that can be made ahead of time and put in the freezer are always a good idea, and these Ham and Egg Muffins fit the bill!
Not only are they easy to make, but this egg muffin recipe freezes really well after baking. We have a whole section towards the bottom of the post about how to freeze them and then how to reheat them when you are running out the door. These egg muffins are just 120 calories a muffin, have 11 grams of protein, and only take 1 minute to reheat from frozen!
Reader Review
Super easy and tasty. I made for elderly parents, easy to heat and can make with a variety of ingredients that ensures a simple delicious breakfast! Of course I make them for home as well, great for running out the door for work!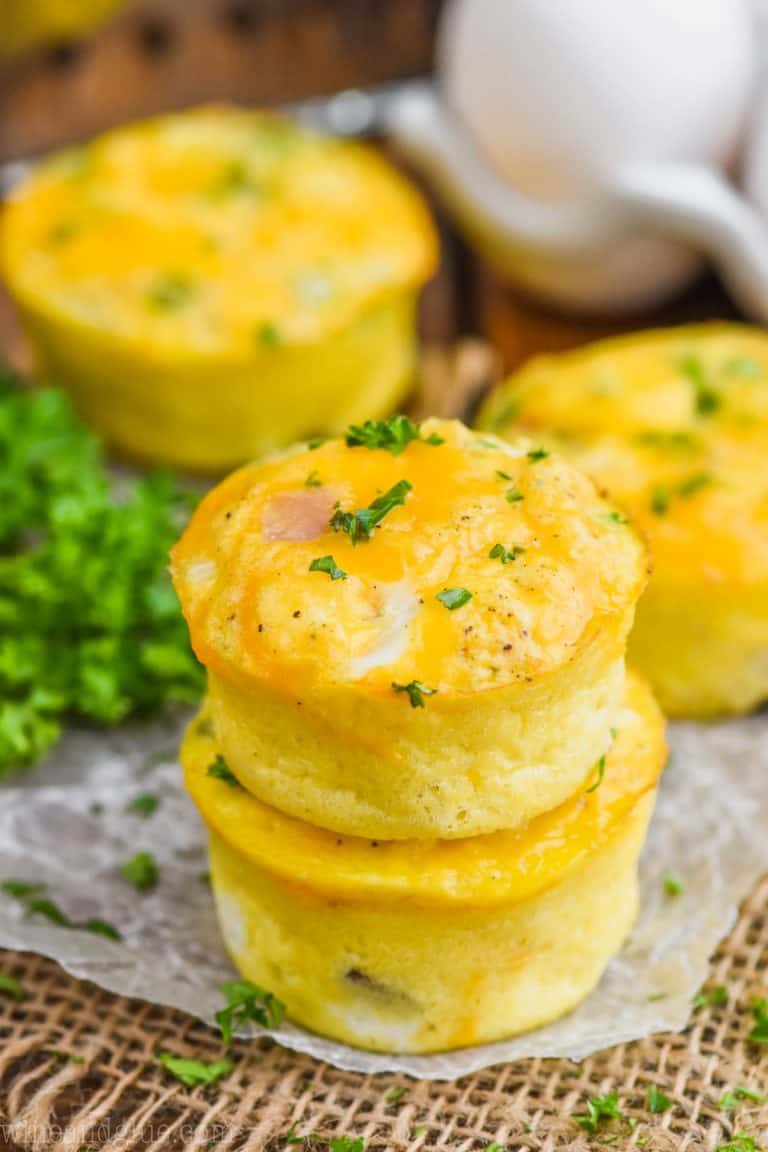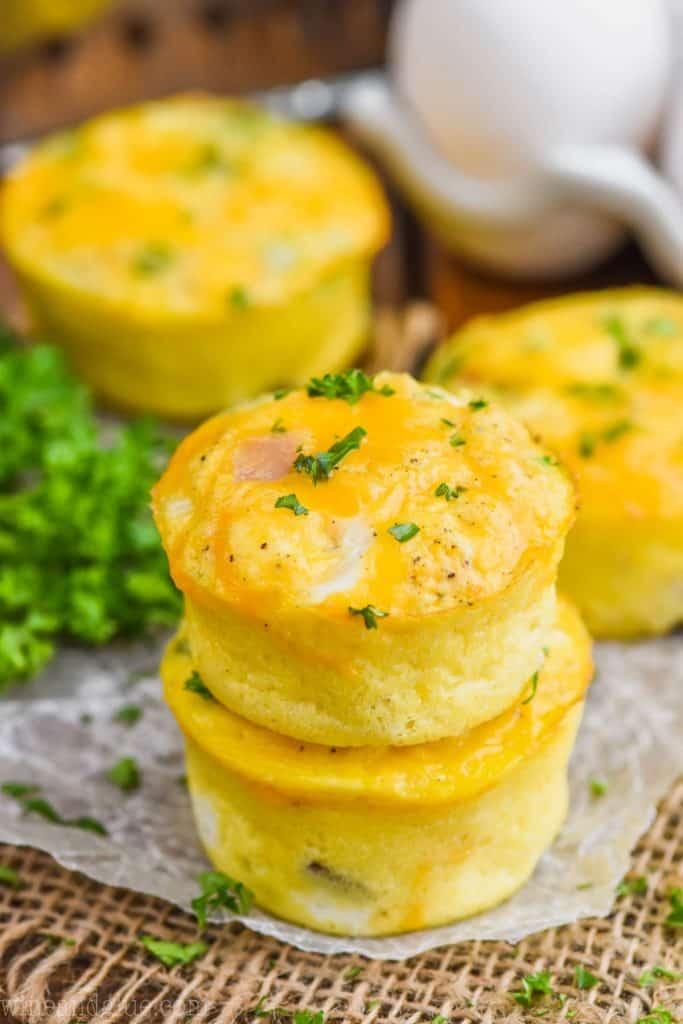 Breakfast Egg Muffin Ingredients
Eggs: This recipe calls for 12 whole eggs. If you want to lower the cholesterol and fat in this recipe, you can replace some of the eggs for egg whites. For every egg you take out, you will need 2 egg whites.
Milk: I used skim milk in this recipe. A good rule of thumb for recipes is that you can generally go up in fat content of milk called for in a recipe, but you can't go down. So you could replace the skim milk with 2% or whole milk.
Salt & Pepper: This recipe was tested with table salt, not kosher salt. If you use kosher salt, use a heaping 1/2 teaspoon the first time you make it.
Garlic Powder: If you choose to replace this with real garlic, keep in mind that we aren't doing any cooking before these go in the oven, so the garlic will have a much stronger taste than in recipes where it is sautéed first.
Cheddar Cheese: I always recommend using a block of cheese and shredding from it, and these egg muffins are no exception. When you buy pre-shredded cheese, it is coated in a preservative that keeps it from melting well. Shredding your own cheese is absolutely worth the extra time it will take.
Ham: This recipe is a great way to use leftover ham. If you don't have leftover ham on hand, this will work well with a small ham steak that you can find near the deli meat at the grocery store.
Green Onions: I love the extra bit of flavor that green onions add to this recipe. Of course if you prefer, you can leave these out.
How to Make Egg Muffins
This is a brief overview of how easy this breakfast recipe is. For the full recipe with all of the measurements, please see the recipe card at the bottom of the post.
Whisk the eggs. In a large bowl whisk the eggs with the milk, salt and pepper, and garlic powder.
Stir in the cheese and ham. Whisk in 1/2 cup of shredded cheese, the diced ham, and the green onions.
Fill the muffin cups. Using a 1/3 cup measuring cup, fill the muffin tins with the egg mixture. Top with the remaining 1/4 cup cheese.
Bake the egg muffin cups. Bake for 25 to 30 minutes or until the egg muffins begin to all away from the side of the muffin tin.
Cooking this Egg Muffin Recipe
Though these are pictured in a traditional muffin tin (I love that old rustic look), I actually bought a silicon muffin tin specifically to make this recipe.
You can see in the video below how easily they pop out of it. It might be my new favorite kitchen purchase. Despite using a silicon muffin tin, I would still recommend spraying your pan.
If you don't have a silicon muffin tin, you can get one here, or you can use a traditional muffin tin for these egg muffin cups. I just recommend that you heavily spray the pan.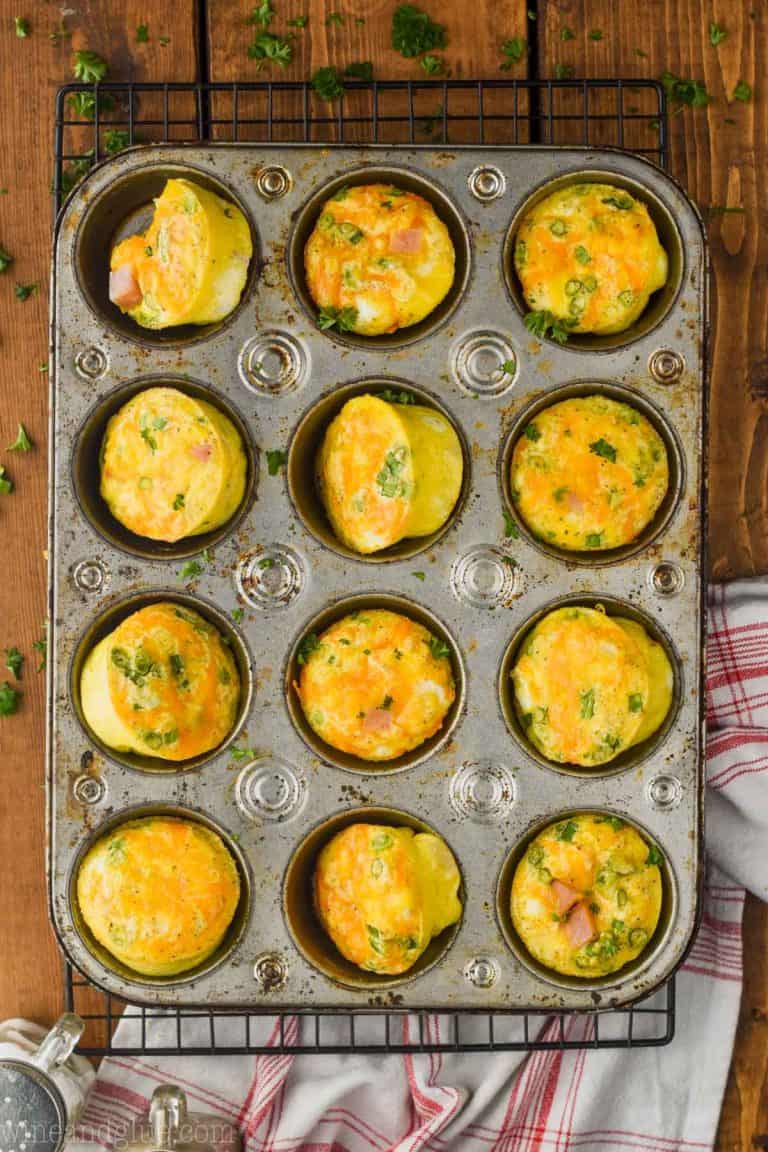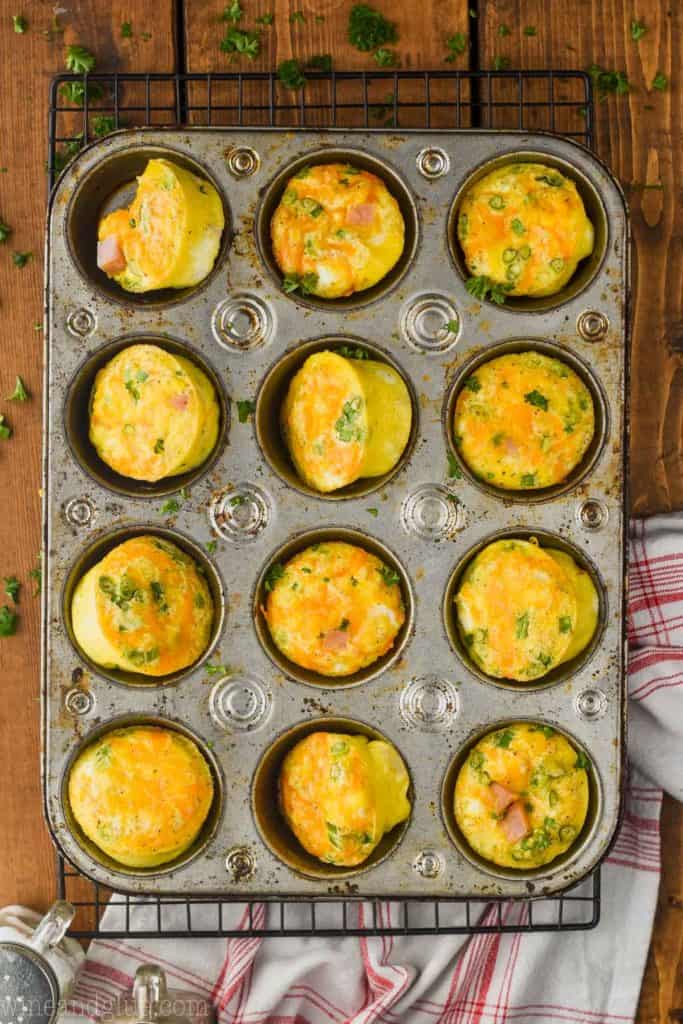 Freezing Egg Muffins
Flash freeze the muffins. Put the muffins on a tray in a single layer and freeze them for about an hour. This will make it easier to pull out one muffin at a time.
Transfer to an air tight container. Remove the egg muffins from the freezer, put them in a plastic bag or air tight container, and put them back in the freezer to freeze completely.
Store them in the freezer for up to 3 months.
How do you Reheat Egg Muffins?
To reheat the egg muffins, place one frozen muffin on a plate. Cover it with a bowl and put it in the microwave. Heat for 1 minute at half power.
Nutritional Information
Another thing I love about these ham and cheese egg muffins, besides how easy they are to freeze and reheat, is how few calories they have. There are only 120 calories in each one, and they have 11 grams of protein each. That makes these some pretty healthy egg muffins.
FAQ
How long do egg muffins last in the fridge?
Egg muffins will last four days in the refrigerator. For a longer shelf life for these, you can freeze the egg muffins and they will last 3 months in the freezer.
Can you freeze baked eggs?
It is perfectly safe to freeze baked eggs. They also freeze really well. The most important thing to remember is that you should flash freeze them and then transfer them to an air tight container for the best results. Read more about that here.
Are egg muffins Keto?
Yes, everything in this egg muffin recipe is Keto friendly.
Can egg muffins be eaten cold?
While my preference is to eat these warm, they will still be delicious cold.
Will egg muffins stick to cupcake liners?
If you choose to make these in cupcake liners, please spray them before you add the egg mixture. This will keep the egg muffins from sticking.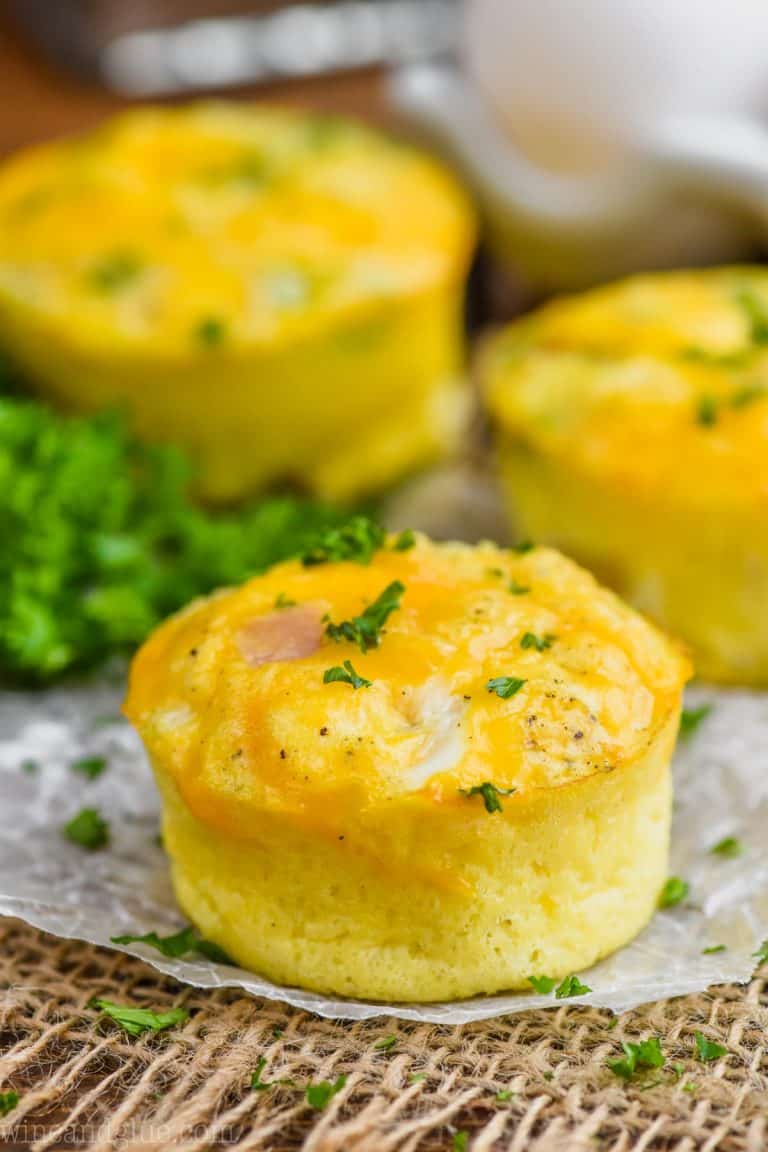 Other Quick Breakfast Recipes
If you make this great breakfast recipe or any of my other recipes, let me know what you think!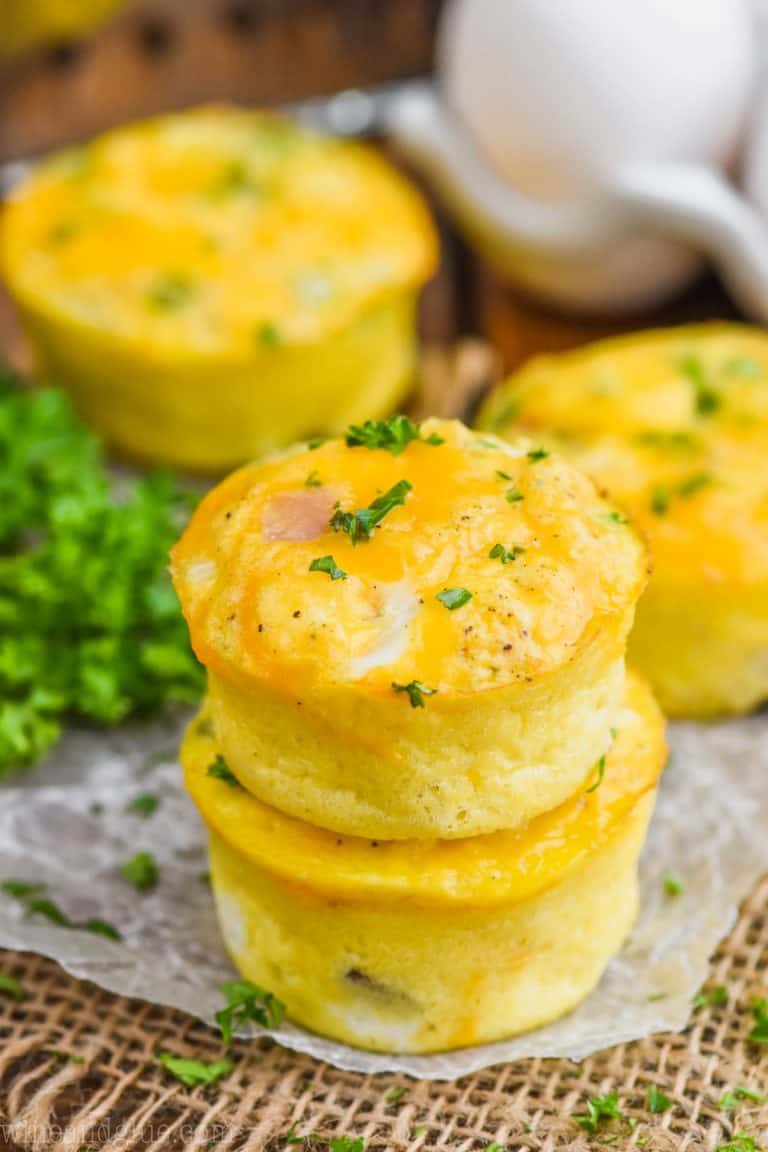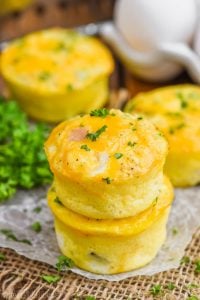 Ham and Cheese Egg Muffins
These Ham and Cheese Egg Muffins are such an easy delicious breakfasts on the go. Made with simple ingredients, and easy to freeze, your family will love these muffin tin eggs.
Ingredients
12

large eggs

1/2

cup

milk

(I used skim)

1/2

teaspoon

salt

1/4

teaspoon

black pepper

1/4

teaspoon

garlic powder

3/4

cup

shredded cheddar cheese

divided

8

ounces

ham steak

cubed

2

green onions

sliced thin
Instructions
Preheat your oven to 350 degrees. Spray a muffin tin heavily with cooking spray. (Please note that a silicon muffin tin works best.) Set aside.

In a large bowl, whisk together the eggs, milk, and spices.

Stir in 1/2 cup of the shredded cheddar cheese, ham, and the green onions.

Fill the muffin tins. Top with the reaming 1/4 cup cheese.

Bake for 25 to 30 minutes or until the eggs pull away from the side of the muffin tin and are set in the middle.
Serving:
1
egg muffin
Calories:
120
kcal
(6%)
Carbohydrates:
2.6
g
(1%)
Protein:
11.3
g
(23%)
Fat:
7
g
(11%)
Saturated Fat:
2.7
g
(17%)
Polyunsaturated Fat:
1
g
Monounsaturated Fat:
2.3
g
Cholesterol:
198.5
mg
(66%)
Sodium:
271.6
mg
(12%)
Potassium:
118.6
mg
(3%)
Sugar:
1.8
g
(2%)
Vitamin A:
345
IU
(7%)
Vitamin C:
0.5
mg
(1%)
Calcium:
78
mg
(8%)
Iron:
1
mg
(6%)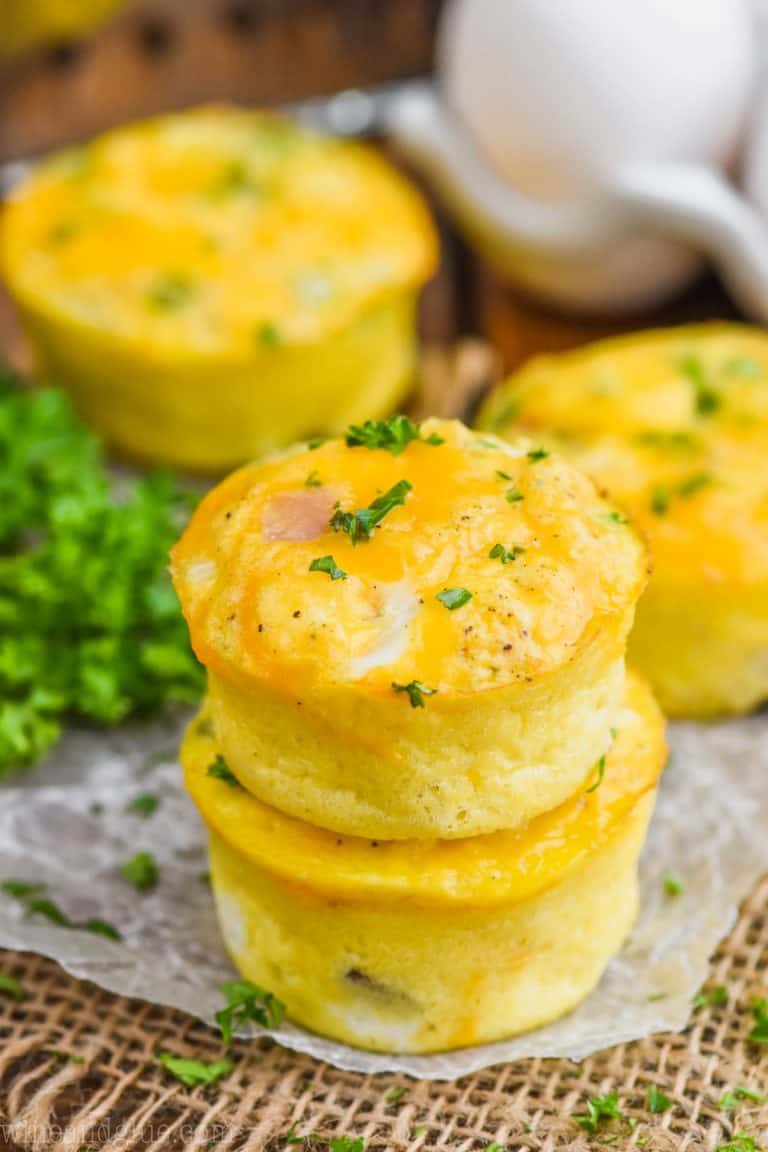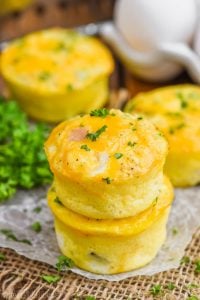 did you make this
Ham and Cheese Egg Muffins