This Homemade Carrot Cake Sheet Cake is such a simple carrot cake recipe that your family and friends will flip for. It is covered in the best cream cheese frosting and chopped pecans, making it an irresistible homemade cake. If you are looking carrot cake recipes from scratch, this is it!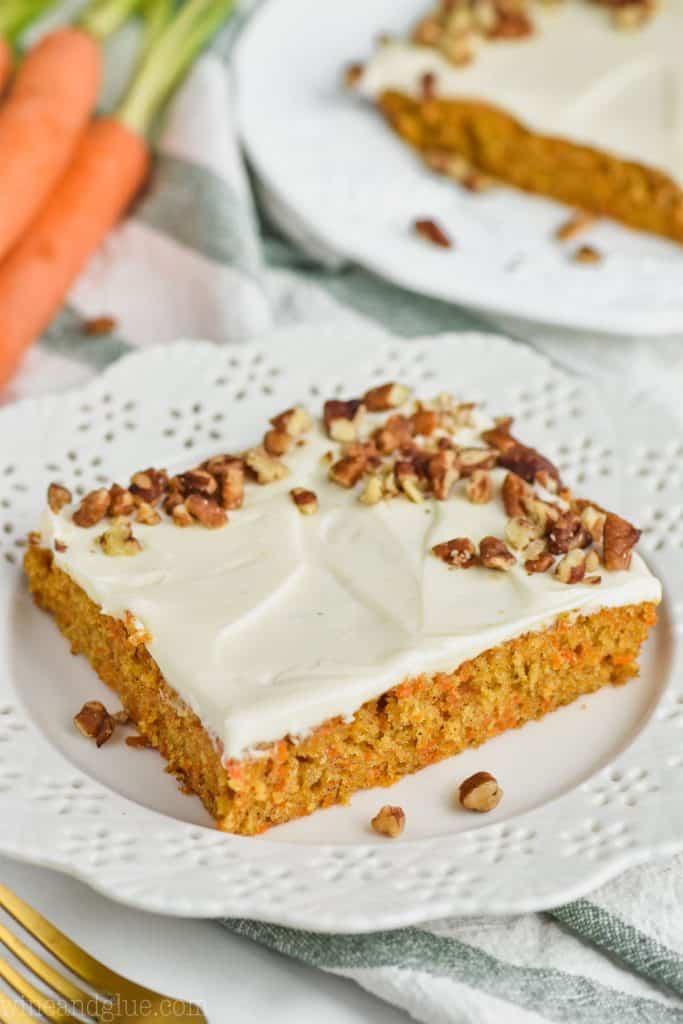 Hello! Hot Mess Express here to share the best carrot cake recipe with you before running back to bed. I woke up with a splitting sinus infection type headache that made me want my mommy. Starting next week, I will be traveling every week for five weeks in a row. I am consistently trying to remind myself that they are all good things, I'm truly blessed, but my home body self just wants to sleep in my own bed forever and ever. I'm sure my body is preemptively stressed out.
Since getting really sick is NOT an option right now, I'd love all your tips for nipping a cold in the bud. For real.
HOMEMADE CARROT CAKE SHEET CAKE RECIPE
This is such a simple carrot cake recipe that I adapted from my delicious Zucchini Sheet Cake. It is a great moist carrot cake recipe that you will want to keep on hand and make time and time again.
I admit, carrot cake is not my favorite. I like to tease my dad because he always gets me carrot cake for my birthday . . . . which I'm pretty sure is because it's his favorite cake. If I'm going to eat cake, I generally want to go all in and skip vegetables in it. But! I loved this carrot cake recipe. It is also topped with the very best cream cheese frosting, making it perfect all around. You will not be able to stop taking sliver after sliver off of it to "sample" it.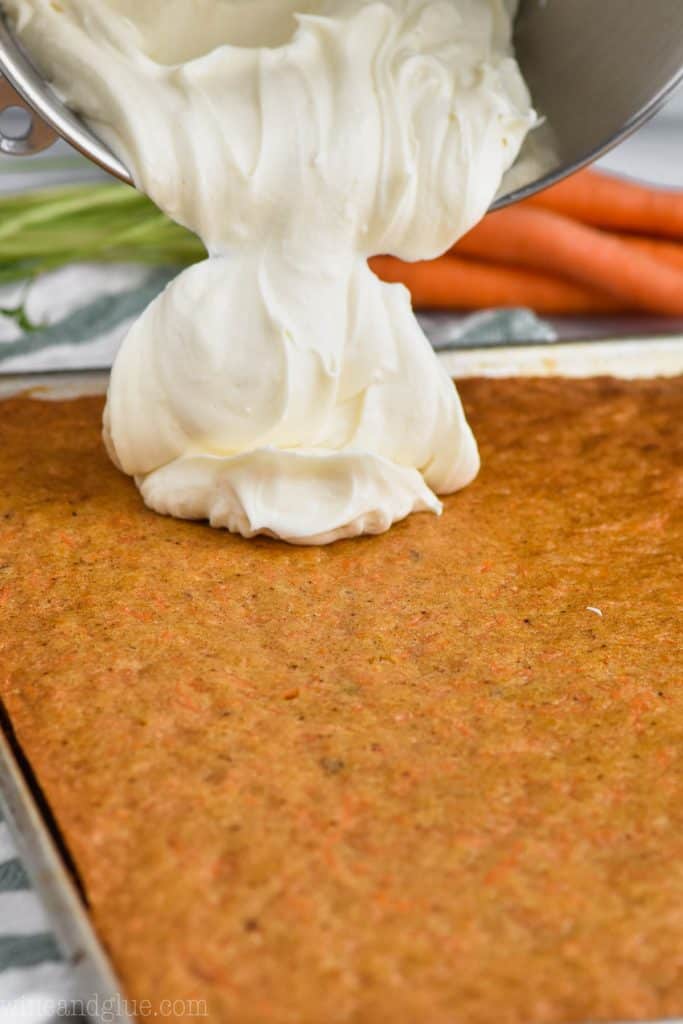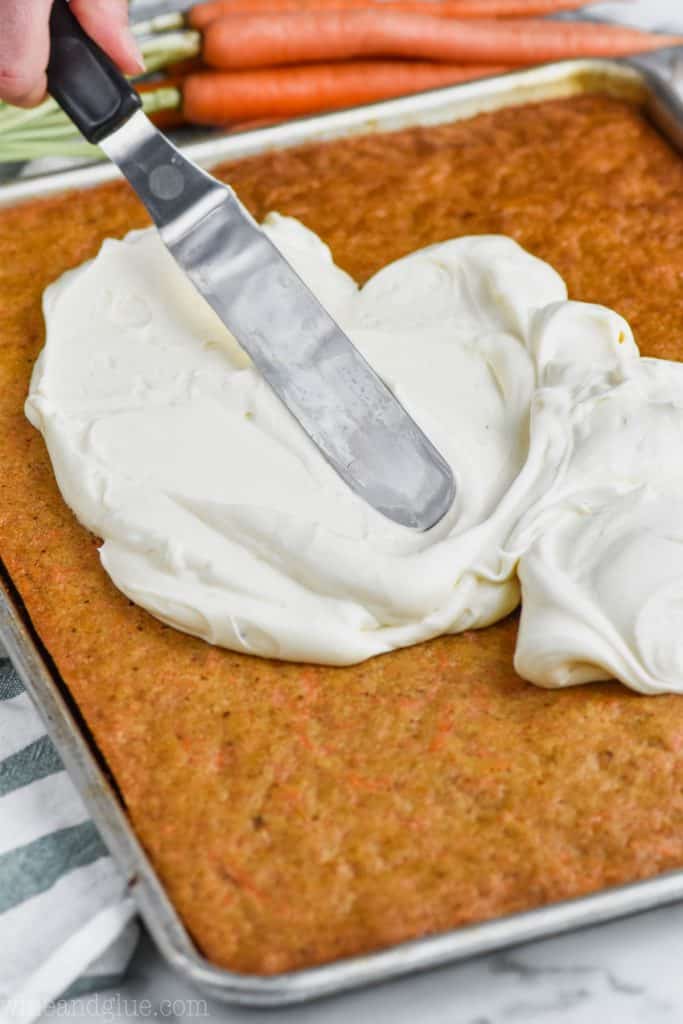 WHAT SHOULD I USE FOR CARROT CAKE FROSTING?
I really think that if you are making carrot cake, the only frosting that you should use is cream cheese frosting. It just pairs so perfectly with the flavors in carrot cake. It's the same frosting I used on my Zucchini Cupcakes. It's a stand by recipe that you will use over and over.
SHOULD I REFRIGERATE THIS HOMEMADE CARROT CAKE?
I'm going to play it safe and tell you that according to the Food and Drug Administration, cream cheese shouldn't be kept out for more than two hours. That said, I do keep my cream cheese frosting and carrot cake out. But I live my life on the edge.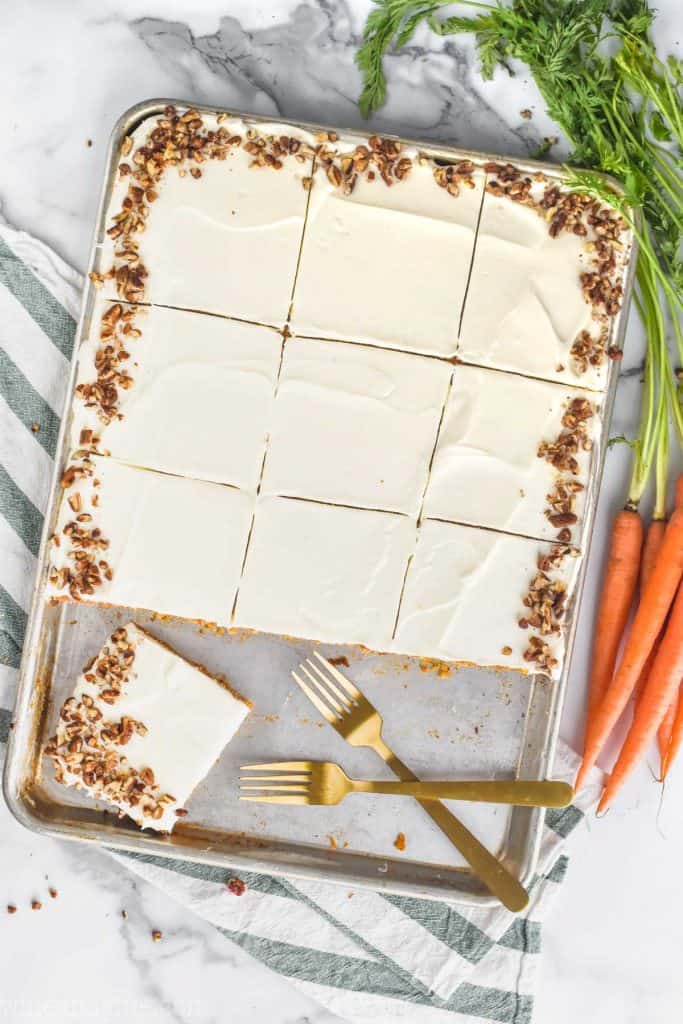 CAN I SUBSTITUTE APPLE SAUCE FOR OIL IN CARROT CAKE?
Generally speaking, you can substitute apple sauce for oil in baking recipes. However, based on my own experience, oil keeps a cake more moist. That is why I used a combination of the two in this recipe. It leads to a perfectly delicious and moist carrot cake.
IS CARROT CAKE HEALTHIER THAN REGULAR CAKE?
Ummmm . . . . no. Guys, let's not live in a world where we tell ourselves that putting carrots in cake makes it healthy. It doesn't. There is still a whole mess of oil, sugar, and simple carbohydrates in this cake. But you know what? It's delicious. So have half a slice of this great cake and then go and make yourself a Crustless Spinach Quiche. Life is about balance, guys.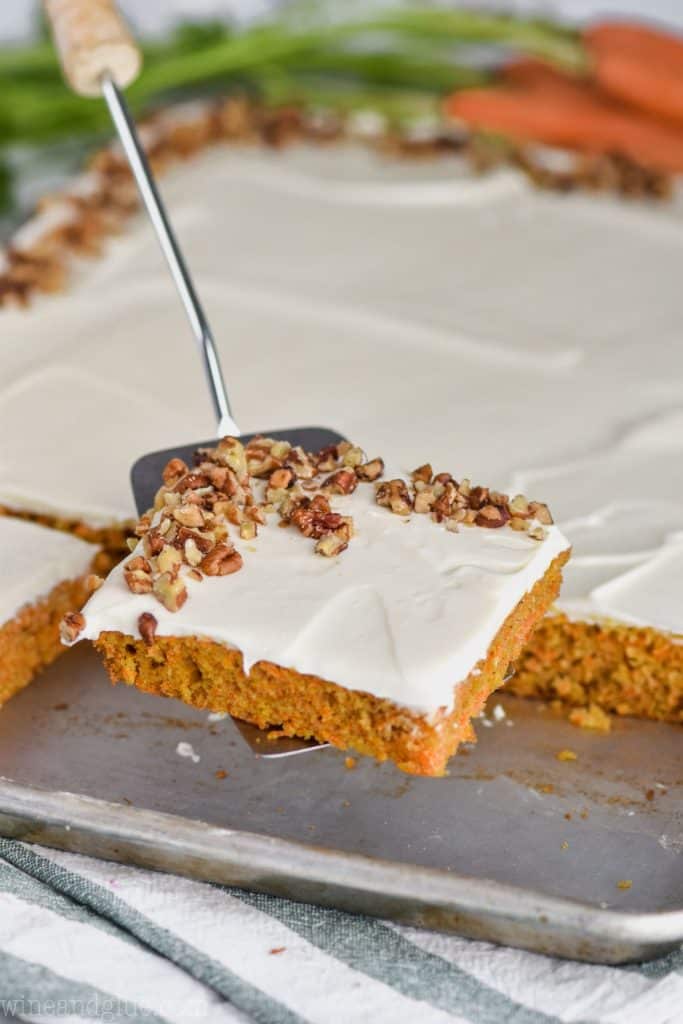 SOME TIPS AND TRICKS FOR THIS HOMEMADE CARROT CAKE RECIPE
When measuring the flour, make sure to spoon it into the measuring cup and then level it off. Resist the temptation to dip that one cup measuring cup into your container of flour. You will end up with way too much flour and a denser cake.
Make sure your baking powder and baking soda are fresh. You want new ones every six months. If it's been six years, time for some change in your life. To test them, drop your baking soda in vinegar and your baking powder in water. They should bubble and react immediately.
Your eggs should be room temperature. Fill a bowl with luke warm water and put them in there for a few minutes to speed this along.
Make sure your butter and cream cheese are room temperature before making the frosting.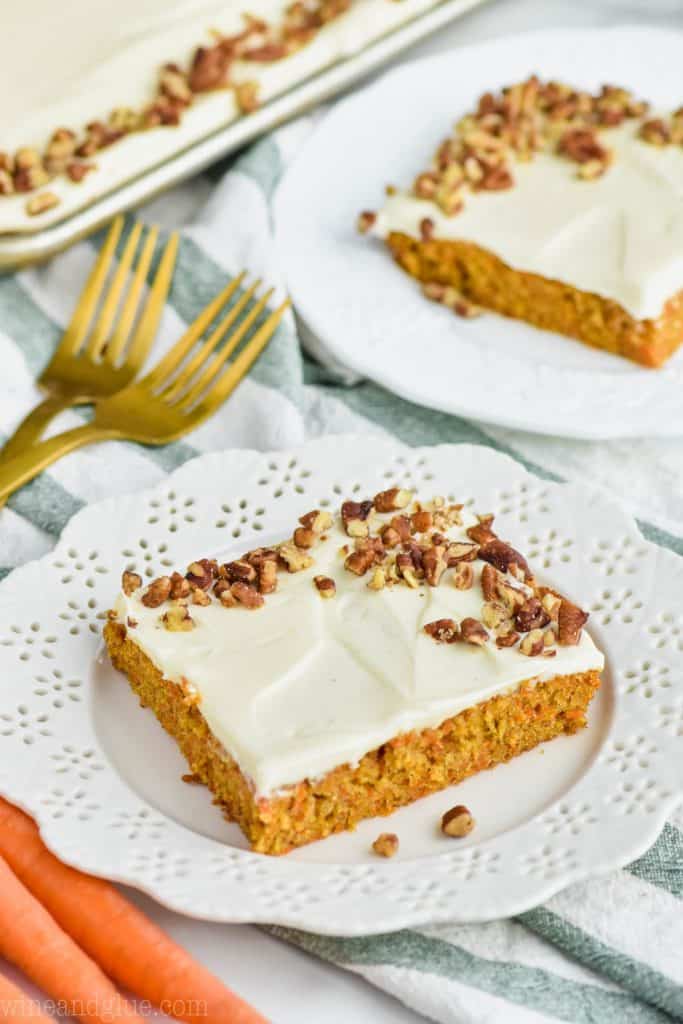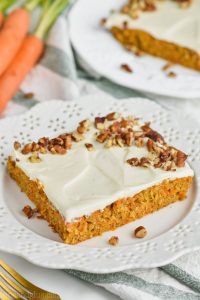 Homemade Carrot Cake Sheet Cake
This Homemade Carrot Cake Sheet Cake is such a simple carrot cake recipe that your family and friends will flip for. It is covered in the best cream cheese frosting and chopped pecans, making it an irresistible homemade cake.
Ingredients
For the Homemade Carrot Cake
2 1/2

cups

all purpose flour

1 1/4

teaspoons

baking powder

1

teaspoon

baking soda

1 1/4

teaspoon

cinnamon

1/2

teaspoon

nutmeg

1/8

teaspoon

cloves

1/8

teaspoon

ginger

1/2

teaspoon

salt

4

large eggs

room temperature

1 1/2

cups

granulated sugar

1/2

cup

packed light brown sugar

1

cup

vegetable oil

1/2

cup

apple sauce

1

pound

carrots

grated fine
Best Cream Cheese Frosting
16

ounces

cream cheese

room temperature

8

tablespoons

unsalted butter

room temperature

4

cups

powdered sugar

(not packed)

3

teaspoons

vanilla extract

1/2

cup

chopped pecans

optional
Instructions
Preheat your oven to 350 degrees. Spray a large rimmed baking tray (10 by 15) with cooking spray and set aside.

In a large bowl whisk together the flour, baking powder, baking soda, cinnamon, nutmeg, cloves, ginger and salt.

In a medium bowl, whisk together the eggs, sugars, oil, and apple sauce until smooth.

Stir the liquid ingredients into the flour mixture until just combined. Then stir in the carrots.

Pour the cake batter into the prepared baking sheet. Bake for 20 to 25 minutes or until the edges of the cake are golden and starting to pull away from the baking sheet. Be careful not to overbake.

While the cake is cooling, cream together the cream cheese and the butter in the bowl of a stand mixer. Add the powdered sugar one cup at a time. Then add in the vanilla extract.

Once the cake is cool to the touch, spread the frosting over the top. If you desire, sprinkles chopped pecans around the edge. Cut, serve, and enjoy. Cover the left overs with aluminum foil and store in the refrigerator for up to one week.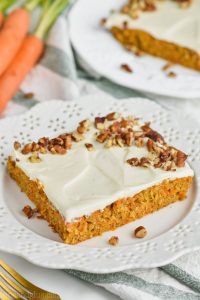 did you make this
Homemade Carrot Cake Sheet Cake
Other great desserts