Lemon Bars are a dessert that everyone will fall in love with. This recipe is so much better than from the bakery and are melt in your mouth delicious.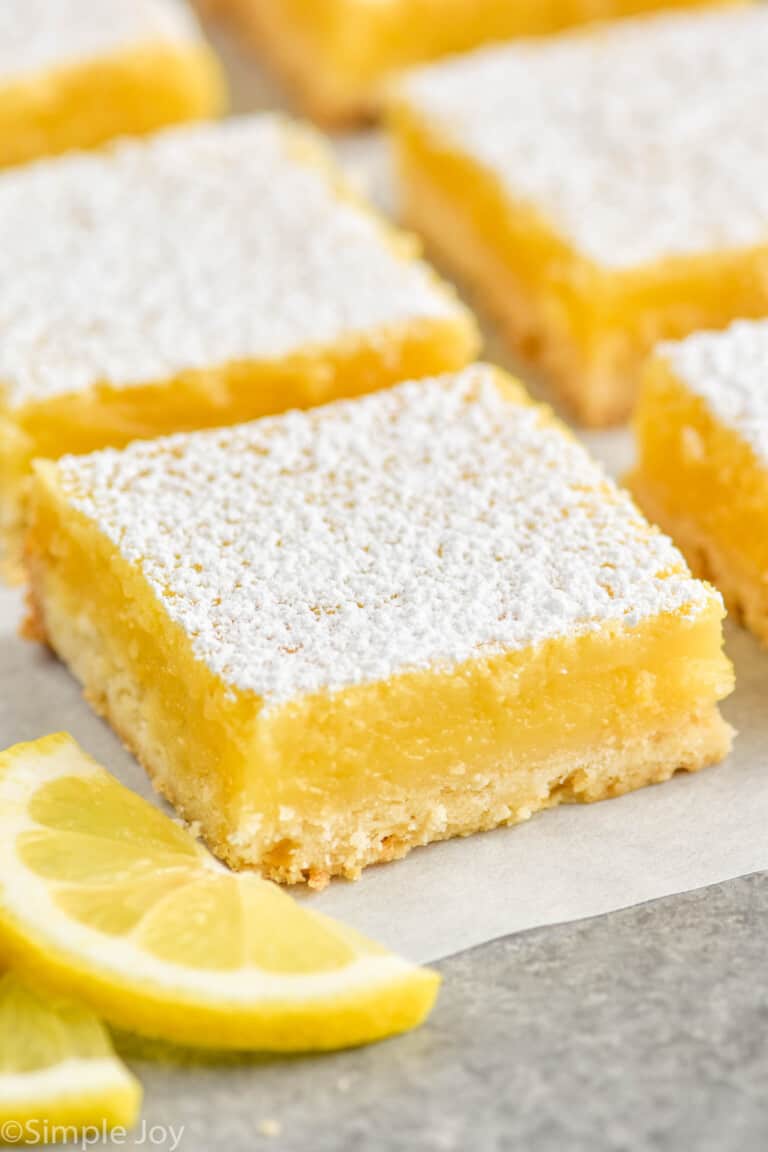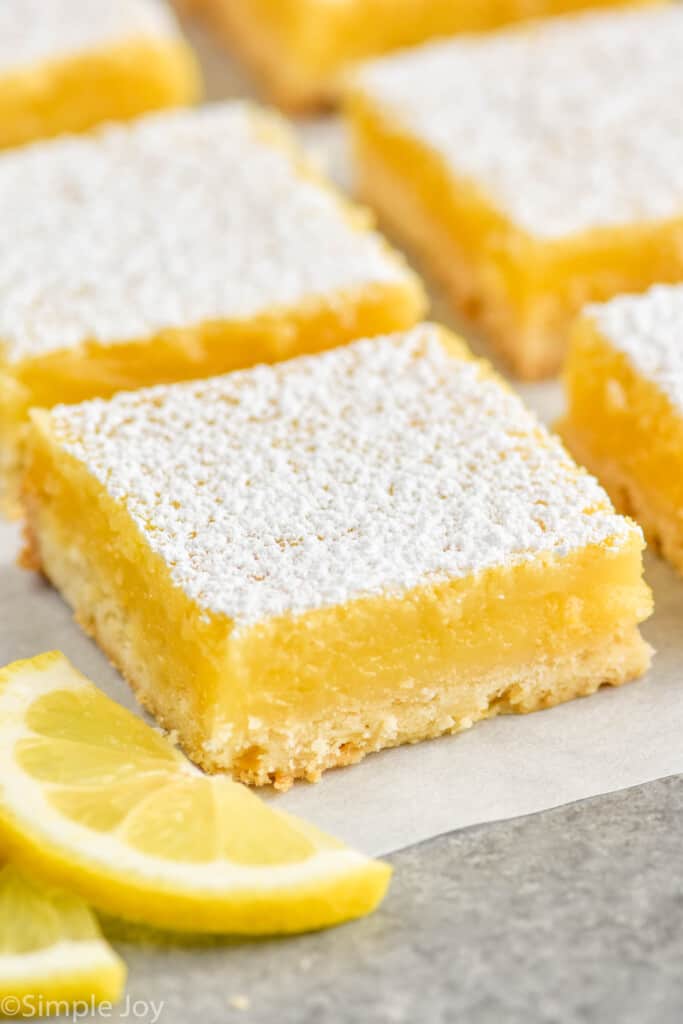 I have a kiddo who is lemon obsessed. So when I decided to create a lemon bar recipe, I had the best taste tester and the best critic right in house. This lemon bar recipe was tested multiple times until we had the perfect crust and the best thick lemon topping.
These are the ultimate lemon bar. They burst with lemon flavor and the buttery crust will melt in your mouth. You are going to fall in love with this recipe and get requests to make them over and over.
Reader Review
I just made these lemon squares, and followed your recipe word for word. They are the most delicious lemon squares, and came out perfectly! Thank you!
How to Make Lemon Bars
This is a brief overview of how to make this amazing recipe. For the full recipe with all of the measurements, please see the recipe card at the bottom of the post.
Make the crust. In a large bowl combine powdered sugar and flour. Use two forks or a pastry cutter to cut in the cold butter until you have a crumb like substance.
Bake the crust. Press the crust into a parchment paper lined 9 by 13 inch baking dish. Bake the crust for 20 minutes.
Make the lemon filling. Beat together lemon juice, lemon zest, granulated sugar, eggs, and flour.
Finish baking the bars. Pour the filling on the hot crust and bake for an additional 20 minutes.
Cool the bars. Allow the lemon bars to cool completely before cutting, 1 to 2 hours.
Add powdered sugar. We like to use a dusting wand to add powdered sugar to the top of lemon bars.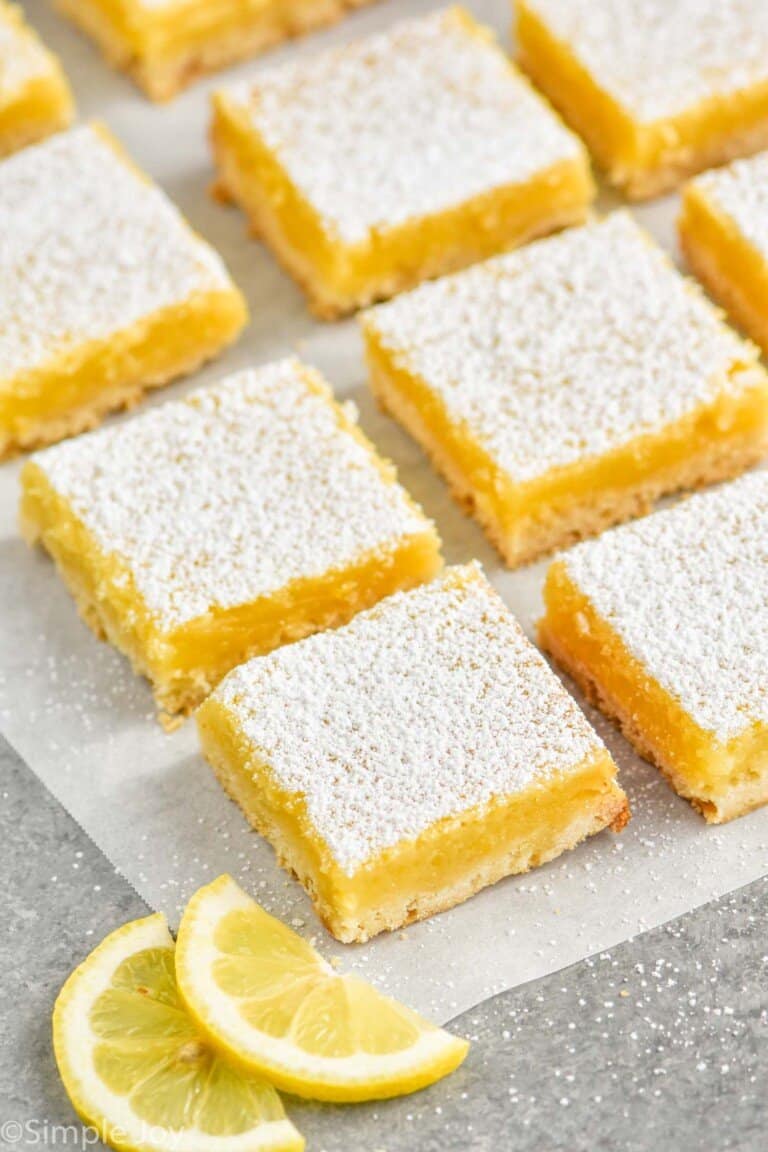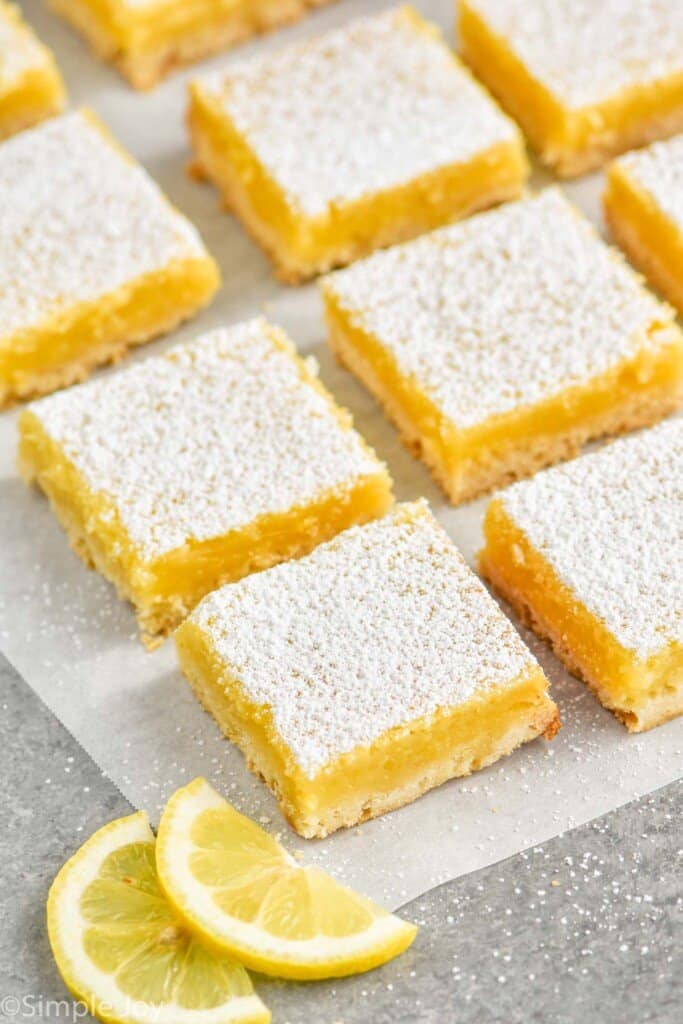 Using Fresh Lemons
In this easy lemon bars recipe, we want to use fresh lemons. Since they are the star of the show, you want to make sure you go with fresh for the best flavor.
Please note that this recipe calls for lemon juice and lemon zest. You can use both the juice and the zest from the same lemons. For this recipe you will need three lemons total.
Picking Fresh Lemons
When buying lemons here are a few things to look for.
Size is the most important thing to pay attention to. They should be between two and three inches.
The lemon should feel firm and not squishy.
Storing Lemons
Lemons should be stored in the refrigerator. They will last for about a week.
Zesting Lemons for Lemon Bars Recipe
The lemon zest in this recipe adds such a great burst of lemon flavor. In other recipes calling for lemon zest, I've had readers ask me how to do this.
Lemon zest comes from the lemon peel. Use a lemon zester to get off just the very outer layer of the peel. You should stop before you get to the white.
How to Get More Juice from Lemons
There are two methods that help get more juice out of lemons. You can roll them between your hand and the counter. You could also put them in the microwave for 30 seconds. I typically go with the microwave method because it tends to work better.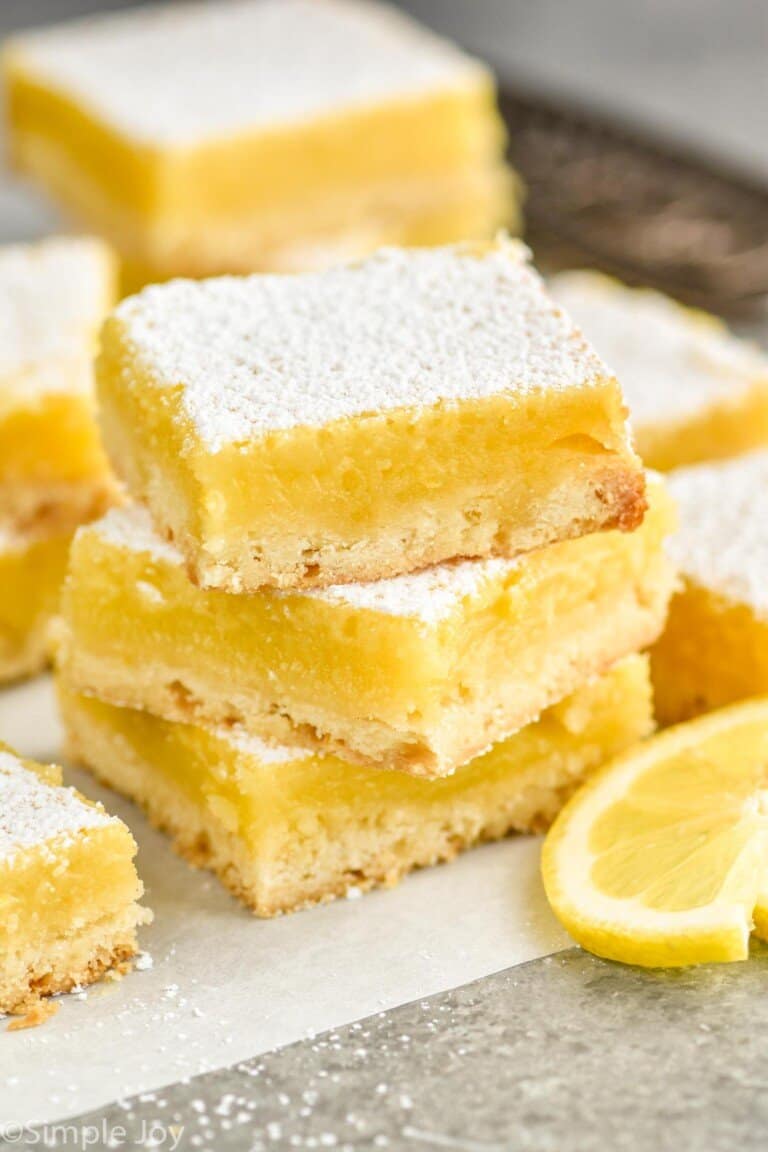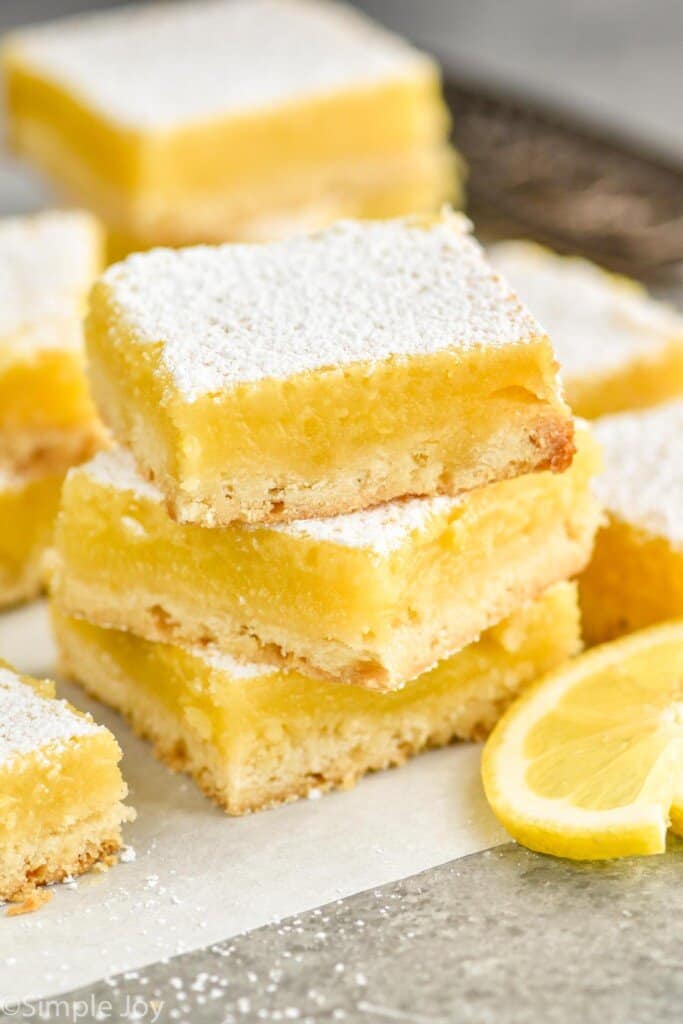 TOP PICK
My Favorite 9×13 Baking Dish
This is the perfect baking dish for dessert bars. It allows you to cut perfect squares from the whole pan. And these bars will cook perfectly in it.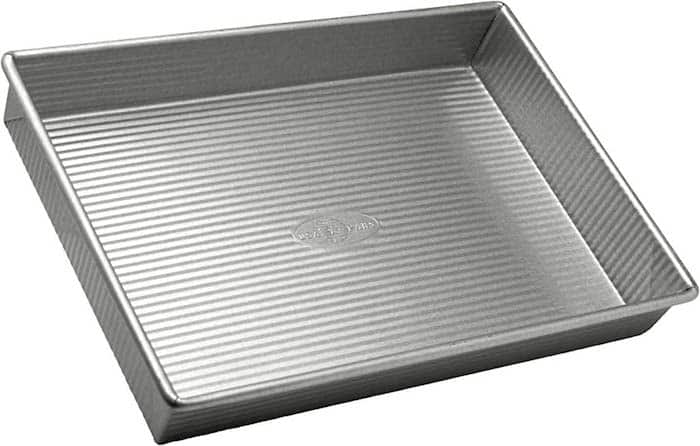 Storing
Store these lemon bars in an air tight container in a single layer. You may need to add more powdered sugar to the top after storing. These bars can be stored in an airtight container for up to 5 days.
Freezing
To freeze lemon bars, place them on a parchment paper lined plate or baking sheet. Freeze for 24 hours. Transfer the bars to an airtight container with wax paper between the layers. Freeze for up to 3 months.
FAQ
Can these be made gluten free?
This is a great baking recipe to swap all purpose flour for gluten free flour. Use the same amount of gluten free flour as you would use all purpose flour.
Are lemon bars dairy free?
These easy lemon bars are not dairy free. The butter is an important part of the crust. You could, however, replace the butter in the crust with a vegan butter. They often behave very similarly to butter.
Can you freeze lemon bars?
Yes! Please see our instructions for freezing above.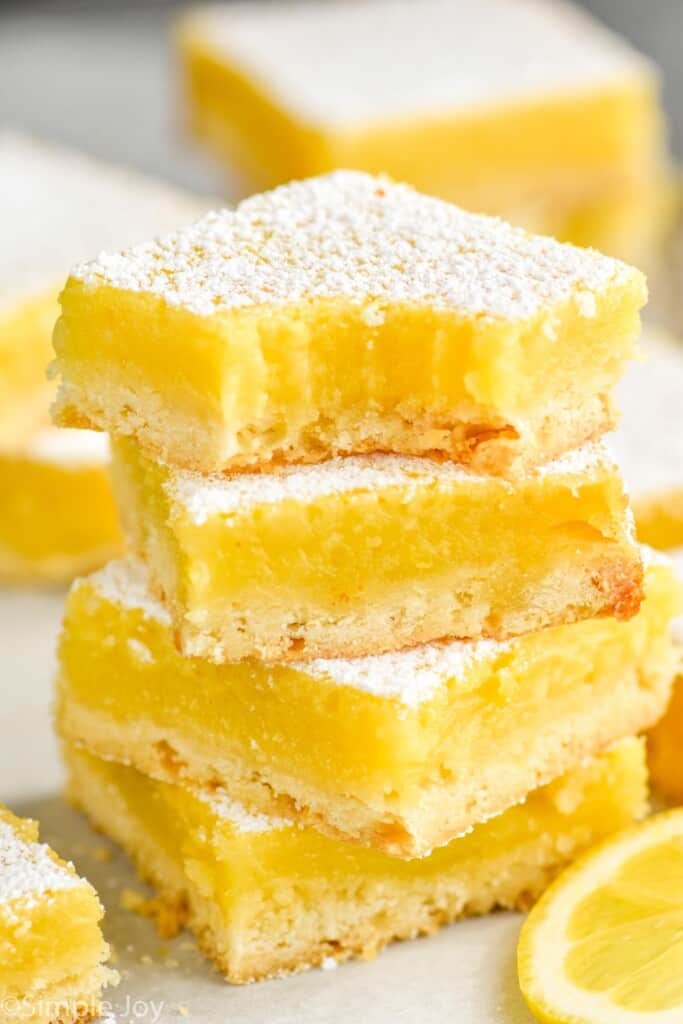 More Great Bar Recipes
I love bar recipes because they are so easy to make. They are perfect to take to parties, bbq, and picnics. If you need even more bar recipes, here are some of our favorites.
If you make this lemon bars recipe or any of my other recipes, leave me a comment and let me know what you think!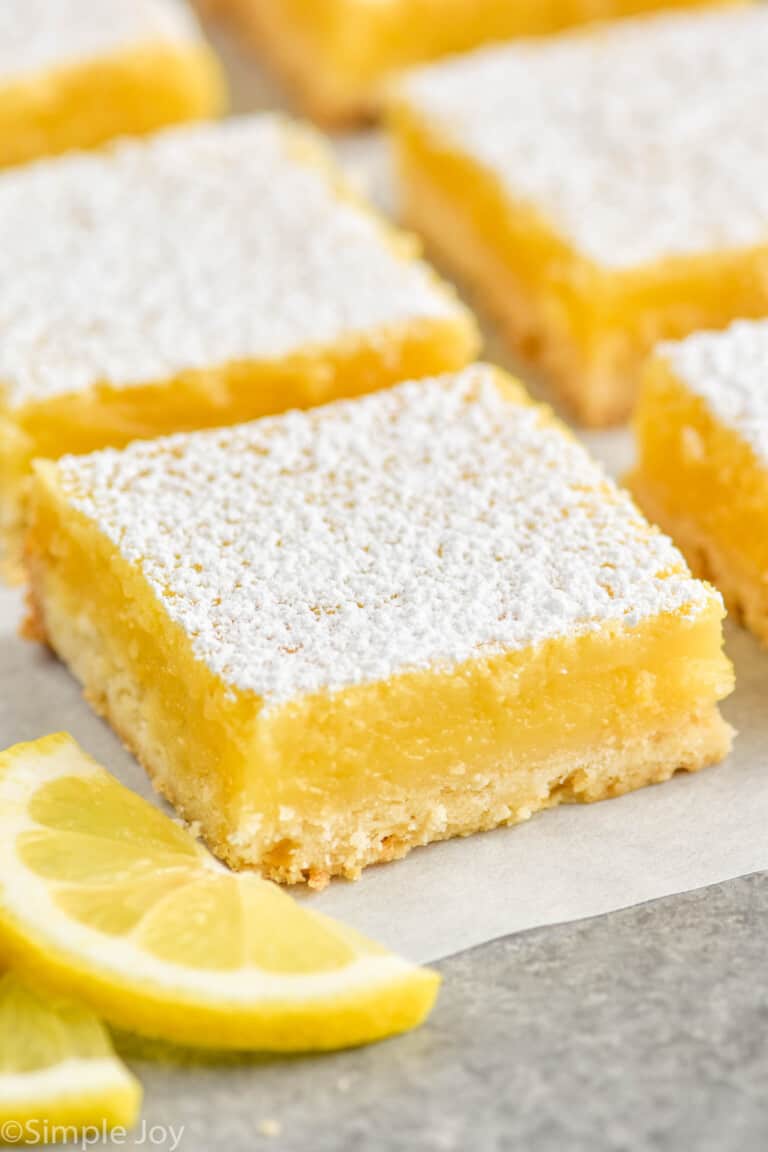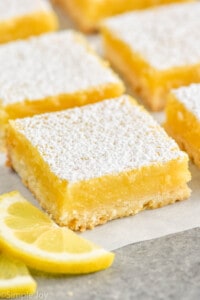 Lemon Bars
Lemon Bars are a dessert that everyone will fall in love with. This recipe is so much better than from the bakery and are melt in your mouth delicious.
Ingredients
Crust
2

cups

all purpose flour

1/2

cup

powdered sugar

1

cup

unsalted butter
Filling
3/4

cup

lemon juice

about three lemons

2

teaspoons

lemon zest

about one and a half lemons

2 1/4

cups

granulated sugar

1

cup

all purpose flour

6

eggs
Instructions
Preheat your oven to 350 degrees. Line a 9 x 13 inch baking pan with parchment paper or spray it with cooking spray and set aside. We like to use two pieces of parchment paper – one for the length and one for the width. If you cut the pieces long enough then you will be able to lift out the bars after they have finished cooling using the edges of the parchment paper.

In a large bowl whsik together the powdered sugar and the flour. Using two forks or a pastry cutter, cut in the cold butter. Cut in the butter just until it looks like a somewhat fine crumb.

Press the crust mixture into the prepared pan. Bake for 20 to 25 minutes or utnil the edges just begin to brown.

While the crust is baking, combine the lemon juice, lemon zest, sugar, flour, and eggs in a large bowl. Beat with a hand or stand mixer for two minutes.

After the crust is done prebaking, pour the lemon mixture over the hot crust. Return to the oven and bake for an additional 20 minutes.

Remove the bars from the oven and let them cool completely. Lift them out of the pan using the edges of the parchment paper. Dust with powdered sugar, cut, and enjoy. See details in the post on storing and freezing.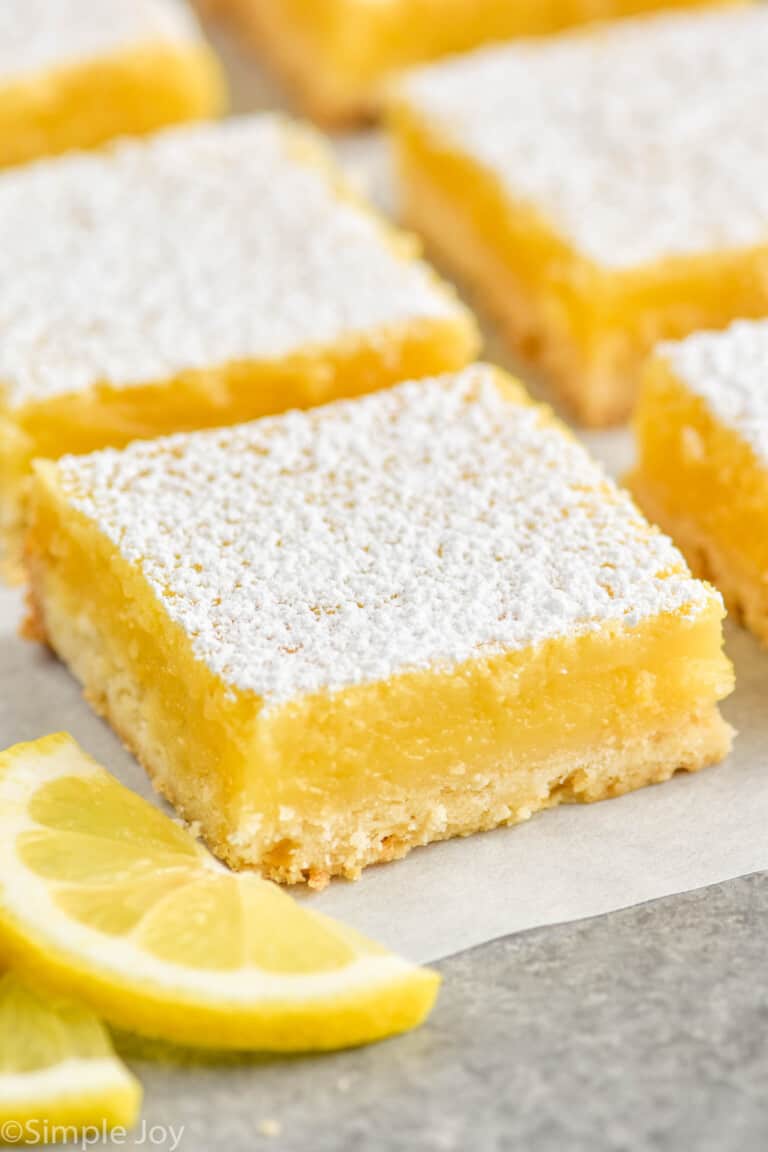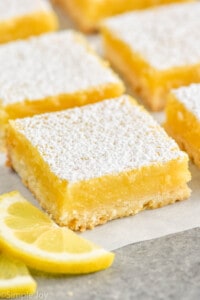 did you make this
Lemon Bars
you might also like . . .