Instant Pot Mashed Potatoes are a simple and easy way to make creamy mashed poatoes without a lot of hands on time.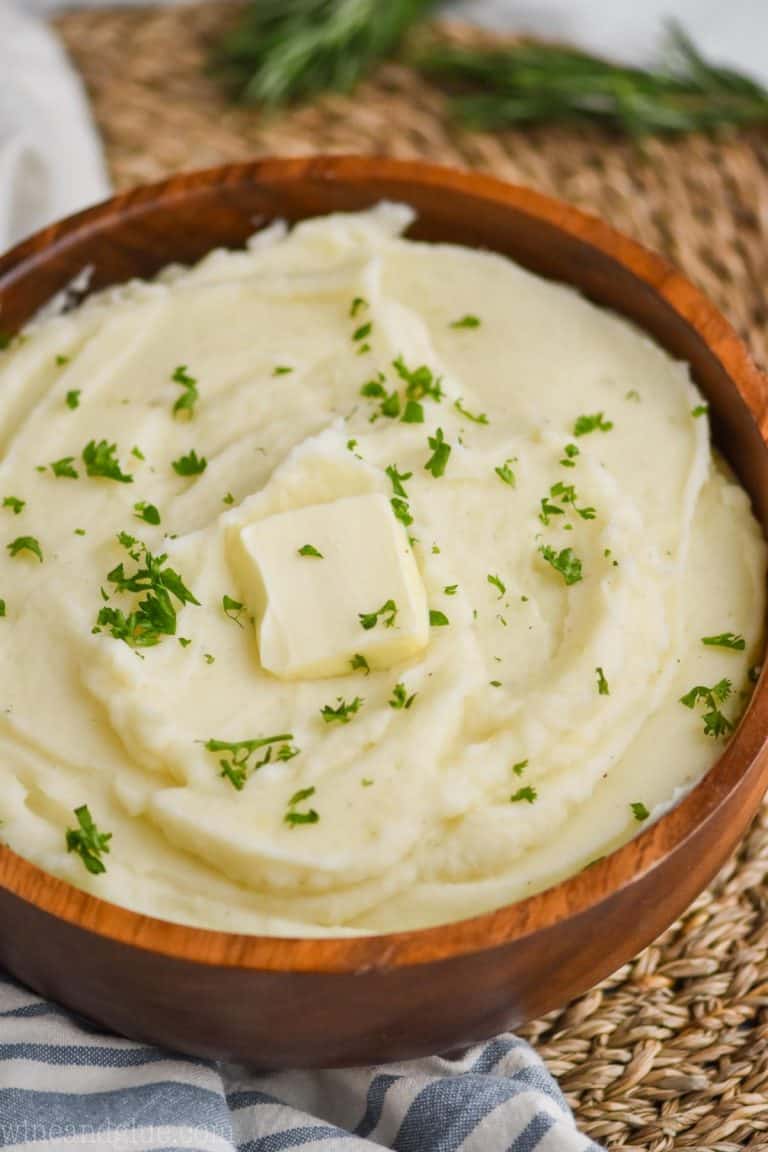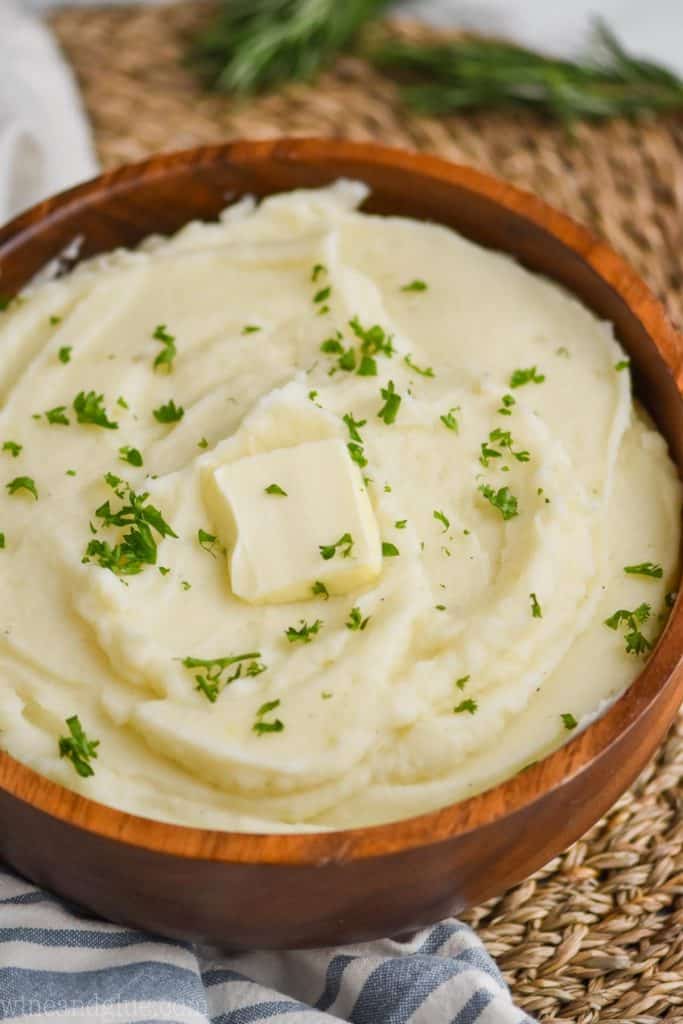 Can I tell you a really sweet story?
My mom is the person who really made me fall in love with cooking. I spent so much time watching her slave over homemade meals for us. She cared so much about what she fed us. Pretty much everything was from scratch.
Enter my amazing boyfriend (now husband). He was at our house celebrating his first Thanksgiving with my family and I gave my mom the heads up that he did not like real mashed potatoes. He would only eat the flakes from the box.
You guys, Thanksgiving came, and my mom made the instant mashed potatoes. I almost fell out of my chair. But it was more important to her that he felt welcome than where the potatoes on his plate came from.
Now I aspire to make people feel welcome by the food I make, and my husband is a full convert to creamy homemade mashed potatoes. He loved these Instant Pot Mashed Potatoes.
How to Make Instant Pot Mashed Potatoes
These are the best mashed potatoes because they are so simple, but you end up with such fluffy and creamy mashed potatoes.
Peel your potatoes and chop them into quarters.
Put them in the Instant Pot and cover with four cups of water. It should be just enough that they are almost covered.
Close the Instant Pot and set it to Manual, High Pressure, for 10 minutes.
When the Instant Pot reaches pressure it will start counting down. Turn off the pressure cooker and use a quick release.
When the float valve drops, open the Instant Pot and drain the water.
Right in the Instant Pot, add in the butter, then the milk, and then half the amount of seasonings called for.
Taste the potatoes and adjust the seasonings adding more garlic powder, black pepper, and salt as needed.
My favorite part about this recipe is how little time and attention it takes. The Instant Pot does the work in this mashed potatoes recipe and I can focus on other things.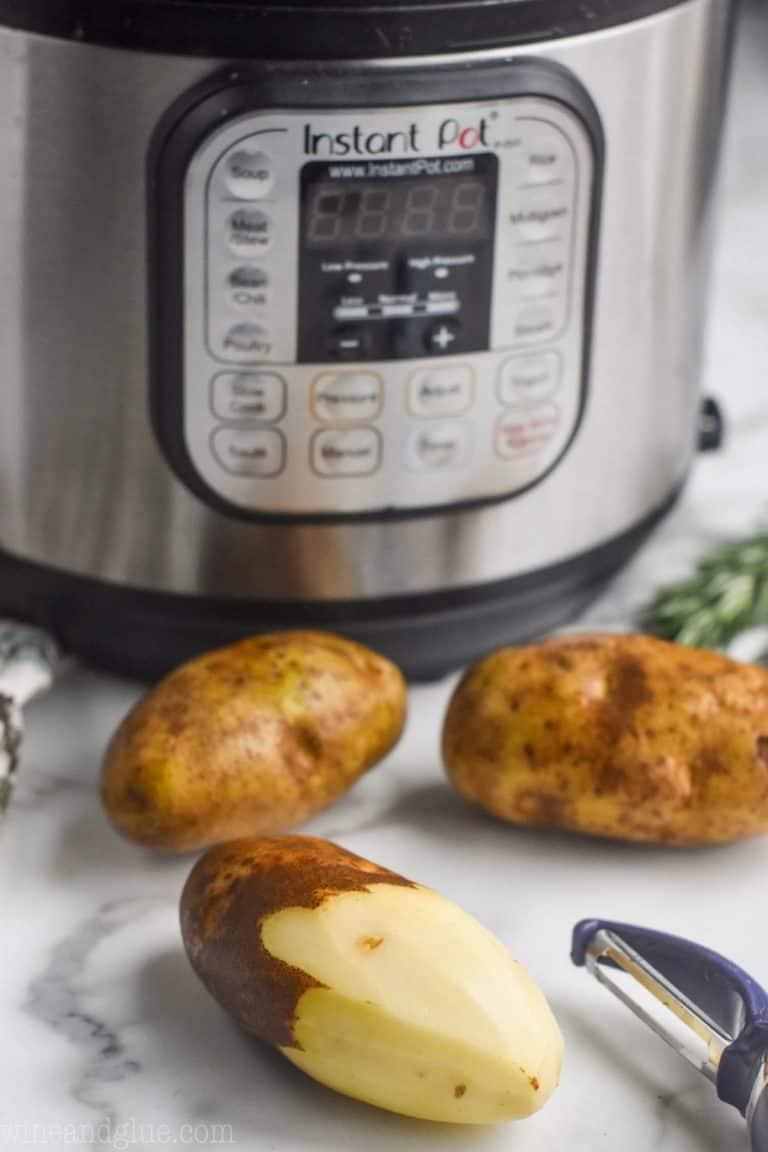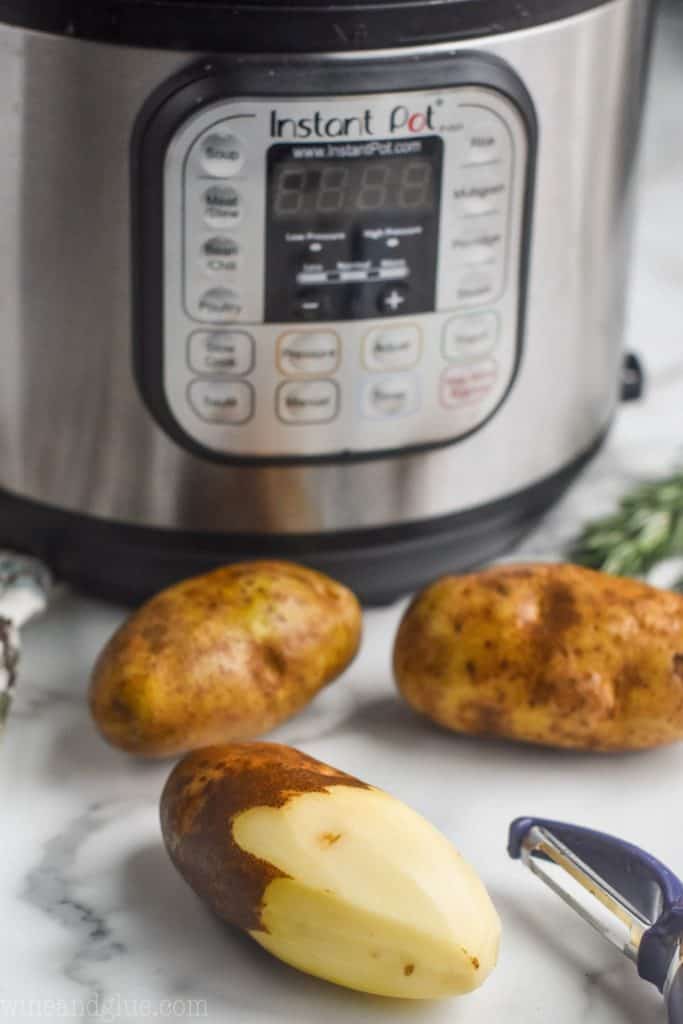 Tips for Creamy Mashed Potatoes
Start with the right type of potato. For this recipe, I used Russet, but you could also use Yukon Gold, because of their high starch content.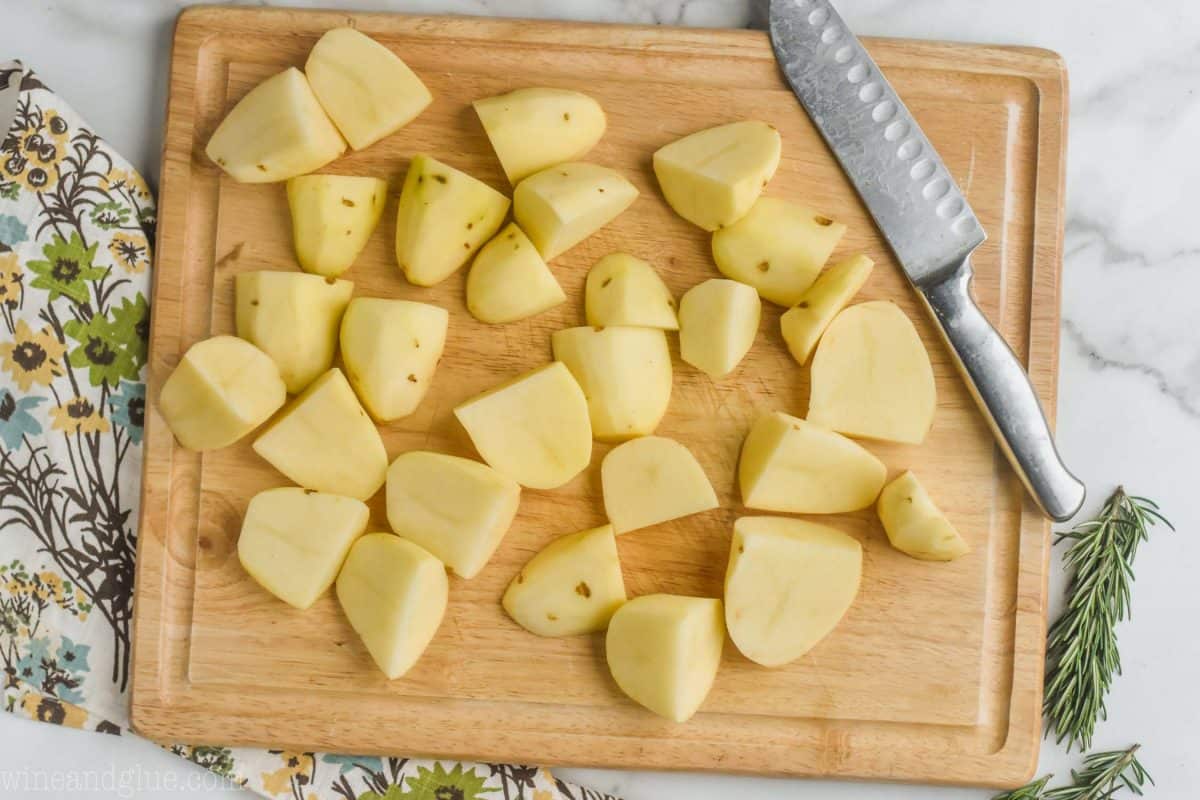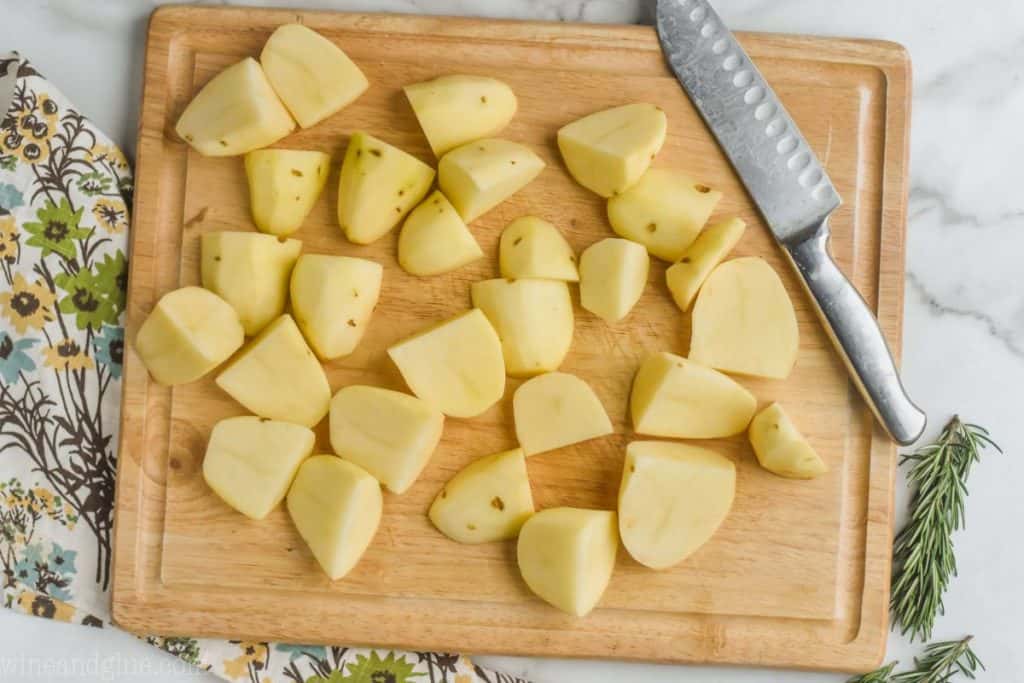 Quarter the potatoes after you peel them. This is key so that they are completely cooked when the Instant Pot is done with them.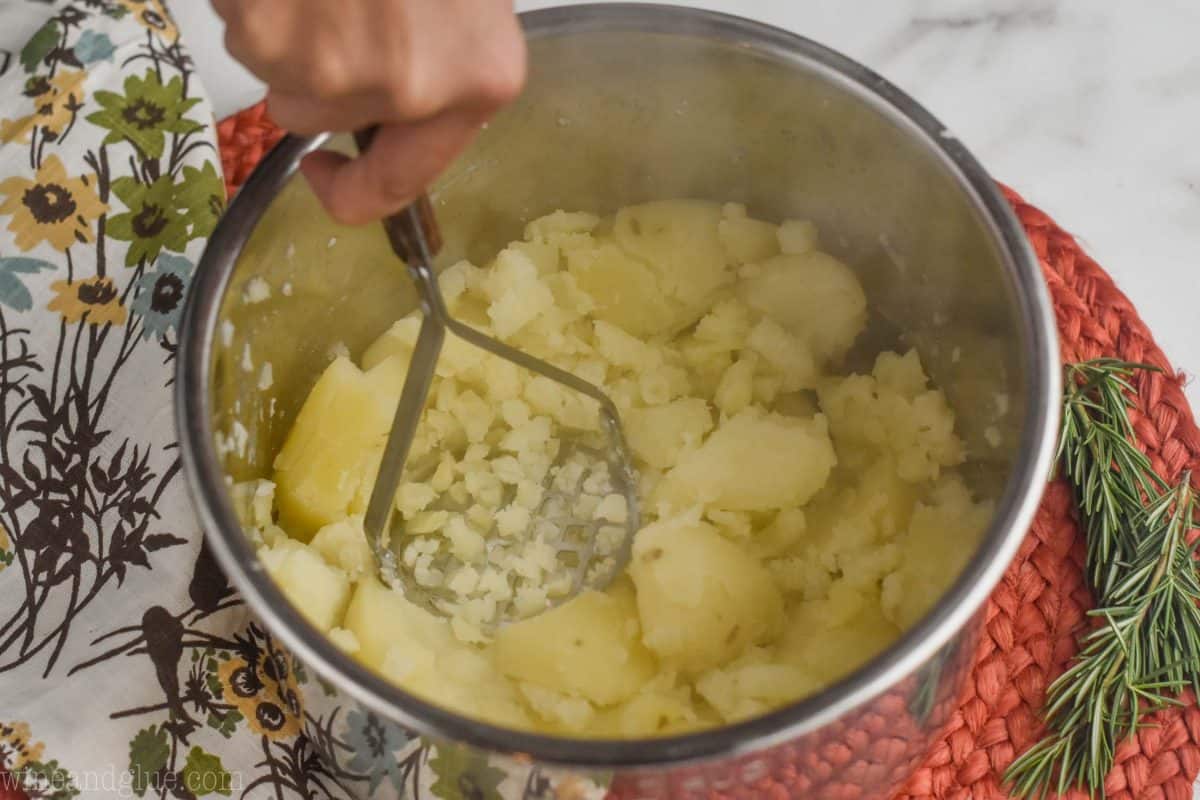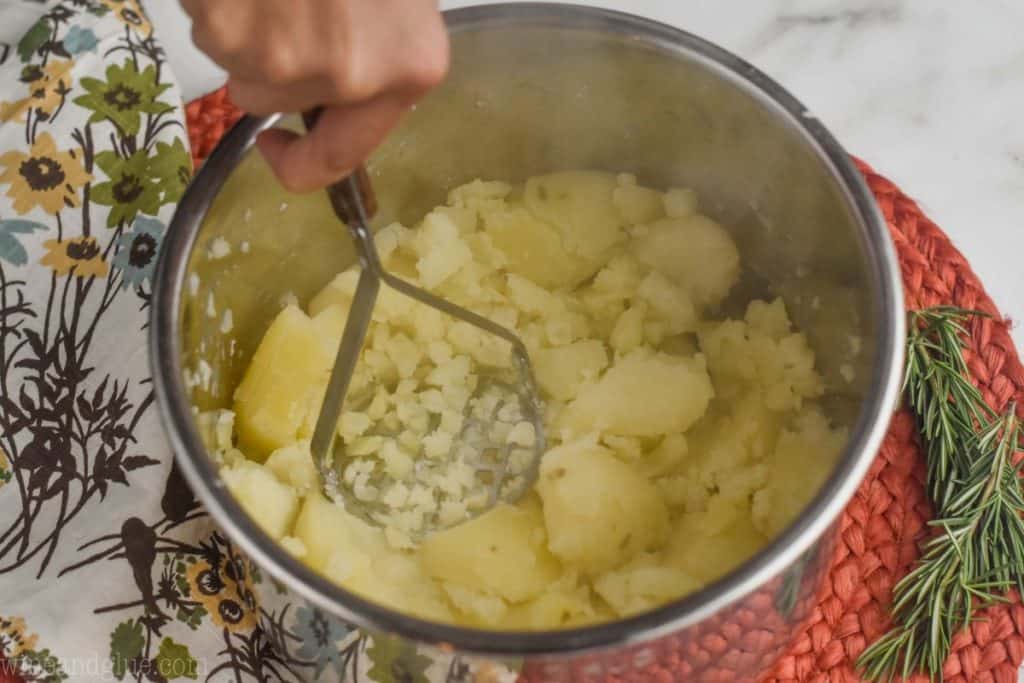 I like doing a little hand mashing before I start adding things.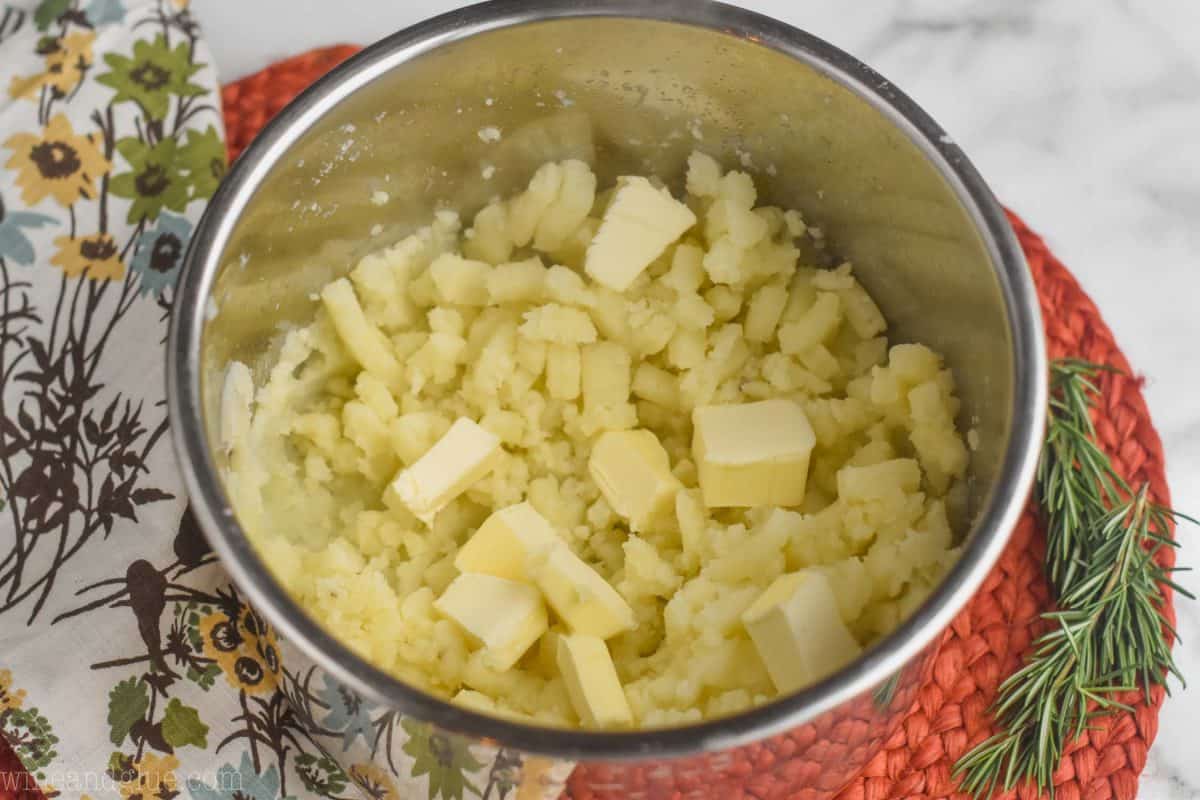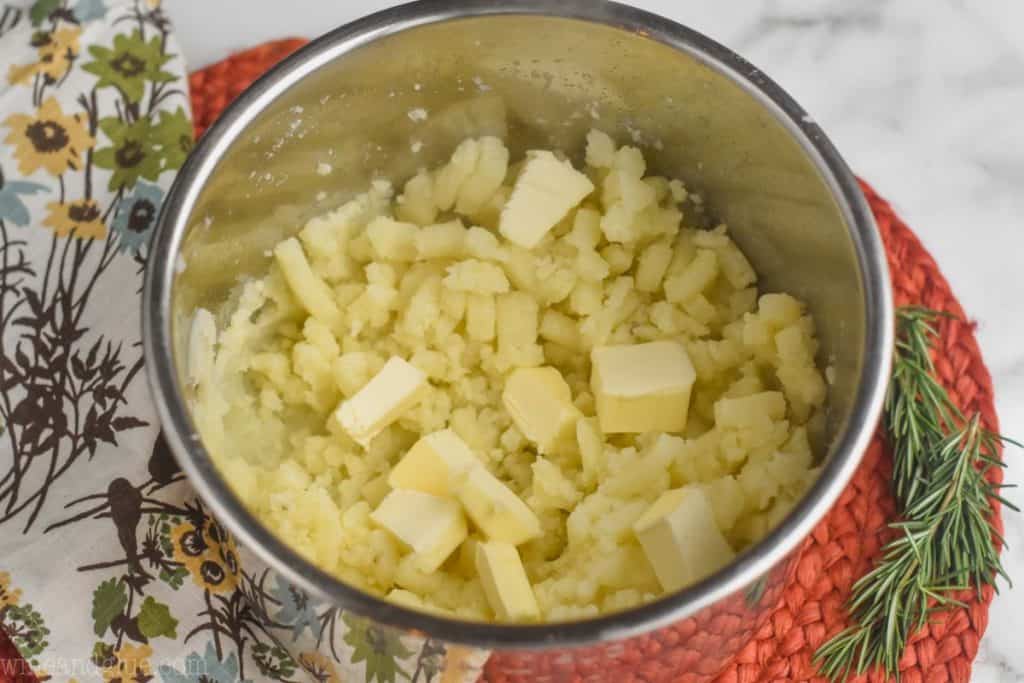 Add your butter first so that the hot potatoes can really melt it before you add in the cold milk.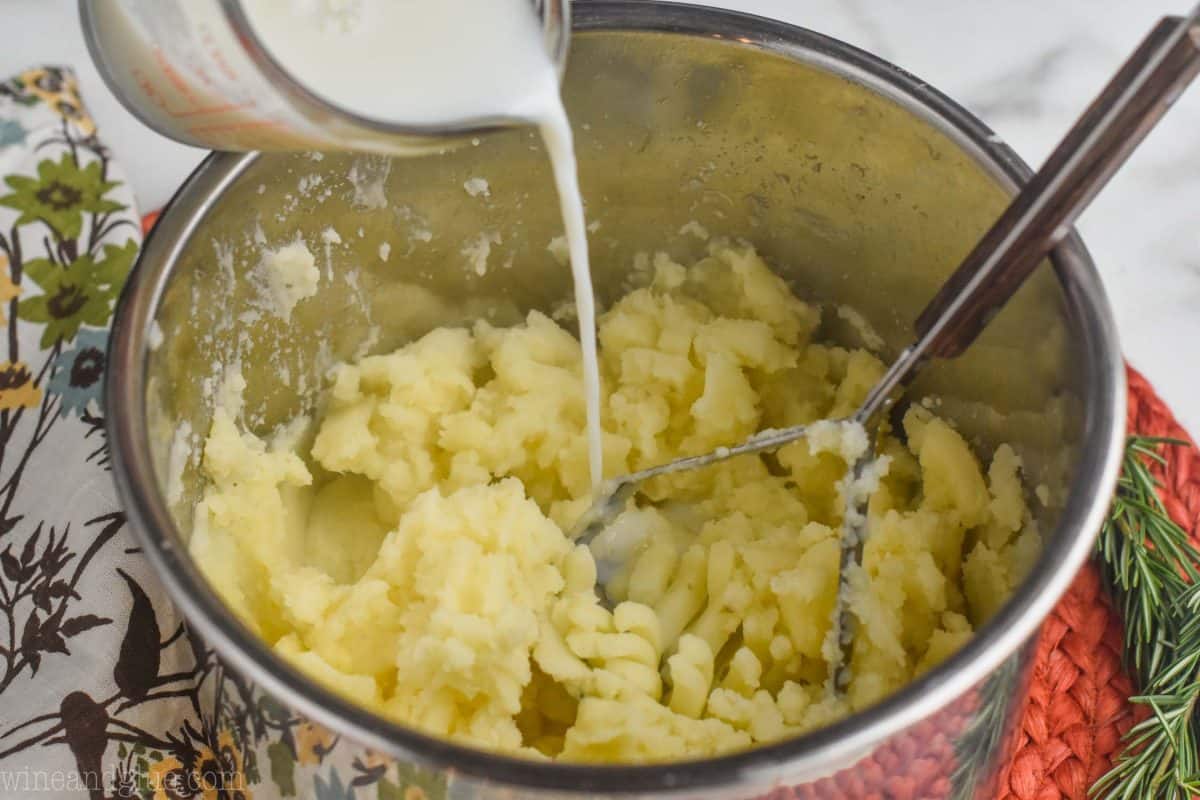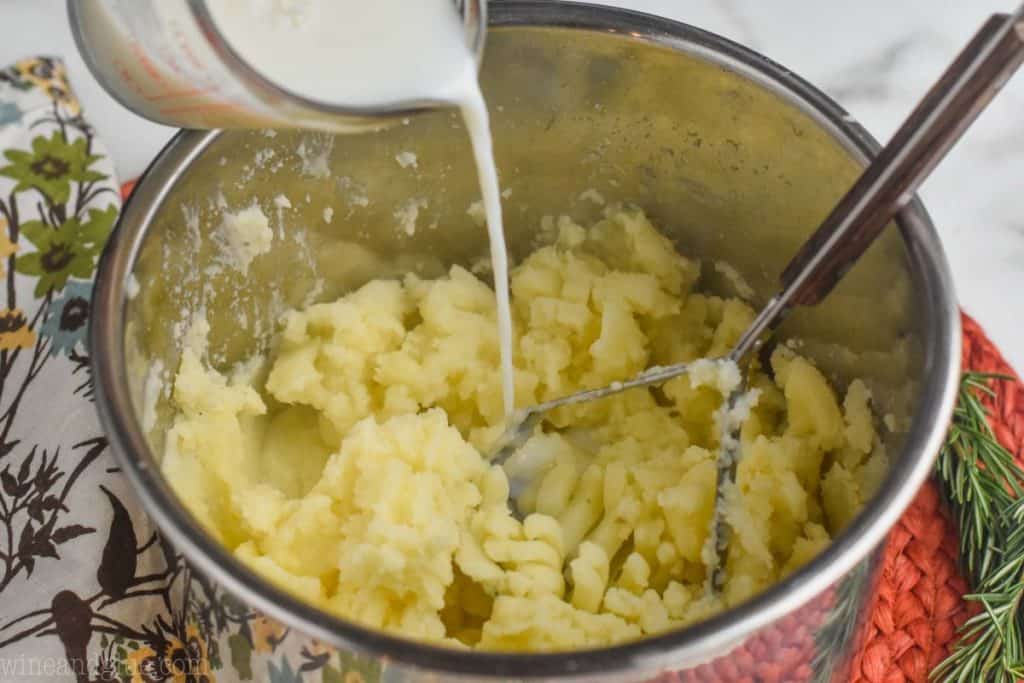 A hand blender makes quick work of these homemade mashed potatoes.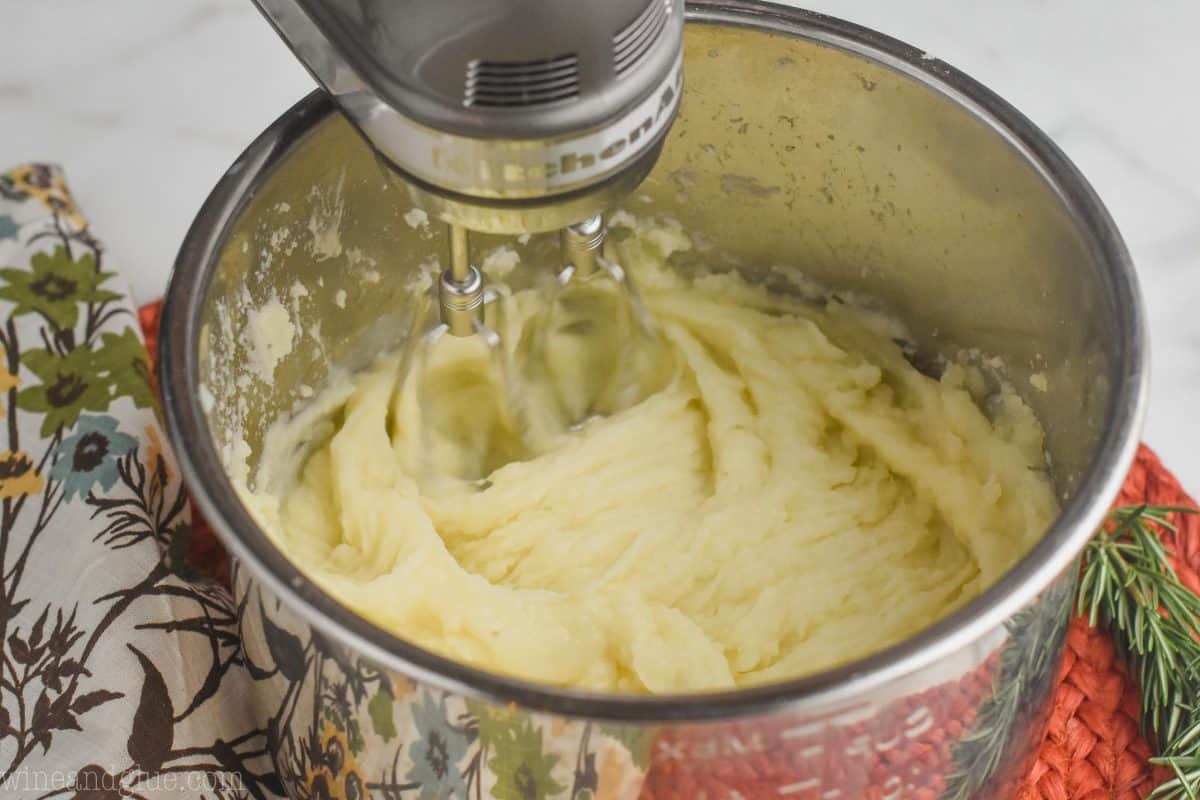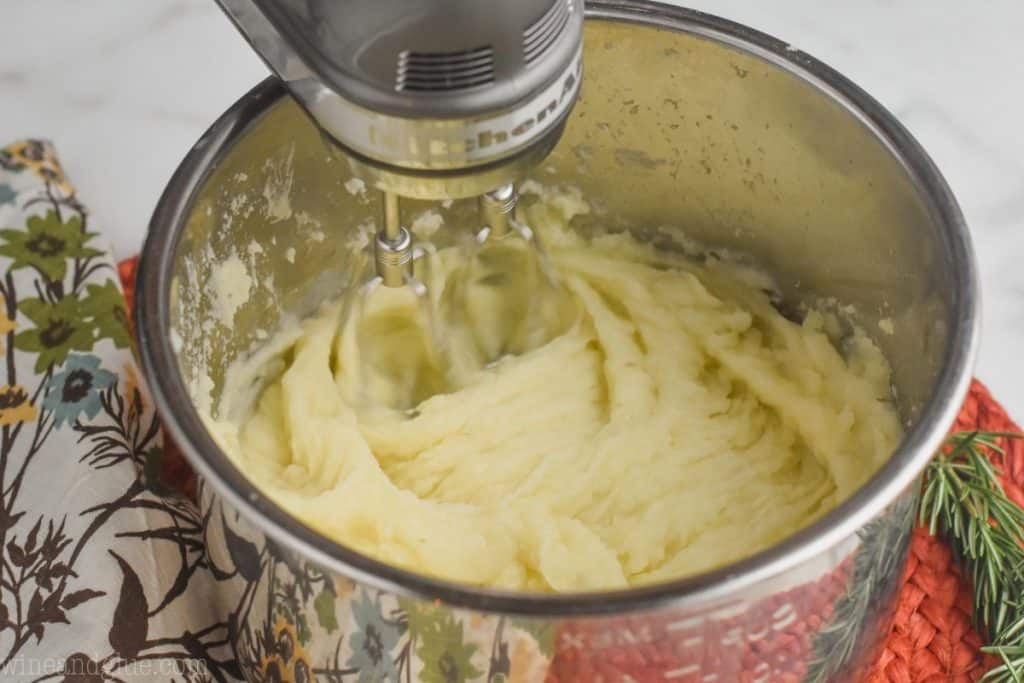 A Note on Seasoning
I really love my food full to the brim with garlic and salt. So the seasoning amounts you see listed is how I found this easy mashed potatoes recipe perfect.
That said, everyone's tastes vary. I suggest adding half the amount I have listed, then tasting the potatoes, and adding more as you see fit.
It's important to me that you love the recipes you get here, so make them your own!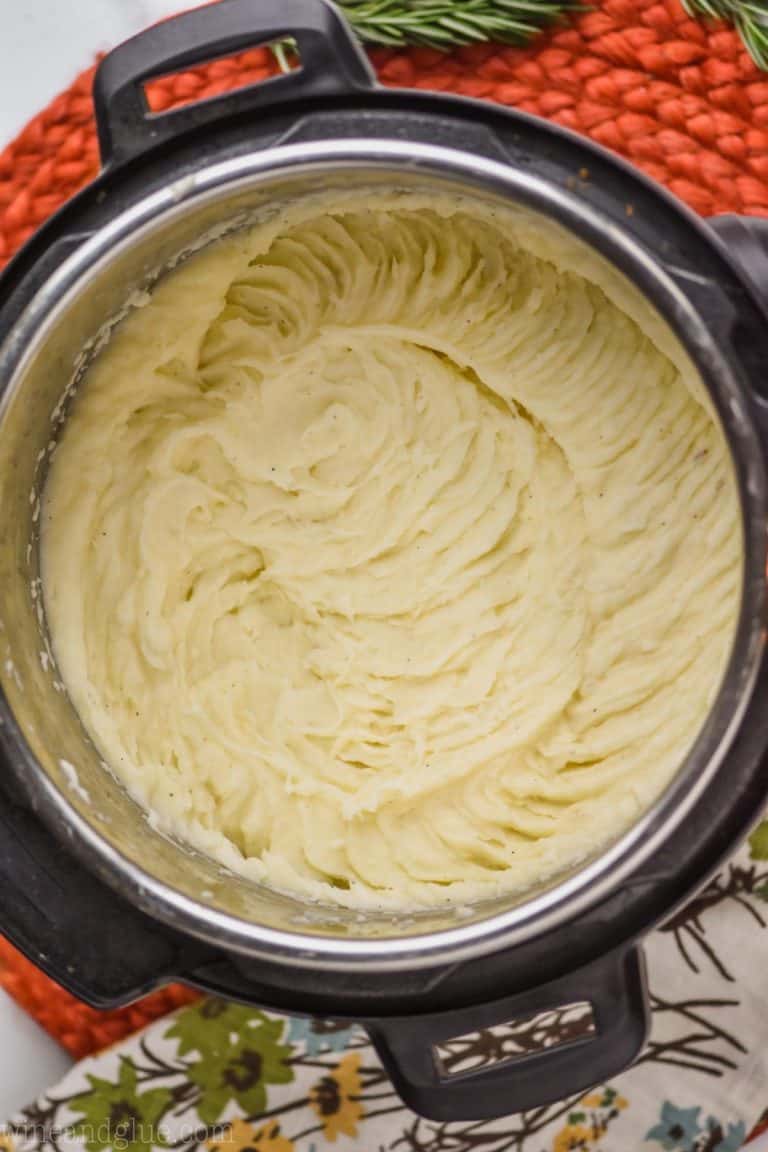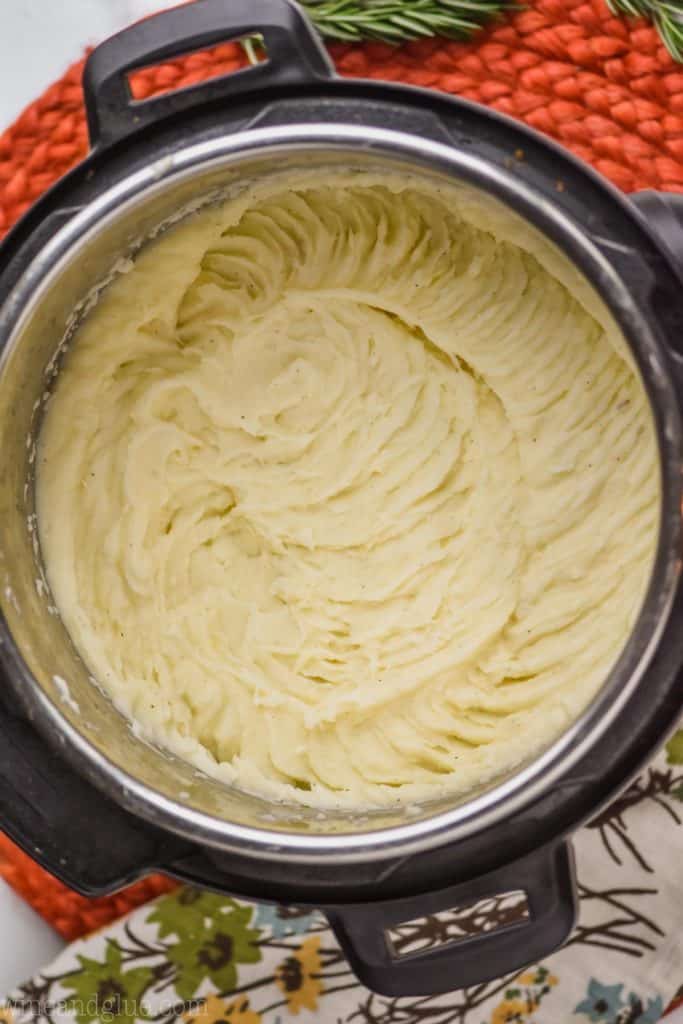 Take it up a Notch
Instead of water, use chicken broth! You will need four cups, which is the same amount as the cardboard carton sold at the store.
If you use chicken stock, be sure to go very slowly when adding salt at the end as you will need less.
Change the Amount You Make
When I was first testing this recipe, I didn't want to make a full batch, so I only made one pound.
I adjusted all of the seasonings, butter, and milk to that amount. I only used enough water to go to the top of the potatoes. But I kept the time and settings on the Instant Pot the same.
They turned out perfect! So if you would like to make less than three pounds, feel free. They will still be great.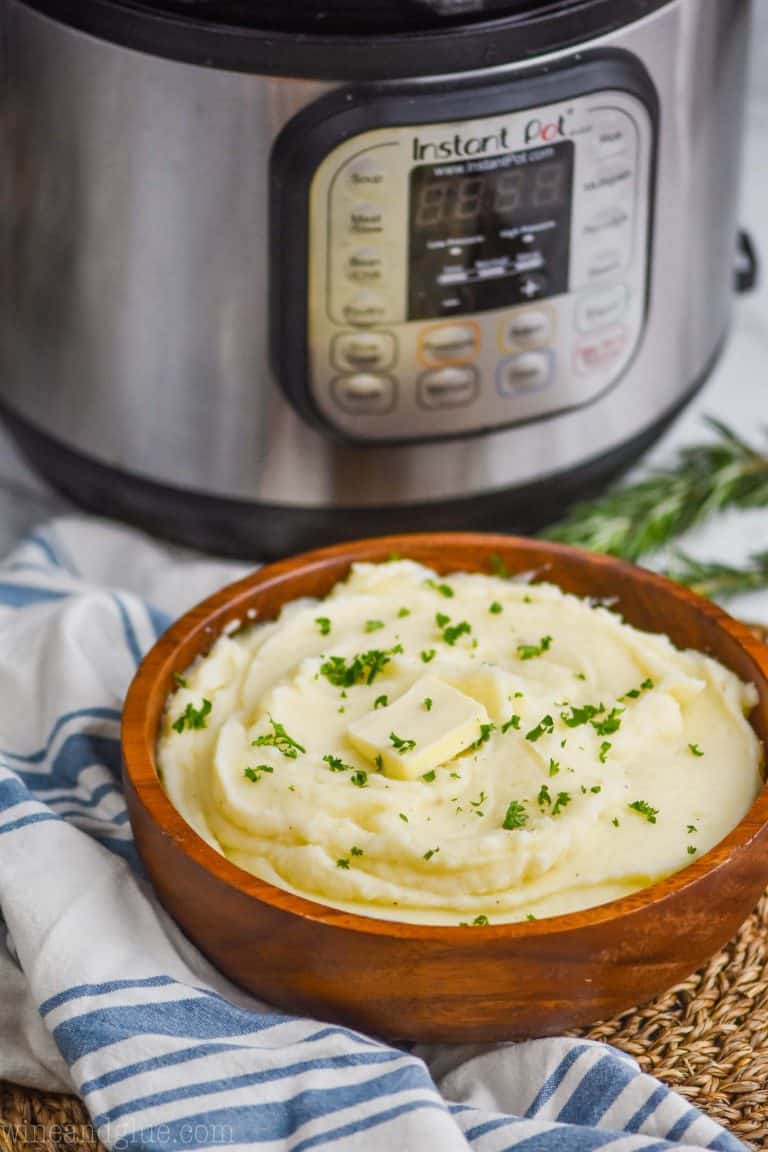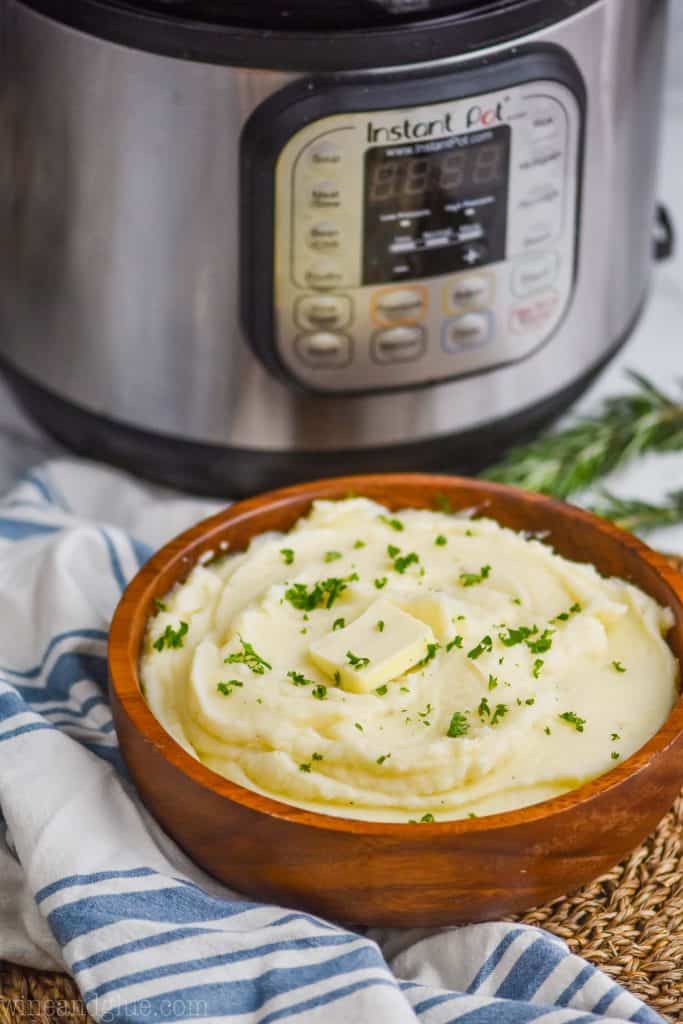 Other Great Holiday Recipes
Looking for more great recipes to serve your guests?
If you make these Instant Pot Mashed Potatoes or any of my other recipes, I'd love to hear what you think in the comments below!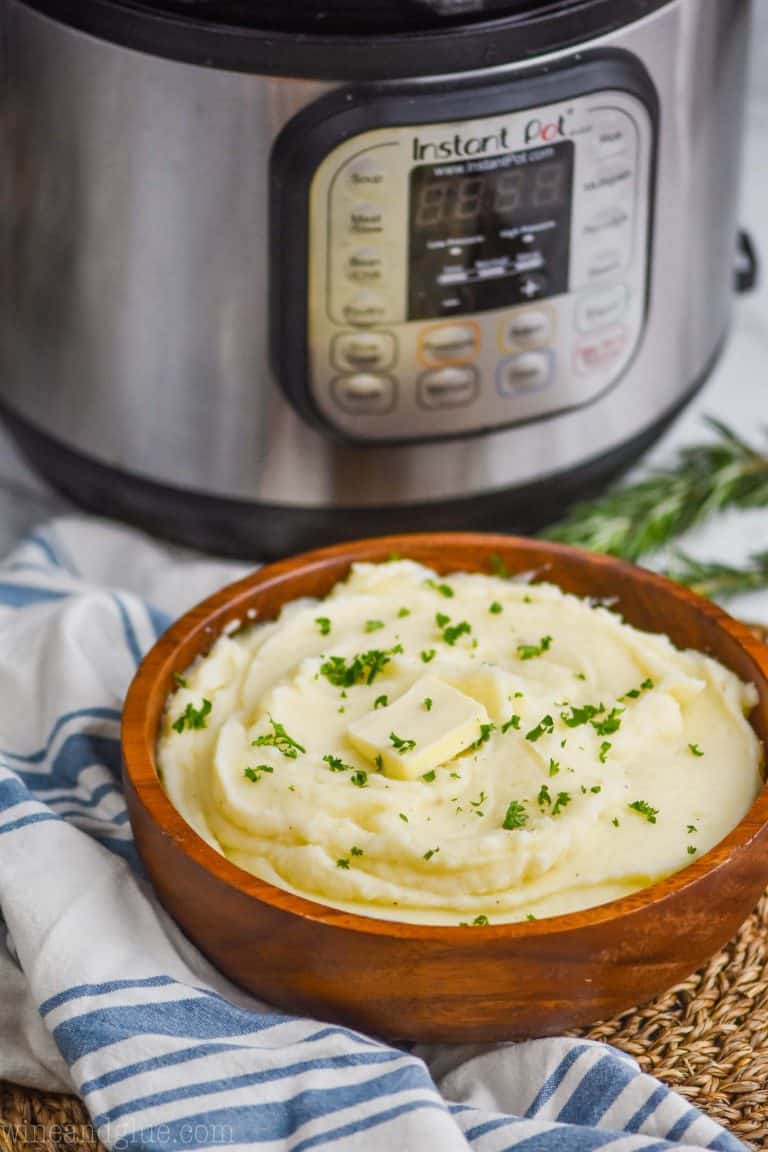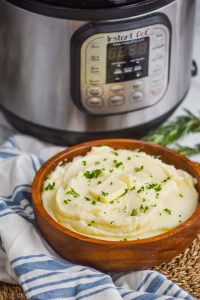 Instant Pot Mashed Potatoes
Instant Pot Mashed Potatoes are a simple and easy way to make creamy mashed poatoes without a lot of hands on time.
Ingredients
3

pounds

russet potatoes

washed, peeled, and cut into fourths

4

cups

water

3/4

cup

milk

(I used skim milk)

6

tablespoons

butter

1 1/2

teaspoons

kosher salt

3/4

teaspoon

garlic powder

1/4

teaspoon

black pepper
Instructions
Place your prepared potatoes in the bottom of the Instant Pot.

Cover with water. Close the lid and set it to sealing.

Set the Instant Pot to Manual, High, for 10 minutes.

At the end of the time, do a quick release to release the pressure. Once the float valve drops, open the Instant Pot carefully.

Drain the water. Make sure to completely drain them. Use a potato masher to mash the potatoes. Add in butter first so the hot potatoes can melt it. Then add in the milk. Using a hand mixer, blend the potatoes until smooth.

Add half the amount of salt, garlic powder, and black pepper listed. Taste and add more until it is the taste you prefer.
Calories:
259
kcal
(13%)
Carbohydrates:
31
g
(10%)
Protein:
4
g
(8%)
Fat:
14
g
(22%)
Saturated Fat:
9
g
(56%)
Cholesterol:
39
mg
(13%)
Sodium:
126
mg
(5%)
Potassium:
732
mg
(21%)
Fiber:
2
g
(8%)
Sugar:
2
g
(2%)
Vitamin A:
11
IU
Vitamin C:
51
mg
(62%)
Calcium:
19
mg
(2%)
Iron:
7
mg
(39%)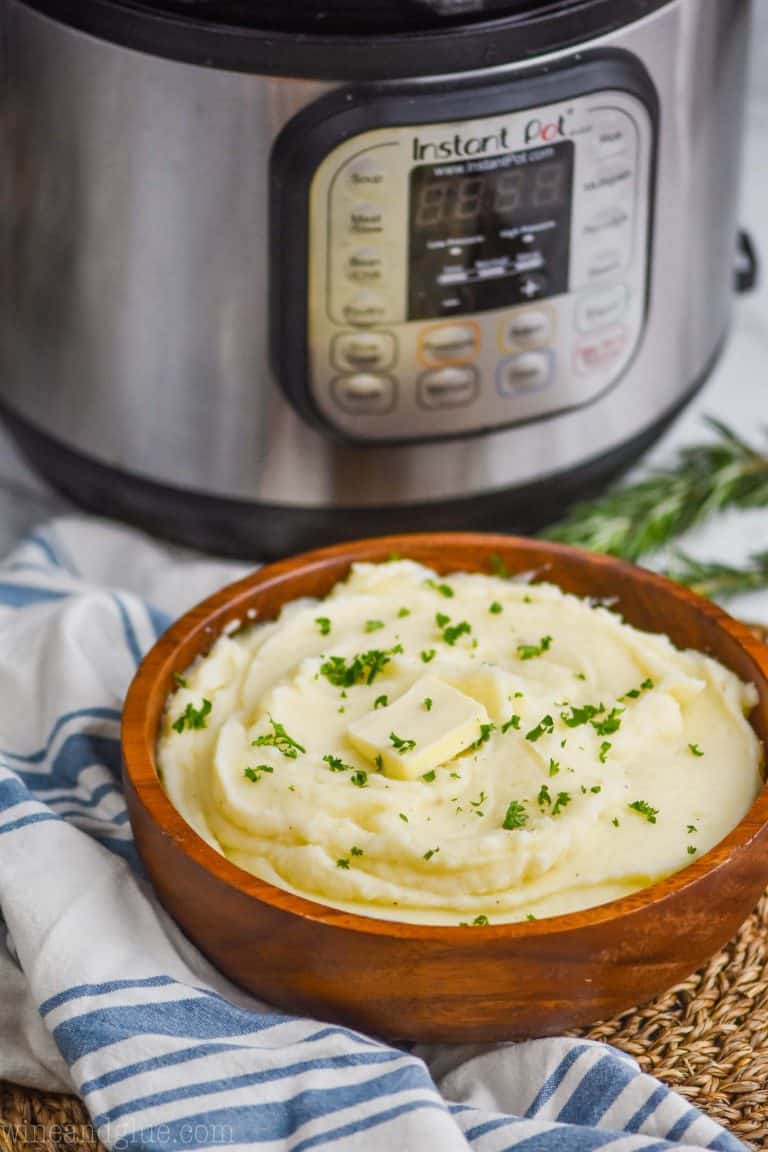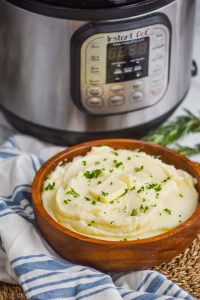 did you make this
Instant Pot Mashed Potatoes