These Three Ingredient Mashed Potatoes are the perfect easy side dish recipe. This easy mashed potato recipe is simple enough for a weeknight meal, but delicious enough to make for holidays.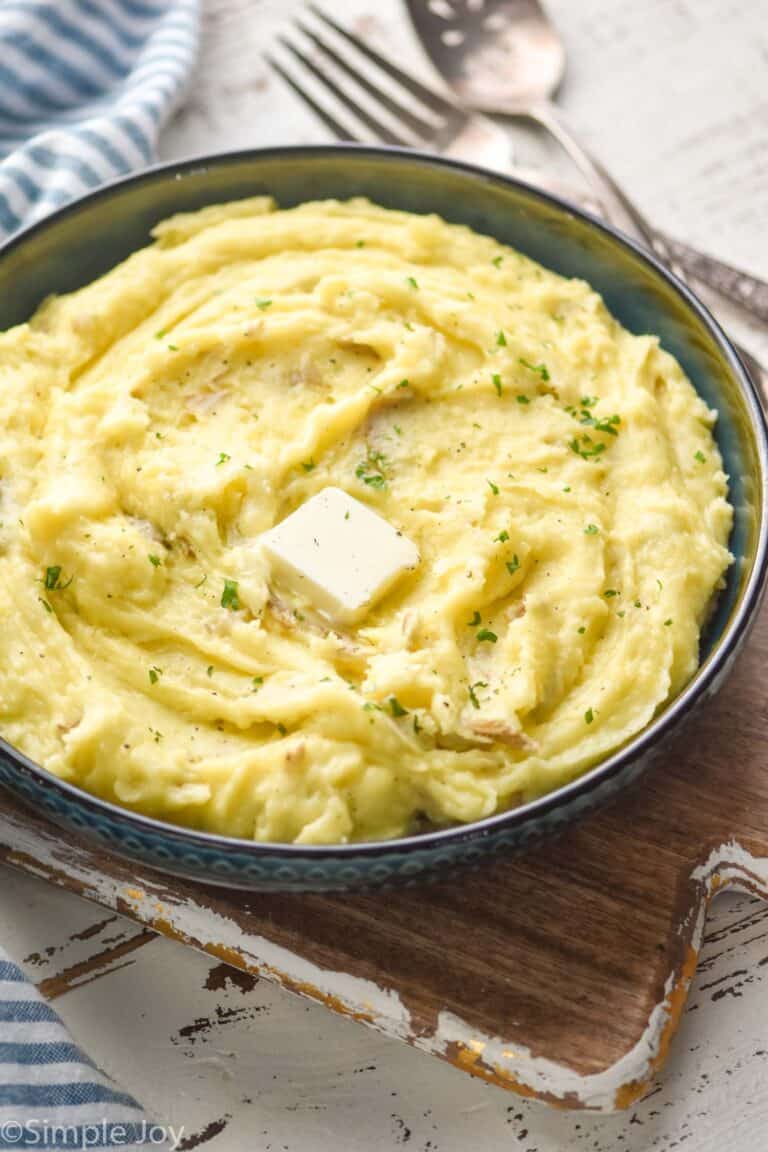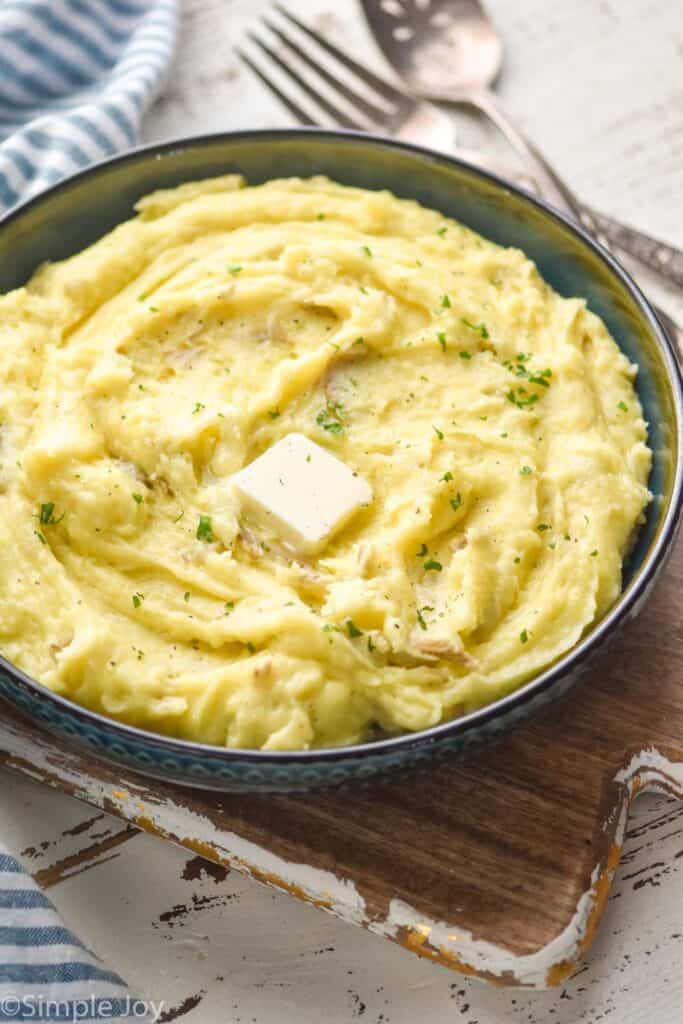 I'm so excited to share my friend Rebecca's new cookbook with you today. It is coming out at the perfect time because it is all Vegetable Side Dishes! These recipes are great for all year round, but I know so many of you are looking for delicious and easy sides to make for the holidays.
Rebecca Lindamood – amazing author of Foodie with Family – has done in it again! You may remember last year when I shared Rebecca's Dinner Rolls and reviewed her cookbook of great bread recipes. She has put out another great book full of fantastic recipes that I know you will treasure.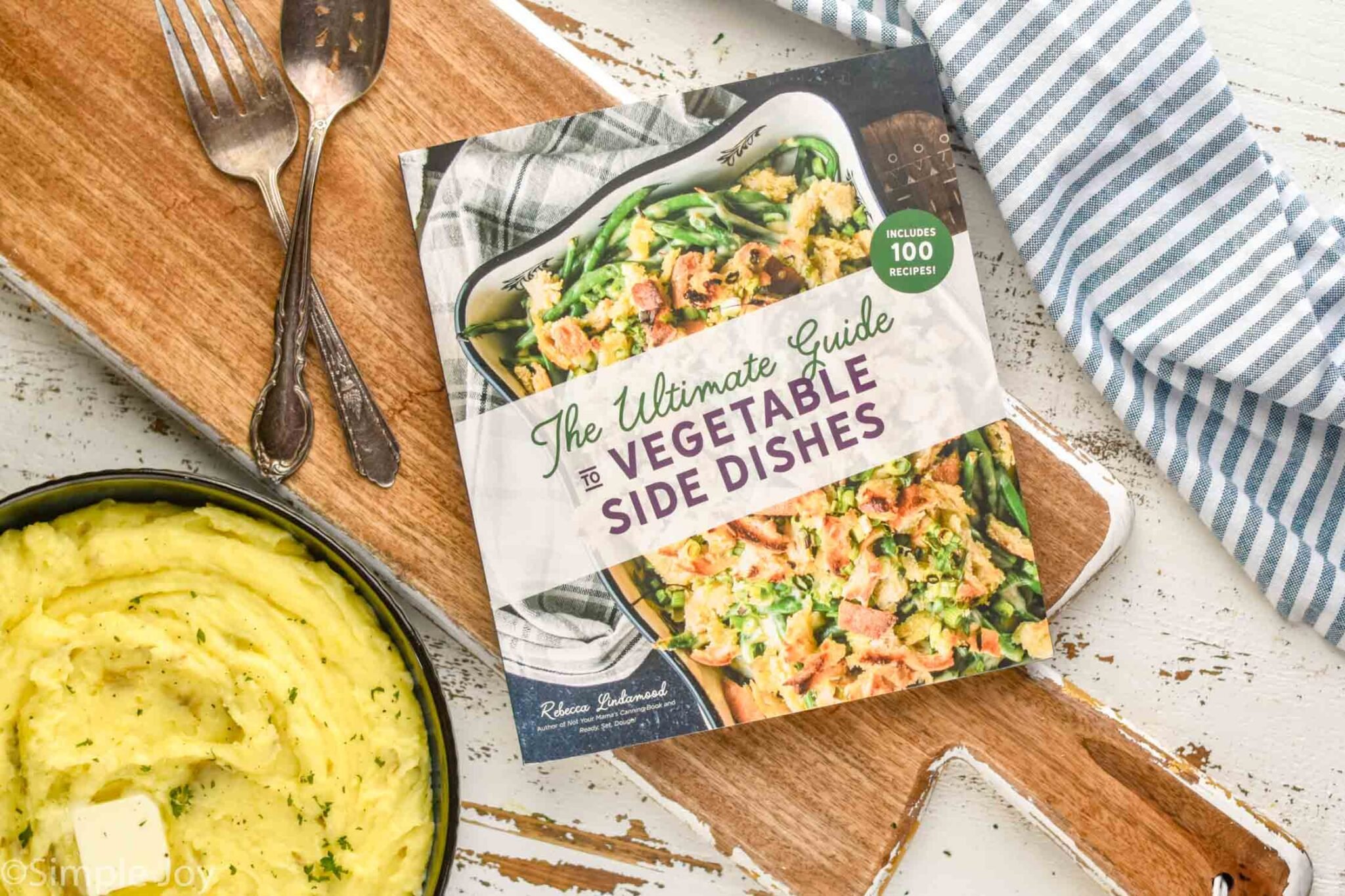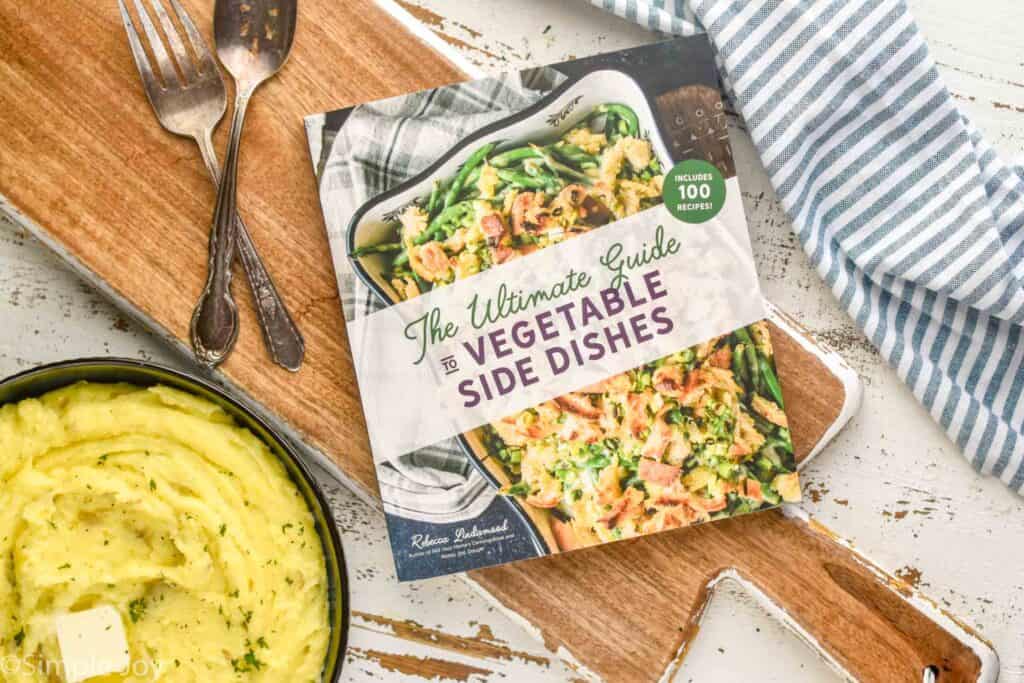 I found this delicious Three Ingredient Mashed Potato recipe in Rebecca's book, and I know you would want it for Thanksgiving. It is so easy and perfect.
How to Make Mashed Potatoes
There are so many mashed potato recipes, but this simple easy recipe will be one you can fall back on.
Cut the potatoes into quarters.
Add to a large stockpot and cover with water.
Bring to a boil. Once at a full boil, add salt and boil for 15 minutes uncovered.
Transfer to a bowl, add butter and cream cheese, and use a sturdy spoon or a hand mixer to mix to desired smoothness.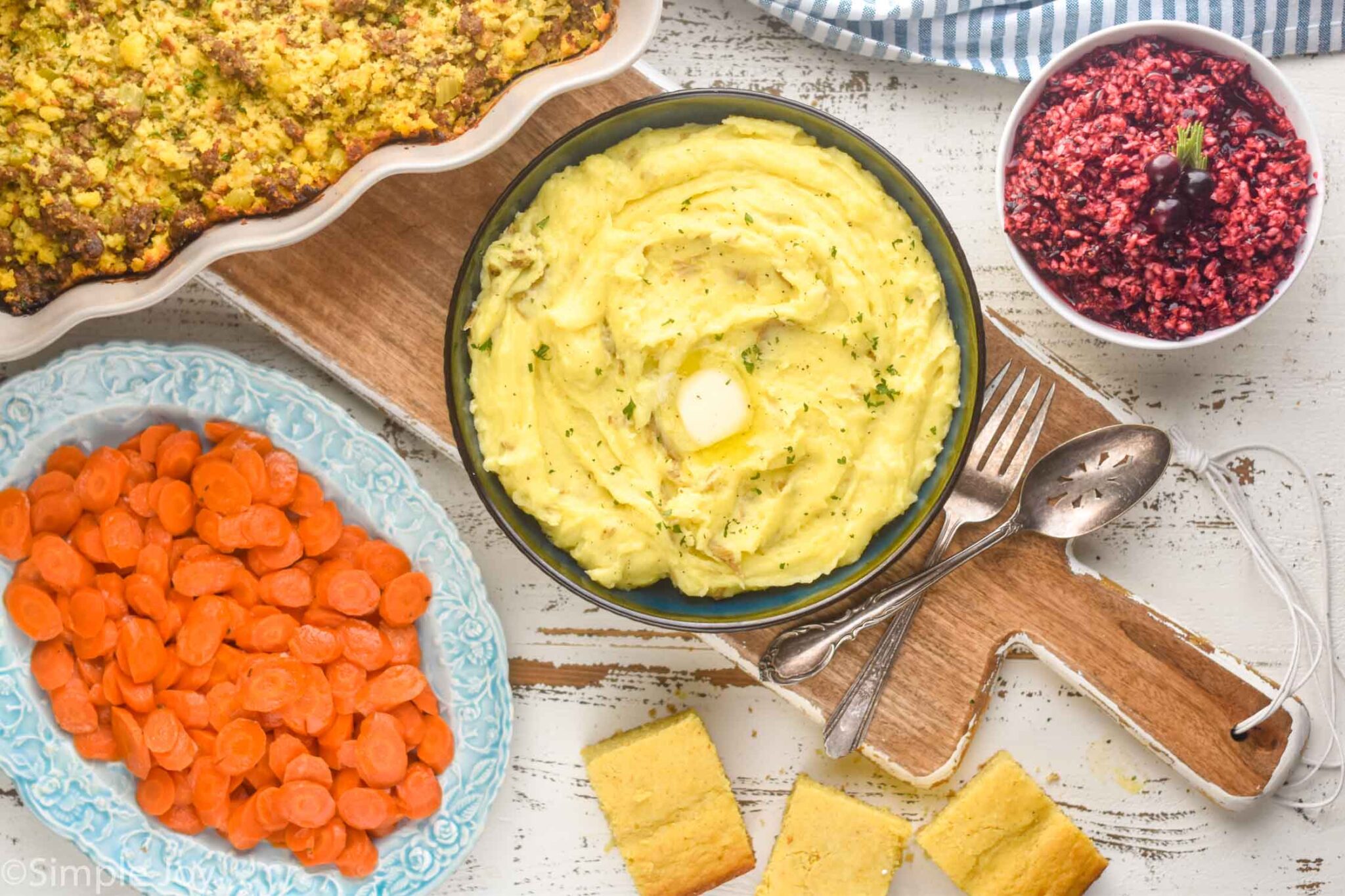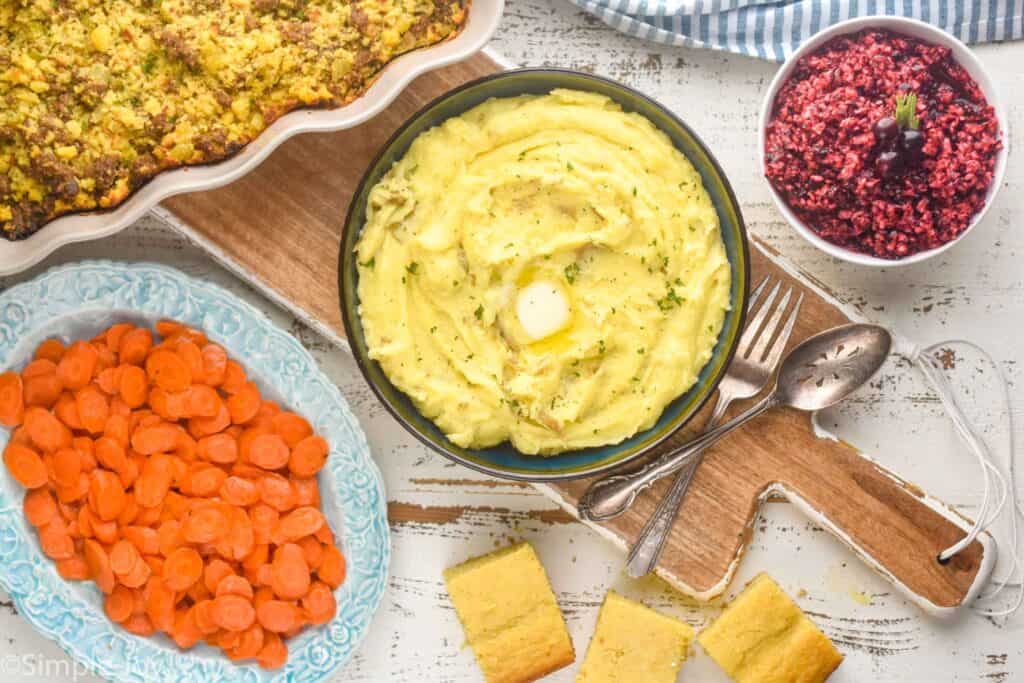 For Smoother Potatoes
If you want a smoother mashed potato, Rebecca suggests passing the mashed potatoes through a potato rice or a food mill before mixing in the butter and then cream cheese.
To Peel or Not to Peel
Whether or not you decide to peel the potatoes before cooking is up to you. I really like the texture of potato skins in my mashed potatoes, so I leave them on for a more rustic feel. If you like smoother mashed potatoes, make sure to peel them.
Other Mix Ins
These potatoes are great as is! But if you would like to make spin offs and experiment with them, Rebecca gives some great suggestions. I love all the different tips and tricks she has in her cookbooks.
Garlic Mashed Potatoes
Add garlic cloves to the water as it boils with the potatoes. Leave those cooked cloves in when you mash the potatoes for a great garlic flavor.
Bacon Cheddar Mashed Potatoes
Mix in 1 cup of cheddar cheese and 1 cup of crisply cooked bacon bits to the potatoes. For some extra zip, you can also add in 1/4 cup horseradish.
Adusting Serving Size
This recipe makes a huge big bowl of mashed potatoes. It makes 10 servings. If you are having a smaller Thanksgiving, consider cutting this recipe in half.
Our recipe card makes adjusting serving sizes very simple. Tap on the black box with the number. A sledding scale will appear above, slide that to make the serving size bigger or smaller. All the ingredients in the recipe card will adjust.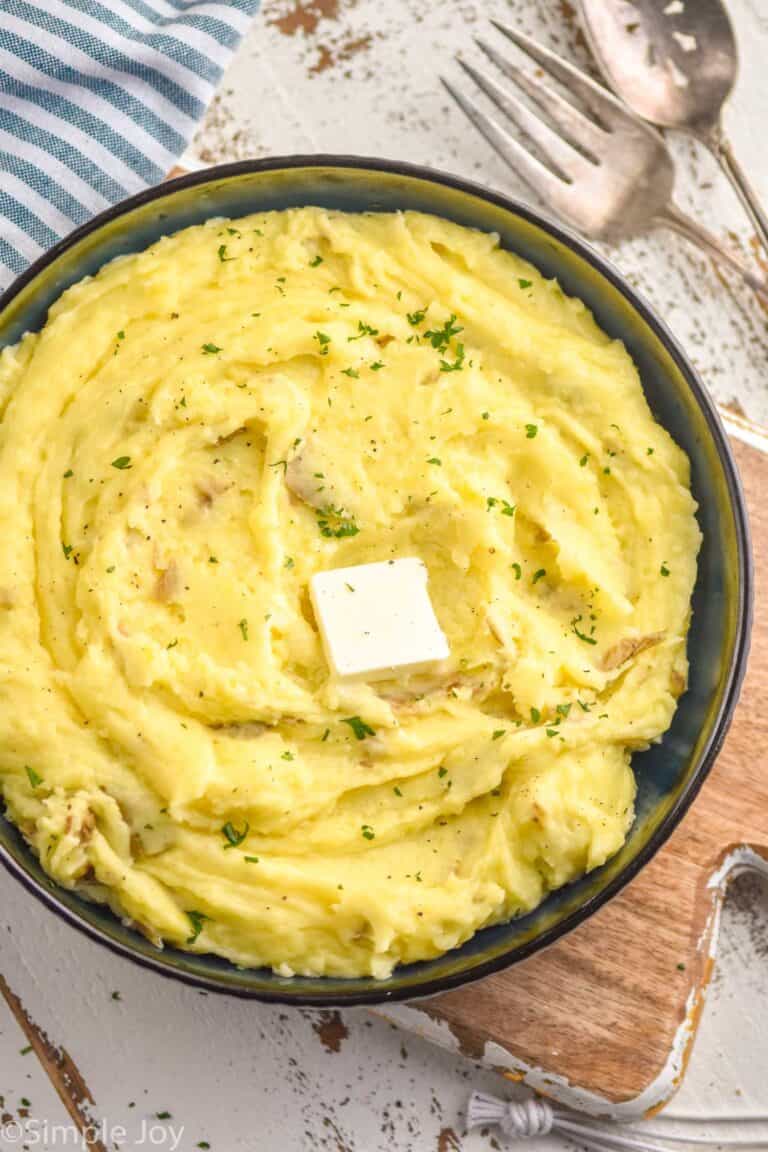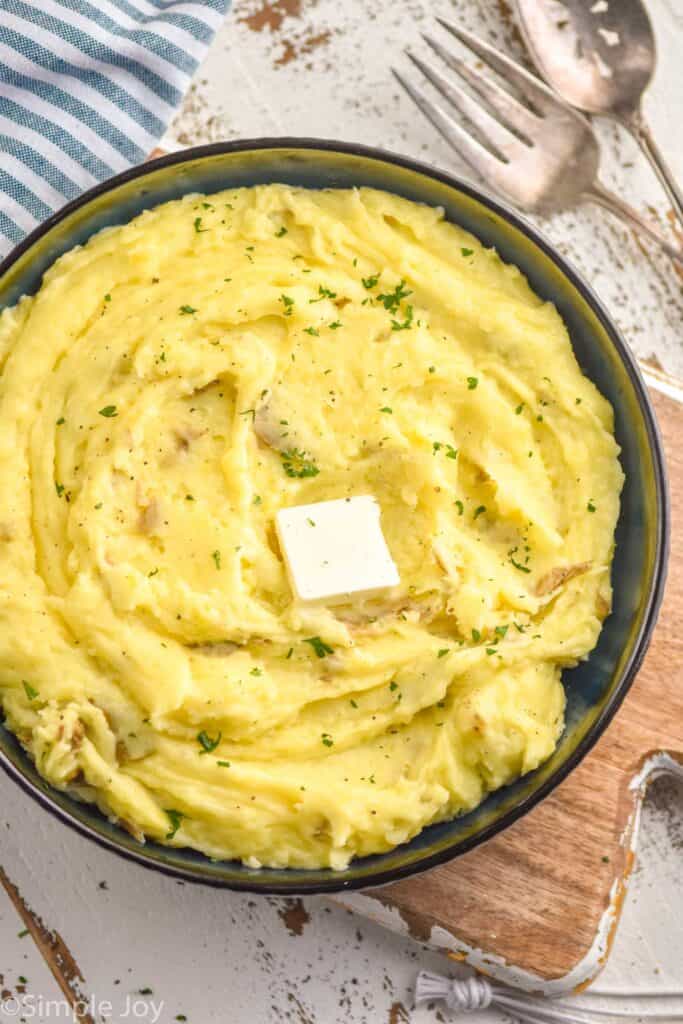 Other Great Thanksgiving Recipes
If you are looking to round out your holiday, here are some of my favorites:
If you try any of these recipes, leave me a comment and let me know what you think! I love hearing from you.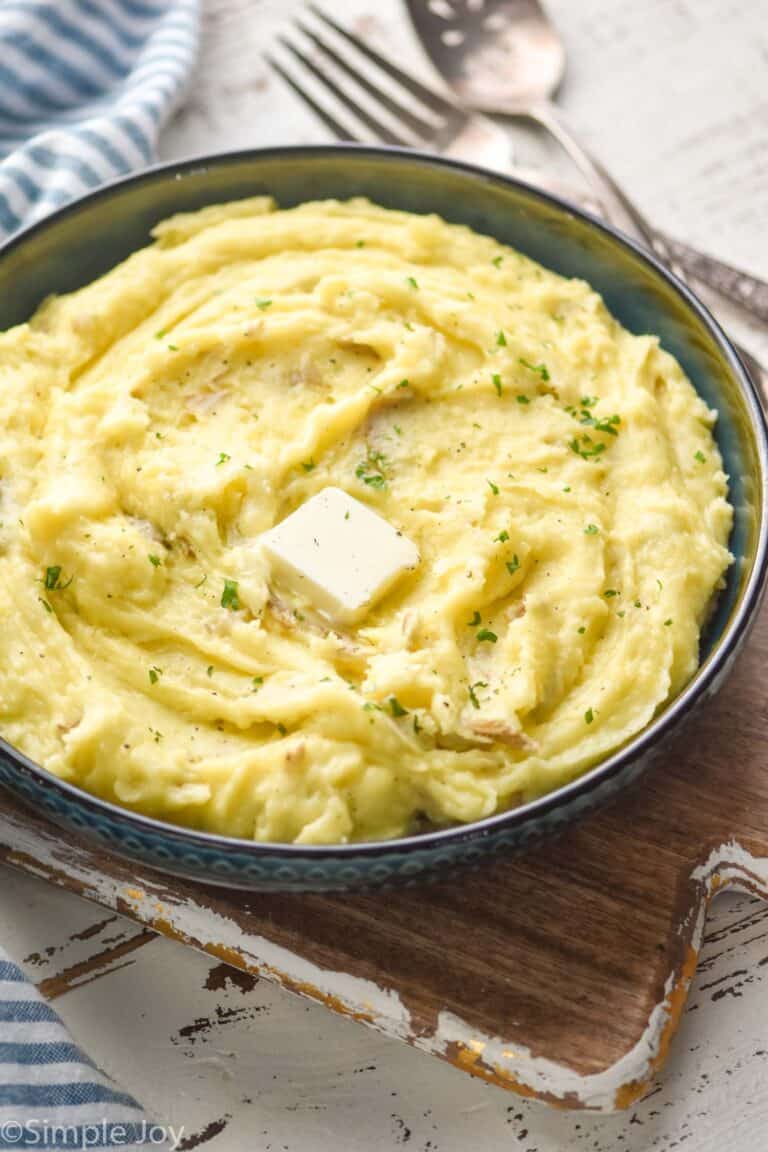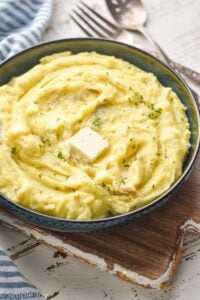 Three Ingredient Mashed Potatoes
These Three Ingredient Mashed Potatoes are the perfect easy side dish recipe. This easy mashed potato recipe is simple enough for a weeknight meal, but delicious enough to make for holidays.
Ingredients
5

pounds

Yukon gold potatoes

peeled or not, and quartered

3

tablespoons

kosher salt

1

pound

butter

room temperature and cut into 1 inch pieces

8

ounces

cream cheese

softened to room temperature
Instructions
Add the potatoes to a large stock pot. Fill with water and cover so that there is an inch of water above to top of the potatoes. Bring to a boil.

Once at a roaring boil, add the salt. Boil, uncovered, for 15 minutes or until you are able to easily mash a potato with the back of a spoon.

For rustic potatoes, as pictured here, transfer the potatoes to a bowl with a slotted spoon. Add in the butter and cream cheese. Mash with a hand masher, and then stir with a sturdy spoon until desired consistency.

For smoother potatoes (make sure to peel them before cooking), pass the potatoes through a potato ricer or food mill. Then transfer to a bowl with the cream cheese and butter. Stir with a sturdy spoon until smooth.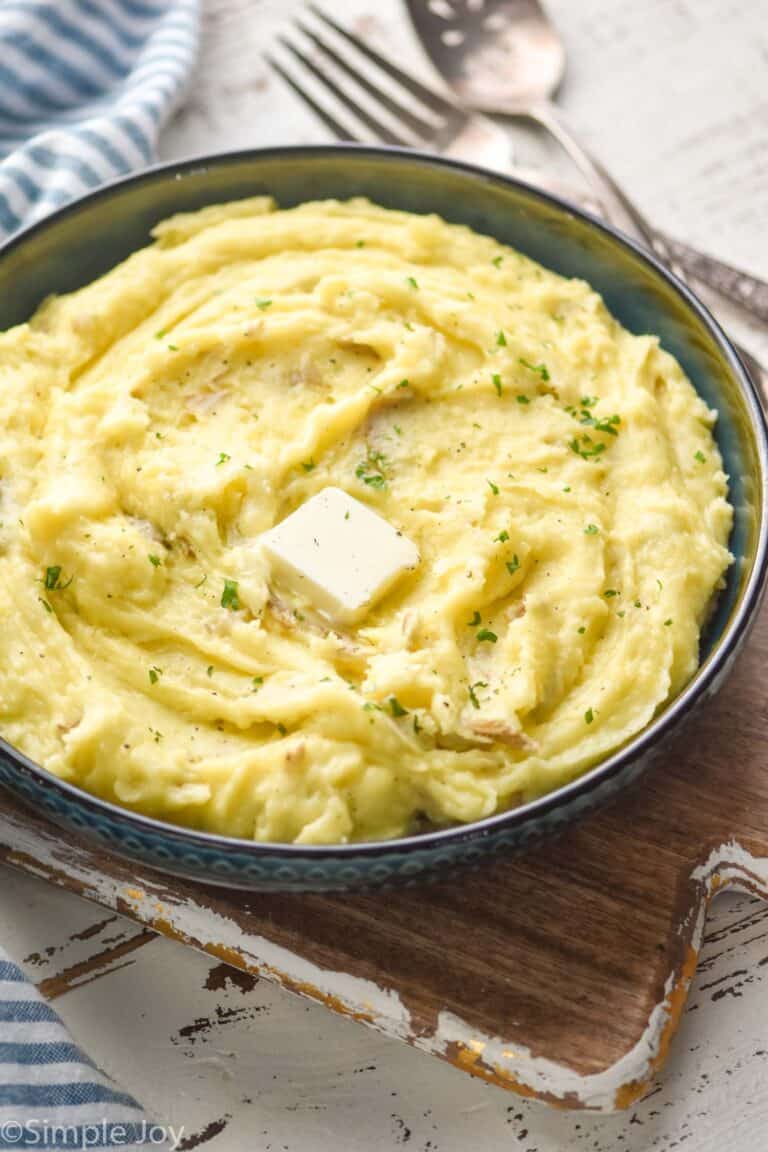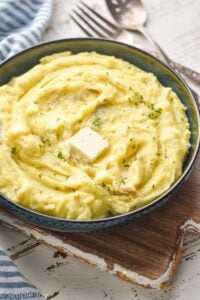 did you make this
Three Ingredient Mashed Potatoes