This Lemon Bar Dip is only 3 INGREDIENTS and is so simple easy and delicious!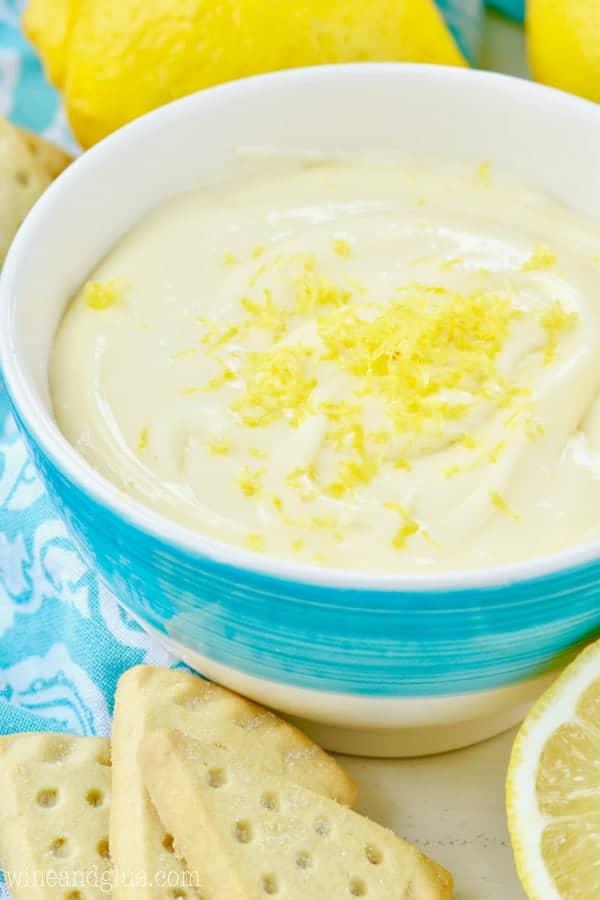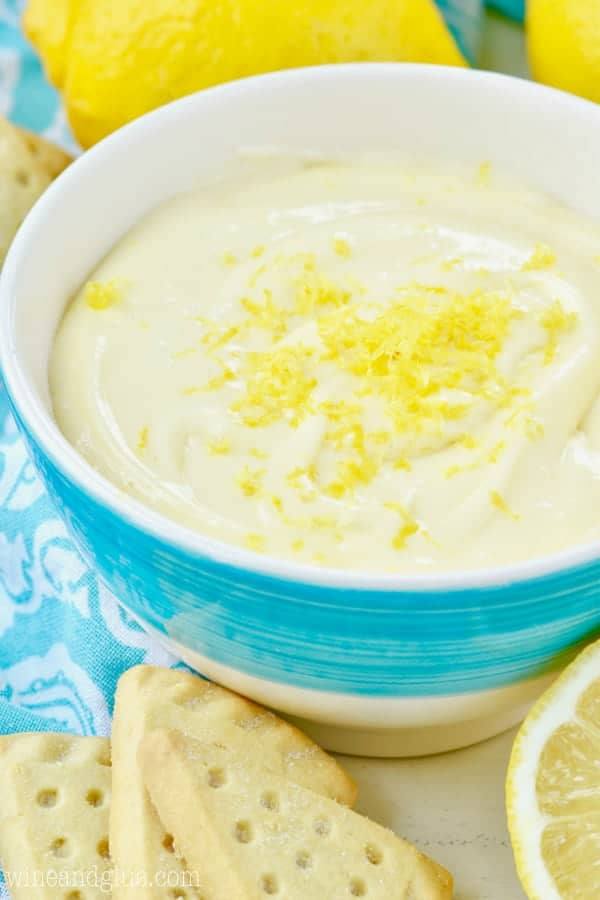 So it turns out I'm kind of a jerk.
The other day I was listening to one of my favorite podcasts (How to Be a Girl – grab a box of tissues), and Marlo was saying that she is going to be taking a break for a while after her next episode, the last one of the current season (which I just listened to and now I want everyone on both sides of the aisle to listen to). She was talking about how hard it is to produce a podcast, how it leads to late nights, time away from her daughter, and how she felt like she was burning the candle at both ends.
And I'm thinking, selfishly, "But really how hard is it to produce a podcast about your life?? You just record yourself talking!!"
#jerkstore
This especially makes me a jerk store because this is an issue that I have dealt with since I started blogging. Something that seems like a hobby but is actually a labor of love and takes a significant amount of time away from your life . . . . like a full time job.
I'm sorry, Marlo. Your podcast is brilliantly produced, which is probably why I adore it so much, and so I'm sure it takes countless hours to record, create, and produce. Take all the time you need. I will be eagerly anticipating Season Two.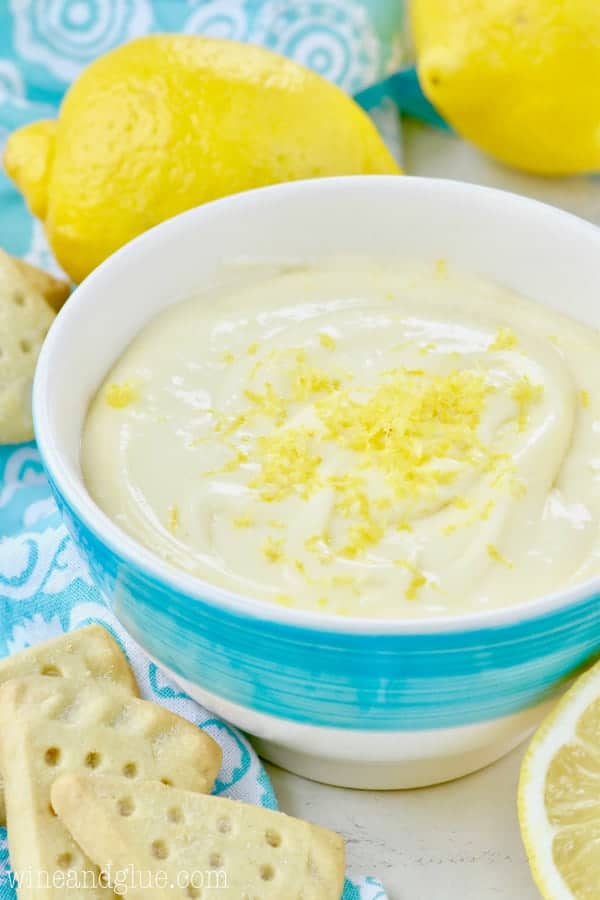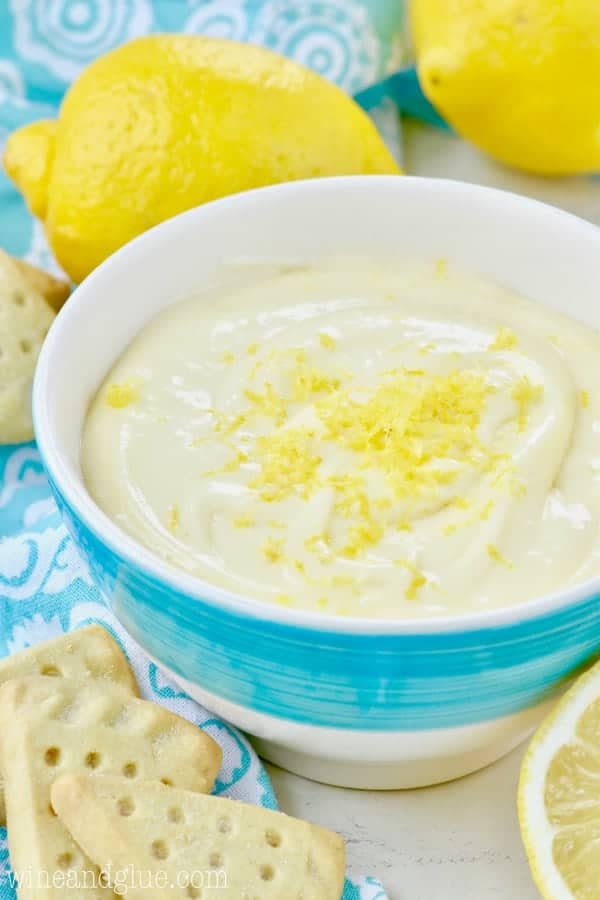 I have actually had people tell me, when I tell them that I'm a food blogger, that it sounds "so fun" and that they should start a food blog. This is especially true when I mention how I am able to make a better living doing it than when I worked full time out of the house.
While it is true that literally anyone can start a food blog, I have to say . . . . it's super hard, guys. This is not a poor me blog post, because I know that all of you work **really** hard doing things you love (or don't love) to support your families. I guess, it's just frustrating when I put in upwards of 50 to 60 hours of week into a job  . . . and have people treat it like a cute hobby.
You know?
So if you, my friend, are also doing a creative labor of love that seems "cute" to others but actually takes all your blood, sweat, and tears, hang in there. Because at the end of the day, I will take all the hobby comments, I will take the friends who don't get why I'm not responding to emails immediately while they can see me on social media promoting the blog, I will take the people who think they can do exactly what I'm doing at the drop of a hat. I will take it all if it means I get to do this.
My parents always told me to find a job that you can't believe you get paid to do . . . and here I am.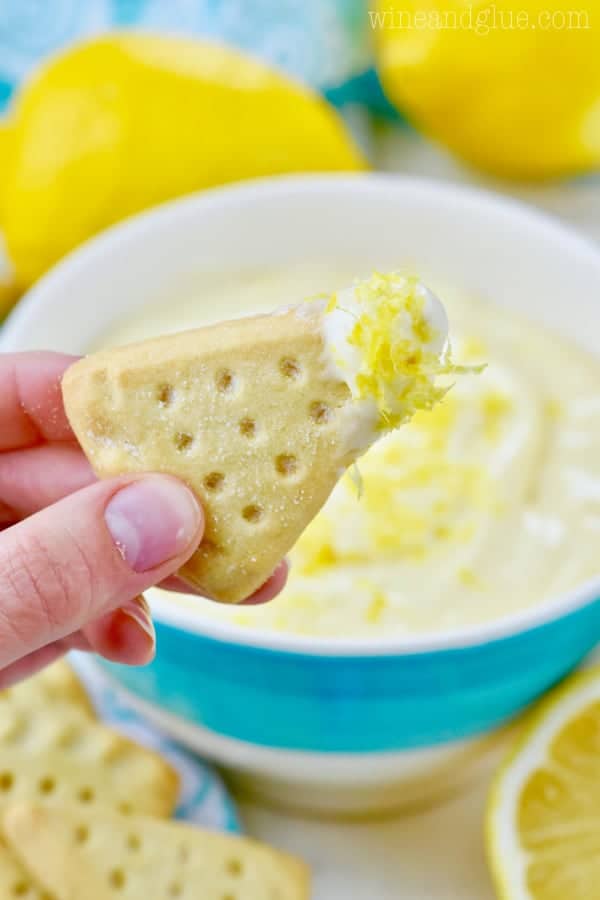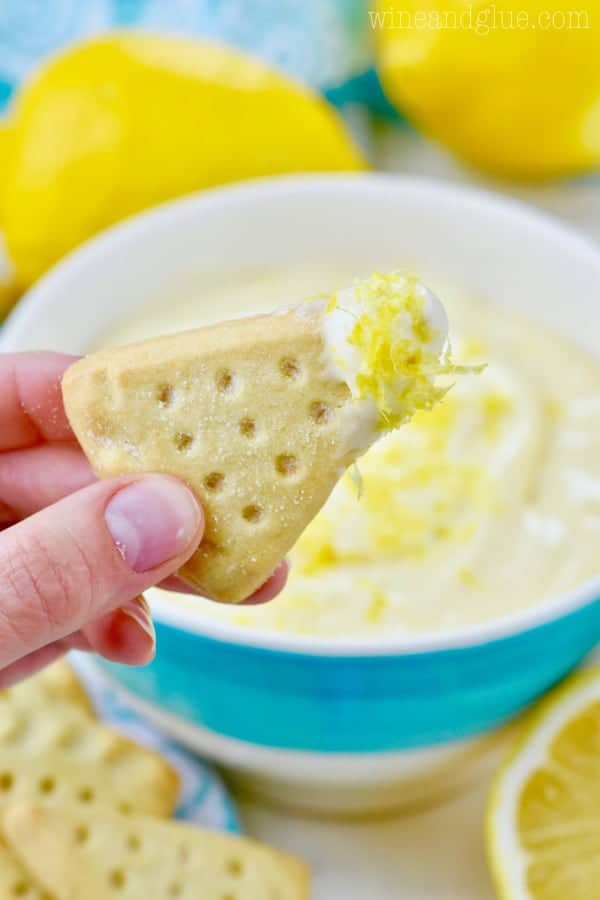 Because, honestly, taking a video and photographs of Lemon Bar Dip (even if that happens while I have to intermittently take breaks to help the toddler with her puzzle) is pretty amazing. I seriously love my job.
This Lemon Bar Dip was inspired by basically every.single.thing on Dorothy's beautiful work of art blog, Crazy for Crust. She does all the lemony things and they always look spectacular. She has been a blogging friend for something like 400 years now, and I couldn't do this "cute hobby" without her.
This Lemon Bar Dip is only three ingredients – cream cheese, lemon curd (found with jellies and jams or in the baking aisle, but if you can't find any,I have a recipe for easy microwave lemon curd), and powdered sugar. I added some lemon zest to the top, but you can skip that step. It's just for prettiness. Then serve it with some short bread cookies or graham crackers. Piper got to try it (during a puzzle break) and wanted to eat allllllllll of it.
I feel like this post should end with something like, when life gives you lemons make Lemon Bar Dip, but we all know it's really when life gives you lemons make a lemon drop martini.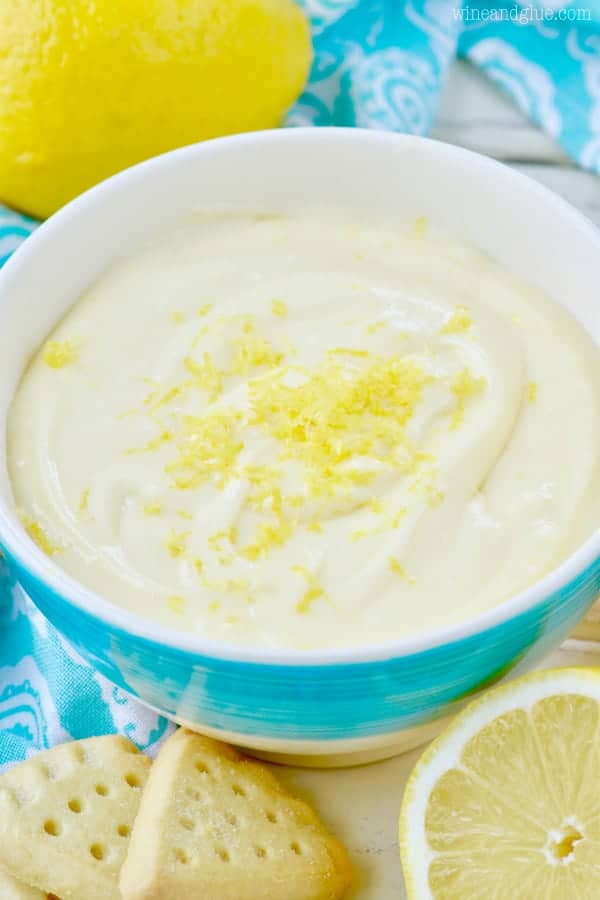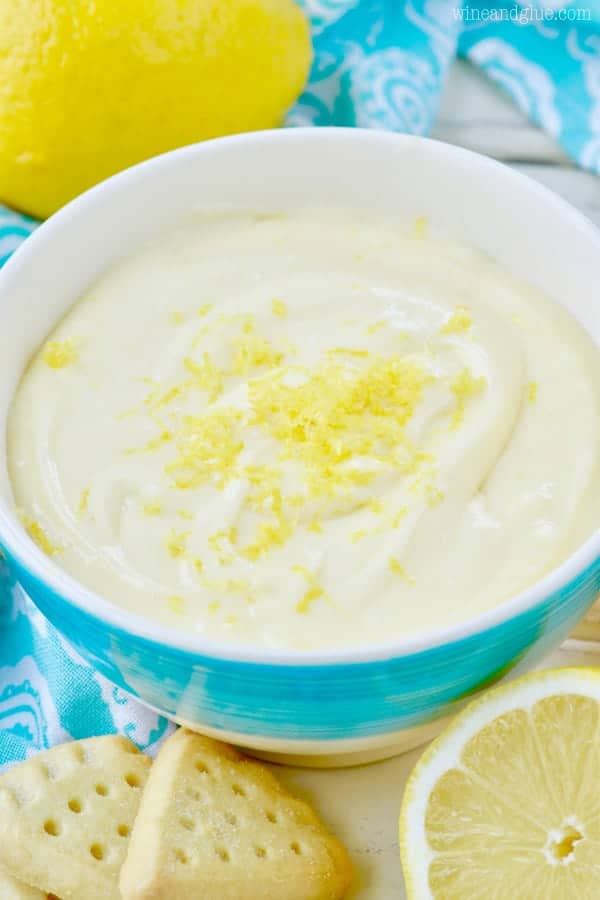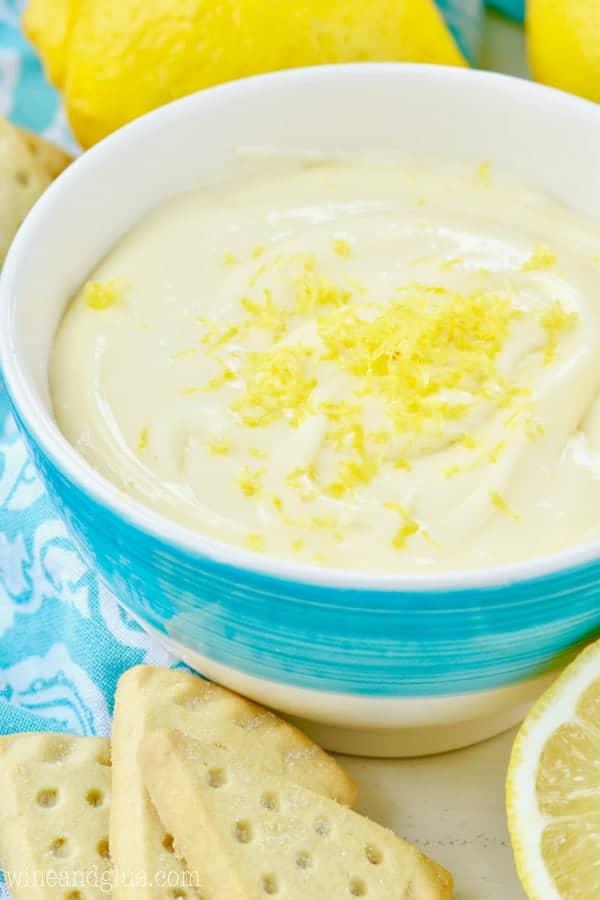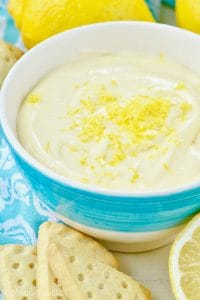 Lemon Bar Dip
Ingredients
8

oz

cream cheese

room temperature

11

oz

lemon curd

1

cup

powdered sugar

lemon zest for topping

optional

short bread cookies or graham crackers for serving
Instructions
Blend all the ingredients together and serve.

This can be made ahead and stored in an air tight container in the refrigerator for up to two days.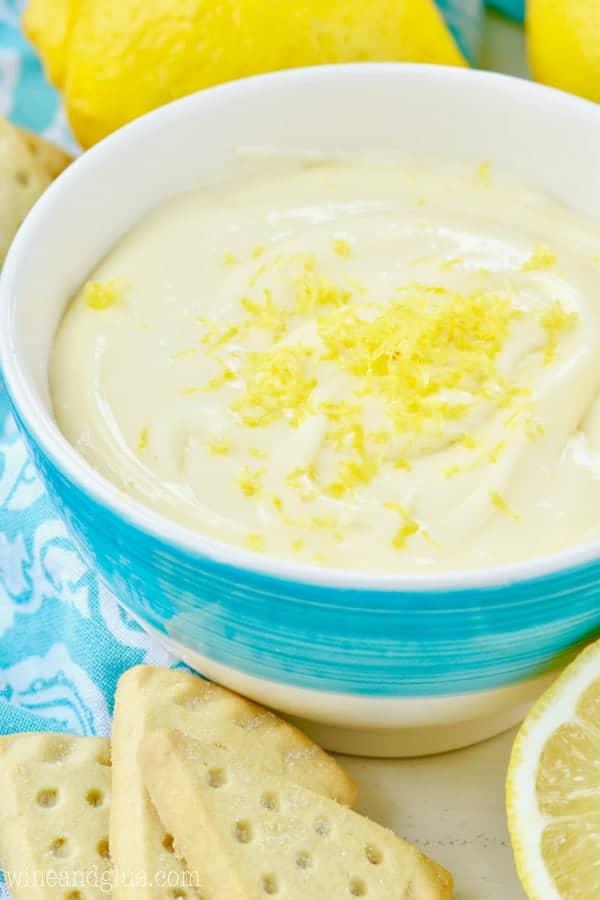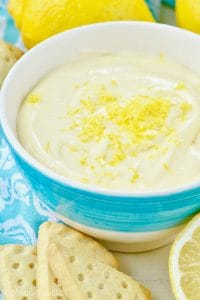 did you make this
Lemon Bar Dip
Looking for more lemon?
Lemon Pound Cake by Grand Baby Cakes
Lemon Cheesecake Bars by Shugary Sweets
Meyer Lemon Cake by View From Great Island
Lemon Bar Rice Krispies Treats
Lemon Cheesecake Crescent Braid