Lemon Sugar Cookies are crisp on the outside and soft on the inside, with the perfect hint of lemon and a simple lemon icing on top. They're melt-in-your-mouth delicious!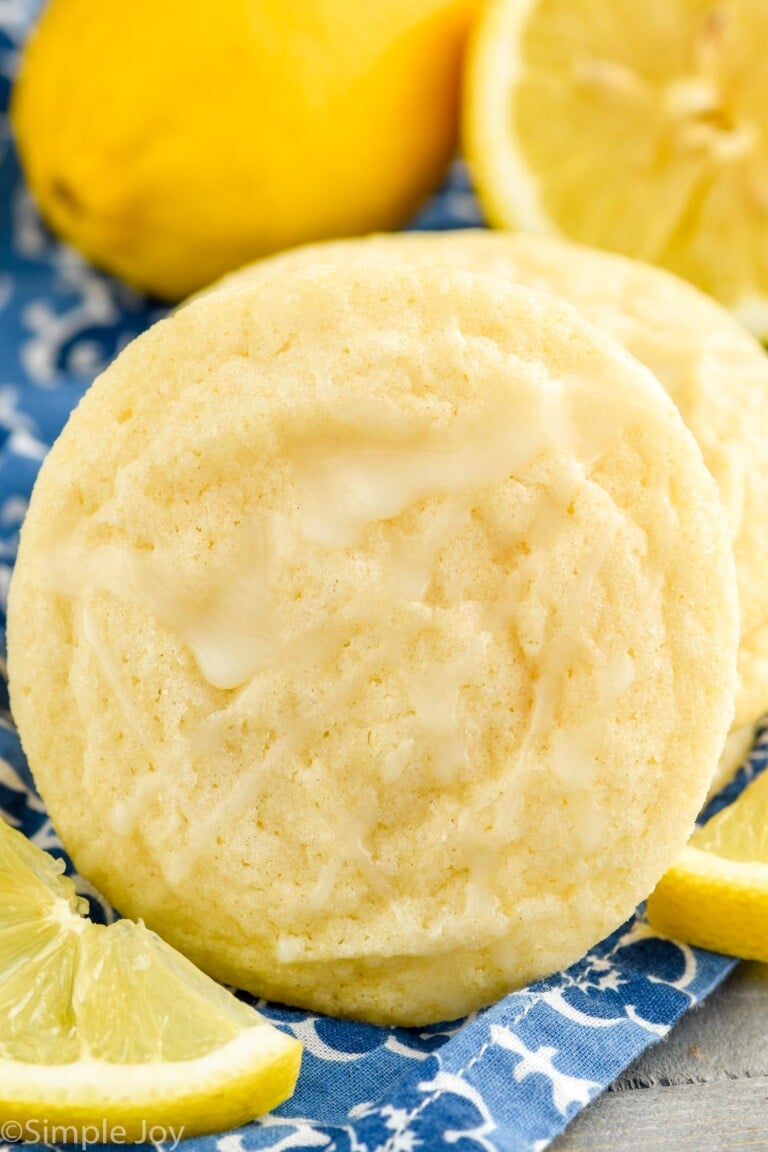 If you are a lemon lover like me, you are going to run not walk to the kitchen to make these amazing Lemon Sugar Cookies. They are based on this five star Sugar Cookie recipe. These cookies have the perfect crisp outside, a buttery smooth inside, and the best taste of lemon. They are absolutely phenomenal.
Best Sugar Cookie Recipe
This Sugar Cookie recipe stands the test of time. Crisp on the outside, but buttery soft on the inside, this is a family favorite!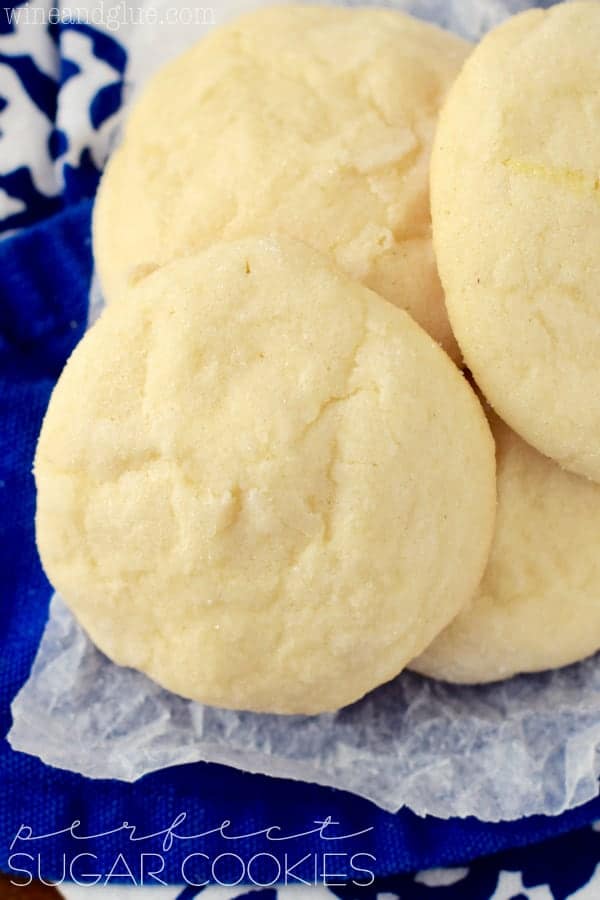 Reader Review
Wow! Made these for my family tonight and they were AMAZING! Soft, chewy and so flavorful! Thanks for sharing!
How to Make Lemon Sugar Cookies
This is a brief overview of how to make these delicious, perfect cookies. For the full recipe with all of the ingredients, see the recipe card at the bottom of the post.
Mix together the dry ingredients. In a medium bowl combine the flour, baking powder, and salt.
Cream the sugar. In a large bowl with a hand mixer or in the bowl of a stand mixer, cream together the butter and sugar until it is light and fluffy.
Add in the eggs and lemon extract. Add the eggs one at a time. Then add in the lemon extract. Blend until it is fully combined.
Add the dry ingredients to the wet ingredients. Read more about this step below.
Roll into dough balls. Roll the dough into one inch balls, approximately one and a half tablespoons. I love using this cookie scoop for this task. It keeps the cookies uniform in size. Gently press down the cookie and bake.
Make the white chocolate glaze. Combine the white chocolate, milk, and lemon extract and microwave in 30 second intervals. Drizzle over the cooled cookies.
TOP PICK
Cookie Scoop
I love this 1 1/2 tablespoon cookie scoop. It is perfect to make uniform cookies that cook evenly.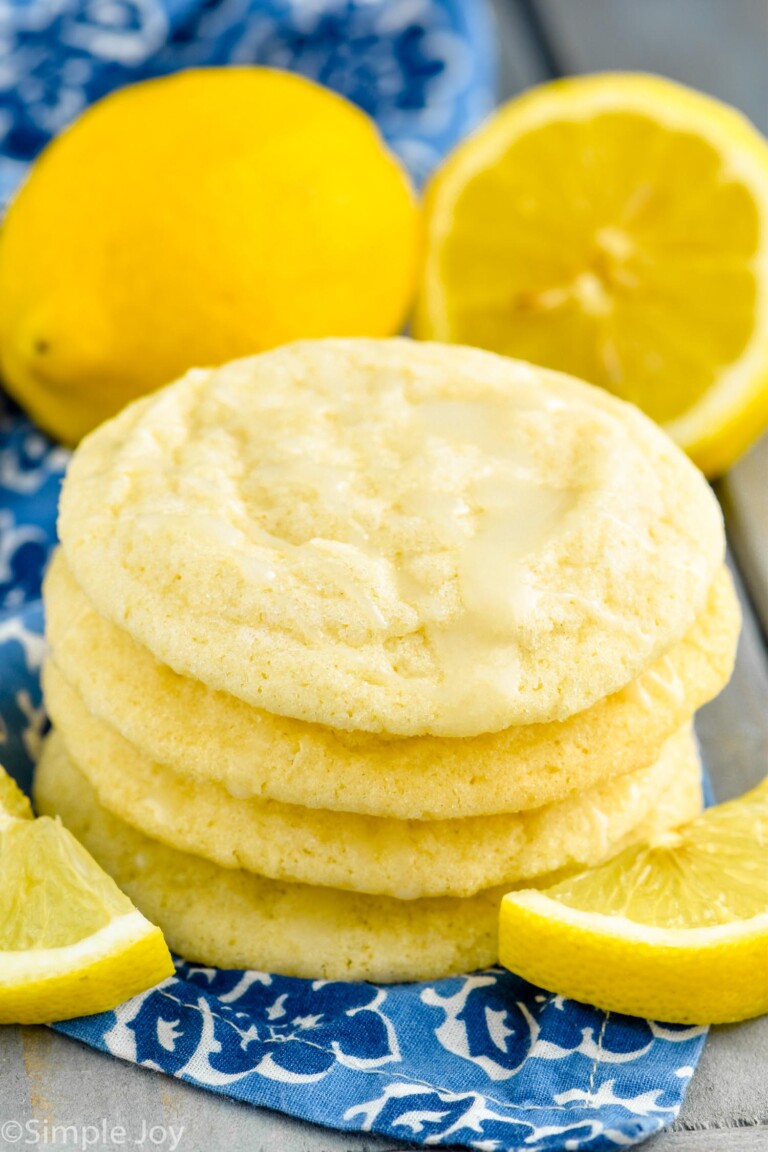 Lemon Extract vs. Lemon Juice
The primary difference between lemon extract and lemon juice is the acidity that they bring to the recipe. Lemon extract brings the flavor without the acidity, and lemon juice brings both, but not as intense of a lemon flavor.
If you choose to use lemon juice instead of lemon extract, you run the risk of the cookies rising too fast and then not having the structural support they need to hold that rise, so they can then collapse. It won't ruin the cookies or the taste, it will just make for a different texture and a less intense lemon flavor.
If you want to skip the lemon extract, consider using two teaspoons of lemon zest instead of lemon juice.
Tips and Tricks
These are a few simple things that will ensure that your sugar cookies turn out perfect. Keep these tips in your brain, because they are helpful for all cookie recipes.
Measure your flour properly. This is such an important step, it gets its own section below.
Ensure your butter is room temperature. You should be able to push your finger into it and make a small dent but not go all the way through. The butter will actually feel cold to the touch.
The eggs should also be room temperature. Eggs that are fresh from the refrigerator can lower the temperature of everything else. A quick way to bring them to room temperature is to put them in a bowl of lukewarm water for five minutes.
Cream the butter for at least three minutes. The purpose of this step is to beat air into the sugar, which makes for light and fluffy cookies. We aren't just mixing the two ingredients in this step, we are creaming them together, so make sure it gets its time.
Keep your pans cool. If you are baking in batches and need to use your baking pans more than once, you need to make sure that they have cooled before you put more dough on them. You don't want the cookies to start cooking before you pop them in the oven.
Keep the cookies uniform in size. This way they will cook evenly. A great way to do this is by using a cookie scoop. My favorite scoop is linked above.
Measuring Flour for Cookies
Measuring flour correctly is the best way to ensure that your baked recipes turn out the way you want them to. When you don't follow these steps your flour can pack and you can end up with up to 25% more flour than you want. This will result in dry cookies.
While your best bet is to measure the flour with a kitchen scale, I know not everyone has one. Follow these steps and these cookies will be perfect.
Whisk the flour. In whatever container your store the flour in, give it a whisk before you measure it.
Use a spoon to scoop your flour. If you scoop the flour with the measuring cup, it can pack. Use a kitchen spoon to scoop the flour into the measuring cup.
Level it off. Using the flat edge of a spatula, level off the flour.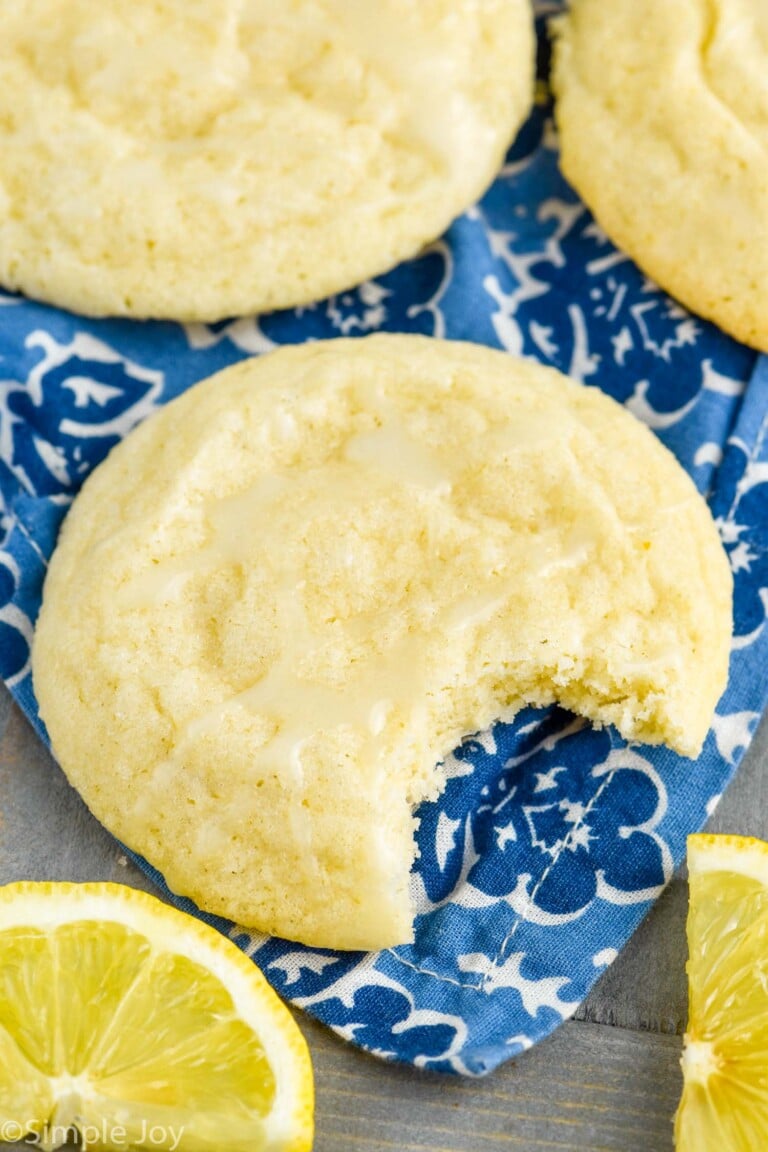 Storing and Freezing
Leftover cookies can be stored in an airtight container at room temperature for one to two weeks. As with all recipes, use your best discretion when it comes to leftovers.
These cookies freeze great! Freeze them in a single layer for four hours before transferring them to an airtight container. Store them in the freezer for up to three months.
These can also be frozen as dough balls. Freeze the dough balls in a single layer. Once completely frozen (about four hours), transfer them to an airtight container. The dough balls can be baked right from frozen. Bake them in a 350 degrees Fahrenheit oven for 10 to 12 minutes.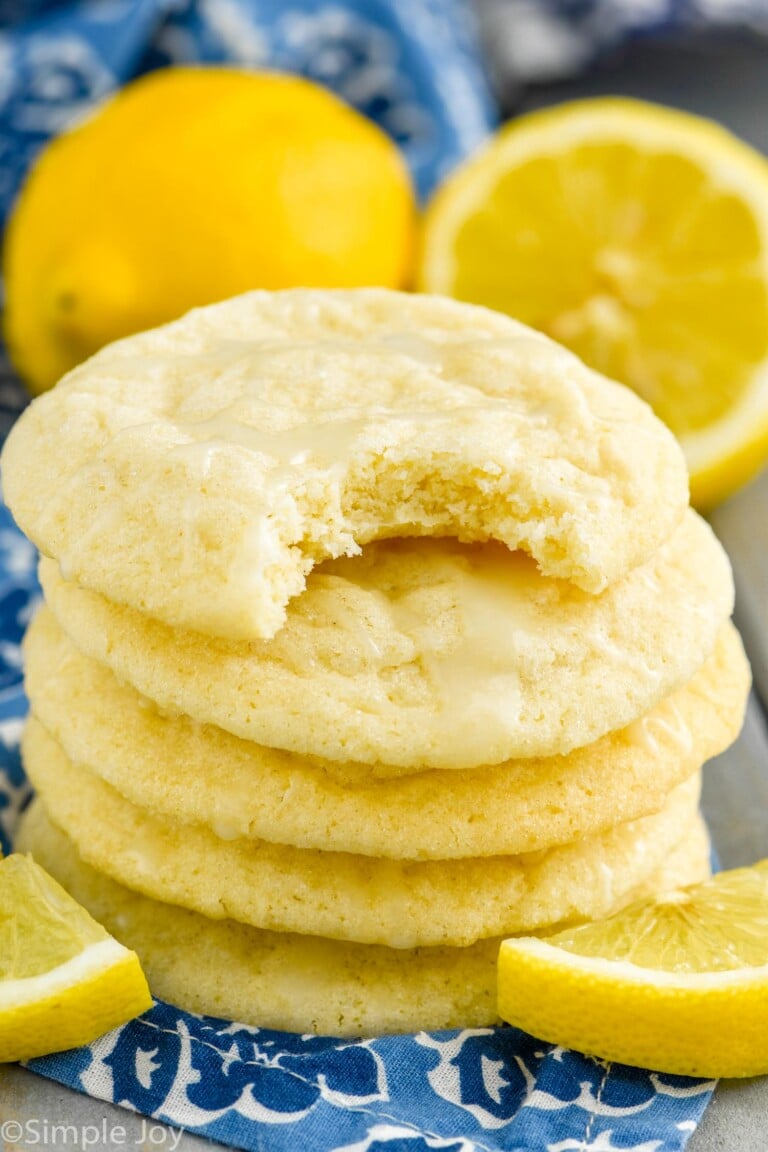 Other Great Sugar Cookie Recipes
I am so obsessed with the original sugar cookie recipe, that I've turned it into so many different iterations.
I love hearing feedback from you. Please leave me a comment below and enjoy this Lemon Sugar Cookie recipe.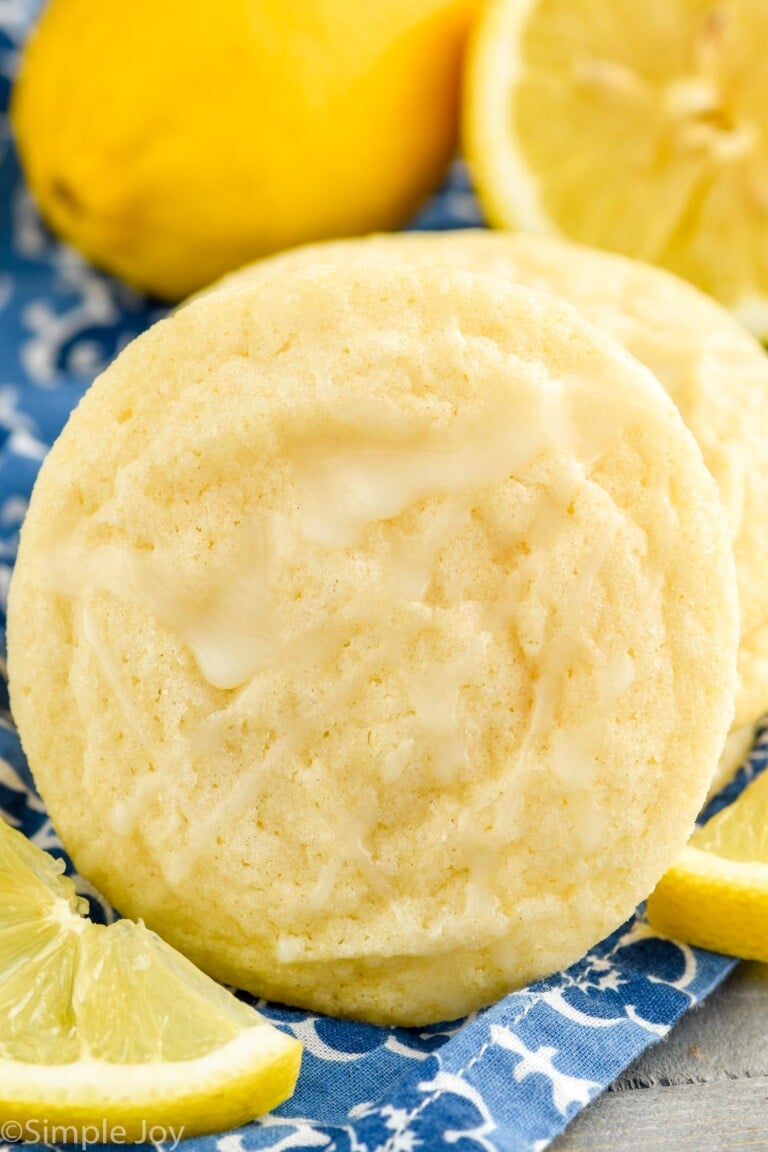 Lemon Sugar Cookies
Lemon Sugar Cookies are crisp on the outside and soft on the inside, with the perfect hint of lemon and a simple lemon icing on top. They're melt-in-your-mouth delicious!
Ingredients
Lemon Sugar Cookies
2 1/2

cups

all purpose flour

300 grams (read here about measuring flour for cookies)

1/2

teaspoon

baking powder

2 grams

1/2

teaspoon

table salt

9 grams

1 1/2

cups

granulated sugar

297 grams

14

tablespoons

unsalted butter

197.75 (room temperature)

2

large eggs

2

teaspoons

lemon extract

9.9 ml (read about the difference between lemon juice and lemon extract here.)
Icing (optional)
1/2

cup

white chocolate chips

85 grams

2

teaspoons

milk

9.9 ml

1/4

teaspoon

lemon extract

1.23 ml
Instructions
Lemon Sugar Cookies
Preheat your oven to 350 degrees Fahrenheit. Line rimmed baking sheets with parchment paper.

In a medium bowl, whisk together the flour, baking powder, and salt. Set aside.

2 1/2 cups all purpose flour,

1/2 teaspoon baking powder,

1/2 teaspoon table salt

In a large bowl with a hand mixer or in the bowl of a stand mixer, mix together the butter and sugar until light and fluffy, about three to six minutes.

1 1/2 cups granulated sugar,

14 tablespoons unsalted butter

Mix in the eggs one at a time. Once they are combined, add the lemon extract until well combined. Scrape down the sides of the bowl as necessary.

2 teaspoons lemon extract,

2 large eggs

Add the flour mixture. Mix on low only until the flour is combined enough not to fly out of the bowl. Turn the mixer all the way up, just until combined. Be careful not to over-mix.

Roll the dough into one inch sized balls. Place on the prepared baking sheets about two inches apart. Press down lightly. Bake for 10 minutes, rotating the pan halfway through the baking.

Let cool on the pan for about two minutes before moving to a cooling rack to cool completely.
Icing (optional)
After cookies have cooled, melt the icing ingredients together in the microwave in 30 second intervals, stirring in between. Melt until smooth. Drizzle over cookies and allow to cool.

1/2 cup white chocolate chips,

2 teaspoons milk,

1/4 teaspoon lemon extract
Serving:
1
cookie
Calories:
154
kcal
(8%)
Carbohydrates:
21
g
(7%)
Protein:
2
g
(4%)
Fat:
7
g
(11%)
Saturated Fat:
5
g
(31%)
Monounsaturated Fat:
2
g
Cholesterol:
29
mg
(10%)
Sodium:
92
mg
(4%)
Potassium:
9
mg
Sugar:
13
g
(14%)
Vitamin A:
200
IU
(4%)
Calcium:
10
mg
(1%)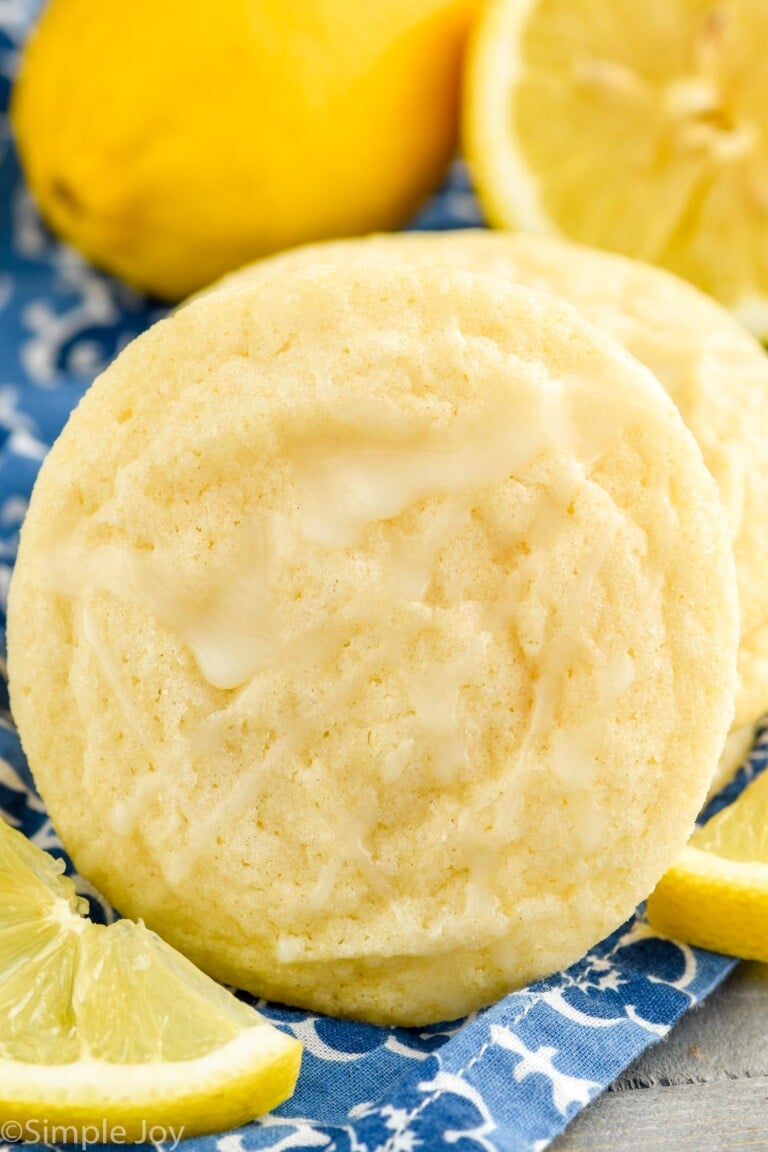 did you make this
Lemon Sugar Cookies