This Sugar Cookie Recipe stands the test of time. Crisp on the outside, but buttery soft on the inside, this is a family favorite!
These are amazing, and I also have a recipe for perfect Cut Out Sugar Cookies.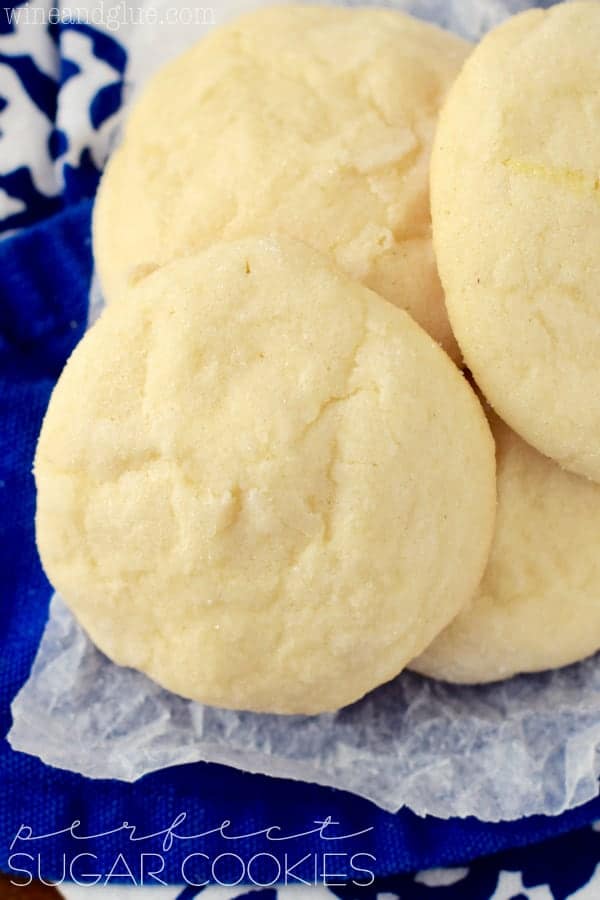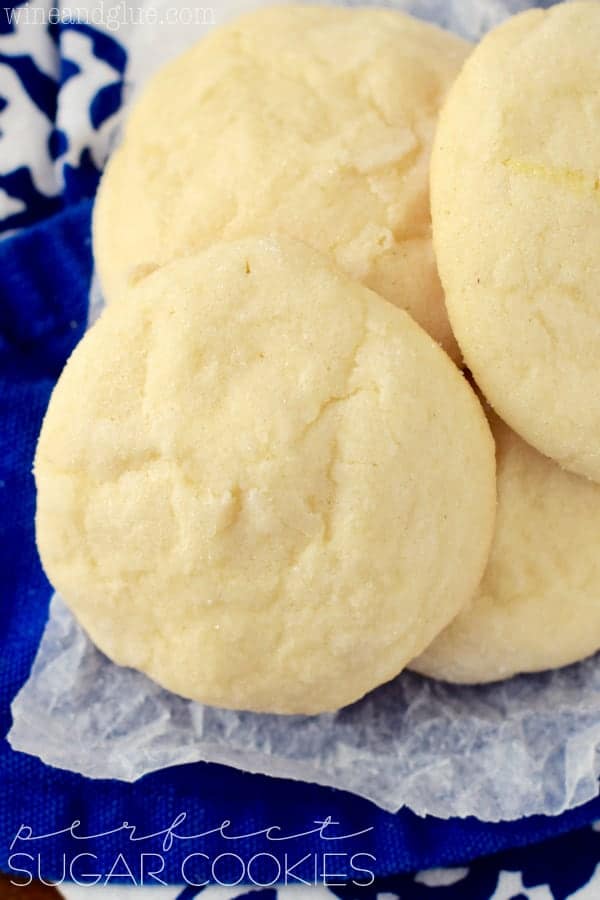 This recipe for sugar cookies is one of my very favorite baked goods. I have made this recipe so many times, I can practically do it in my sleep.
Originally from America's Test Kitchen, you know it is a winner.
By following my simple tips for how to make sugar cookies, these will turn out perfect for you as well. You'll never need another recipe.
This is an older recipe that I'm updating with tons of tips and a video! But it stands the test of time, check out the reviews on it. It's a winner!
WHY THIS WILL BE YOUR FAVORITE COOKIE RECIPE
These cookies have a simple delicious buttery flavor that wins over everyone.
The texture of these sugar cookies is perfection. They are crisp on the outside and buttery soft on the inside.
These homemade sugar cookies don't need any chilling, which means you are that much closer to being able to eat them.
This is an EASY sugar cookie recipe. If baking intimidates you, read on! You can do it.
Whether it is Christmas time, a birthday, or a party at work, this cookie recipe fits every occasion.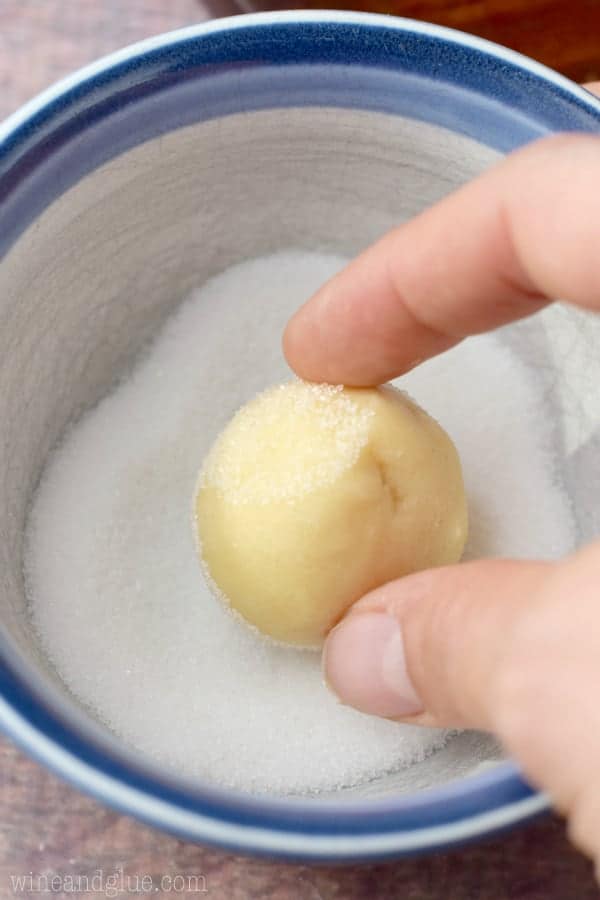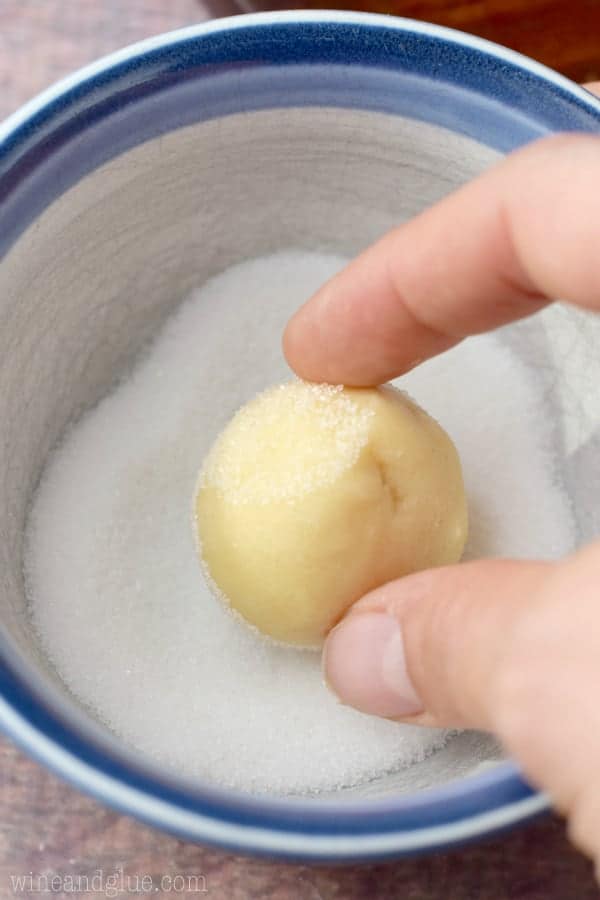 HOW TO MAKE SUGAR COOKIES
As I said, these are easy to make. Once you do it, the steps will feel like second nature. And the tip section below will help too!
In a large bowl whisk together the flour, baking powder, and salt.
Cream together room temperature butter and sugar.
Mix in the eggs, one at a time. Then the vanilla extract.
Add the flour mixture.
Shape into balls, and roll in sugar.
Bake and fall in love.
Done and done.
HOW TO ADD FLOUR TO CREAMED SUGAR
In the last year or so I've changed how I do this, so I wanted to bring your attention to it.
I've done some reading and what I've learned is that adding a flour mixture a little at a time is more likely to result in over mixing.
Once flour hits wet ingredients, the gluten begins to develop. If you beat the flour in too long, it will result in unpleasantly chewy cookies.
For a long time I added flour just a scoop or two at a time. Now, I have a new faster method.
Add in all of the flour mixture at once. Beat on low, just long enough so the flour doesn't fly all over. Then beat on high, just enough so it is combined.
Be sure to scrape your bowl at the bottom with a spatula to make sure all the flour was mixed in. We also don't want to under mix.
Check out the video in the recipe card to see this in action!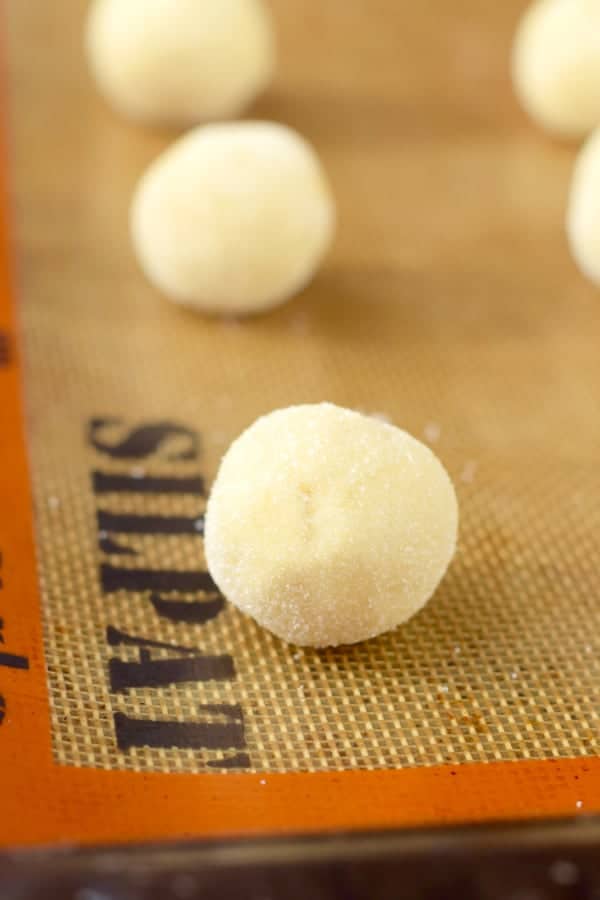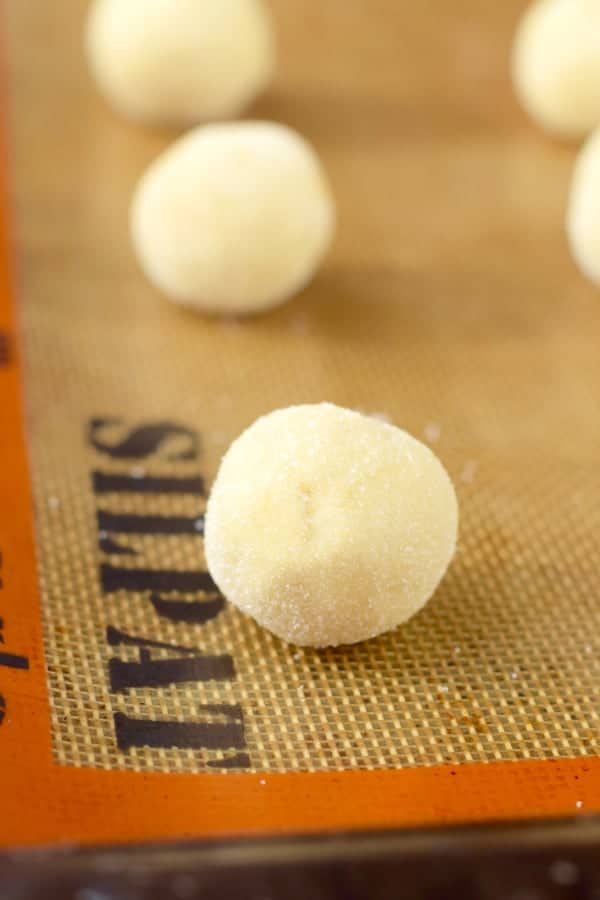 SUGAR COOKIE BAKING TIPS
These tips apply to a lot of my cookies. But I always feel like they need repeating. They help so much.
When measuring the flour, scoop the flour into the measuring cup and then level off. Not scooping right from the container prevents packing the flour and adding too much to the recipe.
Make sure your baking powder is still good. To test, add a little to some water. It should bubble right away.
Fully whisk your dry ingredients. There is no risk of over mixing when it's all dry ingredients and no one wants a pocket of salt in their cookie.
Make sure your butter is room temperature. Don't soften in the microwave. Cut it up and let it sit on the counter for 30 minutes. You should be able to easily dent it with your finger but not push all the way through.
Fully cream your butter and your sugar. It should look light and fluffy after mixing. Doing this will create lighter cookies. And BONUS! You will get more cookies out of your batch of dough.
Use room temperature eggs. Fill a bowl with luke warm water and let the eggs sit in there while you are doing your other measuring and mixing.
Using a cookie scoop (1 1/2 tablespoon) will make sure that all of your cookies are uniform in size.
Rotate your baking sheet half way through baking so that if your oven doesn't cook evenly, your cookies still will.
Invest in more than one baking sheet so that your dough can start out on a cool baking sheet, not one hot from the oven.
FREEZING SUGAR COOKIE DOUGH
This is a great dough to make ahead and freeze. To do that, follow the recipe through rolling the balls in sugar.
Then you need to:
Press the dough down lightly.
Place on wax paper on a baking tray and put in the freezer for an hour.
Take out and transfer to an airtight container.
Put back in the freezer and store the dough for up to three months.
When you are ready to bake, proceed as directed in the recipe card but bake for an extra 2 minutes.
If you would like to bake the cookies completely, but then freeze the whole cookie, that works too.
Place the baked and cooled cookies on a wax lined baking sheet.
Freeze for an hour.
Remove from the tray and put in an air tight container.
Freeze for up to three months.
Allow to thaw at room temperature before eating.
SPINS ON THIS SUGAR COOKIE RECIPE
I love this recipe so much that I've used it again and again to create some pretty amazing cookies. Check them out!
If you make these cookies and love them, join the others leaving a comment and letting me know!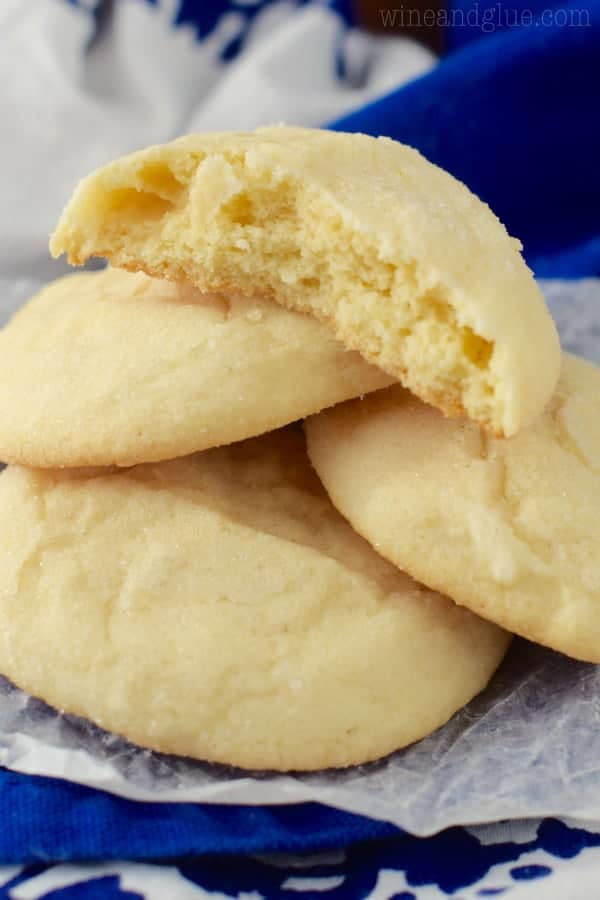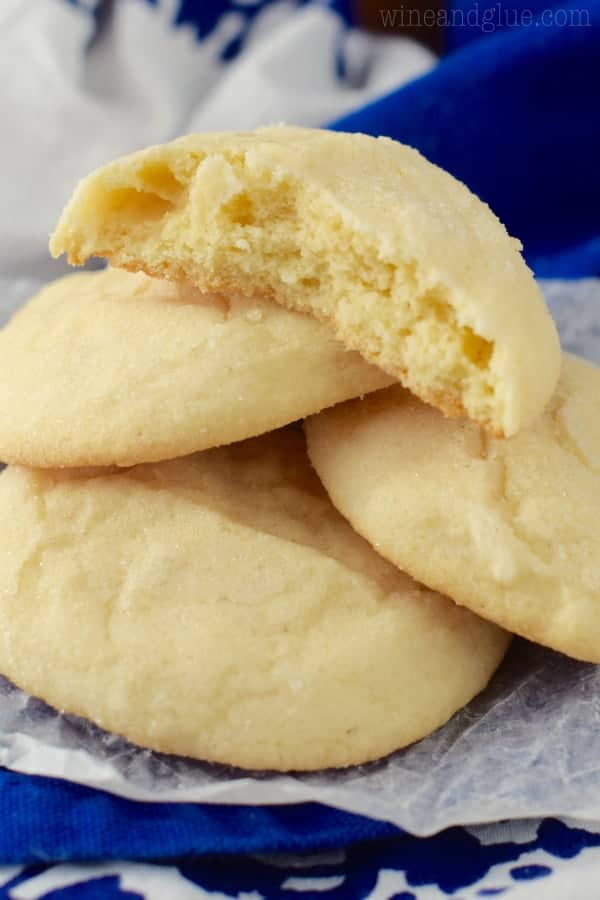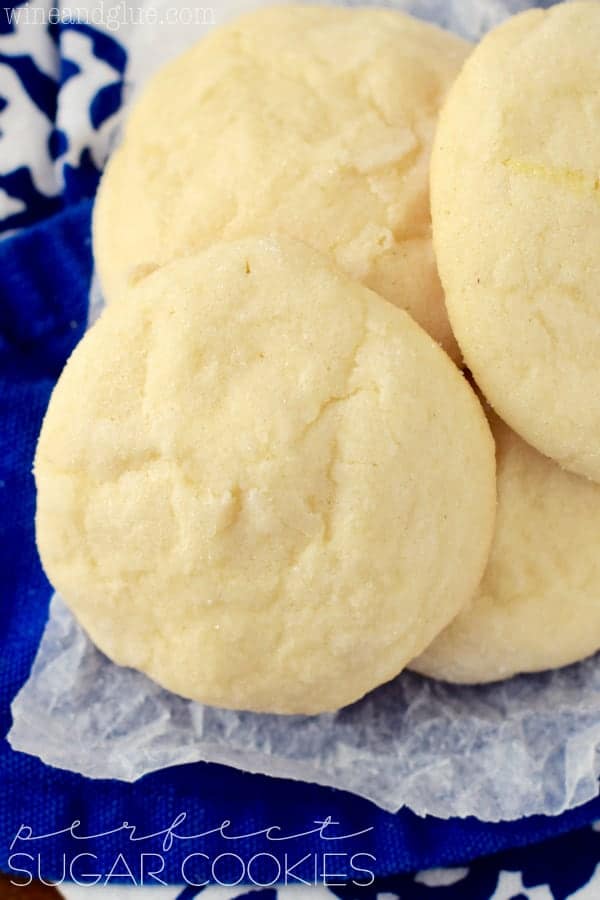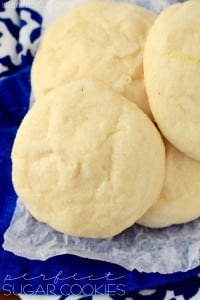 Perfect Sugar Cookies
This Sugar Cookie Recipe stands the test of time. Crisp on the outside, but buttery soft on the inside, this is a family favorite!
Ingredients
1 1/2

cups

sugar

plus extra for rolling

2 1/2

cups

all purpose flour

1/2

teaspoon

baking powder

1/2

teaspoon

salt

14

tablespoons

unsalted butter

room temperature

2

teaspoons

vanilla extract

2

large eggs
Instructions
Preheat your oven to 350 degrees.

In a large bowl, whisk together the flour, baking powder, and salt. Set aside.

With your mixer on medium, mix together the butter and sugar until light and fluffy.

Mix in the eggs (one at a time) and then the vanilla until well combined.

Add the flour mixture to the wet ingredients. Mix on low until combined enough it won't fly everywehre. Then turn up the mixer to high just long enough that you don't see streaks of flour. Scrape down the bowl and ont he bottom to ensure that all the flour is added. Only mix long enough to combine the flour. (See more detailed instructions in the post.)

Roll the dough into one inch sized balls. Roll the balls in sugar. Place on a parchment paper lined baking sheet. Space the cookies about two inches apart.

Bake for 10 minutes, rotating the pan halfway through the baking. (I baked mine in three batches)

Let cool on the pan for about two minutes before moving to a cooling rack to cool completely.

Once cool, store in an airtight container for up to two weeks.
Serving:
1
cookie
Calories:
121
kcal
(6%)
Carbohydrates:
16
g
(5%)
Protein:
1
g
(2%)
Fat:
5
g
(8%)
Saturated Fat:
3
g
(19%)
Monounsaturated Fat:
1
g
Cholesterol:
25
mg
(8%)
Sodium:
84
mg
(4%)
Potassium:
5
mg
Sugar:
9
g
(10%)
Calcium:
5
mg
(1%)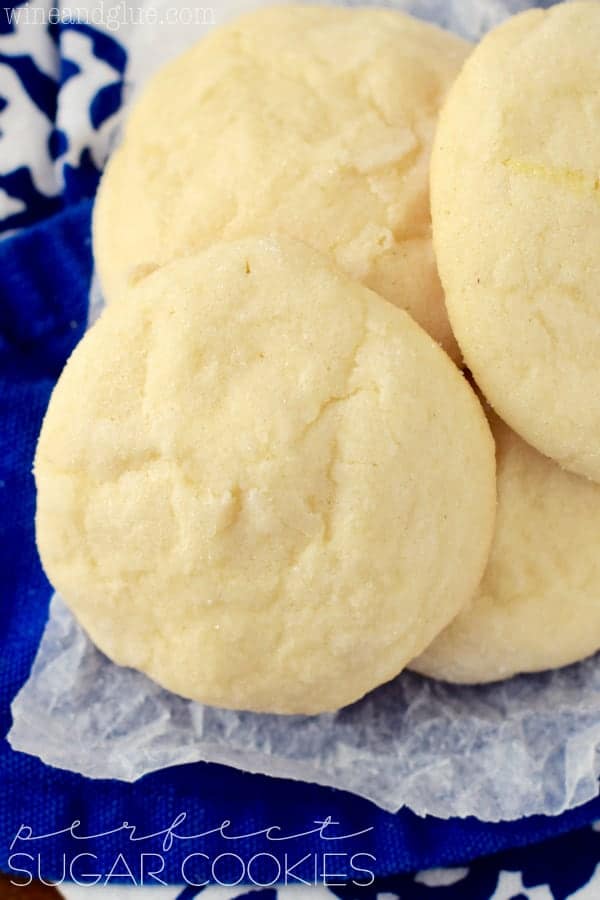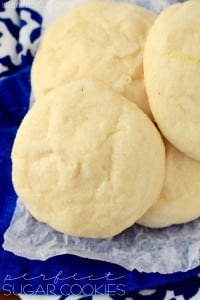 did you make this
Perfect Sugar Cookies