This Skillet Lasagna is a 30 minute easy dinner that your whole family will get behind and love. This is delicious comfort food!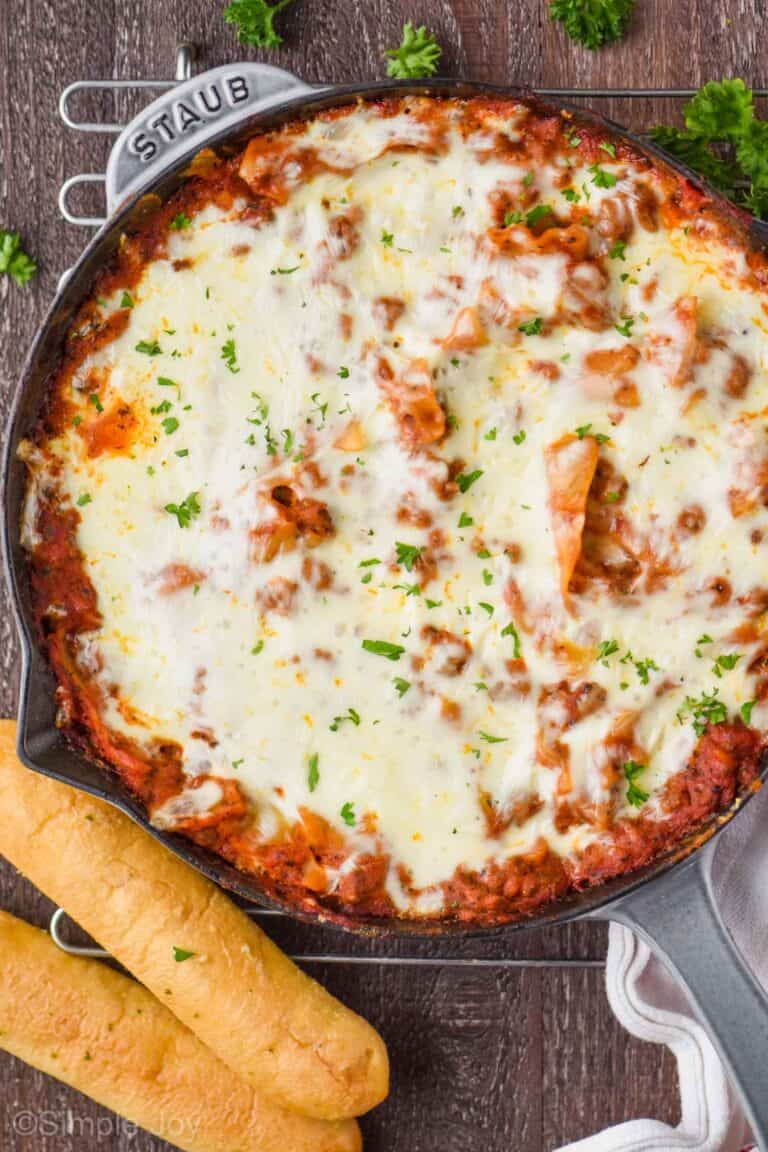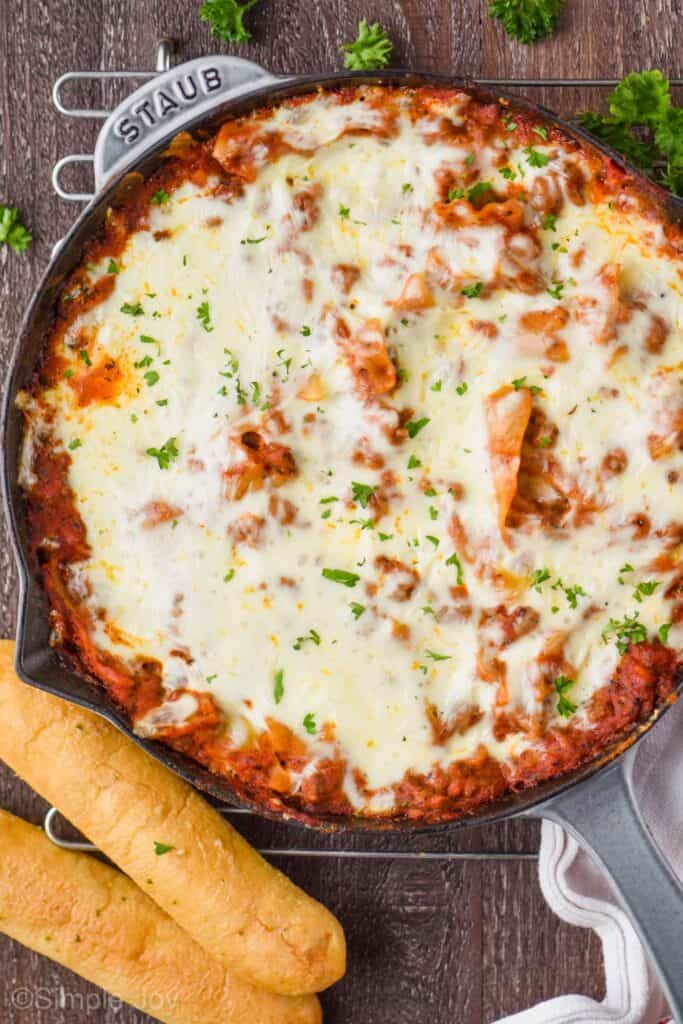 The other night we sat down to dinner after what had been a really long, really hard day. And we were having spaghetti and meatballs for dinner. It was like the most delicious thing I had ever eaten.
I don't know what it is about pasta that is so comforting, but it is.
And sitting there with my bowl of spaghetti, with all the people I love most in the world slurping away, I felt better. My happy place is around the dinner table with my family eating delicious food.
This Skillet Lasagna is perfect for my happy place. It comes together in about 30 minutes and is delicious carb filled comfort food. I know it will be perfect for your family whether you have had a rough day or not.
WHAT IS SKILLET LASAGNA
Skillet Lasagna is like the easiest version of a lasagna you could possibly make. Made all in one pan, with broken up lasagna noodles you don't have to layer.
I love that you can have the taste of lasagna in 30 minutes. This is perfect for a busy work night.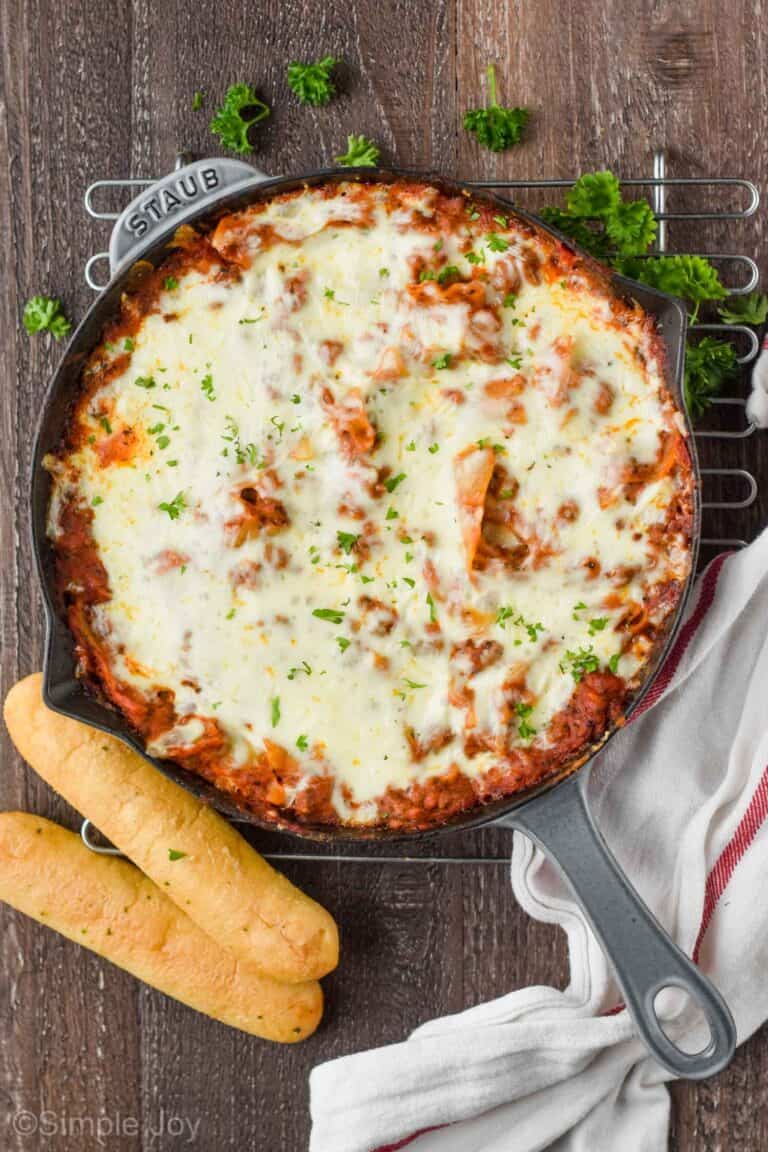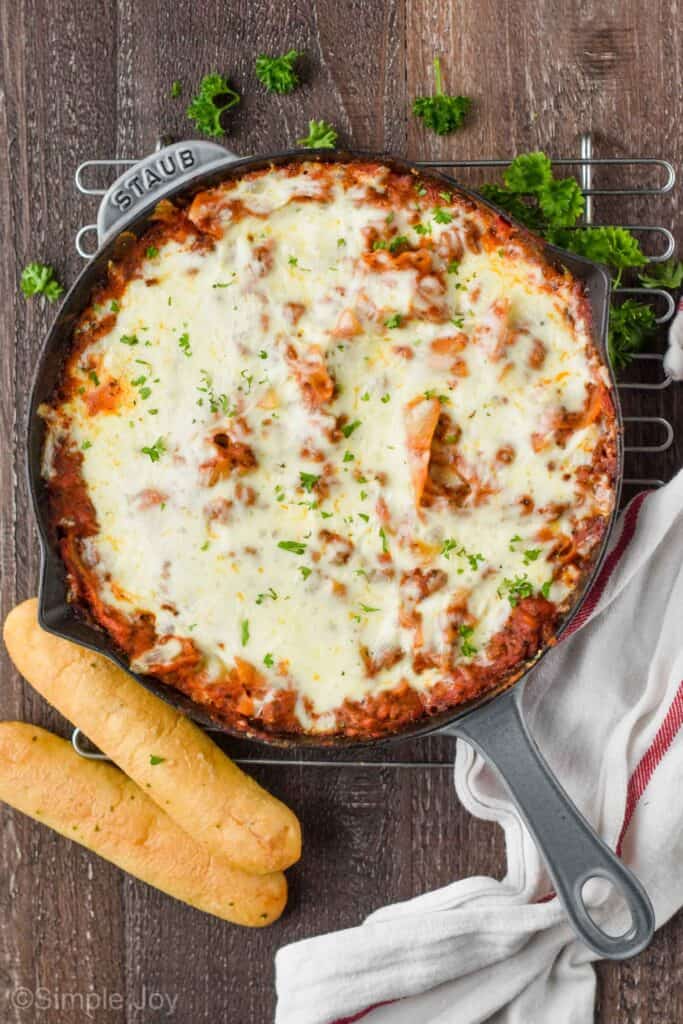 HOW TO MAKE SKILLET LASAGNA
Step 1: Sauté garlic and cook Italian Seasoned meat in a 12 inch skillet on the stovetop.
Step 2: Stir in chicken stock, crushed tomatoes, seasonings, and tomato paste. I love tasting it at this point to see if I want to add more seasonings, or a little more salt and pepper.
Step 3: Stir in broken lasagna noodles, cover, and cook for 10 minutes. Cook uncovered for 5 minutes.
Step 4: Add ricotta cheese, and top with mozzarella. Put in the oven uncovered for 5 to 10 minutes.
I love how simple and easy this recipe is. If you have littles in your house who find lasagna noodles to hard to eat, you can use any noodle with this.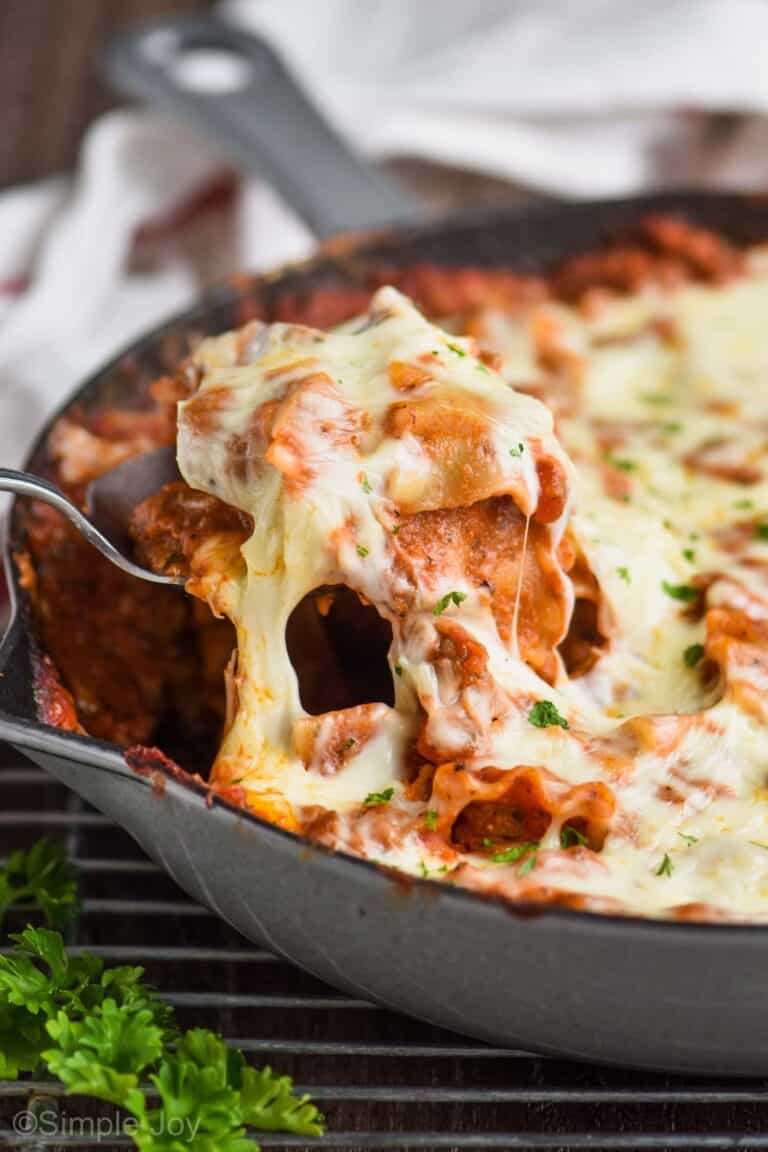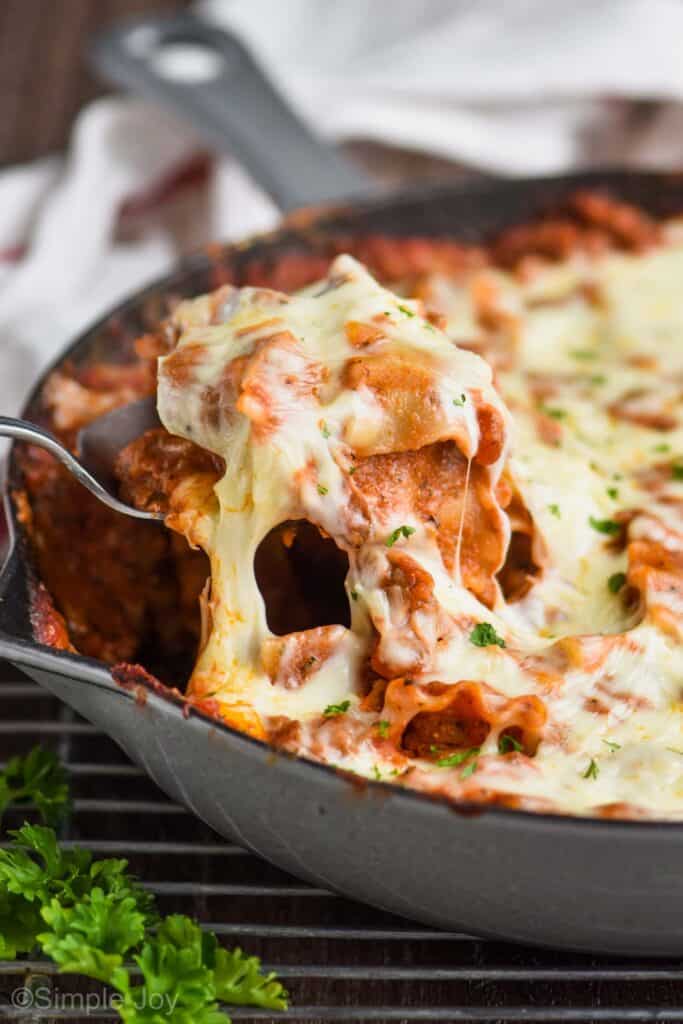 WHAT TO SERVE WITH SKILLET LASAGNA
I love this dinner, but I always try to serve my kids some veggies with their dinner. If you have a big enough skillet, you could definitely add some mushrooms, zucchini, and spinach to this.
Otherwise, some great side dishes for this recipe are: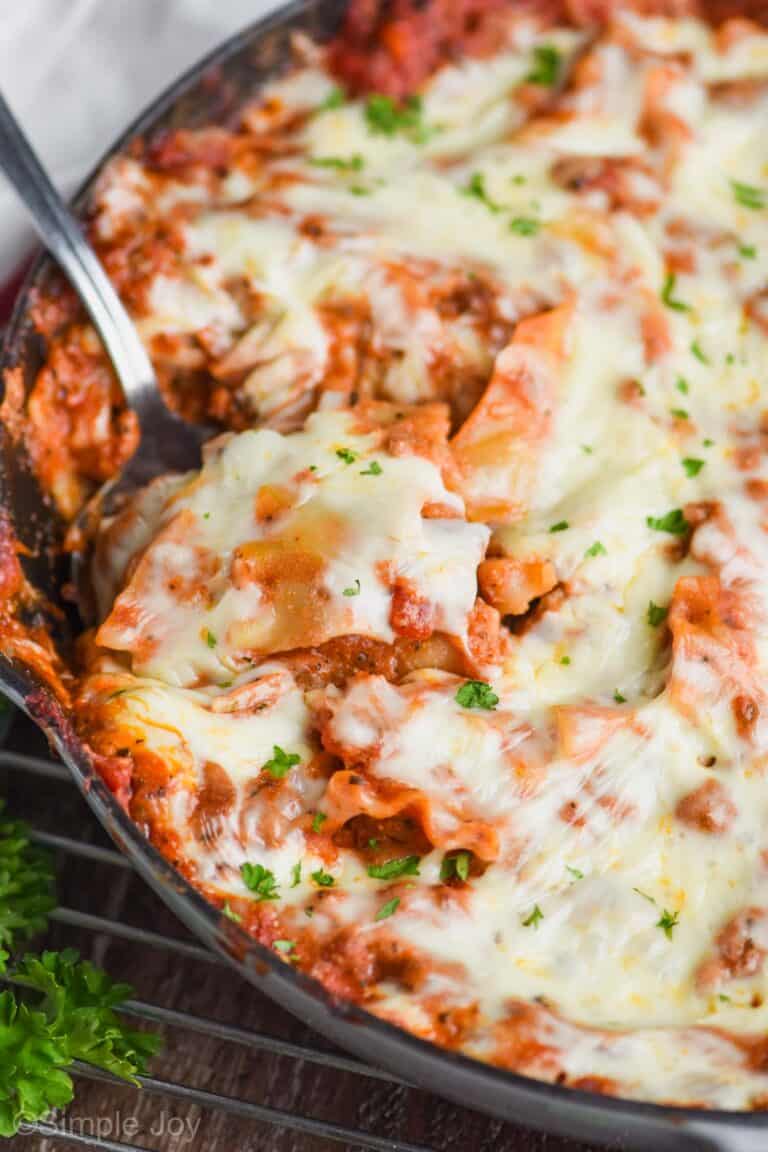 OTHER GREAT ONE DISH DINNERS
If you can't get enough of one pot skillet dinners – we know we can't – here are some others that you will love.
If you make this amazing one pot dinner, leave me a comment and let me know what you think!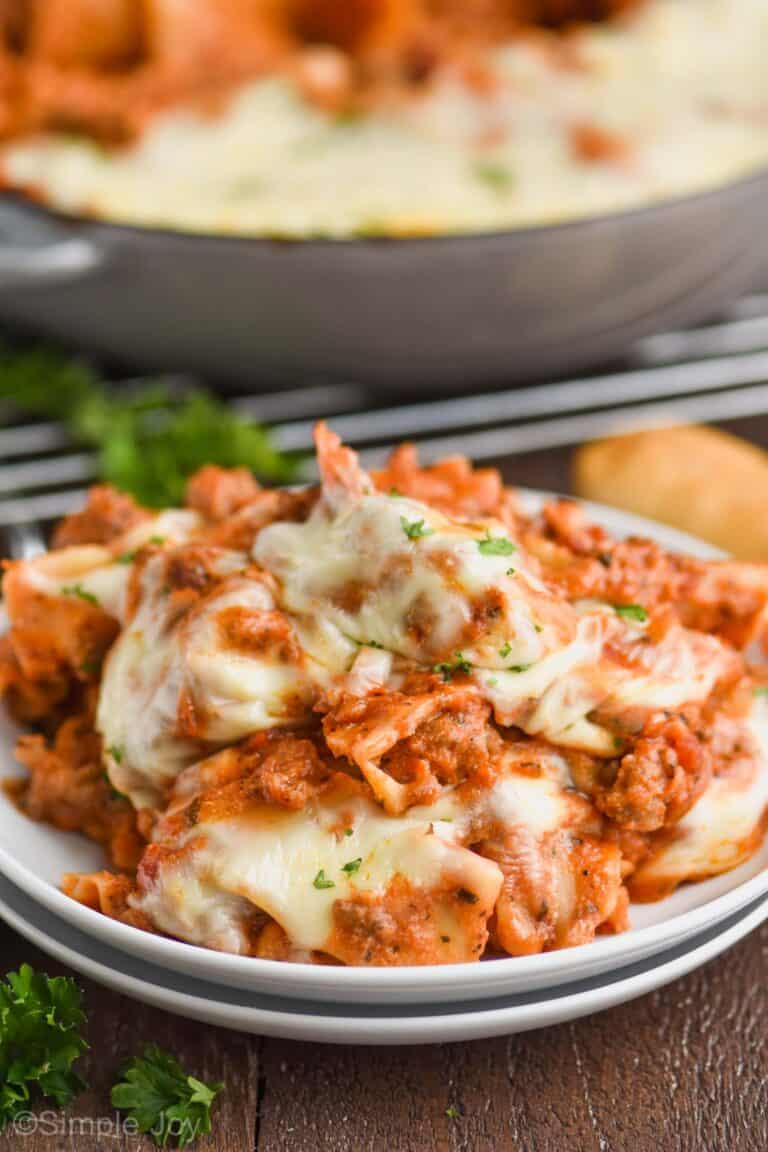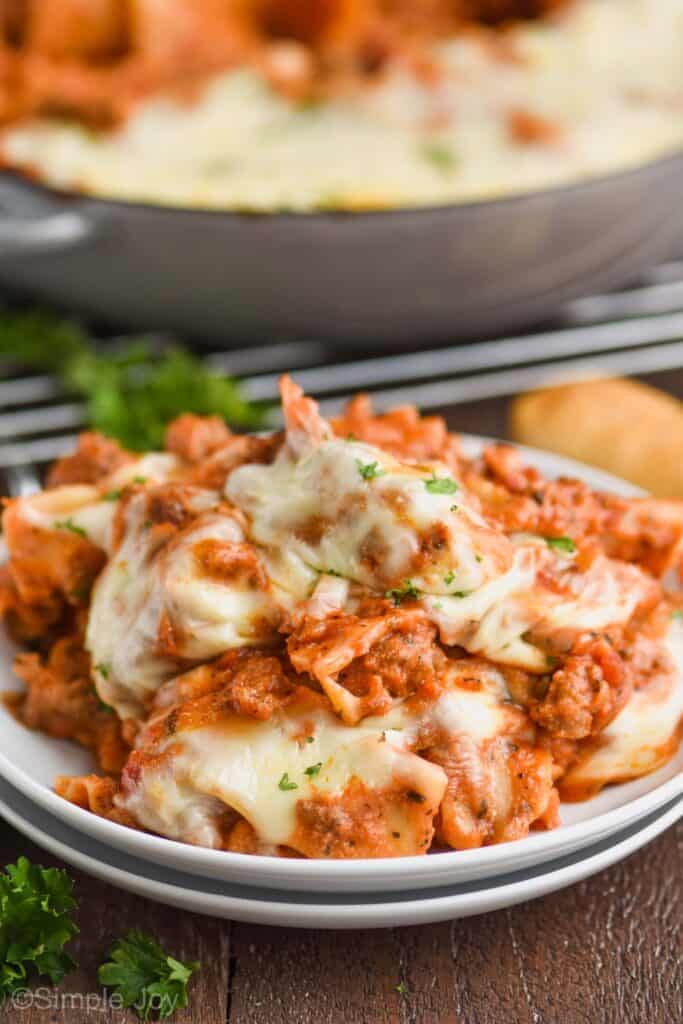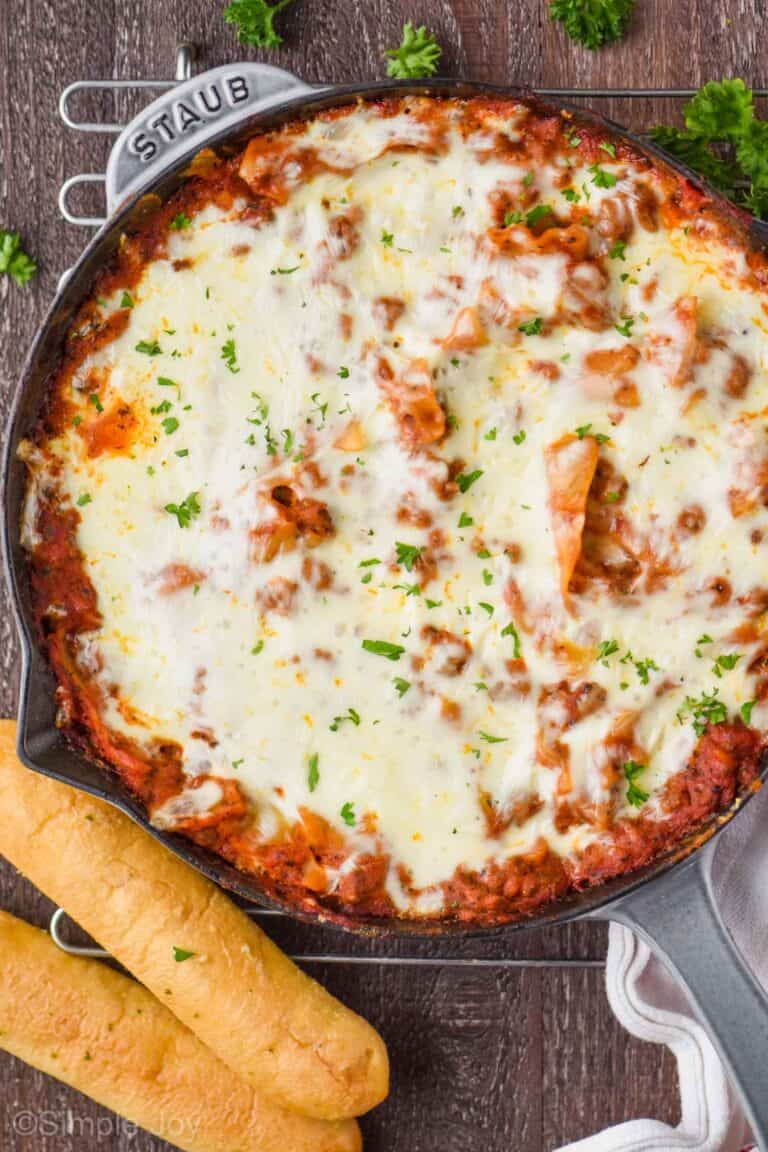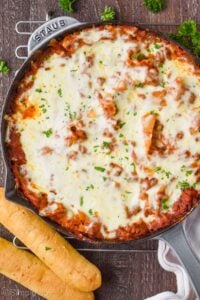 Skillet Lasagna
This Skillet Lasagna is a 30 minute easy dinner that your whole family will get behind and love. This is delicious comfort food!
Ingredients
2

tablespoons

extra virgin olive oil

2

cloves

garlic

minced

1

pound

Italian seasoned ground beef

28

ounces

crushed tomatoes

2

cups

chicken stock

1

tablespoon

dried basil

1/2

tablespoon

dried oregano

1/2

teaspoon

kosher salt

dash of pepper

2

tablespoons

tomato paste

1/2

pound

dry lasagna noodles

broken up (see note)

1/2

cup

ricotta cheese

1 1/2

cups

mozzarella cheese
Instructions
Preheat your oven to 375 degrees.

Heat the olive oil in a large, 12 inch, oven proof skillet over medium heat. Add the garlic and cook for about 30 seconds before adding the ground meat. Cook, breaking up the meat until it is no longer pink.

Stir in the crushed tomatoes and chicken stock. Add in the basil, oregano, pepper, salt, and tomato paste. Taste the sauce to see if you want more salt or pepper.

Add in the broken lasagna noodles and stir to combine. Cover and cook for 10 minutes. Remove the cover, stir and cook for another 5 minutes.

Stir in the ricotta cheese, top with the shredded mozzarella and put it in the oven uncovered until the mozzarella is completely melted, about five minutes.

Remove from the oven and enjoy!
Notes
You should buy the type of lasagna noodles that are not partially cooked. You can also use a different type of dry noodle.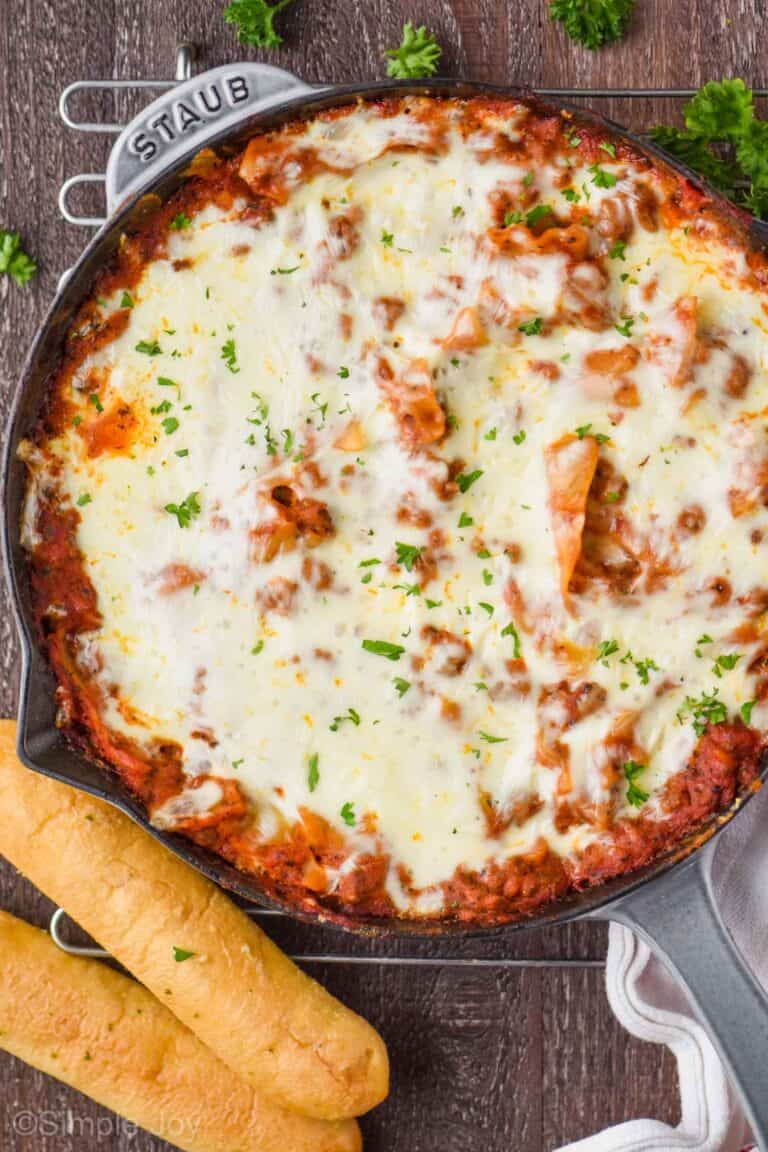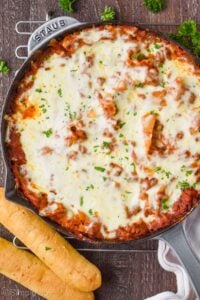 did you make this
Skillet Lasagna