This No Bake Baileys Chocolate Pie is the perfect easy dessert . . . . with booze! This pie seriously comes together in about 5 minutes and is so tasty! The recipe does not skimp on the Baileys, so you can taste that smooth Irish Creme Liqueur in every bite.
You only need six ingredients to make this pie, so if baking scares you, grab this recipe and run to your kitchen. Then branch out and make a Baileys Poke Cake and obviously Baileys Fudge . . . honestly, I'm a little offended you haven't made them already. Just kidding, we're still friends. Wanna cheers with a Bailey's Martini?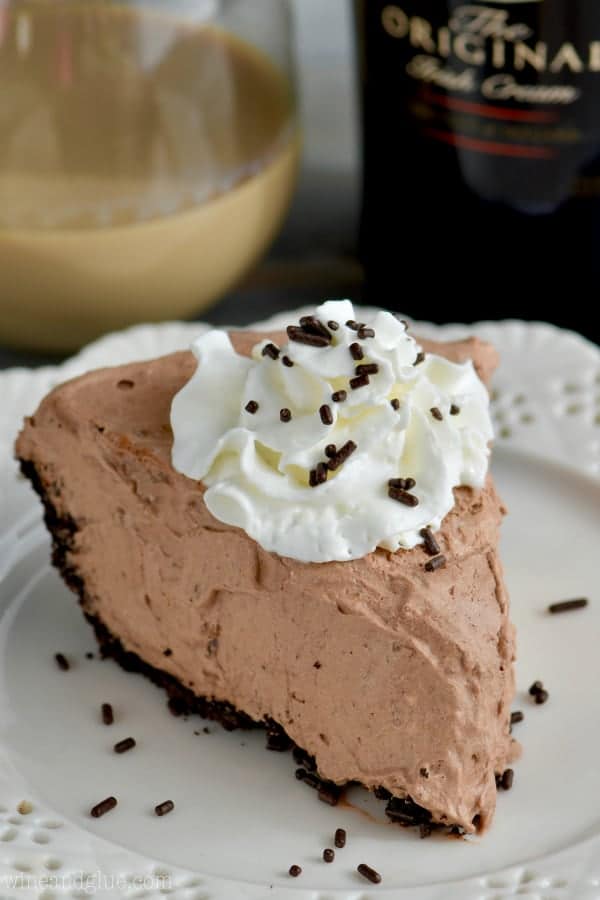 Over the weekend I spent three hours selling Girl Scout cookies with my middle kiddo in a grocery store.
You guys?
I don't think I realized as a child just how much more my parents loved me than I loved them.
I get it now.
In an odd way, this No Bake Baileys Chocolate Pie was born out of Girl Scout cookie season. I posted my Shamrock Shake Pie and someone said that they would like to do that but with an Oreo Crust, like a Thin Mint (YUMMY!). And THEN! Someone else commented that I should cut some of the milk, change the pudding mix to chocolate and add Baileys. And I was all, "DING DING DING! We have a winner folks!" So thank you to that kind random Facebook follower who totally inspired this pie.
And really? Who doesn't love a good no bake pie?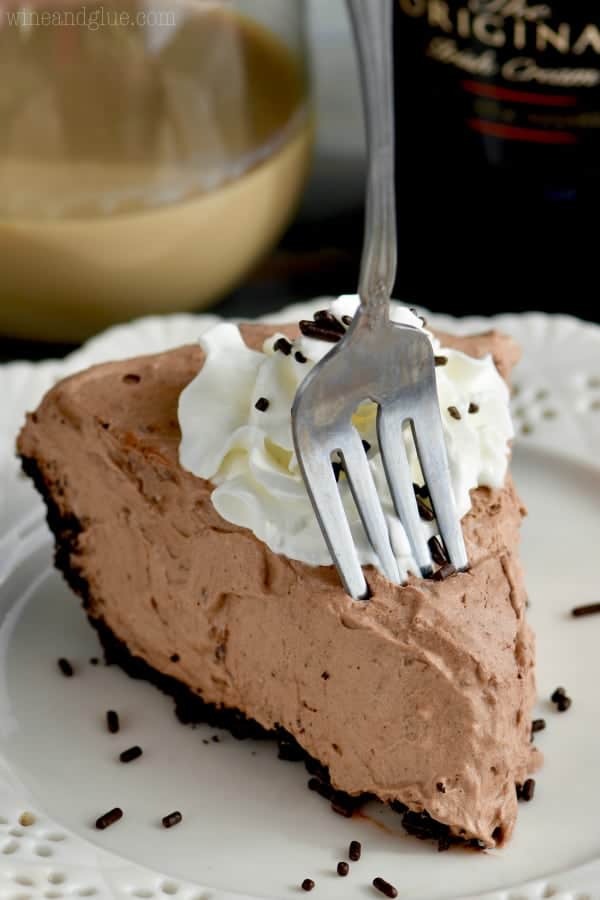 NO BAKE BAILEYS CHOCOLATE PIE RECIPE
This pie is legit.
It's made with only six ingredients.
It starts with a store bought crust, which for whatever reason feels like a win to me.
It only has six ingredients! Did I say that already?
It has enough Baileys in it that you can taste it in every single bite.
This would be the perfect pie to make in a pinch for a party. The prep time on it is so quick, and it is seriously delicious! You guests will not have any idea that you didn't slave over it. Well . . . . the aluminum tin might be a giveaway, so cut the slices in the kitchen and then wow them when you bring the slices to the table.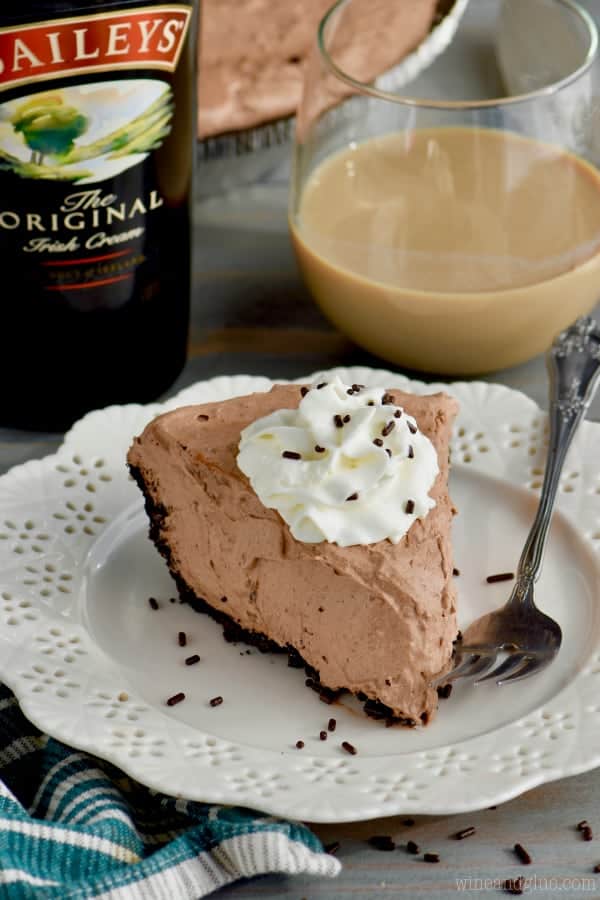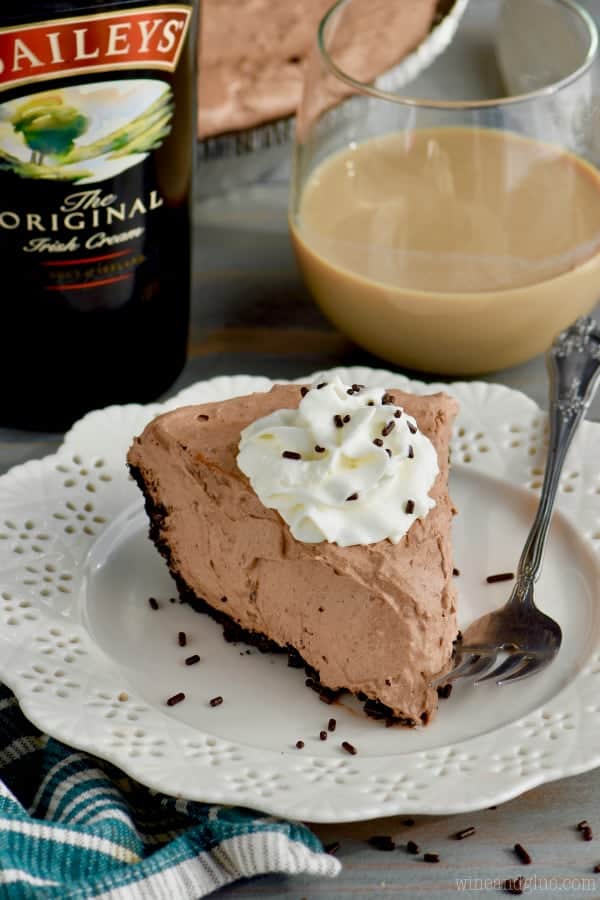 TIPS FOR THIS BAILEYS CHOCOLATE PIE
If store bought pie crusts aren't your thing, make your own Oreo Crust.
Be just a little big patient with this and blend it really well, scraping down the bowl in between. The last thing you want is big chunks of pudding mix hanging out in your pie.
This pie is not super easy to slice. If you want it to look pretty, throw it in the freezer right before cutting for about 15 minutes. It won't freeze it, but it will firm it up enough to make nice clean slices.
There you have it friends!! It's that easy to eat your booze.
You're welcome.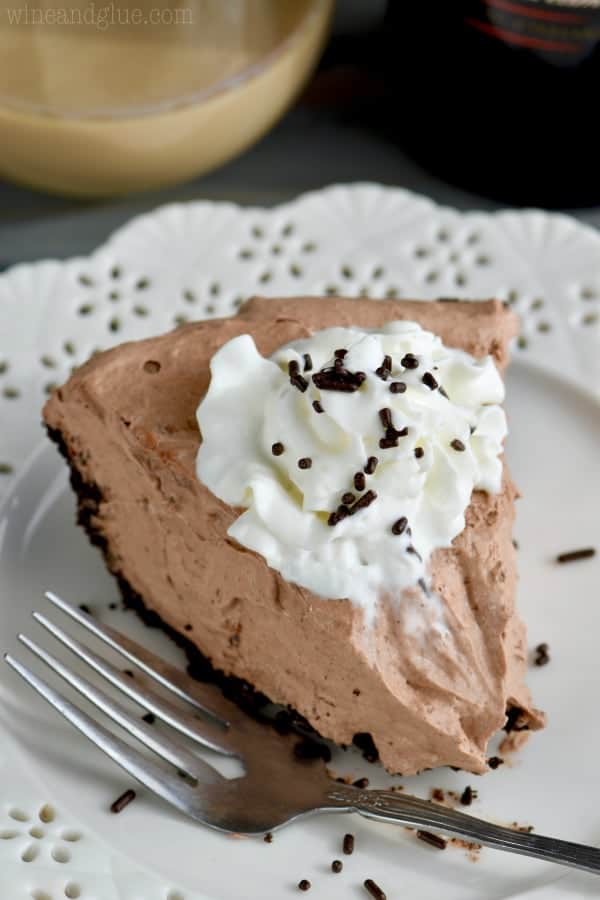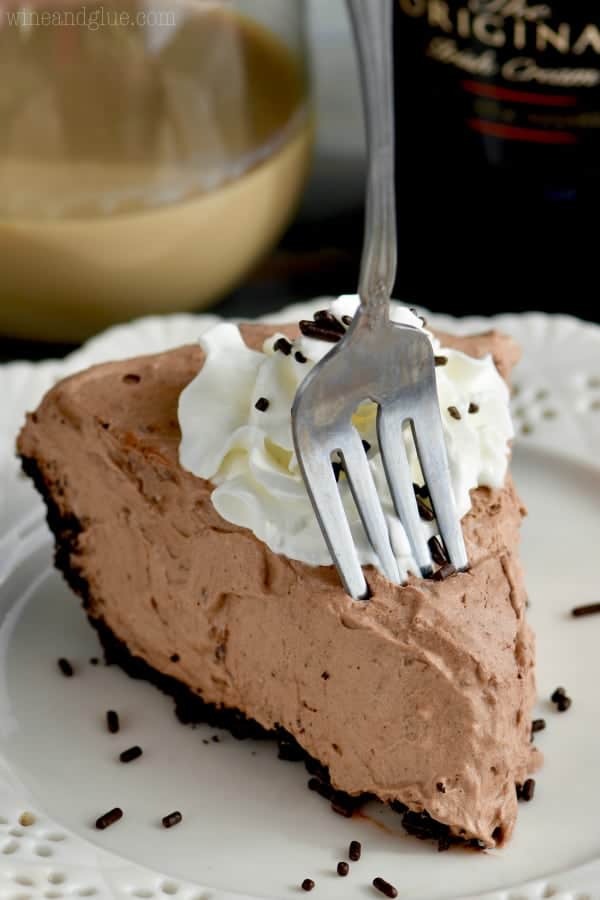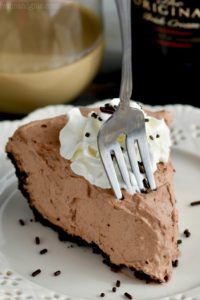 No Bake Baileys Chocolate Pie
This No Bake Baileys Chocolate Pie is the perfect easy dessert . . . with booze!

Ingredients
1

store-bought Oreo crust

8

ounces

whipped topping

thawed

2

3.4 ounce instant chocolate pudding mixes

(just the dry mix)

1

cup

milk

(I used skim)

1

cup

Baileys Irish Cream

1

teaspoon

vanilla extract
Instructions
In a large bowl combine the whipped topping, dry pudding mixes, milk, Baileys, and vanilla extract.

Using a hand mixer, mix until smooth and you can no longer see pieces of the pudding mix. Pour into the store bought pie crust. Refrigerate for at least four hours.

Place in the freezer for 15 minutes right before serving (optional) to achieve nicer, cleaner, slices.
Notes
Some people have commented that they had difficulty getting this pie to set.
One option is to put the pie in the freezer and have it be a frozen pie. It will taste just as delicious.
Another option is to put in less Baileys. This might be a great option for you if you just want a hint of Baileys, as it is strong (and delicious!) in this pie.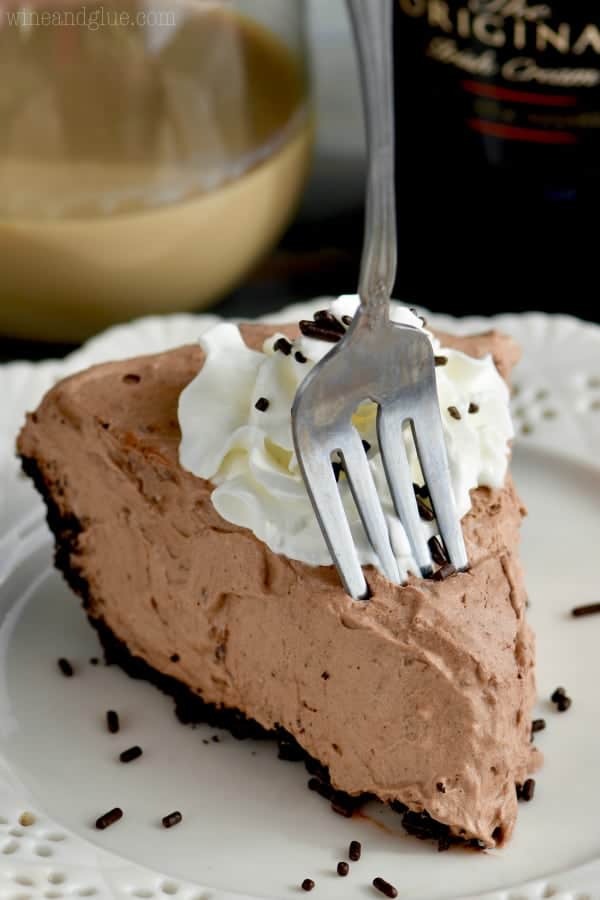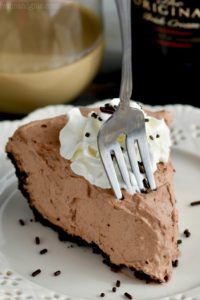 did you make this
No Bake Baileys Chocolate Pie
SaveSave