This Bailey's Poke Cake is deliciously rich and totally AMAZING! You MUST make it!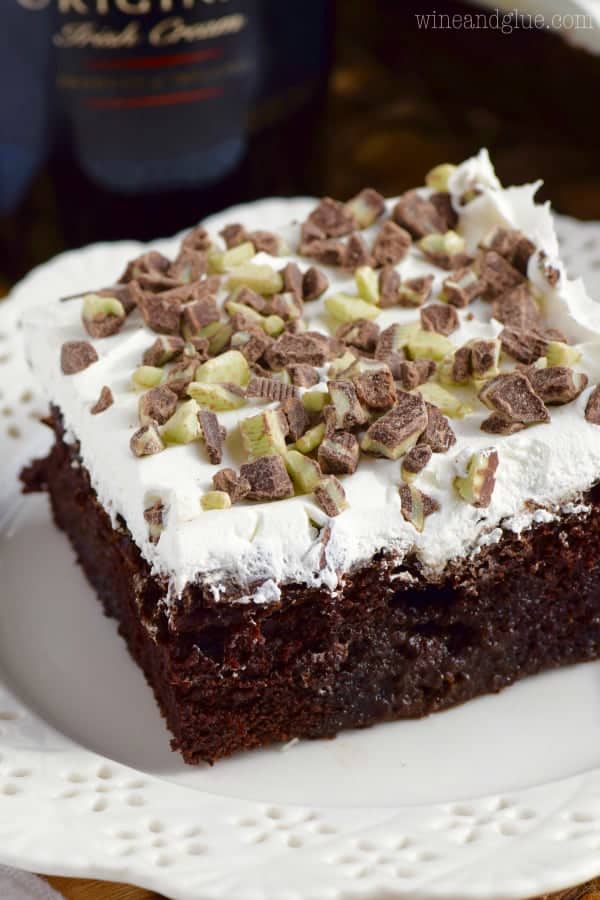 So I'm going to give you some unsolicited advice today. And it's not to eat this cake with reckless abandon . . . okay, it is. So, I guess I'm going to give you two pieces of advice today.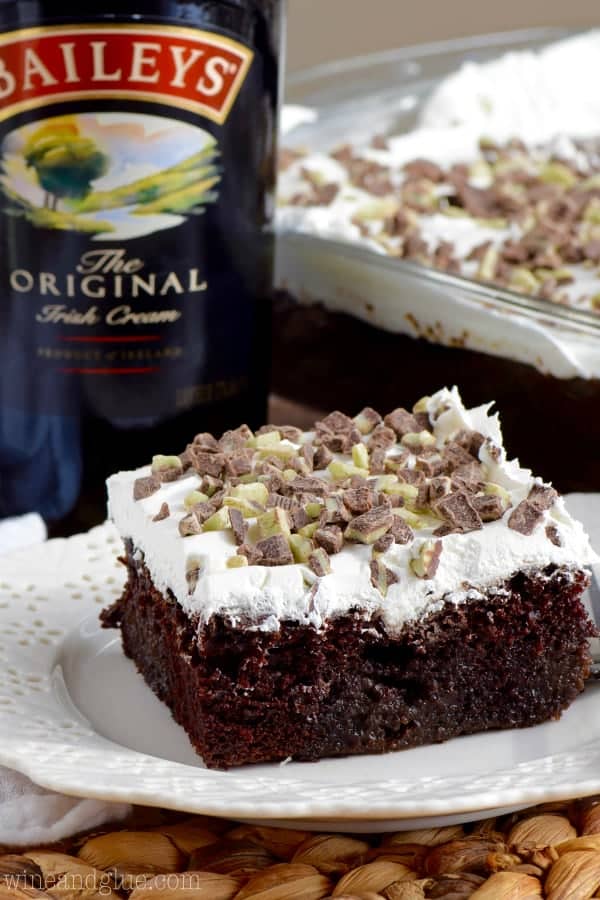 So the advice. It's the best advice I've ever been given. It was from my mom. She was crazy smart. I mean, I'm totally biased, but still true. One of the reasons she was so smart was because she was so insightful. She was good at reading other people because she was really good at reading herself. She knew what she was thinking and feeling and she dealt with it.
Man. I miss her a ton.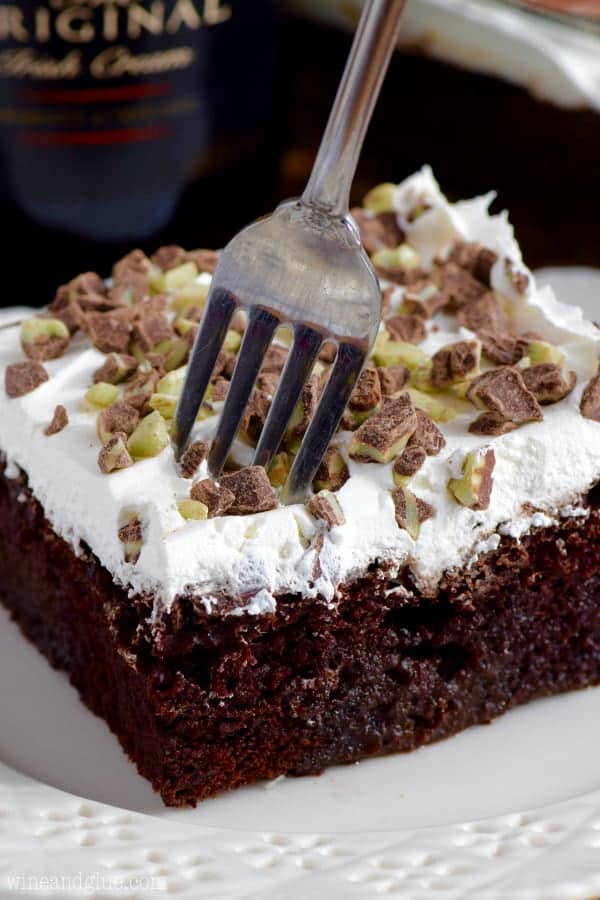 This is the advice:
When you aren't sure what to do in a situation, be it taking a new job, breaking up with your boyfriend, having another baby, where to go for dinner (I mean, not all decisions are big), you close your eyes and you try it on.
You imagine yourself taking the first path. You really think about it. What it means. And then you sit and feel how it feels. The good, the bad, the ugly. And then you do the same for the second path.
In my experience, you don't even need to try on both options. Usually just in trying on the first option you become so clear on what you want to do. I did this yesterday with something that I'm struggling with, and the very second I imagined taking the option that I was scared to take I felt like the clouds cleared, the sun came out, and the 800 pound gorilla who was sitting on my back went for a walk.
Done and done peeps. Works every time.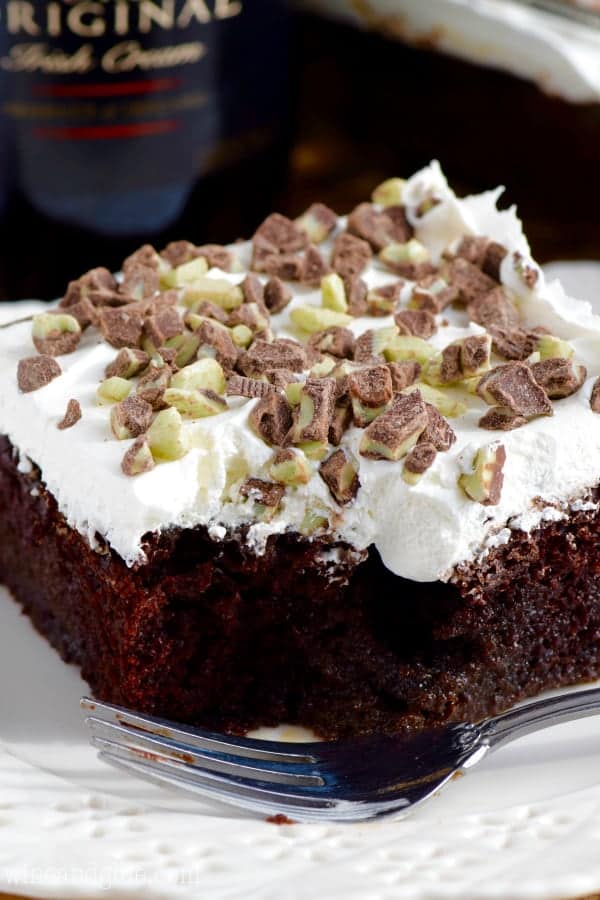 The good news is this: You won't need to do that little exercise when it comes to this cake. The other good news: You won't get anymore unsolicited advice from me. At least not for a day or two ;)
I was totally inspired to make this cake by my friend Lindsey and her amazing Guinness Poke Cake. As soon as I saw it on Facebook I decided I had to make this.
So this cake starts as just a regular ole chocolate cake. But I make it with some strongly brewed coffee because everyone knows that makes a chocolate cake better and Baileys and coffee are meant to be together. It doesn't make the cake taste like coffee though. At all. If you are still nervous, just replace the coffee with hot water.
Then after the cake is baked, you poke some holes in it and you pour in a cup of Baileys. You guuuuuuuuuuys. This is the smartest thing I've ever done. After the cake cools, you add some Cool Whip on top. If you are a Cool Whip hater, and I know ya'll are out there, just whip some heavy cream. Just know that then you are serving this baby right away because it's not going to keep the same way. Top with some Andes chips and eat the entire thing in one sitting.
It's cool, I won't tell.

Follow me on social for more recipe ideas & inspiration!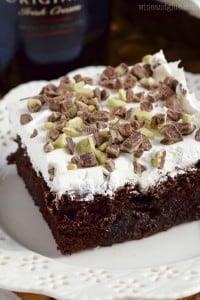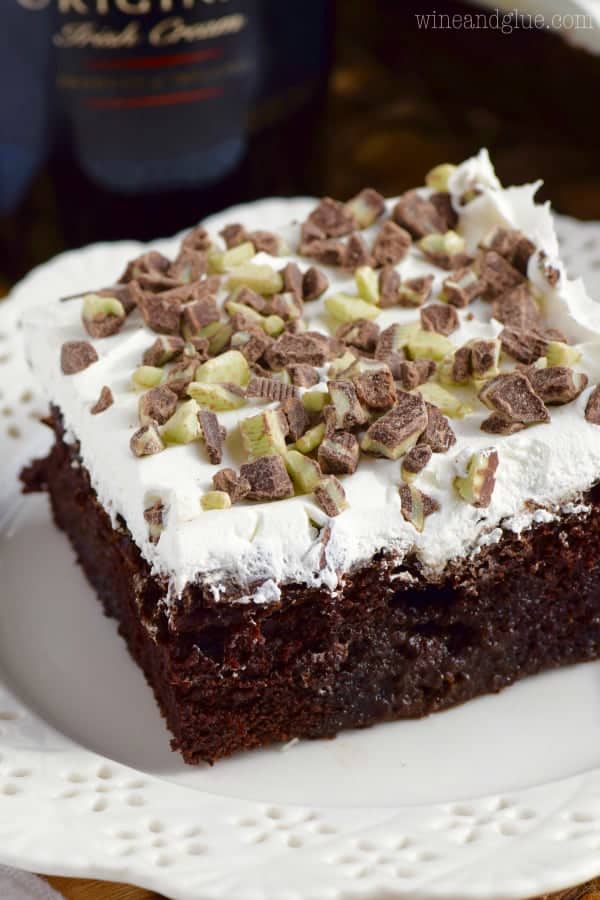 Baileys Poke Cake
Ingredients
2

cups

granulated sugar

1 3/4

cups

all-purpose flour

3/4

cup

unsweetened cocoa powder

1 1/2

tsps

baking powder

1 1/2

tsps

baking soda

1

tsp

salt

2

eggs

1

cup

milk

I used skim

1/2

cup

vegetable oil

1

tsp

mint extract

not peppermint extract

1

cup

strongly brewed coffee

1

cup

Baileys Irish Cream

8

oz

Cool Whip

1

cup

Andes baking Chips
Instructions
Preheat your oven to 350 degrees. Spray a 9 by 13 inch baking dish with cooking spray.

In a large bowl, whisk together the sugar, flour, cocoa powder, baking powder, baking soda, and salt.

Now mix in the eggs, milk, vegetable oil, mint extract, and coffee. Stir until the batter is just combined.

Pour into the baking dish and bake for 35 minutes or until a toothpick inserted two inches from the edge of the pan comes out with just a few crumbs.

Let the cake cool for about 10 minutes then poke with about 20 to 30 holes. Pour the Baileys into the holes making sure to get some in each hole.

Let the cake sit overnight. Before serving top with the Cool Whip and then the

Andes baking chips

.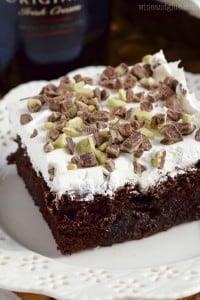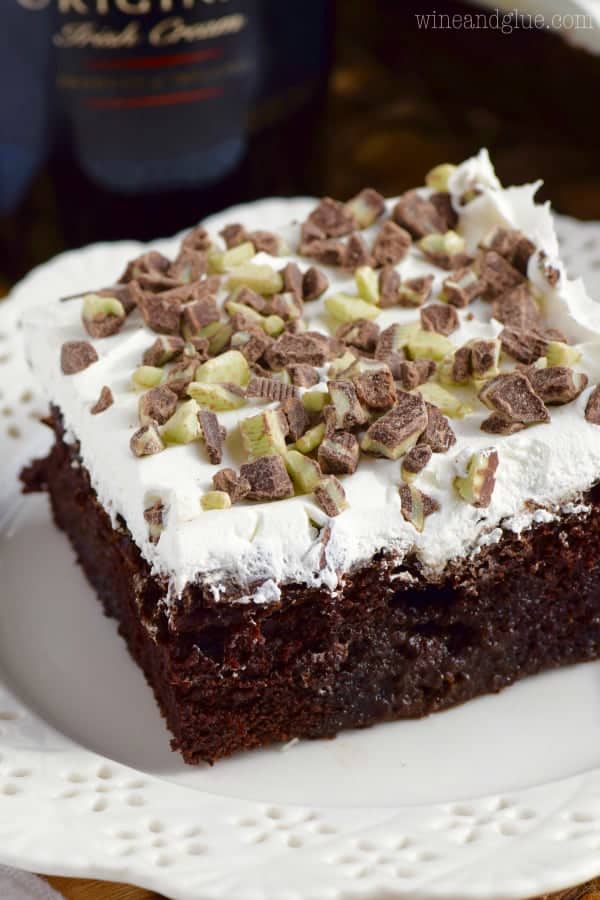 did you make this
Baileys Poke Cake
You might also like
Guiness Chocolate Poke Cake from Life Love and Sugar
Bailey's Chocolate Mousse from Lemon Tree Dwelling
Bailey's Chocolate & Caramel Irish Cream Cupcakes from Tidy Mom

This post contains affiliate links, if you click on them and then make a purchase, I make a small amount of money at no additional cost to you. Thank you in advance for supporting Wine & Glue.