Sausage Pasta Skillet is a one pot, 30 minute dinner that your family will love! Perfect for weeknights when your time is limited!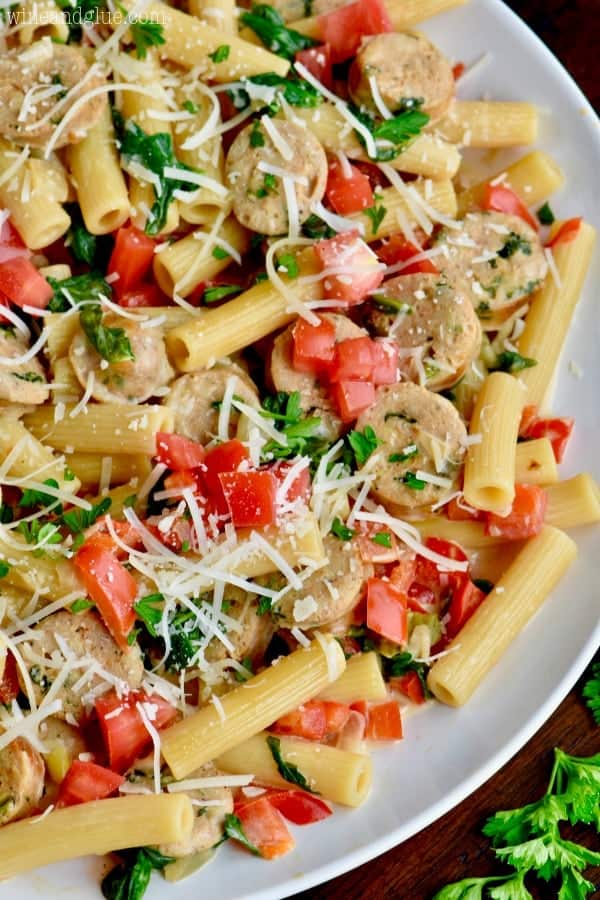 I'm so happy to be partnering with Gold'n Plump to bring you this amazingly fast and, amazingly delicious one pot meal! Gold'n Plump Chicken Sausages are perfection in this dish or fresh off the grill on their own!
So . . . . I did something kind of dumb.
I made this plan for my kids' summer activities. (I feel like all the moms out there are like, you can stop right now, we get it.)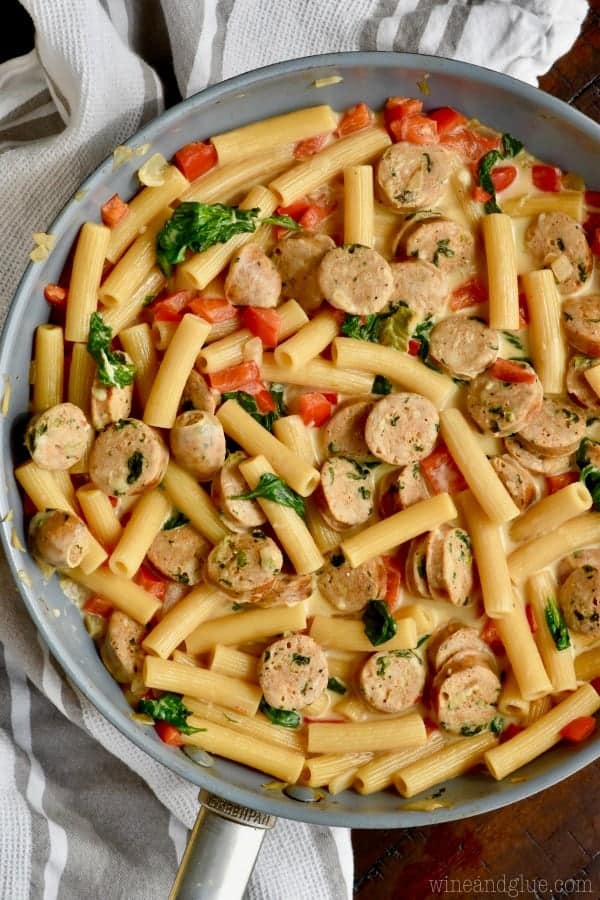 I thought I was being sooooooo smart.
I got them in all the activities that they wanted to be in: swimming, Taekwondo, baseball, gymnastics . . . and I managed to get them into classes at times that worked so, you know, I didn't have to be in two places at once. And I even managed to do it in the late afternoons so it didn't interfere with Piper's naps (that THANK GOD she is still taking) and we could still do fun unplanned things in the morning. I thought it was so perfectly planned. Like it all just fit together so magically.
Guys.
There's no time to make dinner!! Like all of the activities have us getting home at the same time we would normally be sitting down for dinner. Which to some I think isn't that big of a deal, you just eat a little later, right? But if you could just take a second and go back and read the approximate 8.2 billion posts I have written about my children and their HANGER issues that would be great.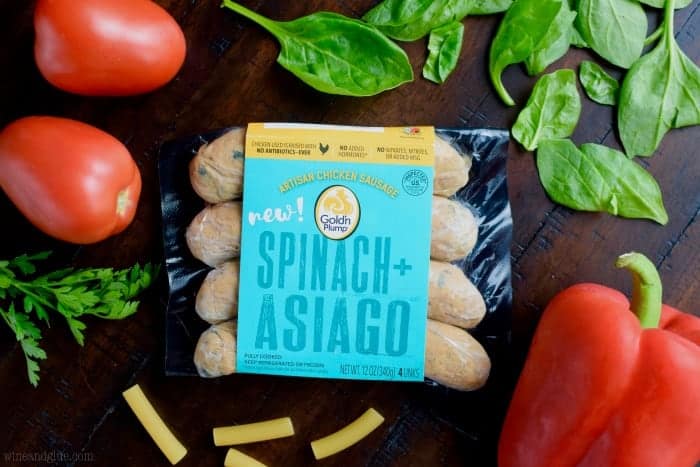 We are like one week into summer break, and we have already have some legit hanger meltdowns. And fair enough, 80% of them were mine, but still. We are in some pretty desperate need of some FAST dinners around here. So I have a couple in the works for the blog (and by for the blog I mean for my family but you get to see them too). And the first one is this Easy One Pot Sausage and Pasta Skillet!
It starts with these Spinach + Asiago Artisan Chicken Sausages from Gold'n Plump. Gold'n Plump's new chicken sausages are fully cooked, made with premium boneless skinless chicken thigh meat from chickens raised with No Antibiotics – Ever.
The product line features real ingredients in them like bacon, cheeses, peppers, spinach, and spices with no added nitrites or nitrates. Gold'n plump fully cooked chicken sausages come in five amazing flavors, and to top it all off they have 14 to 15 grams of protein per sausage!
So they are basically perfect to throw in a one pot meal. I used the Spinach + Asiago Chicken Sausage in this one, but you could easily tweak just a few ingredients and use any of the other great flavors for this dish as well. Be sure to check them all out here. They would also be perfect just on the grill with some grilled veggies on the side!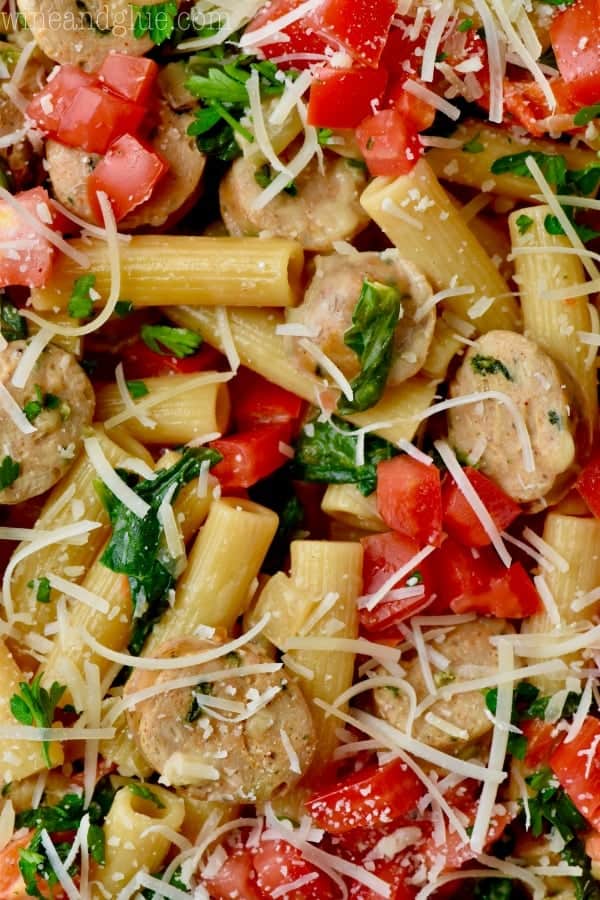 Easy and Perfect Sausage Pasta Skillet
This Sausage Pasta Skillet came together absolutely perfectly. It was fast, just about 30 minutes, and it was so full of flavor. Gavin devoured this dish, telling me that he would definitely want it again to which I said, "I can see that, I had to stop you from eating the whole pan." If there is a veggie in this dish that doesn't work for you, just leave it out or swap it for a different veggie. This dish is pretty flexible, another thing that makes it a winner.
Sides for this Sausage Pasta Skillet
Round out this meal by serving this easy side salad and this easy beet salad. And if you are throwing these sausages on the grill, add in these easy grilled parmesan potatoes and this grilled pineapple with cinnamon honey drizzle.
For more great recipes ideas using Gold'n Plump Chicken Sausages, be sure to follow Gold'n Plump on Facebook, Pinterest, and Twitter.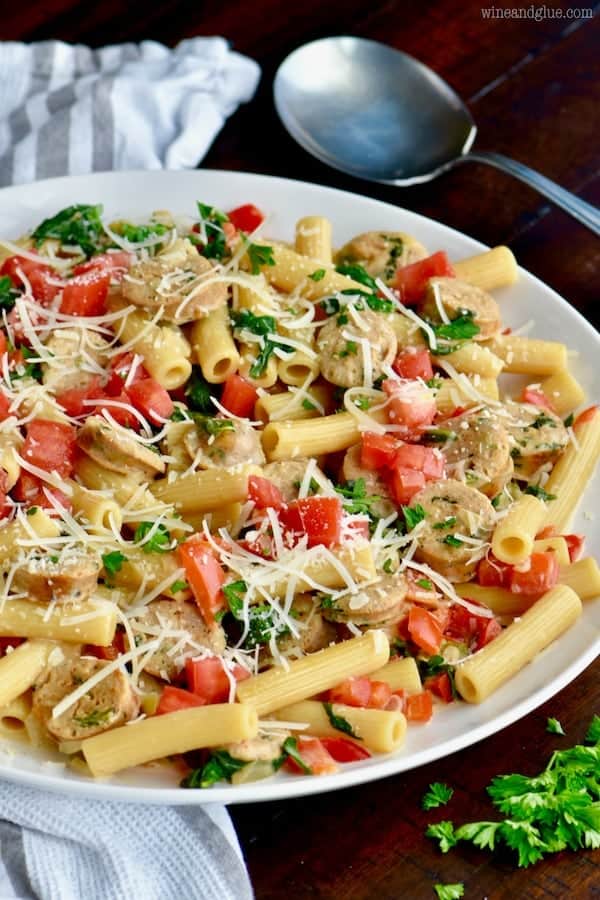 Sausage Pasta Skillet Recipe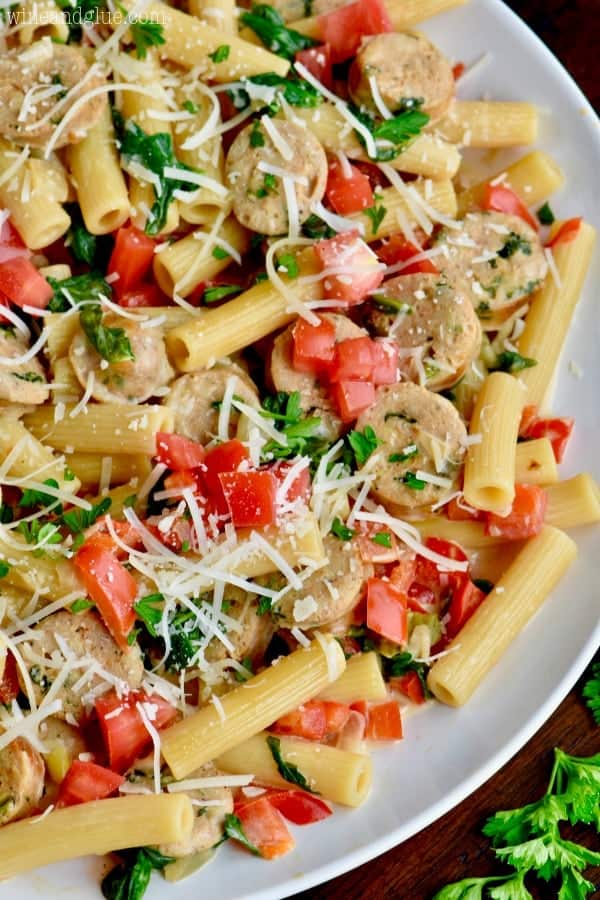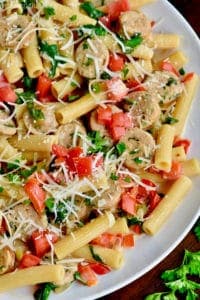 One Pot Sausage and Pasta Skillet
Ingredients
1

package Gold'n Plump Fully Cooked Chicken Sausages

Spinach + Asiago flavor

1

tbsp

olive oil

1

red pepper

diced

1/2

a small yellow onion

diced

2

cloves

garlic

salt and pepper

1/4

cup

white wine

1/2

pound

rigatoni pasta

uncooked

3

cups

chicken broth

1/4

cup

heavy cream

3

cups

fresh spinach

1/4

cup

fresh parsley

chopped

1

roma tomato

diced

fresh parmesan cheese for topping
Instructions
Spray a large skillet with cooking spray. Cook the sausages for about four minutes until they are browned. Remove from the pan and set aside.

Add 1 tablespoon of olive oil to the pan and then the onion, peppers, and garlic. Season with salt and pepper. Cook for 4 to 5 minutes until the vegetables are tender.

Add the white wine and deglaze the pan for about 30 seconds. Add the chicken stock and noodles and cover. Bring to a boil and then reduce to a simmer and cook for 14 minutes. With two minutes left in the cooking time, slice the sausages and add them back to the pan. Stir in the heavy cream. Add in the spinach and allow to wilt.

Remove the pan from the heat and add the parsley, tomatoes, and parmesan cheese. Enjoy immediately!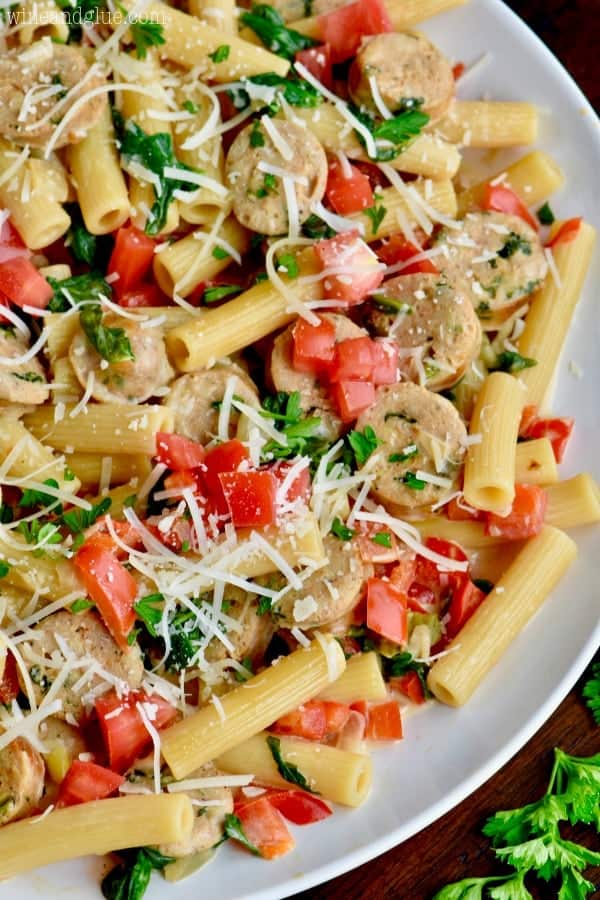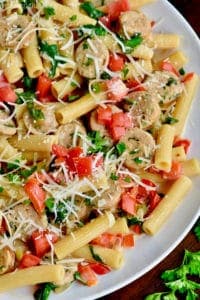 did you make this
One Pot Sausage and Pasta Skillet