This One Pot Spinach Artichoke Pasta is your favorite Spinach Artichoke dip recipe made into a delicious pasta dinner! Your family will love this easy 30 minute meal.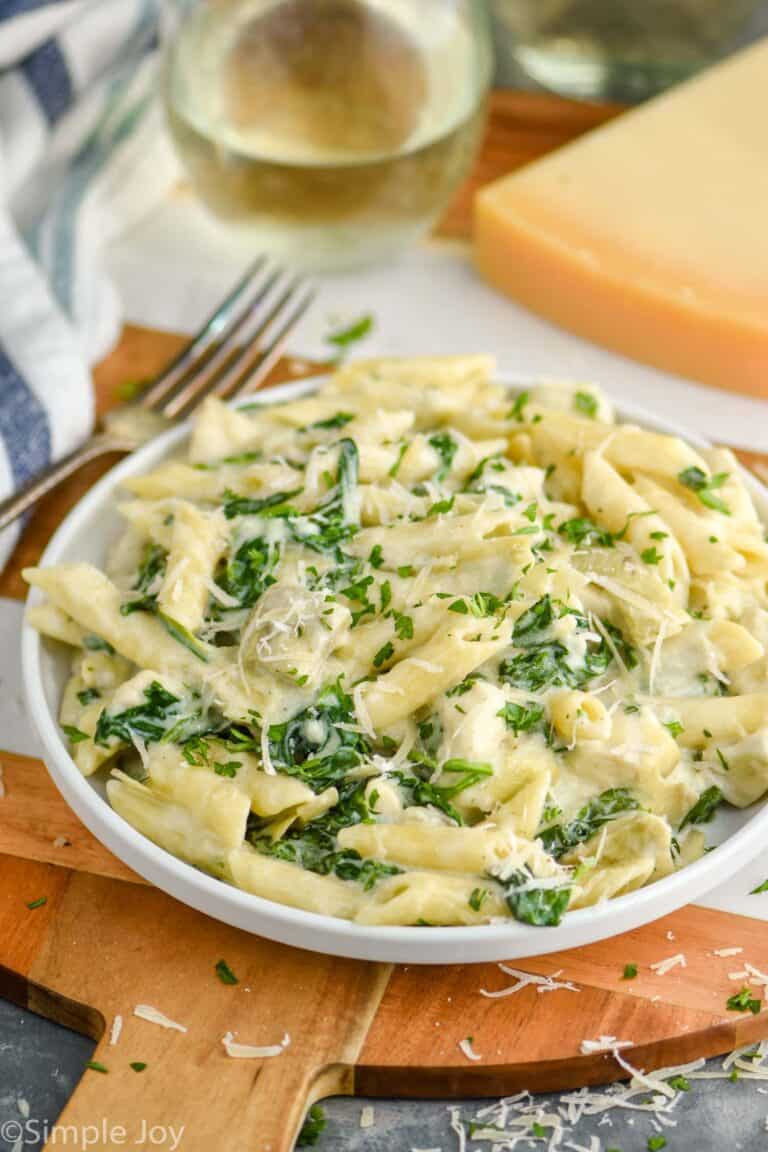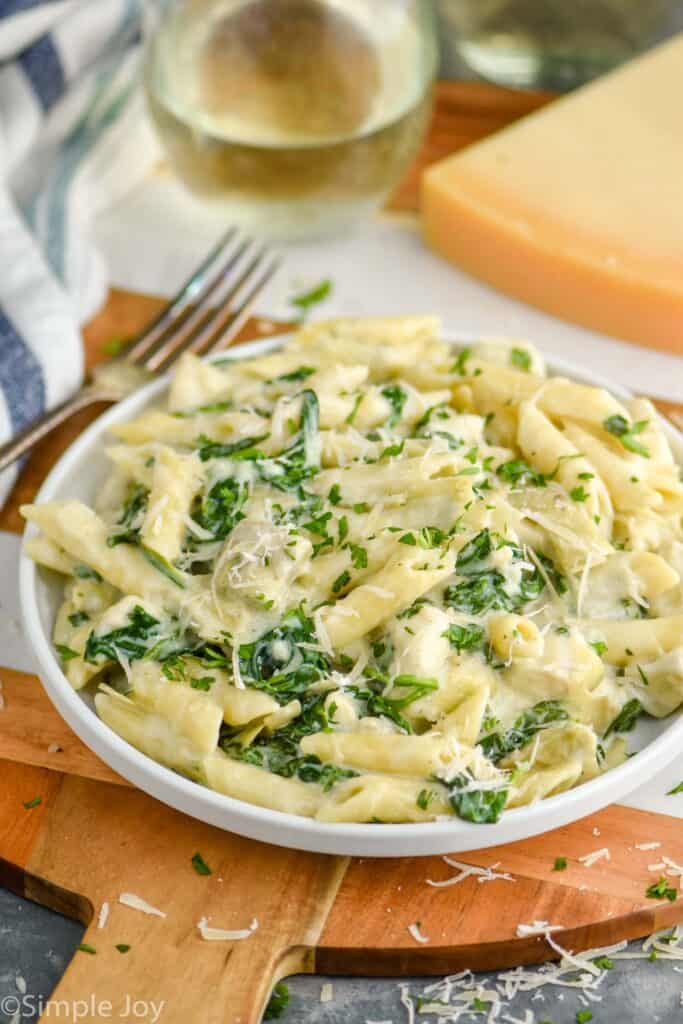 Two things that make dinner time way easier around here are one pot meals and 30 minute dinners. This great Spinach Artichoke Pasta recipe is both of those in one dish!
Time around the dinner table with my kids is priceless, it's an extra bonus when we are eating a delicious dinner that was easy to throw together for them like this one.
How to Make One Pot Pasta
One pot meals are my favorite because you literally cook the entire meal in one single pot! The whole thing simmers away, resulting in a completely cooked, savory and delicious meal.
The best part is, there's very little clean-up! There are a million recipes you can make in one pot, like my One Pot Creamy Shrimp Pasta and they all follow just a few simple steps:
Sauté Garlic: Cook the garlic in olive oil to soften for 30 seconds. Make sure not to let it burn! (Read more about cooking garlic below)
Add a Meat: In this case we are using chicken and cooking for 2 minutes, just until no longer pink. The chicken will continue to cook with the rest of the dish without getting too dry.
Add Pasta: Next, add uncooked pasta and liquid and bring the whole thing to a boil. For this recipe I used penne pasta, chicken stock and heavy cream.
Let it Simmer: The recipe will cook on it's own now with just a few stirs from you.
Add in the Extras: Finally, you'll stir in some last minute ingredients. For this recipe we finish off by wilting some spinach, stirring in artichokes, and adding some cheese.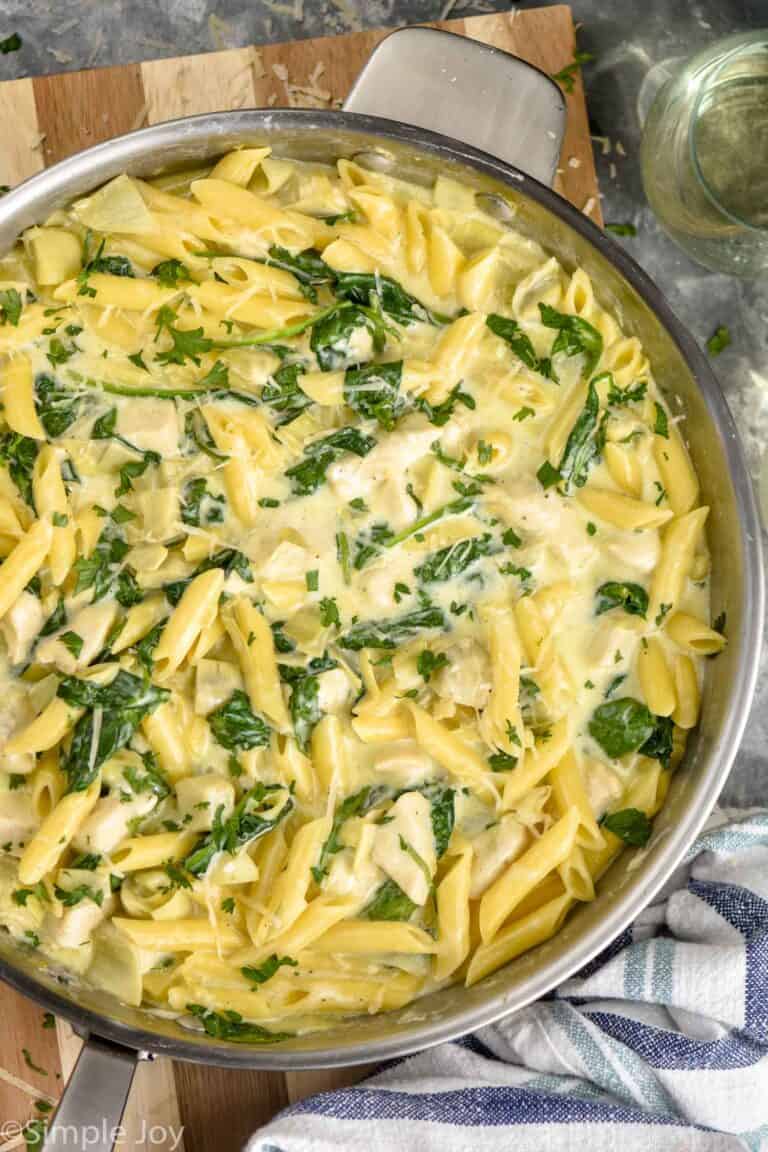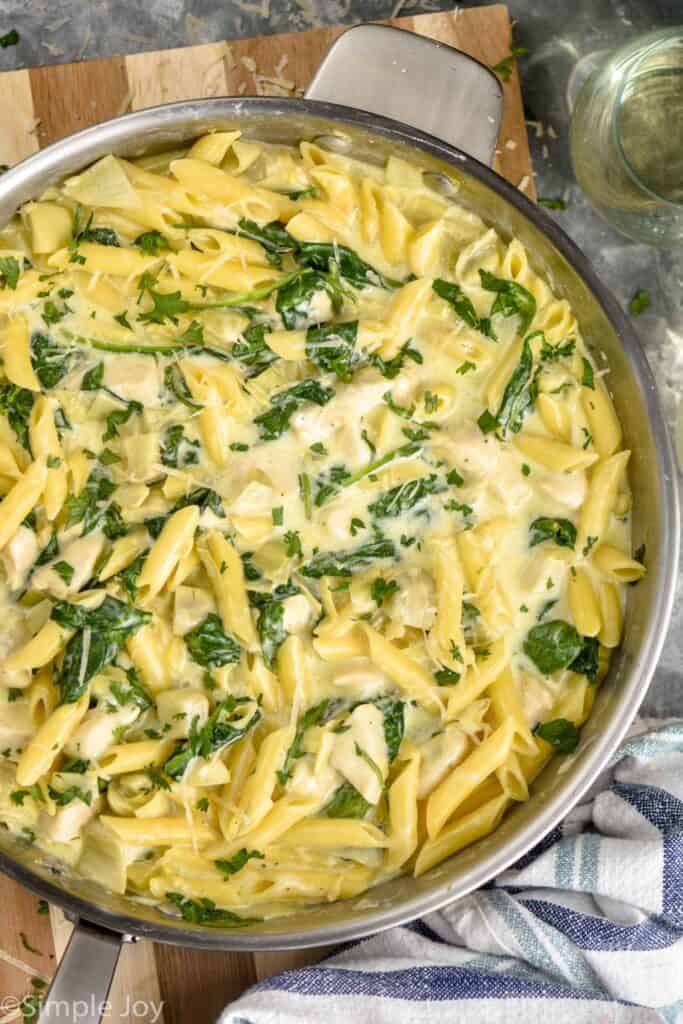 tip for one pot cooking
I suggest gathering all your ingredients together before you start cooking so you aren't scrambling to find that kosher salt in the pantry and suddenly your garlic is burning.
Cooking Garlic
There are few things I love more than the smell of garlic simmering in oil. It makes the whole kitchen seem warm and cozy. But that smell can turn on a dime if the garlic starts to burn and it becomes bitter and very unpleasant.
Thirty seconds in the pan over medium heat is about the perfect time to cook off the rawness of the garlic and let the flavor seep into the oil of the pan. As soon as it's fragrant, time to lower the heat and add the next ingredients.
If it burns (and it happens to the best of us) you'll need to start the whole recipe over with a clean skillet. You definitely don't want bitter garlic ruining the rest of the meal.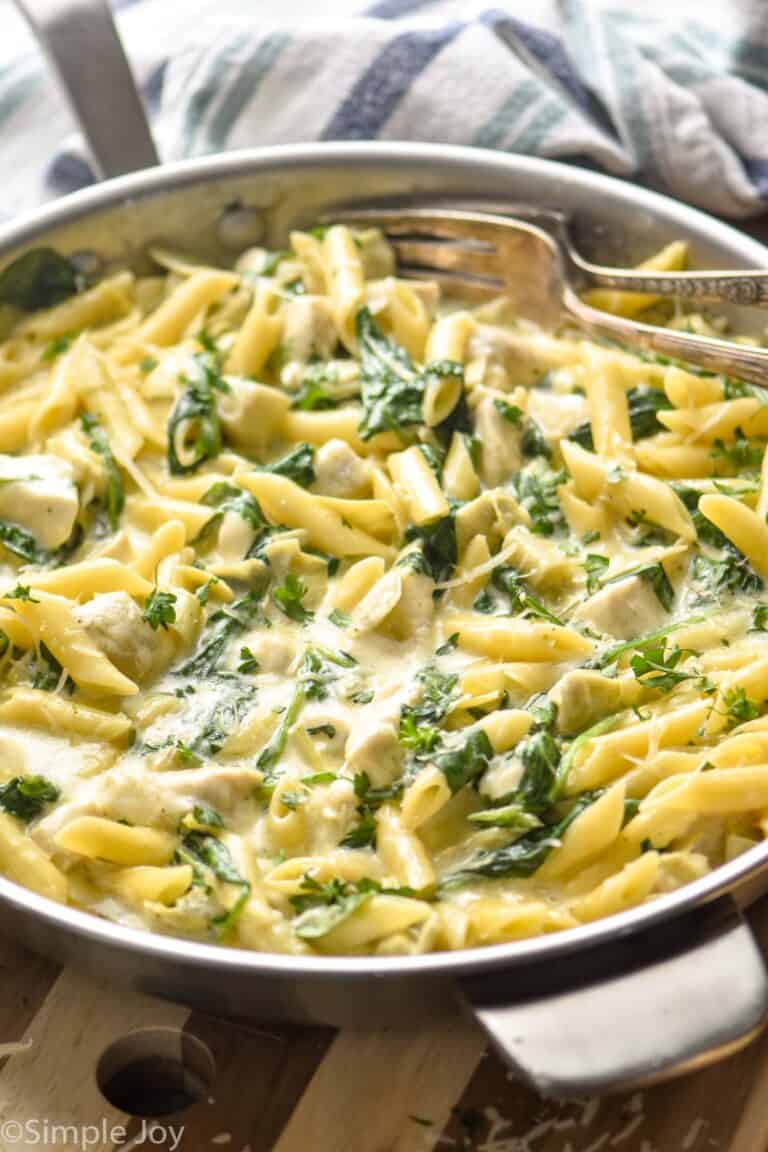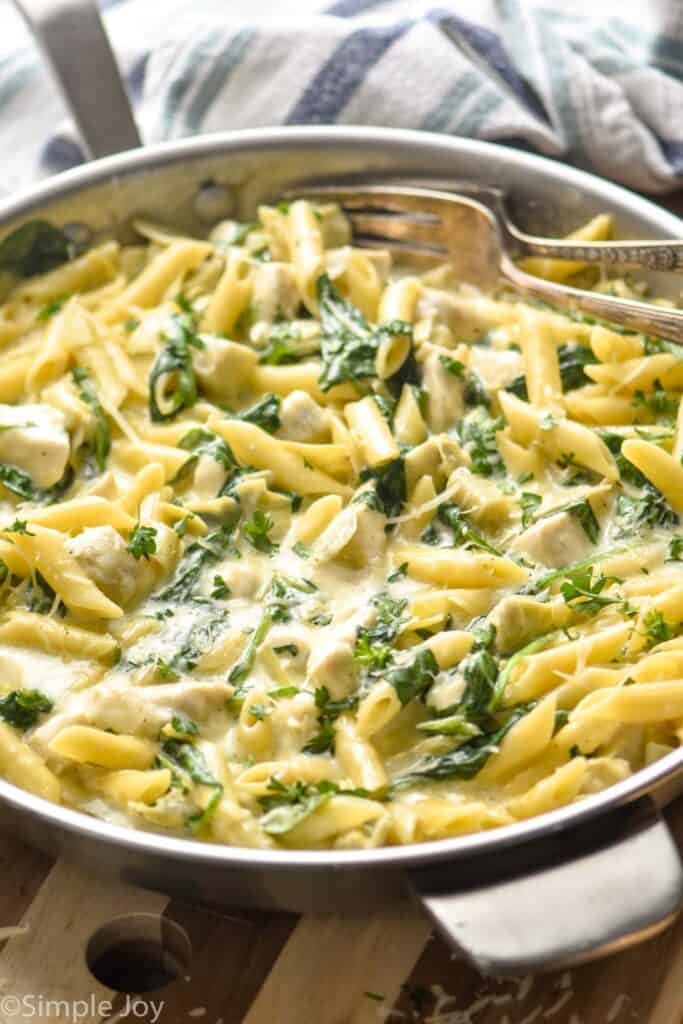 Buying Artichokes
If you've never cooked with artichokes before, they're delicious and add a terrific flavor and texture to this one pot meal. You can use canned, frozen or fresh artichokes for this recipe.
Fresh artichokes taste great but they need to be cooked beforehand, adding another step to this quick recipe. Canned or frozen artichokes can be given a quick rough chop and they're good to go.
Shredding Your Cheese
I know it seems so convenient to grab a bag of shredded cheese at the grocery store but here's the thing about shredded cheese: it just doesn't melt very well. It's coated with preservatives that keep the shreds from clumping together in the bag. Looks nice, but those shreds don't melt together very well when cooking. Buying block cheese can actually be cheaper and tastes so much better!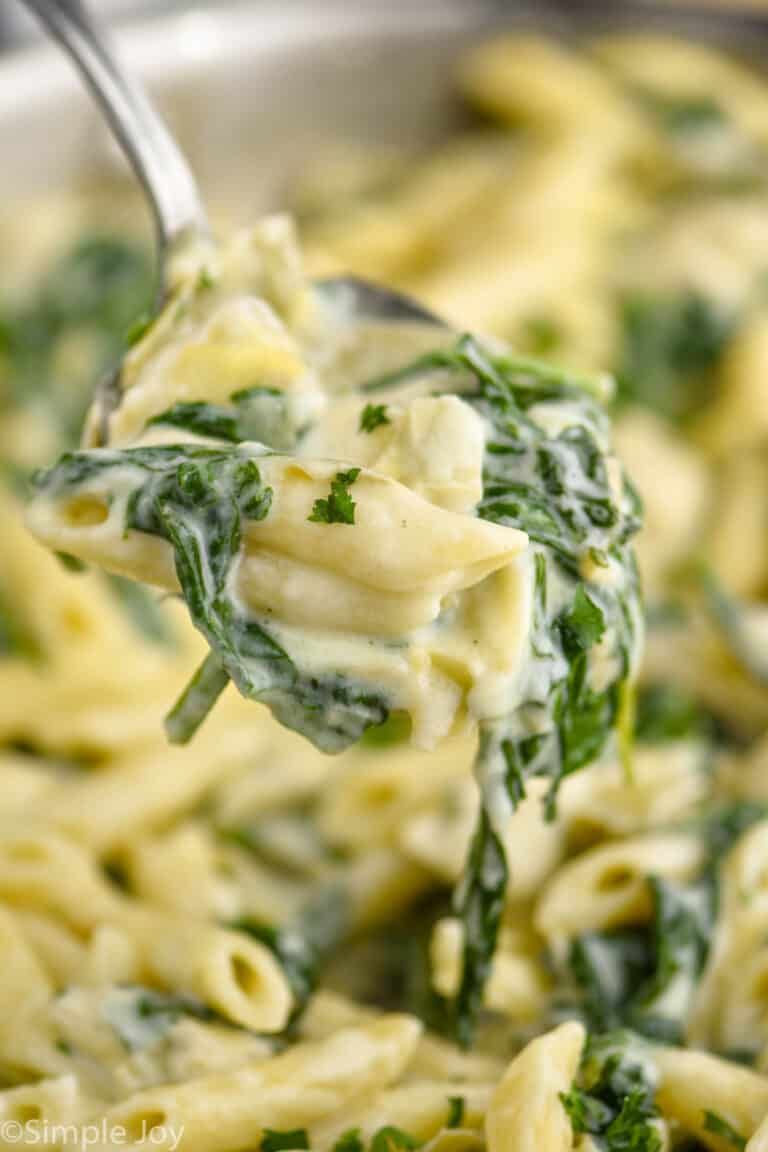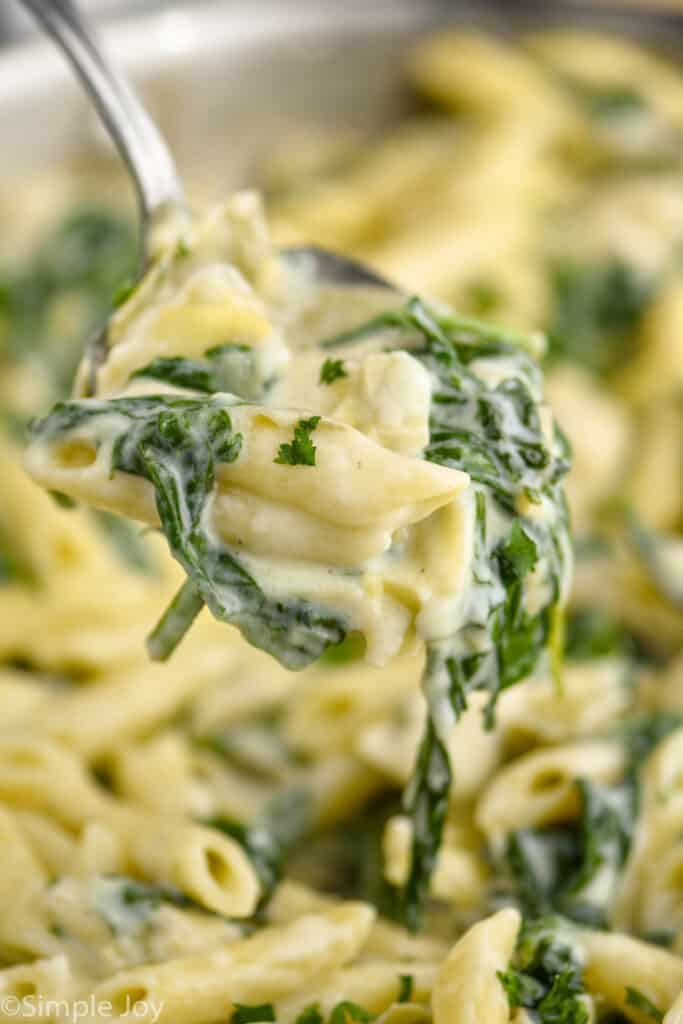 What Parmesan to Use
While you're buying block cheese, take the time to get some freshly shredded parmesan. We keep a can of the powdered parmesan cheese in the fridge for sprinkling on spaghetti. But just like the pre-shredded bagged cheese, powdered parmesan does not melt very well. You can find wedges of fresh parmesan cheese in the deli section of most grocery stores. Shred some in this one pot pasta; it will melt beautifully and that nutty, sharp flavor will taste fabulous!
Using Other Noodles
You can really use any small noodle that your family has on hand for this recipe. It's very flexible. Just keep an eye on the cooking time on the side of the box and consider if you need to adjust how you long you simmer.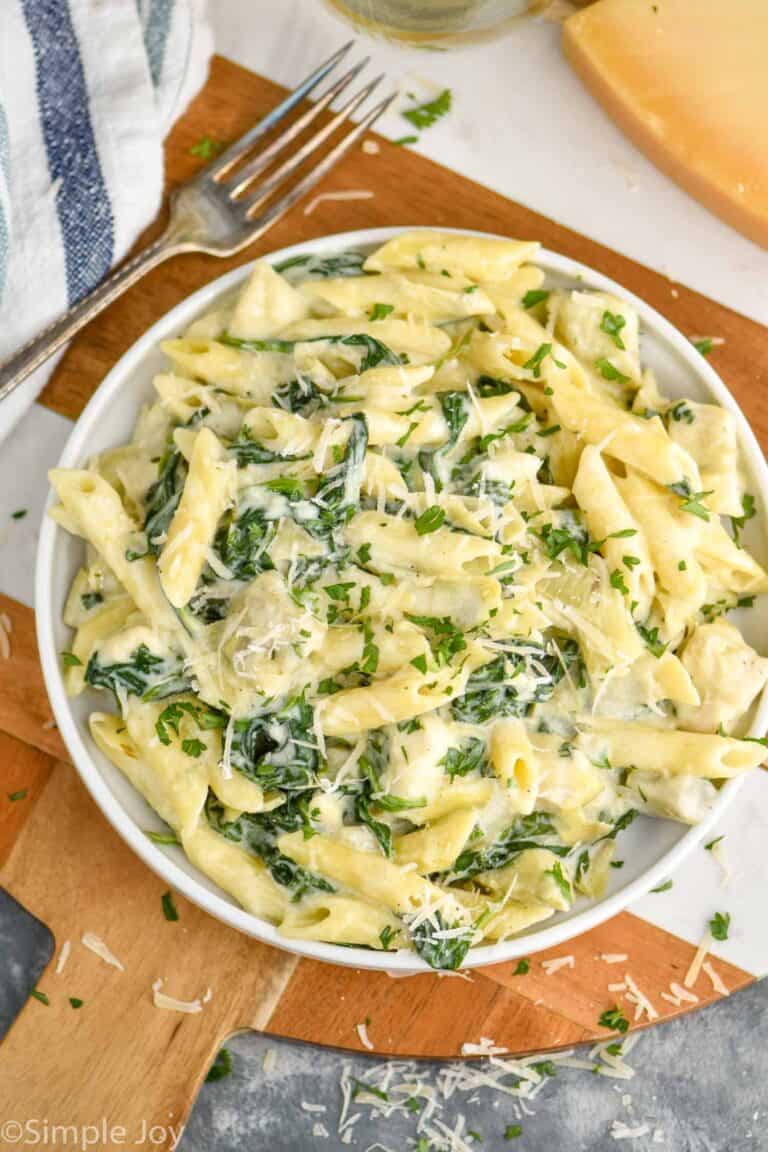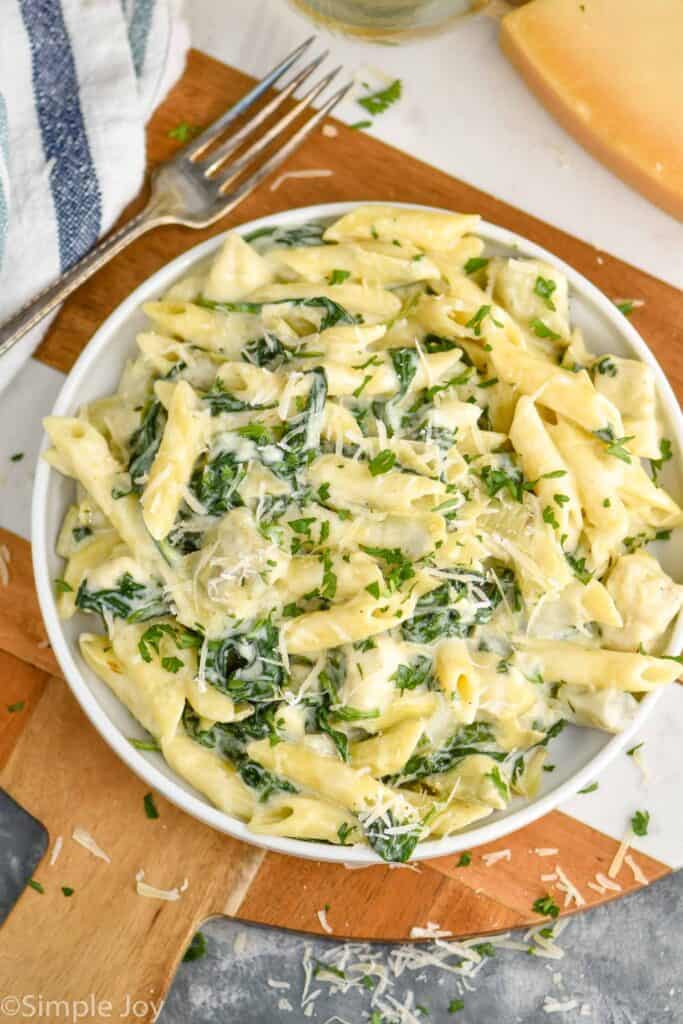 I hope you love this One Pot Spinach Artichoke Pasta dish as much we we do! It's such an easy meal to make when you just don't know what to cook for dinner.
With just a few pantry staples and some chicken you can make a hearty, tasty meal that comes together in a snap. Feel free to drop me a comment below and let me know what you think. Enjoy!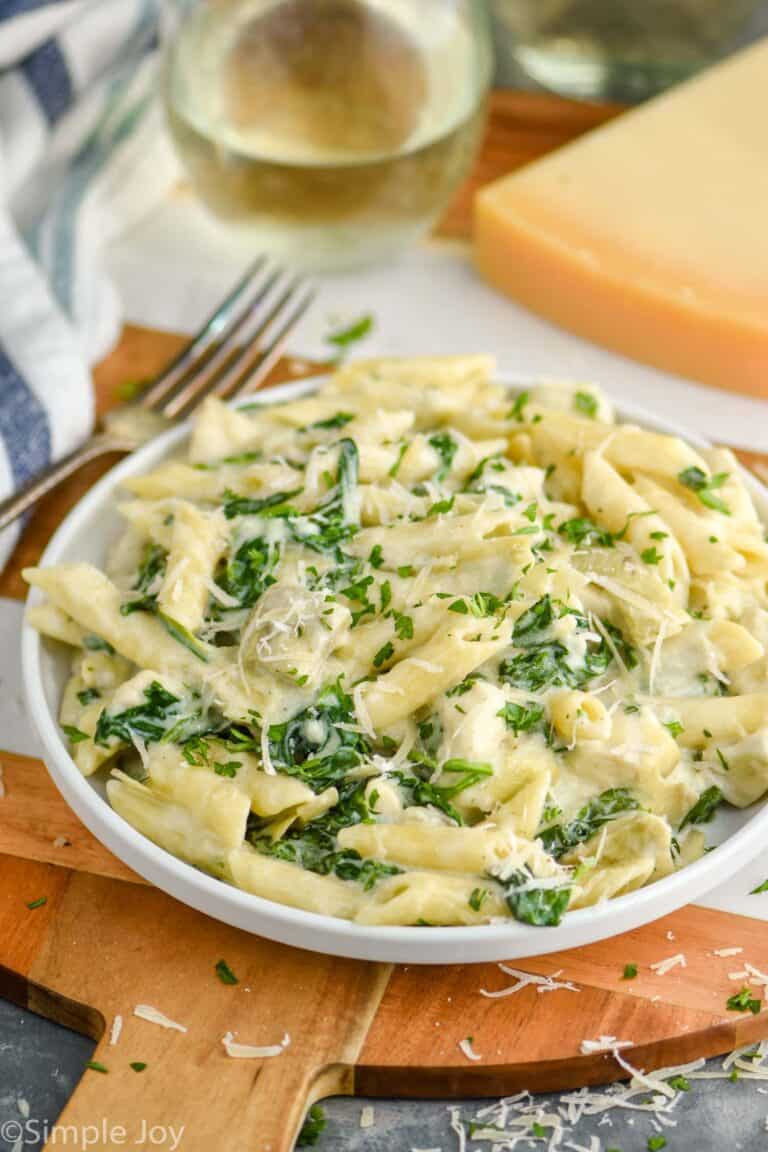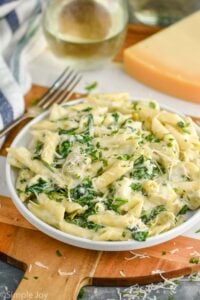 One Pot Spinach Artichoke Pasta
This One Pot Spinach Artichoke Pasta is your favorite dip recipe made into a delicious pasta dinner! Your family will love this easy meal.
Ingredients
2

tablespoon

olive oil

2

cloves

garlic minced

1

pound

chicken

diced

1

teaspoon

kosher salt

1/4

teaspoon

black pepper

2

cups

chicken stock

1

cup

heavy cream

1/2

pound

penne pasta

uncooked

14

oz

can quartered artichoke hearts

chopped

2

cups

baby spinach

1/4

cup

parmesan

shredded

2

cups

mozzarella

shredded
Instructions
In a large skillet, heat the olive oil. Add the garlic and cook until just fragrant, about 30 seconds, being careful not to burn it.

Add the chicken and season with salt and pepper.

Cook the chicken until no longer visibly pink, about 2 minutes. It will continue to cook with the rest of the dish.

Add the uncooked pasta, chicken stock, and heavy cream. Cover and bring to a boil. Remove the cover and reduce to a simmer. You should see intermitent bubbles. Stir, cook for 10 -15 minutes or until the pasta is tender.

Stir in the artichoke hearts and spinach. Continue stirring until the spinach is wilted.

Stir in the cheese and allow it to melt. Serve immediately.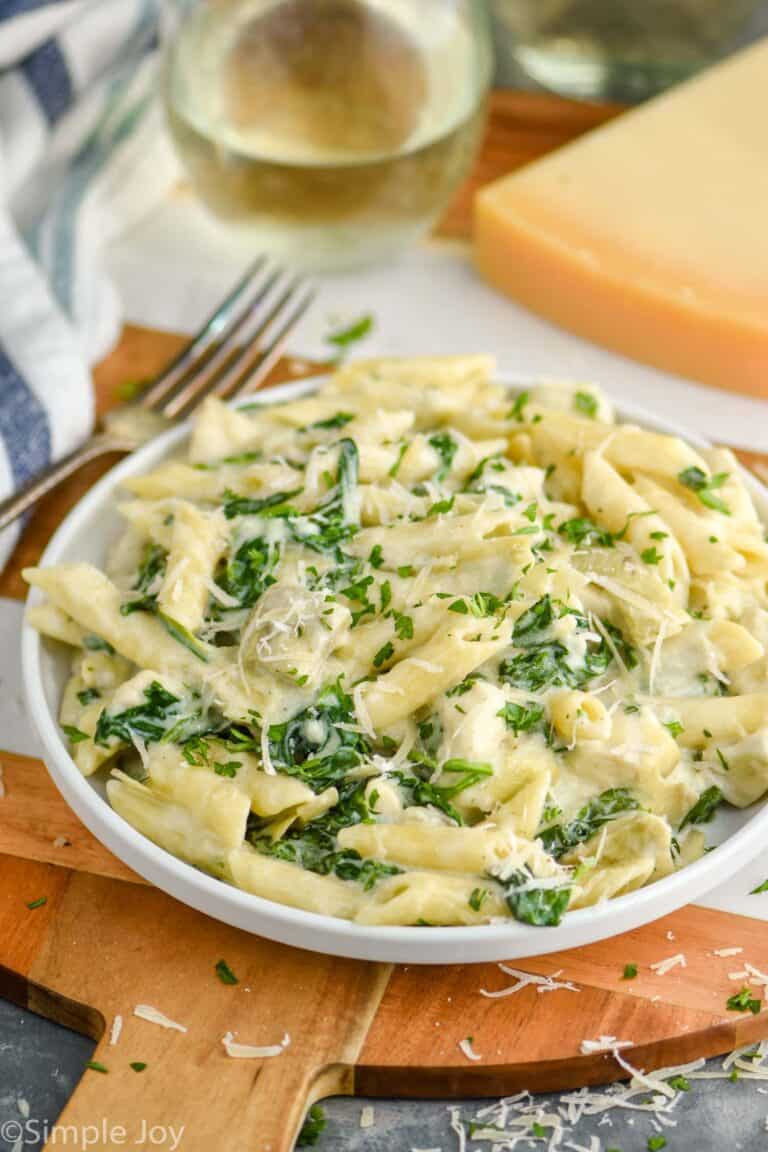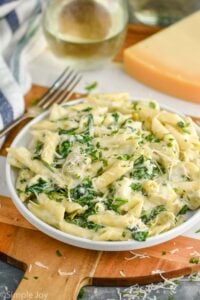 did you make this
One Pot Spinach Artichoke Pasta