Peanut Butter No Bake Cookies are always a hit! These easy no bake peanut butter oatmeal cookies only take 15 minutes to make, and everyone loves them.
If these look amazing but you are craving chocolate, make my Chocolate Peanut Butter No Bake Cookies.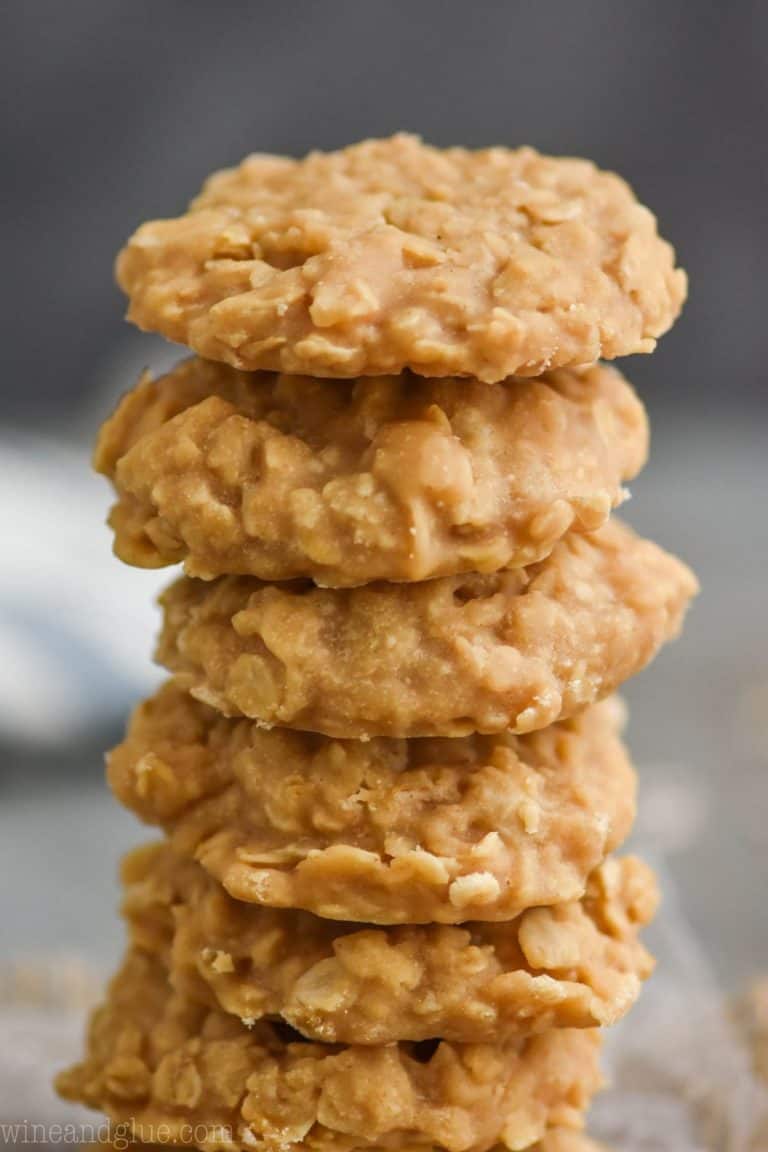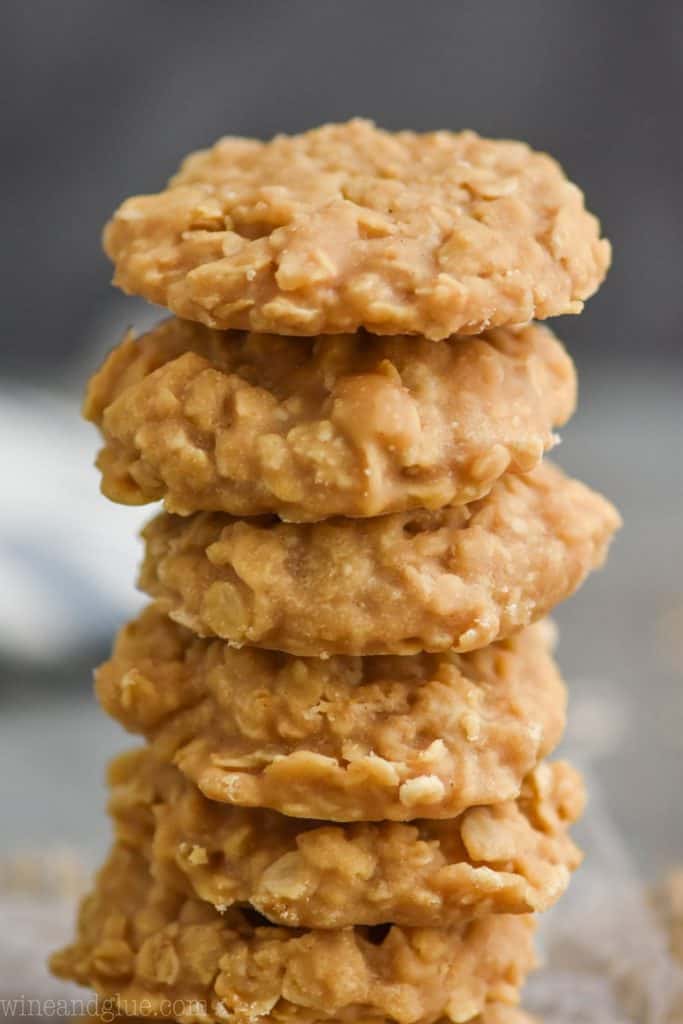 One thing my kids always love to do with me is make treats. And our favorite is to make easy no bake treats. These great Peanut Butter No Bake Cookies are the perfect quick and easy no bake treat. They come together with just six ingredients, and are done in no time.
These delicious no bake cookies are sure to become a favorite in your house. My nephew says that these taste like peanut butter cookie dough!
READER REVIEW
These were the best no bakes I have ever made!
How to Make Peanut Butter No Bake Cookies
Combine butter, sugar, and milk in a saucepan. You will want to stir things right away so the sugar doesn't burn.
Bring the mixture to a boil. While it is coming to a boil, stir consistently.
Boil for one minute. This is a very important step. The liquid should be at a roaring boil for one minute.
Combine with oats, peanut butter, and vanilla. Remove from it from the heat and stir it in with the rest of your ingredients moving some what quickly.
Form into cookies. While the mixture is still hot, use a cookie scoop the form it into cookies and place them on a wax paper or parchment paper lined tray.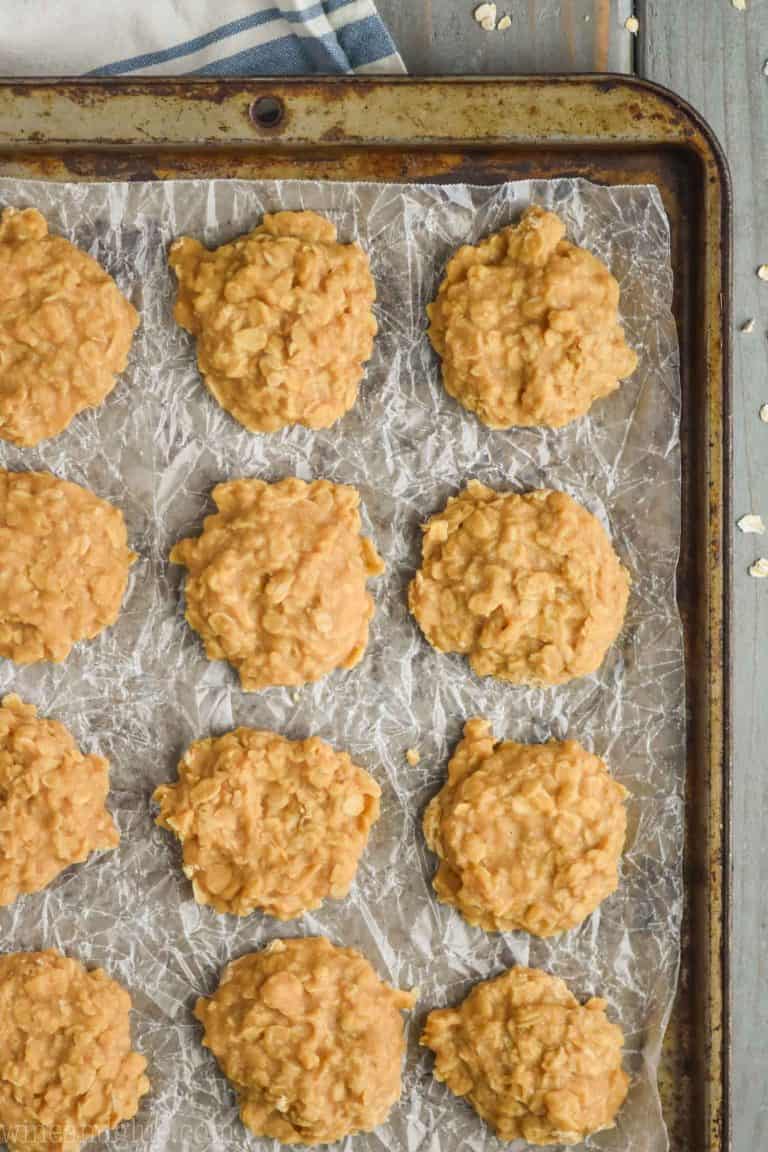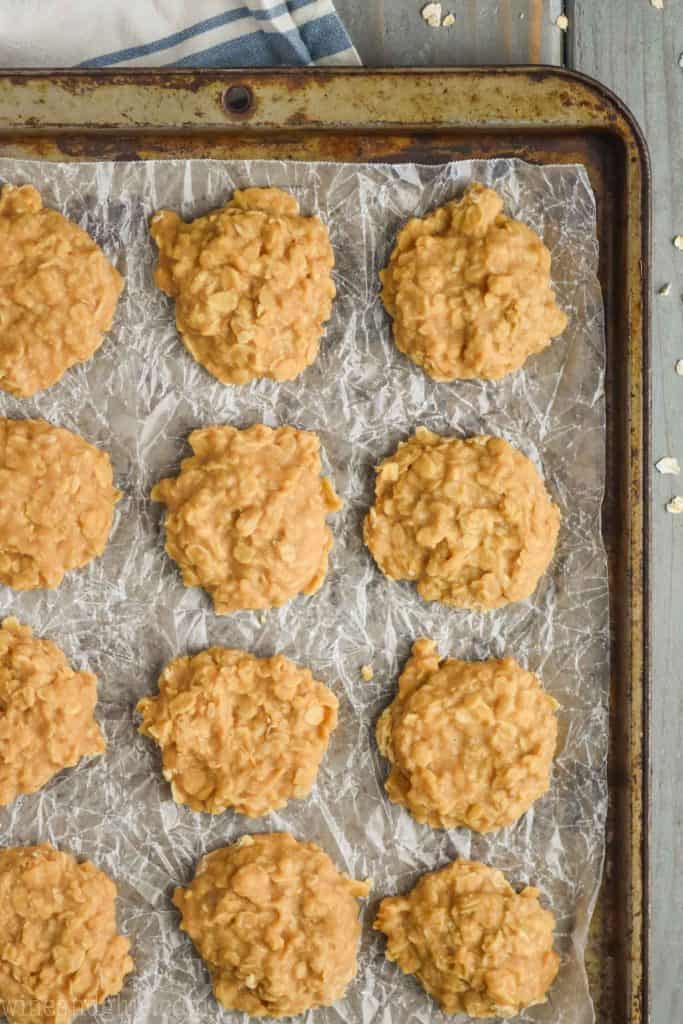 Tips for Peanut Butter No Bakes
You are looking for a raging boil. We aren't talking a few bubbles. You want to see a really foamy and frothy boil before moving on to your next step.
Stir continuously. This isn't a recipe to walk away from.
Work quickly. Once the mixture has boiled and you are adding the other ingredients, move fast.
Old Fashioned Oats or Quick Cooking Oats
Peanut Butter No Bake Cookies work out best with old fashioned oats. Quick cooking oats are broken down into small pieces and so your cookies aren't going to have the same look or texture with them.
That said, if all you have is quick cooking oats, you can still make these and you will enjoy them.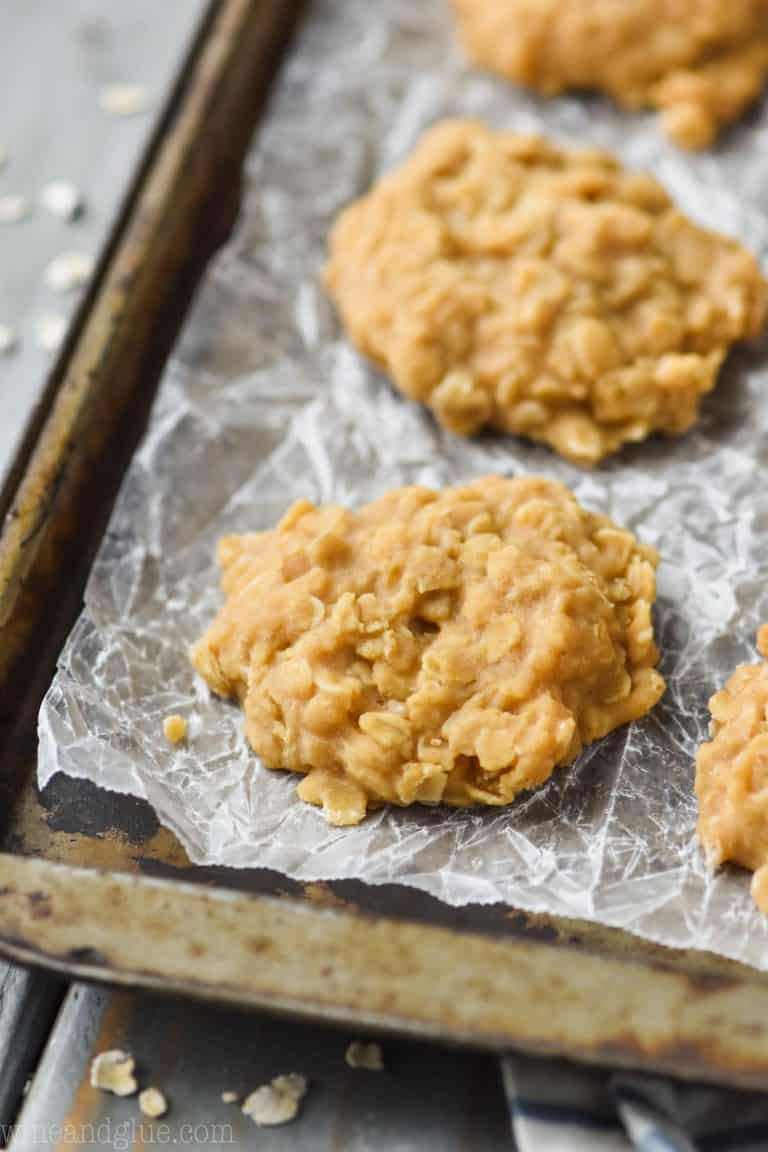 Freezing Peanut Butter No Bake Cookies
No bake peanut butter oatmeal cookies are perfect for freezing!
Line a baking sheet with wax paper (or just use the sheet you used while making them).
Line the tray with the cookies (they can touch each other).
Put in the freezer for a half hour to an hour. Then take them out and transfer them to a freezer safe container, stacking them.
Return to the freezer.
When you are ready to eat them, just leave them out until they thaw. Overnight usually does the trick.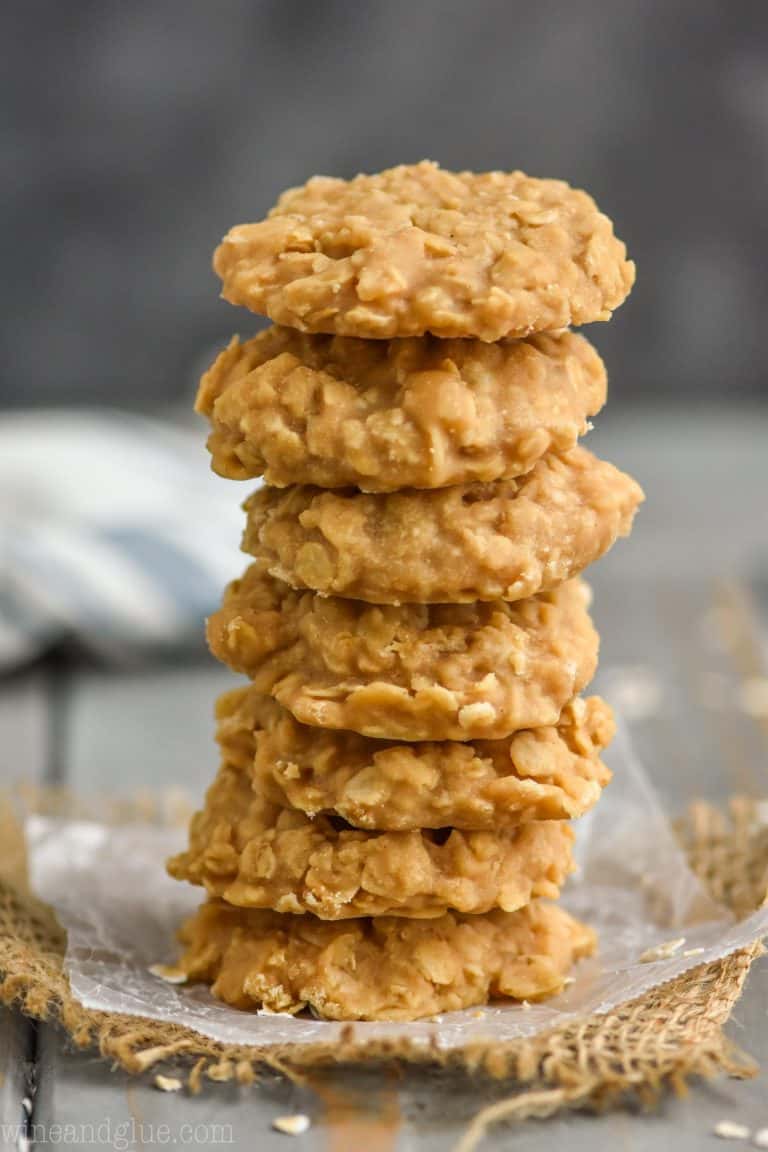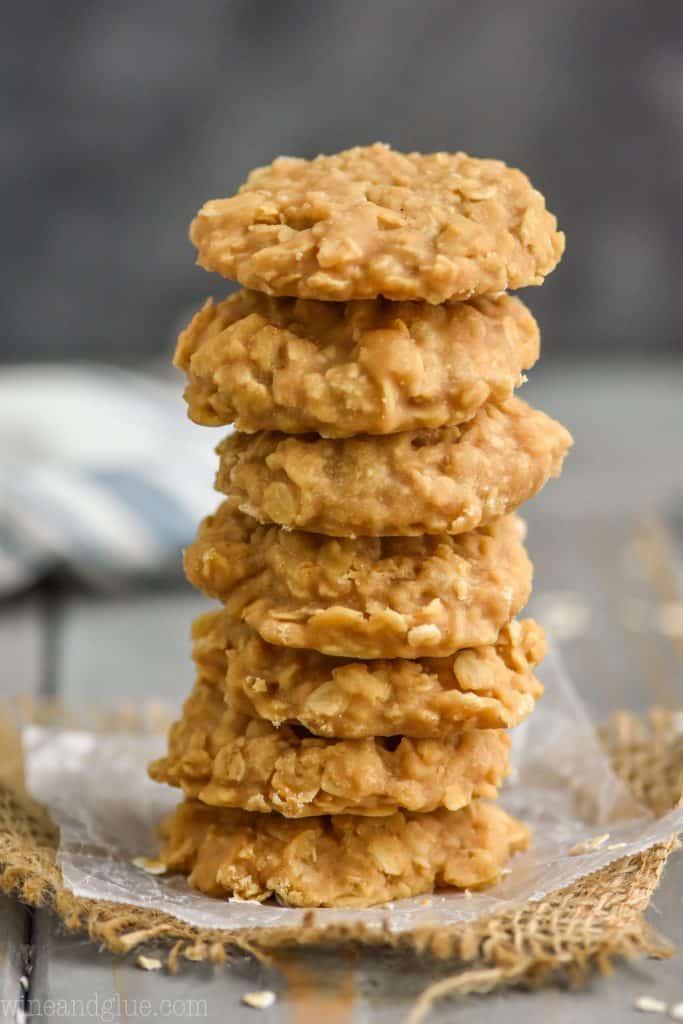 FAQ
Are Peanut Butter No Bake Cookies Gluten Free
In theory, yes. But it really depends on what types of oats you are using.
Technically oats are gluten free, but a lot of companies who produce them also produce other grains and therefore can't guarantee no gluten is in their oats.
If you are making these for someone who cannot have gluten, make sure the packaging on your old fashioned oats guarantees they are gluten free.
Can these be made with crunchy peanut butter?
Yes, they will work with crunchy peanut butter, but I think they work a little better the traditionally way.
Can you freeze no bake oatmeal cookies?
Yes! I have great step by step instructions for freezing in the section above.
Do these cookies ship well?
Yes, these cookies will handle being shipped well. Like all cookies, they won't be quite as pretty after being shipped, but they will stay together.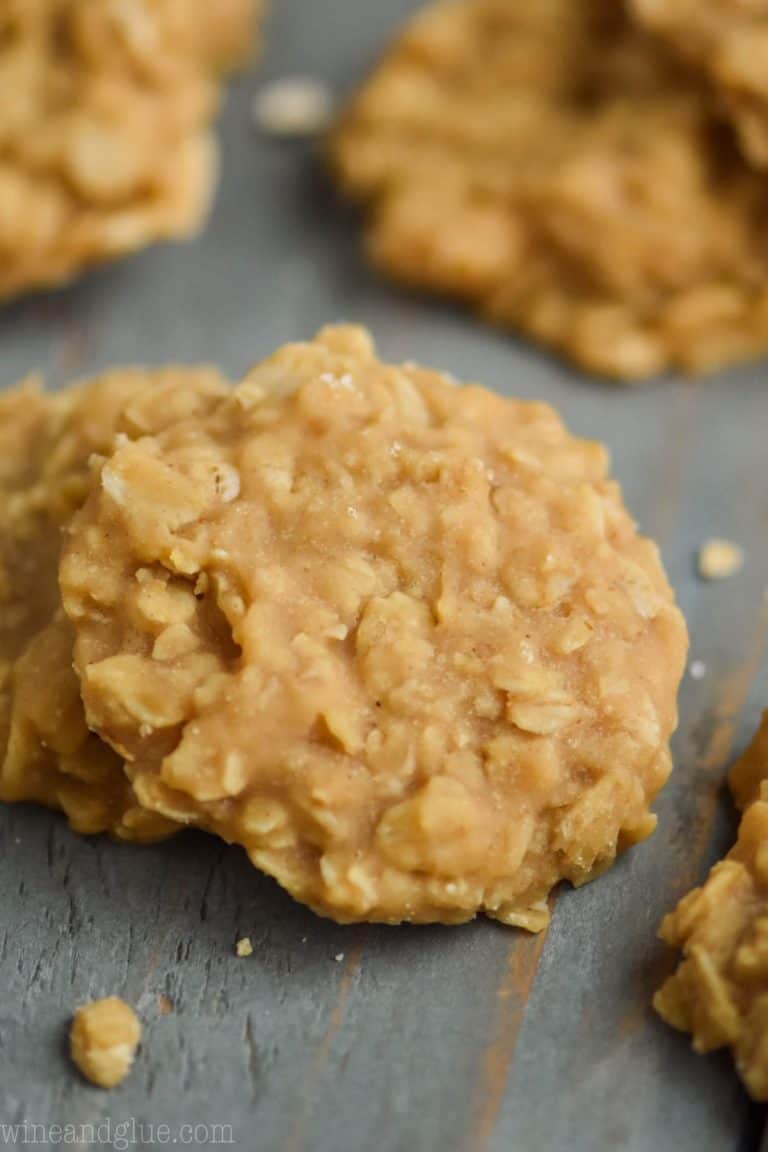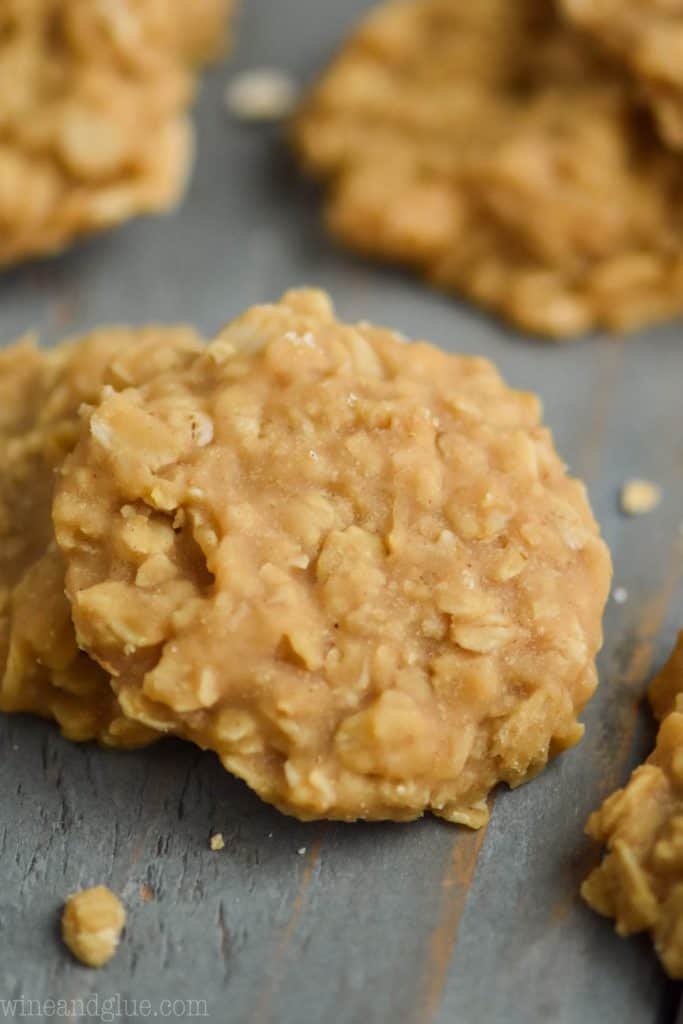 Other Great Treats
I love this no bake cookie recipe for gifting at the holidays, but I usually include an assortment. Here are some other great ideas!
If you make this amazing peanut butter no bake cookie recipe or any of my other recipes please leave me a comment and let me know. I love hearing from you!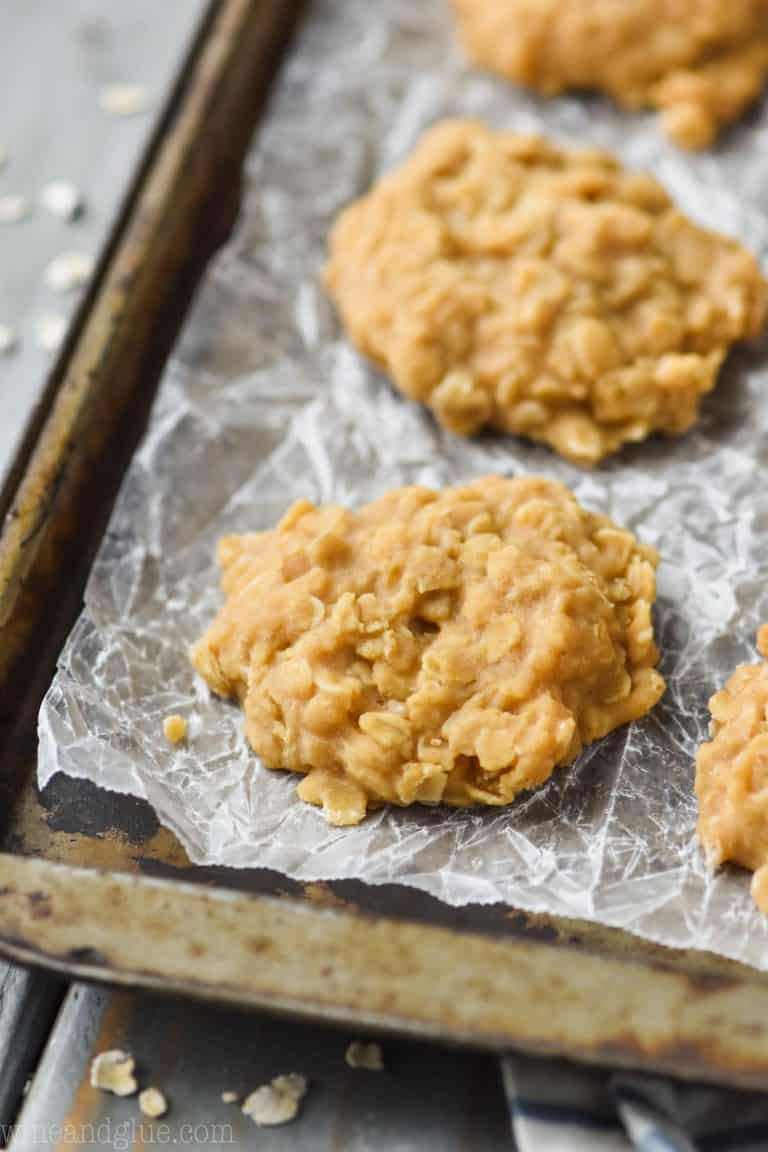 Peanut Butter No Bake Cookies
Peanut Butter No Bake Cookies are always a hit! These easy no bake peanut butter oatmeal cookies only take 15 minutes to make, and everyone loves them.
Ingredients
2

cups

granulated sugar

1/2

cup

milk

8

tablespoons

unsalted butter

3

cups

old fashioned oats

1

cup

smooth peanut butter

1

tablespoon

vanilla extract
Instructions
Line two baking sheets with wax paper and set aside.

In a large saucepan over medium heat, combine the granulated sugar, milk, and butter.  Bring to a boil, while stirring consistently. It should be a roaring foamy boil before you move on to the next step.

Once it has come to a roaring boil, boil for one minute while continuing to stir.

Remove from heat and stir in the oats, peanut butter, and vanilla.

Using a large spoon, spoon large spoonfuls (about 1 1/2 tablespoons) of the mixture onto the waxed paper. Allow to cool completely. Eat immediately or store in an airtight container for up to a week.
Serving:
1
cookie
Calories:
202
kcal
(10%)
Carbohydrates:
27
g
(9%)
Protein:
4
g
(8%)
Fat:
10
g
(15%)
Saturated Fat:
3
g
(19%)
Monounsaturated Fat:
1
g
Cholesterol:
11
mg
(4%)
Sodium:
37
mg
(2%)
Potassium:
11
mg
Fiber:
2
g
(8%)
Sugar:
18
g
(20%)
Vitamin A:
2
IU
Calcium:
1
mg
Iron:
4
mg
(22%)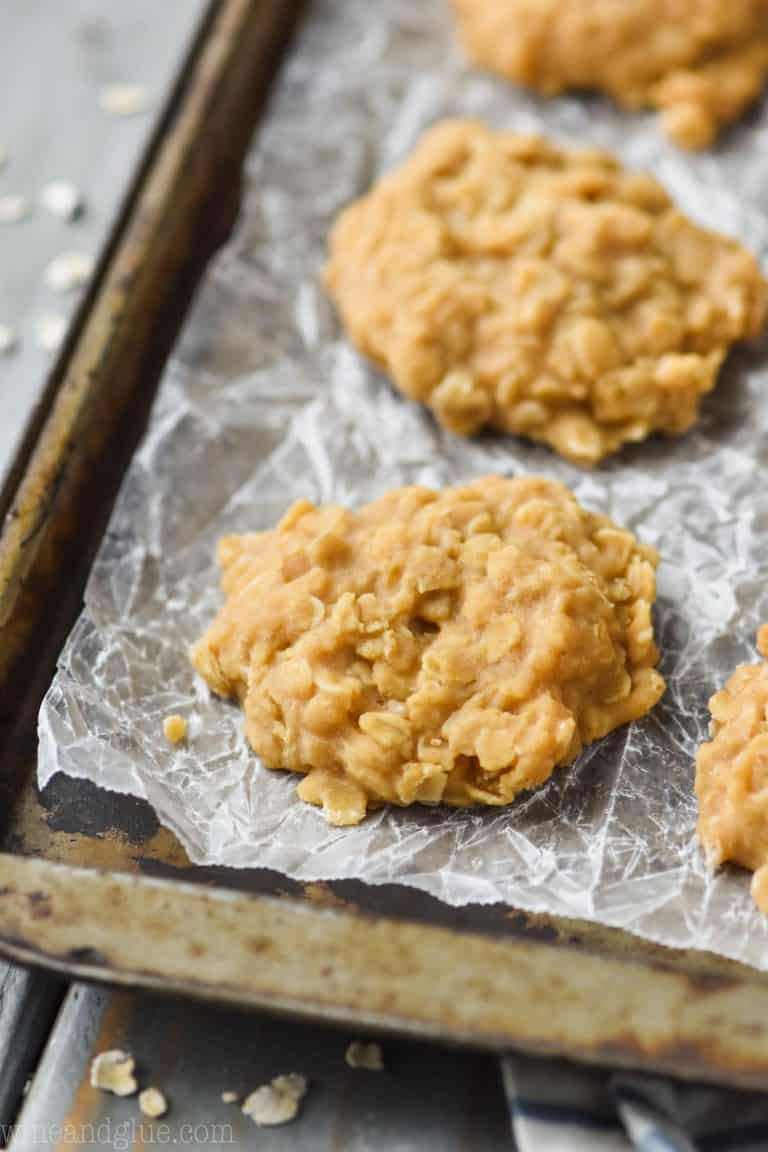 did you make this
Peanut Butter No Bake Cookies
you might also like . . .