Call it Puppy Chow or call it Muddy Buddies, this is the delicious treat that everyone loves! Perfect for parties and great for gifting, this is a snack you won't be able to get enough of.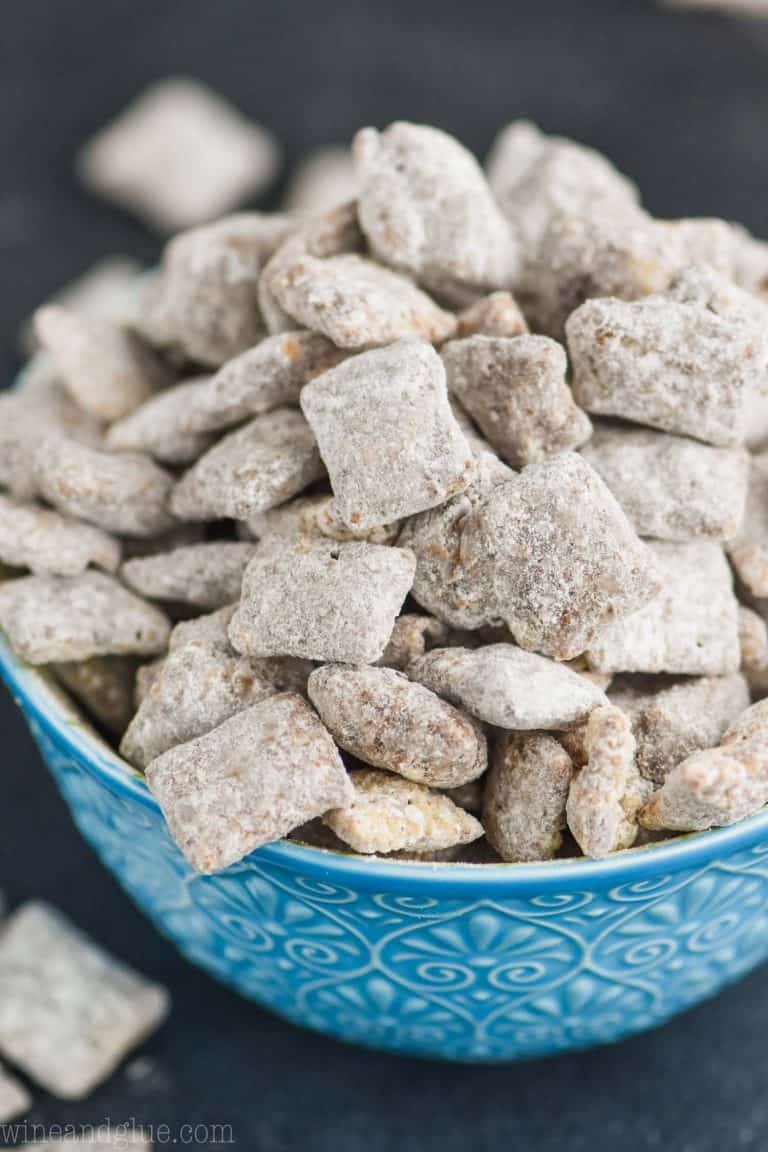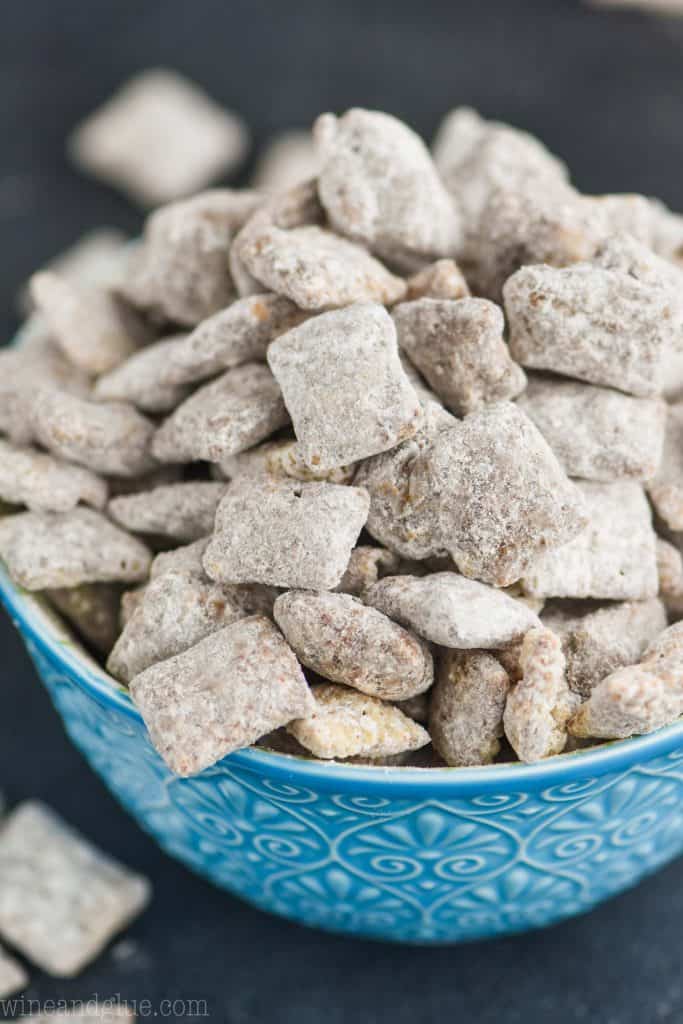 Muddy Buddies are one of my favorites treats to make and eat! I can eat far too many in one sitting, so I have to be careful how often I make them.
Mostly, I love to make them to gift to others. Simple no bake treats, like haystacks and easy fudge, are perfect for giving to others, and this puppy chow is definitely on that list.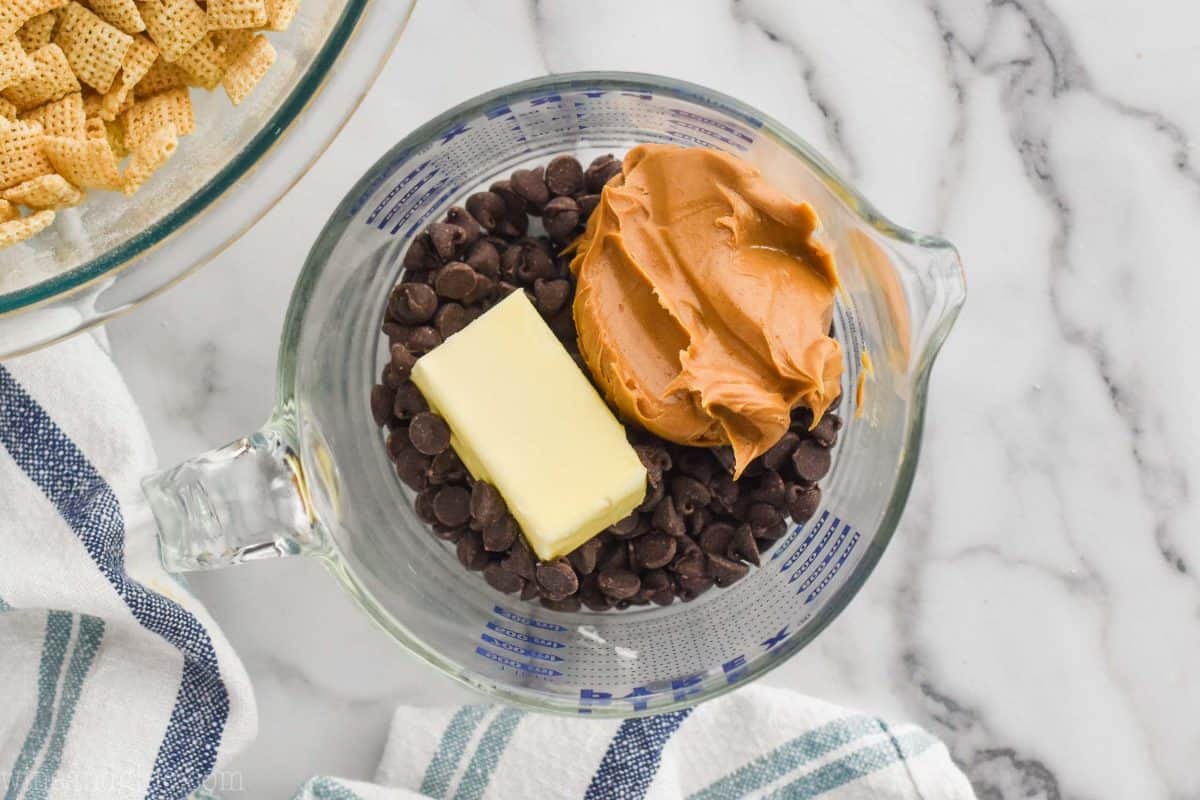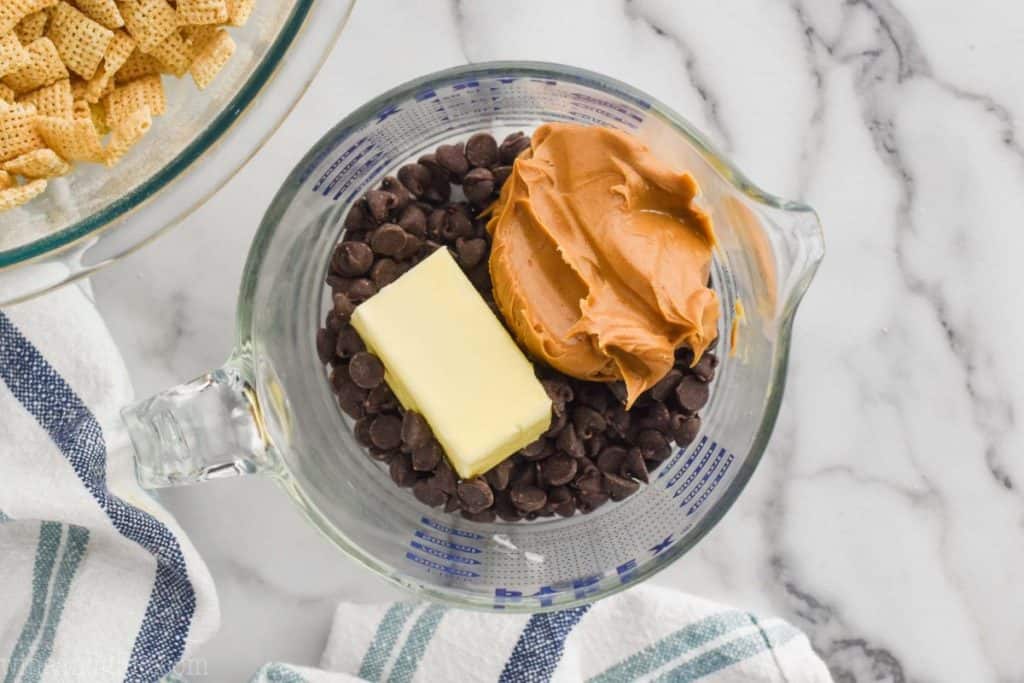 Puppy Chow Ingredients
Muddy buddies are made from he following delicious ingredients:
Chex Cereal: Chex Muddy Buddies are kind of a staple, and there is a reason. This cereal is the best for holding on to all the chocolate and peanut butter goodness. The other added bonus is that you can find the cereal easily in gluten free varieties.
Chocolate Chips: My preference is milk chocolate chips, but you can also use semi-sweet if that is what you prefer or if that is what you have on hand.
Butter: I keep unsalted on hand for baking, and that works great here, but salted will be fine too.
Creamy Peanut Butter: I highly suggest that you use creamy and not crunch peanut butter. The texture is much better for this recipe.
Vanilla Extract
Powdered Sugar: I find it best to start with just 1 1/2 cups of powdered sugar and only add in the last 1/2 cup if it is strictly necessary.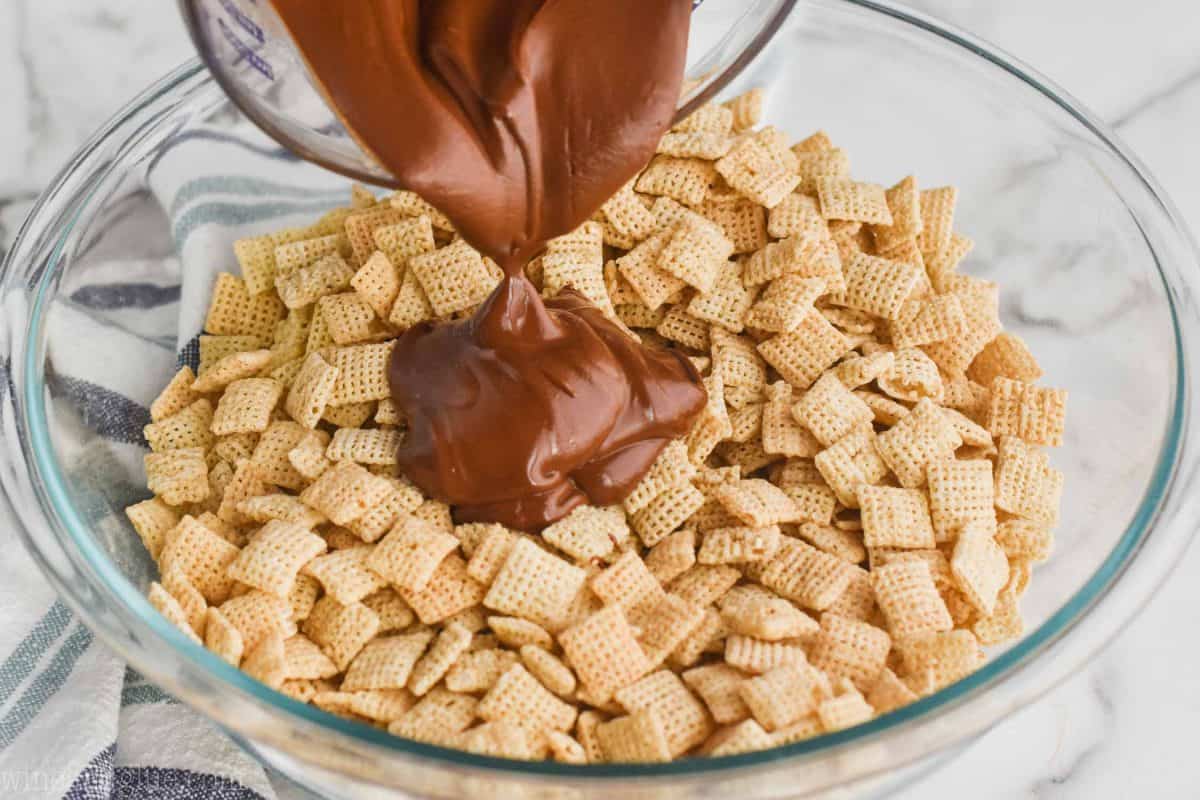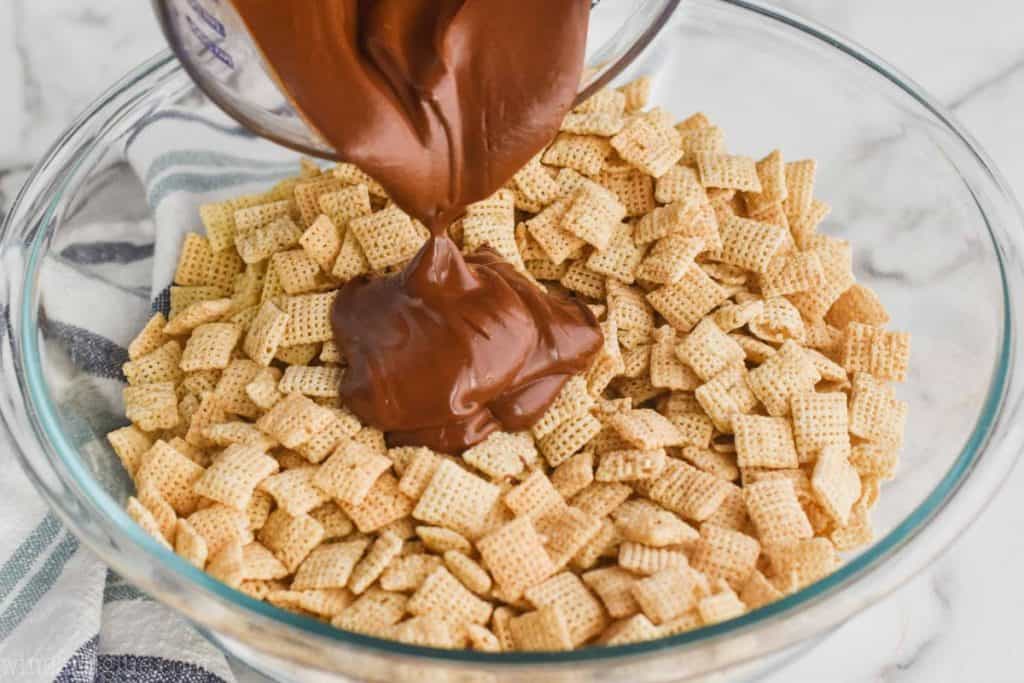 How to Make Muddy Buddies
I think one of the reasons this is such a popular recipe is because it is so simple and easy to make.
Pour your cereal into a large mixing bowl. You want to pick a very large bowl for easy mixing. I also sometimes like to make this in a sealable container because then you can just put on the lid to shake the powdered sugar on. (This one can hold 14 cups.)
Make the chocolate peanut butter sauce. In a glass measuring cup, microwave the butter, peanut butter, and chocolate chips together.
Add vanilla. Stir vanilla extract into the chocolate mixture and continue stirring until smooth.
Combine the sauce and the cereal. Pour the mixture over the cereal and mix really well. I find it easiest to mix with clean hands.
Coat with powdered sugar. Put the whole mixture into a plastic bag. (Unless you are using a large plastic container.) Add 1 1/2 cups of powdered sugar and toss to coat. If necessary, add the reaming 1/2 cup powdered sugar and toss again.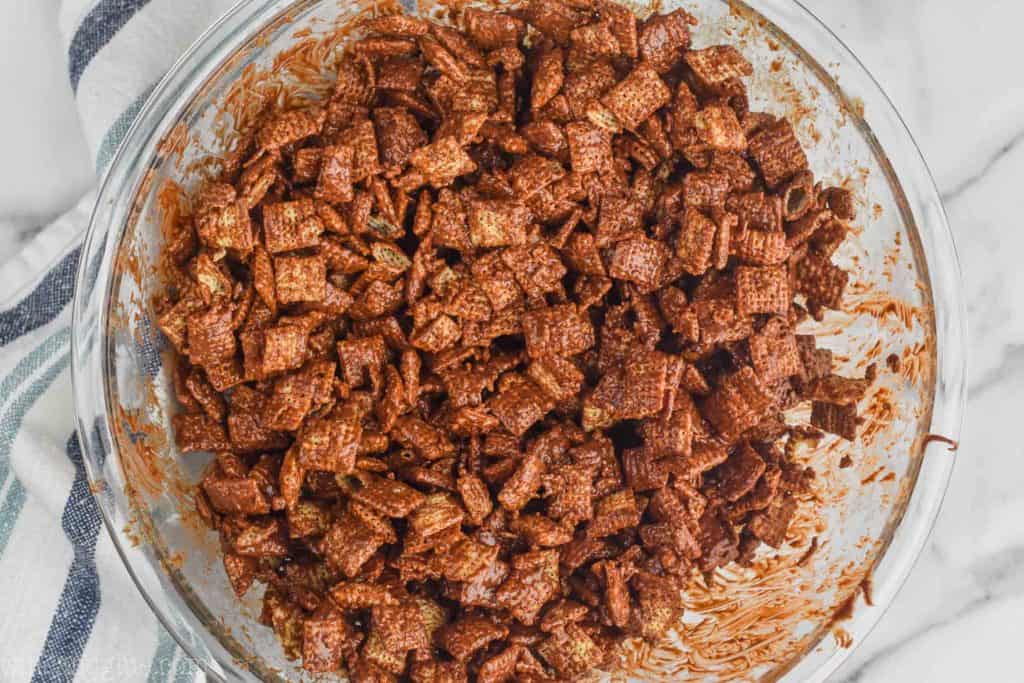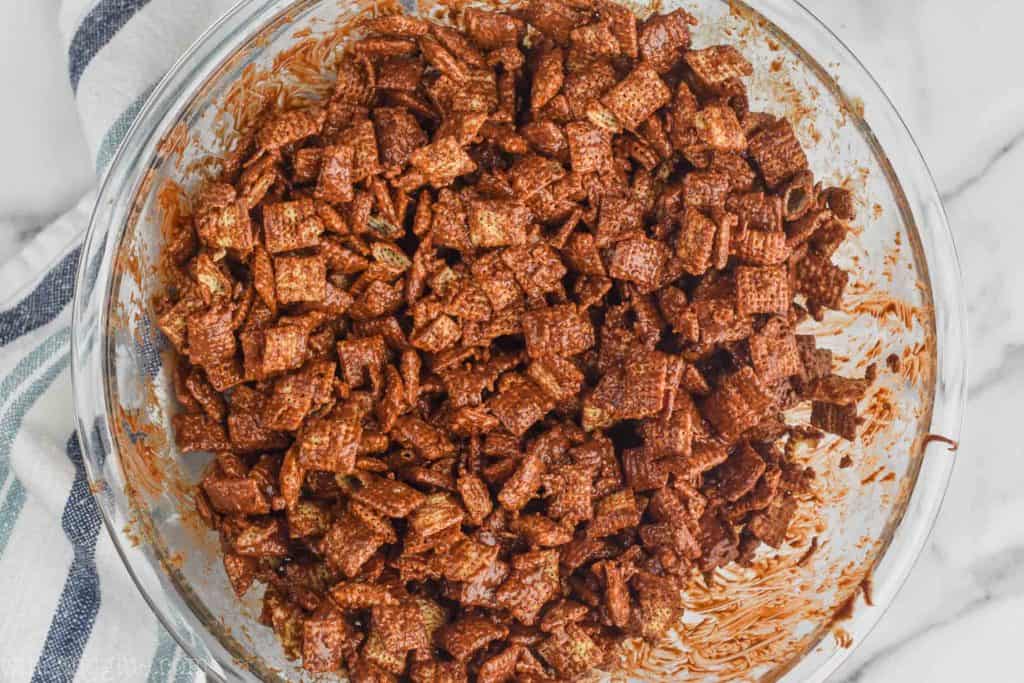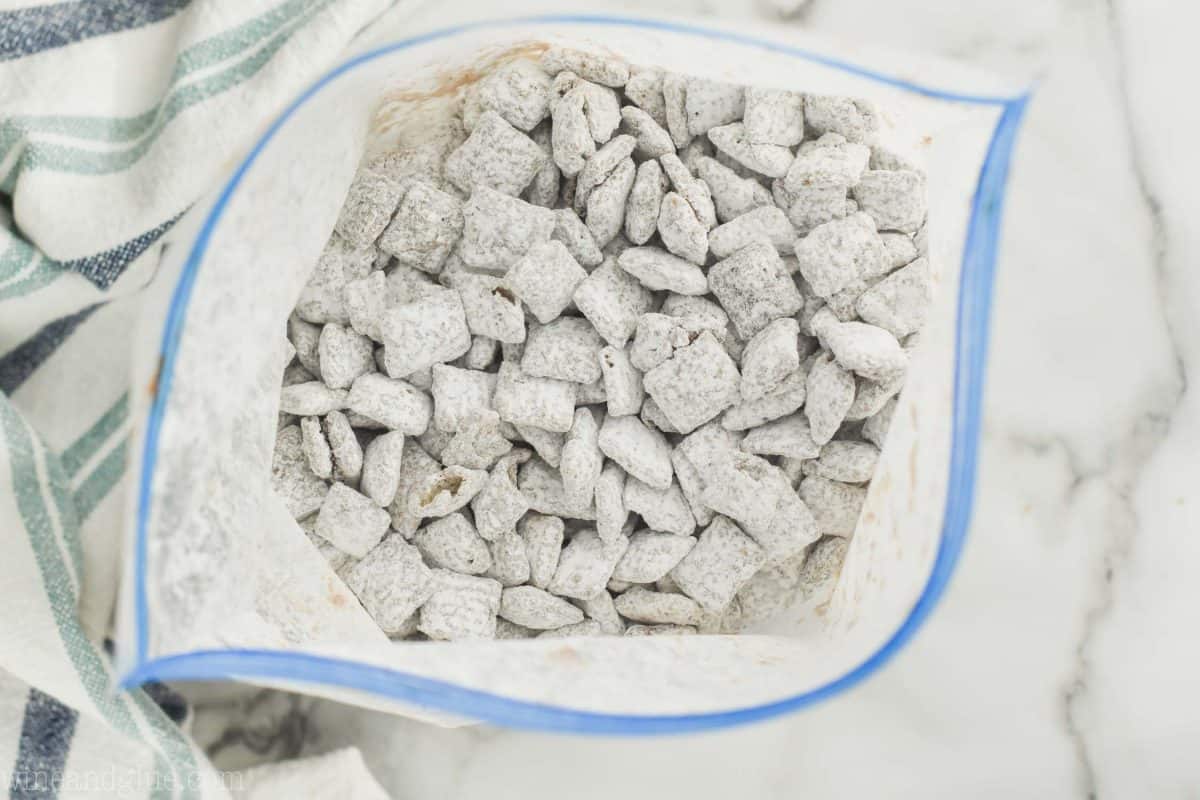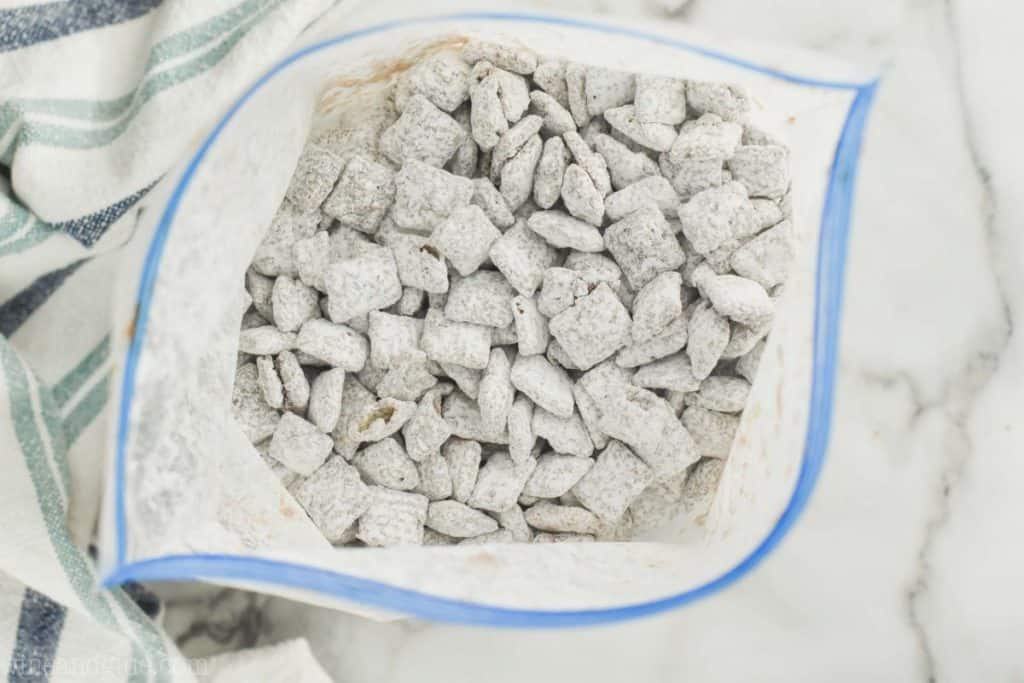 Storing Muddy Buddies
Puppy Chow should be stored in an airtight container and is best if eaten within 1 to 2 weeks. If they aren't stored in a well sealed container they will go stale very quickly. Muddy Buddies do not need to be refrigerated, they can be stored in your parntry.
Freezing Puppy Chow
You can freeze muddy buddies, but I would proceed with caution because it is DELICIOUS frozen. Maybe even better. I may or may not have been caught red handed eating puppy chow straight from the freezer by my children.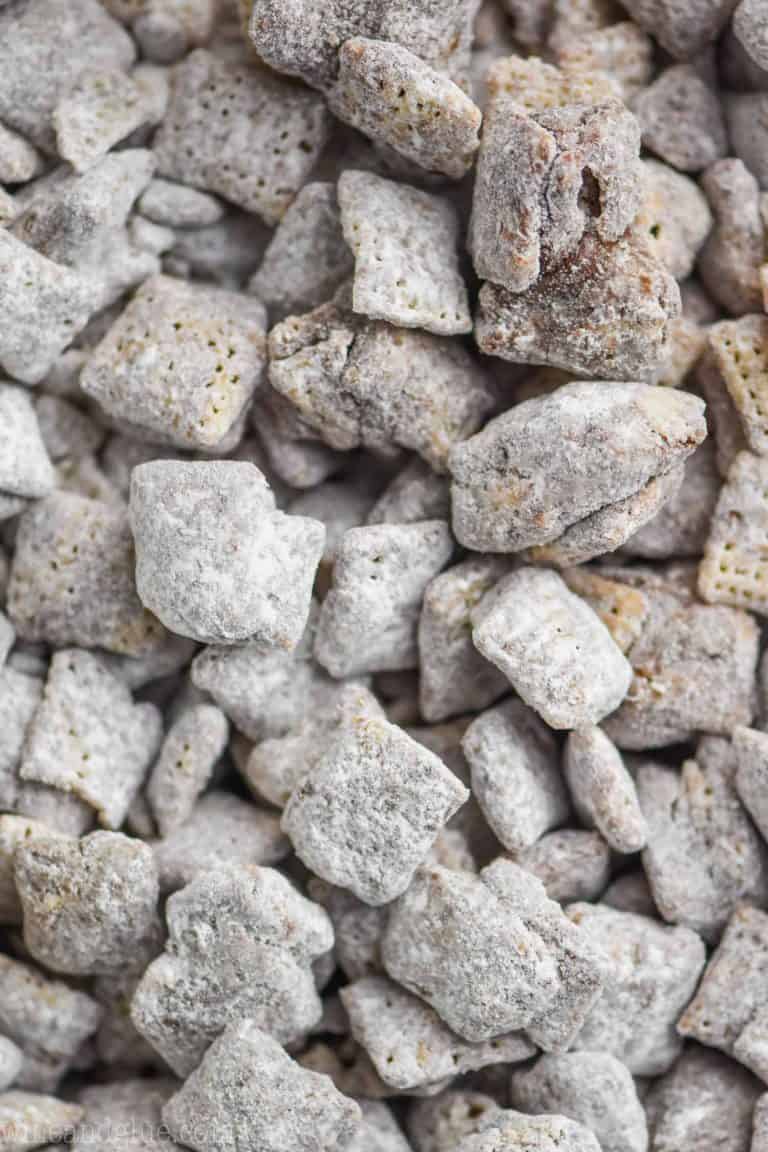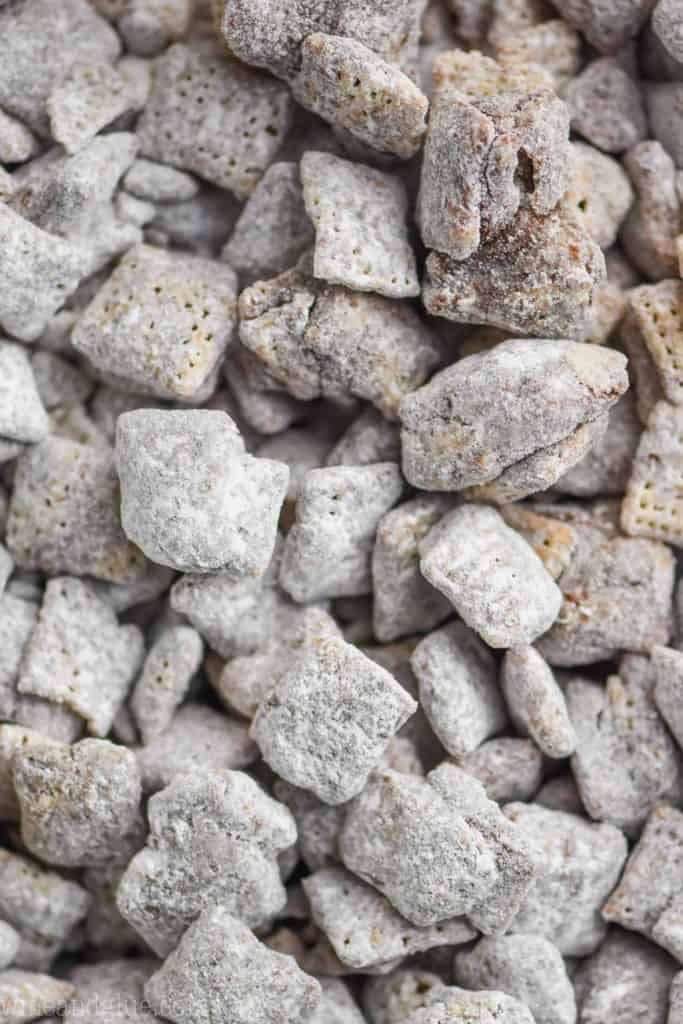 FAQ
Why is it called Puppy Chow?
This delicious snack is sometimes referred to as puppy chow because some think it looks like food for dogs. That being said, please don't feed this to your dogs, it is not good for them.
Can Muddy Buddies be frozen?
Not only can they be frozen, they are amazingly delicious when frozen.
Can Puppy Chow be made gluten free?
Yes! You can easily find gluten free Chex cereal that would be perfect for this recipe. As with all recipes, make sure you check the labels of all ingredients to ensure they are gluten free.
We have a peanut allergy, what can I use instead?
I have had readers who swear by Wow Butter. It is peanut free but acts like peanut butter in baking and cooking recipes.
What is the difference between puppy chow and muddy buddies?
There is no difference, they are the same delicious treat that just goes by different names.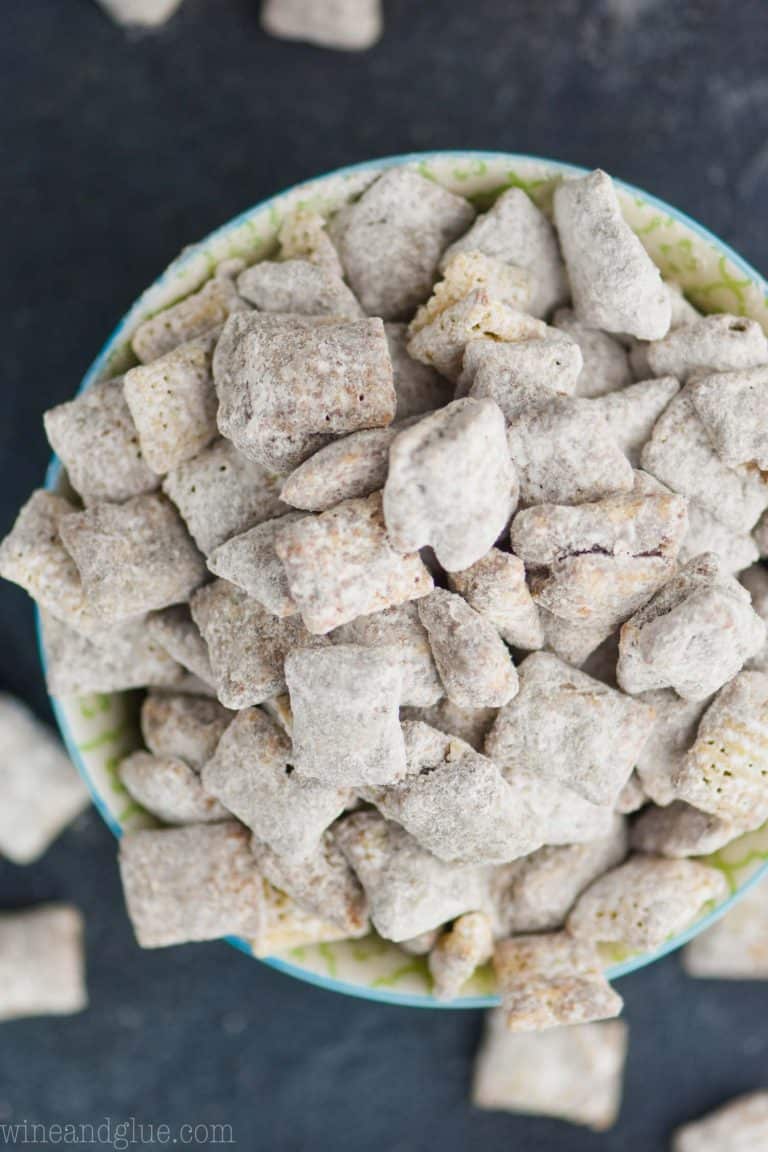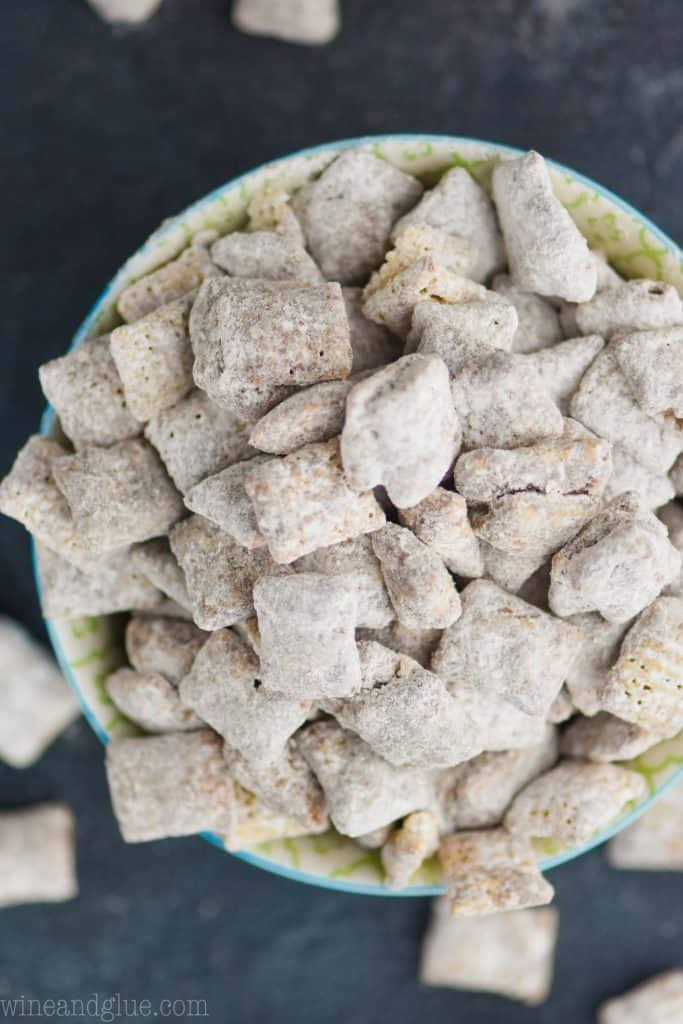 Variations
This is a great base recipe. One of my favorite variations is Funfetti Cake Batter Muddy Buddies, with a great cake flavor.
This recipe would also be really great with Nutella in place of the peanut butter.
But really, the possibilities are endless. Here are some of the more random variations I've made: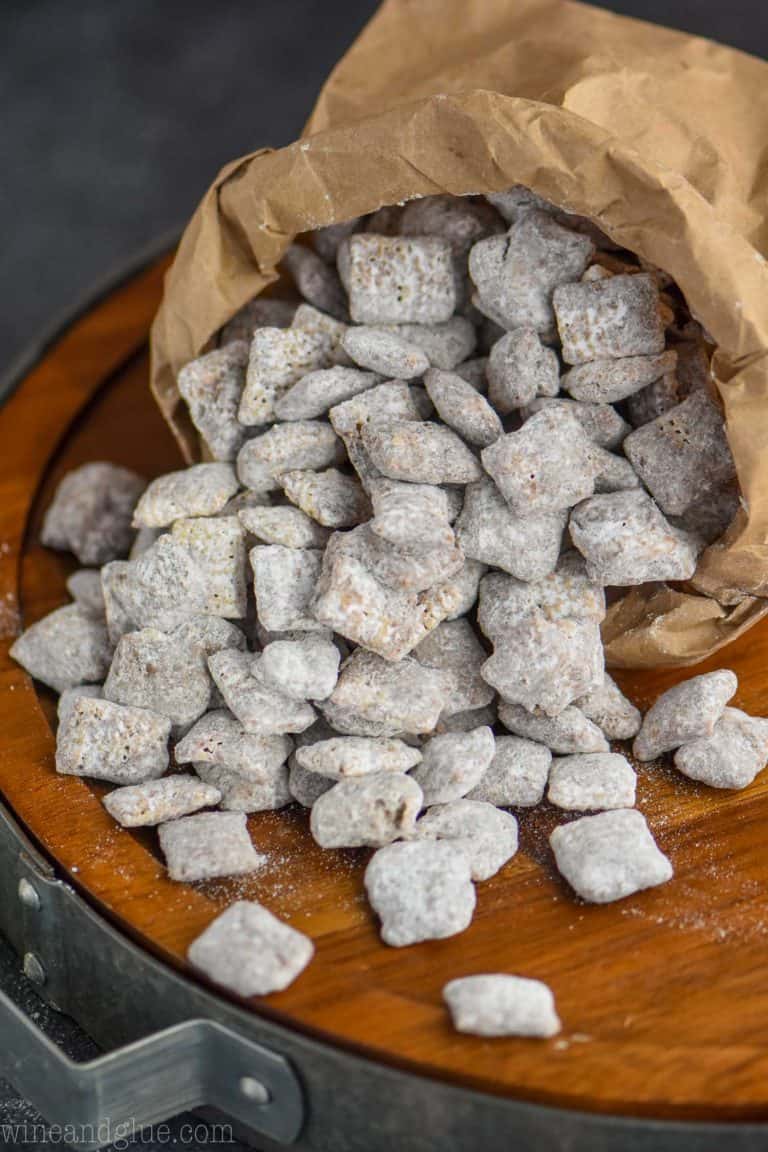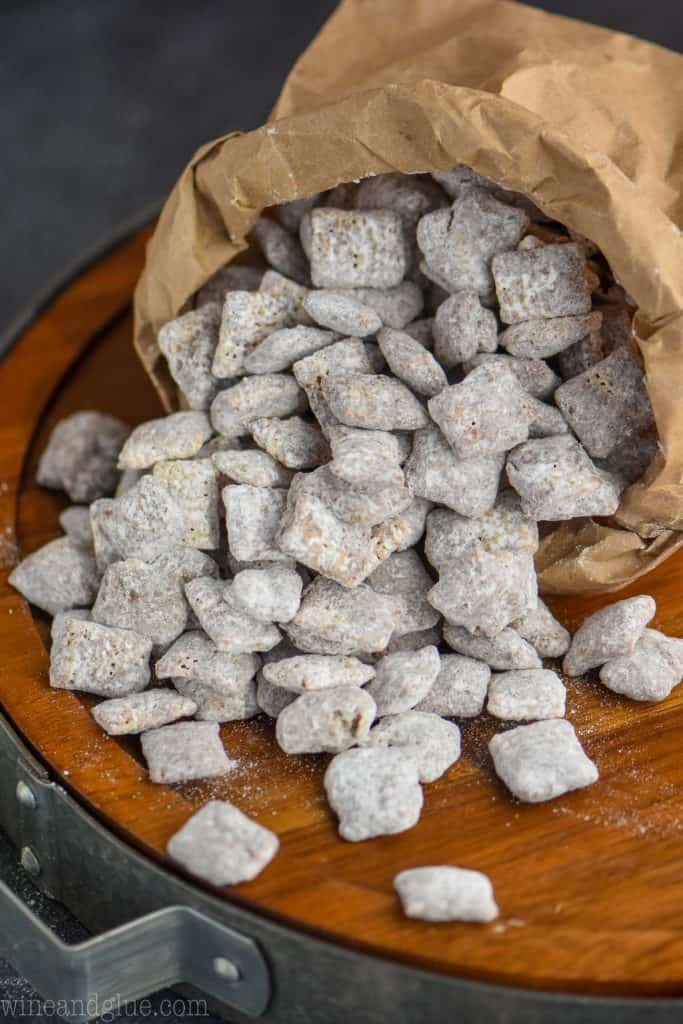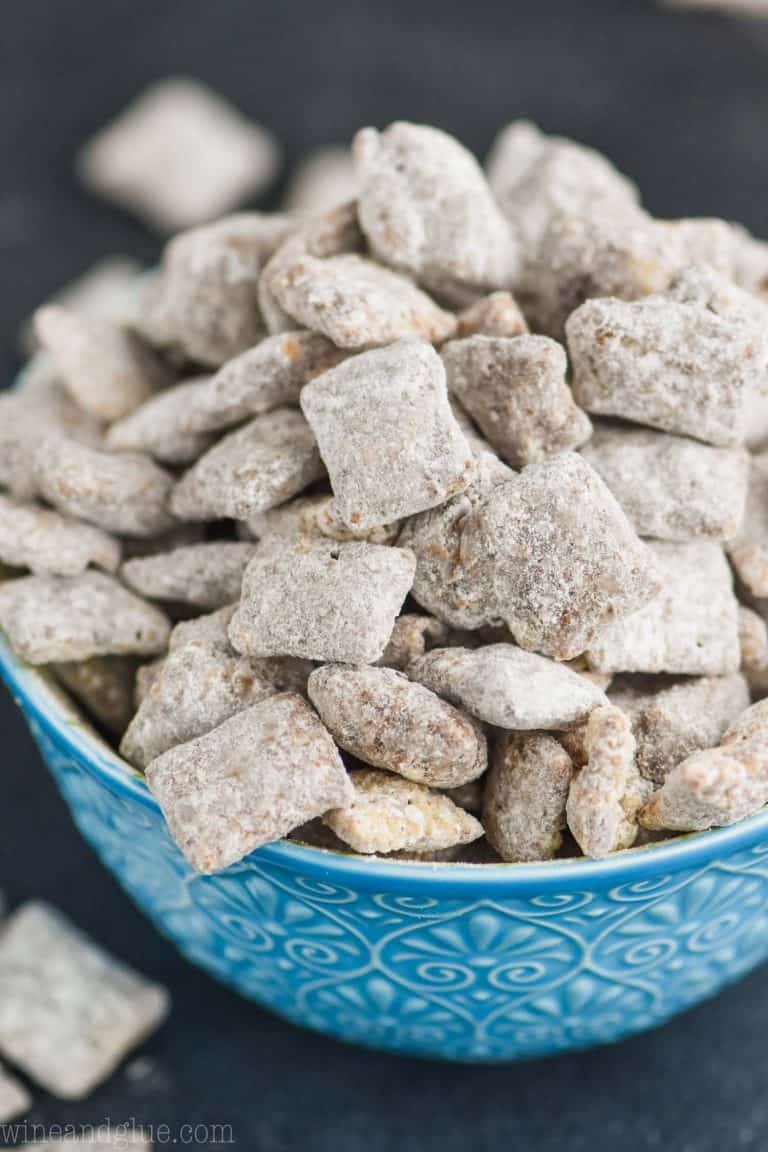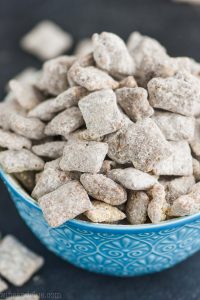 Muddy Buddy Recipe
Call it Puppy Chow or call it Muddy Buddies, this is the delicious treat that everyone loves! Perfect for parties and great for gifting, this is a snack you won't be able to get enough of.
Ingredients
9

cups

chex cereal

1

cup

chocolate chips

1/2

cup

creamy peanut butter

1/4

cup

unsalted butter

1

teaspoon

vanilla extract

2

cups

powdered sugar

divided
Instructions
Add the cereal to a large bowl.

In a large measuring cup, melt the chocolate chips, creamy peanut butter, and butter together on high for 1 minutes. Stir together. Stir in the vanilla extract and stir the mixture until smooth.

Pour the mixture over the cereal. Stir to combine. Use clean hands if necessary.

Pour the mixture into a clean plastic bag. Pour 1 1/2 cups of powdered sugar over the mixture and shake to combine. If necessary add the remaining 1/2 cup of powdered sugar into the bag and toss to combine.

Store in an airtight container for up to 2 weeks.
Serving:
0.5
cup
Calories:
242
kcal
(12%)
Carbohydrates:
37
g
(12%)
Protein:
4
g
(8%)
Fat:
10
g
(15%)
Saturated Fat:
4
g
(25%)
Polyunsaturated Fat:
1
g
Monounsaturated Fat:
3
g
Cholesterol:
10
mg
(3%)
Sodium:
160
mg
(7%)
Potassium:
37
mg
(1%)
Fiber:
2
g
(8%)
Sugar:
25
g
(28%)
Vitamin A:
8
IU
Vitamin C:
6
mg
(7%)
Calcium:
6
mg
(1%)
Iron:
29
mg
(161%)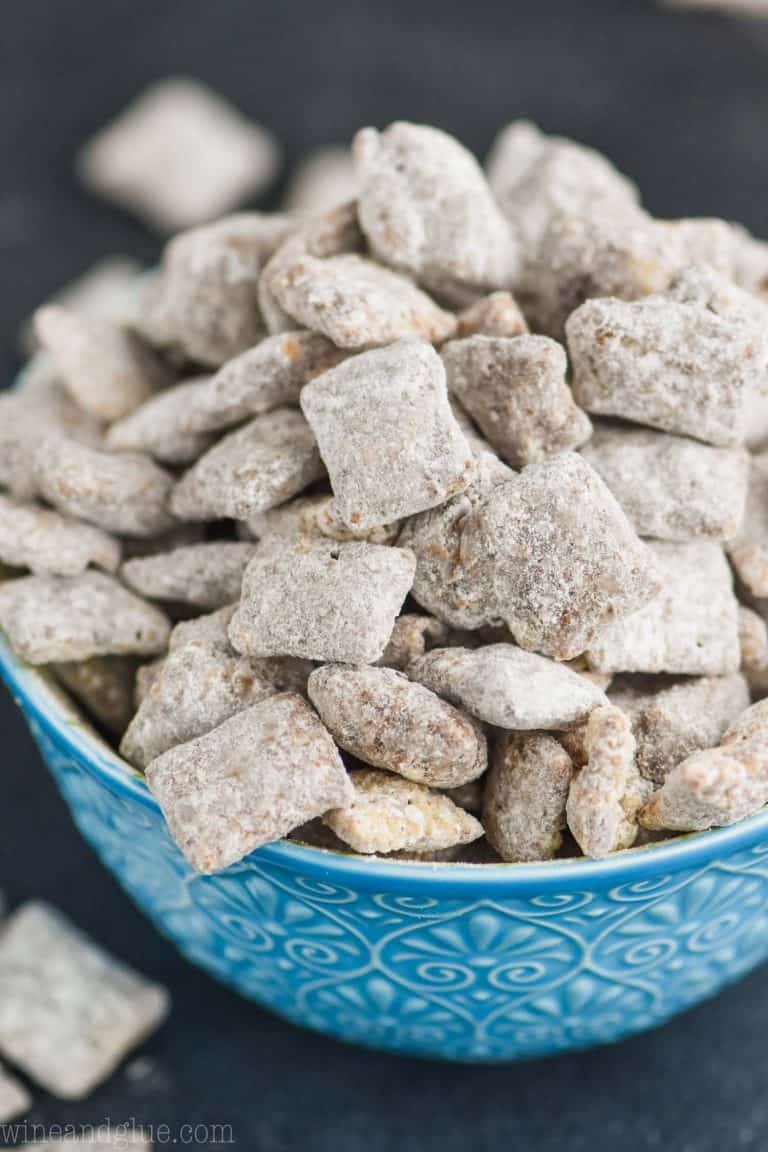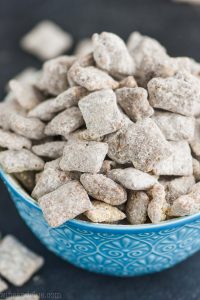 did you make this
Muddy Buddy Recipe