These Sugar Cookie Bars are melt in your mouth delicious. Baked from scratch with the best homemade frosting, they will become a new favorite!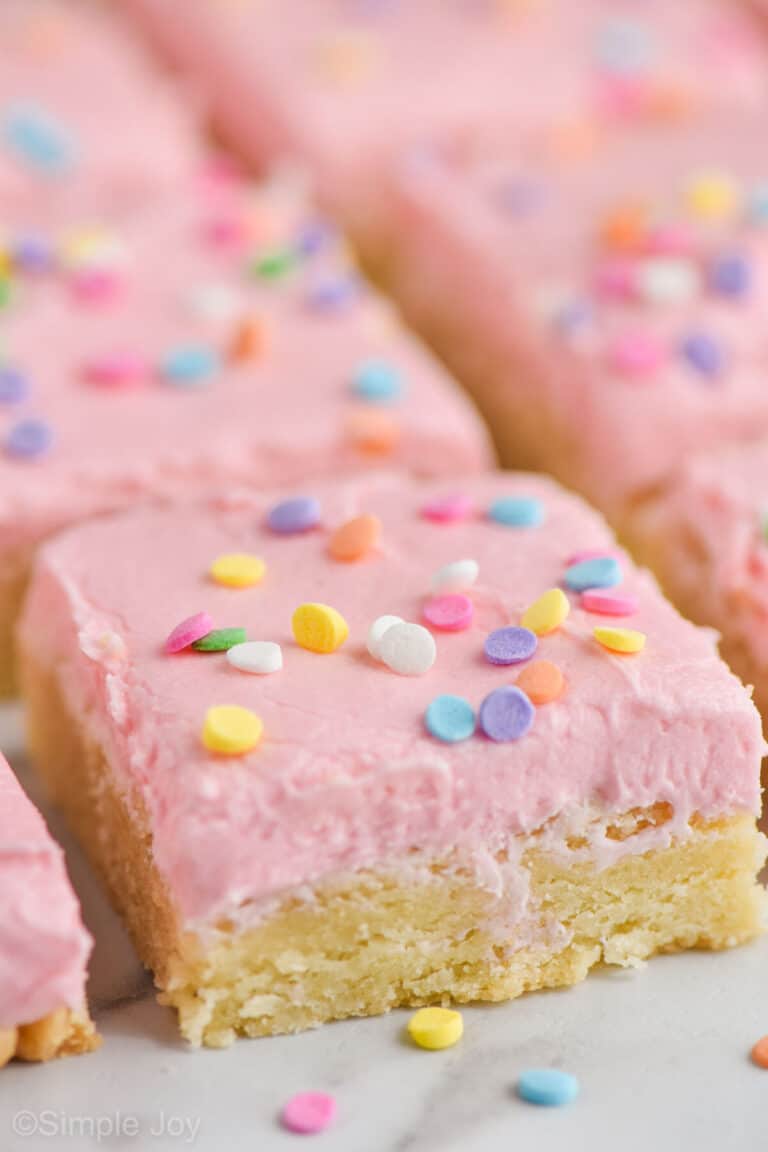 I have this theory that cooking for people that you love can fill your heart with joy . . . and I think that is even more true for baking.
Back when I was at the end of my pregnancy with my first kiddo, my mom was really sick and near the end of her life. I felt overwhelmed with anxiety, sadness, and fear.
And one way I dealt with it? Baking sugar cookies. I baked this sugar cookie recipe probably 80 times in those difficult months. It was such a great way to focus that energy.
If you need a way to channel your energy or just want something really tasty for a treat, make this amazing Sugar Cookie Bar recipe! It is that sugar cookie recipe that I loved turned into cookie bars with my perfect vanilla buttercream frosting.
HOW TO MAKE SUGAR COOKIE BARS
For the complete printable recipe, head to the bottom of the post. Here is the brief overview:
Whisk together the flour, baking powder, and salt.
Beat together the sugar and butter until light and fluffy.
Add the egg and vanilla to the butter sugar mixture.
Add the flour mixture into the wet ingredients.
Press into a baking dish and bake!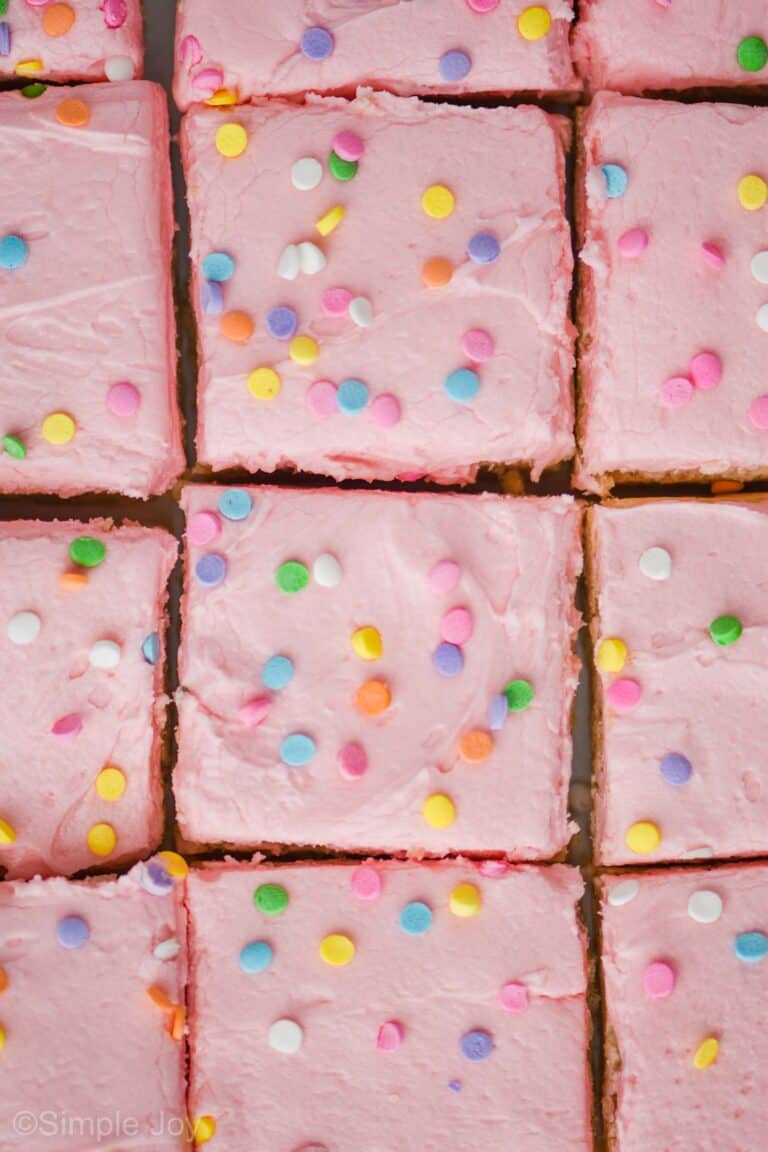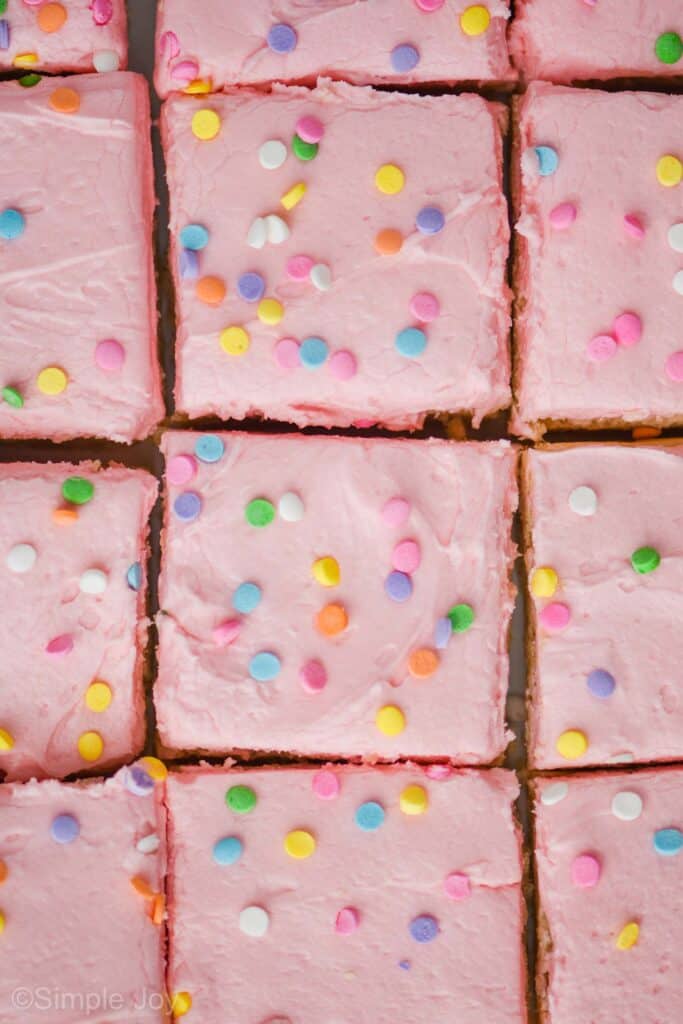 HOW TO MAKE BUTTERCREAM FROSTING
I am a firm believer that what really sets these cookie bars apart is the buttercream frosting.
Beat the butter and 1 cup of powdered sugar together.
Add in the milk and vanilla extract.
Beat in the rest of the powdered sugar one cup at a time, scraping down the sides of the mixing bowl as you go.
Add in food coloring a few drops at a time until you get the color you are looking for.
This recipe calls for a 1/2 cup less of sugar than my buttercream frosting recipe because I wanted it to stay a little soft.
BAKING TIPS AND NOTES
As always I have a list of tips that will ensure that this recipe comes out perfect.
Use room temperature butter. This means you should be able to dent the butter with your finger, but not push all the way through. It will feel cold to the touch.
Ensure that you are using baking powder, not baking soda. They are not the same thing.
Properly measure your flour. Scoop the flour out of the container with a spoon and into your measuring cup. Then level it off. Scooping with the measuring cup can lead to 25% more flour and mess up your recipe.
Beat together the sugar and butter for at least three minutes. To really ensure a light cookie bar, the sugar needs to beat air into the butter. Make sure it is light and fluffy before you move on to the next step.
Use room temperature eggs. To achieve this, get a bowl of Luke warm water and let your eggs sit in it for at least 5 minutes.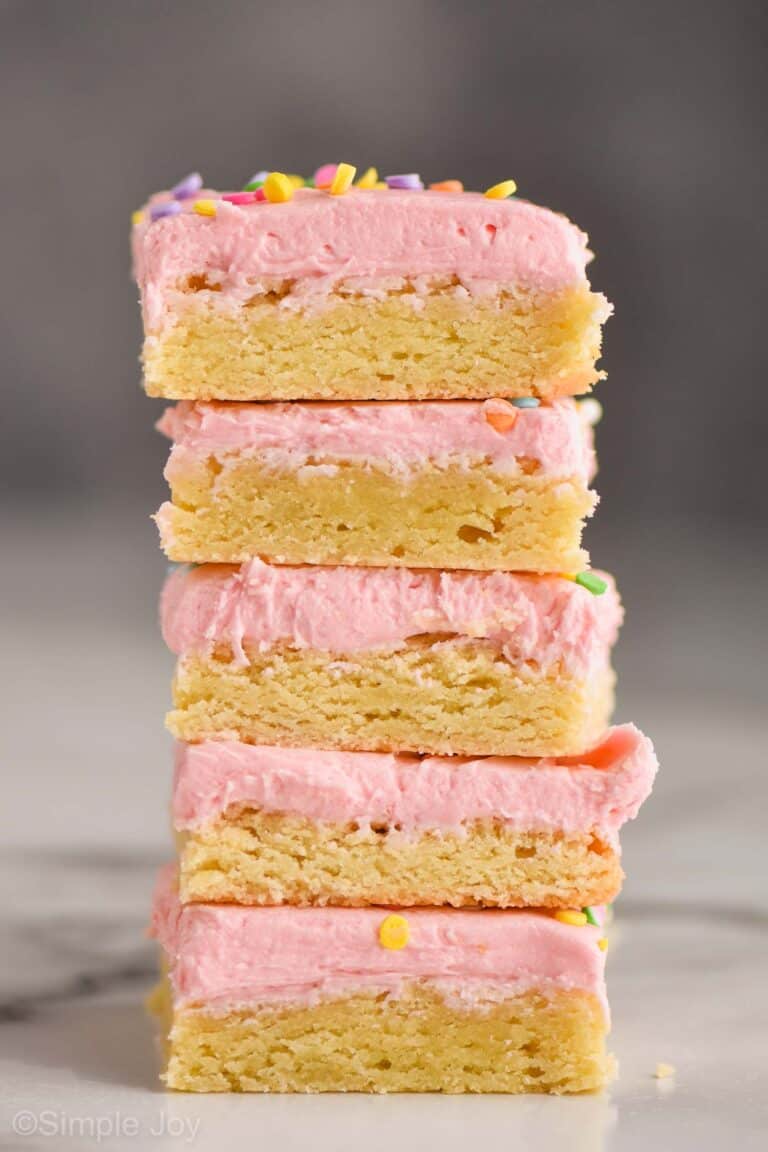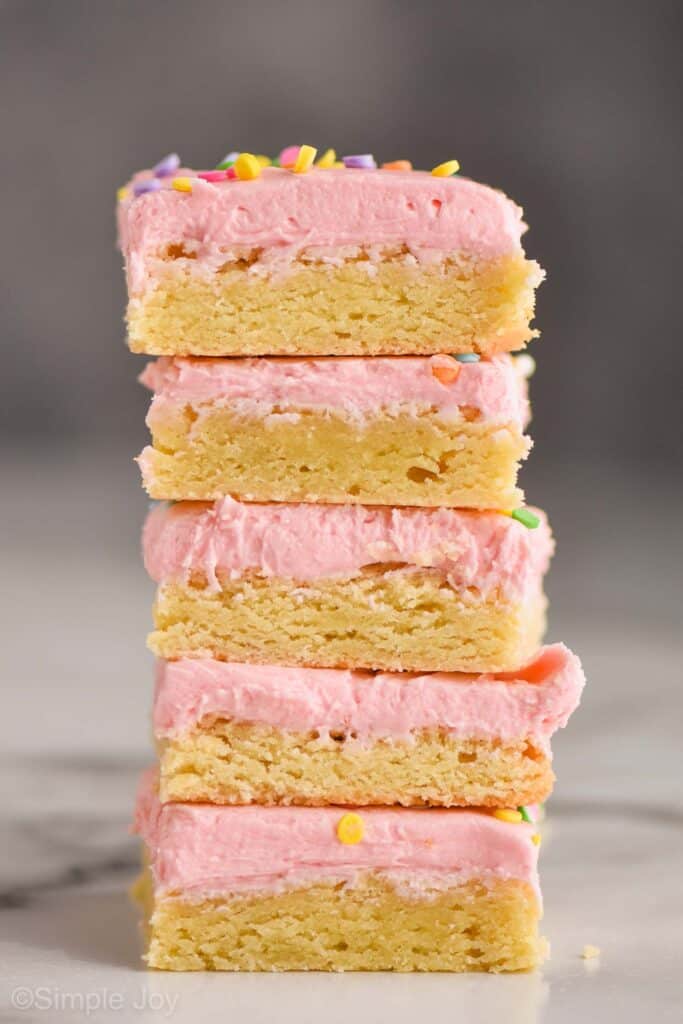 PROPERLY ADDING FLOUR
When adding your flour mixture to your wet ingredients, you want to make sure this process goes quickly. You don't over-beat your dough and end up with cookie bars that are chewy in a bad way.
To achieve this:
Add all the flour at once to the wet ingredients.
Beat on low just enough so the flour is folded in.
Now turn the mixer up high and beat just until it is fully incorporated.
You may need to scrape down the sides and beat for another few seconds.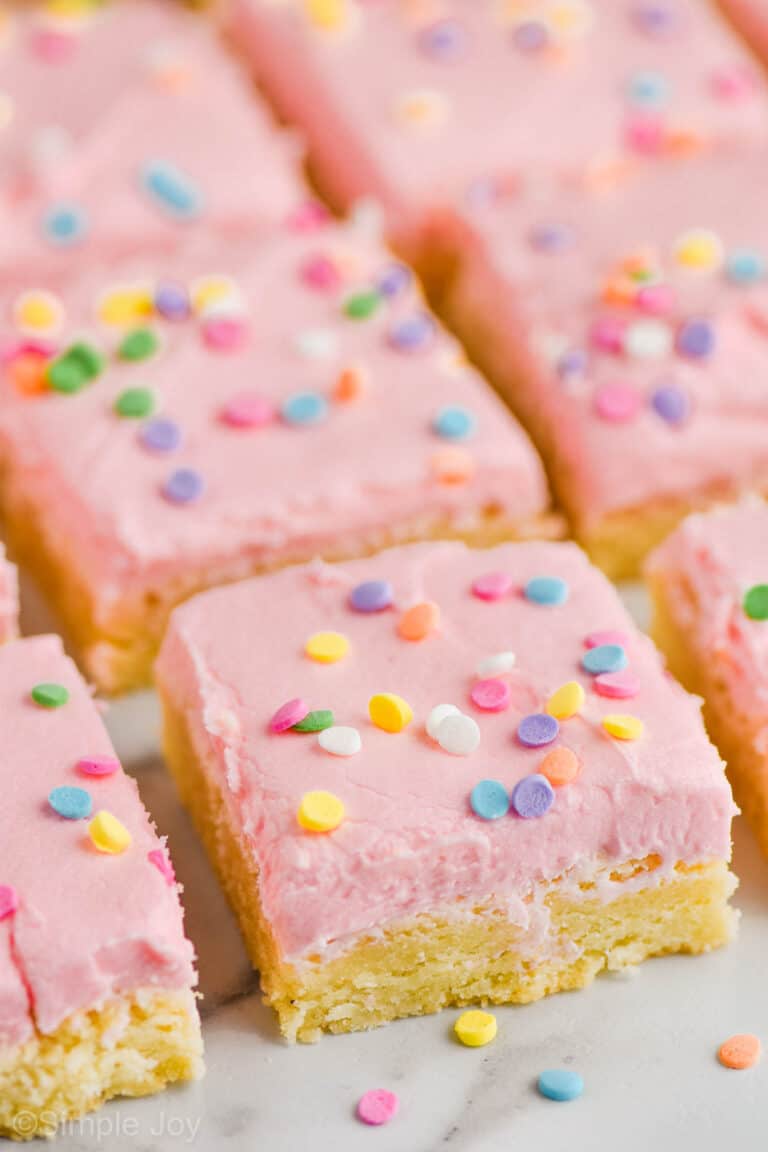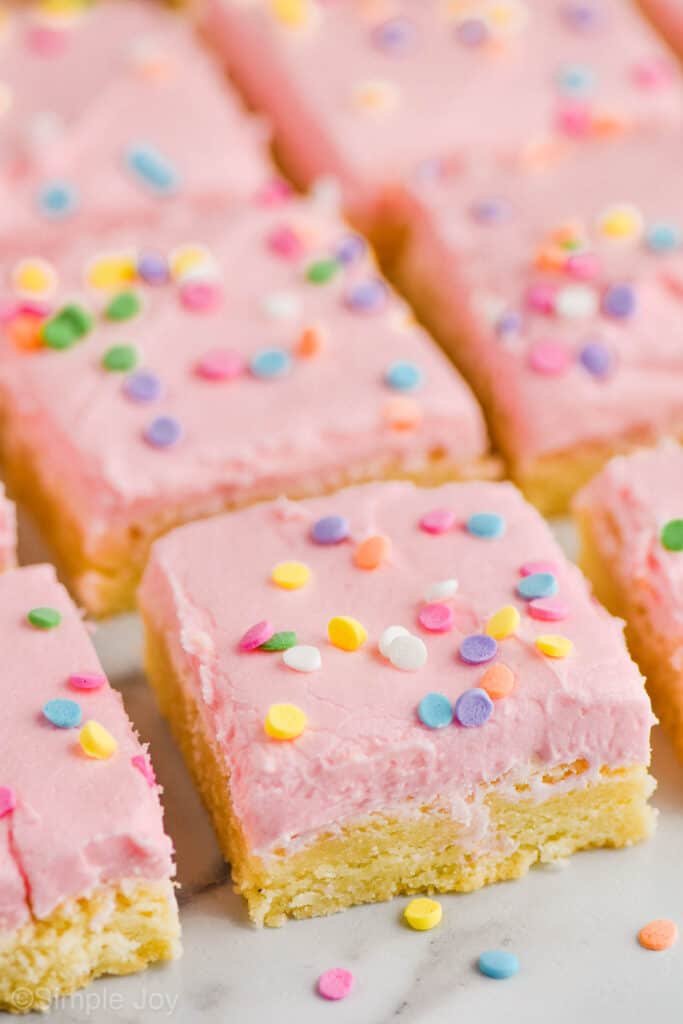 DOUGH CONSISTENCY
The dough will be really sticky when you are done. It will be slightly difficult to press into the baking dish.
You can lightly wet your hands with water to make it easier to press into the pan.
Or you can spray your hands with cooking spray to press it in.
STORING & FREEZING
These sugar cookie bars will last in an air tight container for up to one week.
They will do best if you store them in a single layer. They can be stacked, but after a few days will begin to stick together.
These bars can be frozen (even after you have frosted them) by being placed in the freezer in a single layer for one hour. Then transfer them to an airtight container. Freeze for up to three months.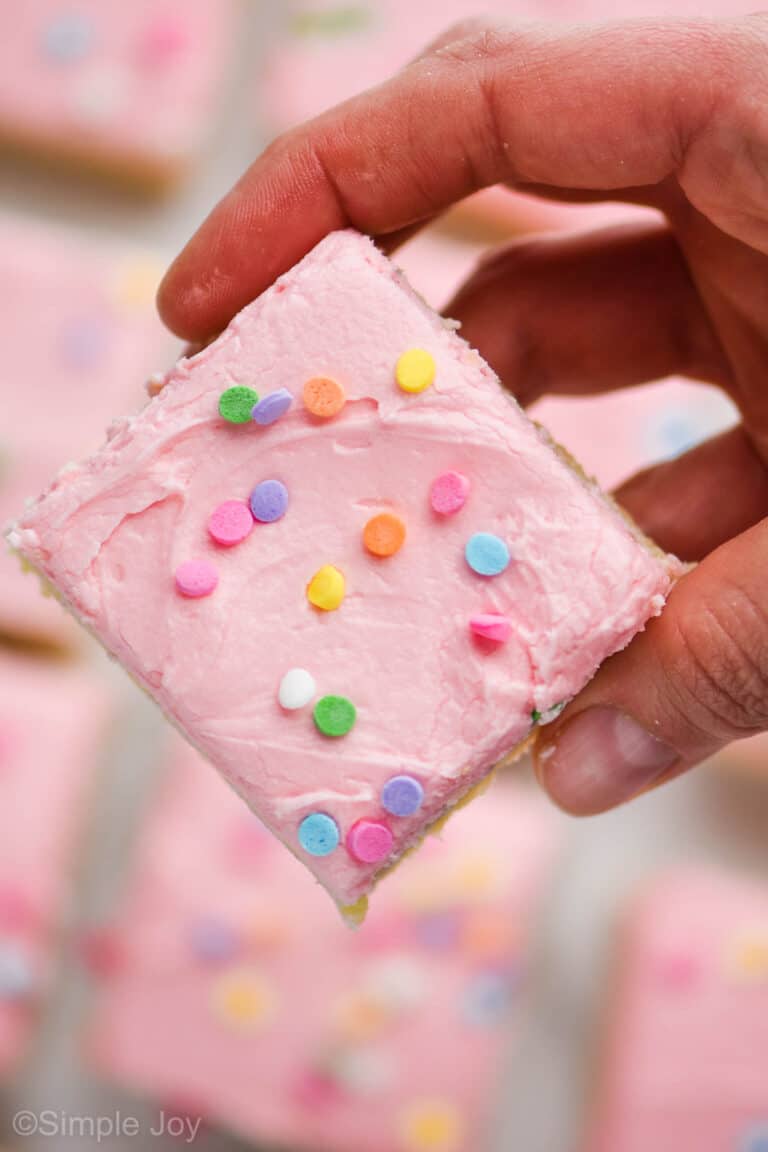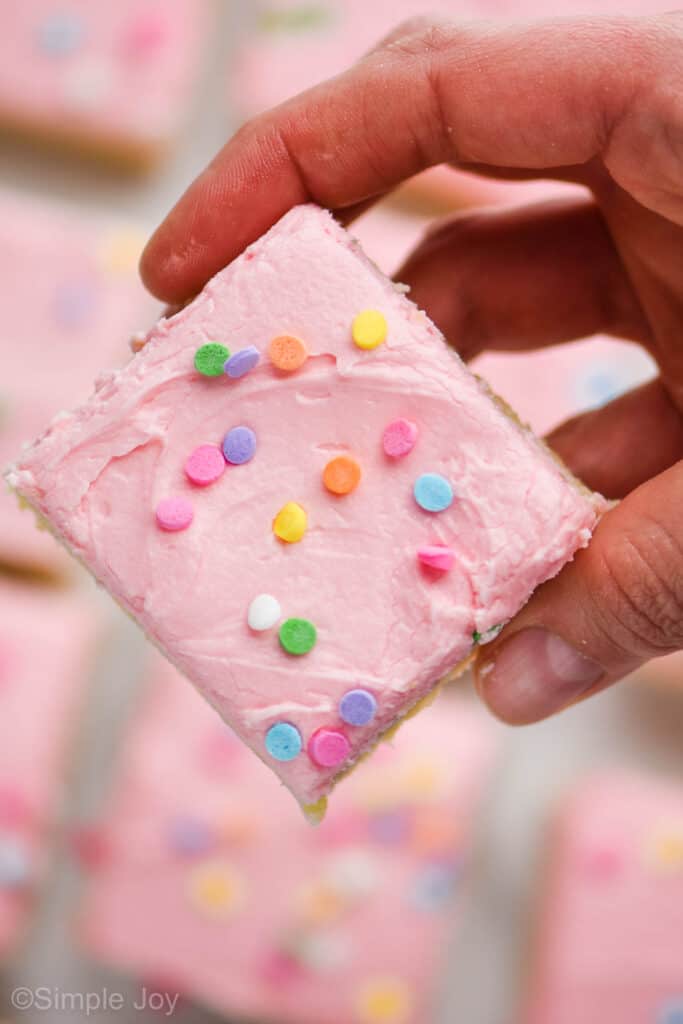 OTHER GREAT COOKIE BARS
If you love how easy it is to make cookie bars, here are some others you should try:
If you make this Sugar Cookie Bar recipe or any of my other recipes, please leave me a comment and let me know what you think!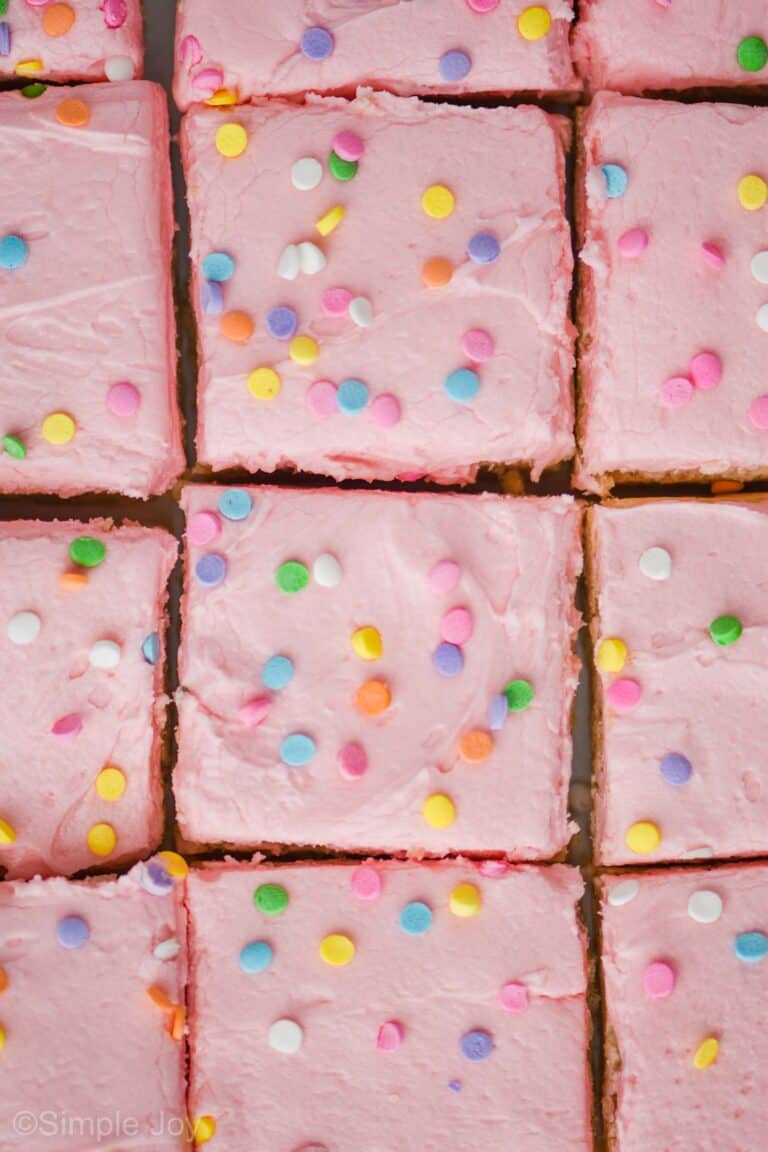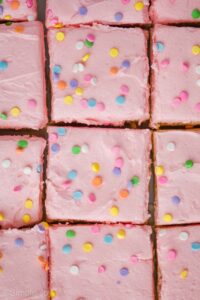 Sugar Cookie Bars
This Sugar Cookie Recipe stands the test of time. Crisp on the outside, but buttery soft on the inside, this is a family favorite!
Ingredients
For Cookie Bars
2 1/2

cups

all purpose flour

1/2

teaspoon

baking powder

1/2

teaspoon

salt

1 1/2

cups

sugar

14

tablespoons

unsalted butter

room temperature

2

teaspoons

vanilla extract

2

large eggs
Frosting
1/2

cup

unsalted butter

room temperature

4 1/2

cups

powdered sugar

2

teaspoons

vanilla extract

1/4

cup

milk

room temperature

red food coloring

sprinkles
Instructions
How to Make Sugar Cookie Bars
Preheat your oven to 350 degrees. Spray a 9 by 13 inch baking dish with cooking spray or line with parchmeant paper.

In a large bowl, whisk together the flour, baking powder, and salt. Set aside.

With your mixer on medium, mix together the butter and sugar until light and fluffy.

Mix in the eggs (one at a time) and then the vanilla until well combined.

Add the flour mixture to the wet ingredients. Mix on low until combined enough it won't fly everywehre. Then turn up the mixer to high just long enough that you don't see streaks of flour. Scrape down the bowl and on the bottom to ensure that all the flour is added. Only mix long enough to combine the flour. (See more detailed instructions in the post.)

Press the batter into the prepared baking dish. Bake for 25 to 27 minutes or until the edges are golden brown.

Remove from the oven and allow to cool for 1 hour.
How to Make Frosting
Using a hand mixer or a stand mixer beat the butter. Add in one cup of the powdered sugar, scraping down the bowl as necessary.

Beat in the milk and the vanilla extract.

Add the powdered sugar in a cup at a time untilt you get the consistency you are looking for. I used 4 1/2 cups.

Finally add in the red food coloring, a few drops at a time, until you get the color you are looking for.
Frosting the Bars
As soon as you are done making the frosting, spread it on the cooled bars. An off set spatula works best to create a nice even layer.

Immediately after spreading the frosting, add the sprinkles before the frosting begins to harden.

Cut the bars into 24 equal squares.
Storing
For best presentation of frosting, do not stack the cookie bars, but store them in single layers.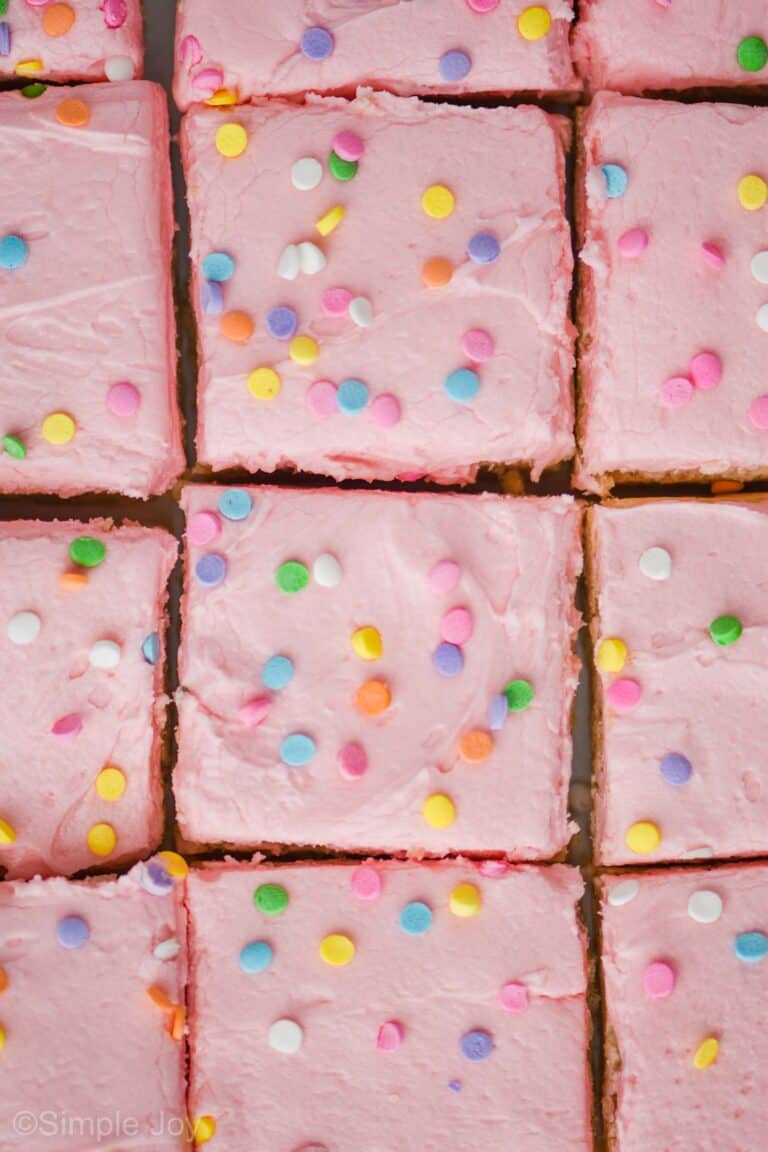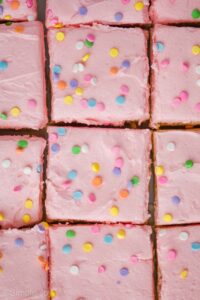 did you make this
Sugar Cookie Bars