These Pumpkin Brownies are about to blow your mind and become your new favorite pumpkin dessert! They aren't pumpkin brownies from scratch, but because of how they are made, they are a million times better! Easy and delicious, does it get any better than that? These fantastic brownies are based off my Mint Chocolate Brownies that always get rave reviews and people begging for the recipe!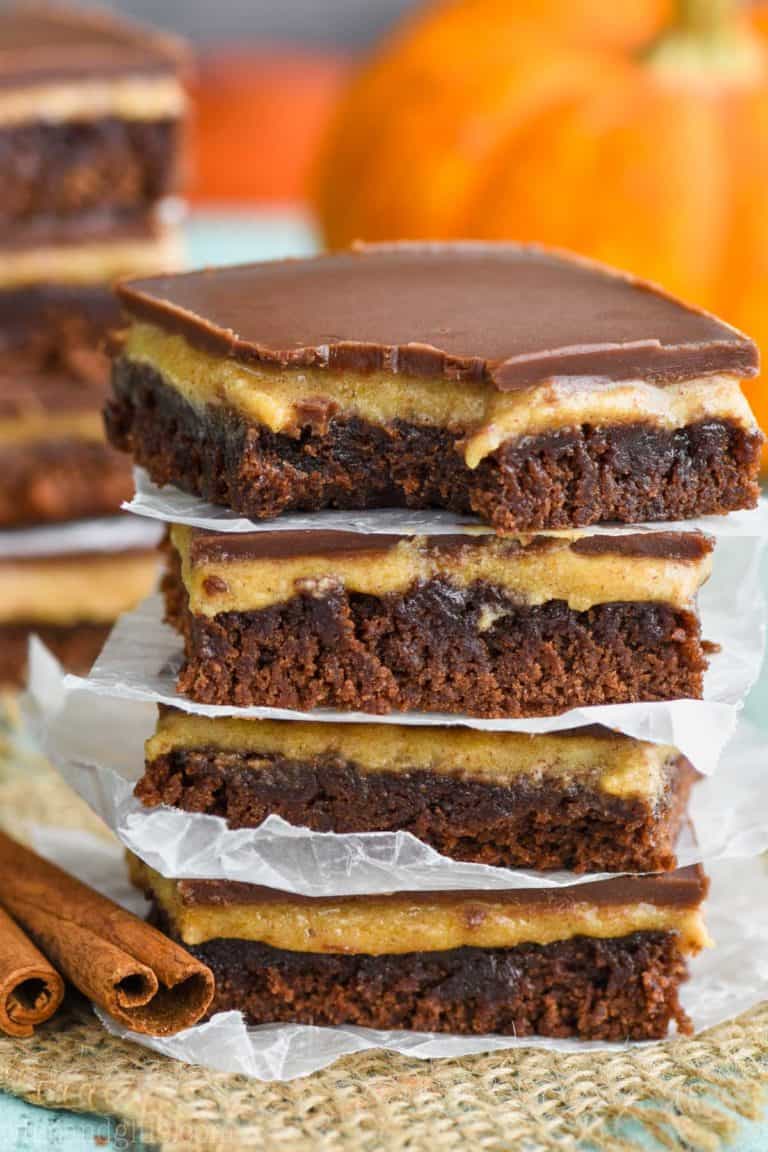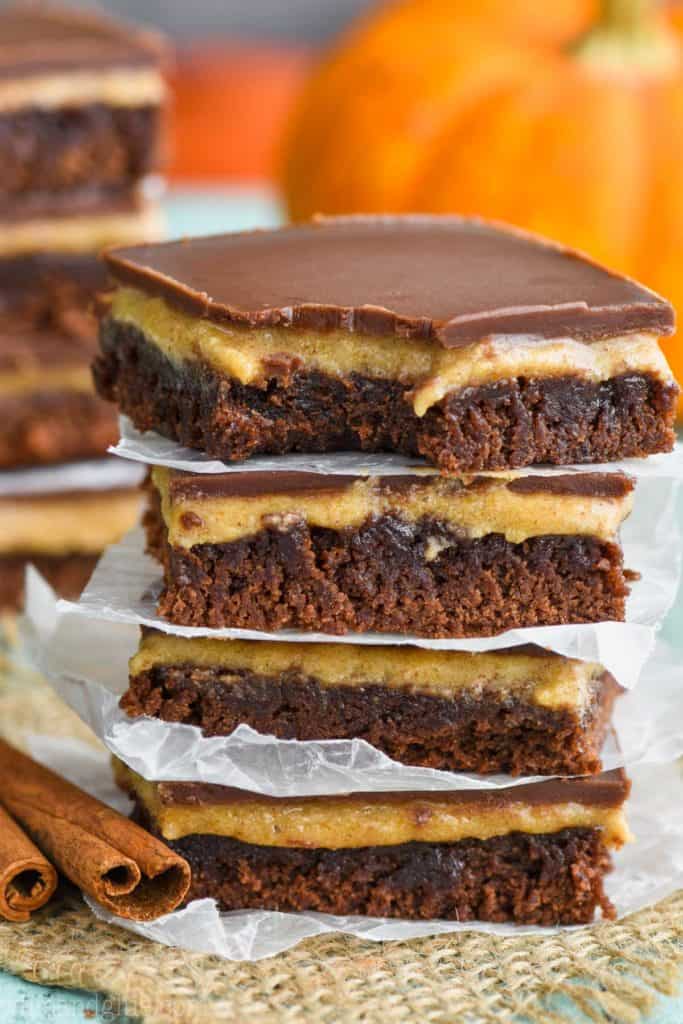 Happy Monday guys!! I was just talking on Instagram this morning how much better I like Monady mornings than the weekend because I'm an absolute and total weirdo. ???? For real though, our weekend was JAM PACKED! Saturday Gavin did his first ever cyclocross race (it's like a cross between the road racing you see in Tour de France and mountain biking). And Quinn had her first soccer game. I'm not going to lie . . . I suddenly totally understand those parents who get in screaming matches on the sidelines. I for sure had to tell myself to chill. As fun as our weekend was, I think I am a nerd who loves routine. So Monday mornings and getting back in the swing of things might be my jam.
And I have a new recipe for you that isn't a dinner recipe or a cocktail! I feel like that's the first time in a while, right friends? Maybe the last one was my Watergate Cake. Maybe not. Either way, I'm so excited to bring you THE BEST Pumpkin Brownie Recipe! I'm obsessed with transforming my favorite desserts into pumpkin desserts. Like when I made the Perfect Sugar Cookie Recipe into Pumpkin Sugar Cookies. So now, my Mint Chocolate Brownies are becoming Pumpkin Chocolate Brownies. Hooray!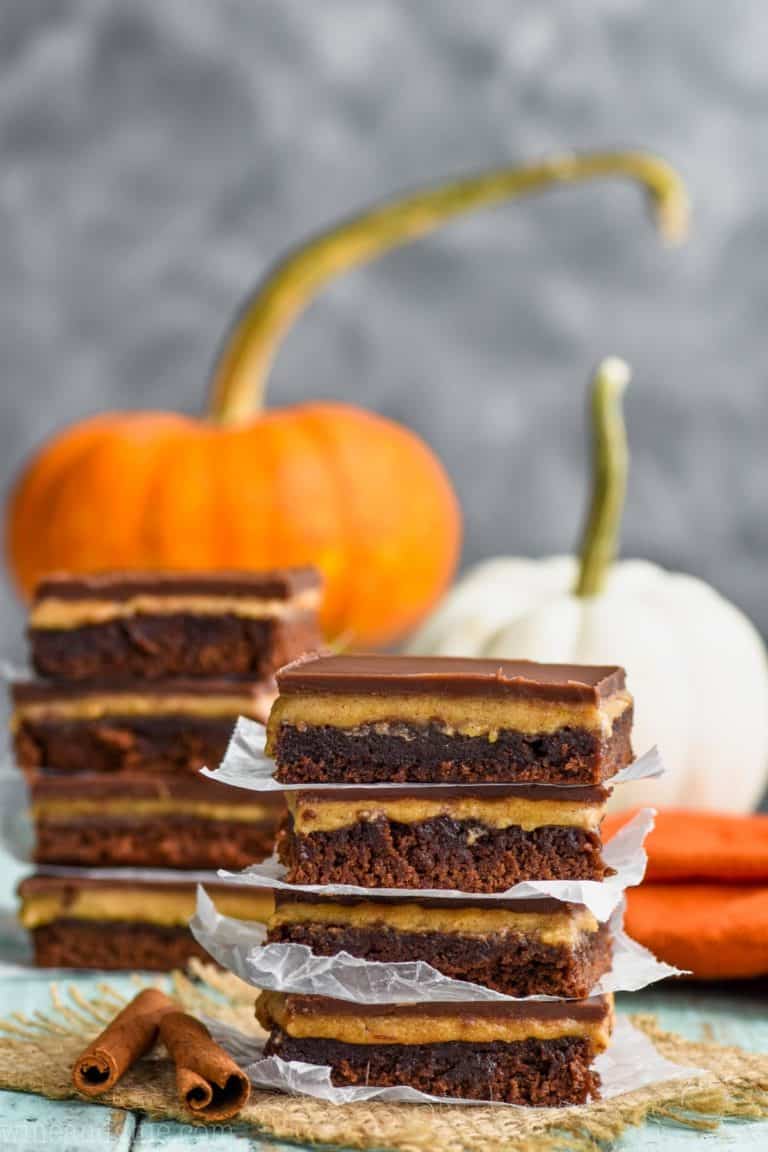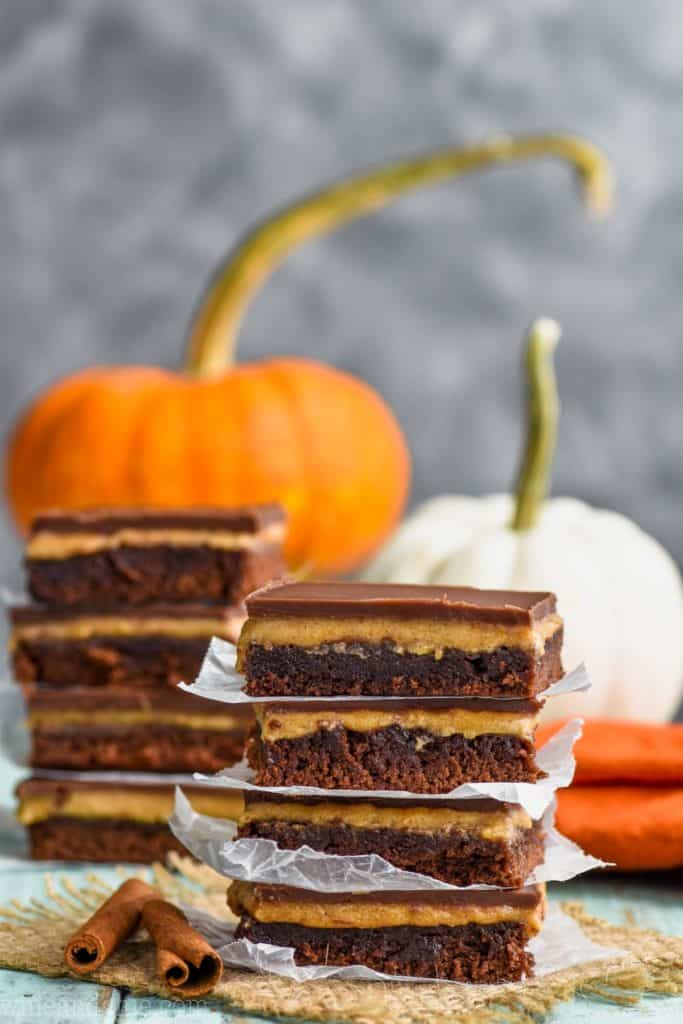 HOW TO MAKE PUMPKIN BROWNIES
These Pumpkin Brownies took a few tries to get right! I knew I wanted them to look like the brownies you see in this post, but I wanted them to be super pumpkin-ey, so at first I started with a 2 ingredient pumpkin brownies recipe. You guys . . . I wanted to love it, but I just didn't. The brownies came out just fine, but they were way too chewy for me. So, I decided to focus my pumpkin love on the cream layer, and it was the right call, my friends.
Make the first layer by grabbing your favorite basic brownie recipe, or being a hot mess lazy mom like me, and grabbing a box.
Layer two is powdered sugar, pumpkin, butter, and pumpkin spice.
Layer three is delicious chocolate and butter!
That is it my friends. Super easy.
TIPS AND TRICKS FOR THIS PUMPKIN CHOCOLATE BROWNIE RECIPE
Let your brownies really cool before you move on to the next layer. You can speed this along by letting them cool for 10 minutes on the counter after coming out of the oven and then transferring them to the refrigerator uncovered for 30 minutes. You want them to be cooler than room temperature when you pour on the pumpkin cream layer.
Make sure your butter for the pumpkin cream layer is room temperature and not melted. Mine was borderline melty, and I didn't get as solid of a layer as I'd normally like. Mind you, they still tasted just fine . . . . ask my muffin top. ????
For the chocolate layer, make sure that you don't over cook your chocolate, and really whisk it together until very smooth, or you will get a lumpy chocolate layer.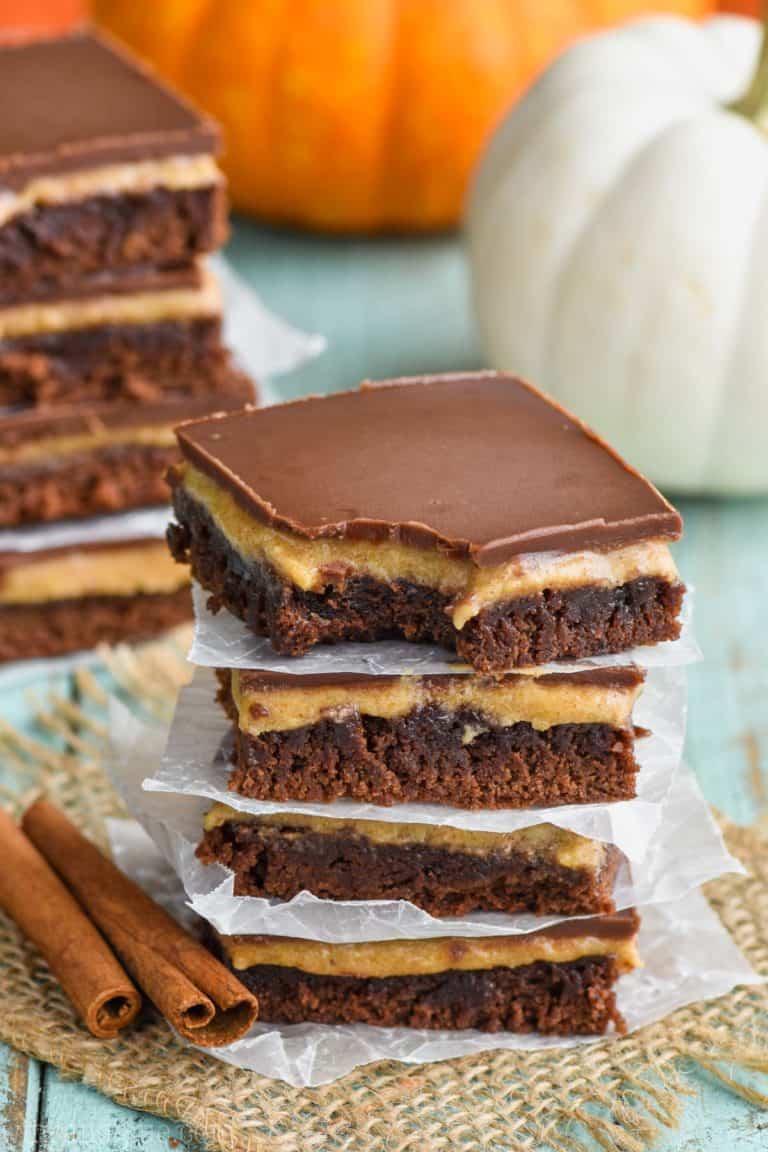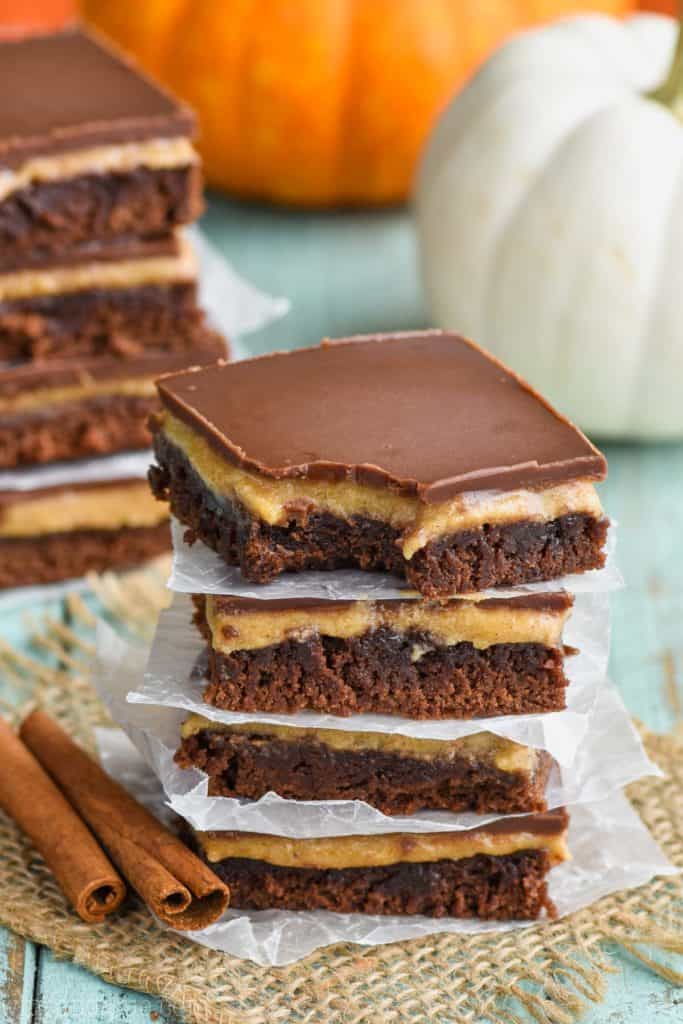 OTHER GREAT PUMPKIN DESSERTS
If you are in search of more great pumpkin desserts, you must first make the Pumpkin Sugar Cookies that I listed above. After that, I really think you should make my Perfect Pumpkin Pie. It is a for sure brag, but it actually is super perfect. Next you need to make this super easy Apple Pumpkin Dump Cake. It is in fact the easiest dessert, but you will be shocked at how perfectly apples and pumpkins go together. It's like they know they are both the stars of fall.
From there, make sure you make this roasted banana pumpkin bread.  The photos on that one totally have me drooling! And then you need to make these Nutella Pumpkin Swirled Bars. They look like a match made in heaven. Finally, this Baked Pumpkin French Toast looks like my dream breakfast!
Happy fall my friends!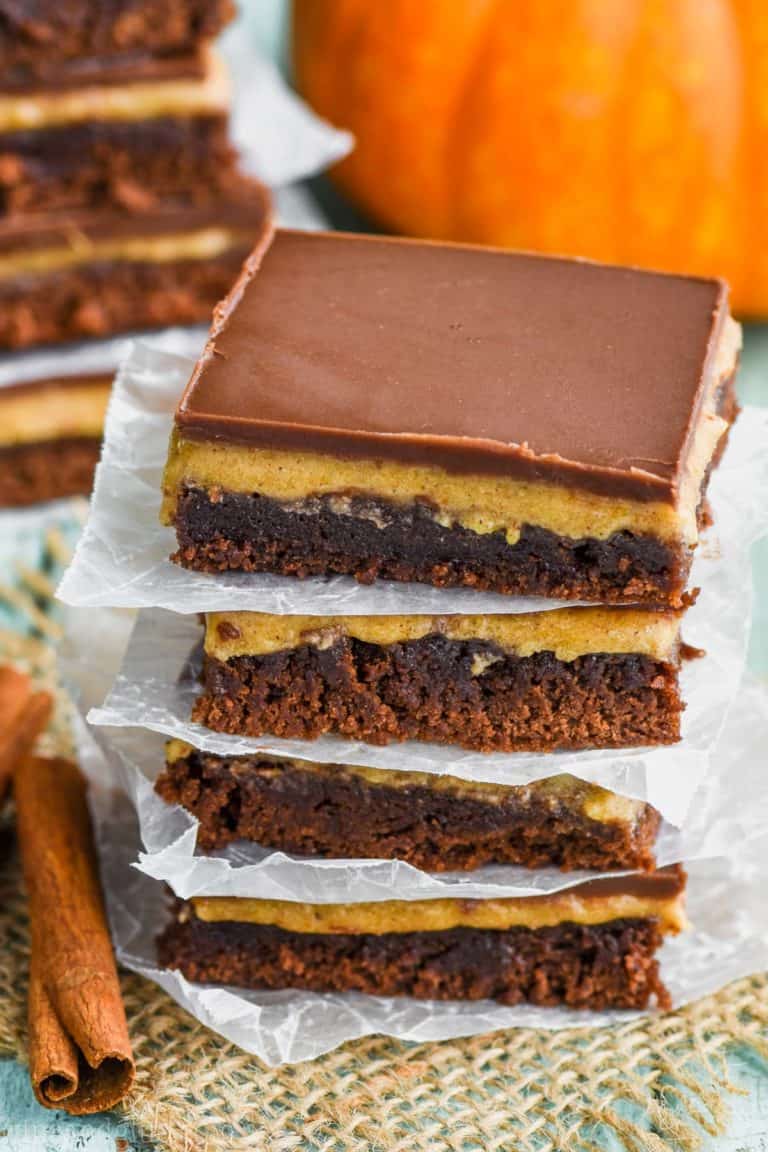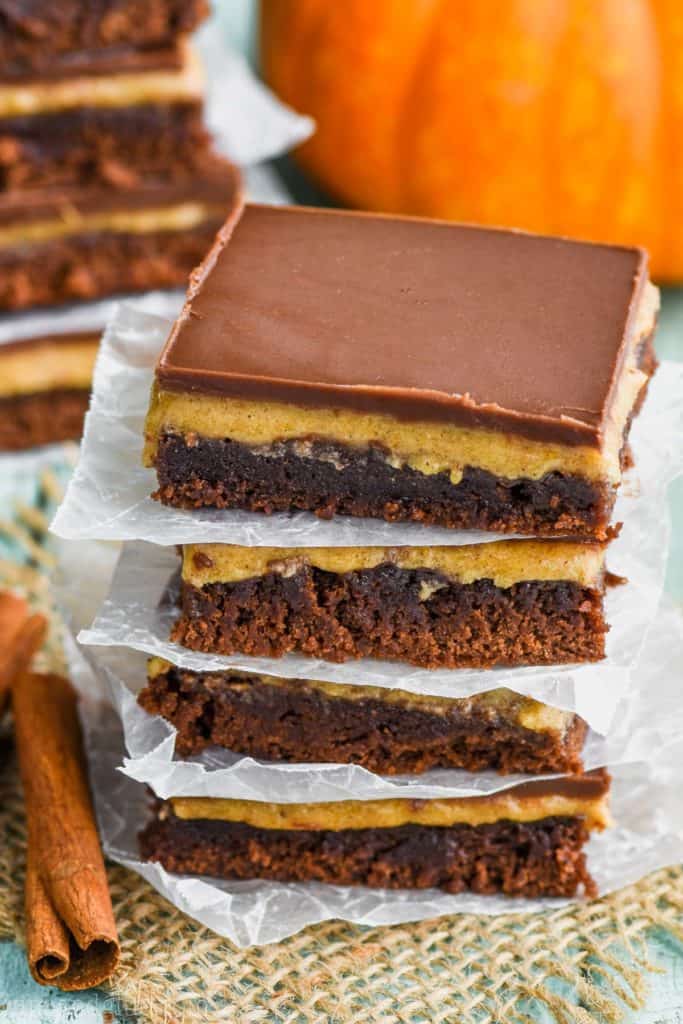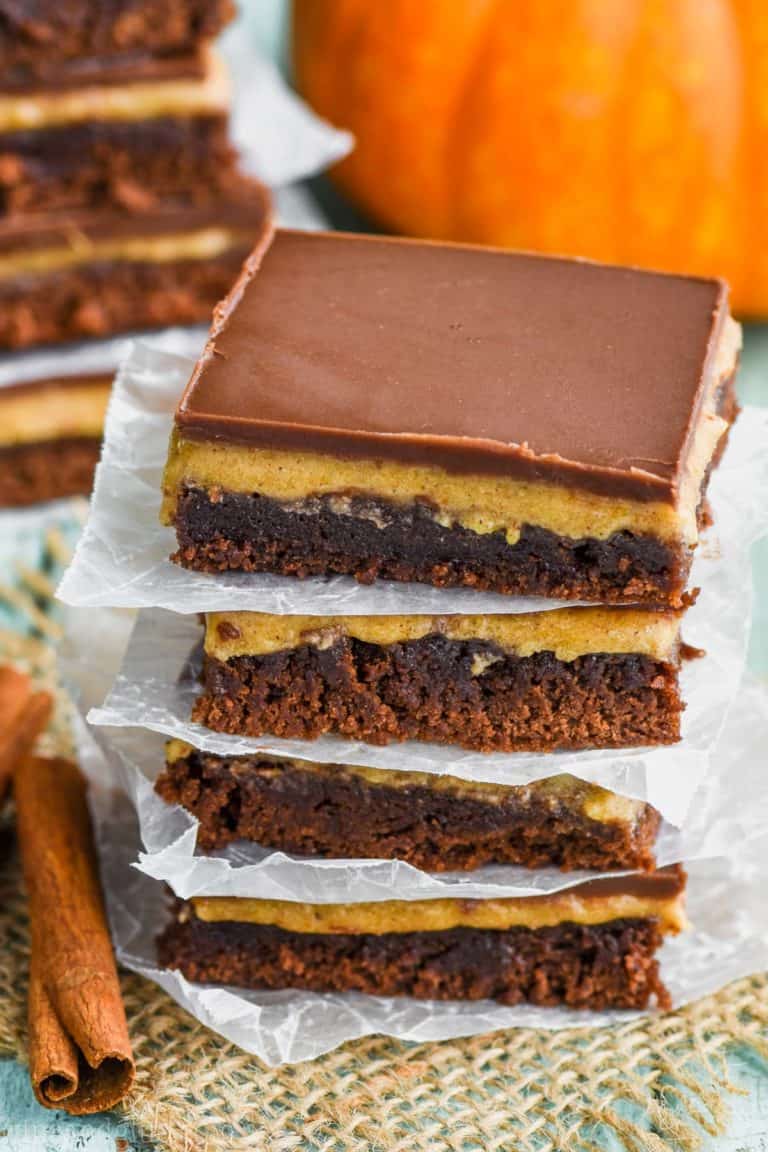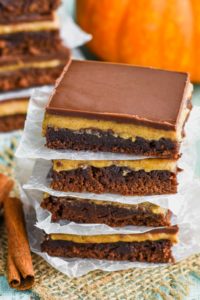 Pumpkin Brownies
These Pumpkin Brownies are about to blow your mind and become your new favorite pumpkin dessert! They aren't pumpkin brownies from scratch, but because of how they are made, they are a million times better! Easy and delicious, does it get any better than that?
Ingredients
For Brownie Layer
Your favorite brownie recipe or box
For Chocolate Layer
8

tablespoons

butter

6

ounces

chocolate chips

(I used milk chocolate, but dark chocolate would work as well)
Instructions
After you have cooked your brownies according to the recipe or the box (you are looking for a family size or 9 by 13 inch pan sized recipe here - I used Betty Crocker's Fudge Brownies). Let them cool completely. Look at the post for tips and tricks on how to speed this process up.
Pumpkin Cream Layer
Beat together your butter, pumpkin, milk, powdered sugar and pumpkin spice until completely smooth. Spread it over the cooled brownies and let it sit in the refrigerator for a half hour.
Chocolate Layer
In a microwave save bowl, combine the chocolate chips and the butter. It might help a little to cut the butter up first. Microwave for 1 minute at half power. Stir as much as possible and then continue microwaving for 30 second intervals whisking heavily with a fork in between until it is smooth. Make sure not to over cook the chocolate. My mixture cooked for a total of one minute and thirty seconds.

Pour the chocolate over the pumpkin cream layer and move the pan around to fully spread it.

Put it in the refrigerator and allow it to completely cool and harden.

Cut up the brownies and store them in an air tight container in the refrigerator for up to four days.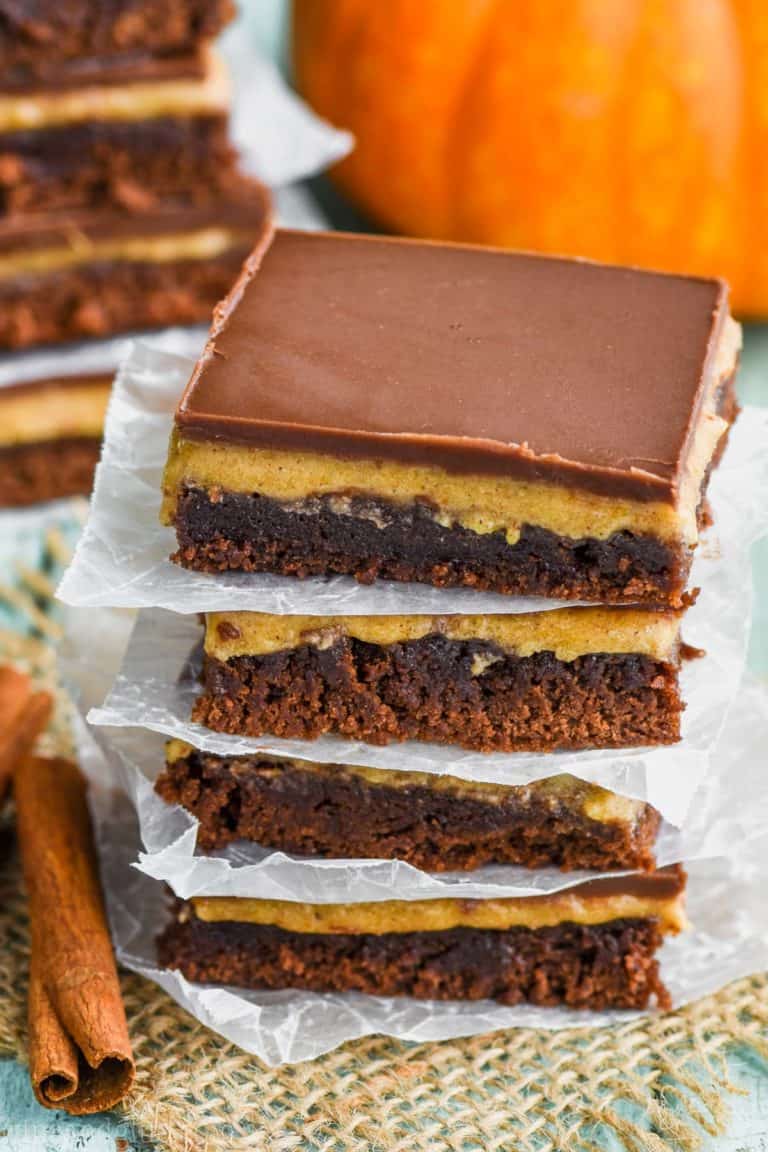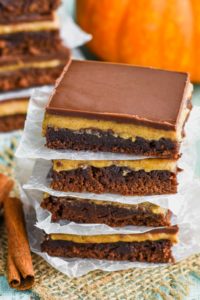 did you make this
Pumpkin Brownies
Other great recipes for fall I know you will love