This Pumpkin Cheesecake has the perfect pumpkin flavor with smooth cheesecake texture and the best chocolate ganache on top. With these easy to follow instructions, you will have the best pumpkin cheesecake.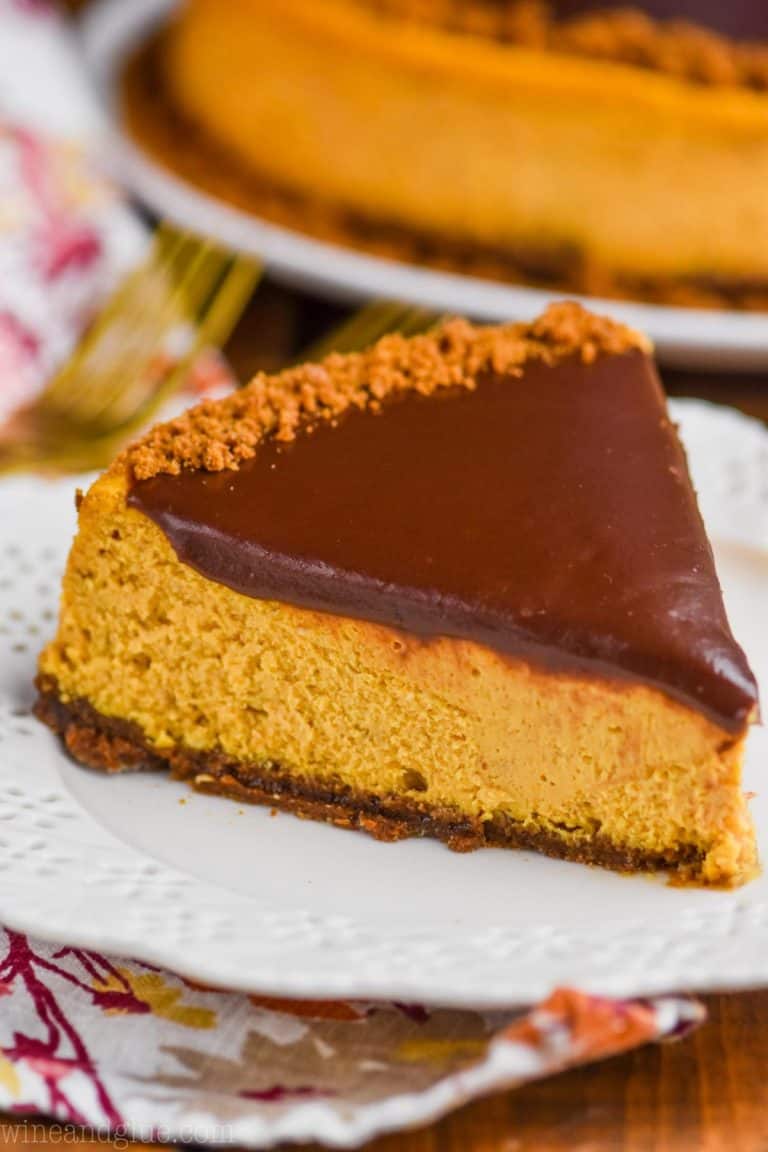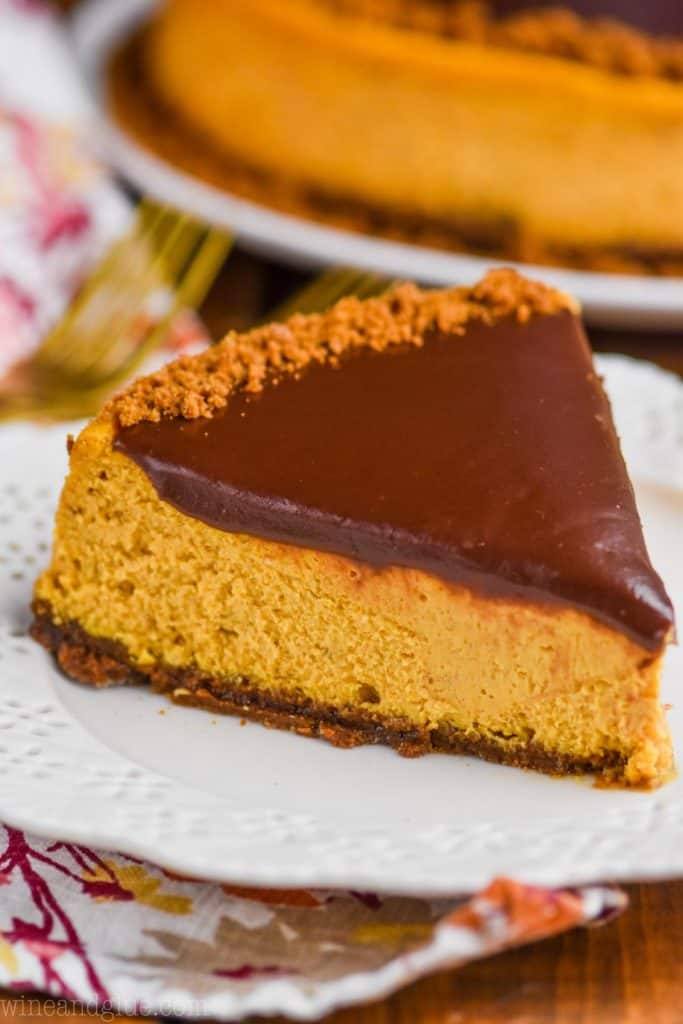 With Thanksgiving only a few days away I feel like I'm about to BURST with holiday spirit. I LOVE the holiday season, and I want to snuggle up in front of a fire with a glass of wine and watch a Christmas movie. OR I want to crank up the Christmas music and start making Christmas cookies, peppermint bark, and fudge.
I have already started baking holiday treats for you, but I am going to tide you over with this incredible Pumpkin Cheesecake that would be perfect for Thanksgiving.
If your family isn't into Pumpkin Pie and can't be won over by Pecan Pie (we can still be friends but I'm giving you serious side eye right now), this pumpkin pie cheesecake with it's gingersnap cookie crust is a great alternative.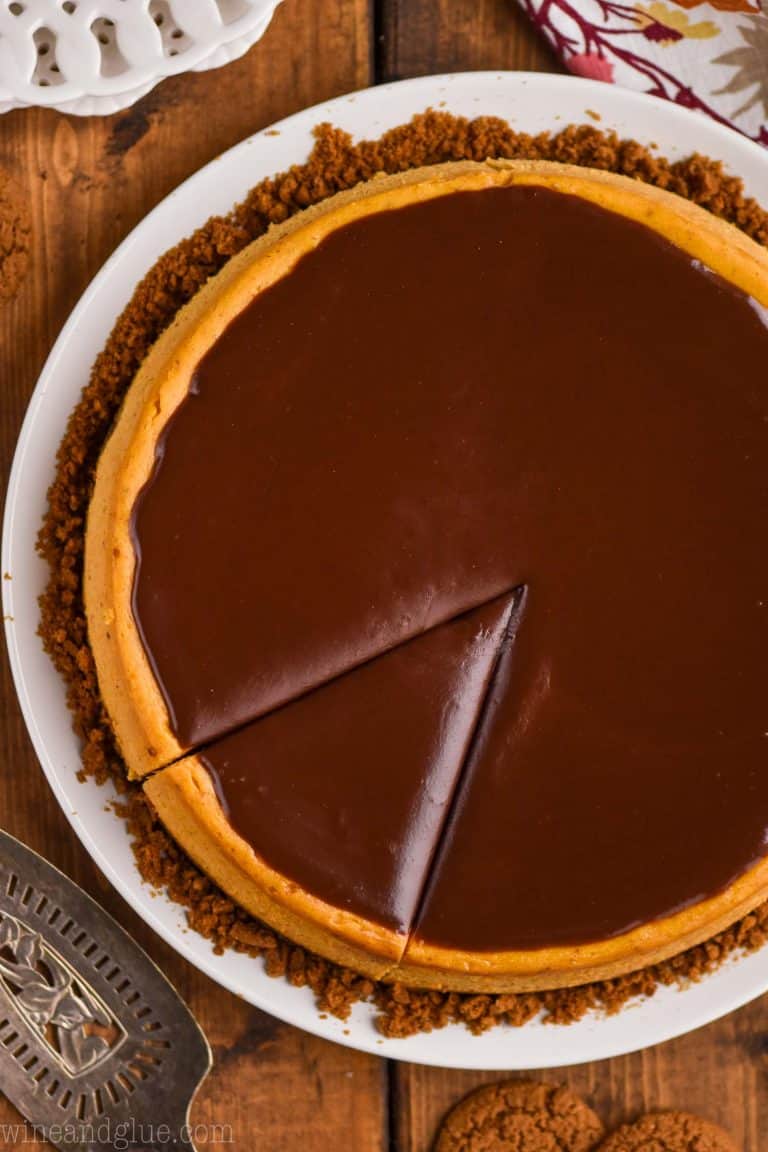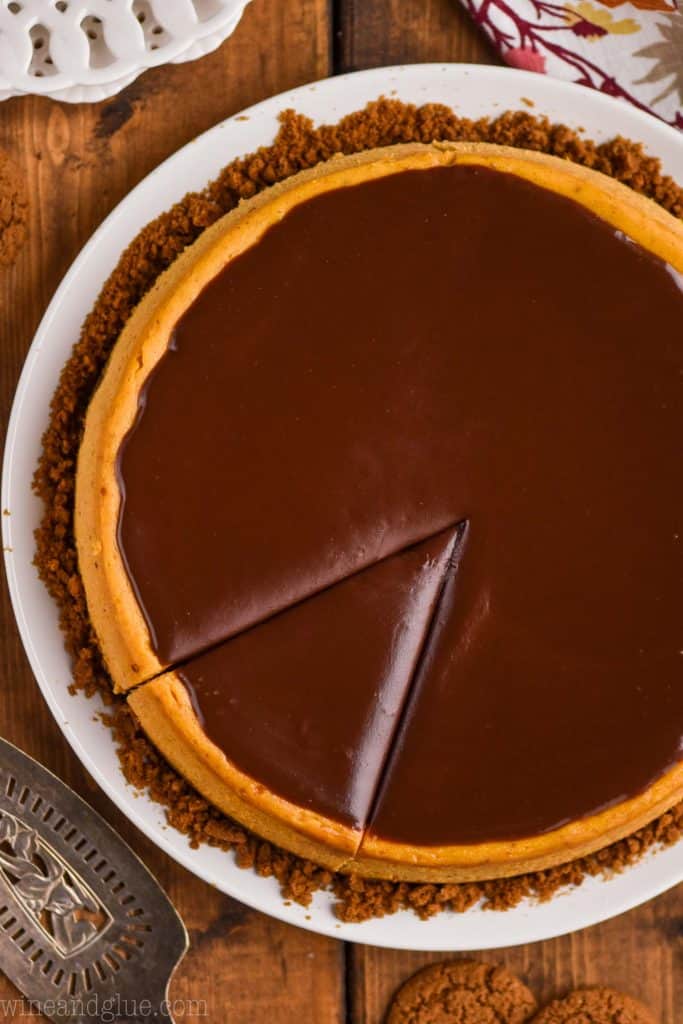 HOW TO MAKE PUMPKIN CHEESECAKE
Make your crust by combining gingersnap cookie crumbs and butter. Bake for 10 minutes and allow to cool before making the rest of the cheesecake.
Using room temperature cream cheese, combine the filling of the cheesecake – cream cheese, pumpkin, eggs, sugar, and spices.
Bake and then allow to sit in the oven that you have turned off for an hour.
Let the cheesecake cool completely on the counter before covering and putting the refrigerator overnight.
Before serving make the ganache and coat the cheesecake.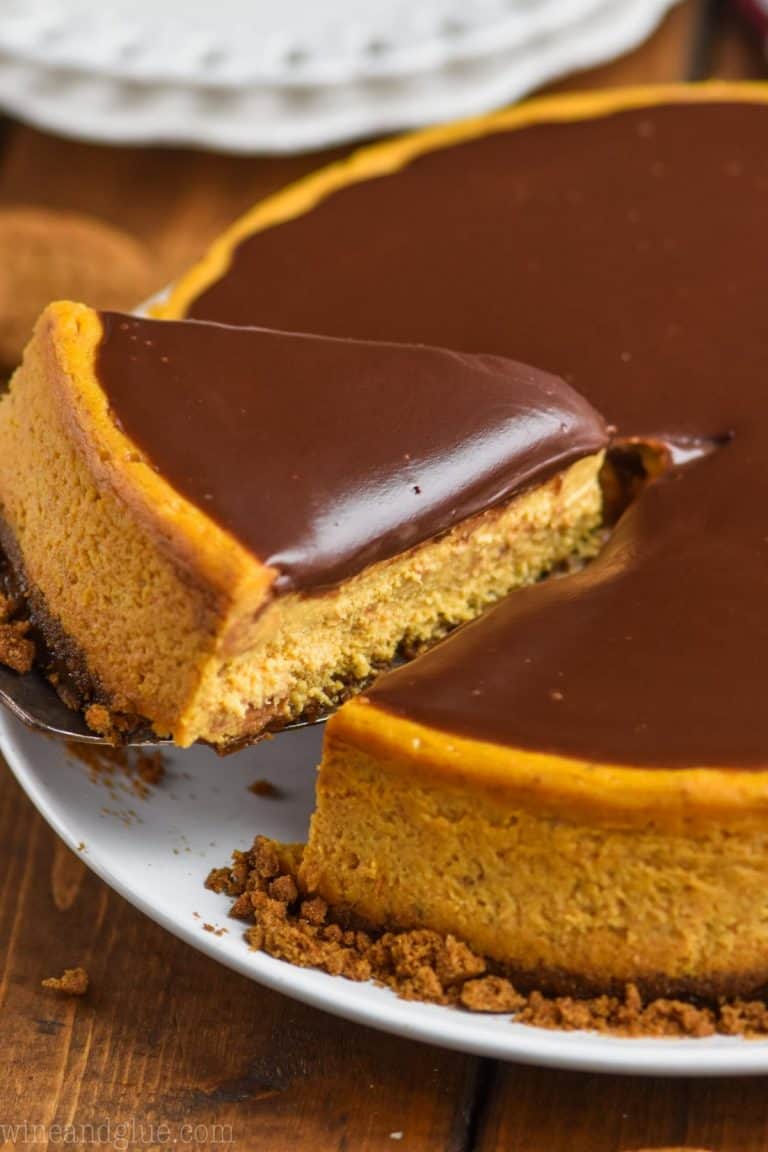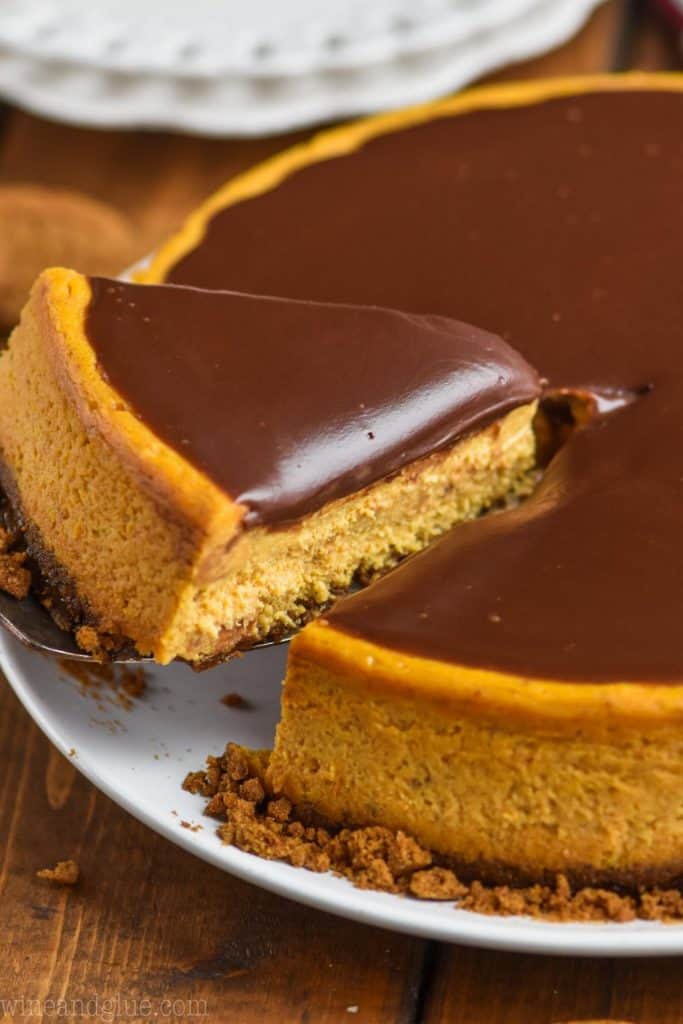 CHEESECAKE WITHOUT A WATER BATH
Let's talk for a minute about cheesecakes.
Whenever I post one, I make sure it is absolutely delicious. That is my number one concern.
That being said, I will often receive comments that I'm making it wrong because I don't bake it in a water bath.
At some point in the future, that might change. But right now, guys? I'm not going to put it in a bath. The reason is that I think cheesecakes come out perfectly delicious without a bath, and I don't like to risk a leaky springform pan and a soggy crust.
So, if you would like to put this in a bath, you do you. You can still use this recipe, you will likely just need to tweak baking times.
If you don't want to make a bath for the cheesecake, then solider on my friends.
TIPS FOR THE PERFECT CHEESECAKE
Start this recipe the day before serving.
Read the recipe in it's entirety before you start baking.
Use a quality cream cheese. I always use Philadelphia Cream Cheese. No this isn't sponsored, I just think they make the most high quality cream cheese.
Always use full fat cream cheese in brick form.
Let the cream cheese come to room temperature. Do not microwave it to get it there.
Use room temperature eggs.
Fully scrape down the bowl as you are adding in ingredients so everything gets fully distributed. The last thing you want is a chunk of nutmeg in your piece of cheesecake.
CHOCOLATE GANACHE
The chocolate ganache on this pumpkin cheesecake puts it over the top.
Chocolate ganache comes together very simply by combining chocolate and heavy cream. How thick you want the ganache will change your ratio of chocolate to cream.
In this recipe we use a ratio that results in a ganache that is smooth and thick, but doesn't become hard on top of the cheesecake.
MORE HOLIDAY DESSERTS
If you are looking for more great desserts to make your family this holiday season here are some that can't be missed:
If you make my pumpkin cheesecake recipe or any of my other recipes, please leave me a comment and let me know what you think!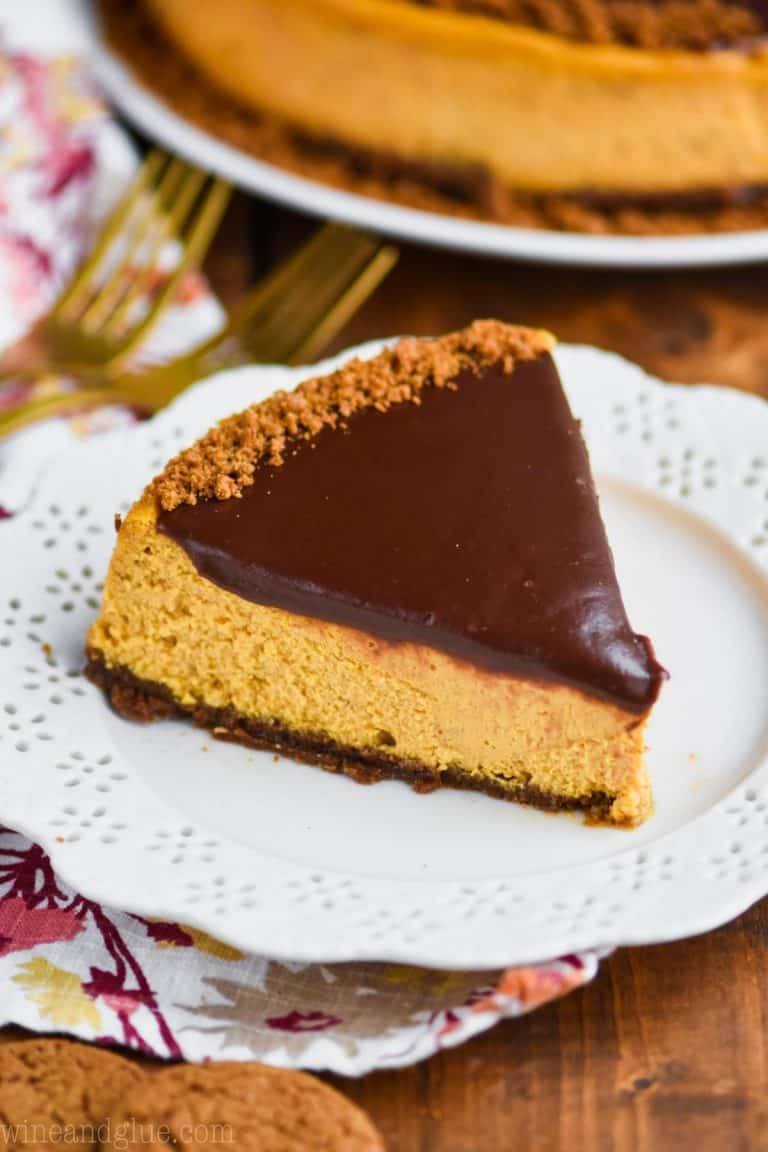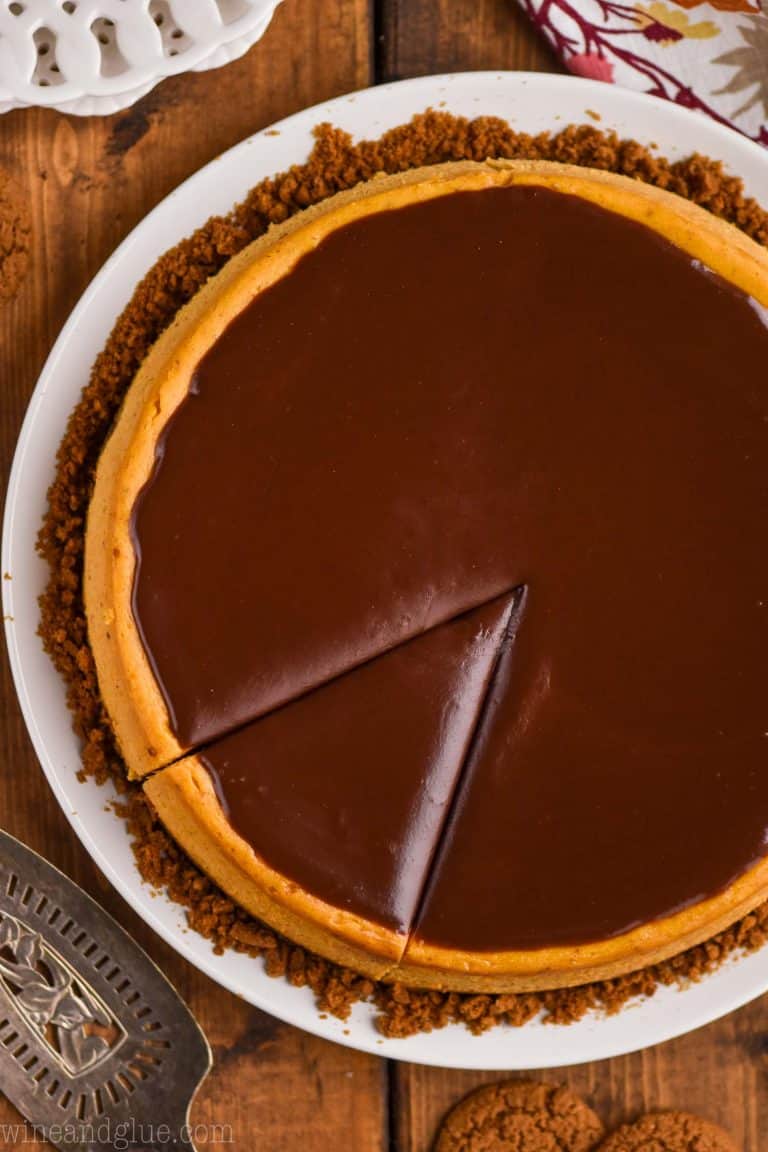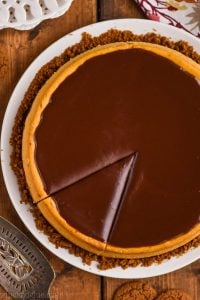 Pumpkin Cheesecake
Total:
10
hours
15
minutes
This Pumpkin Cheesecake has the perfect pumpkin flavor with smooth cheesecake texture and the best chocolate ganache on top. With these easy to follow instructions, you will have the best pumpkin cheesecake.
Ingredients
Crust
1 1/4

cups

gingersnap crumbs

see note 1

5

tablespoons

butter

melted

1

tablespoons

granulated sugar
Pumpkin Cheesecake
24

ounces

cream cheese at room temperature

see note 2

1

cup

granulated sugar

1

teaspoon

ground cinnamon

1 1/2

cups

pumpkin puree

100% puree, not pie filling

1/4

teaspoon

ground nutmeg

1/4

teaspoon

ground ginger

1/8

teaspoon

ground cloves

2

teaspoons

vanilla

2

eggs

room temperature
Chocolate Ganache
7

ounces

chocolate

see note 3

5

liquid ounces

heavy cream
Instructions
Preheat your oven to 325 degrees.

Combine the cookie crumbs, butter, and 1 tablespon granulated sugar and press into the bottom of a 9 inch springform pan. Bake for just under 10 minutes or until the crust begins to brown and is fragrant. Let cool on a wire wrack for a half hour.

Preheat the oven to 350 degrees.

Beat 24 ounces of full fat cream cheese until fluffy and smooth. Beat in 1 cup granulated sugar, then the pumpkin puree. Beat in the cinnamon, nutmeg, ginger, cloves, and vanilla extract. Beat in the eggs one at a time. Be sure to scrape down the sides and bottom of the bowl after each addition.

Pour the filling over the cooled crust and bake for 35 minutes or until the edges of the cheesecake are firm and the middle still has a jiggle to it. Leave it in the oven with the door closed for an hour. Remove from the oven, run a thin knife between the cheesecake and the pan. Let the cheesecake come to room temperature before covering in plastic wrap and refrigerating overnight.

Before serving the cheesecake, pour the chocolate into a bowl. Heat the heavy cream in the microwave until almost boiling – about 45 seconds. Pour over the chocoalte and let sit for two minutes. Then whisk until smooth.

Before pouring the chocolate over the cheesecake, place a paper towel lightly over the cheesecake. If the cheesecake was at all hot before going in the refrigerator, there will likely be a little bit of moisture on top. The towel will take care of this.

Pour the chocolate ganache over the cheesecake. Allow the ganache to cool and firm.
Notes
1. You could use graham cracker crumbs or ginger snap crumbs for this recipe. Make sure, if using gingersnaps that you use hard cookies, not soft ones. With the gingersnap crumbs, you will need roughly 2 cups of gingersnaps that have been broken into 1/2 inch pieces to make 1 1/4 cups of crumbs. You will need a total of 5.6 ounces (weight) for the crust.
2. Use 3 bricks of brand name cream cheese for best results. The cream cheese needs to be at room temperature for it to be ready to use.
3. This chocolate ganache recipe calls for 7 ounces chocolate cut into pieces. I highly recommend a kitchen scale so you have the right amount. If you don't have one, it is roughly 1 1/4 cups chocolate.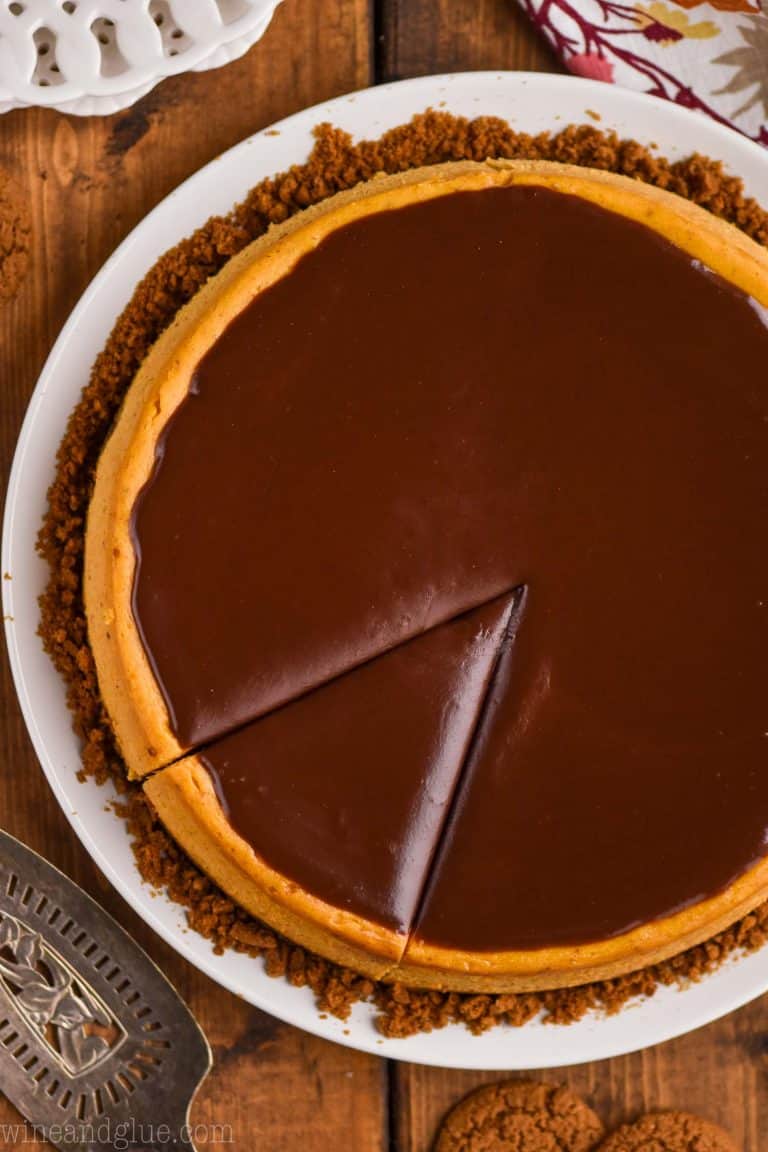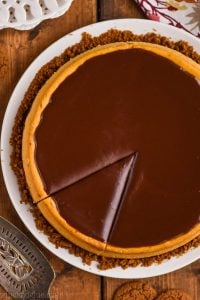 did you make this
Pumpkin Cheesecake