These Pumpkin Peanut Butter Cookies are the most delicious blend of two of your favorite flavors into a cookie that is crisp on the outside and nice and buttery on the inside. Cookie perfection!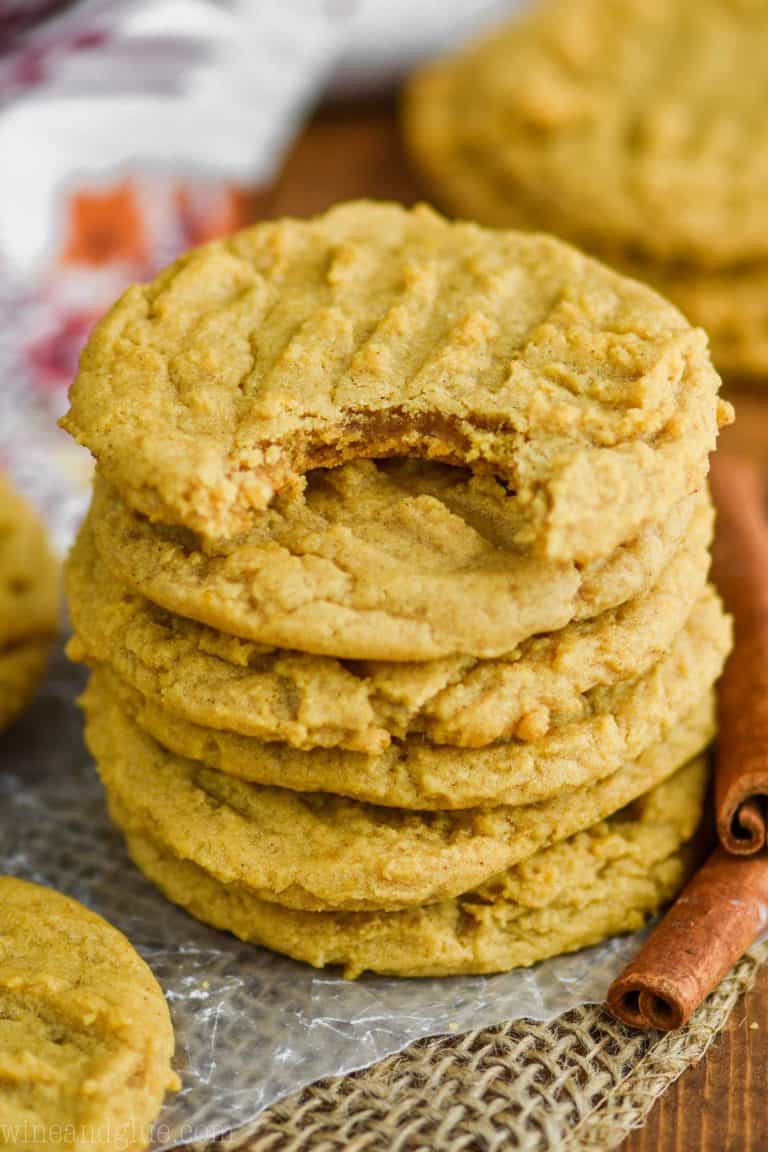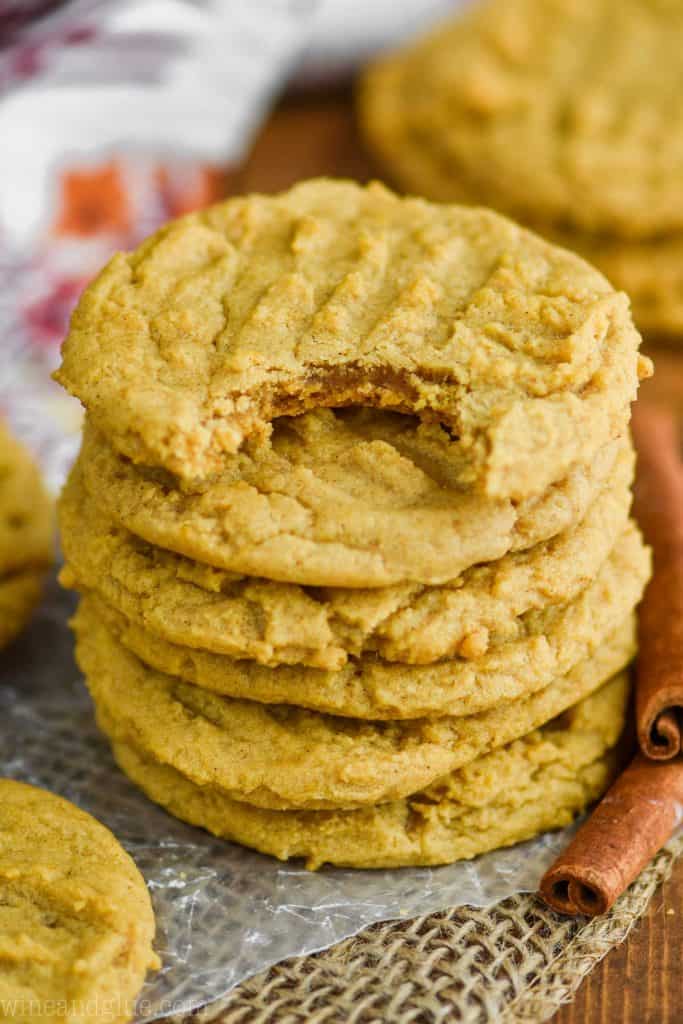 This post is sponsored by the National Peanut Board. I received compensation, but all opinions and content are my own.
We are wrapping up summer right quick my friends! And I must tell you that I am kind of giddy about it. Don't get me wrong, I love summer, but there is something so refreshing about fall. Pumpkin spice, apple, crisp evenings, crunchy leaves . . . and my kids going back to school might have a tiny bit to do with it.
Reader Review
I just made these last night. The pumpkin and cinnamon are subtle and balanced and these are so moist and chewy! Lots of smiles and compliments so far!
One of the things I tend to stress about around back to school season is making my kids lunch. But if I'm being 100% honest, it's not something I should worry about at all. My kids are really not super picky eaters, and they all love the easiest sandwich on the planet to make: The classic Peanut Butter & Jelly. I love how easy they are to make and I love even more that I can get so much protein into my kids lunch with a sandwich they truly love. Peanut Butter is kind of a miracle worker in my house. Can you beat 8grams of protein per two-tablespoon serving?
Peanut butter is amazing in so many different things – everything from breakfast, lunch, and dinner to dessert. (I'm looking at you Peanut Butter Stir Fry Noodles!) Because fall is upon us, I decided to put a pumpkin spin on everyone's favorite peanut butter cookie to make these amazing Pumpkin Peanut Butter Cookies. They are simple to make, and so delicious. Turns out that jelly has some competition; peanut butter and pumpkin are a match made in heaven.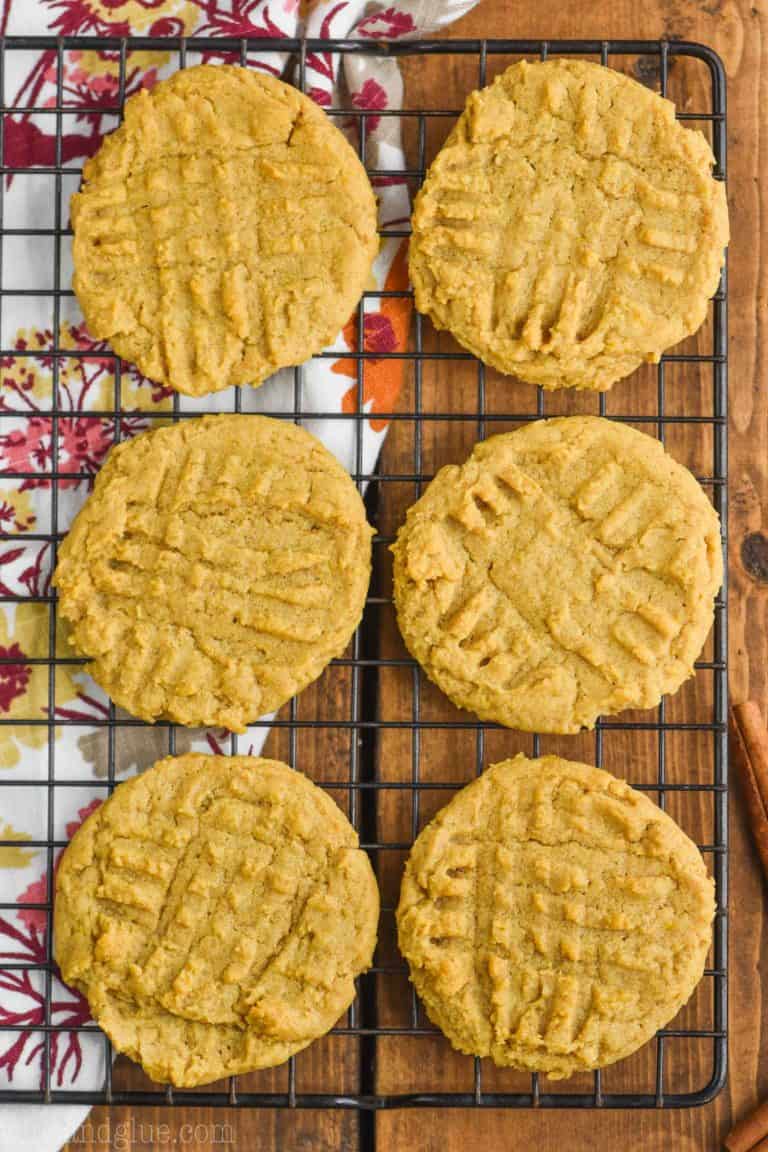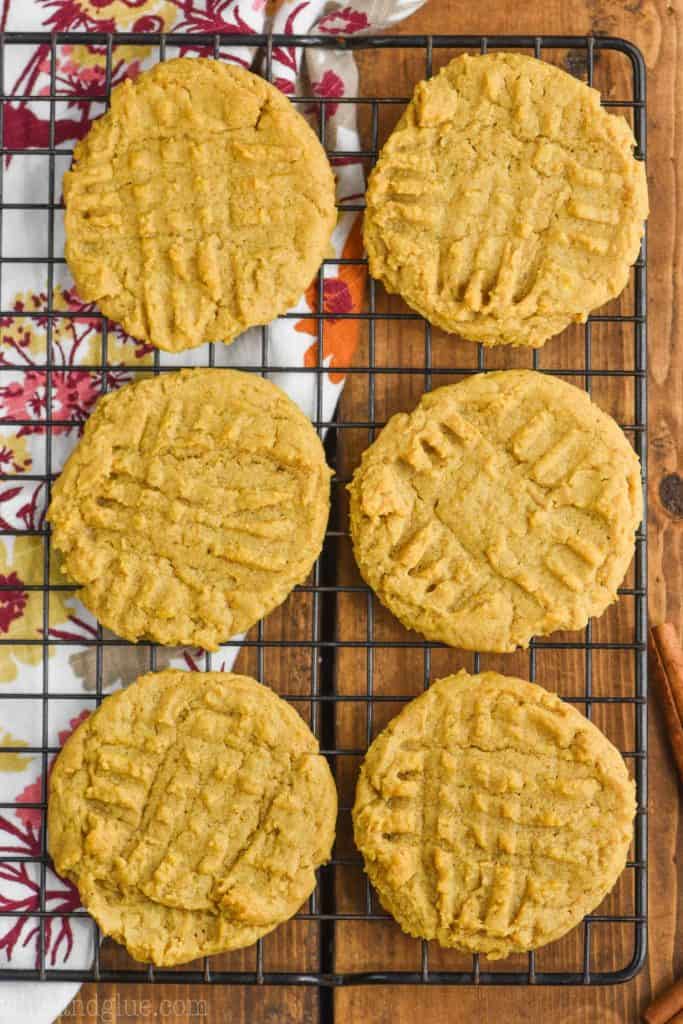 How to Add Pumpkin to Cookies
Can I tell you a fun little secret? You can put a pumpkin spin on almost all of your favorite cookie recipes. If it calls for two eggs, you just replace those with one egg yolk and 1/2 a cup of pure pumpkin puree. Genius, no?
From there, I like to add a little cinnamon to enhance the pumpkin flavor. You could even add in some nutmeg too!
How to Make Pumpkin Peanut Butter Cookies
Start this recipe by mixing together room temperature butter and creamy peanut butter. Note: Room temperature butter is achieved by leaving out the butter until it is soft enough to dent with your finger, but not so soft you can pus your finger all the way through.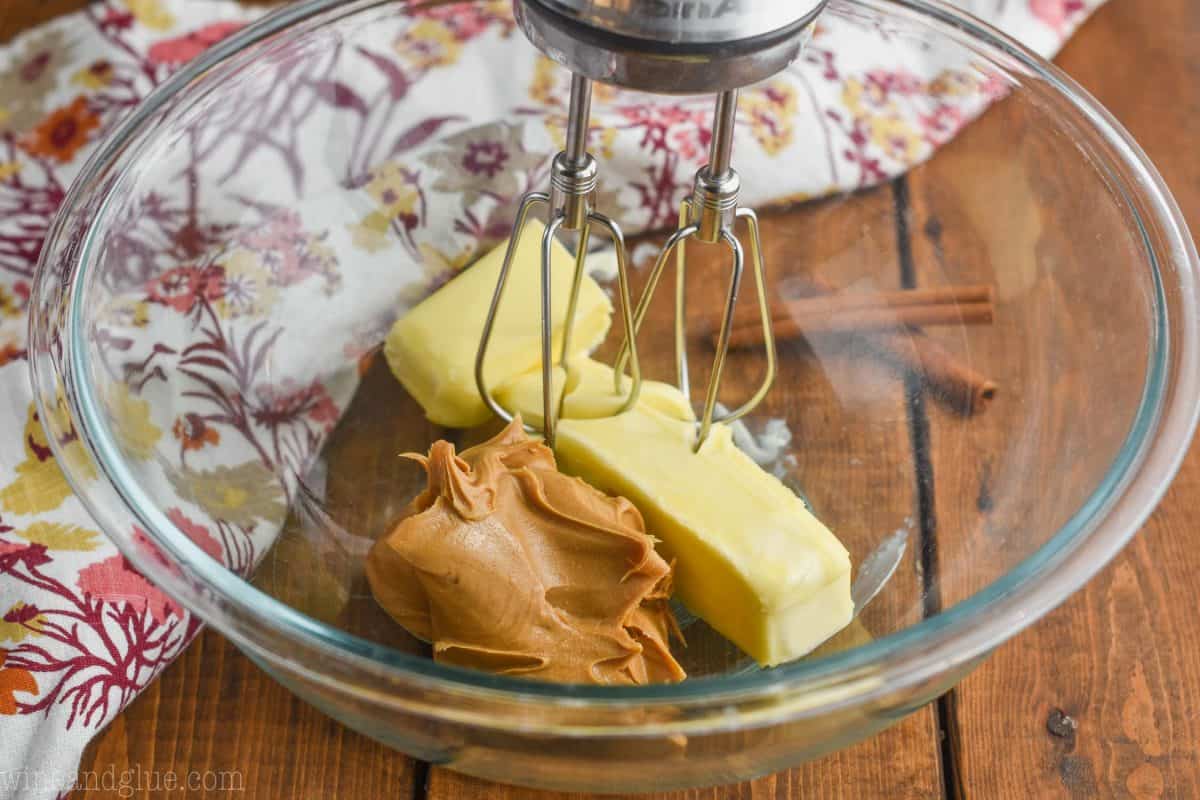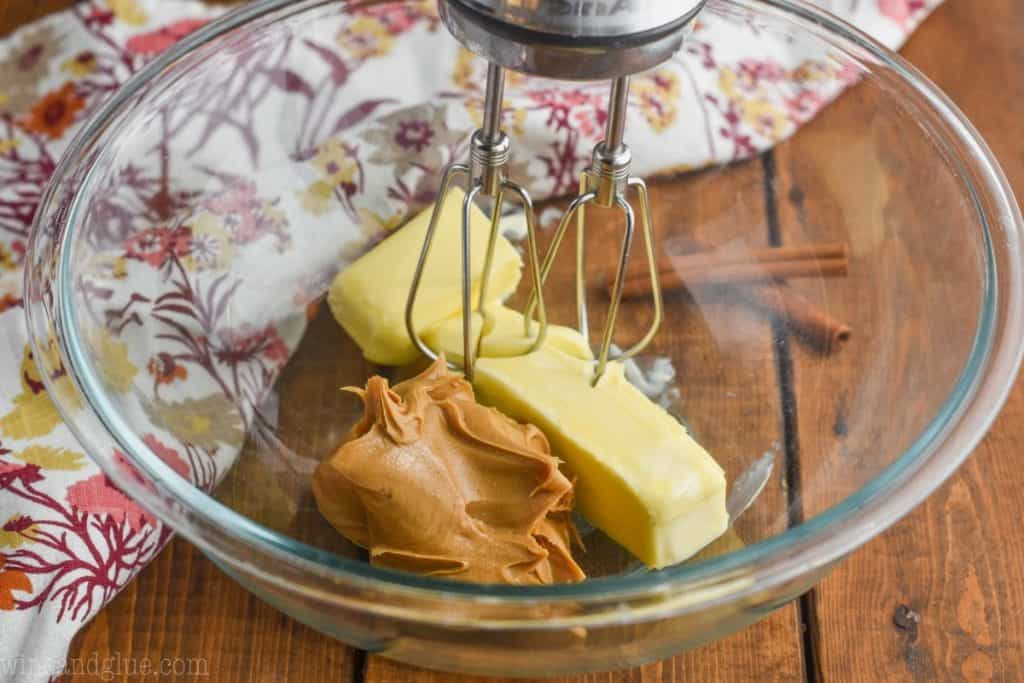 Mix until fully combined.
Add in white and brown sugar. The white sugar will sweeten the cookies and help them spread, the brown sugar will keep things deliciously chewy.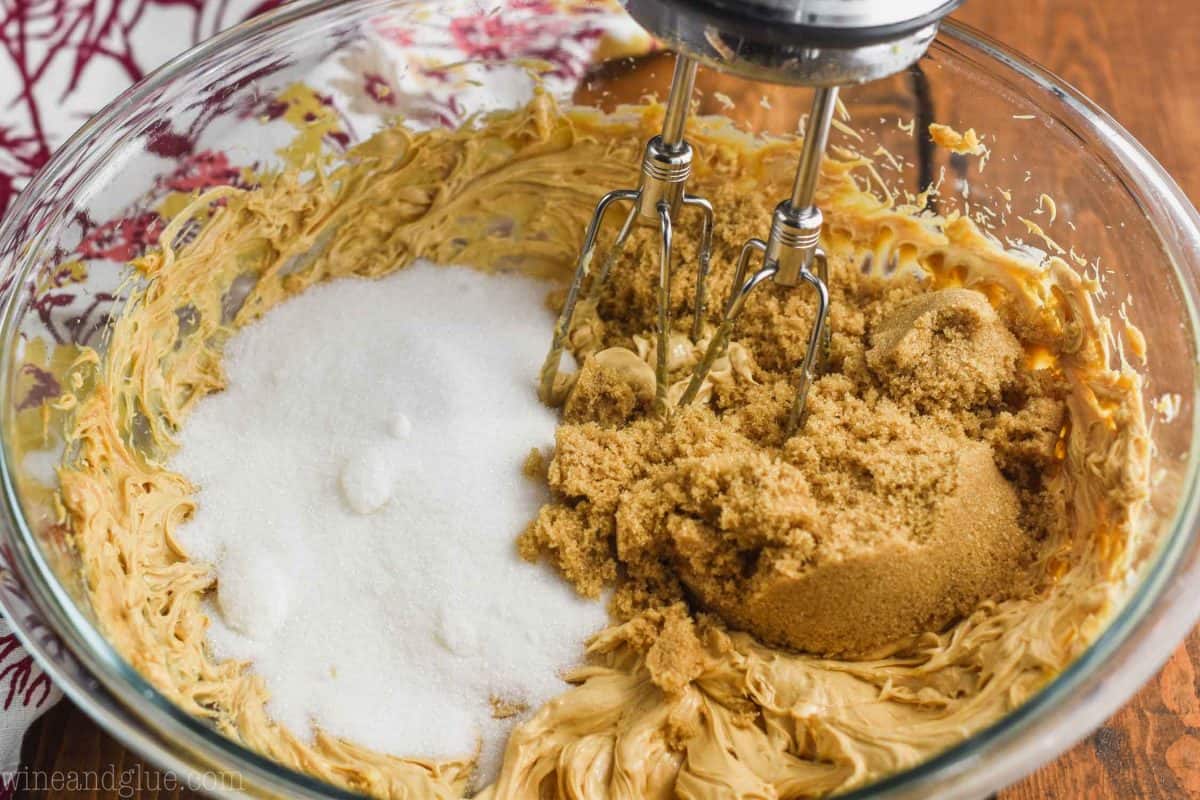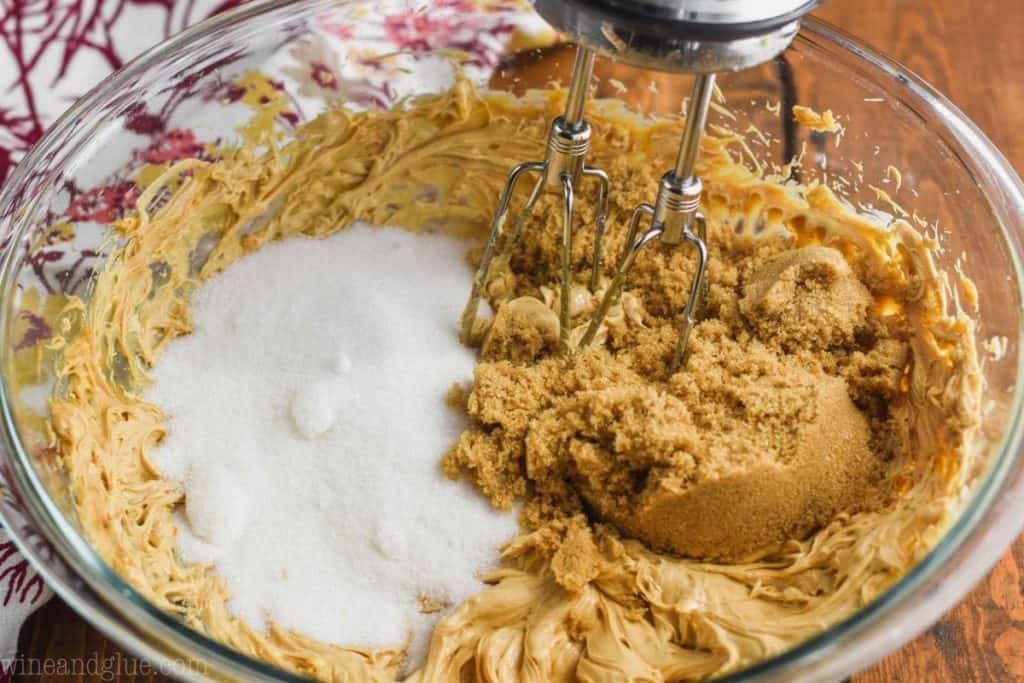 Beat about three to six minutes or until the batter is light and fluffy. Properly beating the sugar into the batter will create pockets of air that will allow the cookies to puff up in the oven. It will also stretch your batter and make for more cookies. This batter yields 40 cookies for me!
Now time for our secret tip to go into action! Add that pumpkin puree, one egg yolk, and a teaspoon of vanilla.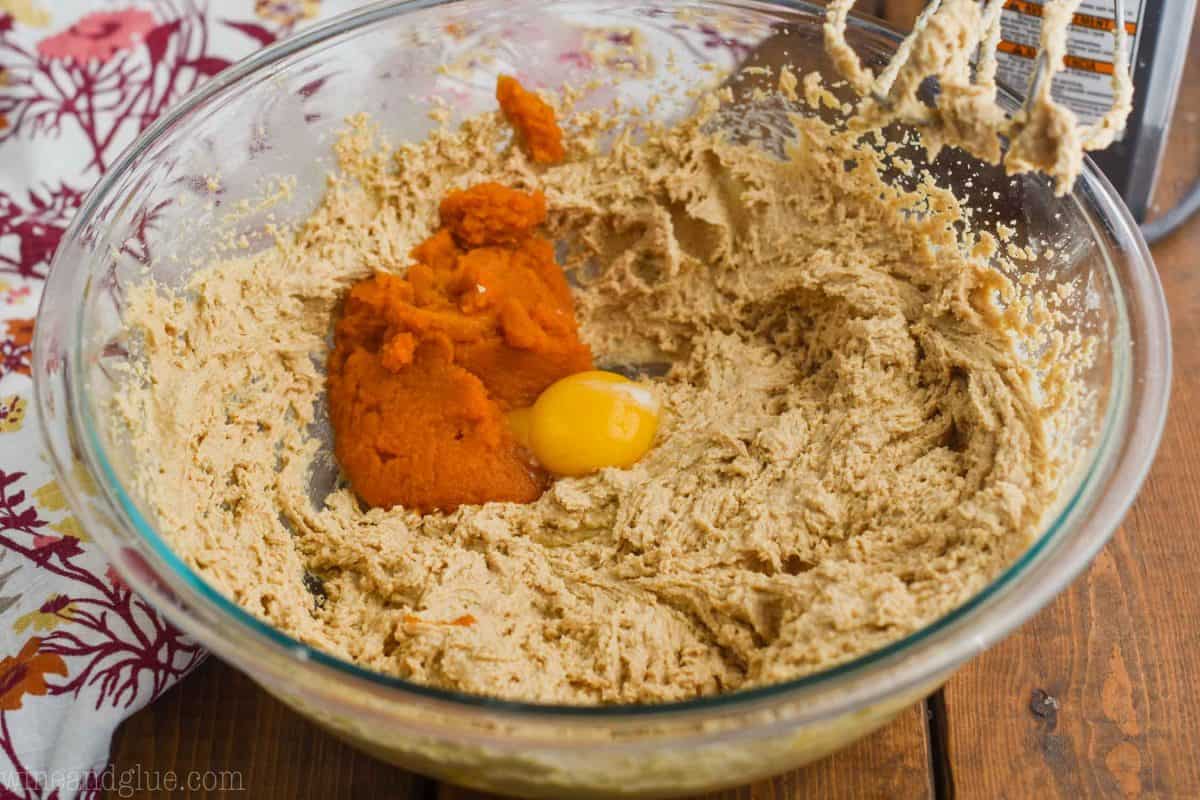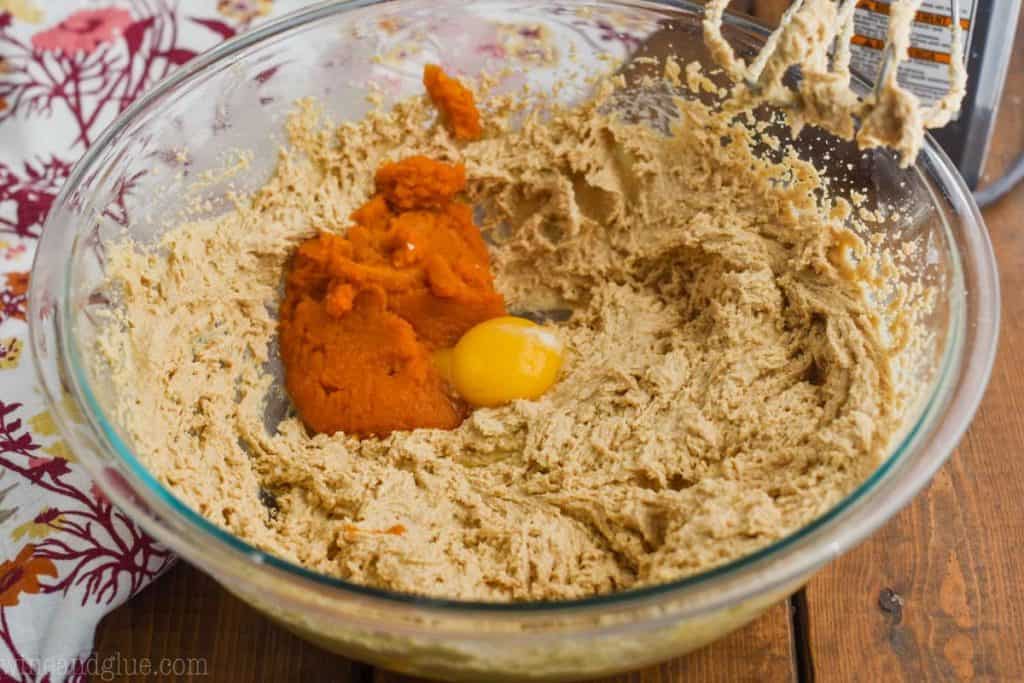 We want to add in the flour mixture now. I added baking soda, salt, and cinnamon to the flour. Make sure you give it a thurough winking in another bowl so that you distribute those evenly amongst the flour.
There are different schools of thought on how you should add the flour to batter. Some people say to add a little at a time so you don't over mix it. I think it is better to add it all at once, and then start your mixer slowly (so it doesn't fly everywhere) and then mix it all in. By doing it this way, I believe the flour actually gets less mixing time.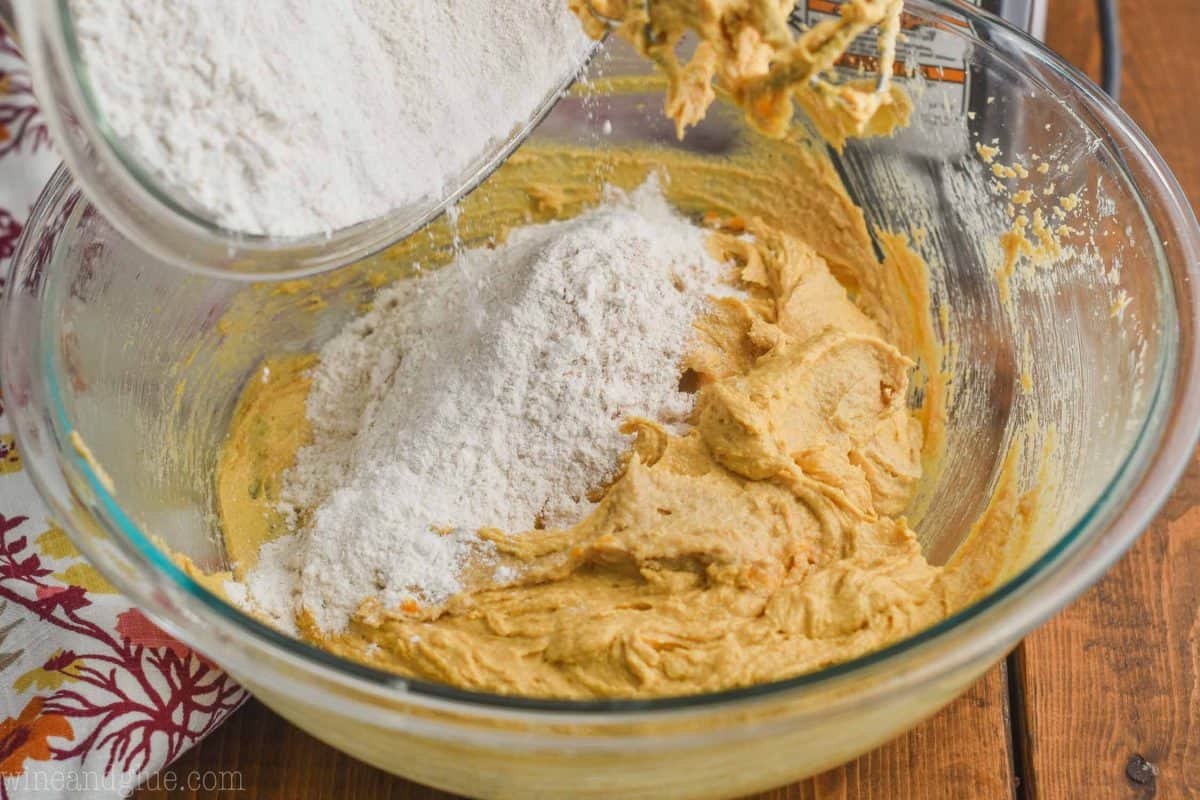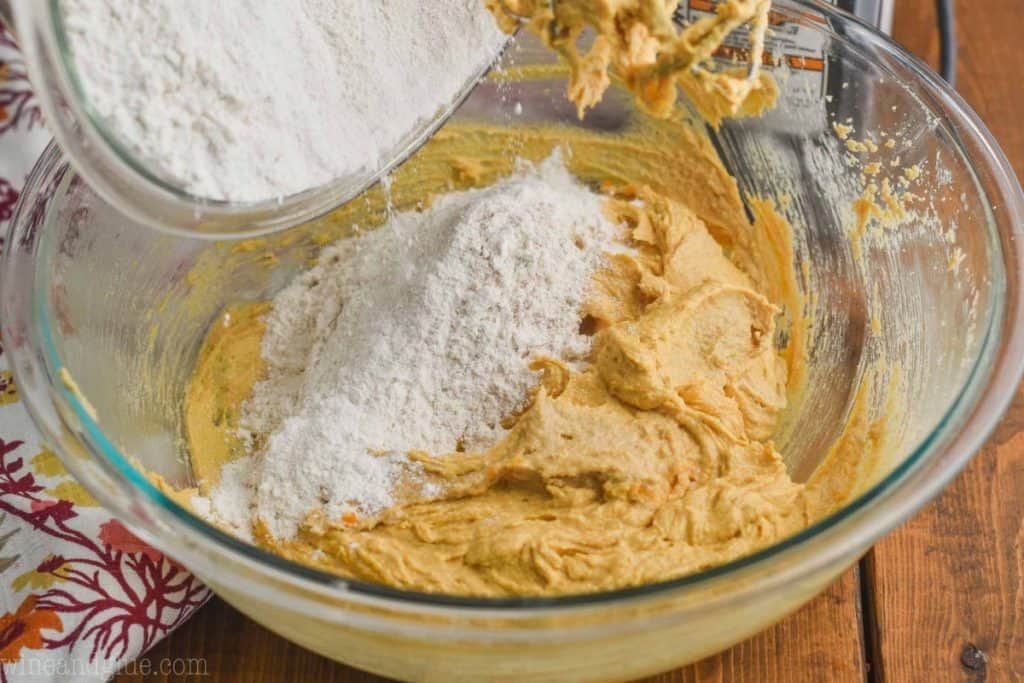 Now we just scoop, put the dough balls onto a parchment lined baking sheet and make those old fashioned criss cross fork marks that scream, "Amazing Peanut Butter Cookie Alert!!"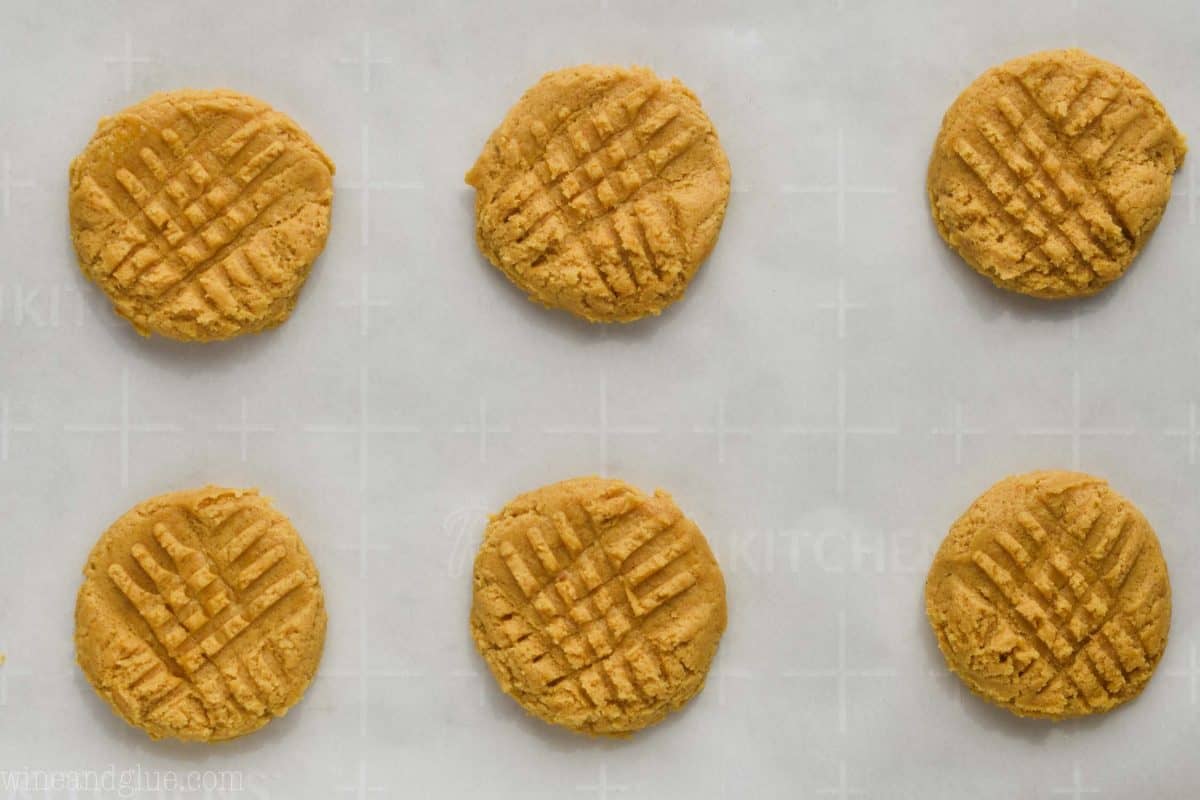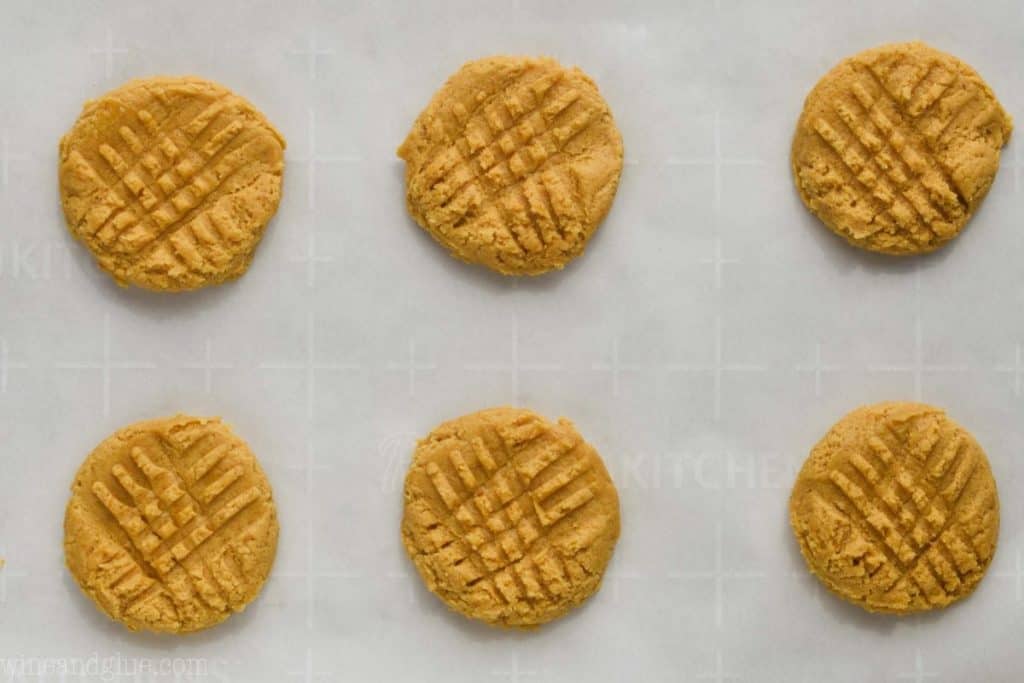 Tips to Make These Pumpkin Peanut Butter Cookies Turn Out Perfect
These tips are pretty standard to all my cookies, but I think they bear repeating.
Use room temperature butter. This means that you can dent the butter with your finger but you can't push it all the way through. It will actually still be cold to the touch. (This goes for your peanut butter too! Room temperature!)
Don't pack your flour. If you use your measuring cup as a scoop, the flour will become packed. Scoop the flour into the measuring cup with a spoon and then level it off.
Make sure to fully whisk the other dry ingredients into the flour to evenly distribute them.
Your egg yolk should also be room temperature. Put the whole egg in a small bowl of luke warm water while you are prepping the other ingredients.
Use a cookie scoop to get uniform cookies so they cook evenly.
Don't put your cookies on the baking sheet until you are ready to put it in the oven. This prevents any premature cooking.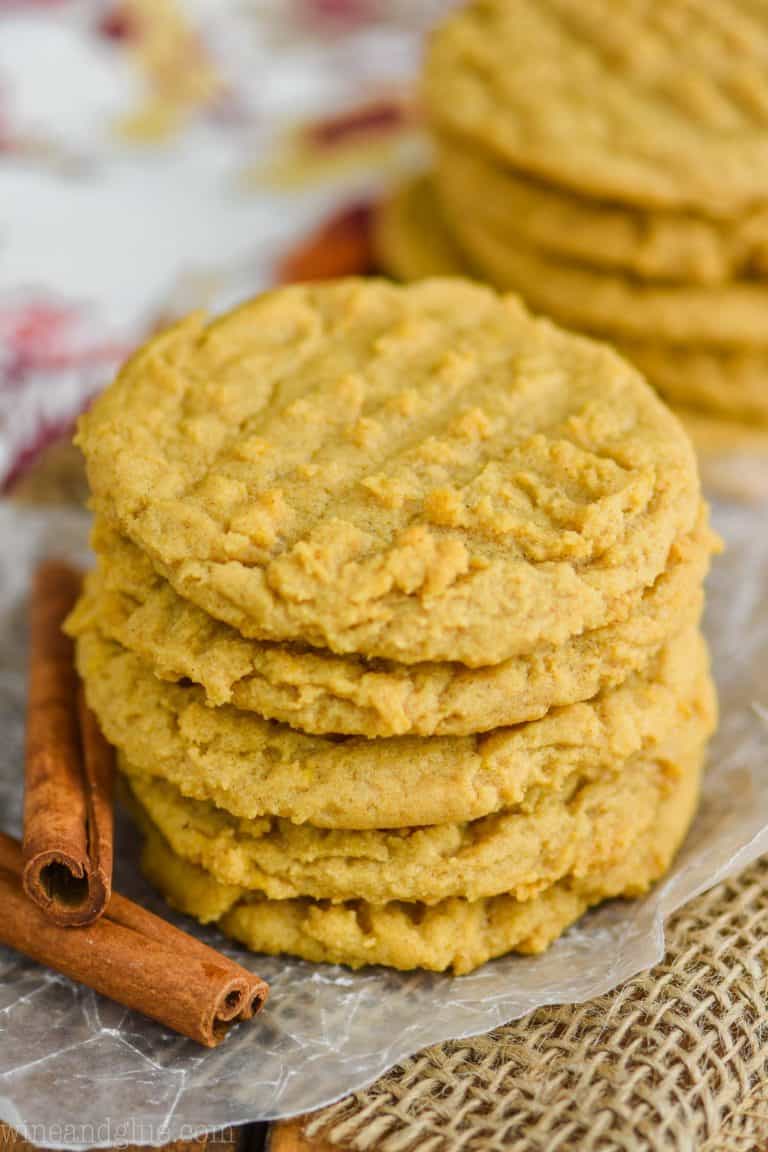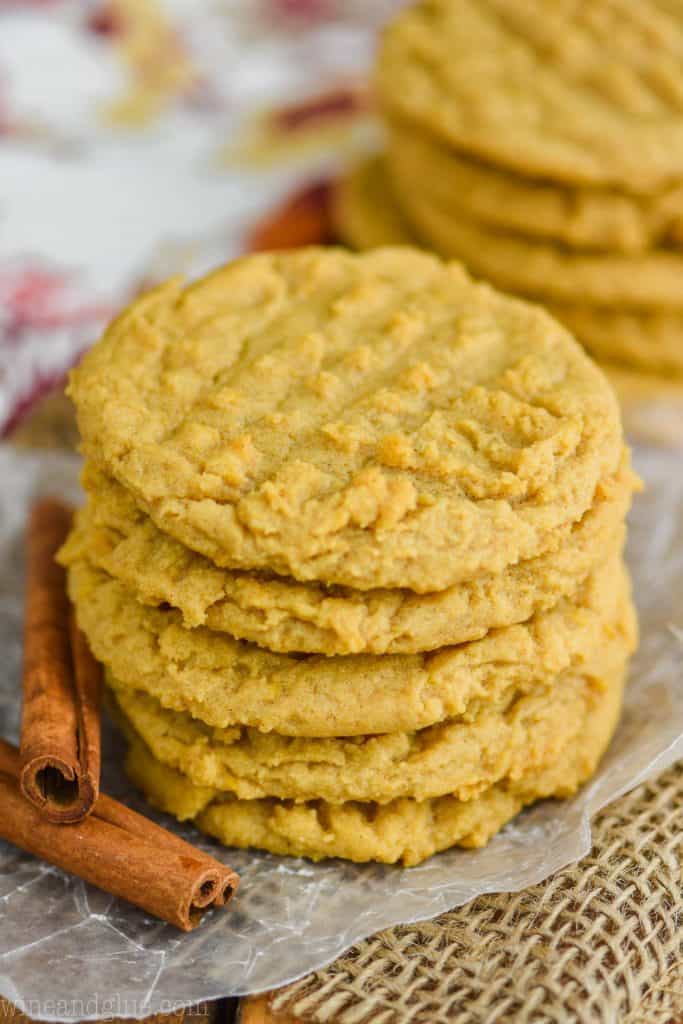 Other Great Peanut Butter Desserts
Let's not stop here. Peanut butter is one of my favorite things to add to desserts:
If you make these amazing Pumpkin Peanut Butter Cookies or any of the other delicious desserts listed, please leave me a comment and let me know! I love hearing from you!
And make sure to visit here for even more peanut butter
recipes for every occasion!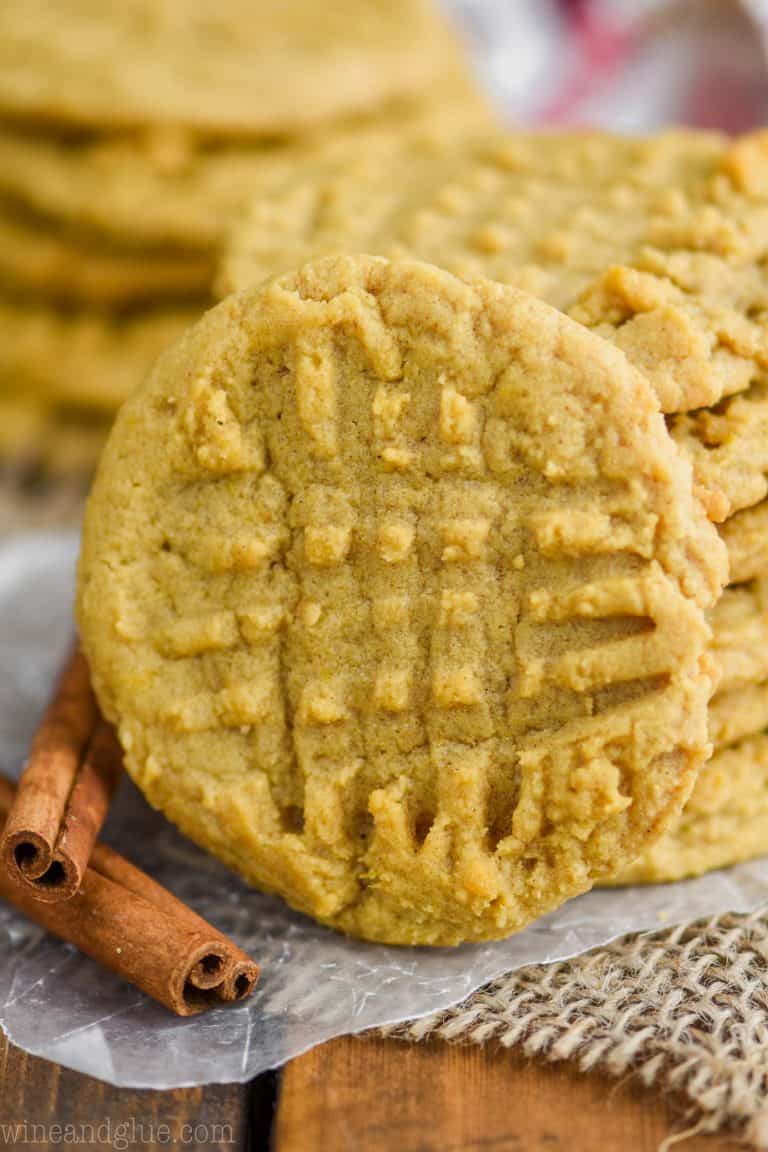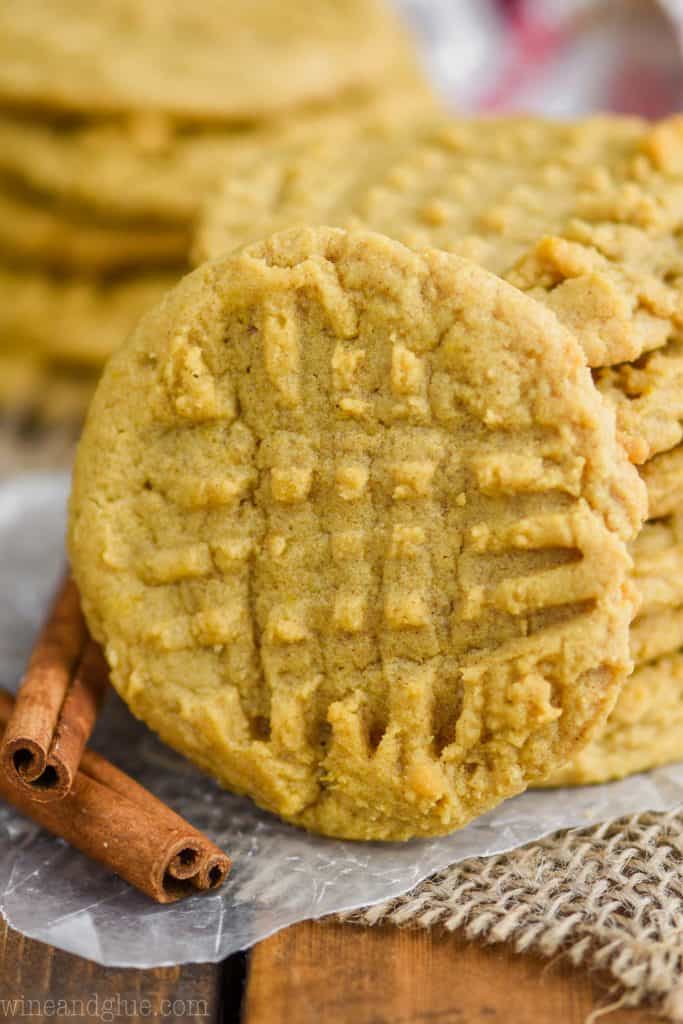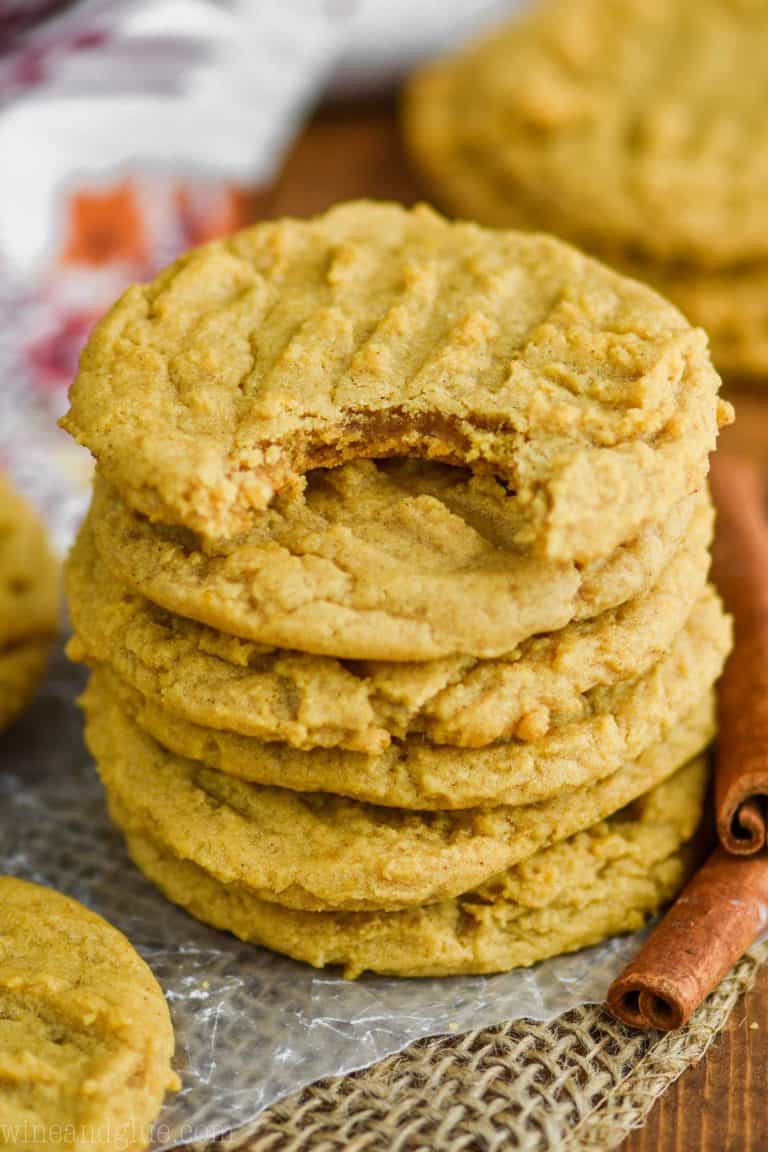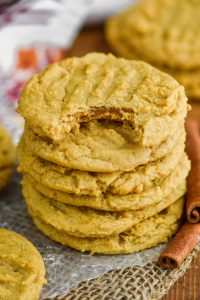 Pumpkin Peanut Butter Cookies
These Pumpkin Peanut Butter Cookies are the most delicious blend of two of your favorite flavors into a cookie that is crisp on the outside and nice and buttery on the inside.  Cookie perfection!
Ingredients
3

cups

all purpose flour

scooped and leveled (see note 2)

1

teaspoon

baking soda

1/2

teaspoon

ground cinnamon

1/2

teaspoon

salt

3/4

cup

creamy peanut butter

12

tablespoon

unsalted butter

room temperature (see note 1)

1

cup

granulated sugar

1

cup

light brown sugar

packed

1

egg yolk

room temperature

1/2

cup

pumpkin puree

1

teaspoon

vanilla
Instructions
Preheat your oven to 350 degrees. Line baking sheets with parchment paper and set aside.

In a medium bowl whisk together flour, baking soda, salt, and ground cinnamon. Set aside.

In a large bowl, beat together the butter and peanut butter until smooth.

Add the granulated sugar and brown sugar and beat until the batter is light and fluffy. Between 3 to 6 minutes.

Add in the pumpkin, egg yolk, and vanilla extract. Beat until just combined.

Add in the flour mixture and beat on low until it is integrated, turning up the hand mixer and beating until just fully combined.

Using a cookie scoop, create one inch balls. Place on cookie sheet, approximately two inches apart, and using a fork push down one way and then turn the fork pushing down the other way making a hatch mark pattern.

Bake for 12 minutes, rotating half way through. The edges of the cookies should be golden brown.
Notes
You should be able to dent the butter with your finger without pushing it all the way through.
Use a spoon to scoop the flour into a measuring cup and level it off. This will prevent it from being packed and getting too much flour in your cookie recipe.
Serving:
1
cookie
Calories:
131
kcal
(7%)
Carbohydrates:
18
g
(6%)
Protein:
2
g
(4%)
Fat:
6
g
(9%)
Saturated Fat:
3
g
(19%)
Polyunsaturated Fat:
1
g
Monounsaturated Fat:
2
g
Cholesterol:
14
mg
(5%)
Sodium:
83
mg
(4%)
Potassium:
30
mg
(1%)
Fiber:
1
g
(4%)
Sugar:
10
g
(11%)
Vitamin A:
650
IU
(13%)
Calcium:
10
mg
(1%)
Iron:
0.2
mg
(1%)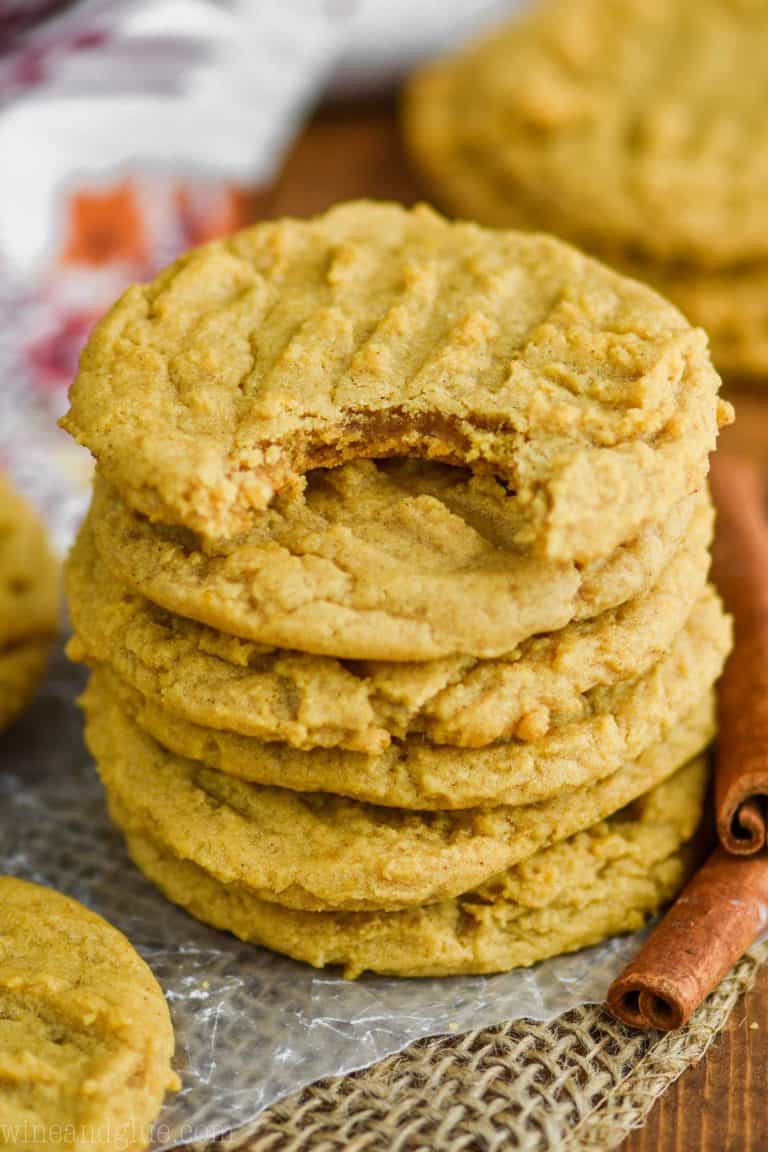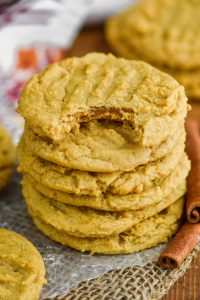 did you make this
Pumpkin Peanut Butter Cookies