These Pumpkin Snickerdoodles give you all the delicious taste of a snickerdoodle with perfect pumpkin flavor for fall.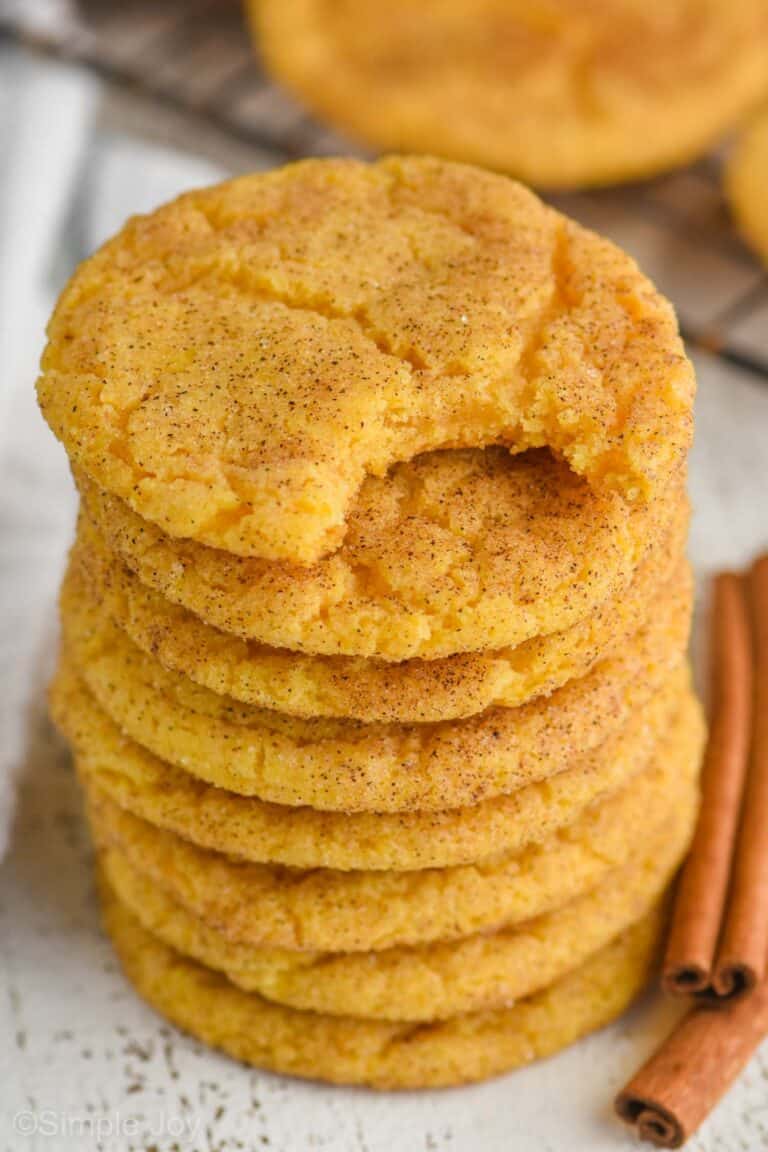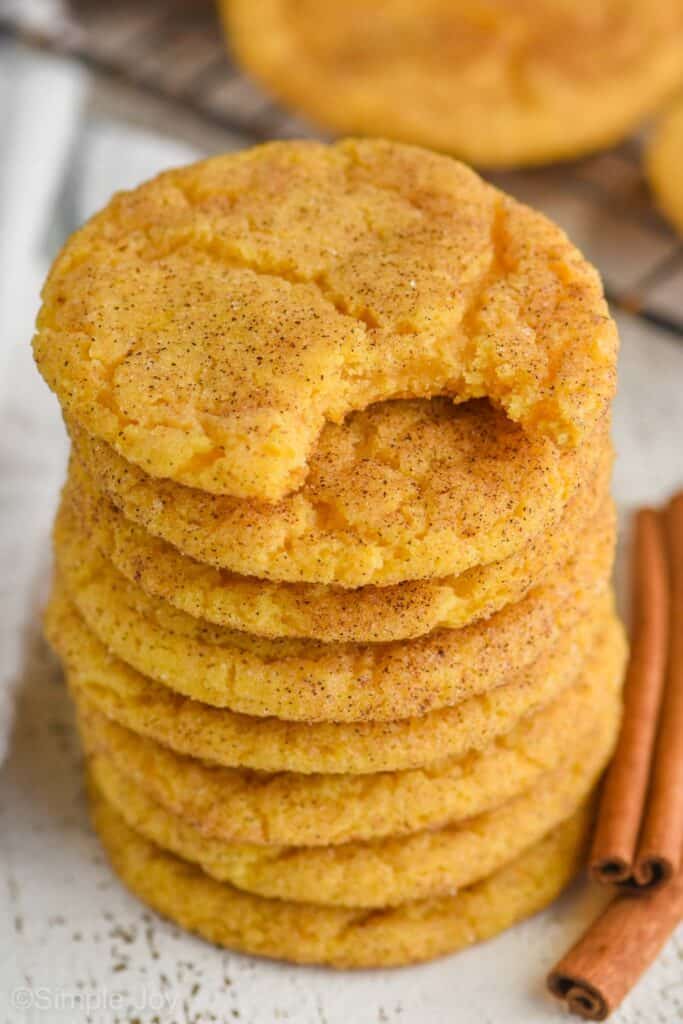 I think if it was socially acceptable, I would give you pumpkin and apple recipes all year long. Pumpkin and pumpkin spice just make everything better. Including snickerdoodle cookies!
These cookies are crisp on the outside and soft on the inside. They have the perfect pumpkin spice flavor.
Bringing Pumpkin Flavor to Snickerdoodles
The key to this recipe is to keep that tang that cream of tartar brings to snickerdoodle while also bringing in that classic pumpkin spice flavor. We do this in two ways.
We are adding the flavors of pumpkin spice to the sugar we roll the cookies in before baking.
We are using actual pumpkin puree.
Pumpkin Snickerdoodle Tips and Tricks
There are a few tips and tricks to making great cookies:
Make sure you are using baking soda and not baking powder. They are not the same thing.
Fully whisk the flour, cream of tartar, baking soda, and salt. It all needs to be well distributed.
Make sure your butter is room temperature. You should be able to dent it easily with your finger without pushing your finger through.
Use 100% pumpkin puree, not pumpkin pie filling.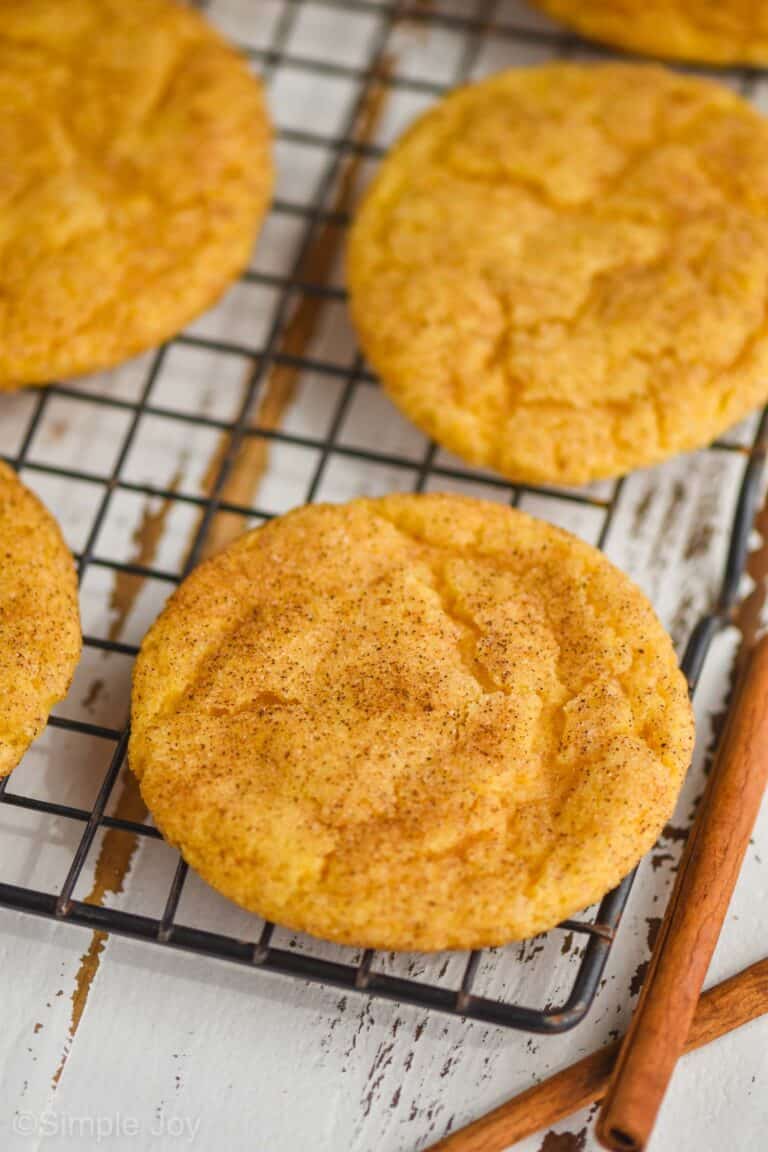 How to Measure Flour for Cookies
This tip deserves its own section. Measuring flour is easy, but it has to be done a certain way or the flour will pack, and you will end up with too much. Then your cookies won't work.
Using a spoon, scoop the flour into a dry measuring cup. Then using the flat end of something like a spatula handle, level off the flour.
If you use the measuring cup to scoop the flour right from the bag you can end up with 25% more flour. That makes for some dry cookies.
Why Pumpkin Works in Cookies
Did you know that pumpkin puree can replace eggs? That is the reason it is so important to use pumpkin puree and not pumpkin pie filling. You still need to use an egg yolk, but it's a great way to incorporate pumpkin into cookies.
We do this with Pumpkin Sugar Cookies and Pumpkin Chocolate Chip Cookies.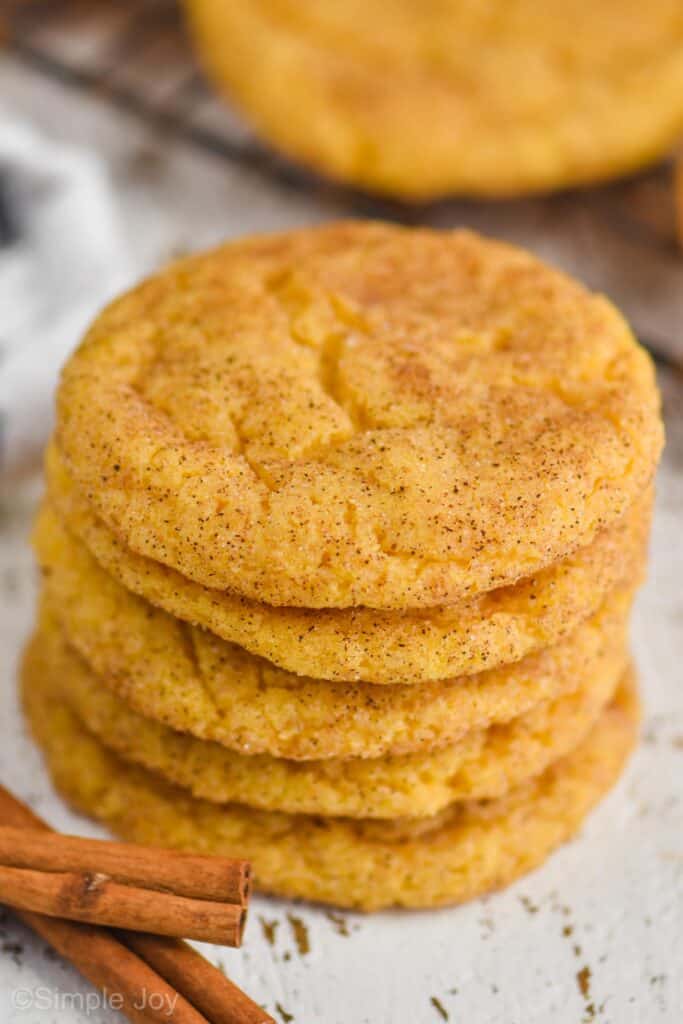 Freezing Pumpkin Snickerdoodle Dough
This cookie works to freeze as dough and then bake from frozen. To do this:
Make the dough all the way through rolling the dough in sugar.
Place the rolled cookie on a wax lined plate in the freezer for 20 minutes.
Transfer the frozen dough balls to a zip locked bag.
Store in the freezer for up to three months.
When ready to bake, bake right from frozen at 350 degrees for 12 minutes.
Freezing Pumpkin Snickerdoodles
You can also store these in the freezer after baking and cooling completely.
Store in an airtight container.
Keep frozen for up to three months.
Other Great Pumpkin Desserts
If you can't get enough great pumpkin recipes try some of these:
My Pumpkin Peanut Butter Cookies are the perfect combination. You will love them.
This Pumpkin Frosting is the absolute best. It is possible that it is my favorite frosting.
You will love this Pumpkin Pie Dip, and be in love with the pie crust dippers that go with it.
If you make any of these great pumpkin treats or my Pumpkin Snickerdoodles, leave me a comment and let me know what you think!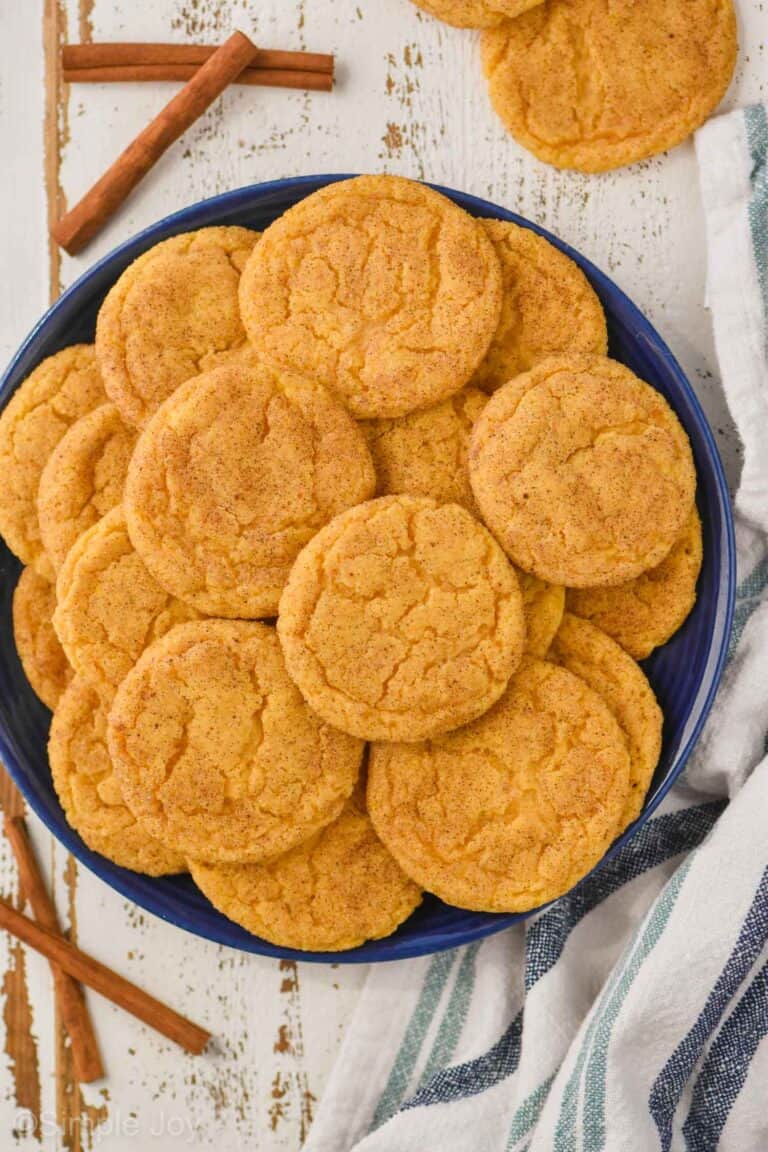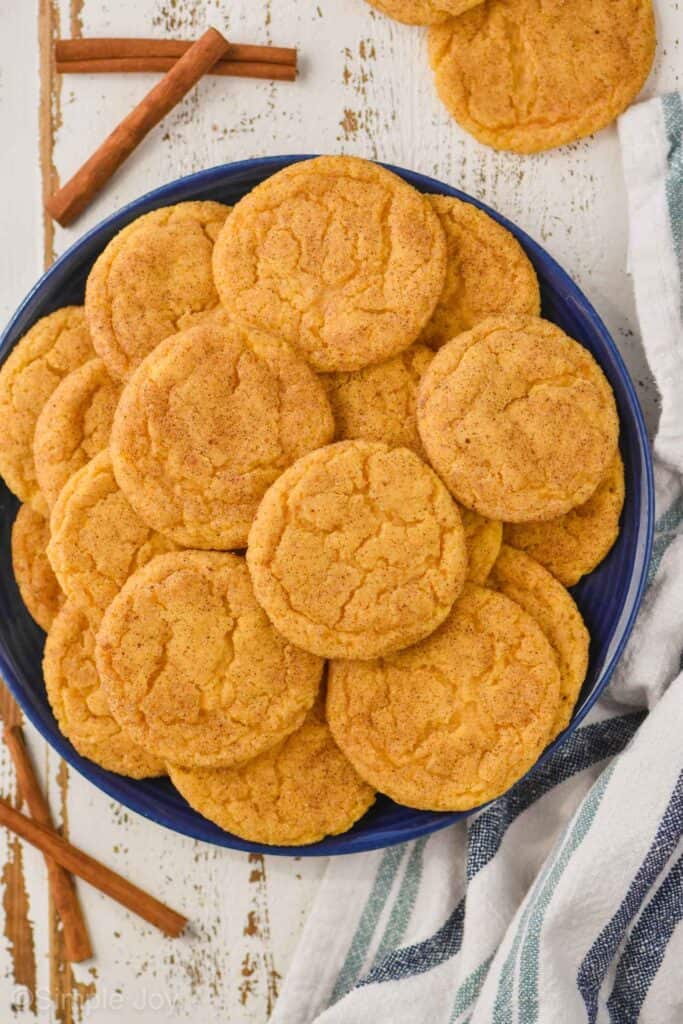 Recommended Tools
Here are some great kitchen tools to make sure this recipe turns out perfect.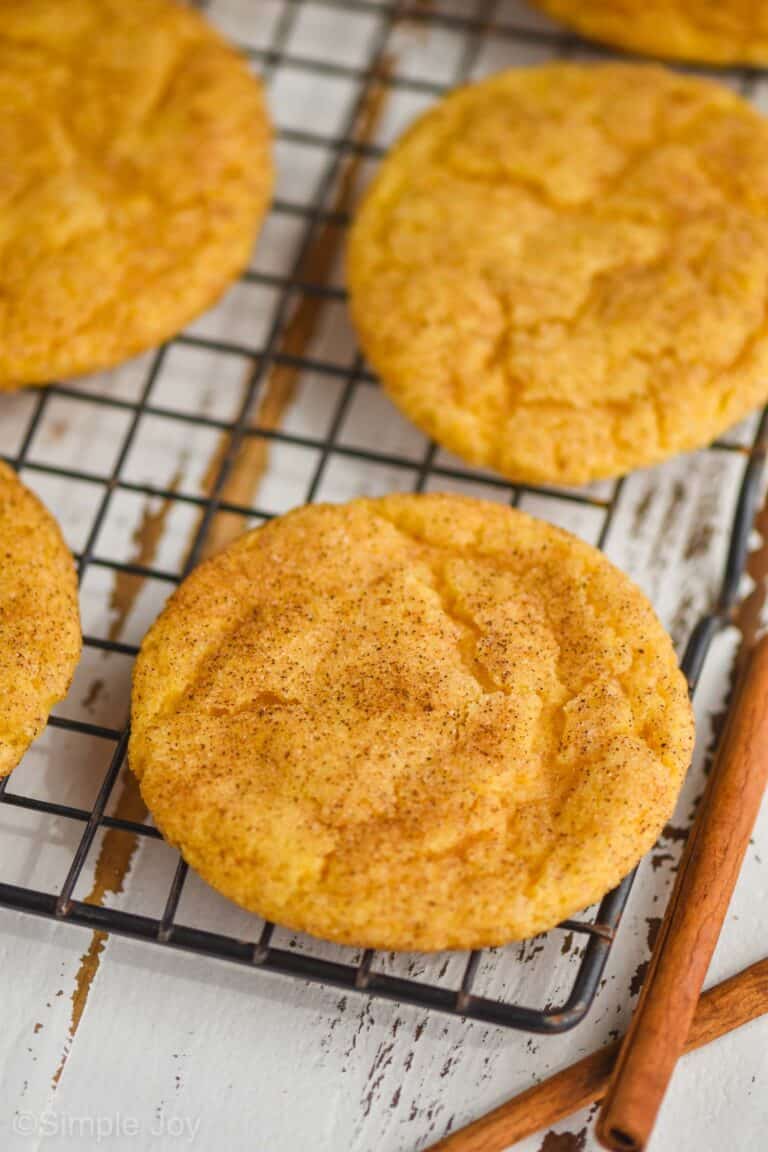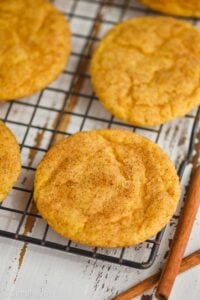 Pumpkin Snickerdoodles
These Pumpkin Snickerdoodles give you all the delicious taste of a snickerdoodle with perfect pumpkin flavor for fall.
Ingredients
1 3/4

cups

sugar

1/2

tablespoon

cinnamon

1/2

teaspoon

ginger

1/8

teaspoon

nutmeg

1/8

teaspoon

cloves

2 1/2

cups

all purpose flour

2

teaspoons

cream of tartar

1

teaspoon

baking soda

1/2

teaspoon

salt

8

tablespoons

unsalted butter

room temperature

1/2

cup

vegetable shortening

1

egg

yolk

1/2

cup

100% pumpkin puree
Instructions
Preheat your oven to 375 degrees. Line a baking sheet with parchment paper and set aside.

In a small bowl whisk together 1/4 cup sugar, cinnamon, ginger, cloves, and nutmeg. Set aside.

In a medium bowl whisk together the all purpose flour, cream of tartar, baking soda, and salt. Set aside.

In a large mixing bowl or the bowl of a stand mixer, beat the butter, shortening, and 1 1/2 cups sugar together until the mixture is light and fluffy, about 3 to 6 minutes.

With the mixer on low, add in the egg yolk, and then once combined, add in the pumpkin puree.

Add the flour mixture all at once. Set the mixer to very low and beat until it is just well enough combined that it won't fly everywhere. Turn up the mixer to high and beat until just combined, about 15 seconds. Give the batter a final stir with a spatula to make sure it is combined.

Using a 1 1/2 tablespoon cookie scoop, scoop the cookies, roll them into balls and then roll them in the sugar and spice mixture. Place on a parchment lined cookie tray and bake (one tray at a time in the middle rack of the oven) 2 1/2 inches apart. Bake for 10 to 12 minutes rotating the tray half way through. Remove the cookies when the edges just begin to turn golden brown.

Let the cookies cool on the baking sheet for 10 minutes before transfering to a wire rack.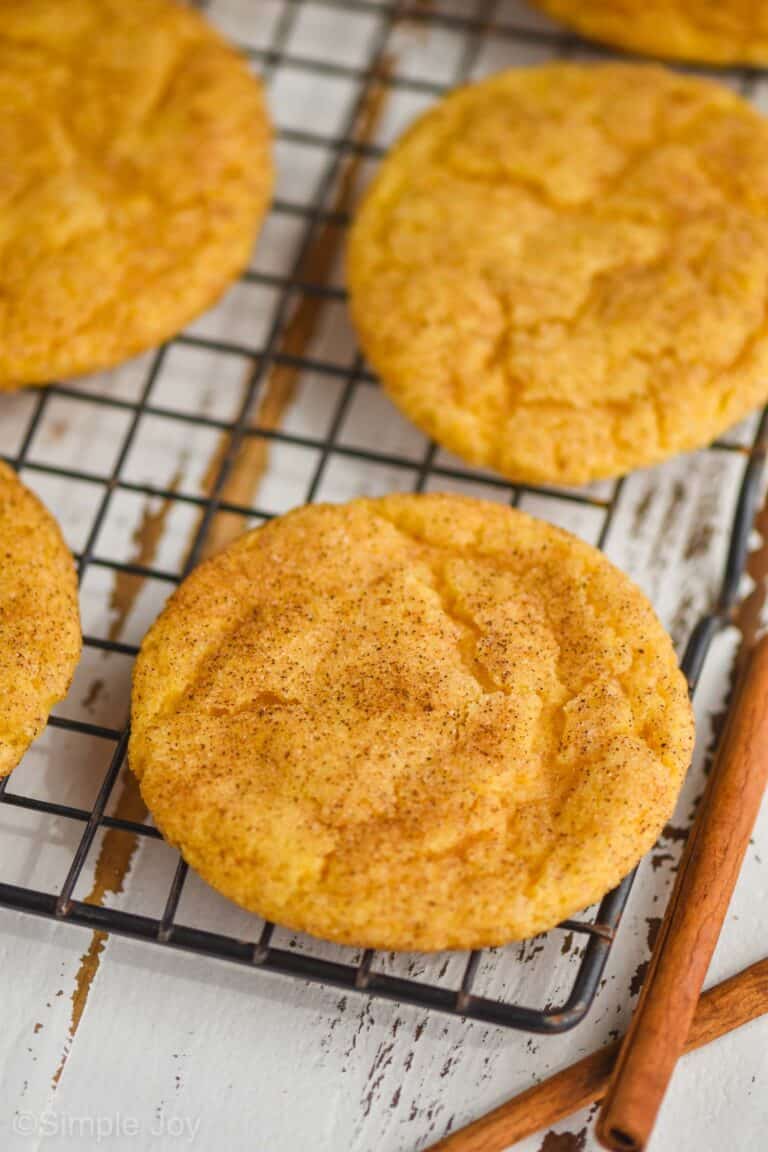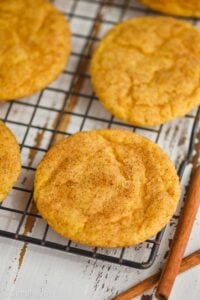 did you make this
Pumpkin Snickerdoodles