This Puttanesca recipe is going to quickly become a new favorite in your house! It is an easy pasta recipes that is done in 35 minutes and full of flavor.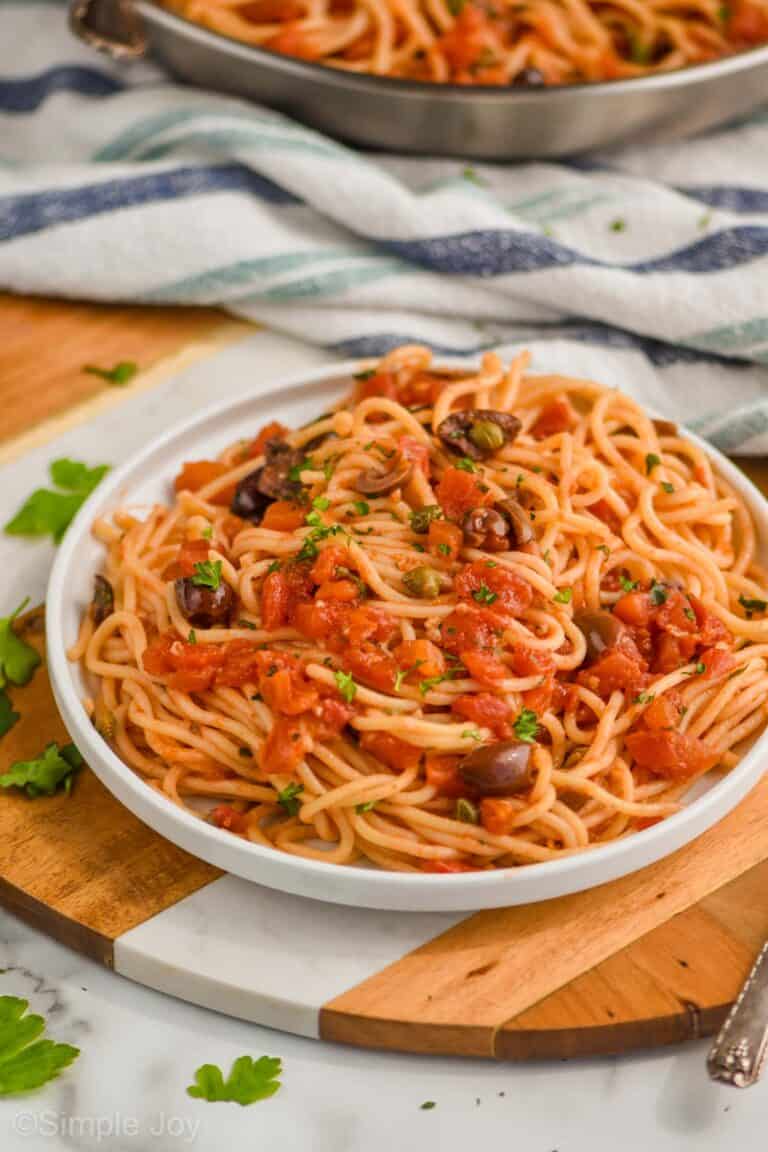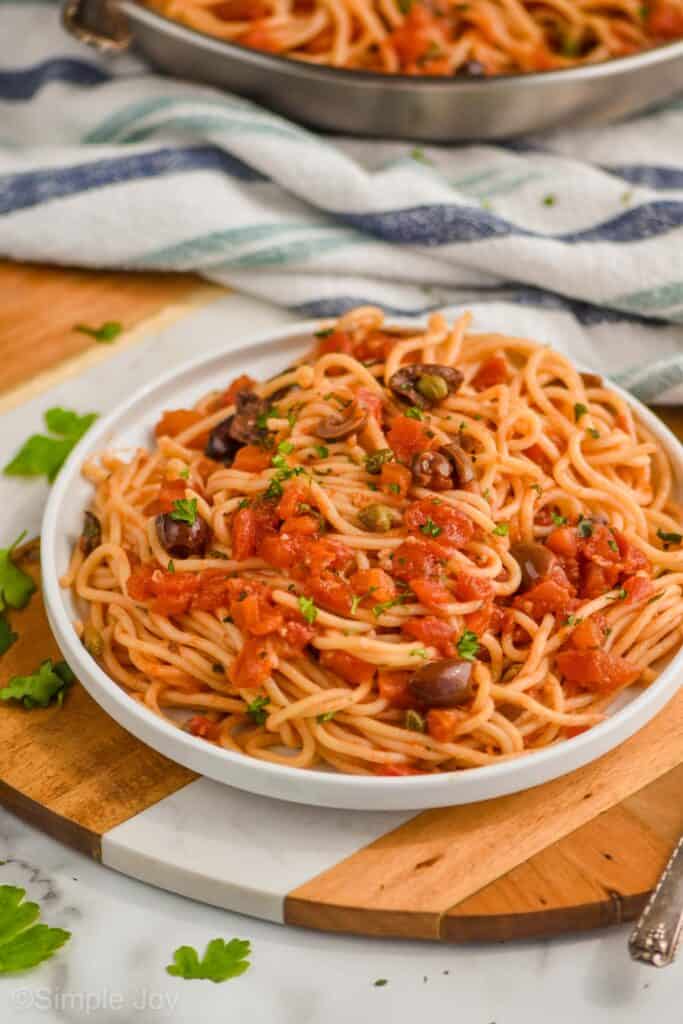 Recently I was talking to a friend of mine who was looking for more budget friendly and simple meals. She mentioned Puttanesca, and how delicious it is. I was immediately sold.
This recipe comes together quickly, making it a great weeknight dinner. That said, it is so full of flavor, that it tastes like something you would order out. Your family is going to love it. It is perfect for people looking for a spin on Spaghetti Sauce.
What is Puttanesca?
This is a very simple Italian sauce that is made with tomatoes, anchovies, capers, olives, parsley and seasoning. It dates back to Naples in the mid-20th century. The sauce simmers for a short amount of time and is then added to spaghetti.
There are many variations of Puttanesca out there. This one is a very slightly adapted version from America's Test Kitchen. When I was first learning to cook, I leaned heavily on their cookbook. It's a great resource!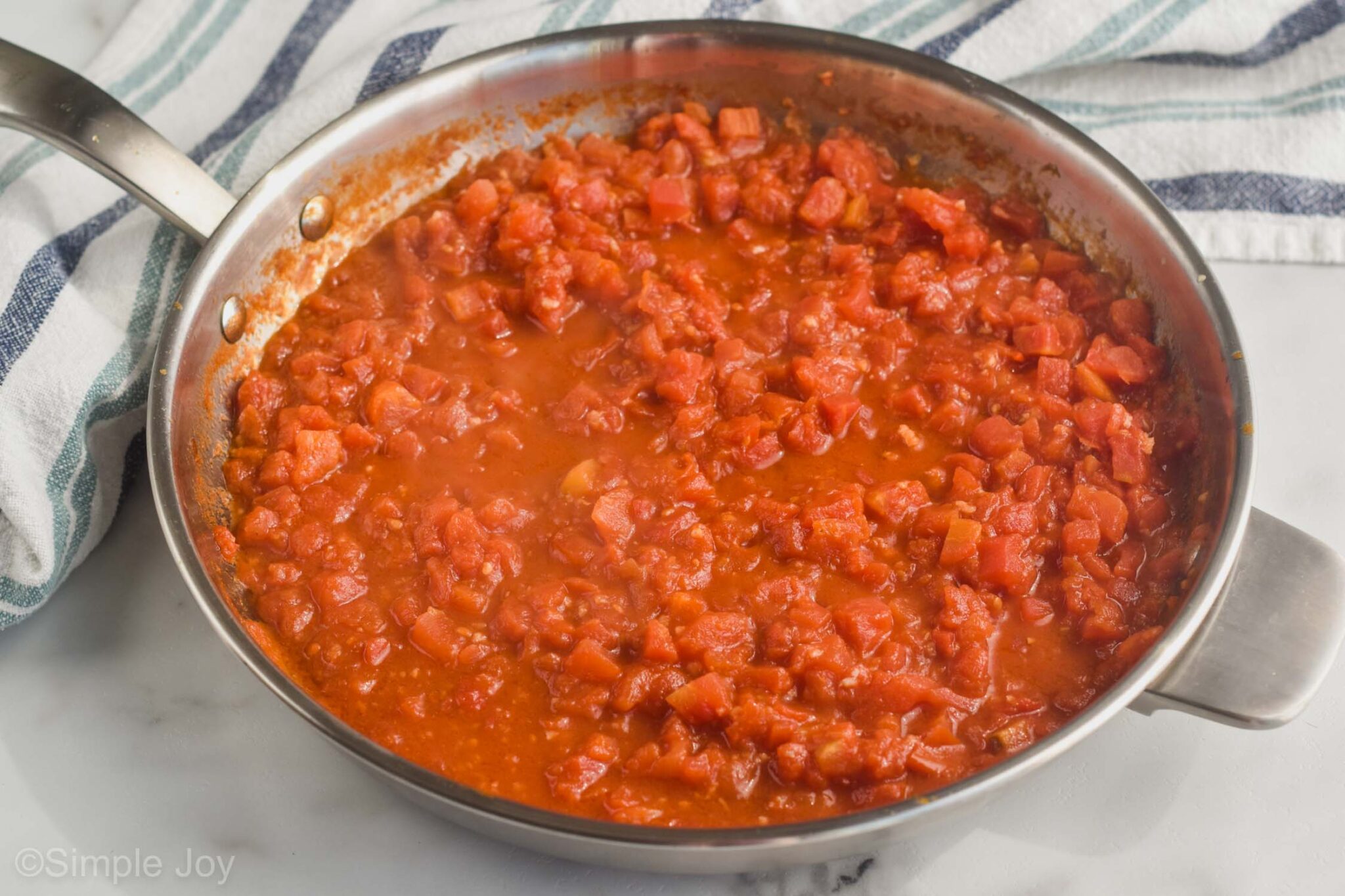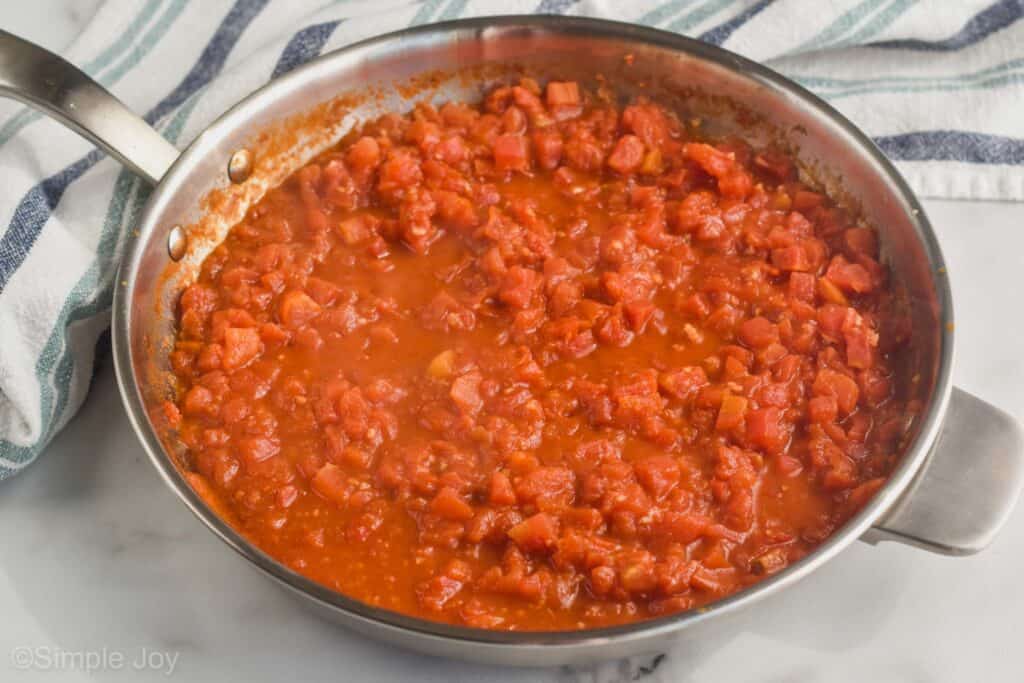 How to Make Puttanesca Sauce
Start by bringing a large pot of water to a boil for spaghetti. You will need to reserve some of the starchy pasta water.
Sauté garlic, anchovies, and red pepper flakes in oil.
Add in diced tomatoes and simmer for 20 minutes. Please refer to the picture above for the consistency you are looking for at the end of simmering.
Stir in the olives, capers, and parsley. (See photo below.)
Toss with pasta and reserved pasta water as needed.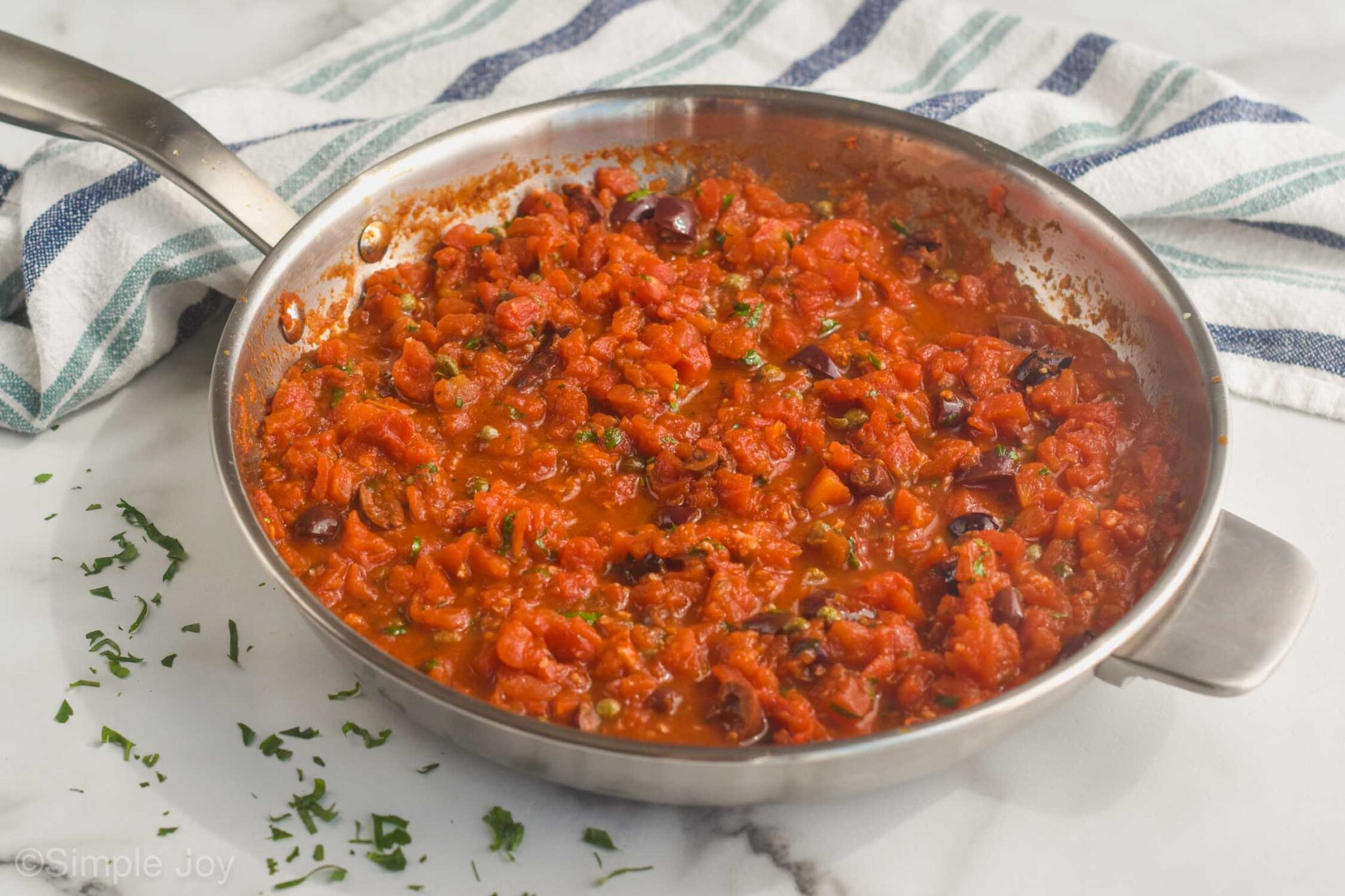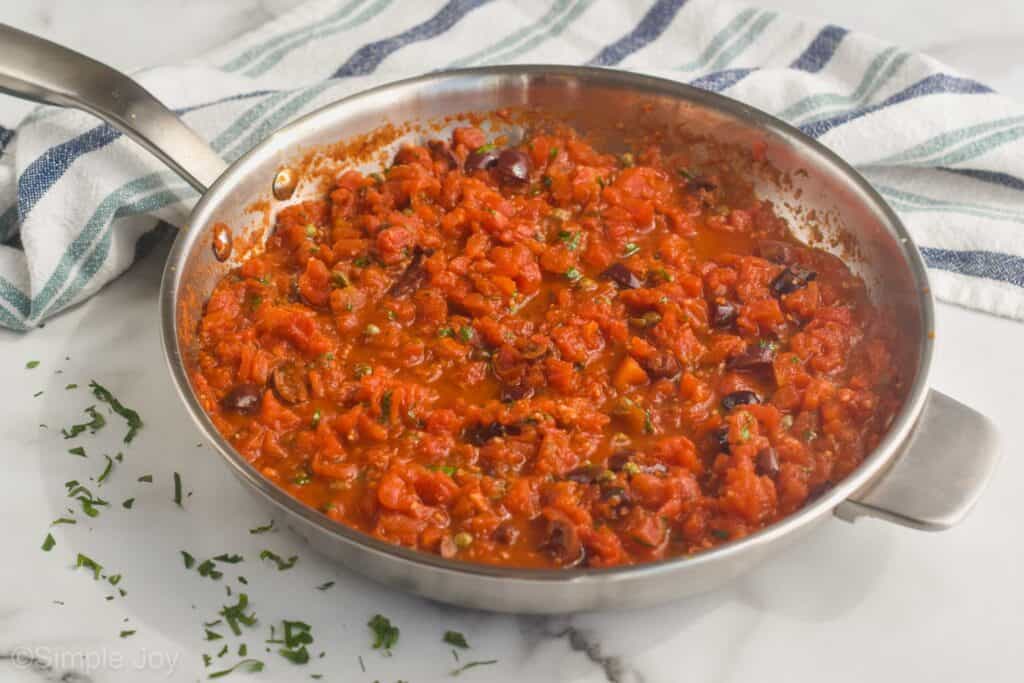 Puttanesca Sauce Ingredients
Olive Oil
Garlic
Anchovies
Red Pepper Flakes
Diced Tomatoes
Parsley
Capers
Salt and Pepper
Anchovies
If the sight of anchovies in this recipe scares you, don't run away please! Anchovies are a salty little wonder that bring some great flavor. They have a salty fish taste that when used improperly do tend to overwhelm a recipe.
Because we are using them sparingly here, they won't be a turn off. Additionally, they are balanced by other great flavors like garlic, red pepper flakes, tomatoes, and capers.
Fun little fact! If you like Worcestershire sauce, you probably like anchovies! It is one of the big hitters for flavor in that classic condiment.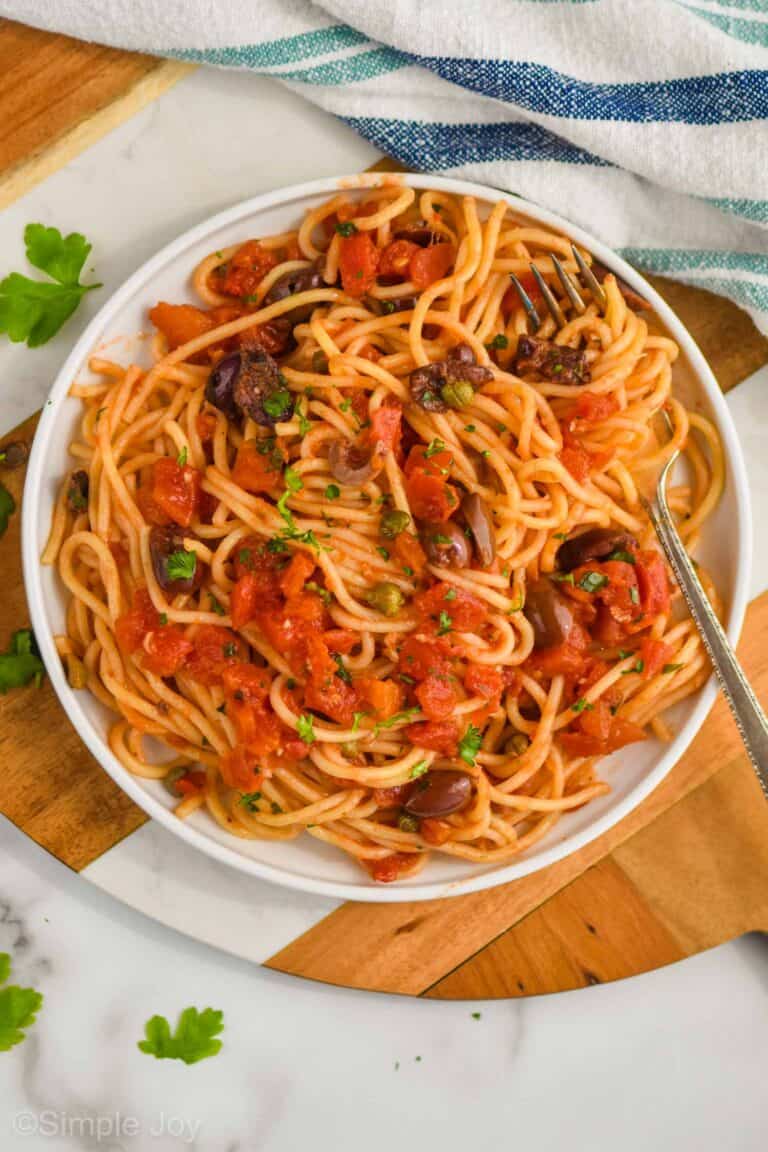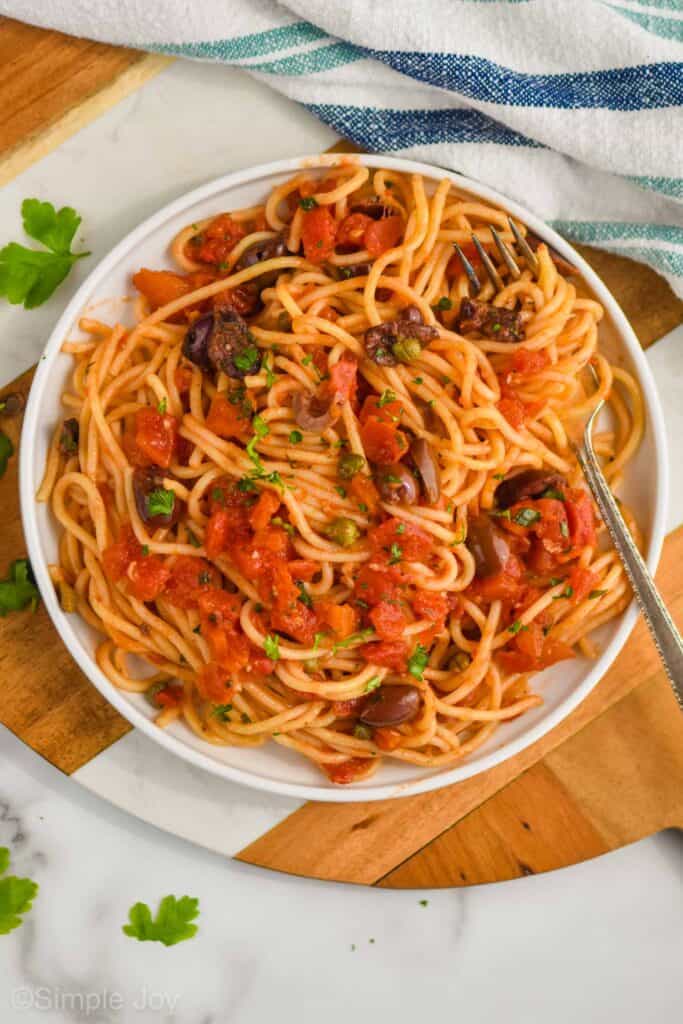 Olives
This recipe calls for Kalamata olives. I would suggest that you stick to buying Kalamata olives as their flavor has quite a big difference from black olives.
Cooking Pasta
I know you are tired of me telling you how to cook pasta, but it's something I'm passionate about. Perfectly cooked pasta, is something that will always bring a smile to my face.
A pound of pasta needs to be cooked in about 6 quarts of water, which is 24 cups.
Cover your water to bring it to a boil faster.
Make sure it is at a roaring boil before you throw in the dry noodles. They should be big bubbles.
Salt the water. I use 1 to 2 teaspoons of kosher salt when I am cooking a pound of pasta.
Note the time your pasta should be cooked for and set a timer.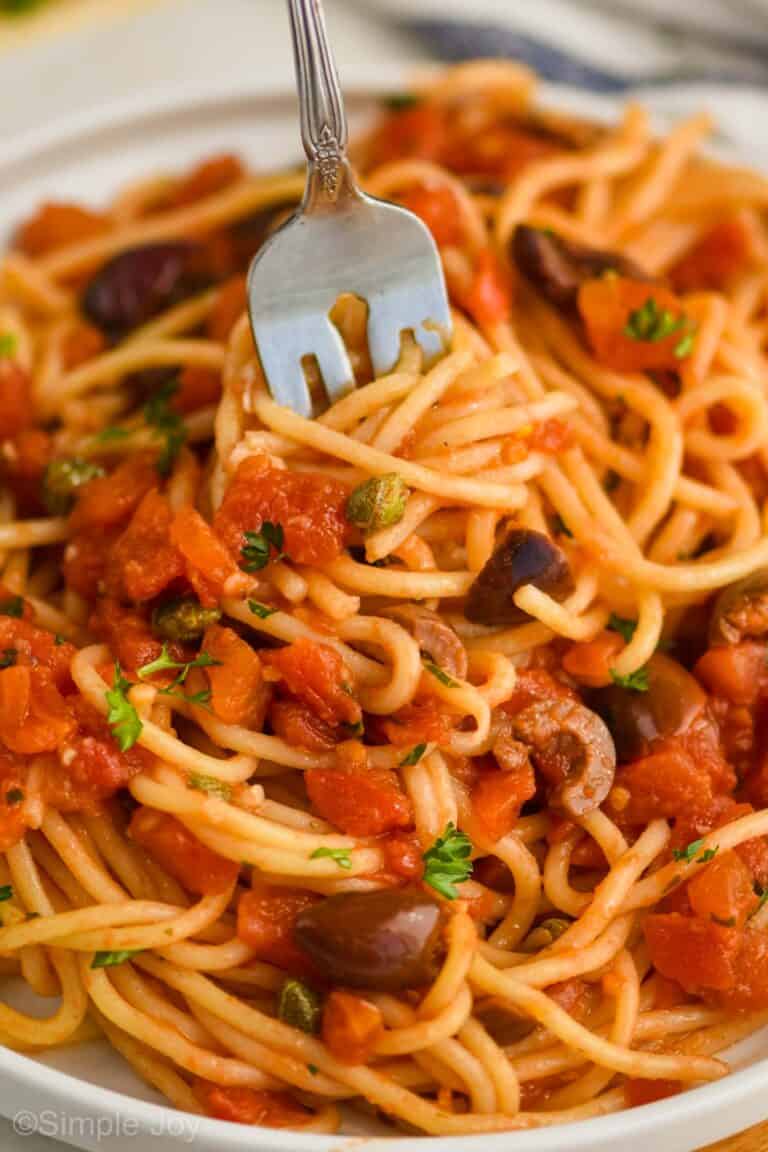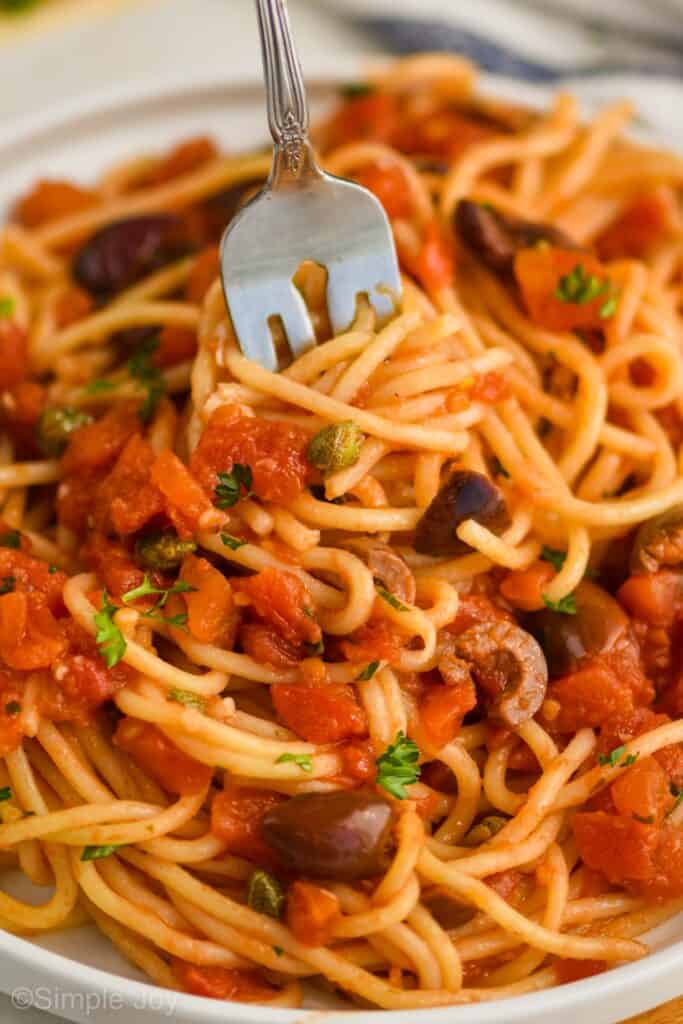 Reserving Pasta Water
A key point to this recipe is reserving the pasta water before you drain the noodles. We later use this starchy water in the sauce. The starch and salt in the liquid your pasta cooked in will deepen the flavor of the Puttanesca Sauce.
To reserve the pasta water, a few seconds before my timer goes off for my noodles, I dip a glass measuring cup into the boiling water carefully. I get about 3/4 cup of the starchy liquid and then drain my pasta.
Note about Salt and Pepper
When making this sauce, I used 1/2 teaspoon of salt and a pinch of pepper. There are a lot of other elements that bring flavor to this sauce, so I think they can be used sparingly.
That being said, I think you should taste the sauce after adding the all of the ingredients and add salt and pepper to your liking.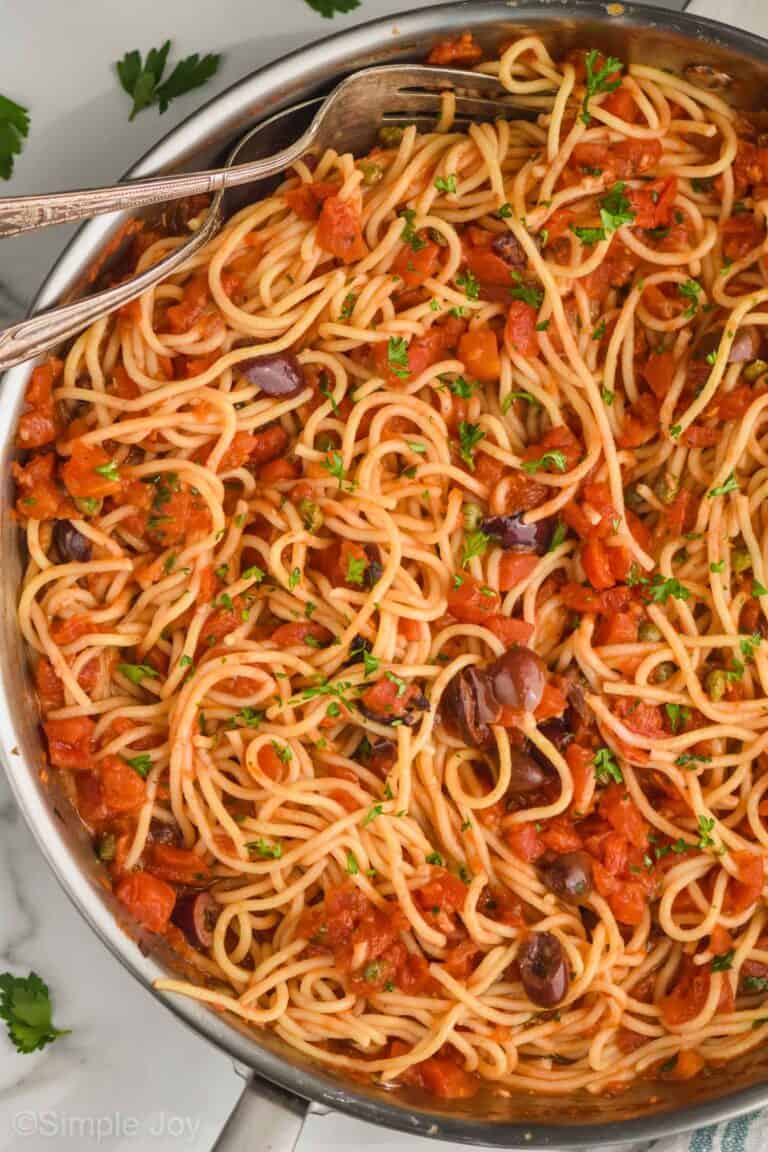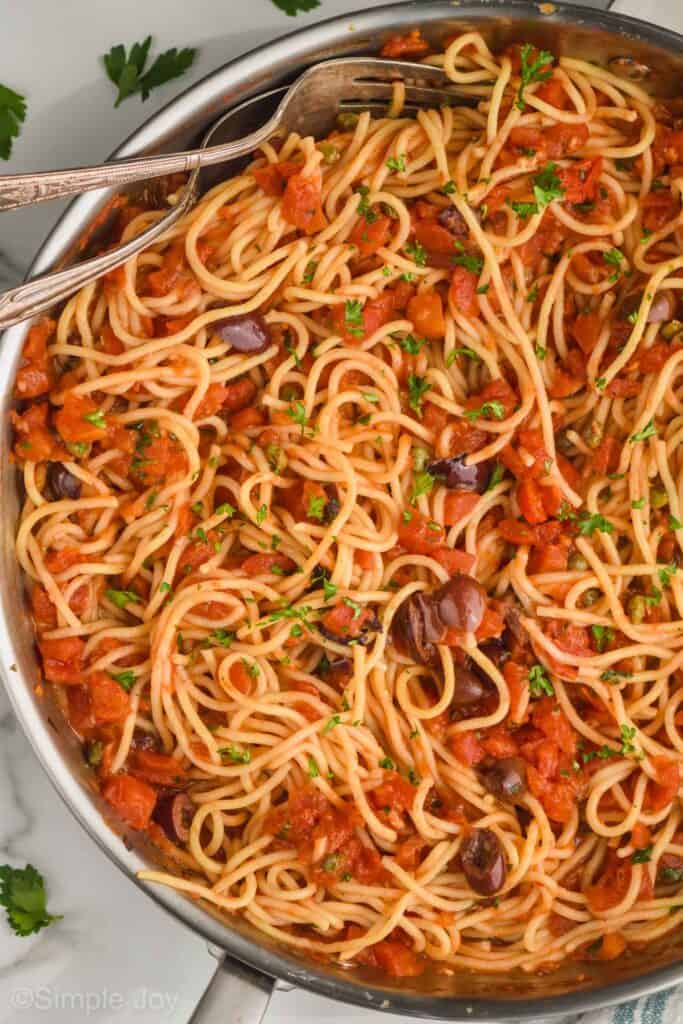 Other Great Recipes for Pasta Night
If you like this Puttanesca recipe (or any of my other recipes) leave me a comment and let me know what you think.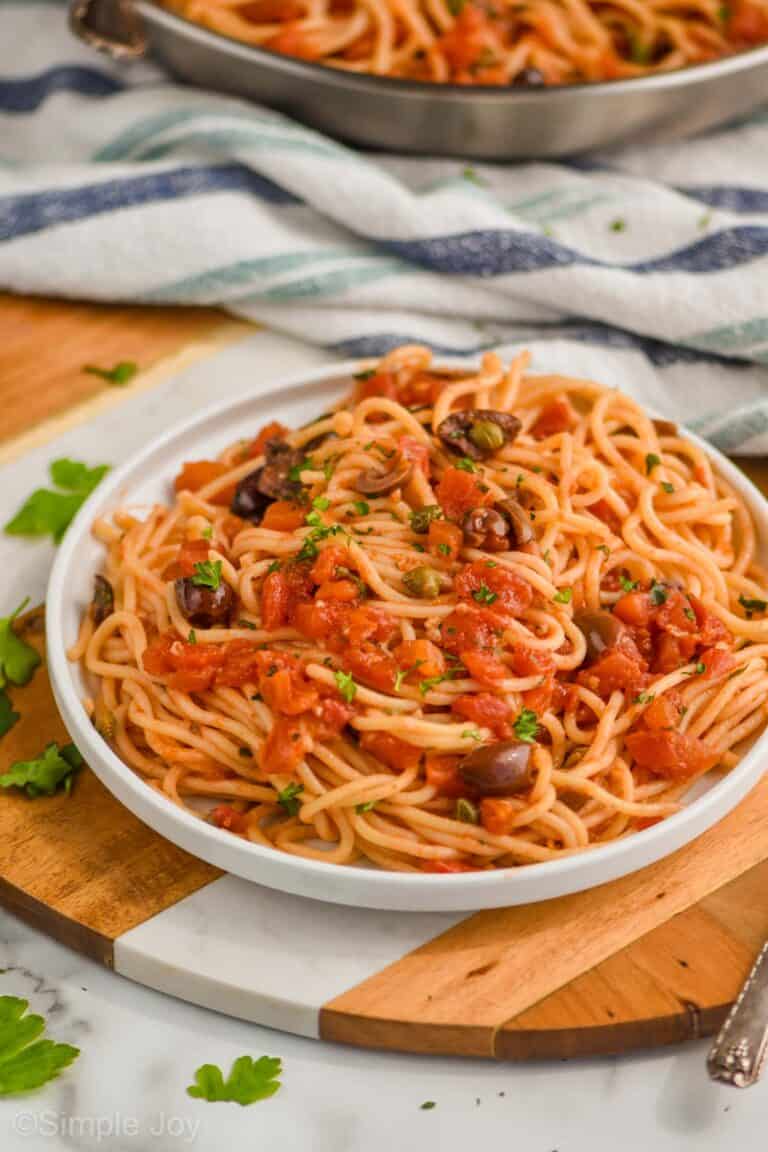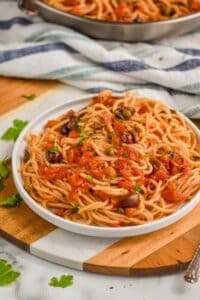 Puttanesca
This Puttanesca recipe is going to quickly become a new favorite in your house! It is an easy pasta recipes that is done in 35 minutes and full of flavor.
Ingredients
3

tablespoons

olive oil

4

garlic cloves

minced

6

anchovies fillets

1/2

teaspoon

red pepper flakes

1/2

cup

Kalamata olives

pitted and diced

43.5

ounces

diced tomatoes

3 cans that are 14.5 ounces

1/4

cup

parsley

minced

3

tablespoons

capers

without their liquid

salt and pepper

1

pound

spaghetti
Instructions
Bring a large pot of water to a boil. Season with kosher salt. Add the spaghetti and cook according to package instrucitons. Reserve 1/2 cup of cooking water before draining.

Add the olive oil, garlic, anchovies, and red pepper flakes to a large skillet over medium low heat. Cook until the garlic is fragrant, stirring often, being careful not to brown or burn it. Cook for approximately two mintues.

Add in the diced tomatoes with their liquid. Bring to a simmer and cook for 15 to 20 minutes. You want to the sauce to thicken and deepen in flavor. Refer to the post for a photo of what the sauce will look like after simmering.

Stir in the olives, capers, and parsley. Season with salt and pepper (I used 1/2 teaspoon salt and a pinch of black pepper). Toss with spaghetti. Add a little bit of the spaghetti cooking water to loosen up the sauce and make it easier to toss.
Serving:
1.6
cups
Calories:
338
kcal
(17%)
Carbohydrates:
30
g
(10%)
Protein:
7
g
(14%)
Fat:
17
g
(26%)
Saturated Fat:
1
g
(6%)
Polyunsaturated Fat:
1
g
Monounsaturated Fat:
5
g
Cholesterol:
11
mg
(4%)
Sodium:
1065
mg
(46%)
Potassium:
18
mg
(1%)
Fiber:
3
g
(13%)
Sugar:
3
g
(3%)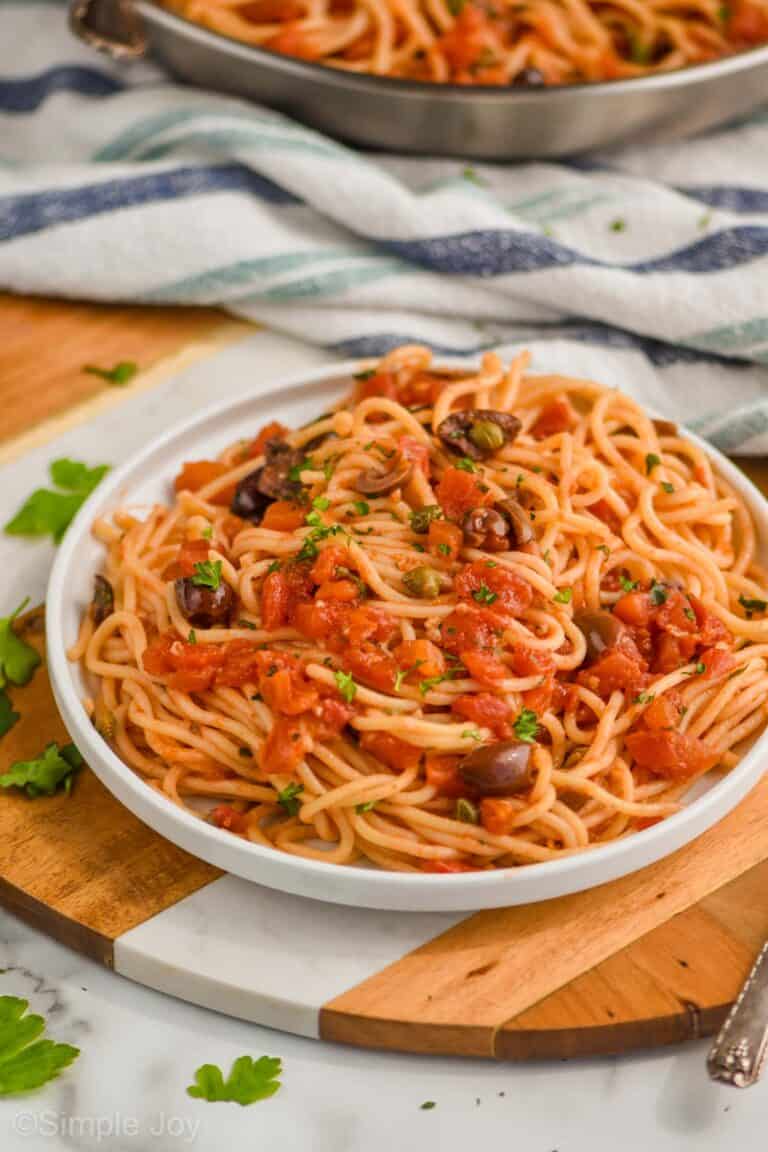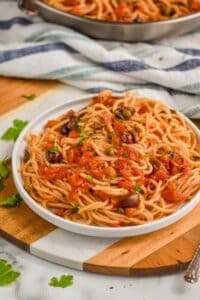 did you make this
Puttanesca