These Red Velvet Cookies are all the delicious flavor of red velvet in a cookie. A buttery soft inside with a crisp outside and topped with the best cream cheese frosting.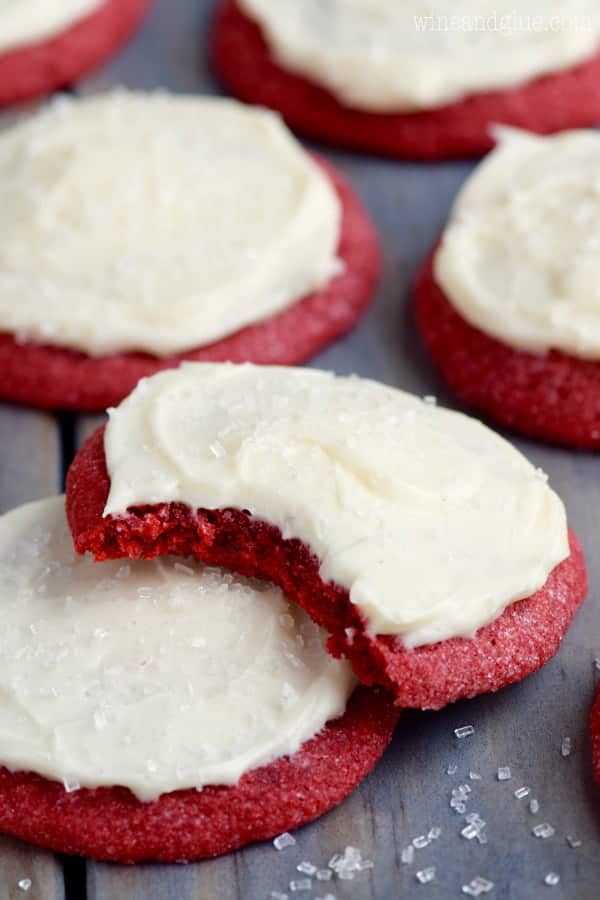 While traditionally red velvet comes in cake and cupcake form, it is over the top delicious in cookie form as well. These Red Velvet Cookies are a spin on my sugar cookie recipe and they do not disappoint.
If you have never had red velvet cake before, it is this perfect combination of tang and chocolate. Traditionally, a red velvet cake is made red from the chemical reaction that takes place when raw cocoa powder and the acid in buttermilk combine. Many red velvet cakes these days use red food coloring to deepen that color.
How to Make Red Velvet Cookies
Combine the dry ingredients. In a medium bowl whisk together all purpose flour, cocoa powder, baking powder, and salt until well combined.
Cream together the sugar and butter. In a separate bowl (or in the bowl of a stand mixer) cream together the sugar and butter until the mixture is light and fluffy – about 3 to 6 minutes. Read below for more information on this key step.
Add in the vanilla and eggs. Working with one ingredient (and one egg) at a time, beat in the vanilla extract and the eggs until fully combined. Then one at a time add in the vinegar and red food coloring.
Add the dry ingredients to the wet. Pour all of the flour mixture into the sugar and butter mixture. Start beating on low, just long enough so that the flour won't fly out of the bowl. Then turn the beater on high just long enough for the flour mixture to be fully combined. Do not over beat. (Read more on this below.)
Scoop the cookies and bake them. After rolling the cookie dough, roll it in granulated sugar. Then, bake them. Allow them to cool and eat them as is, or top them in cream cheese frosting.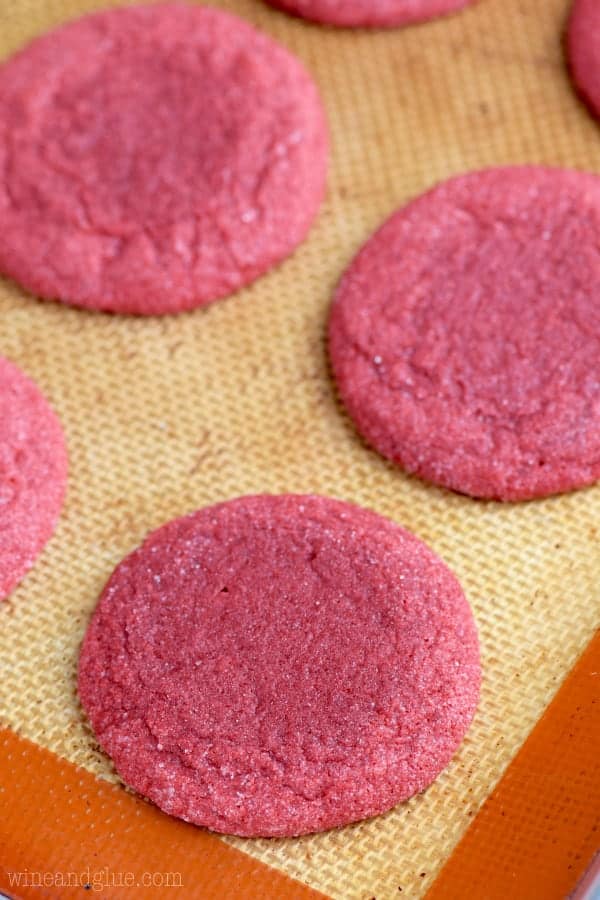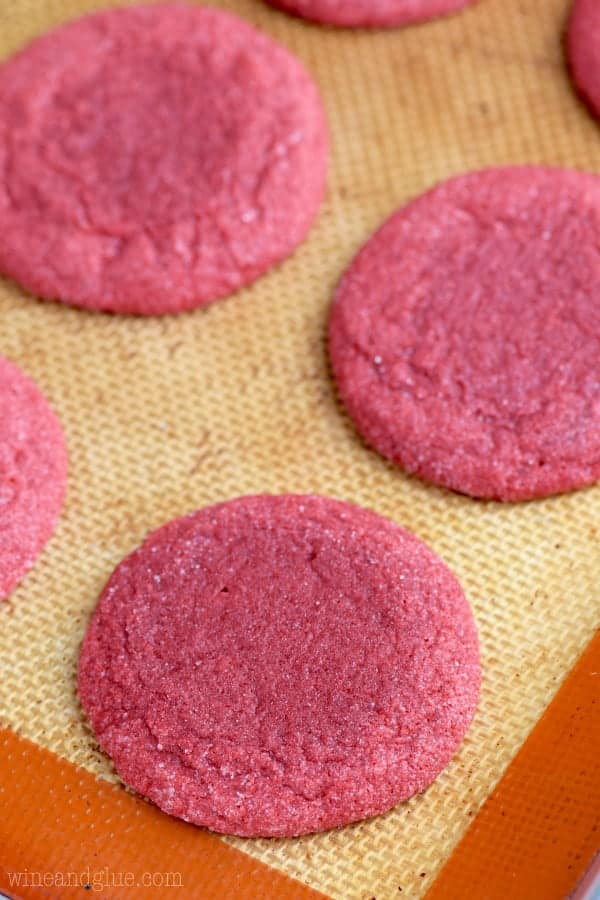 Creaming Sugar and Butter for Cookies
Let's talk about creaming sugar and butter in cookie recipes. It's a key step that you find in almost every baked cookie recipe. But what is the reason for it? It is during this step that you use the coarseness of the sugar to literally whip air into the butter. This air in the butter is one of the things that makes cookies light and fluffy.
The creaming process not only crates less dense cookies, it creates more cookies. It stretches out the cookie dough creating a higher number of cookies per dough batch. This great article gives you an even more detailed look at creaming.
Adding Dry Ingredients to Wet Ingredients
Another common and key step to making cookies is adding the mixed dry ingredients to the creamed butter and sugar (after adding the eggs and vanilla). You might often read "do not over mix." The reason behind this instruction is that when flour combines with liquid, the gluten protein in it is activated. If it is over mixed, instead of giving the cake or bread or cookie structure, it makes it tough and chewy (not the good kind of chewy).
So how do you add the flour without over mixing?
For years, I recommended adding the flour mixture slowly (including when this recipe was first published). After extensive reading, I've come to learn that you actually mix the gluten less if you add it all at once (first on low, and then on high) than if you add it bit by bit. For even more information on over mixing, read this great article.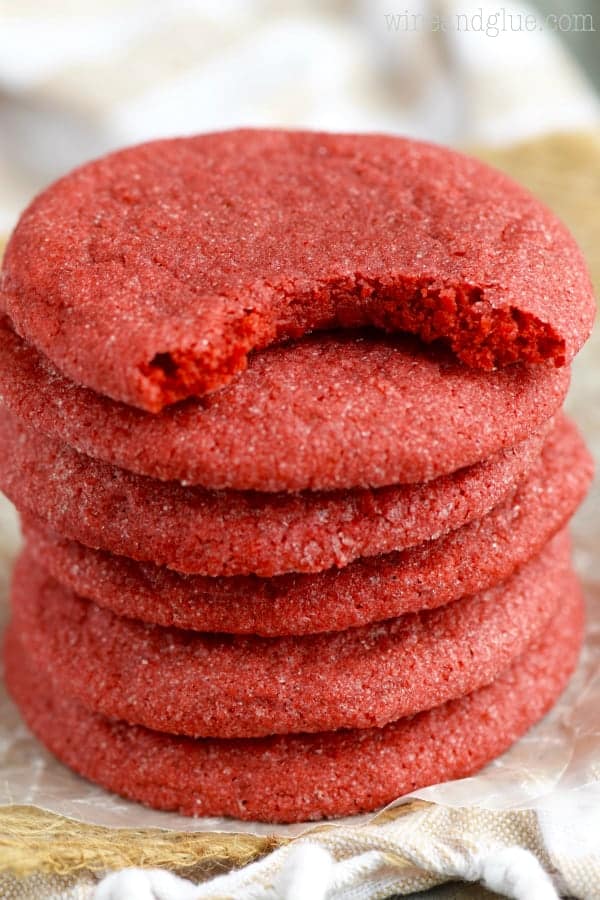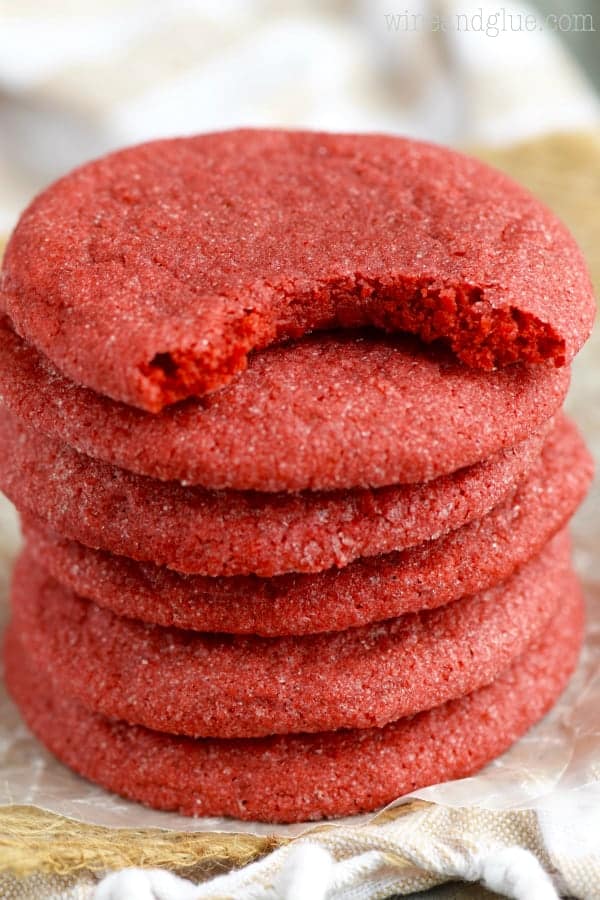 Tips and Tricks for these Red Velvet Cookies
Here are my tips for making cookies perfect. It's easy to follow a recipe, but sometimes it's helpful to get specific.
Use room temperature. You should be able to push your finger into it and make a small dent but not go all the way through. Want to make that go faster? Cut your butter up into 1 inch pieces and leave it on the counter for a half hour.
Use room temperature eggs. To gently warm eggs right out of the refrigerator, fill a bowl with luke warm water and leave them in there for a few minutes.
Measure flour correctly. Scoop the flour into the measuring cup and level it off. If you scoop right out of your flour container using your measuring cup, you will end up with significantly more flour.
Cream the butter and sugar together for at least three minutes. As mentioned above, it needs to not just be mixed, it needs to be light and fluffy. The sugar actually beats air into the butter and that's key in baking.
Use a cookie scoop. This keeps all the cookies the same size which makes them bake consistently. I love this scoop.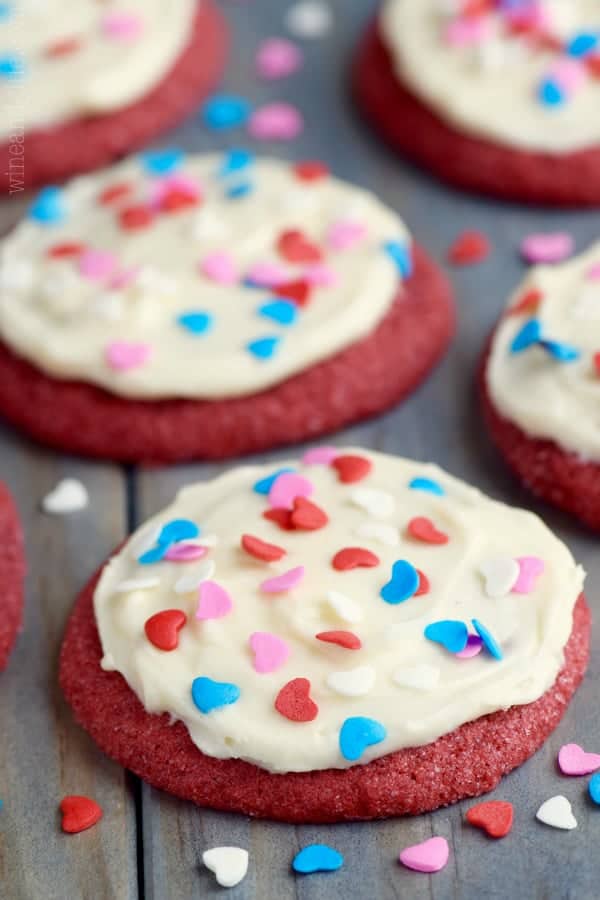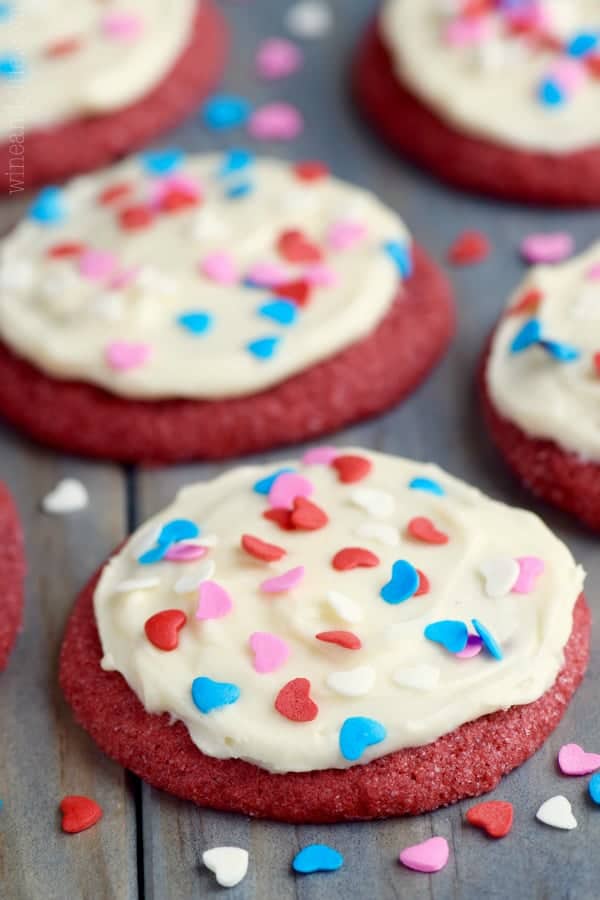 Red Velvet Cookies with Cream Cheese
While these cookies are amazing on their own, I love them with my cream cheese frosting. It is very easy to make and good on so many different recipes. Want to learn more? Read all about it here: Best Cream Cheese Frosting.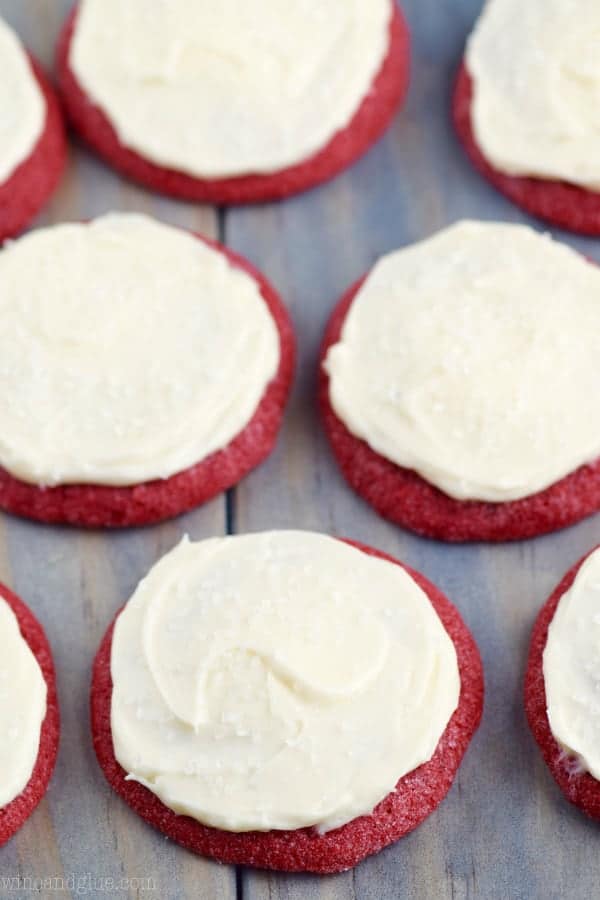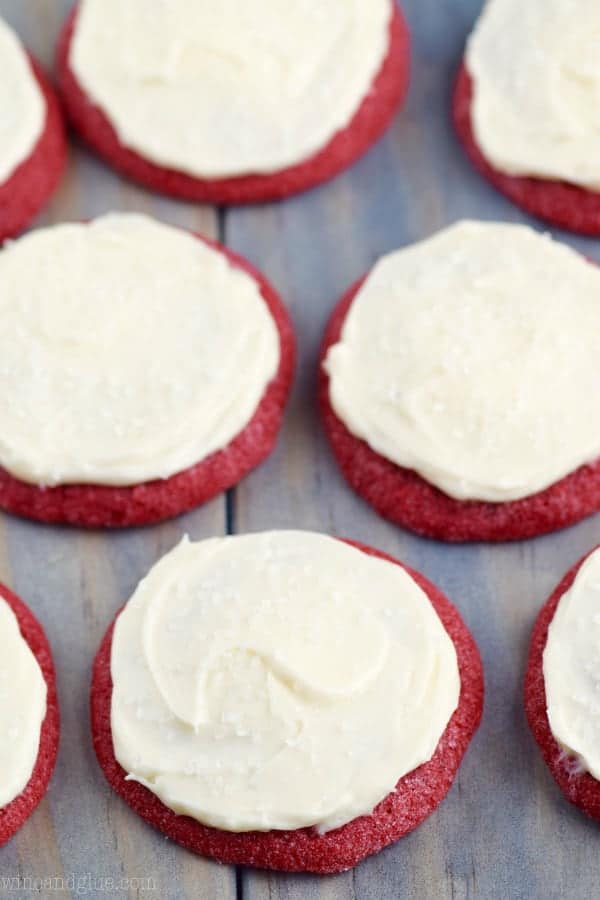 Other Red Velvet Recipes
If you make this Red Velvet Cookie recipe, leave me a comment below the recipe card to let me know what you think!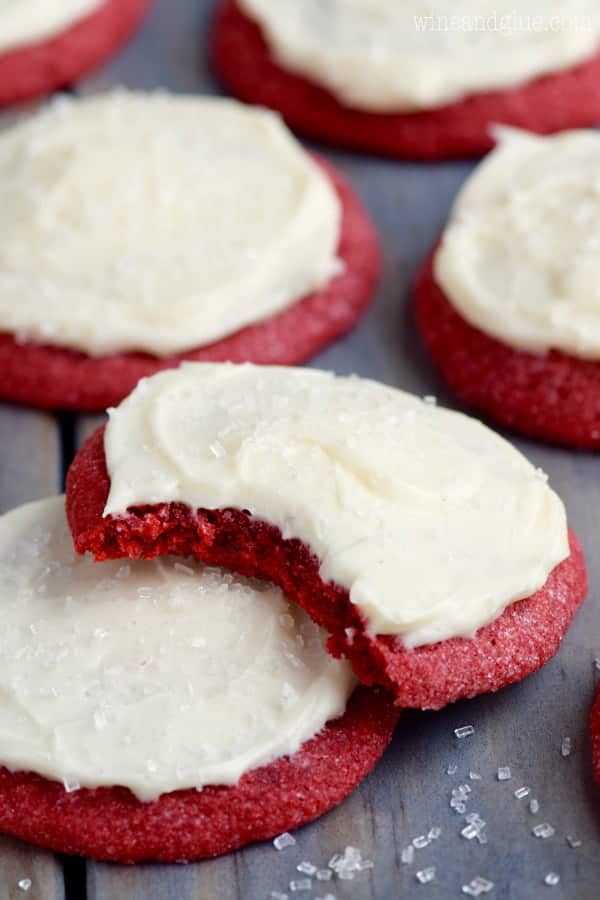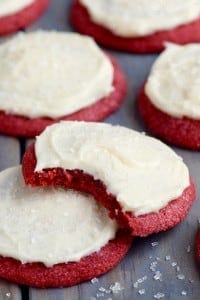 Red Velvet Cookies
These Red Velvet Cookies are all the delicious flavor of red velvet; buttery soft, and crisp on the outside and topped with some of the best cream cheese frosting. 
Ingredients
Red Velvet Cookies
2 1/2

cups

all purpose flour

2

tablespoons

unsweetened cocoa powder

1/2

teaspoons

baking powder

1/2

teaspoons

salt

14

tablespoons

unsalted butter

room temperature

1 1/2

cups

granulated sugar

plus more for rolling

2

eggs

room temperature

2

teaspoons

vanilla extract

1

teaspoons

white vinegar

1

tablespoon

red food coloring
Cream Cheese Frosting
8

ounces

cream cheese

room temperature

4

tablespoons

unsalted butter

room temperature

2

cups

powdered sugar

scooped into a dry measuring cup and leveled off

1

teaspoon

vanilla extract
Instructions
Red Velvet Cookies
Preheat your oven to 350 degrees. Line rimmed baking sheets with parchment paper.

In a large bowl whisk together 2 1/2 cups all purpose flour, 2 tablespoons cocoa powder, 1/2 teaspoon baking powder, and 1/2 teaspoon salt.

In a large bowl with a handheld mixer or in the bowl of a stand mixer, cream together 14 tablespoons butter and 1 1/2 cups sugar until light and fluffy, about 3 to 6 minutes. Add in the eggs, one at a time. Then 2 teaspoons vanilla, 1 teaspoons white vinegar, and 1 tablespoon red food coloring – each one at a time.

Pour the flour mixture into the wet ingredients. Beat on low just long enough to slightly incorporate the flour. Then beat on high only until the flour mixture is combined, being careful not to over mix.

Using a medium cookie scoop make 1 inch balls out of the dough (about 1 1/2 tablespoons worth), roll them in sugar, and space them out 2 inches apart on the baking sheet.

Bake for 7 to 10 minutes or until the edges of the cookies being to crisp, rotating the baking sheet once during hte middle of baking.

Remove from the oven and after two minutes, remove the cookies from the baking sheets and transfer to cooling racks. Allow to cool completely.
Cream Cheese Frosting
Cream together the cream cheese and butter in a large bowl with a hand mixer or in the bowl of a stand mixer.

Add the powdered sugar, one cup at a time. Then add in the vanilla extract.

Frost the cooled cookies and if wanted top with sprinkles or sugar sprinkles.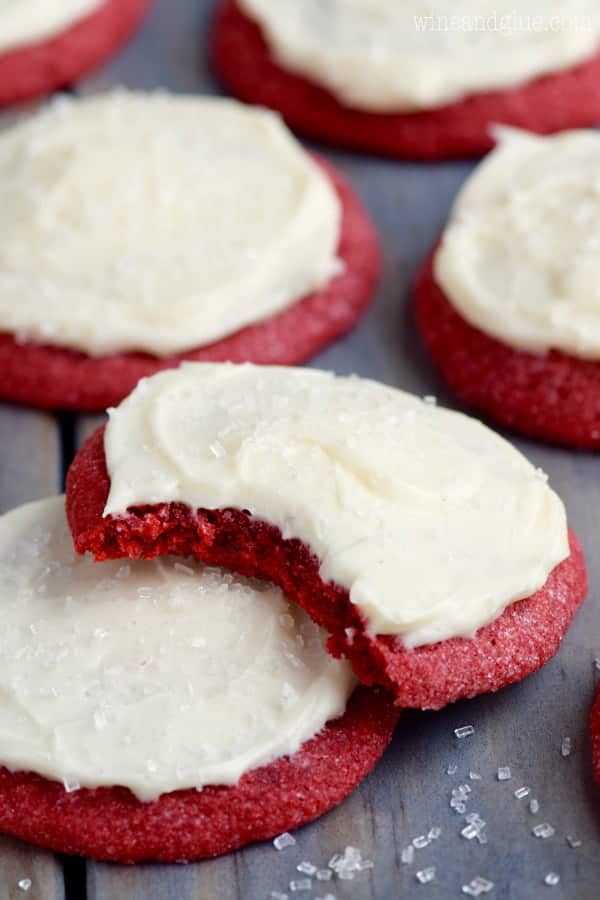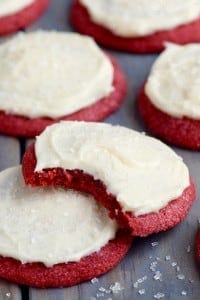 did you make this
Red Velvet Cookies