This Chocolate Chip Cookie Cake is perfect for celebrating with! Delicious and easy!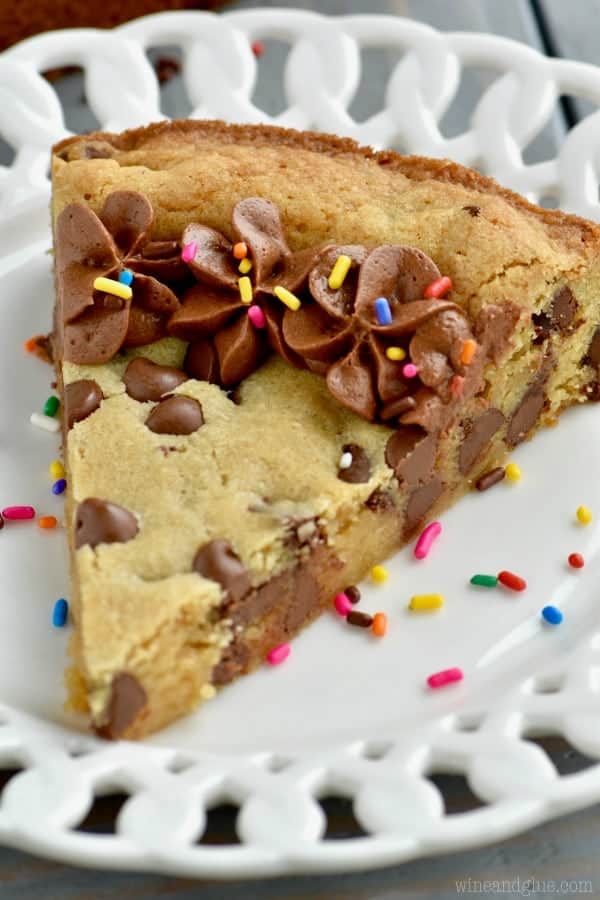 I'm so happy to be working with Chuck E. Cheese's to bring you this easy birthday treat! Make sure you check out Chuck E. Cheese's to see all the great ways you can celebrate a birthday there and thank you for supporting the brands that make Wine & Glue possible.
I recently did like . . . . the smartest thing ever.
I decided to have Quinn's 6th Birthday Party at Chuck E. Cheese's. She hasn't had her own birthday party since she was one and we went over the top with her Rainbow Party Extravaganza. She was so super excited to celebrate her birthday with her friends – especially because I think she feels like she misses out with a summer birthday.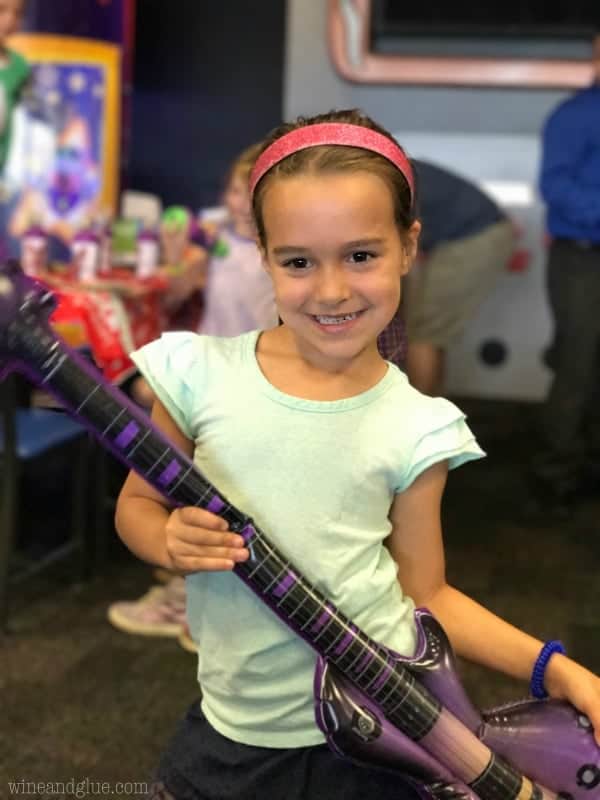 It was super easy to plan her party online . . . like late at night after the store was closed and I was working my way through my to do list. They have a whole bunch of different options, so it was easy to pick an option that worked for the number of kids we were planning on having. Also! And I maybe love this part the most, you can change certain things a few days before the party! Like you can take food off your order, or if (like us) you have kids who ended up not being able to make it, you can take them off the total number of kids coming.
We picked a Rock Star Party theme for Quinn! She got her own microphone and blow up guitar, and she totally felt like she was the star. After the party she told me that it was "totally awesome" and the "best thing ever."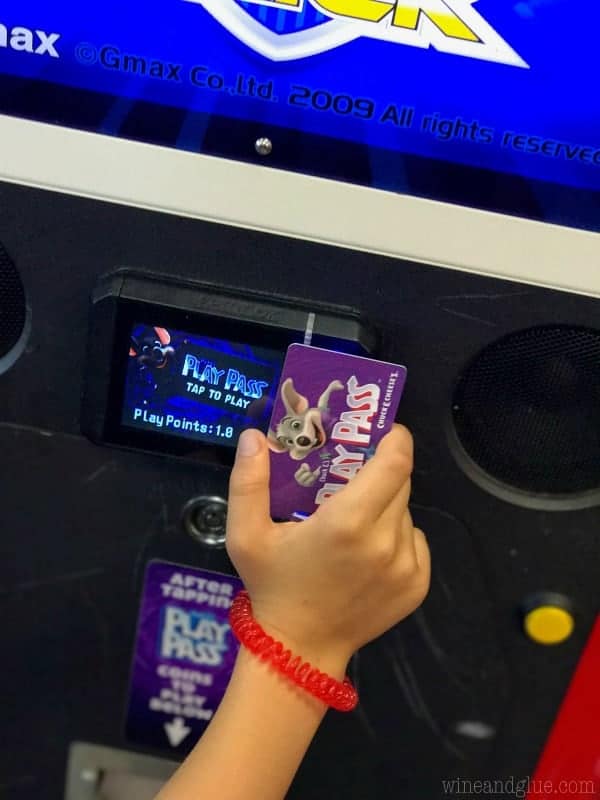 All the kids got play passes, and I got them wrist bands so that they would be easy to hang on to. They were the BEST. Our package came with fully loaded passes for all the kids, and they totally had enough points to play their way through the party. And not a single kid lost a card or coins. It was awesome.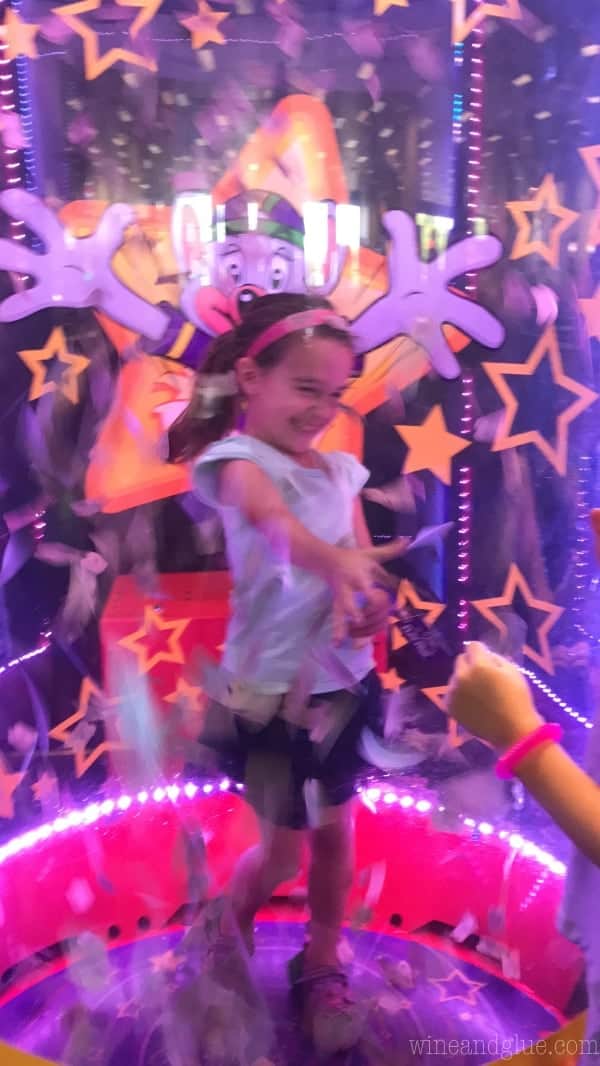 As the birthday girl, Quinn got to go in the ticket blaster, and she said that it was the BEST PART. The staff at Chuck E. Cheese's were totally amazing and helpful, and could not have been kinder to the kids who were with us. But the best was when one of them whispered to Quinn a hint about doing AWESOME at the ticket blaster: You step on the big tickets when you walk in so that when it starts blowing you can just pick them up. Quinn won big! She was so happy as you can see.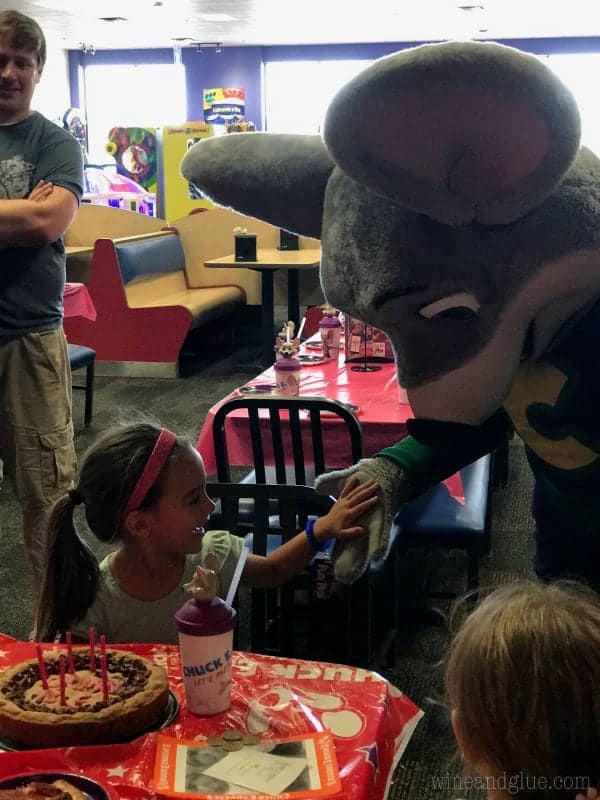 There was a count down for Chuck E. Cheese himself to come out and wish Quinn a happy birthday and the staff did such a great job getting the kids all pumped up for it. Piper looked like she was going to lose her mind from the anticipation.
If you haven't heard yet, Chuck E. Cheese's has totally revamped their menu. Their pizza is *so* good. My nephew literally ate three pieces in less than five minutes. And we got to try their Philly Cheese Steak Pizza. It was *amazing.* I loved that I could also order a veggie platter!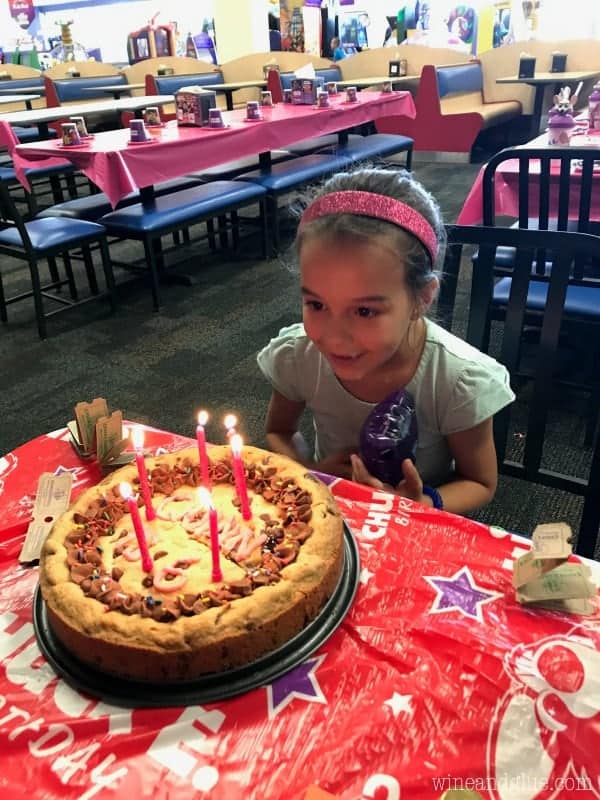 Another thing I loved about having a birthday party at Chuck E. Cheese's – besides the obvious of not having to clean up a party mess at my house and not having to keep kids entertained – is that they let you bring in your own cake without an extra fee. They even did all the cutting and plating for me! I literally had to do nothing. And if baking isn't your thing, you can get a birthday cake right from Chuck E. Cheese's. No muss, no fuss.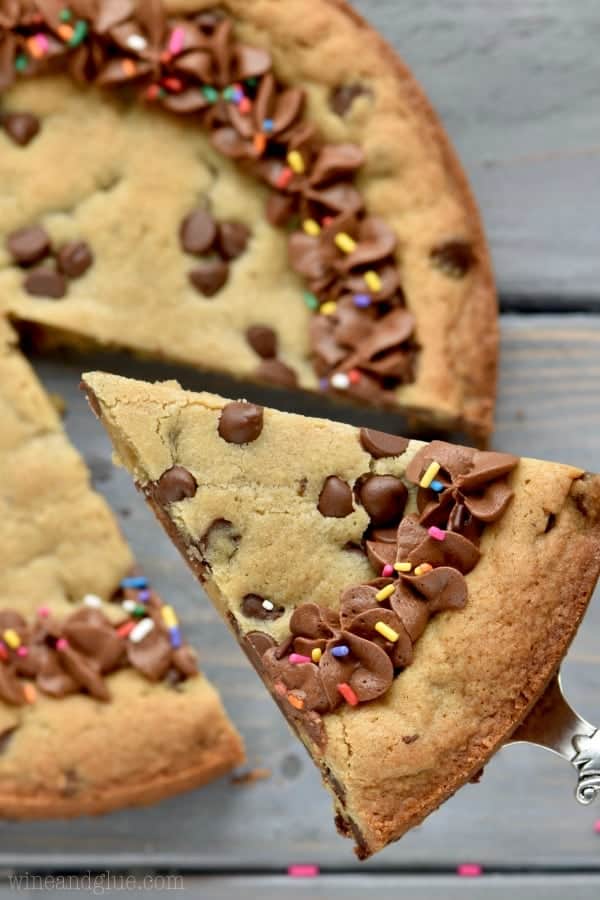 Quinn loved her birthday cake! It was a simple Chocolate Chip Cookie Cake with some of the best Chocolate Buttercream frosting. This cake was super easy to throw together. It is exactly what you want out of a cookie cake – soft on the inside and with a butter crispness around the edge. The chocolate frosting compliments it perfectly, but if you don't feel like making that it stands perfectly on its own. It was a huge hit at Quinn's party. Not as big of a hit as the ticket blaster, but you know, still good. ;)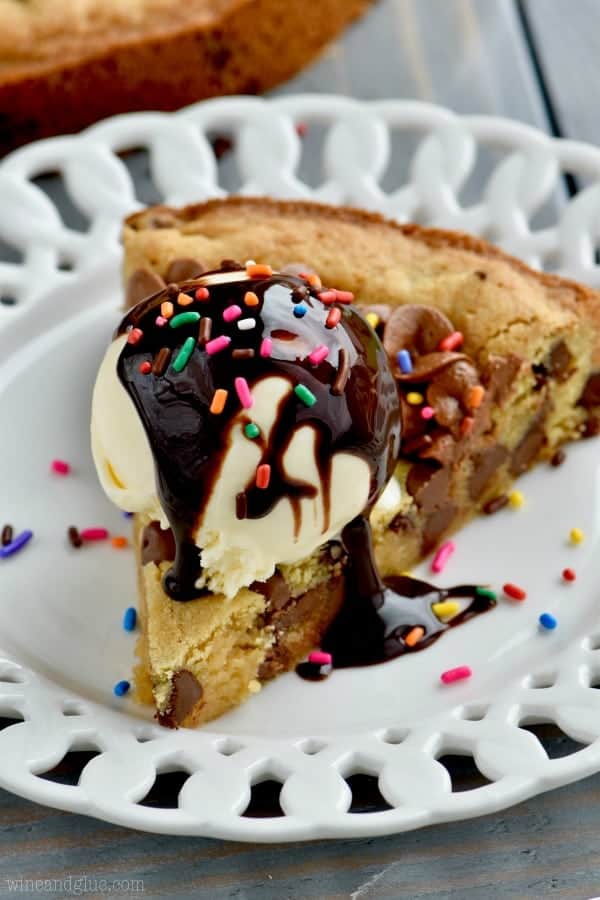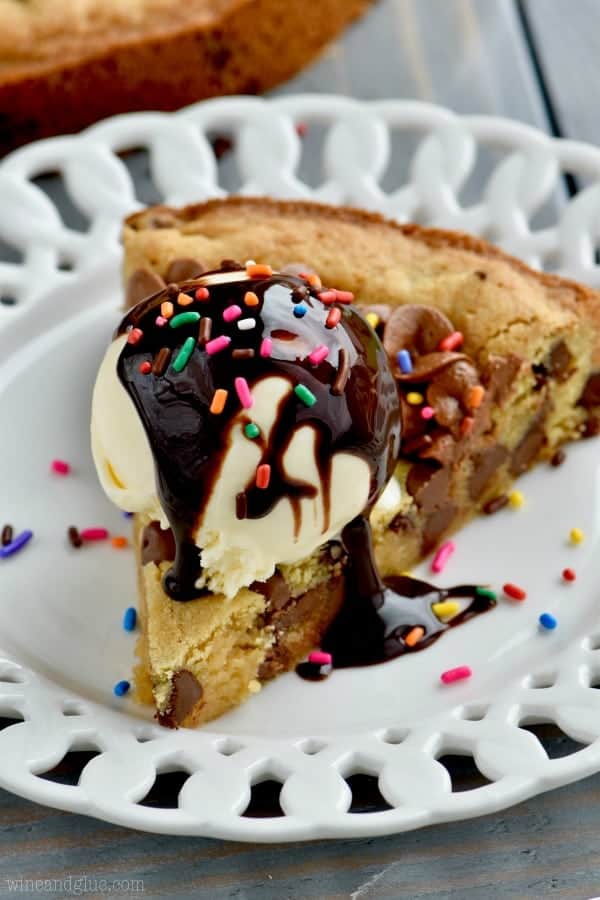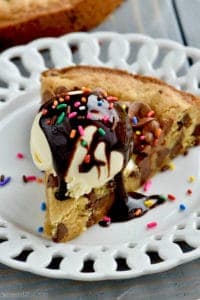 Chocolate Chip Cookie Cake
This Chocolate Chip Cookie Cake is perfect for celebrating with! Delicious and easy!

Ingredients
2

cups

all purpose flour

1/2

tsp

baking soda

1/2

tsp

baking powder

1/4

tsp

salt

3/4

cup

butter

room temperature

3/4

cup

brown sugar

1/4

cup

granulated sugar

1

egg

1

egg yollk

1 1/2

tsps

vanilla extract

1

cup

chocolate chips

I used milk chocolate chips
Instructions
Preheat your oven to 350 degrees. Spray a 9 inch spring form pan with cooking spray.

In a large bowl, mix together the flour, baking soda, baking powder, and salt.

Beat together the butter, brown sugar and granulated sugar until light and fluffy. Add in the egg and egg yolk, one at a time. Then beat in the vanilla until just combined.

Slowly add in the flour a little at a time, until it is just combined.

Stir in the chocolate chips.

Pour the dough into the spring form pan and bake for 20 to 25 minutes or until the edges of the cake are golden brown and the middle has just a slight wiggle to it.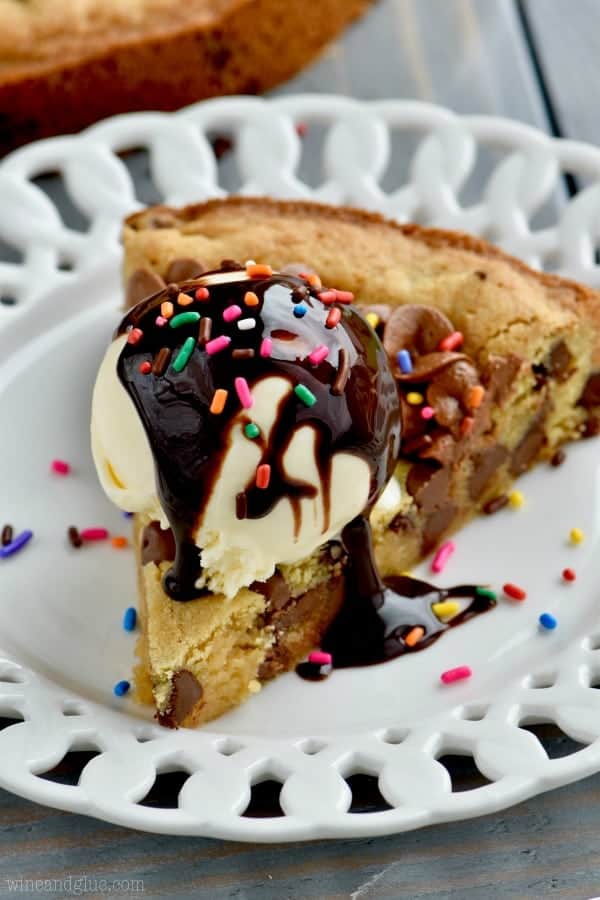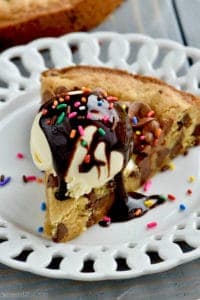 did you make this
Chocolate Chip Cookie Cake
If you are looking for more great cookie cakes, try these!
Peanut Butter Chocolate Chip Cookie Cake
Looking for another great cake to make for a birthday?
SaveSave