I'm proud to be partnering with Meijer to bring you this perfect easy side dish.
Roasted Brussels Sprouts with Bacon is a simple and easy side dish that your family will keep coming back to. Steamed right in the tray you bake it in with lots of delicious bacon and parmesan flavor, these roasted Brussels sprouts are a keeper!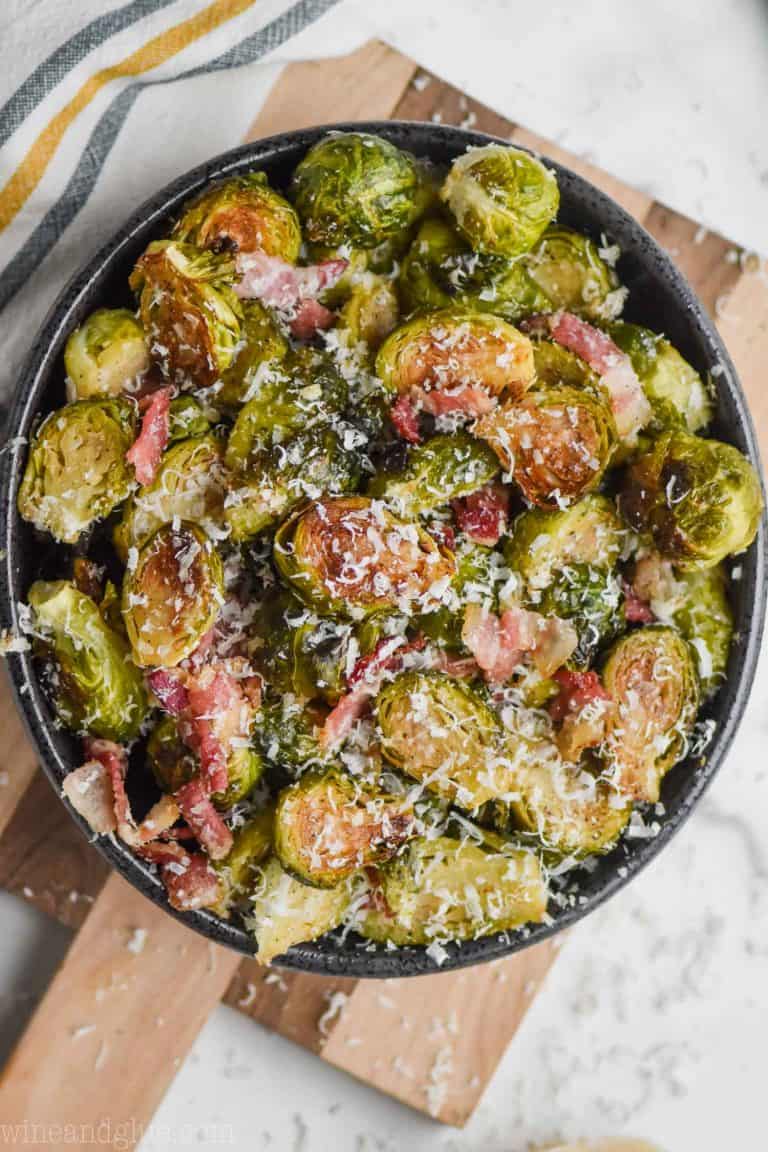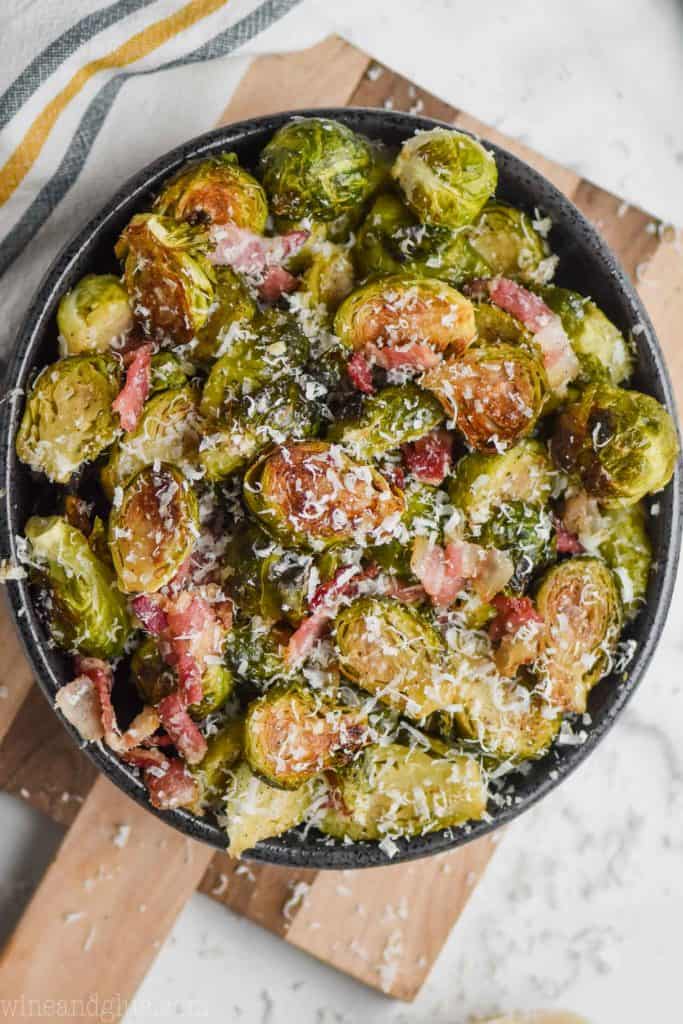 We have gotten to that amazing time of year again! The holidays! I love creating recipes for you all year long, but there is something that brings me an extra special burst of joy to create recipes for you around the holidays. I love knowing that these recipes in particular are going to be used for celebration and bringing people together.
Reader Review
This recipe is my absolute favorite! When I speak about making Brussel Sprouts in my house they all know this is what they are eating! Definitely a family favorite. 10 out of 10 would recommend!
Creating Perfect Holiday Sides
One of the things that is key to making a great side dish recipe, especially a holiday side dish, is great ingredients. So many of my holiday sides are primarily just vegetables. My Bacon Wrapped Asparagus and my Crock Pot Sweet Potatoes – both perfect for holidays and weeknights – are perfect examples.
Since great produce is such an important part of making holidays special, I am heading to my local Meijer store (as I always do) to make sure I get the best. Meijer buys locally, which I love for so many reasons. I think we all are learning the importance of supporting local farmers. But buying locally also means that it can go from the farm to your table that much faster.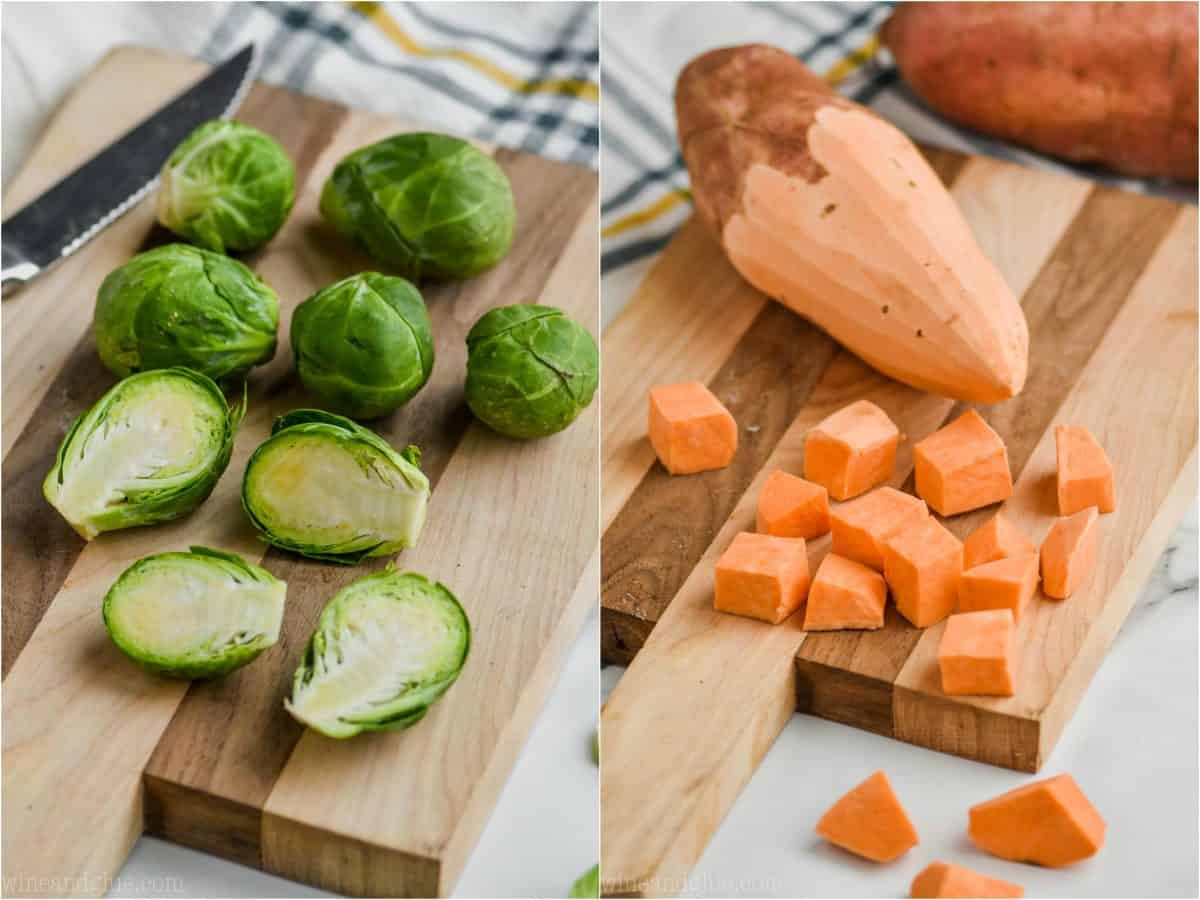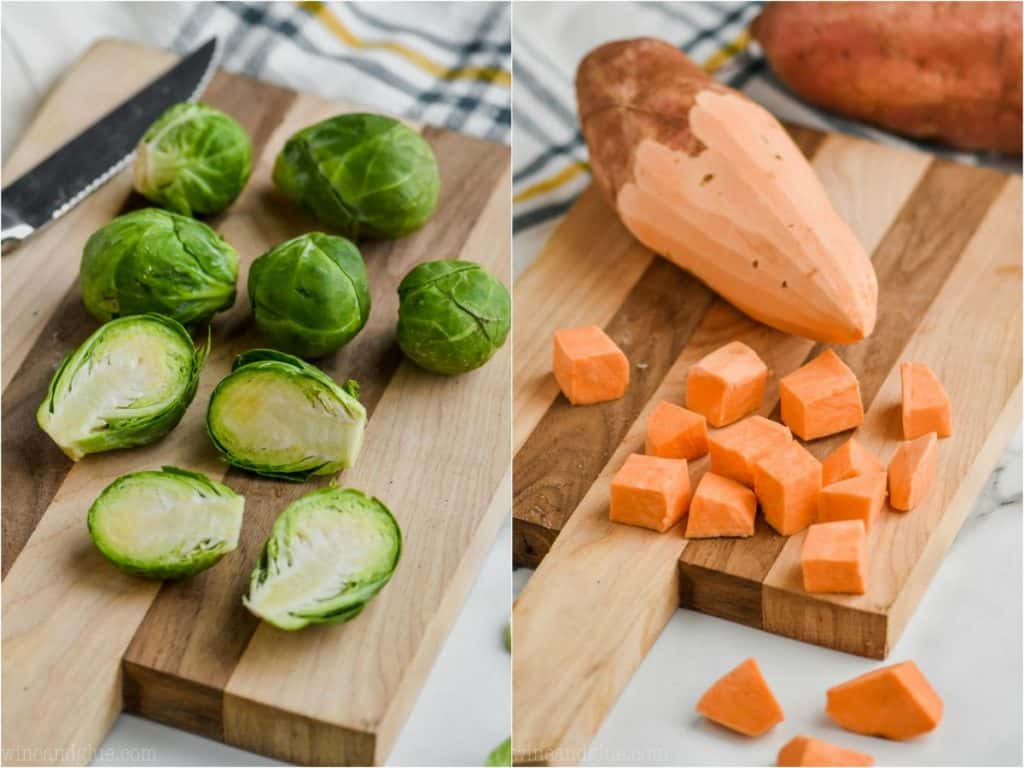 When I was at Meijer recently, I grabbed two of my holiday staples: Brussels Sprouts and sweet potatoes. I love that you can do both so many different ways. What I found at Meijer, was plump, fresh, and something that will work perfectly on a Thanksgiving table. Using the sweet potatoes I made my Brown Sugar Roasted Sweet Potatoes. And I added bacon and cheese to the Brussels Sprouts to make Roasted Brussels Sprouts with Bacon!
It's okay to get super excited right now.
How to Cook Brussels Sprouts in the Oven
This method for roasting Brussels Sprouts works perfectly every time. You can create different flavor profiles by what you add to your Brussels sprouts before roasting.
You then seal the whole thing up in a big rimmed baking sheet with a little water. The water inside the sealed pan creates steam that will make the Brussels Sprouts tender.
Then you take off the foil, and they get nice and crispy as they continue to bake. In the end you get perfect roasted Brussels Sprouts.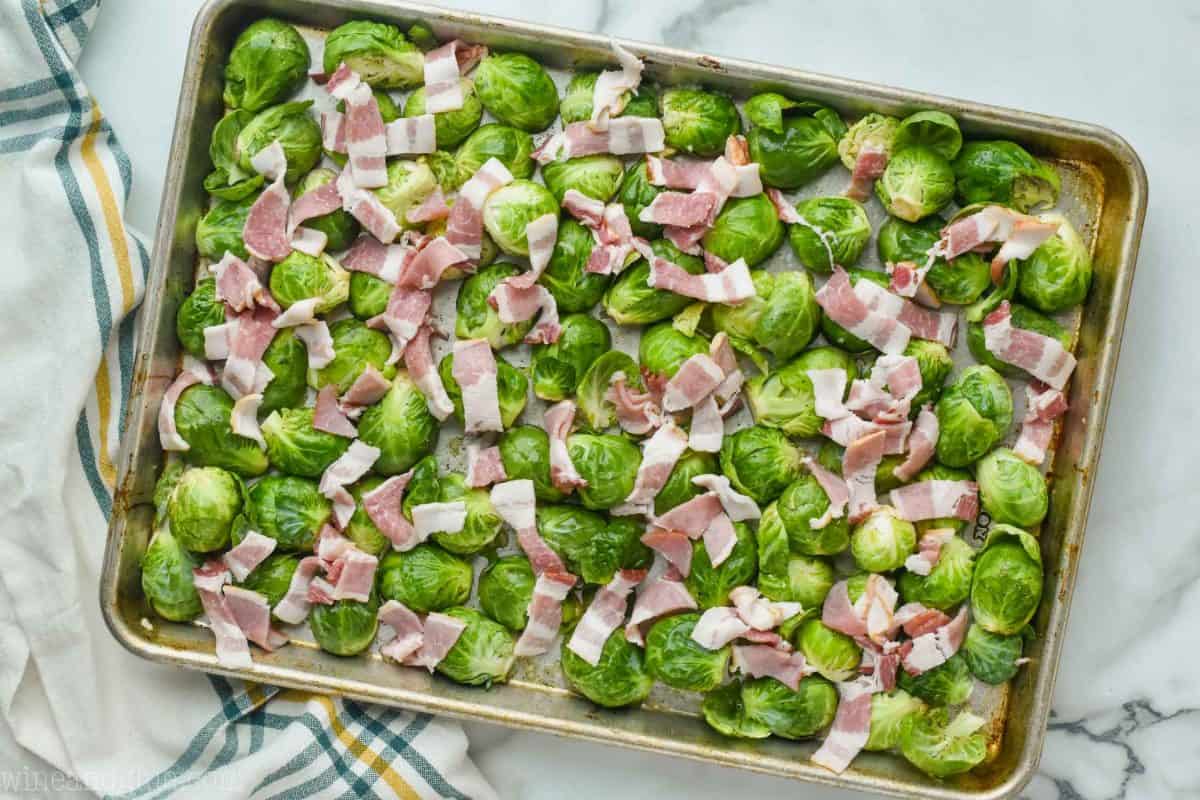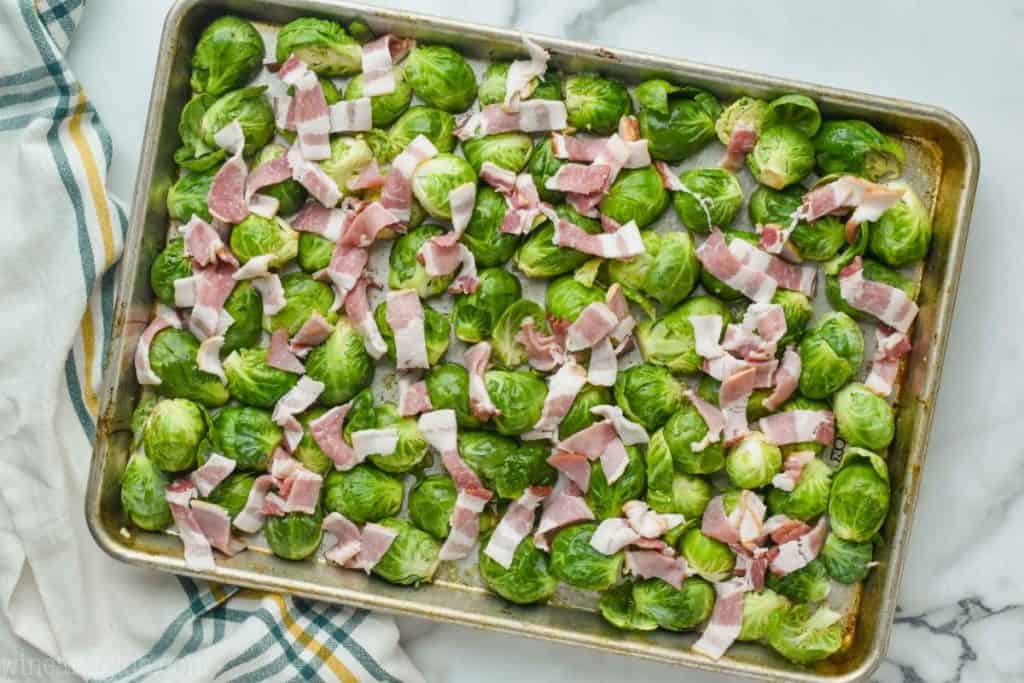 Making Roasted Brussels Sprouts with Bacon
Adding bacon to the above method really puts these Brussels Sprouts over the top. While they are covered and steaming, the fat drips down around them and delicious bacon flavor.
When you take off the foil, the bacon crisps up. It leaves you with the perfect mix of roasted Brussels Sprout flavor and delicious bacon. It ends up being the perfect easy side dish recipe.
If you want to make a twist on this recipe, but without the bacon, you should try my Crispy Brussels Sprouts.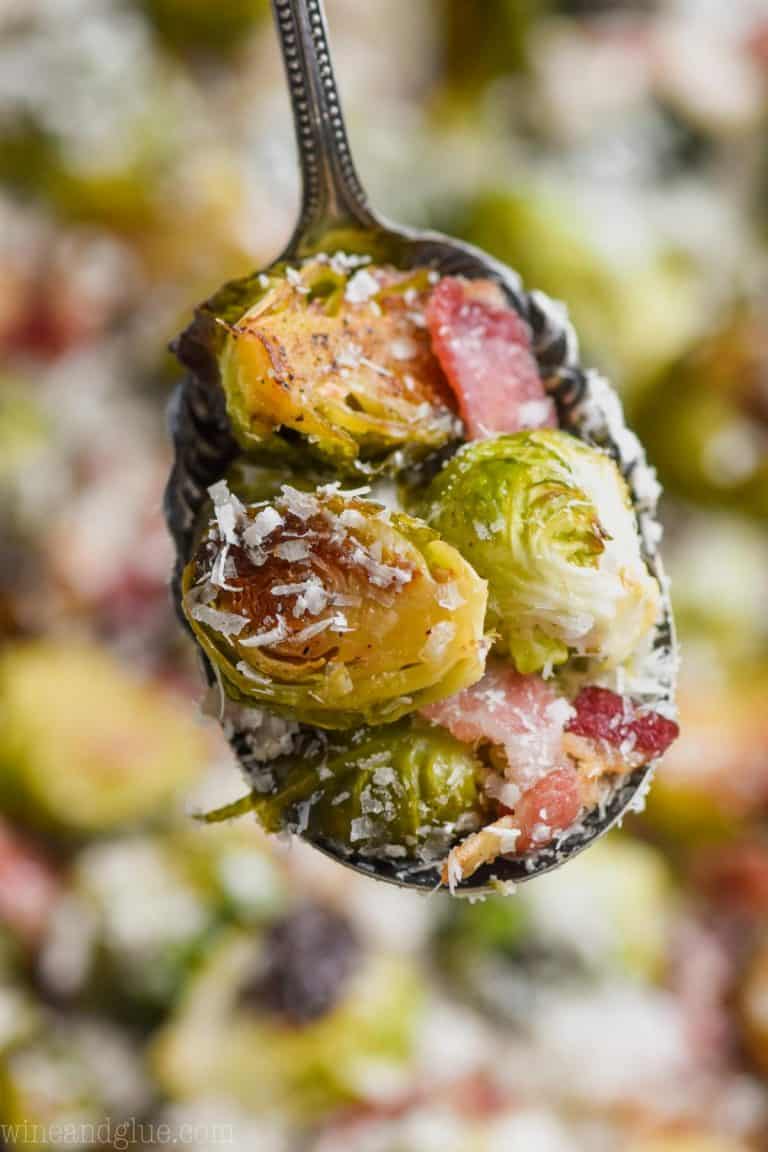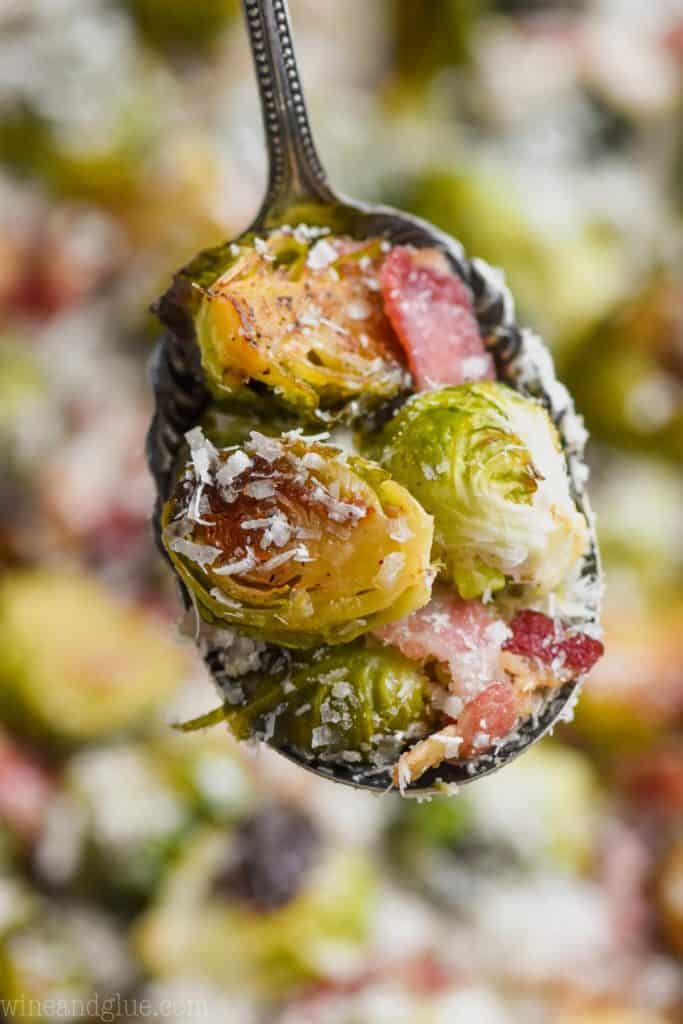 Picking Parmesan Cheese for your Brussels Sprouts
I had a dish similar to this at a restaurant recently, and they added freshly grated parmesan cheese over the top of their baked Brussels Sprouts. And not like a little cheese. They went all out.
There is something about freshly grated parmesan cheese that is unlike any other. I grabbed a wedge of parmesan from Meijer's awesome cheese cooler, and very liberally grated it over this roasted Brussels Sprouts recipe right as it came out of the oven.
You could absolutely buy pre-grated cheese, but the quality will be really different. It won't have that delicious soft texture that you can see so gorgeously coats the Brussels Sprouts in these photos.
Other Great Side Dishes
Since a warm and inviting holiday table is usually covered with delicious side dishes, here are some more that you can have at the ready when you are doing your shopping at Meijer.
This Cheesy Potato Recipe is a staple in so many homes at the holidays. It's perfect for a big crowd!
Is there any greater holiday recipe than Homemade Stuffing? I'm not saying it's the only reason I go to Thanksgiving, I'm also not not saying that.
Your kiddos will LOVE these Roasted Honey Glazed Carrots! Perfect during the week and delicious enough for a holiday.
If you make these Roasted Brussels Sprouts with Bacon or any of my other side dishes, leave me a comment and let me know what you think!
For more great recipes using all the fresh produce Meijer has to offer, follow them on Facebook, Instagram, Twitter, Pinterest, and YouTube.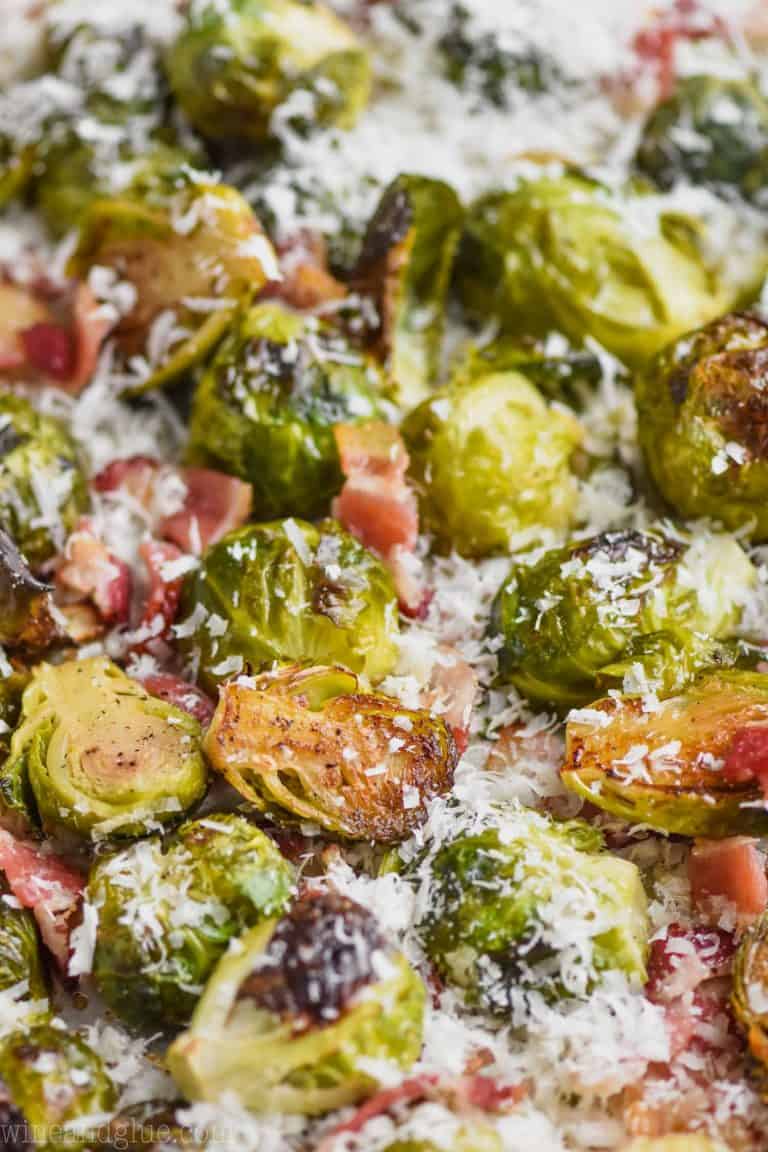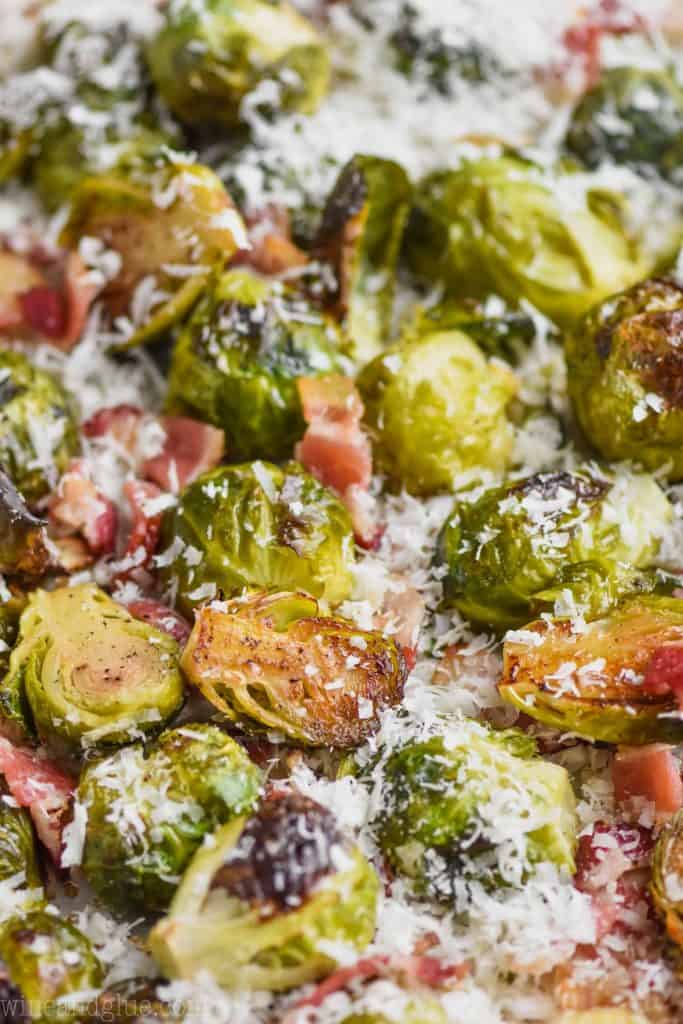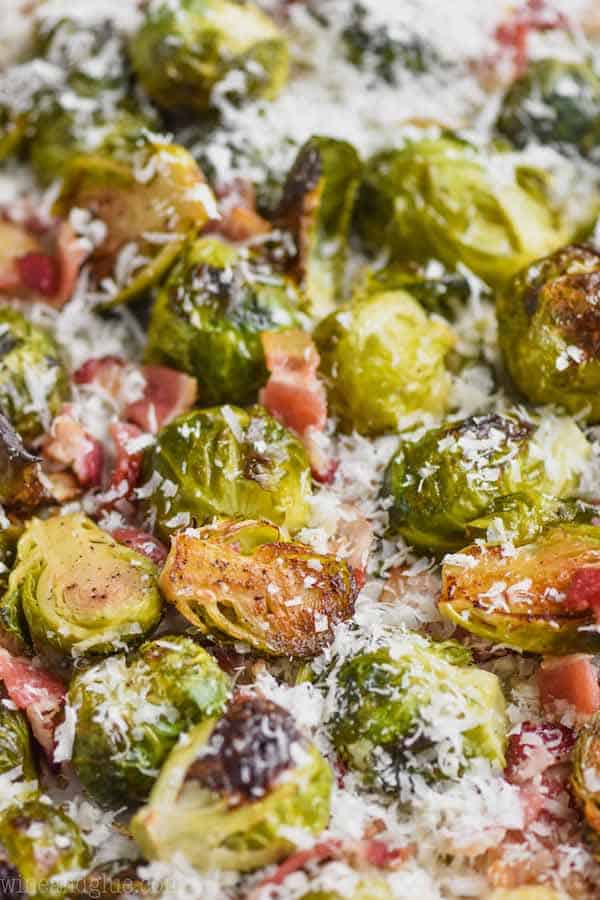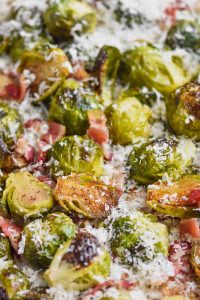 Roasted Brussels Sprouts with Bacon
Roasted Brussels Sprouts with Bacon is a simple and easy side dish that your family will keep coming back to. Steamed right in the tray you bake it in with lots of delicious bacon and parmesan flavor, these roasted Brussels sprouts are a keeper!
Ingredients
2

pounds

Brussels Sprouts

(see note about cutting and trimming)

3

tablespoons

olive oil

1

tablespoon

water

3

cloves

garlic

minced

6

slices

bacon

diced

1

cup

freshly grated parmesan cheese
Instructions
Preheat your oven to 500 degrees and lightly spray a 10 by 16 inch rimmed baking sheet with cooking spray.

Right on the tray, toss the Brussels Sprouts with olive oil, water, garlic, and salt. Make sure all of the Brussels Sprouts are laying sliced side down if they are cut in half. Sprinkle the bacon over the top and cover the baking sheet with aluminum foil, making sure to seal it around the edges.

Roast for 10 minutes with the tray sealed with foil. Uncover and bake for another 15 to 20 minutes or until the bacon is crispy. If you have loose Brussels Sprouts leaves, they will get very crisp. This is fine and adds a nice roasted flavor to the dish.

Remove from the oven, transfer to a serving bowl and cover liberally with parmesan cheese.
Notes
Your Brussels Sprouts should have their stems freshly trimmed. Any Brussel Sprouts that are more than 1/2 an inch big should be sliced in half.
Serving:
1
cup
Calories:
237
kcal
(12%)
Carbohydrates:
16
g
(5%)
Protein:
12
g
(24%)
Fat:
15
g
(23%)
Saturated Fat:
5
g
(31%)
Polyunsaturated Fat:
2
g
Monounsaturated Fat:
8
g
Cholesterol:
22
mg
(7%)
Sodium:
499
mg
(22%)
Potassium:
664
mg
(19%)
Fiber:
6
g
(25%)
Sugar:
4
g
(4%)
Vitamin A:
66
IU
(1%)
Vitamin C:
215
mg
(261%)
Calcium:
151
mg
(15%)
Iron:
13
mg
(72%)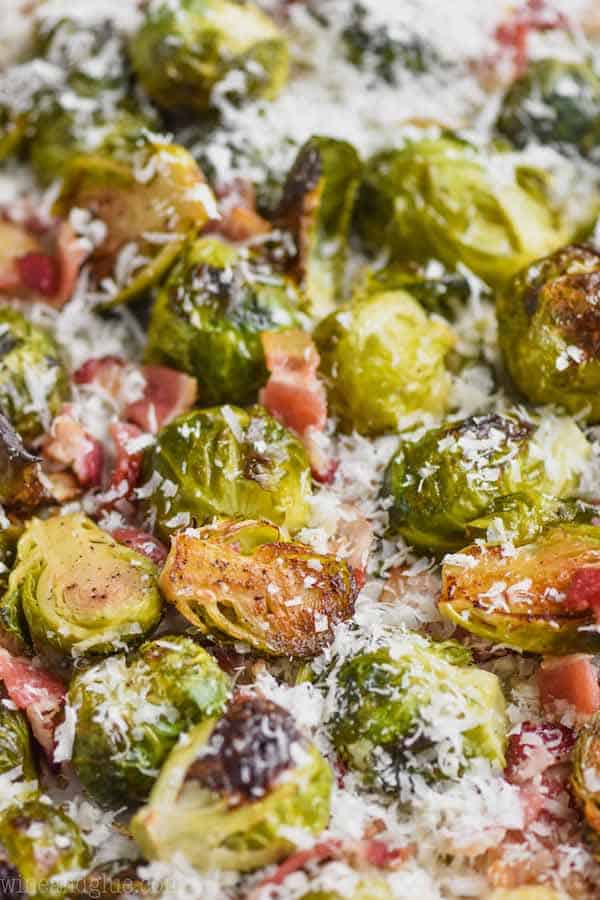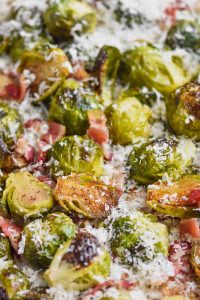 did you make this
Roasted Brussels Sprouts with Bacon