This Spaghetti Meat Sauce recipe is an easy and quick recipe that can be the beginning of an easy weeknight dinner. Make this 30 minute meat sauce and watch your family fall in love!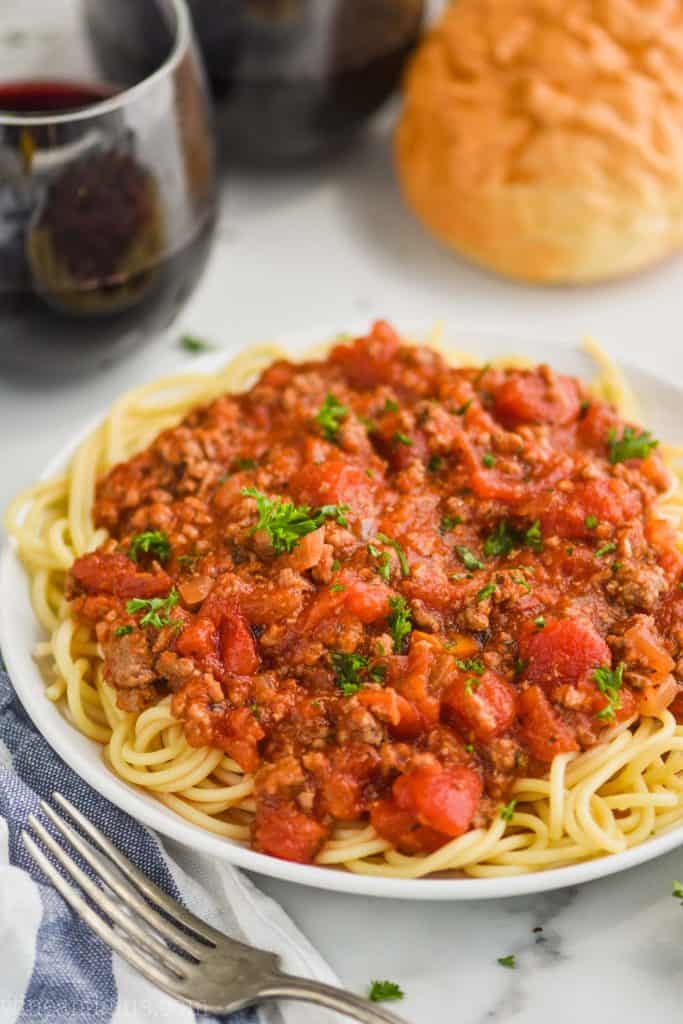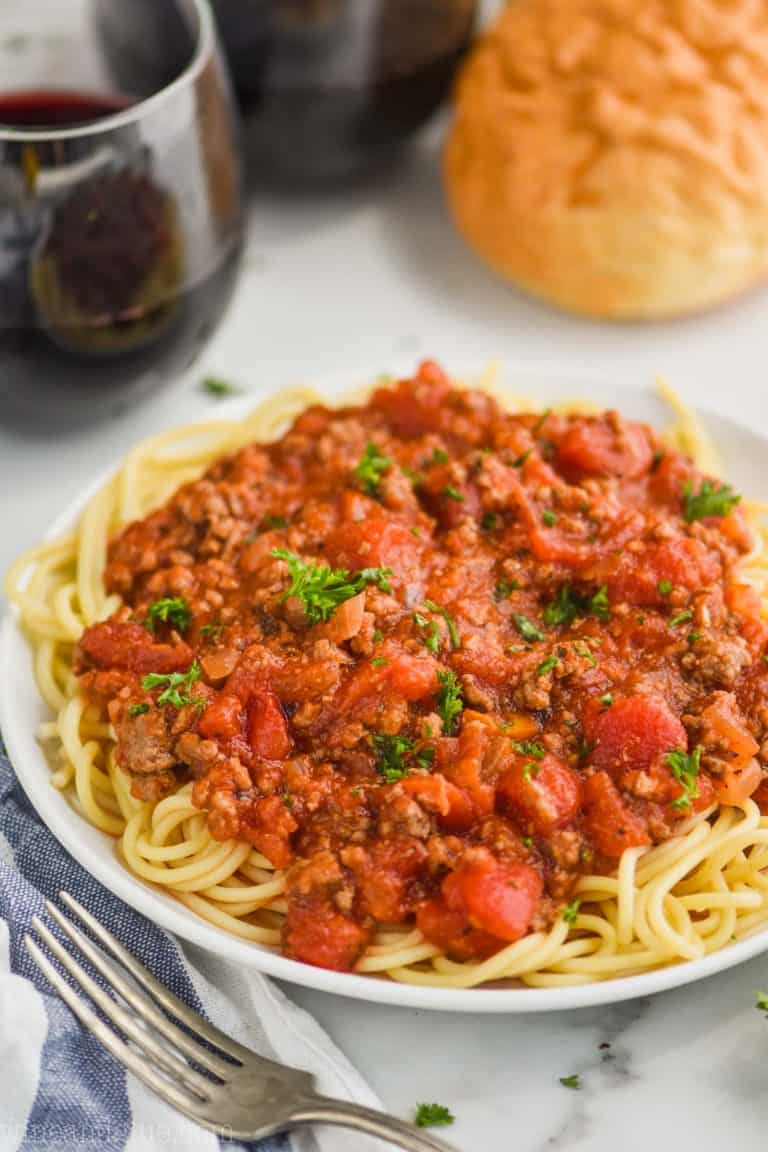 The other day, as I was planning what dinner recipes I'm going to make for you this fall, I asked on my personal Facebook page, what people consider "easy" dinners. Oh my gosh. For a busy day in the life of working parents, so many chimed in! It was everything from number of ingredients, to how many pots and pans are used, to how long it takes to make.
(Psssst . . . . take a minute to leave me a comment and let me know what YOU think makes a dinner easy.)
THIS SPAGHETTI MEAT SAUCE RECIPE IS EASY
Based on everything that my family, friends, and neighbors told me, this Homemade Spaghetti Meat Sauce Recipe is easy. A simple riff on my Homemade Spaghetti sauce, let me tell you why this is so easy.
This spaghetti meat sauce is done in just one pot. Yes, if you are serving it with spaghetti you need to use one more pot. But when all is said and done, not very many dishes.
Your new favorite meat sauce is done in 30 minutes. For so many of the people I talked to, this was a big key to the easy dinner label.
There are no complicated ingredients in this meat sauce recipe. In fact, all but one ingredient can be bought in bulk and stored in your pantry ready for use. That was a HUGE factor for a lot of friends.
Guys. We are pretty much checking off every single box in the easy dinner qualification list.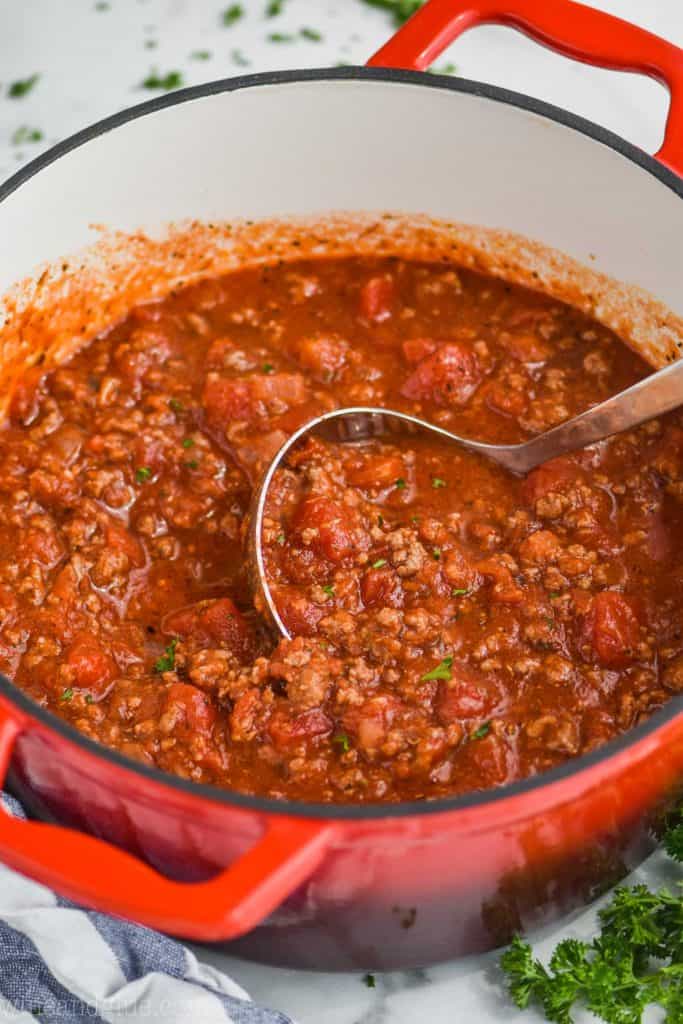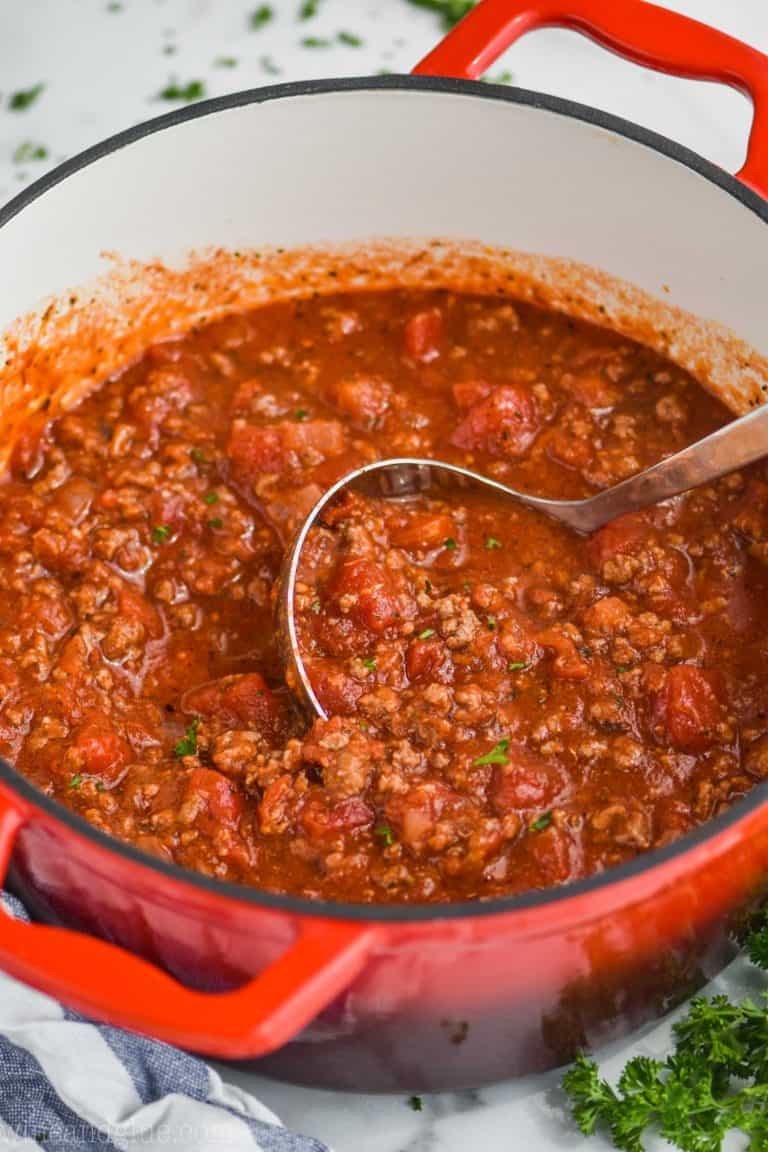 ADDITIONS AND SUBSTITUTIONS
Another key to easy dinners that someone mentioned was flexibility. They like recipes that are flexible. You can take things out, add other things, and it's not going to make a huge difference in the final product. Ding ding ding! This meat sauce wins again!
Add in onions! My family isn't a huge fan of onions (well, mainly my husband), so I left them out. Definitely add them in right after the meat is browned but before you drain off the fat.
Make it less chunky! If your family doesn't like tomato chunks, substitute one can of crushed tomatoes for the can of diced tomatoes (making it two cans of diced tomatoes).
Bring more heat to your spaghetti meat sauce recipe. Add in more crushed red pepper flakes. This recipe only calls for 1/8 a teaspoon. That is almost none at all. Bump it up to 1/4 teaspoon or even a little more to add some heat.
Use ground turkey! If your family doesn't care for the taste of beef, make your homemade spaghetti meat sauce with ground turkey instead. If you find that there isn't 2 tablespoons worth of grease at the end, add a little olive oil in before adding your garlic.
If you change things up and find a variation that you love, leave me a comment and let me know!
HOW MUCH SPAGHETTI AND MEAT SAUCE PER PERSON
I would recommend about a cup and a half per person. This recipe, as listed, makes 7 cups. That means you will have enough for four servings with some left over.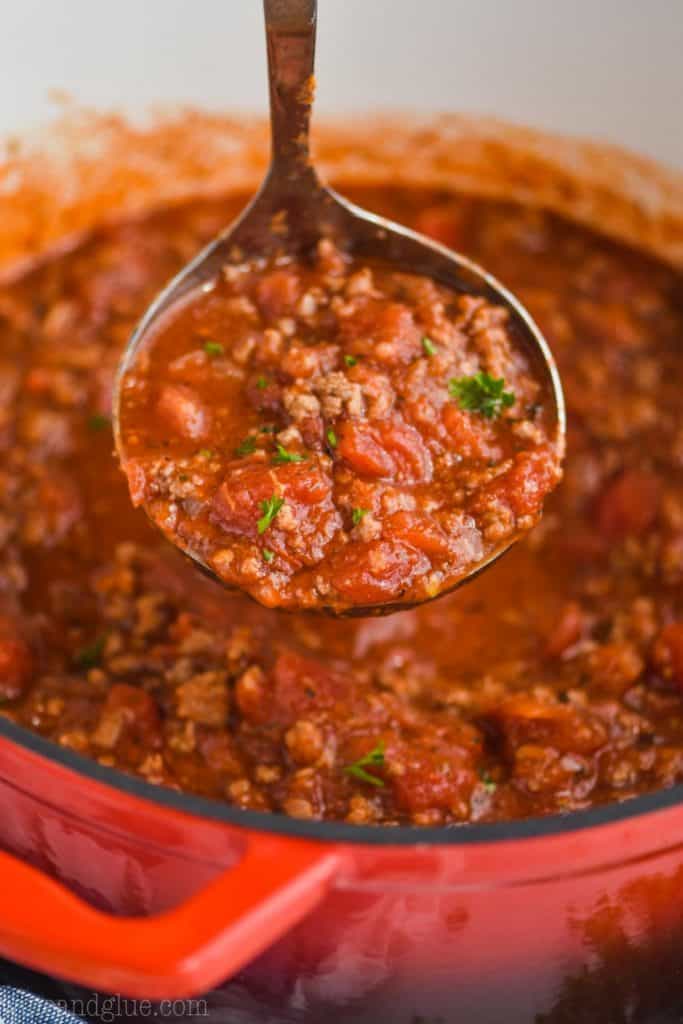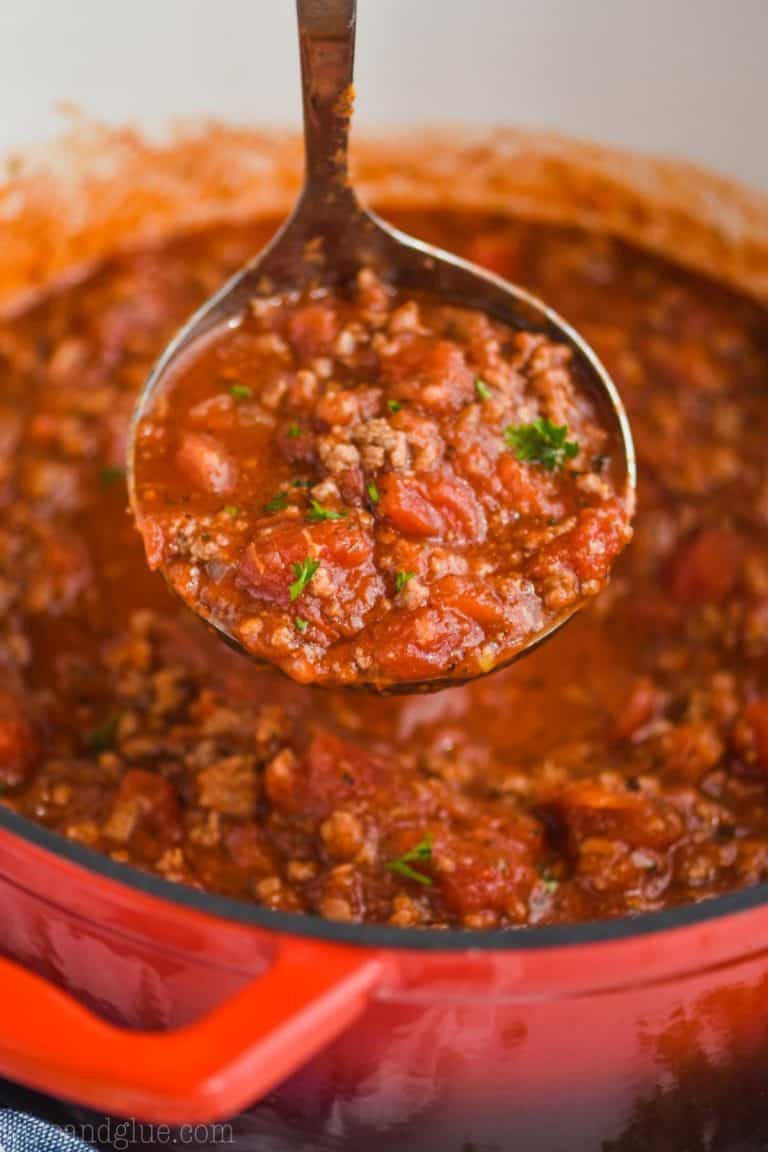 HOW LONG DOES THIS MEAT SAUCE LAST?
Because of the ground beef in this sauce recipe, you can keep left overs in the refrigerator for 3 to 4 days. If you reheat the sauce, make sure to eat all of what you heated or throw it away. Do not reheat the sauce twice. (In other words, only take out from the refrigerator as much as you want to eat. Once you reheat it, thats it.)
CANNING AND FREEZING THIS MEAT SAUCE RECIPE
This meat sauce will freezer perfectly. Once it has cooled, transfer it to a jar or freezer safe container. Make sure that you leave a solid 2 inches of room in the jar you put it in to account for expanding. Store it in the freezer for up to a month.
I do not have experience with canning. Because this contains meat, proceed with caution. I suggest visiting the USDA's website, specifically their section on canning meat.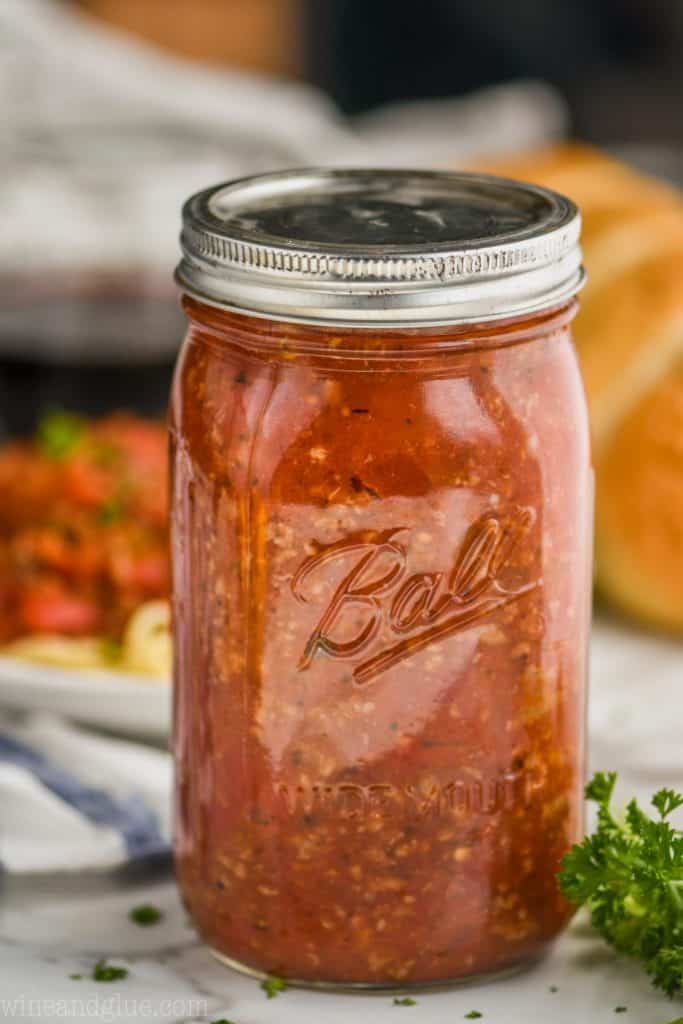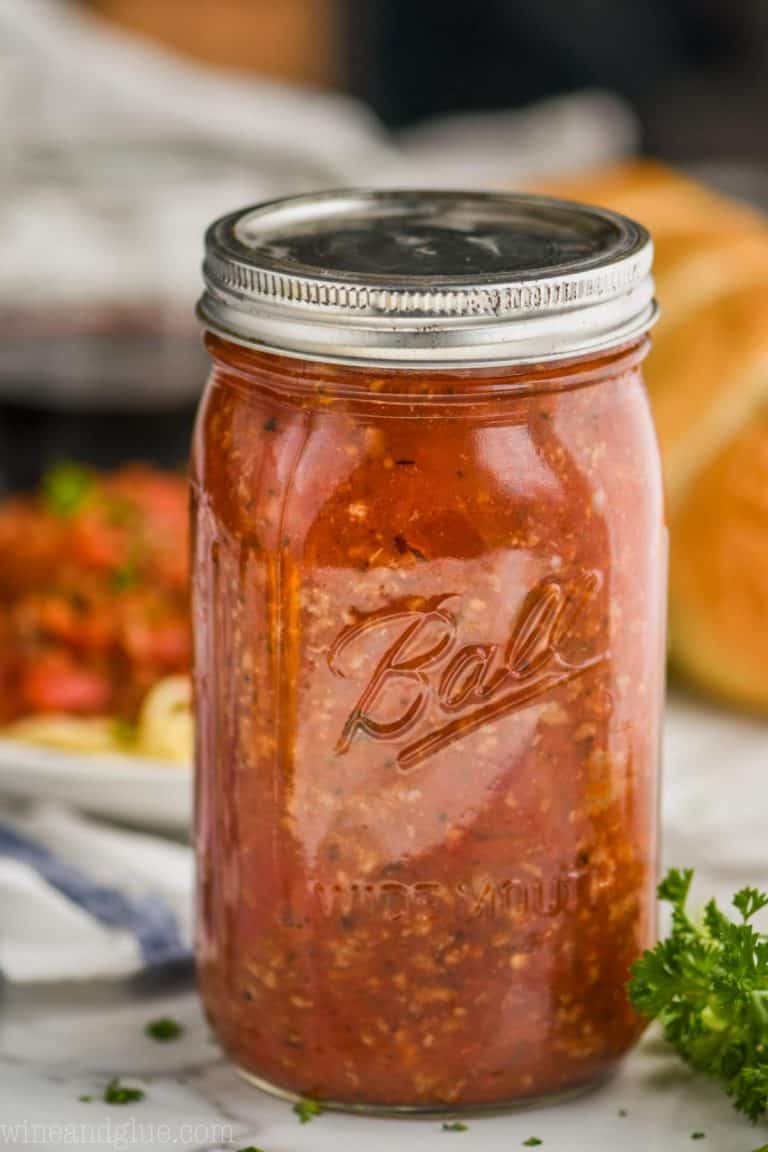 WHAT TO SERVE WITH SPAGHETTI MEAT SAUCE
This is technically a condiment, but once you boil some water and make some spaghetti, you almost have a full blown meal. Whip up a side item or two to make this a well rounded meal. I am listing a few below that I think would add very little hands on time and would compliment spaghetti with meat sauce by adding in some vegetables.
EASY ARUGULA SALAD: I come back to this one time and again because arugula is such a great way to get another serving of vegetables in your diet, and this salad is to die for with only a few ingredients.
CRISPY BRUSSELS SPROUTS: Like the salad above, this one only has a few ingredients. It's very little hands on time, and the end result is a side dish your family will love.
ROASTED CAULIFLOWER RECIPE: I'm adding this because it is our go to side on pasta night. All of my kids eat it up, and one of them even asks for seconds ????
As always, if you make this spaghetti meat sauce recipe or any of my others, leave me a comment! I'd love to hear what you think.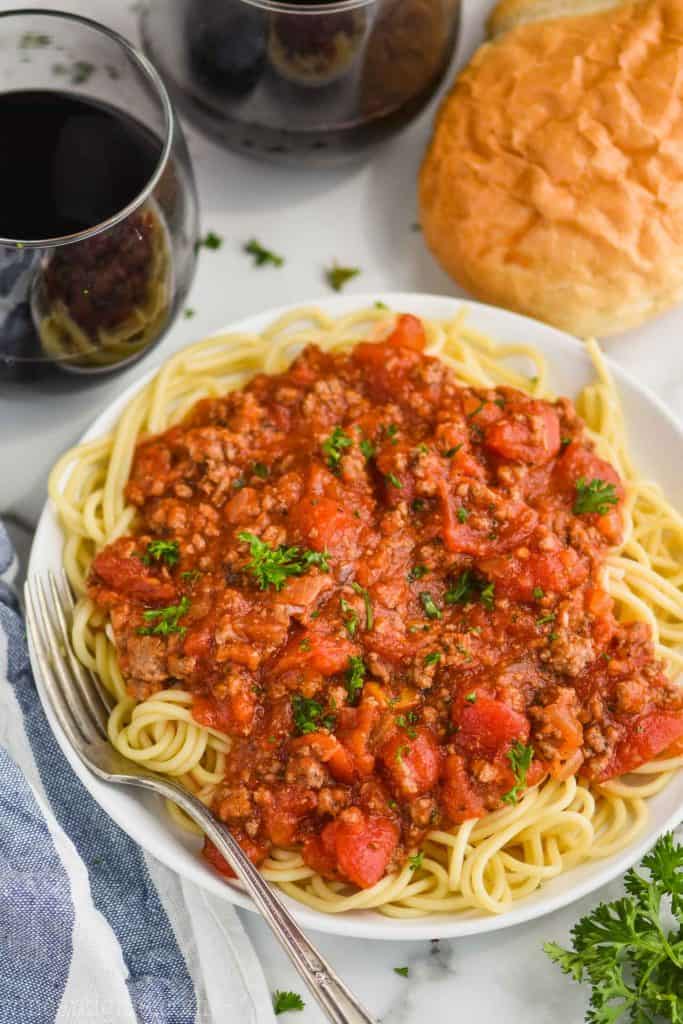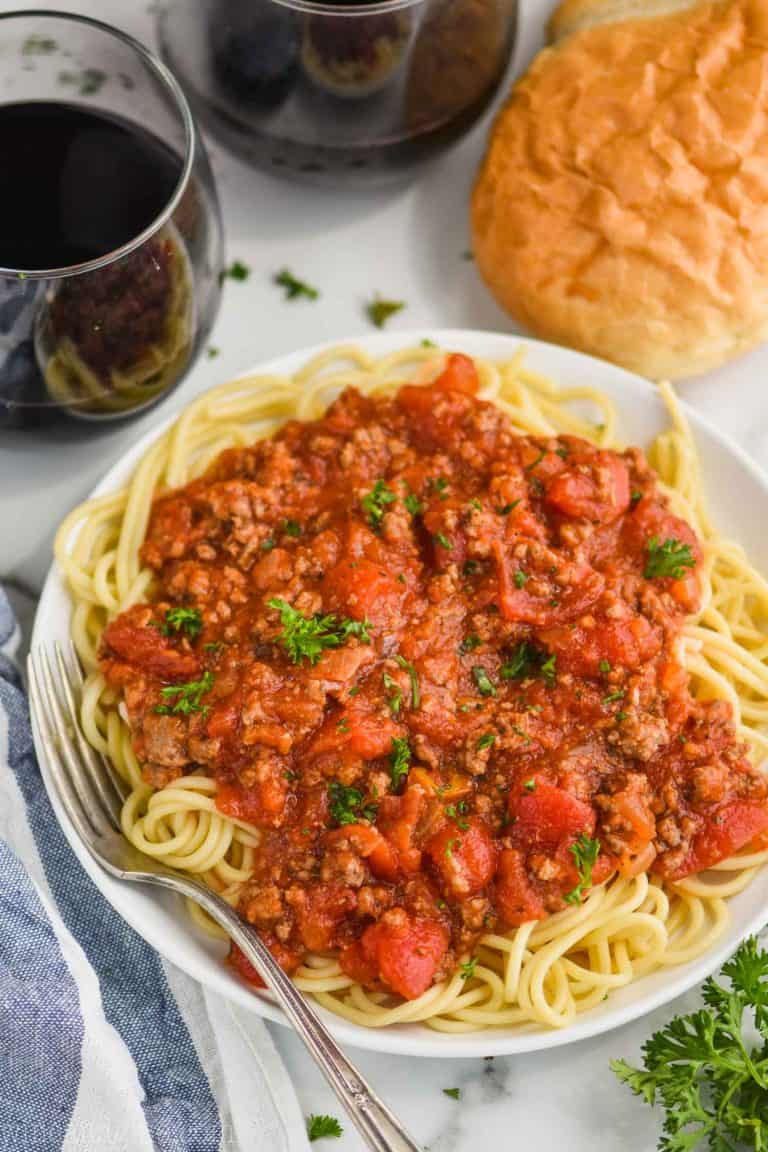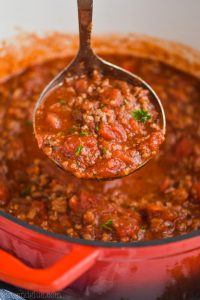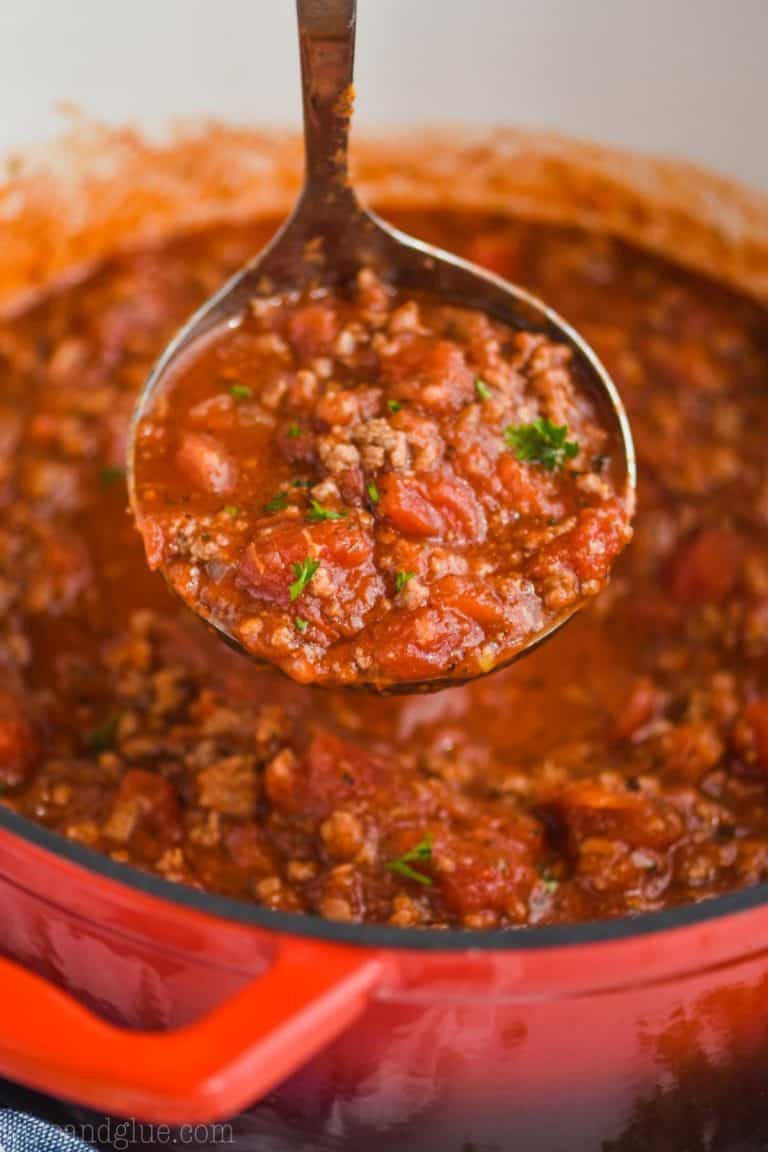 Spaghetti Meat Sauce Recipe
This Spaghetti Meat Sauce Recipe is an easy and quick recipe that can be the beginning of an easy weeknight dinner. Make this 30 minute meat sauce and watch your family fall in love!
Ingredients
1

pound

ground beef

(I used 80/20)

6

garlic cloves

minced

28

ounces

crushed tomatoes

28

ounces

diced tomatoes

2

teaspoons

sugar

1/2

teaspoon

salt

plus more to taste

1/2

teaspoon

oregano

1/2

teaspoon

parsley

1/2

teaspoon

basil

1/8

red pepper flakes

freshly ground black pepper to taste
Instructions
Before starting, measure out all of your spices and sugar and set them aside. Open your canned tomatoes and set them aside as well. (See note.)

In a large dutch oven over medium heat, break up the beef. Cook until browned and no longer pink. Drain all but 2 tablespoons of grease from the pot.

Add the garlic and saute for 30 seconds or until fragrant. Be careful not to burn.

Add in the tomatoes (both cans). Then stir in the spices and salt.

Bring the sauce to a simmer and cook on low for about 15 minutes or until the sauce is thickens, stirring intermittently.

Once finished, taste and add more salt and pepper (just a litlte at a time) to taste.
Notes
The reason for getting everything prepared before starting is because you don't want your garlic to burn. If you want to get everything ready until the garlic is cooking, chances are decent you will get distracted and the garlic will burn, ruining the dish.
Serving:
1
cup
Calories:
190
kcal
(10%)
Carbohydrates:
16
g
(5%)
Protein:
16
g
(32%)
Fat:
7
g
(11%)
Saturated Fat:
3
g
(19%)
Cholesterol:
40
mg
(13%)
Sodium:
544
mg
(24%)
Potassium:
573
mg
(16%)
Fiber:
4
g
(17%)
Sugar:
4
g
(4%)
Vitamin A:
1200
IU
(24%)
Vitamin C:
34.7
mg
(42%)
Calcium:
130
mg
(13%)
Iron:
3.2
mg
(18%)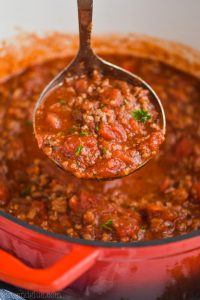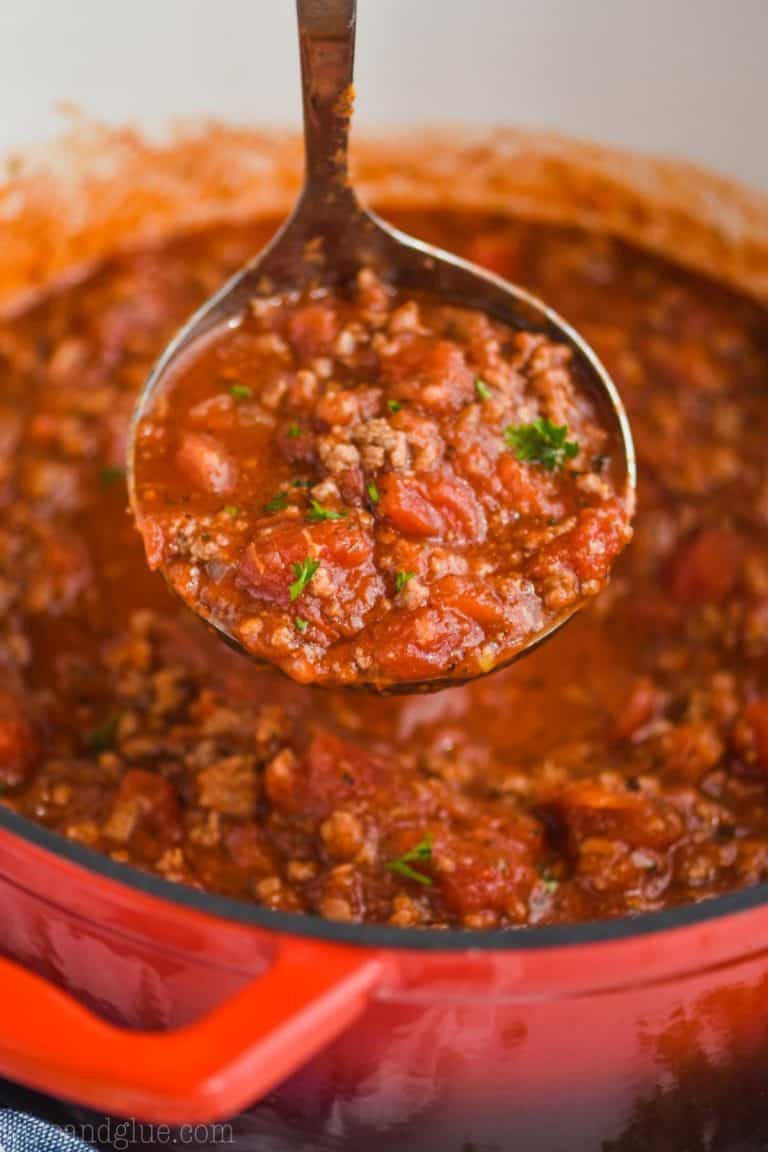 did you make this
Spaghetti Meat Sauce Recipe