This is the best Ranch Dressing recipe! It comes together with ingredients you can keep on hand and is way better than anything you can buy in the store.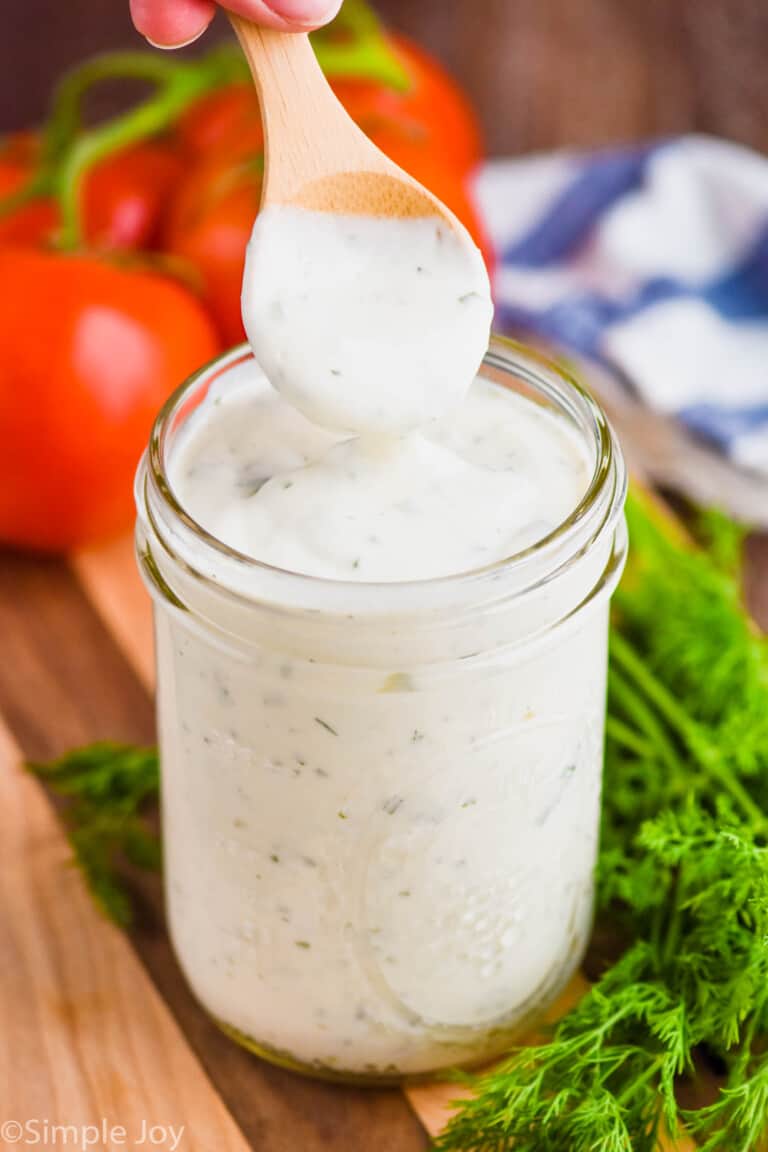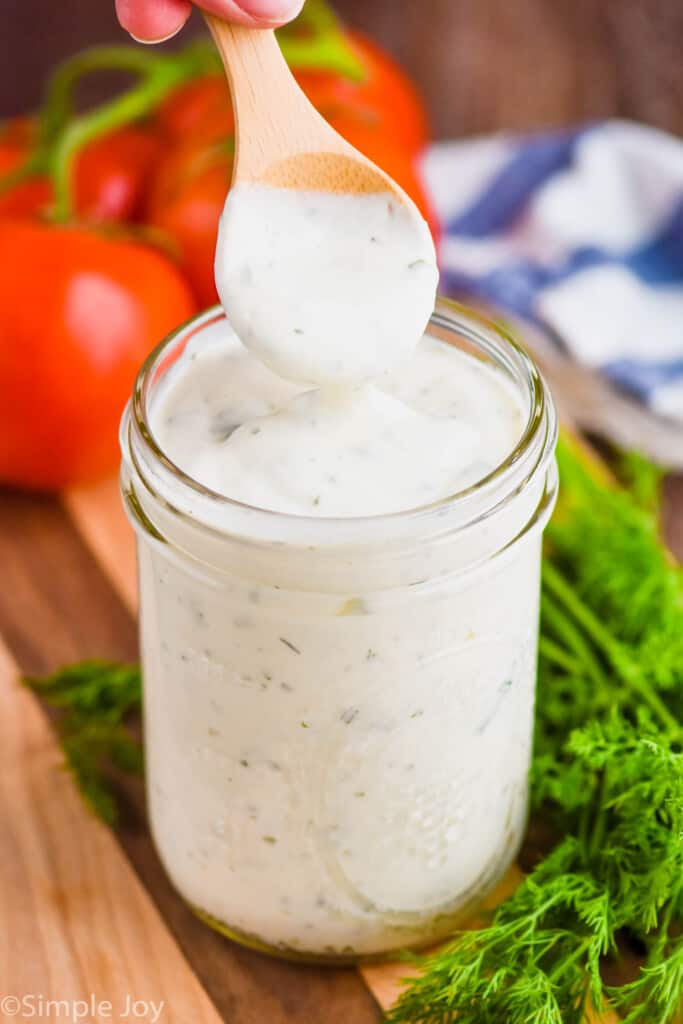 If my youngest and I were stranded on a desert island and could only have one condiment, she and I would both scream "Ranch Dressing!" before you could even finish asking the question. We love it on just about everything.
This recipe went through several rounds of tweaking and perfecting before I brought out the store-bought version. I had my husband taste both side by side and he declared that he would never eat the store bought one, but would totally eat this recipe.
This is the very best Ranch Dressing recipe.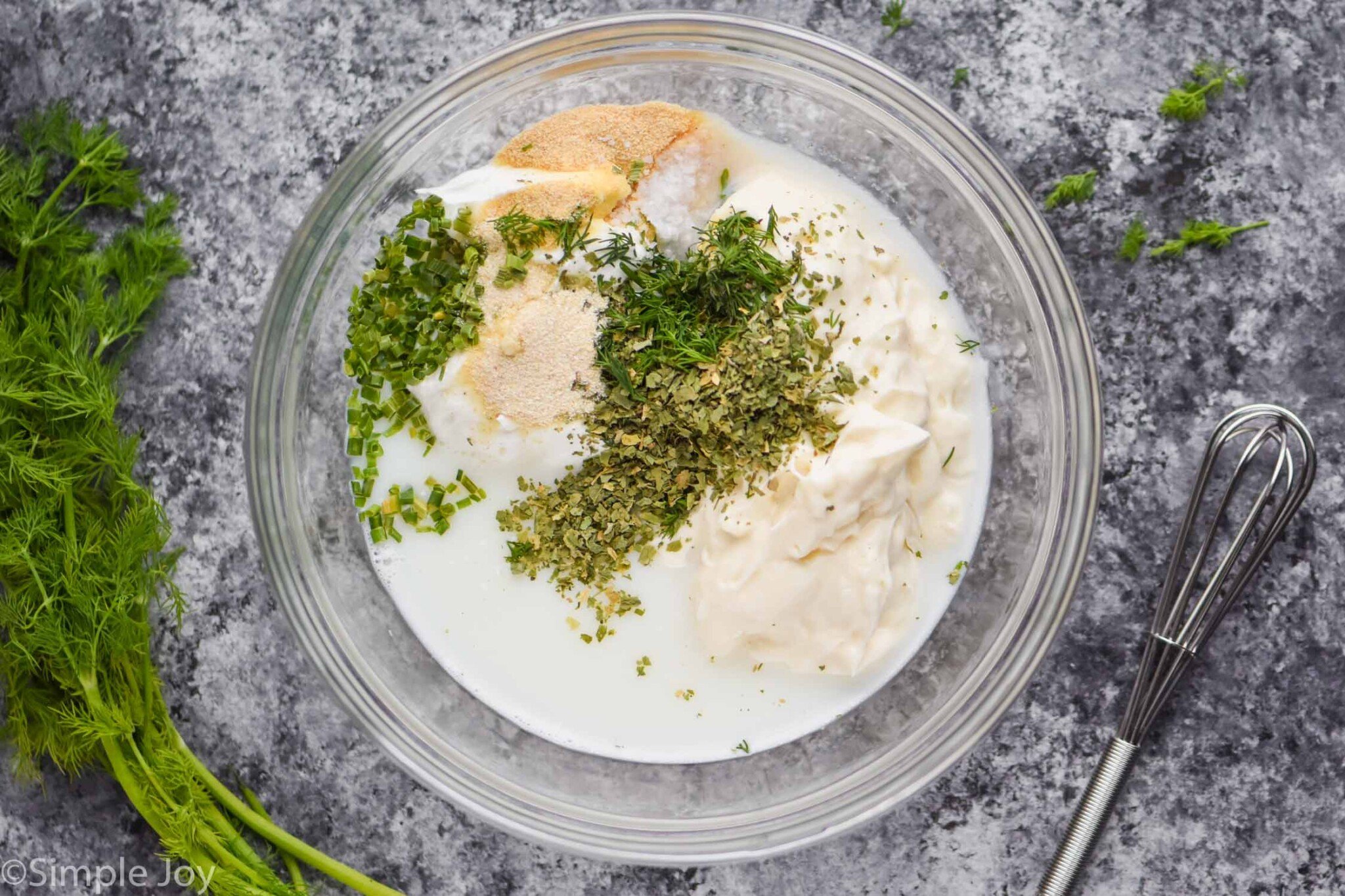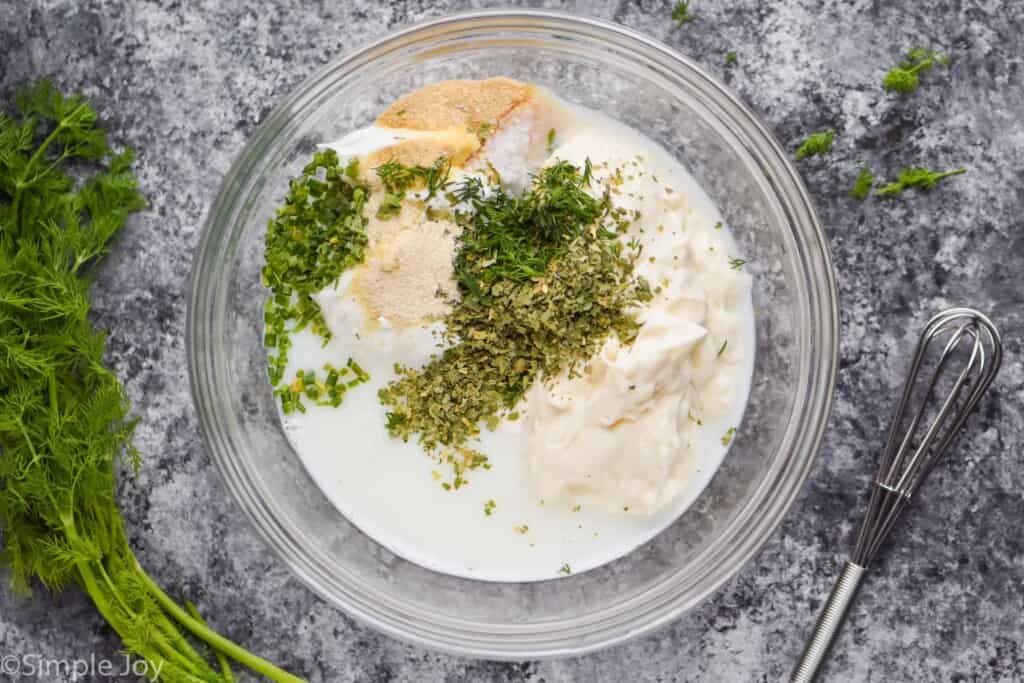 Ranch Dressing Ingredients
With the exception of fresh dill, all of these ingredients are always in my fridge and pantry. As with all of my recipes, scroll to the bottom of the post to get all the measurements and a printable recipe.
Skim Milk: In general, when it comes to milk, you can always go up in fat content, but not down. Since we are using skim here, you can feel free to use whatever milk you have on hand.
Low Fat Mayonnaise: I love using low fat mayo in my recipes because it cuts calories without sacrificing flavor.
Low Fat Sour Cream: The same goes for low fat sour cream. It's just a lower fat content milk being used to make it. They don't add anything weird to make it low fat.
Lemon Juice: Normally ranch starts with buttermilk. We are using milk and lemon juice as a replacement since not everyone keeps buttermilk on hand. But you could certainly replace the milk and lemon juice with 1 cup of buttermilk.
Fresh Dill: I love the taste of fresh dill in this recipe, and use the left overs to make my Pickled Eggs. But if you want to make this right now without running to the store, you can replace it with 1 teaspoon of dried dill.
Dried Parsley: We use dried parsley in so many recipes, so we always have it on hand. If you would like to swap it for fresh parsley, use 1 1/2 tablespoons.
Dried Chives: If you would like to use fresh chives, use 2 teaspoons.
Garlic Powder
Onion Powder
Kosher Salt
Black Pepper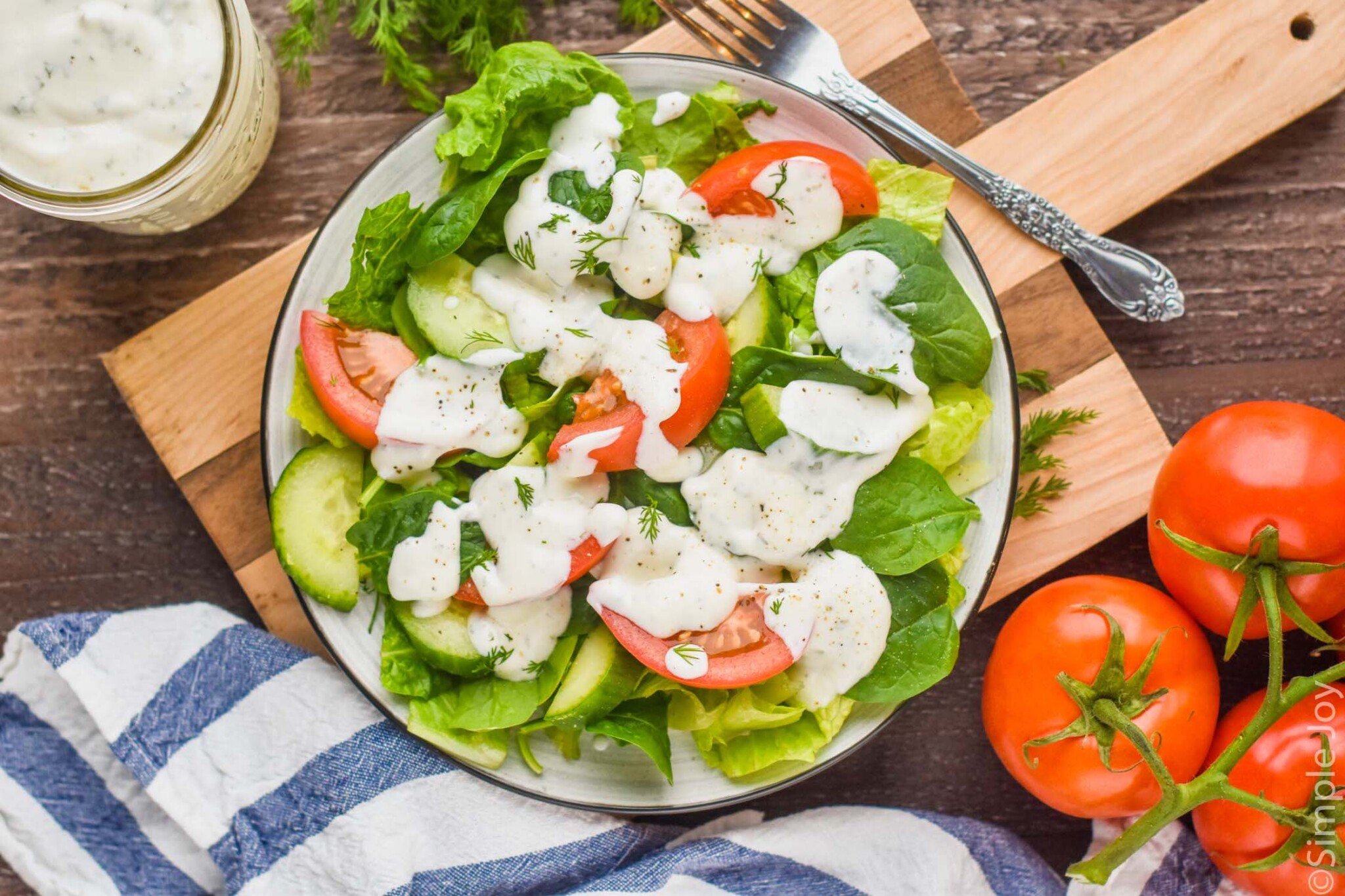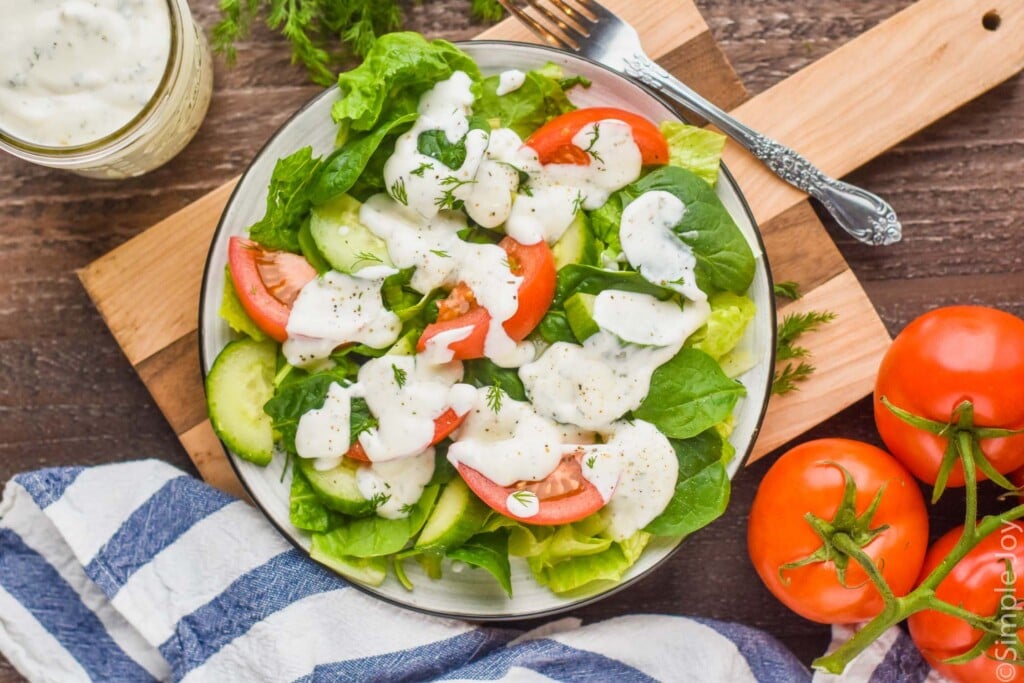 How to Make Ranch Dressing
This salad dressing recipe is simple to make, just like most homemade salad dressings. For the full list of measurements, be sure to see the recipe card at the bottom of the post.
Mix together the lemon and milk. Let it stand for 5 minutes. This is our buttermilk substitute. We want it to rest so that it will thicken the rest of the dressing.
Whisk the remaining ingredients together.
Taste the dressing. Adjust the seasonings if needed. Add more salt and pepper to taste. If the dressing is heavy on the lemon, you can add a pinch of sugar to balance it. Sugar can also balance a dressing that is too salty. Honey will also work well to do this.
Adjust the dressing for consistency if need be. If it is too thick, you can add a dash more milk to make it thinner. If it is too thin, you can whisk in a little more mayonnaise.
While I love this dressing exactly as written, tastes vary. Don't hesitate to play with this recipe so you love it as much as I do.
Buttermilk Replacement
As mentioned above, most ranch dressing starts with buttermilk. This isn't something I keep on hand and I really wanted this to be a dressing I could make whenever the craving hit. So for this recipe, we are using a similar buttermilk replacement to what we use in my Cornbread Recipe. Milk combined with an acid (usually vinegar or lemon juice) can work great as a buttermilk replacement.
In this recipe you will want to remove the 1 cup milk and 2 teaspoons lemon juice and replace it with 1 cup buttermilk.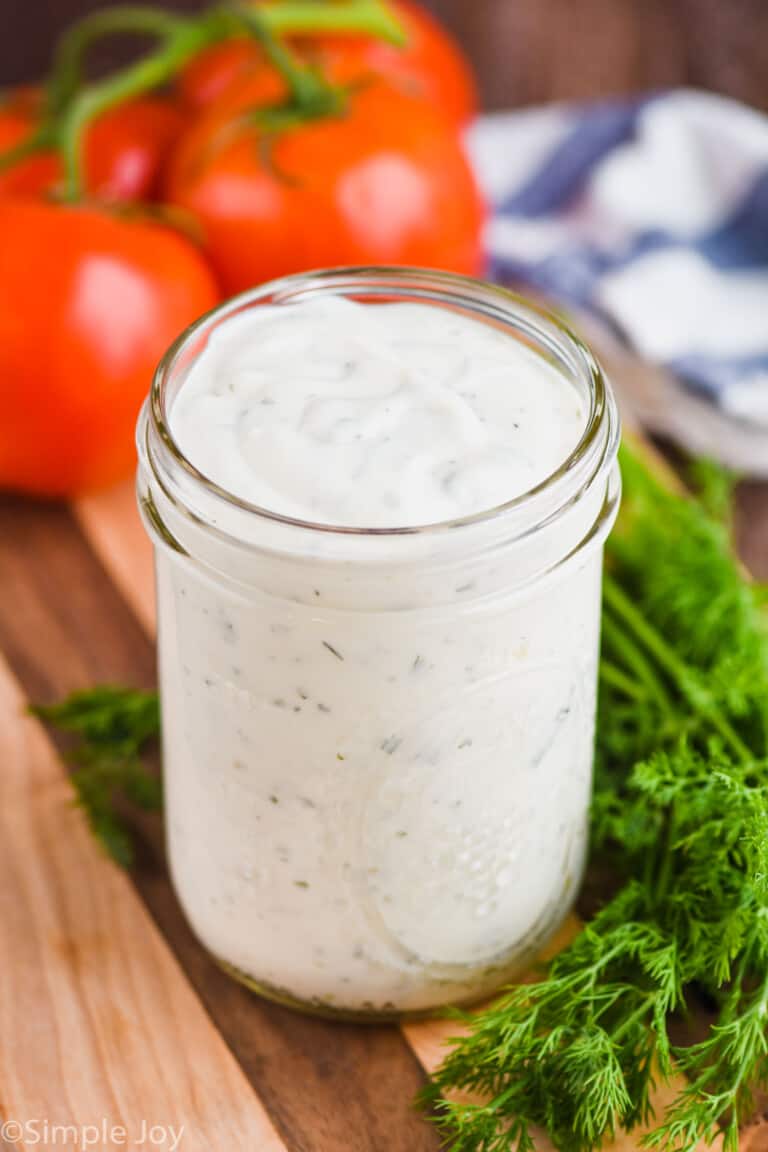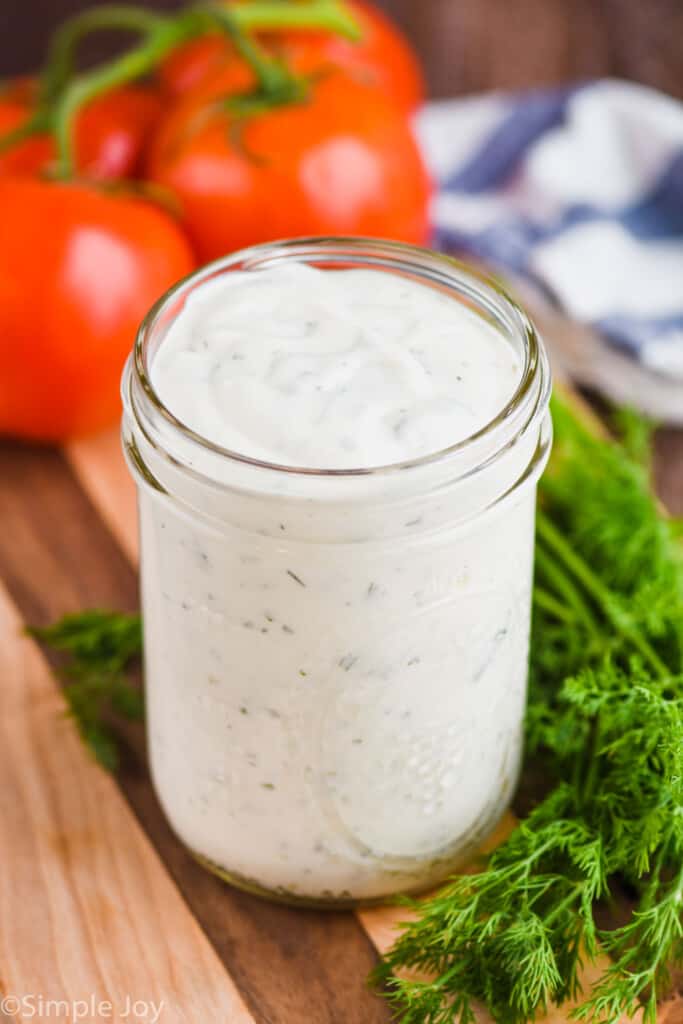 Nutritional Information
As mentioned above, I went with skim milk, low fat mayonnaise, and low fat sour cream. I don't happen to notice a difference in taste and I love the calories we cut.
This ranch dressing recipe comes to 53 calories for 2 tablespoons. Not bad for topping a healthy salad!
Additionally, this is a great salad dressing recipe if you are following a Keto or low carb diet, as there is no added sugar in it.
Storing Ranch Dressing
This recipe will keep well in the refrigerator for up to 1 week. Generally speaking vinaigrette salad dressings last quite a bit longer, but because of the dairy and fresh herbs in this one, we are going to err on the safe side.
If this recipe seems like more ranch dressing than you can have in a week, it can easily be cut in half. I do not recommend freezing leftovers as the texture of the mayonnaise will be unpleasant after thawing.
FAQ
Is Ranch Dressing gluten free?
Ranch dressing is naturally gluten free. If you are serving someone with a gluten allergy, double check all of your ingredients to ensure they weren't cross contaminated in a facility that also produces gluten.
Is Ranch Dressing Keto?
Typically, Keto diets suggest that you avoid buttermilk because of all the added sugar in commercial buttermilk. Because we are using milk and lemon juice here, it is better than the commercial variety with added sugar. That being said, there is still 1 gram of sugar and 2 grams of carbs in 2 tablespoons of this homemade ranch dressing. So proceed with caution.
How many carbs in Ranch Dressing?
There are two grams of carbs in this easy ranch dressing recipe.
Can I use buttermilk?
Yes! Take out the milk and the lemon juice and replace it with 1 cup of buttermilk.
I am on a low sodium diet can I leave the salt out?

Absolutely. You will likely find that your taste is so adjusted to low/no salt, that you don't miss it. Though if you have others in your home who aren't on a low sodium diet, they might find this lacking something.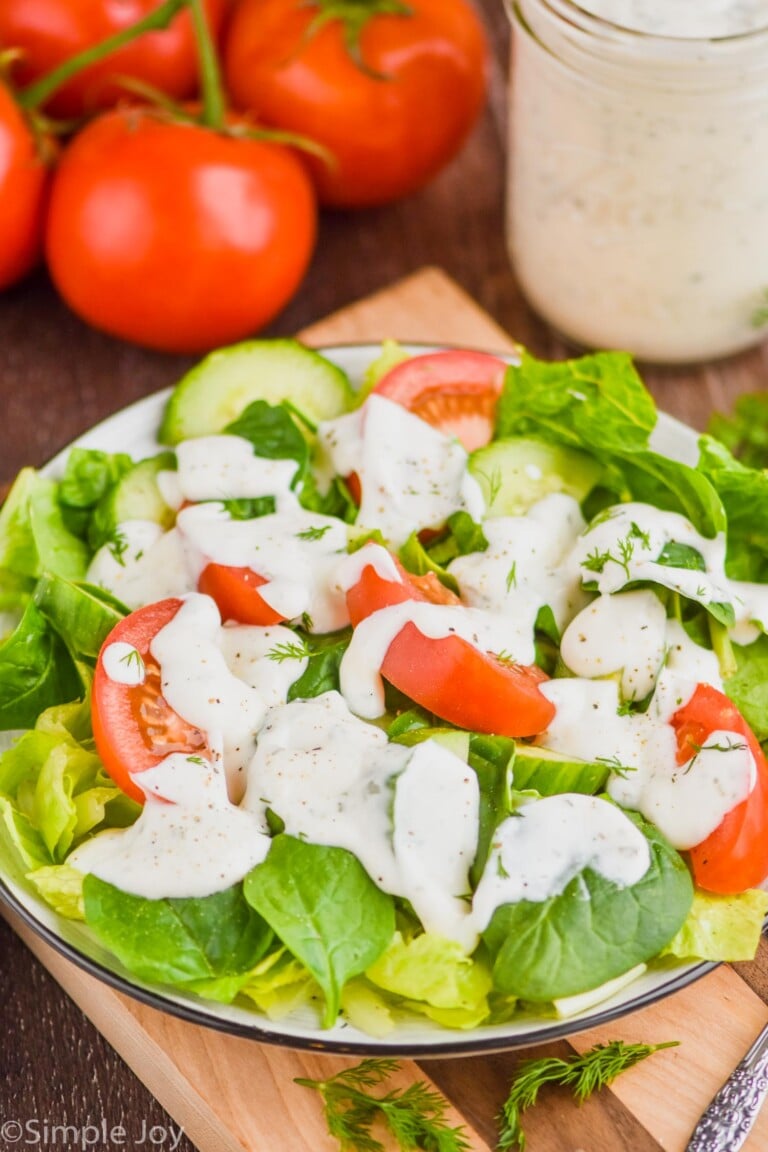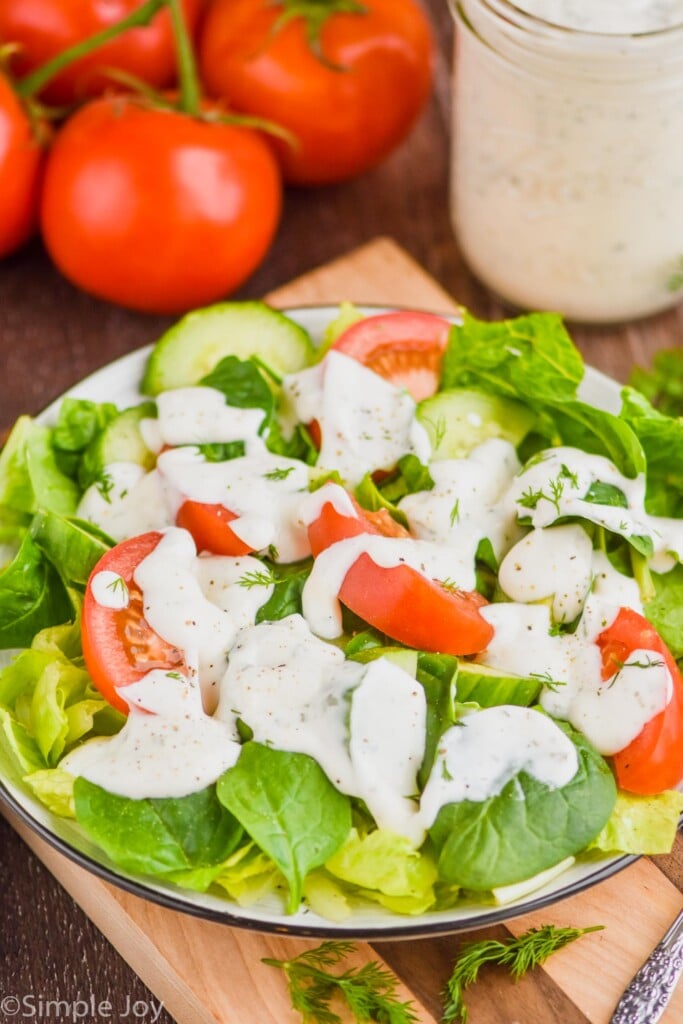 Great Ways to Use Ranch
I have so many recipes that have a ranch component to them. This would be great in all of these or just on salad.
If you make this amazing homemade ranch dressing or any of my other recipes, please leave me a comment and let me know what you think. I love hearing from you!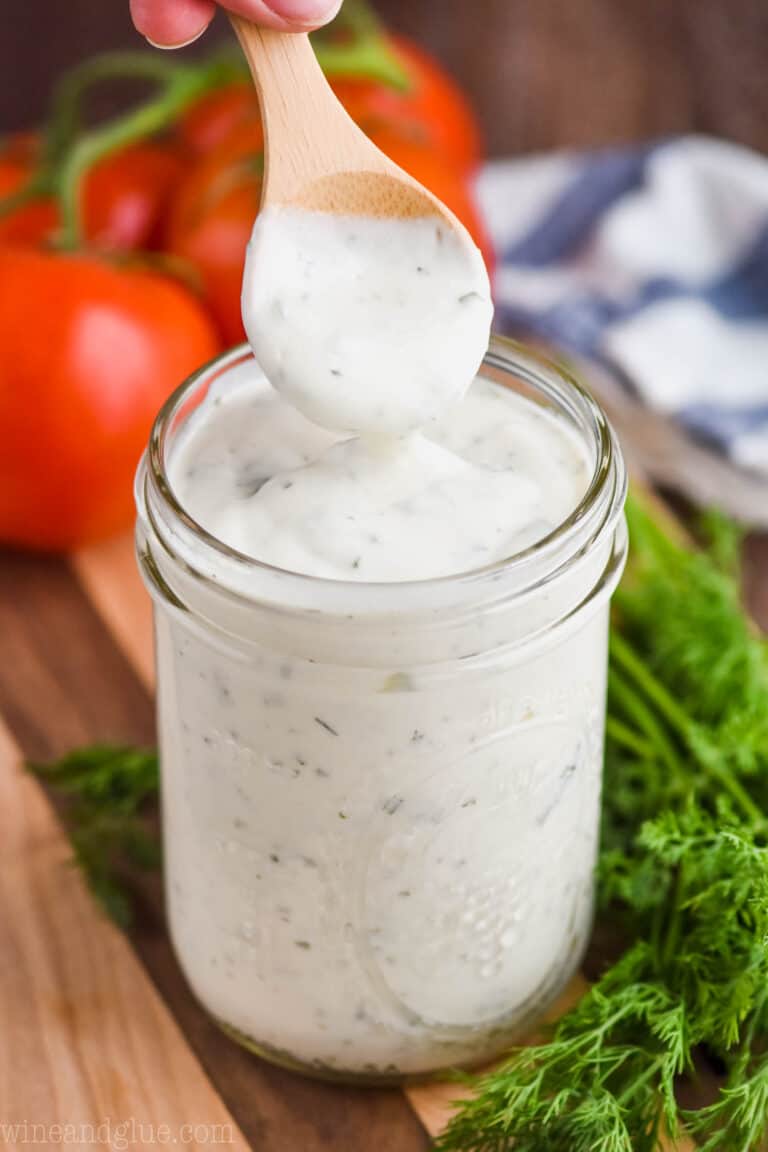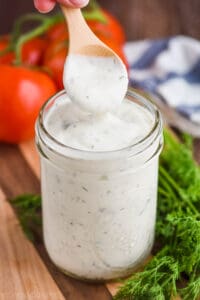 Ranch Dressing Recipe
Homemade Ranch Dressing comes together with easy ingredients and is way better than anything you can buy in the store.
Ingredients
1

cup

milk

I used skim

2

teaspoons

fresh lemon juice

1

cup

mayonnaise

I used reduced fat

1/2

cup

sour cream

I used reduced fat

2

teaspoons

fresh dill

(or 1 teaspoon dried)

2

teaspoons

dried parsley

1

teaspoon

dried chives

(or 2 teaspoons fresh)

1 1/2

teaspoons

garlic powder

1/2

teaspoon

onion powder

1

teaspoon

salt

1/4

teaspoon

black pepper
Instructions
Mix together the lemon and milk. Let it stand for 5 minutes.

Whisk in the remaining ingredients.

If you would like a thinner dressing, add a little more milk, about 1 tablespoon at a time.

Enjoy right away on your salads or store in air tight container in the refrigerator for up to 1 week.
Notes
Please note that this make a little more than 2 cups worth of dressing. It keeps in the refrigerator for 1 week. If you don't think you will use that much in that amount of time, this recipe easily cuts in half.
Serving:
2
tablespoons
Calories:
53
kcal
(3%)
Carbohydrates:
2
g
(1%)
Protein:
1
g
(2%)
Fat:
4
g
(6%)
Saturated Fat:
1
g
(6%)
Polyunsaturated Fat:
1
g
Cholesterol:
3
mg
(1%)
Sodium:
251
mg
(11%)
Potassium:
41
mg
(1%)
Sugar:
1
g
(1%)
Vitamin A:
1
IU
Calcium:
18
mg
(2%)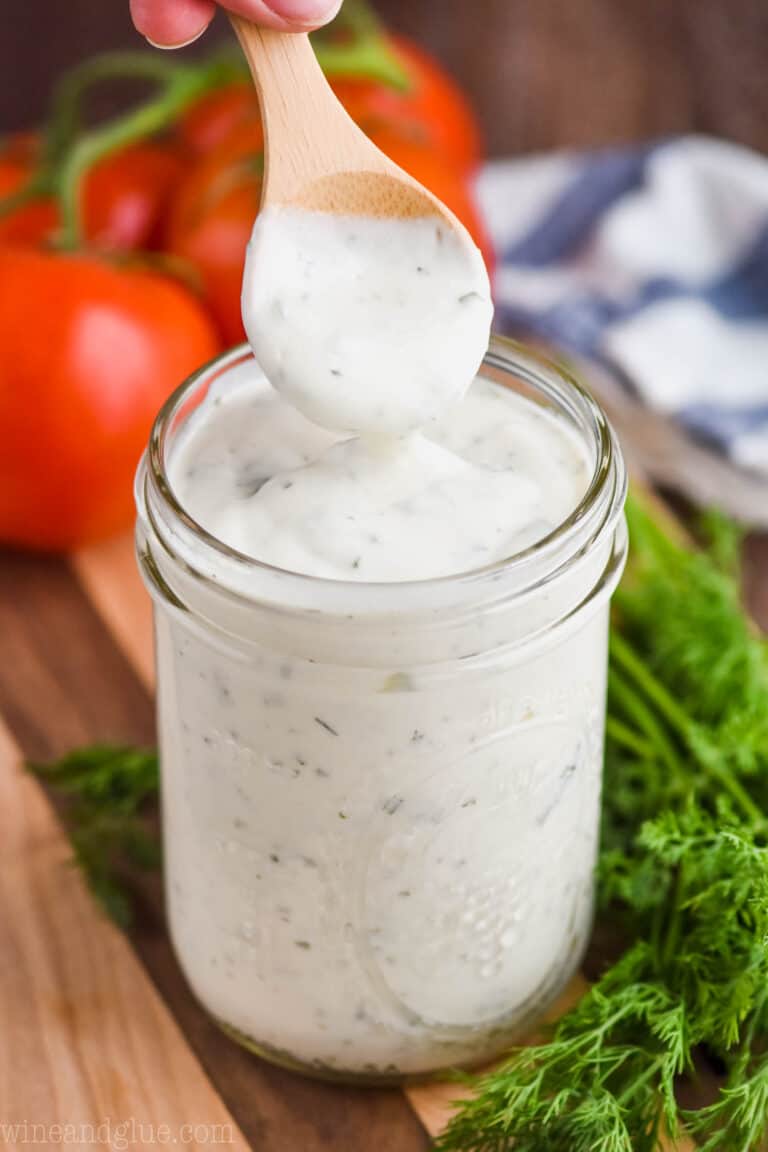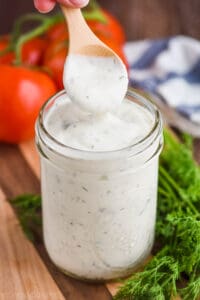 did you make this
Ranch Dressing Recipe