This Balsamic Vinaigrette is a simple and easy recipe that anyone can make at home! Slightly sweet and deliciously tangy, you will fall in love with this recipe.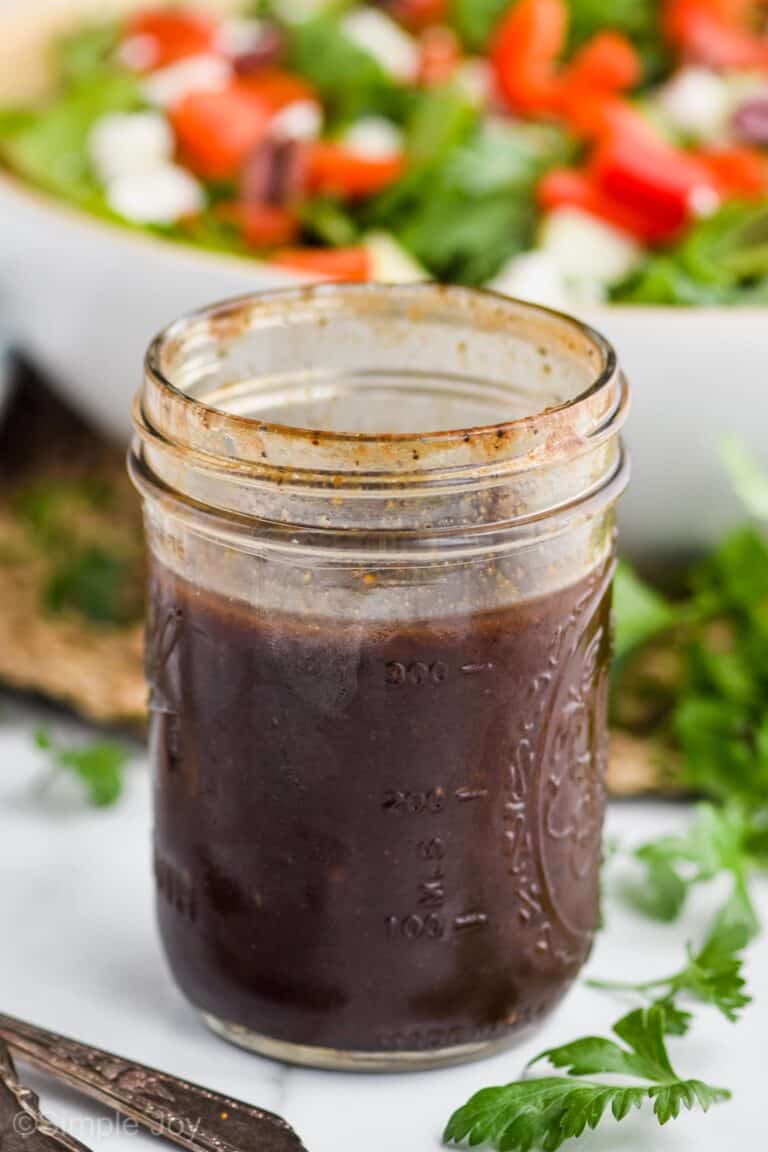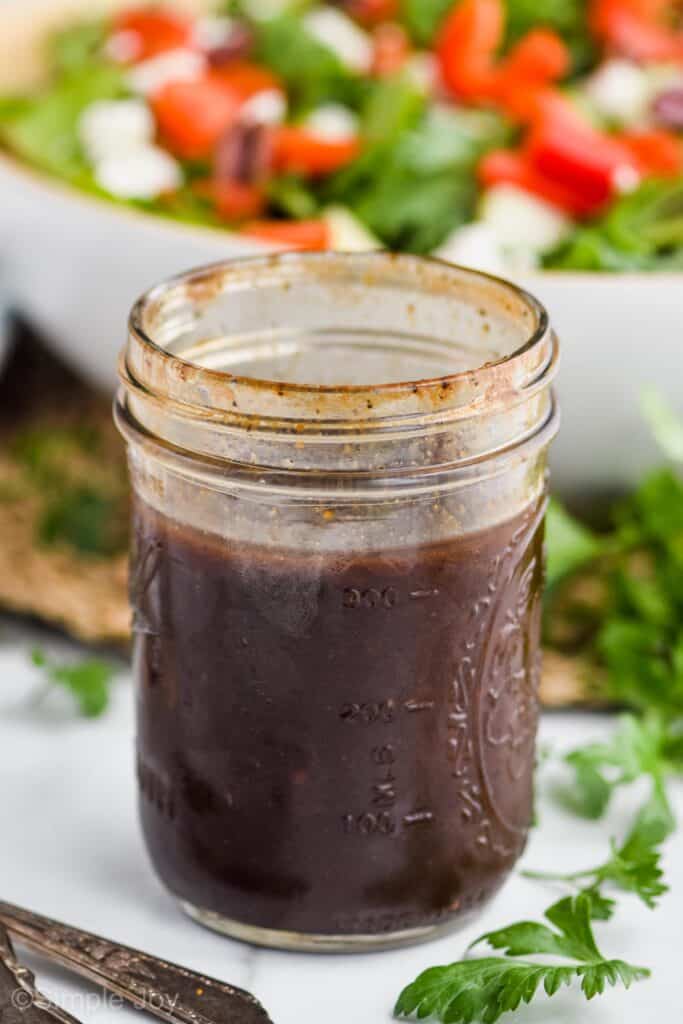 Balsamic Vinegar Dressing is my absolute favorite! It goes so perfectly on so many different salads. You will love this easy balsamic dressing recipe made with only 5 ingredients. It is full of flavor and can even be used as a marinade!
Reader Review
Thank you for sharing all your tips on your salad dressings! I have tried the Ranch and the Balsamic Vinaigrette and my husband and I are 'raving' over these TASTY recipes! Thanks again!
What is Balsamic Vinegar
The difference between balsamic vinegar and regular vinegar is what they are made out of. Balsamic vinegar is made from unfermented grape juice and isn't made with fermented alcohol. It's known for its distinct bold and tart flavor, making it the perfect addition to your favorite salad.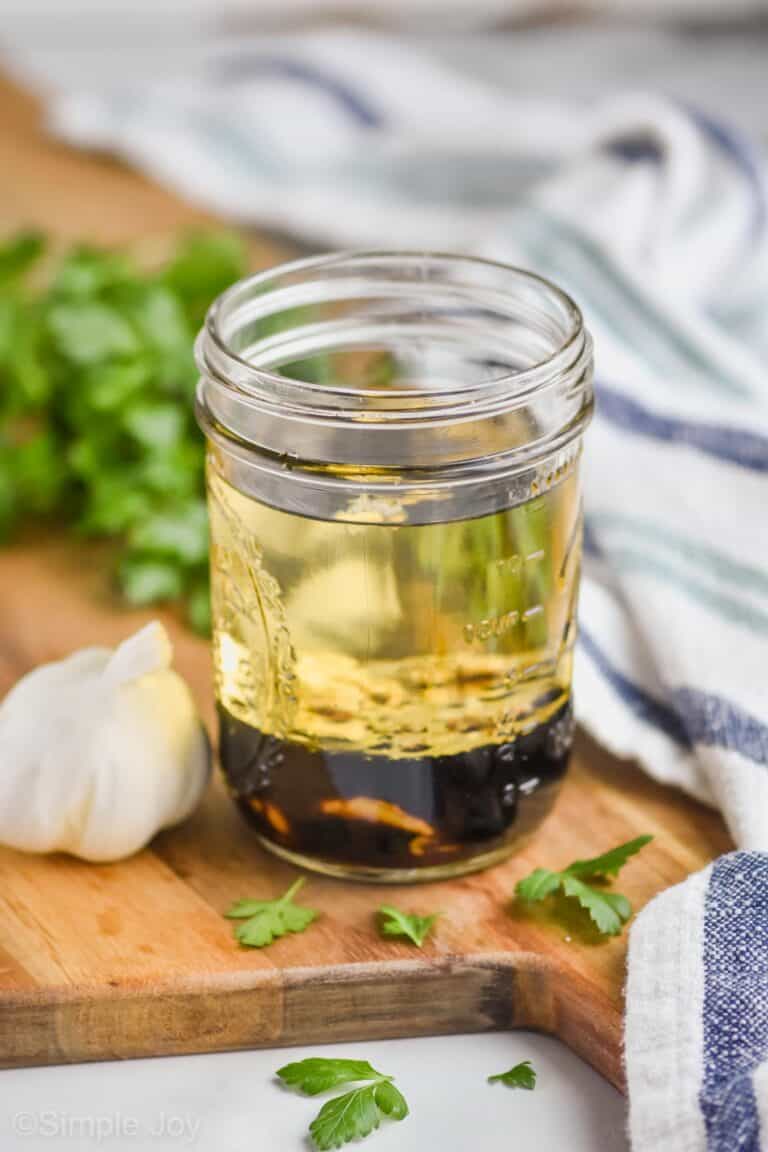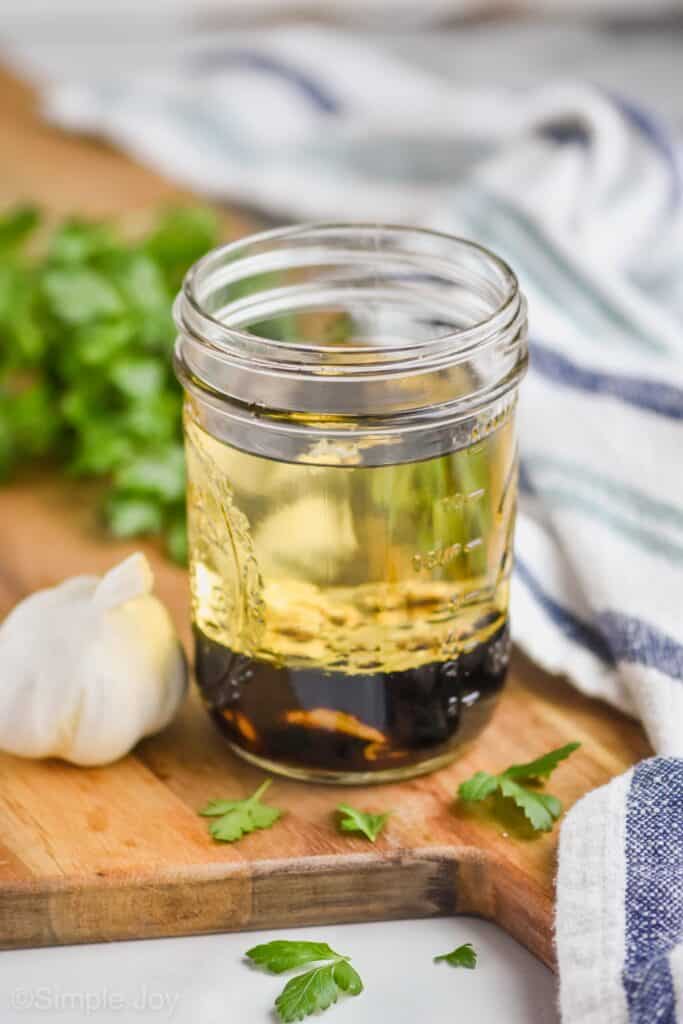 Balsamic Vinaigrette Ingredients
Homemade Salad Dressings often sound tricky, but truthfully, they are usually just a few ingredients. This balsamic vinaigrette is no different! Homemade balsamic vinegar dressing has only five ingredients and you probably already have most of them.
Extra Virgin Olive Oil: Make sure that you use quality olive oil when you are making salad dressings as it is the bulk of the dressing.
Balsamic Vinegar: The dark, rich, concentrated vinegar is so flavorful and blends perfectly with the olive oil to create a decadent dressing.
Honey Mustard: This gives a nice subtle sweetness to the dressing recipe. If you don't have it on hand you can use brown mustard or yellow mustard and add 1/4 teaspoon more sugar or a little honey.
Garlic Cloves: Make sure to get this as finely minced as possible. To do this, you could use a lemon zester.
Sugar: Just like a little salt enhances a recipe, the tiny bit of sugar in this recipe really balances the rich flavor of the balsamic vinegar.
Salt & Pepper: Finally, the salt and pepper in this recipe pull all of the other flavors together.
Mayonnaise: The emulsifier for the oil and vinegar, adding a little mayonnaise helps to prevent the dressing from separating. Read more on this below.
How to Make Balsamic Dressing
This balsamic dressing recipe is as simple as combining all the ingredients and shaking or whisking to mix them together. For the full recipe including all of the measurements, scroll to the recipe card at the bottom of the page.
Whisk together the balsamic vinegar and mayonnaise. Read more on this below.
Add the other ingredients. You can do this in a mason jar with a lid or in a bowl.
Mix well. If you make this dressing in a mason jar, give it a good shake until all ingredients are combined and mixed. I think it works really well to whisk the ingredients together in a bowl to make sure the mustard incorporates all the way and the salt and the pepper dissolve.
Refrigerate overnight. See why this step is important below.
Prevent Dressing From Separating
If you never make your own salad dressing because you can't stand how it separates, here is a great tip for you.
Mix a small amount of mayonnaise with the vinegar. The mayonnaise works as an emulsifier. Emulsifying is a fun chemistry trick and the emulsifier works to bind the two parts (in this case oil and vinegar) together.
The mayonnaise isn't required, but will hold the dressing together without changing the taste. It will even keep it from solidifying in the refrigerator.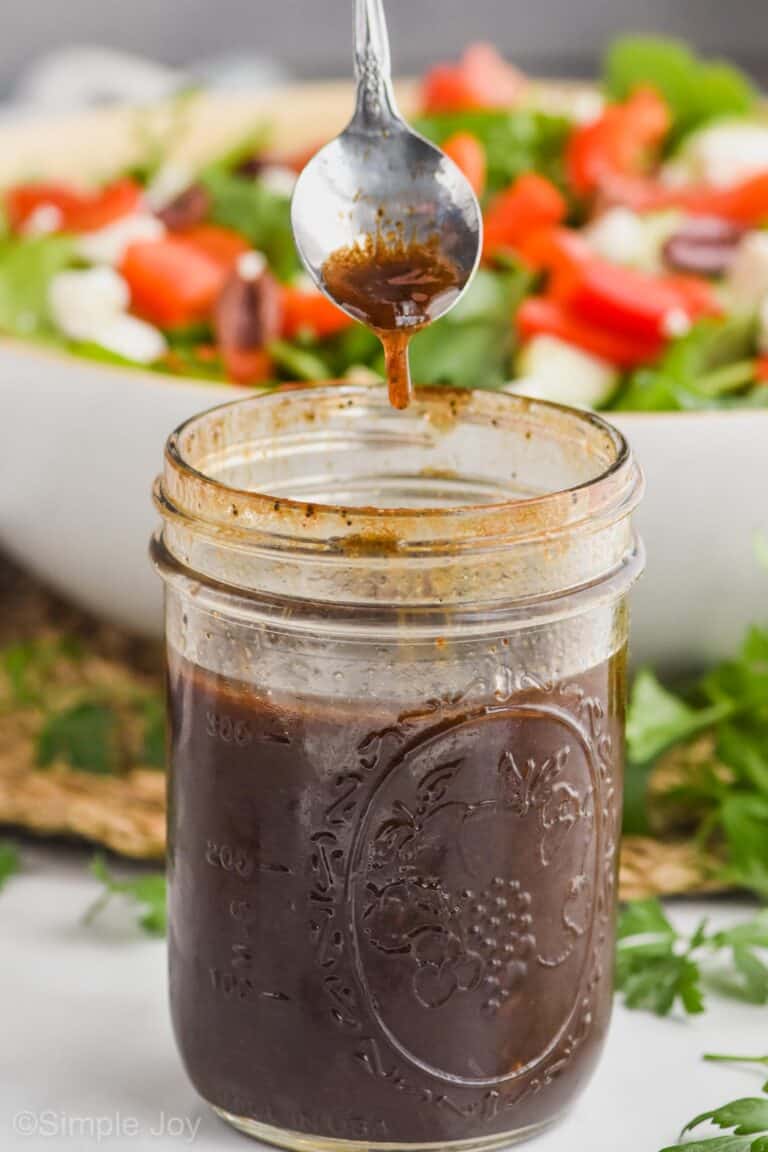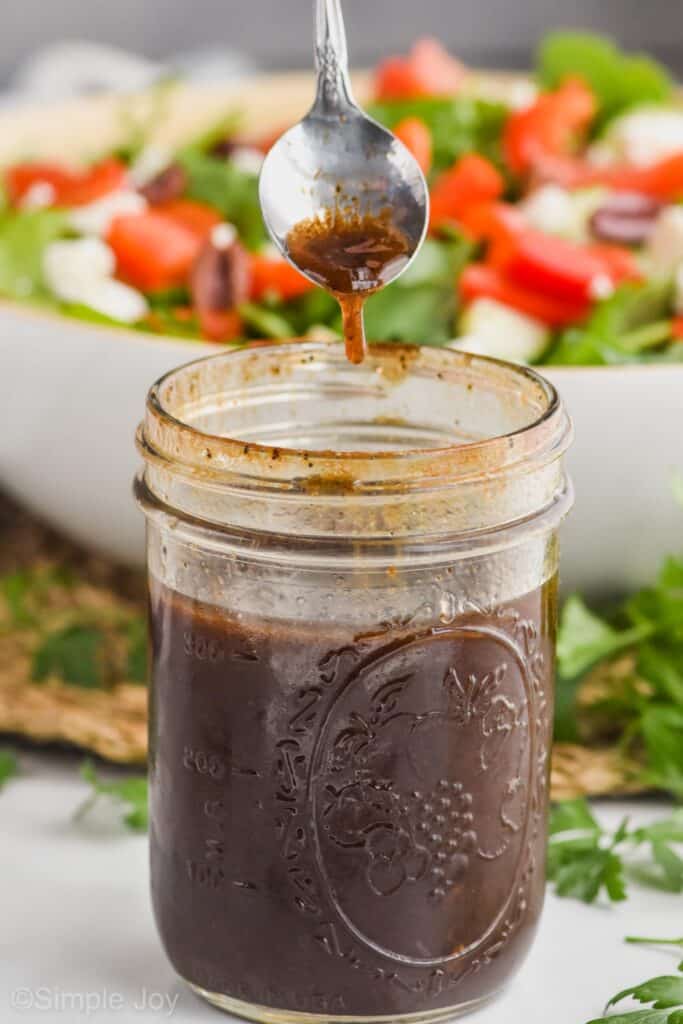 Olive Oil For Balsamic Vinegar Dressing
The base of this balsamic vinaigrette recipe is olive oil and it is very important that a good quality oil is used. When I'm sautéing vegetables for a recipe I like to use olive oil. For dressing recipes, you want to use extra virgin olive oil.
Extra virgin olive oil is less processed and more pure than regular olive oil. It is better for you and also has a better taste, making it perfect for a salad dressing. When it comes to cooking, regular olive oil is a better option because it has a higher smoke point and won't burn as easily.
FAQ
Can I use a different oil than olive oil?
This recipe has only been tested with olive oil, but you could try to swap it out for a different oil that is similar in consistency to olive oil such as vegetable oil or sunflower oil. It will lead to a different taste though.
Can I leave out the sugar?
The amount of sugar added to this recipe is very small and does really help to balance the flavors and acidity of the vinegar. You can however leave it out or instead add a little honey.
Is balsamic dressing gluten free?
Yes, this salad dressing is gluten free. As with all recipes, make sure to check the specific ingredients you are using if you are serving someone with a gluten allergy.
Letting Homemade Salad Dressing Rest
This salad dressing can be enjoyed right away, however letting it sit in the refrigerator overnight to rest helps the flavors of the ingredients to marinate and combine which makes the flavor of the dressing even better.
Making the Perfect Salad for Balsamic Vinaigrette Dressing
This salad dressing goes well with so many different ingredients, but these are my typical favorites:
Mixed greens: You could use kale, arugula, baby spinach, butterhead lettuce, leaf lettuce, romaine, or any kind you like.
Feta Cheese: Feta is perfect for salads because while mild, it also has a tangy, slightly salty flavor that gives the salad a little bulk without weighing down the other ingredients. Other great cheese options are goat cheese, mozzarella, or shaved parmesan.
Red onion: Onions help pull out the sweetness in salads. Red onions, scallions and shallots all can do this. If you want to make the onion milder, soak it in the balsamic vinegar dressing before adding it.
Kalamata Olives: These gorgeous, dark purple olives have a meaty texture that tastes so delicious in this Greek style salad. You can use regular black olives or green olives too.
Cucumbers: I really love using the seedless variety, but you can use any kind you like.
Other great ideas include tomatoes, red peppers, avocado, artichoke hearts, and some protein like chickpeas, chicken, or steak.
Italian Chopped Salad
This Italian Chopped Salad is the perfect easy dinner recipe. Full of amazing flavors and filling, everyone will fall in love with this great salad recipe. Serve it for a light dinner, or use it as a great side dish.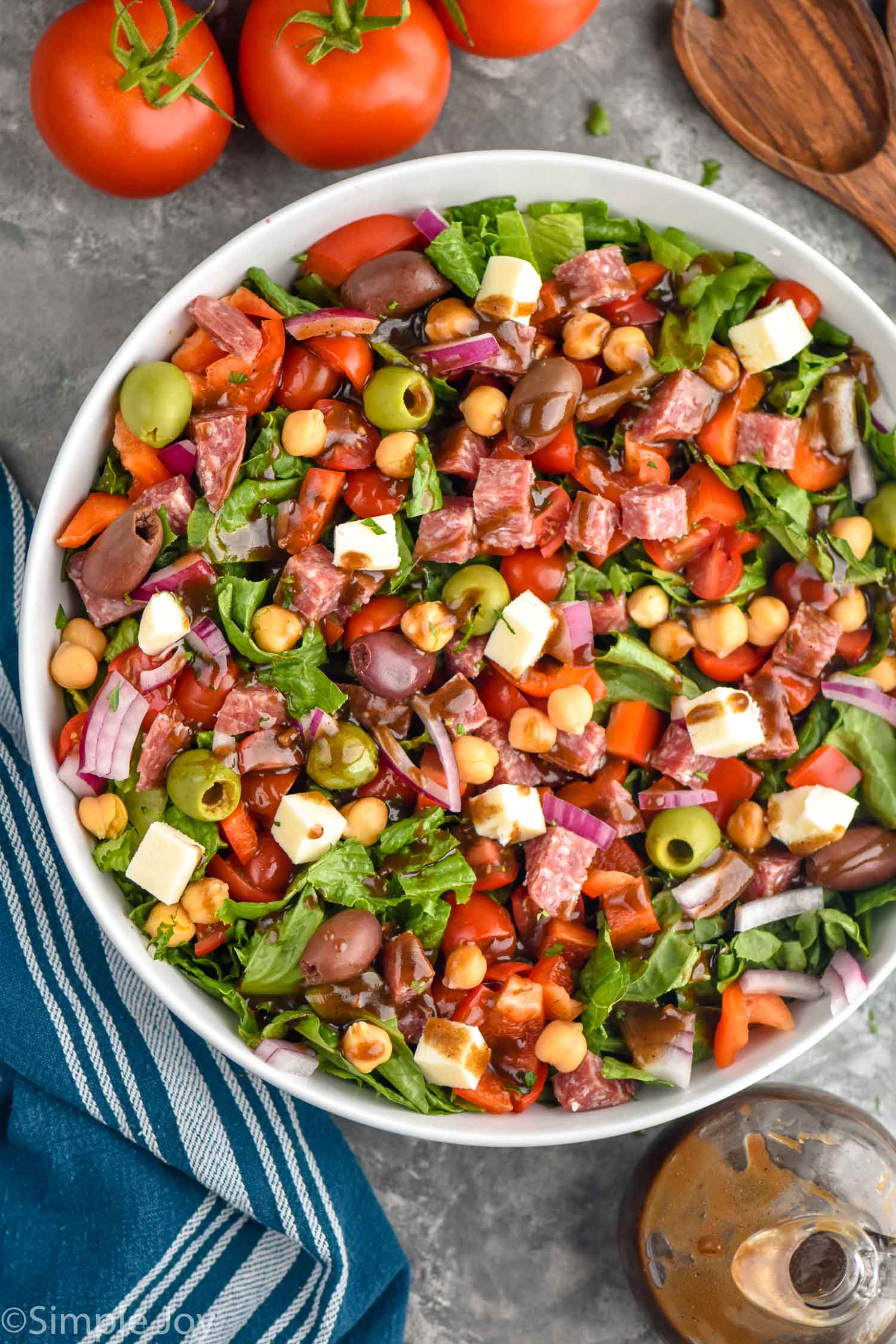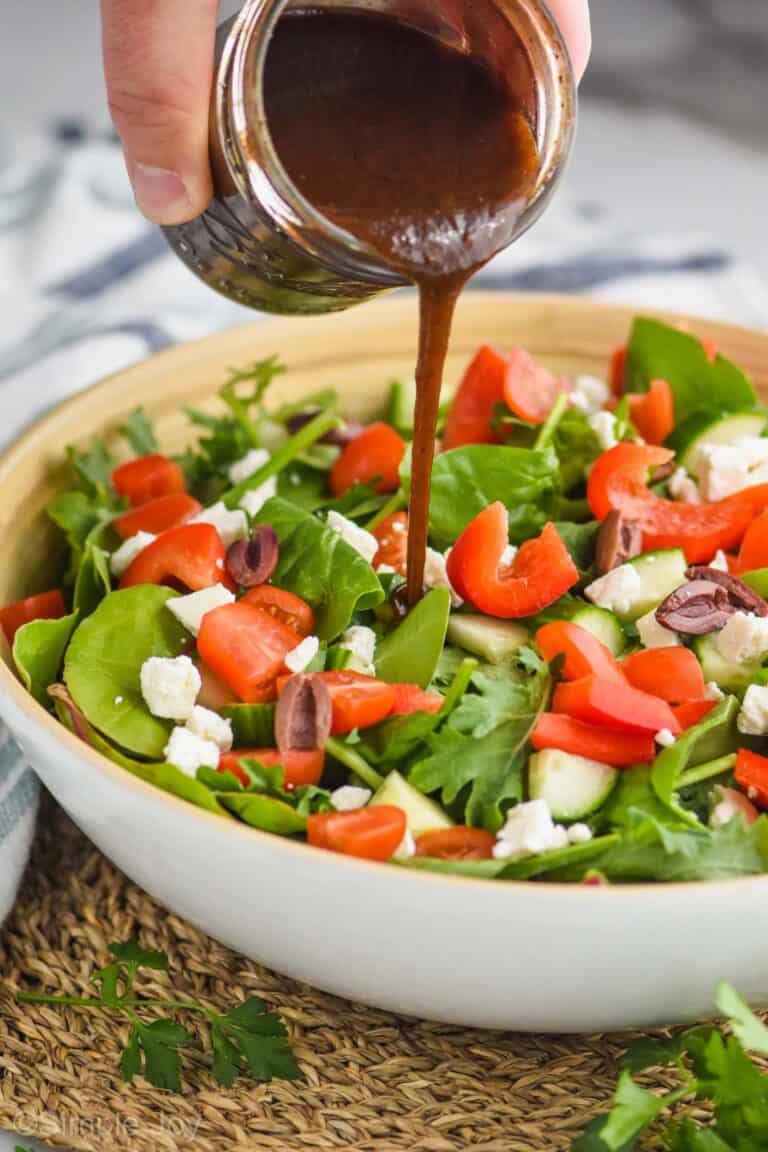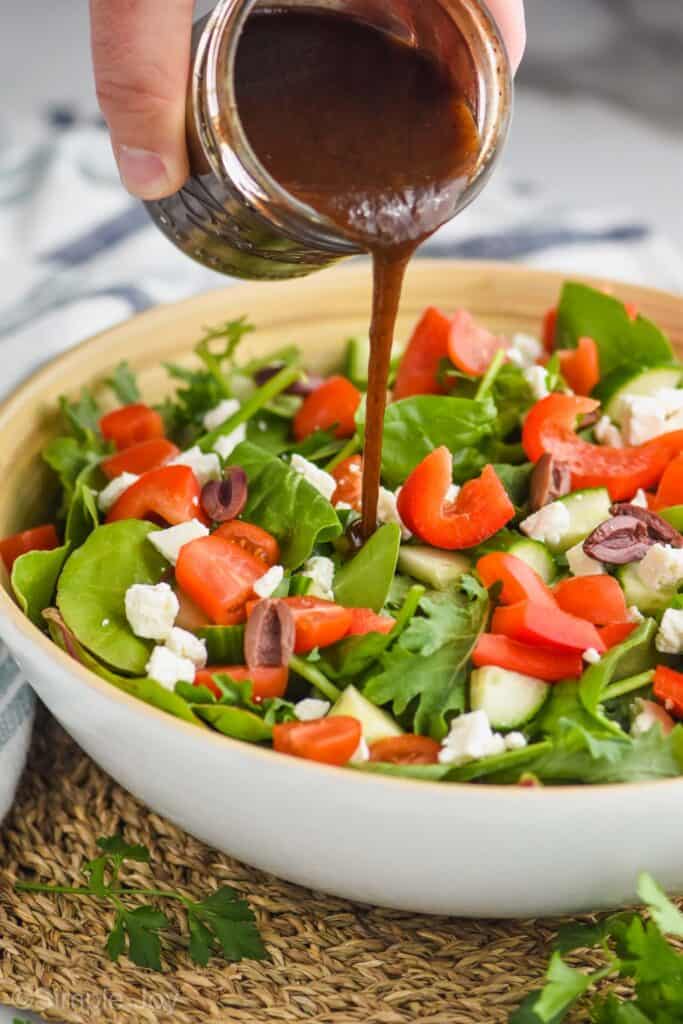 Using Balsamic Dressing as a Marinade
Take your salad over the top by doubling the recipe for this balsamic dressing and marinating your steak in the excess for two hours before grilling it. You could also do this with chicken. Make sure to discard the dressing used as marinade since it has been contaminated with raw meat.
How to Store Balsamic Dressing
This dressing can be stored in an airtight container like a mason jar for up to two weeks. Keep it and all homemade salad dressings in the refrigerator, even if you don't use mayonnaise. Give it a good shake before you add it to your salads.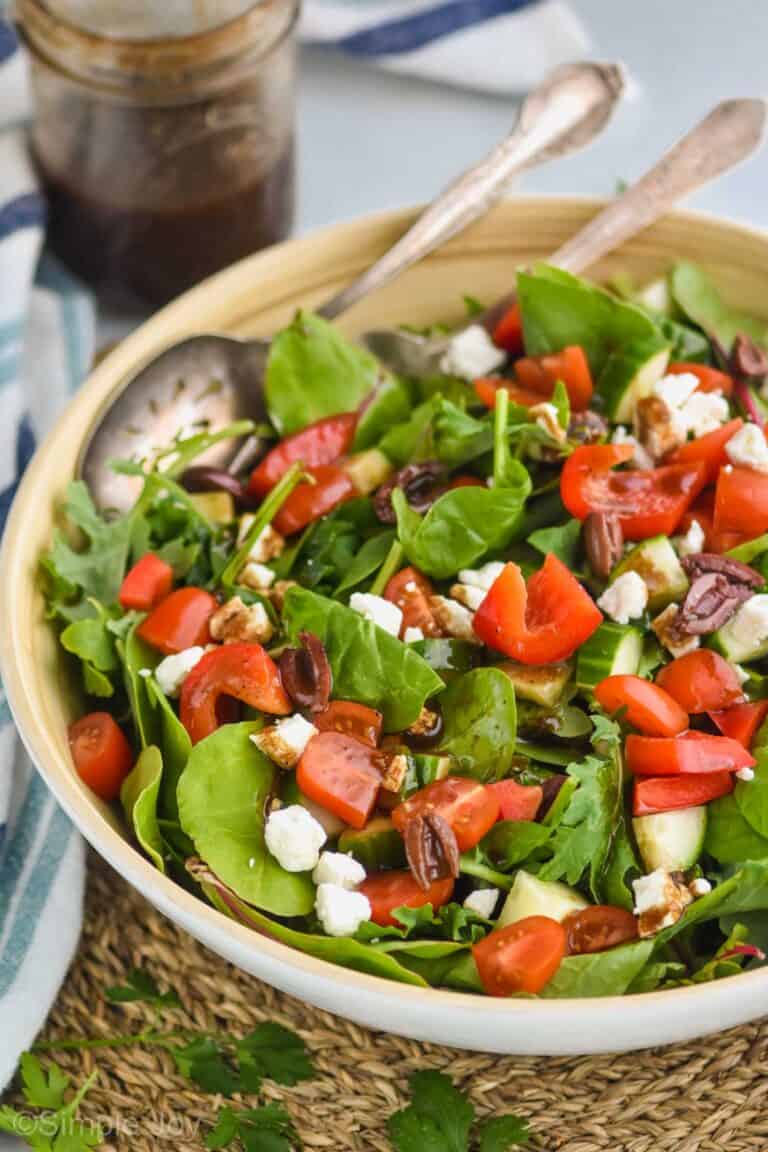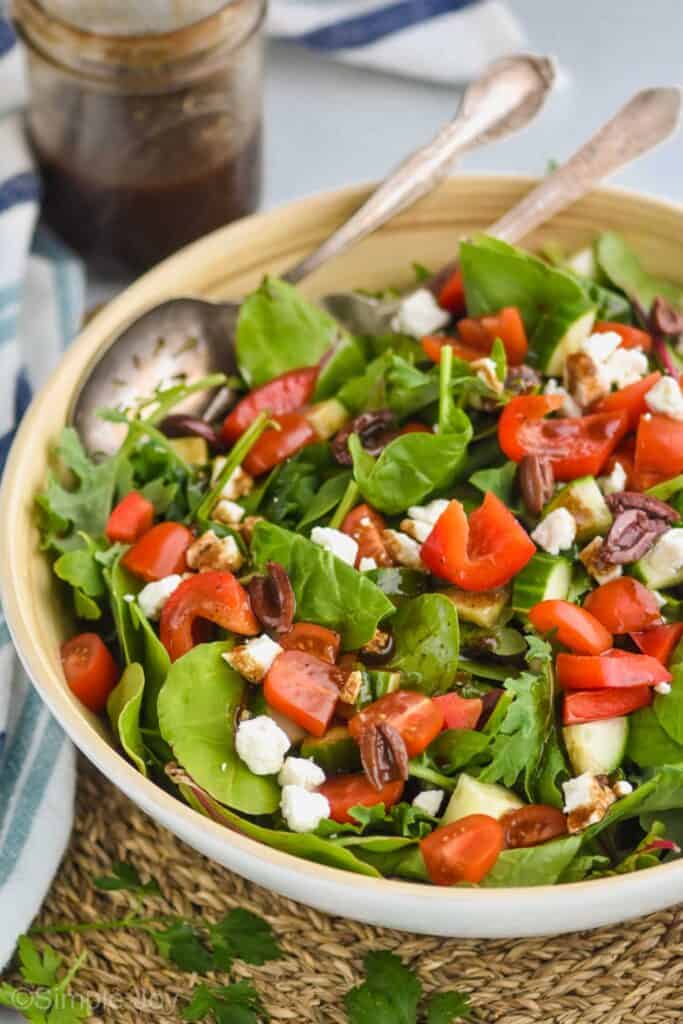 More Homemade Salad Dressing Recipes
Once you start making your own dressings, I promise you'll never reach for a bottle of the store bought stuff again! They're so easy and delicious. Here are a few of my favorites:
I hope you enjoy this fresh, zesty, and slightly sweet balsamic dressing. Try it on grilled chicken, veggie kabobs, or a simple salad!
Let me know what you think of this recipe by leaving me a comment below. I love hearing from you! Enjoy!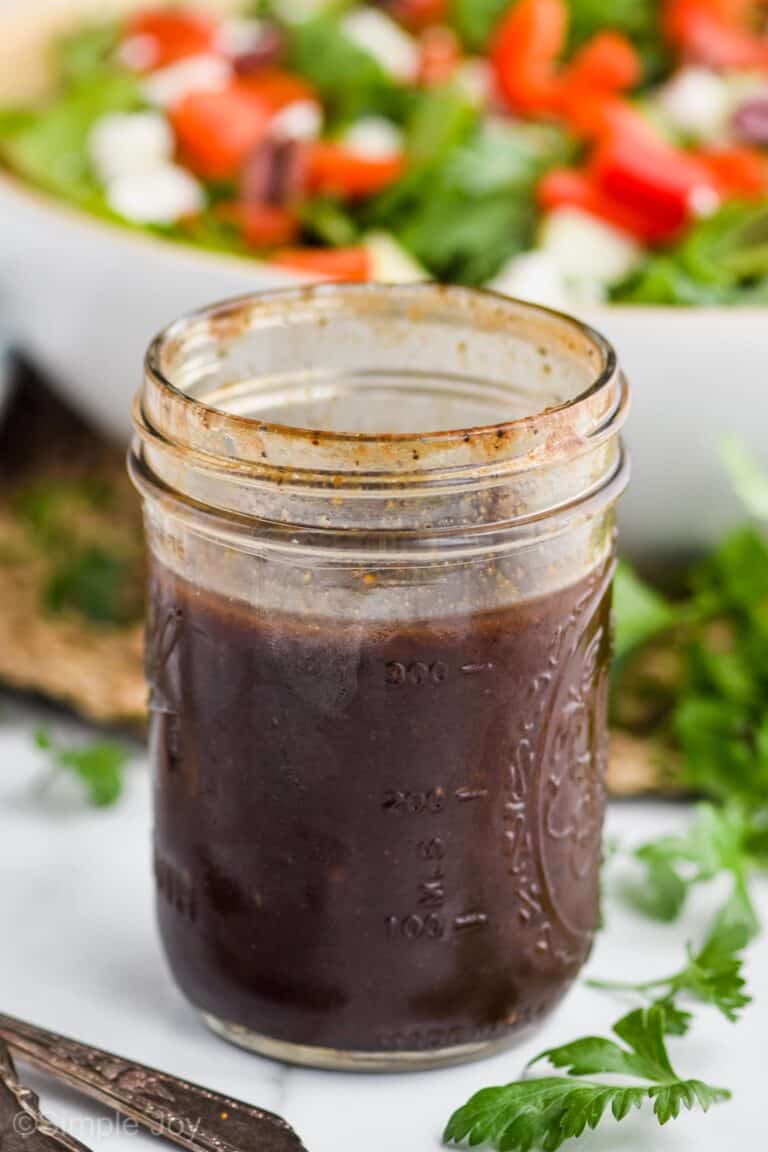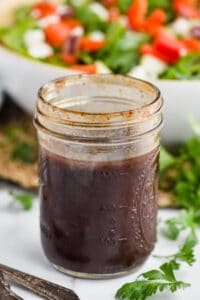 Balsamic Dressing
This Balsamic Dressing is a simple and easy recipe that anyone can make at home! Slightly sweet and deliciously tangy, you will fall in love with this recipe.
Instructions
Whisk together the balsamic vinegar and the mayonnaise.

1/3 cup balsamic vinegar,

1 teaspoon mayonnaise

Add in the other ingredients and shake or whisk well. For best results, let the dressing sit overnight. (Read more about this here.)

1 cup extra virgin olive oil,

2 tablespoons honey mustard,

2 garlic cloves,

1 teaspoon sugar,

2 teaspoons kosher salt,

1/2 teaspoon black pepper

Use on salads or as a marinade. Store in the refrigerator for up to two weeks.
Serving:
2
tablespoons
Calories:
170
kcal
(9%)
Carbohydrates:
3
g
(1%)
Fat:
18
g
(28%)
Saturated Fat:
2
g
(13%)
Polyunsaturated Fat:
9
g
Monounsaturated Fat:
7
g
Cholesterol:
1
mg
Sodium:
423
mg
(18%)
Potassium:
2
mg
Sugar:
2
g
(2%)
Vitamin C:
1
mg
(1%)
Calcium:
1
mg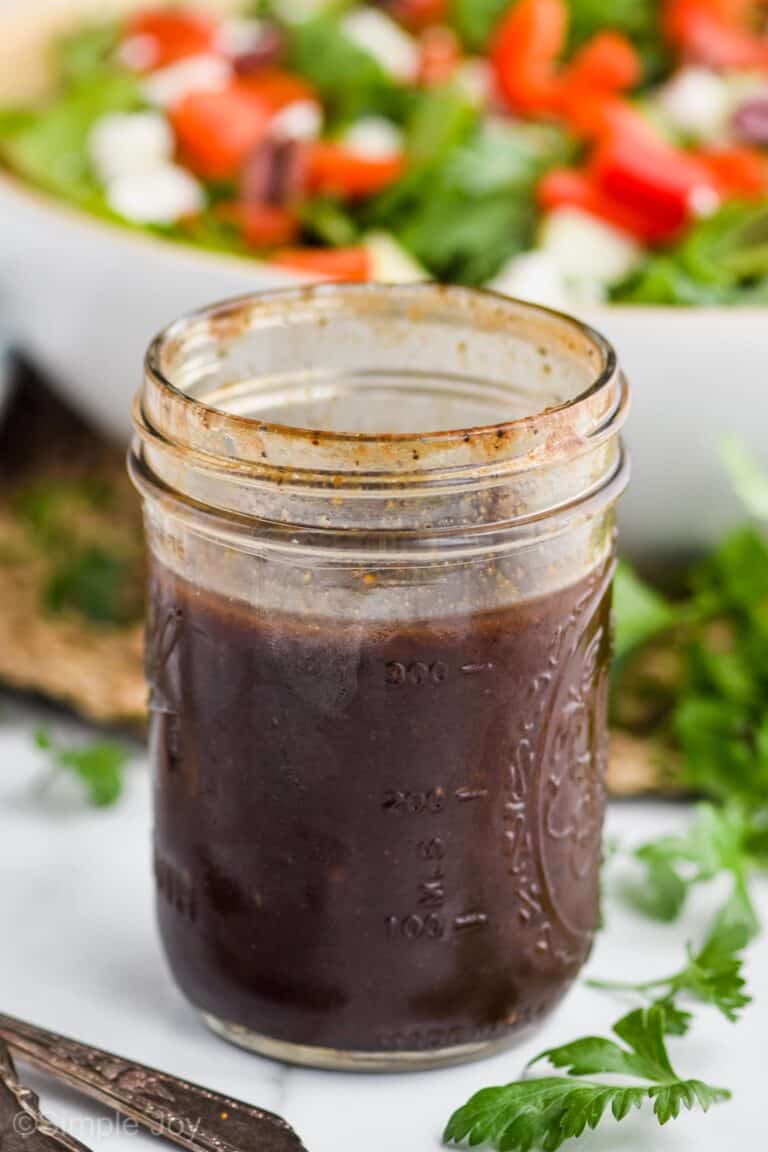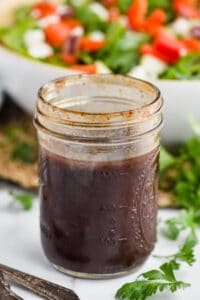 did you make this
Balsamic Dressing