Spinach and Artichoke Dip is the perfect appetizer. Made with simple ingredients, this great snack comes together quickly and is always a hit!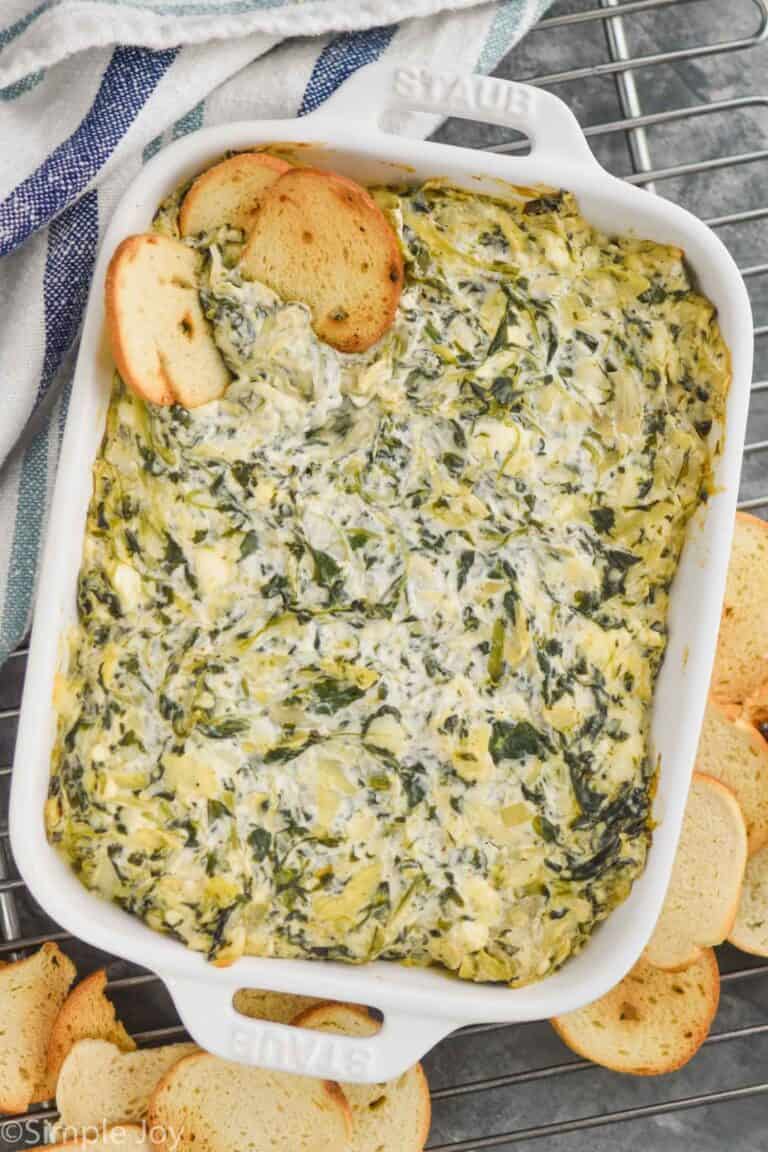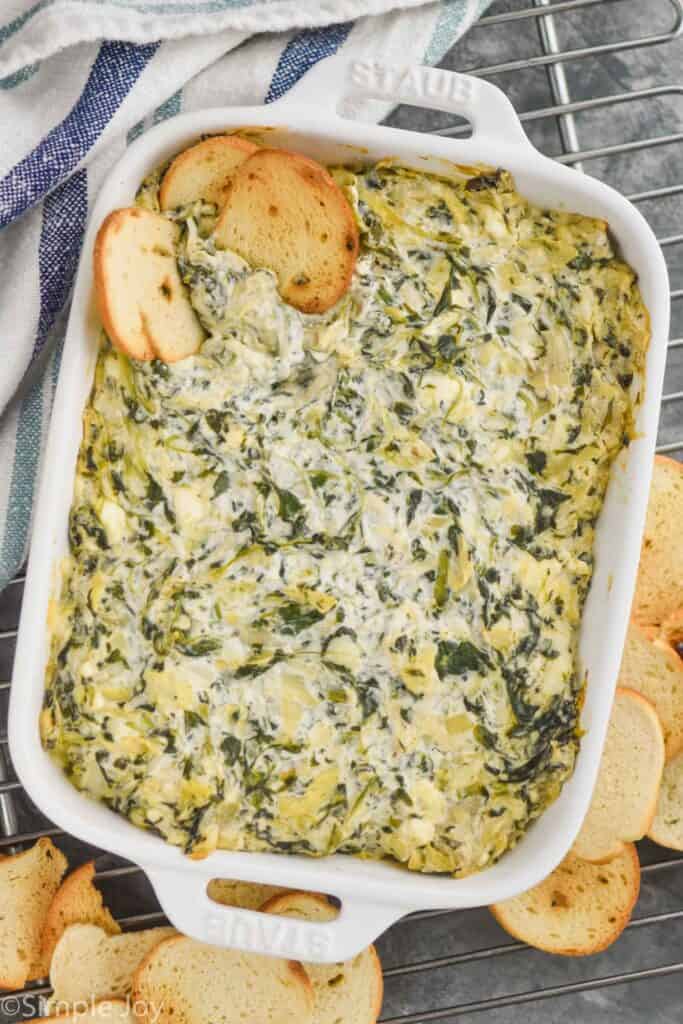 One of the hardest parts about this year has been the lack of gatherings. And if I am truly honest with you, a big part of the reason that is hard is the food!
Of course I love spending time with my people, and I miss that deep in my soul, but I also really miss cooking for them! There is something so wonderful about preparing food for people you love. This is perhaps even more true when it is fun party food, like this Spinach Artichoke Dip.
How to Make Spinach Artichoke Dip
Hot spinach artichoke dip is simple and easy to make. It is really just a matter of mixing together a few ingredients and baking it.
In a medium mixing bowl, mix together the sour cream, mayonnaise, and cream cheese. This is easiest with a hand held mixer.
Stir in the cheese, spinach, artichokes, and seasonings.
Taste and add more salt and pepper if needed.
Transfer to a casserole dish, bake, and enjoy!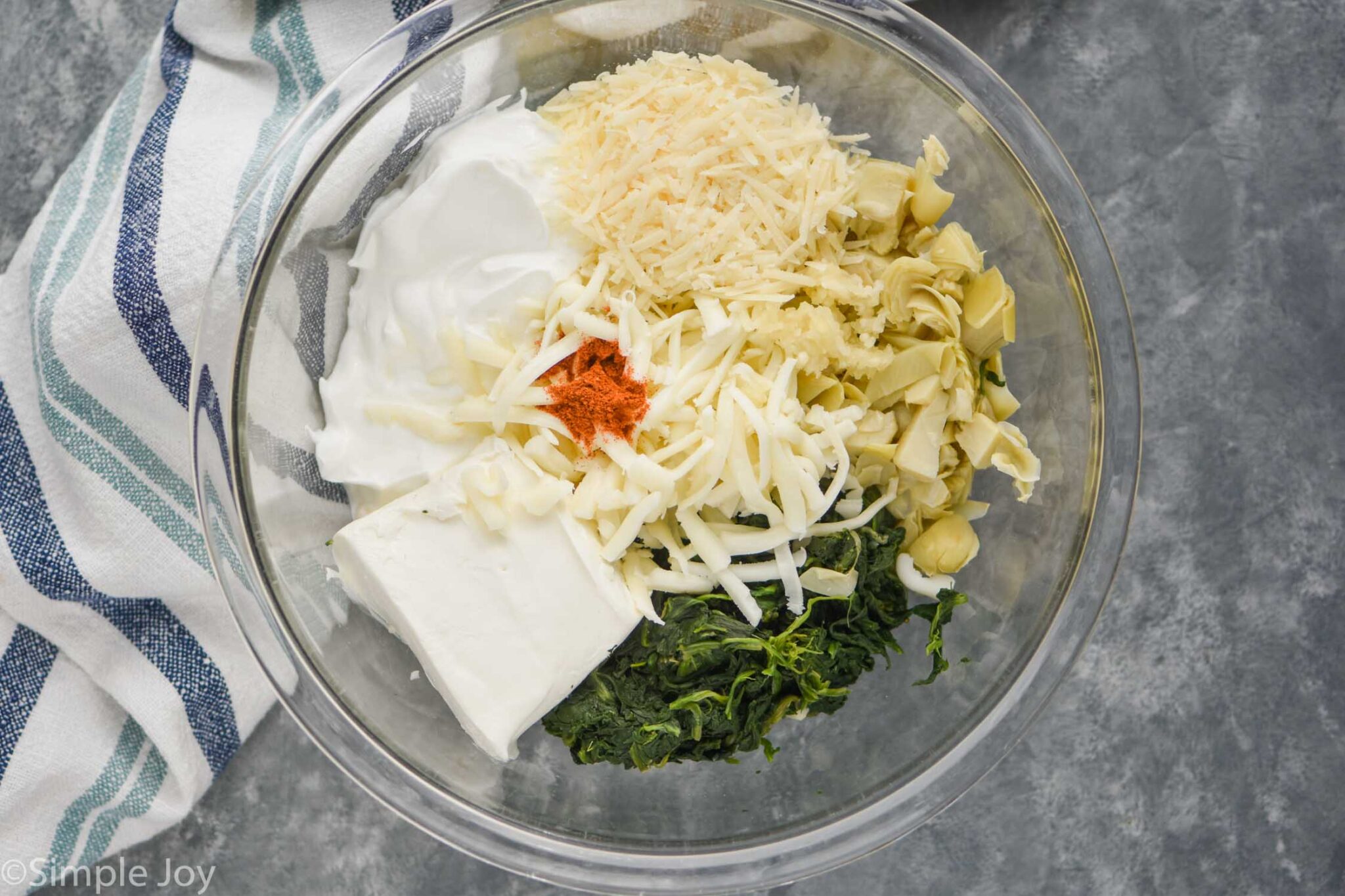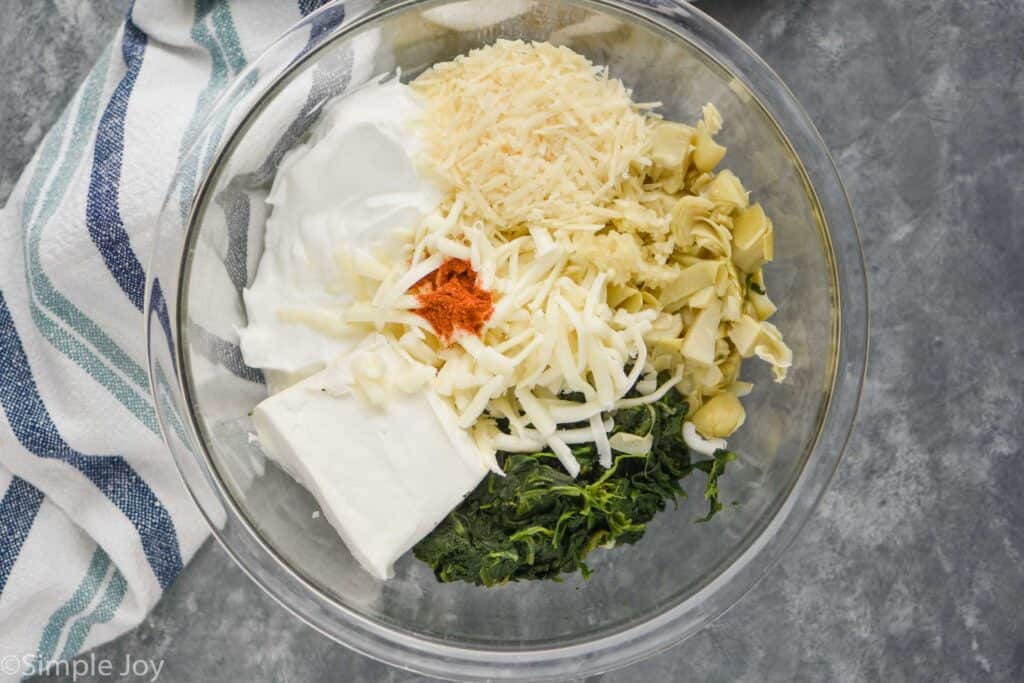 Grating Your Own Cheese
I'm going to climb back up on my cheese block soap box and urge you to buy a block of cheese for this recipe. With recipes as simple and easy as this, you want to make sure to shred your own cheese.
Buying pre shredded cheese is definitely a short cut you can take. However, in doing so you will sacrifice both taste and texture. When cheese is a big flavor in a recipe (or just always) it is worth it to take the time to shred your own.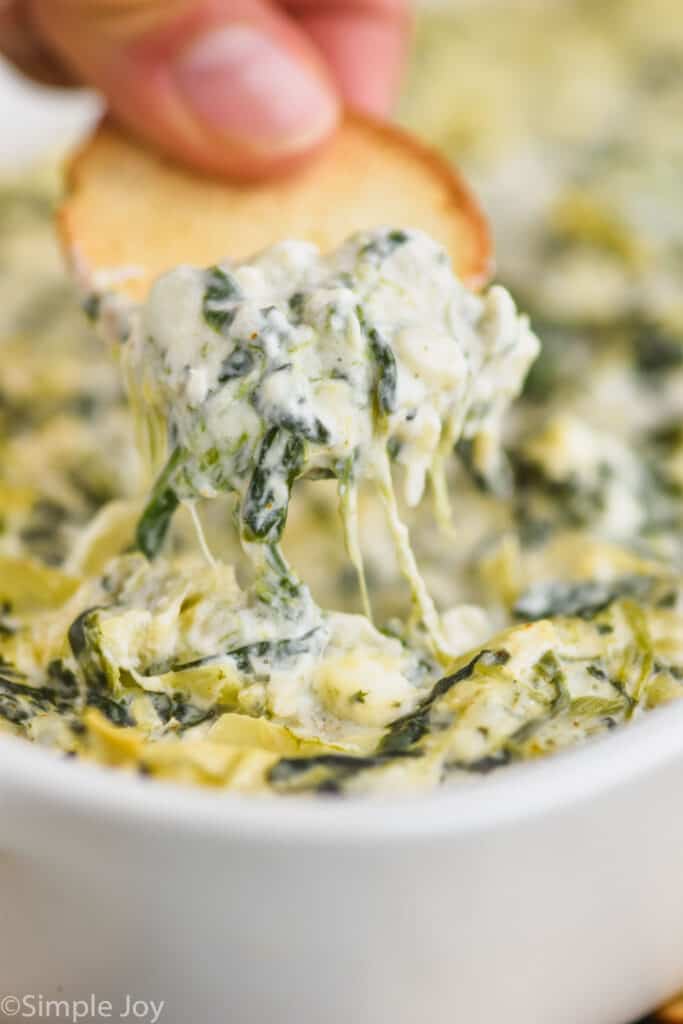 What Artichokes To Buy
Artichokes are sold several different ways: whole and raw, canned, marinated, and frozen. For this easy spinach artichoke dip, I really like using canned quartered artichoke hearts. It is simpler than cooking whole artichokes.
I would urge you to do a few extra steps with your artichoke hearts.
Make sure to remove any tough pieces. Sometimes the canned artichokes have harder leaves still on them.
Give them a rough chop.
Squeeze them to draw out any extra liquid.
How to Thaw Frozen Spinach
I really love using thawed spinach in this recipe. It is a great way to get that spinach texture and taste while always having the ingredient on hand. Your best bet is to follow the thawing instructions on the package, but here are some extra tips.
Cover the spinach as you thaw it in the microwave.
Half way through thawing, mix it, and create a hole in the middle. This will allow it to thaw evenly.
Allow the spinach to cool a little. Then using a sieve or a cloth towel, squeeze out all the remaining liquid in the spinach.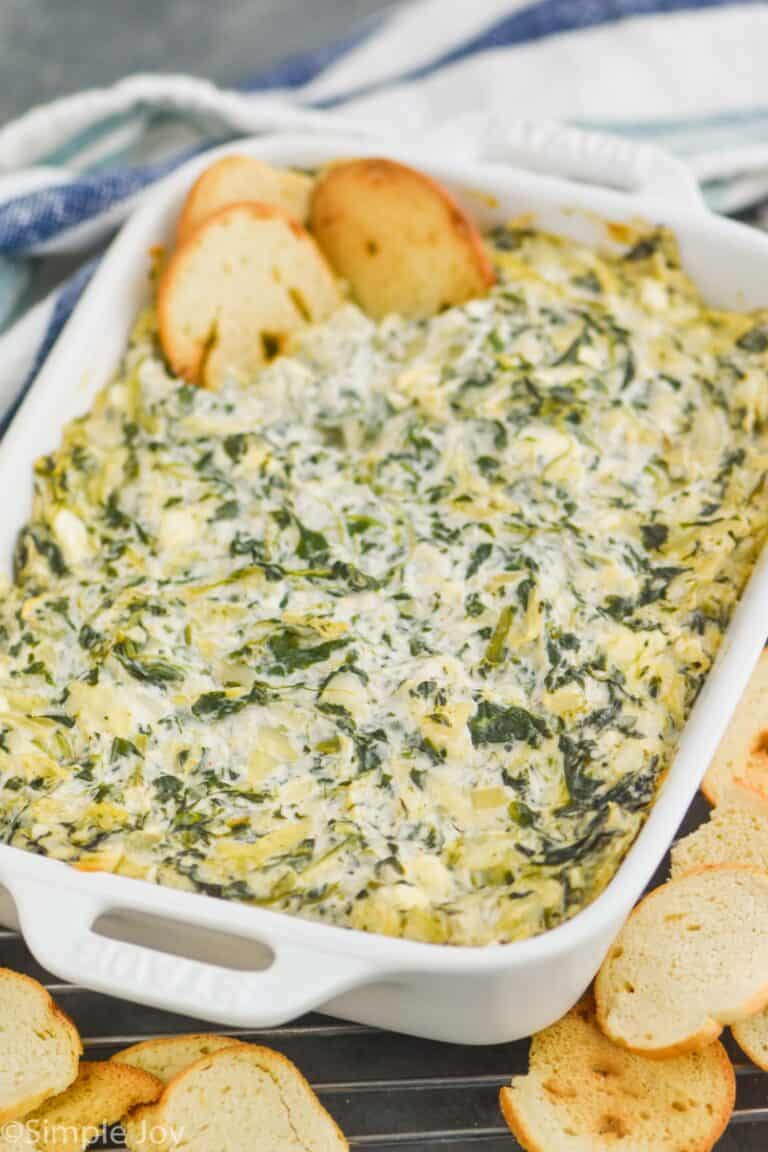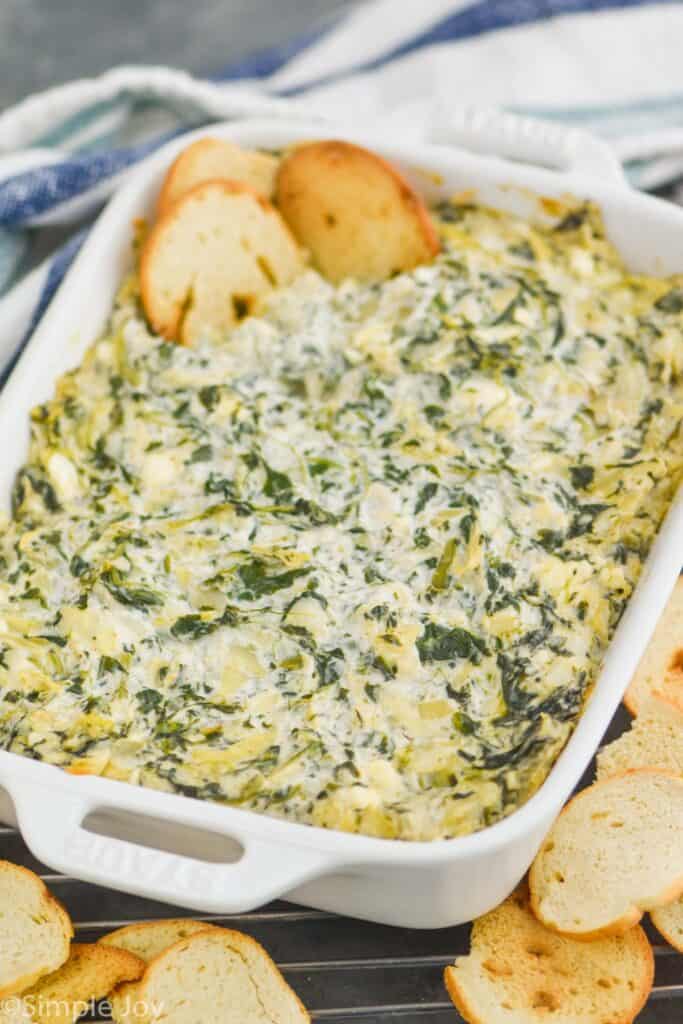 Using Fresh Spinach
If you would like to use fresh spinach in this recipe, go for it! You will need one pound of fresh spinach. You can find details on how to do this here.
Note on Salt and Pepper
This recipe uses a range for the salt and the pepper. I suggest that you add the low end of the range. Then taste the mixture and mix in more salt and pepper to taste.
Making this Recipe in a Slow Cooker
If you have a small slow cooker, this can be a crockpot spinach artichoke dip. Making it in the crockpot will keep your dip warm as your guests eat it.
Mix all the ingredients together, then add it to the slow cooker. Cook, stirring occasionally, until all the cheese is melted, approximately 3 to 40 minutes.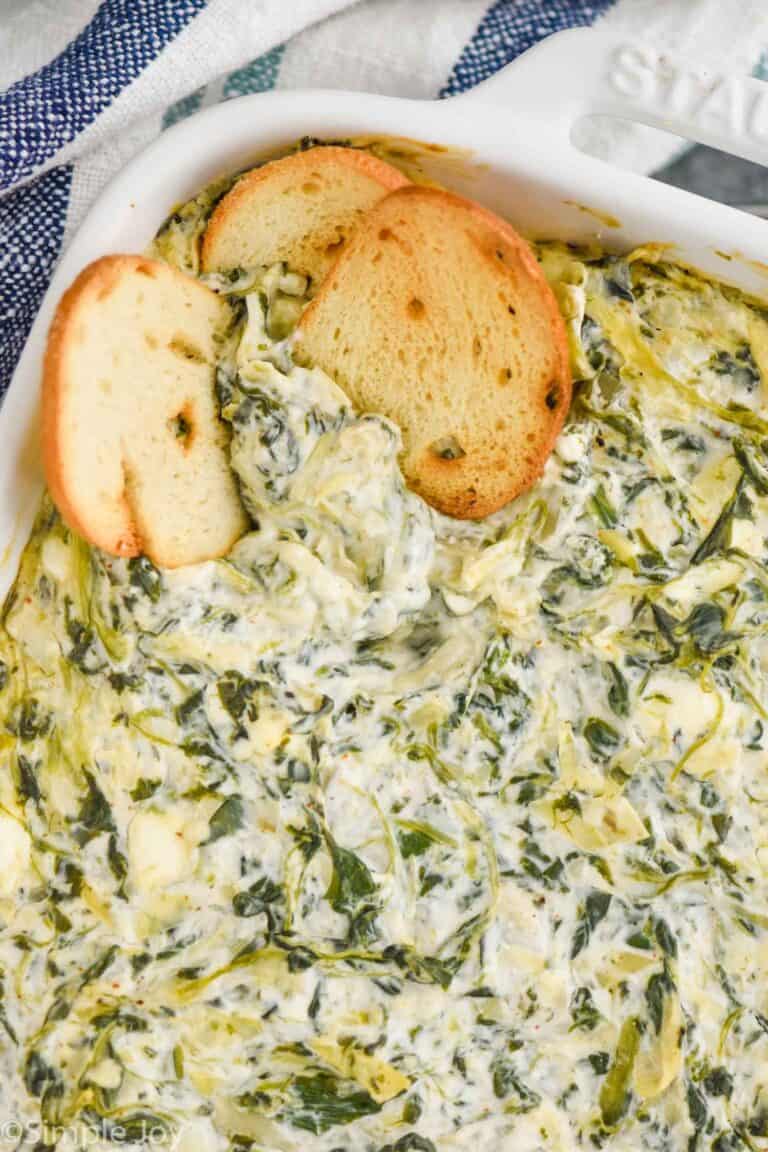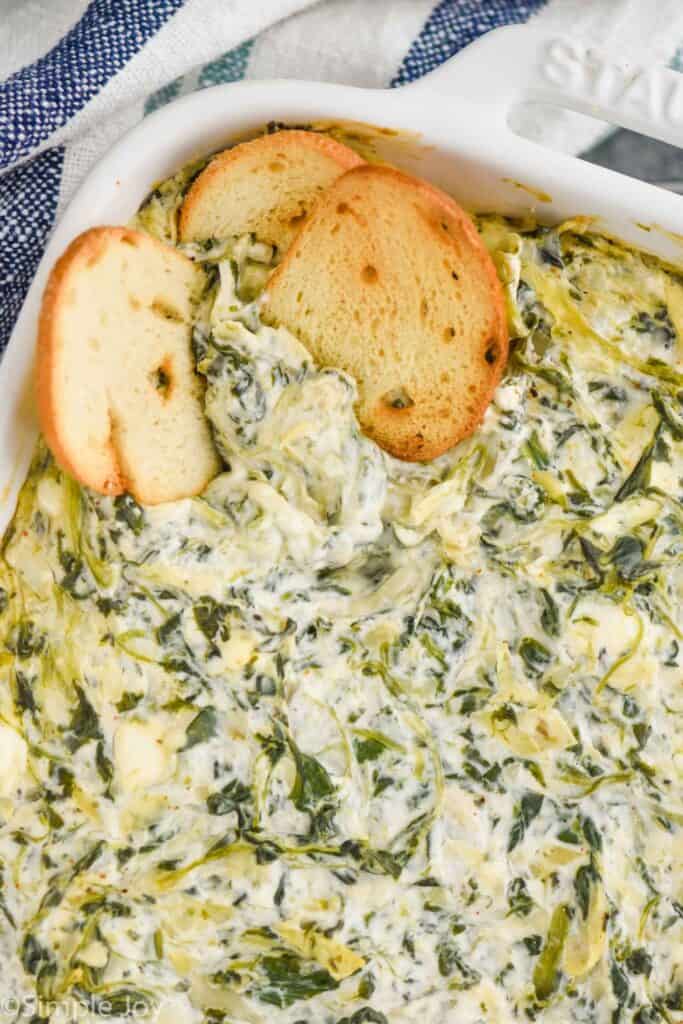 Other Great Hot Dips
If you are hosting a party and want other great dip options, check out some of these:
And if you want a similar recipe but as a cold dip, try my Spinach Dip.
If you make this Easy Spinach Artichoke Dip recipe or any of my other recipes please leave me a comment and let me know what you think!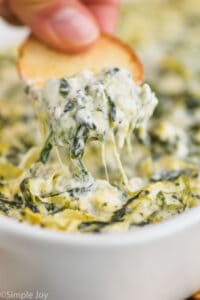 Spinach and Artichoke Dip
Spinach and Artichoke Dip is the perfect appetizer. Made with simple ingredients, this great snack comes together quickly and is always a hit!
Ingredients
14

ounces

artichoke hearts

drained and chopped

10

ounces

frozen chopped spinach

thawed and drained

1

cup

sour cream

1/4

cup

mayonnaise

4

ounces

cream cheese

softened

1/4

cup

Parmesan cheese

grated

1/2

cup

mozzarella cheese

grated

2

garlic cloves

minced

1/2

tablespoon

Worchestershire sauce

1/2 – 1

teaspoon

salt

1/8 – 1/4

teaspoon

black pepper

1/4

teaspoon

cayenne pepper
Instructions
Preheat the oven to 325 degrees.

Blend together the sour cream, mayonnase, and cream cheese. Mix in the artichokes, spinach, cheeses, Worchestershire sauce, garlic, salt, pepper, and cayenne pepper. Taste and add more salt and pepper to taste.

Pour them into a 2 cup casserole dish, and cover.

Bake for 25 to 30 minutes. Serve with bagel chips, pita chips, and vegetables.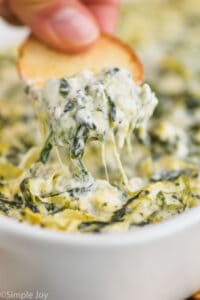 did you make this
Spinach and Artichoke Dip