This Stuffed Eggplant is an old family favorite. Tender eggplant and spicy sausage topped with homemade red sauce, this hearty dish is stuffed with flavor!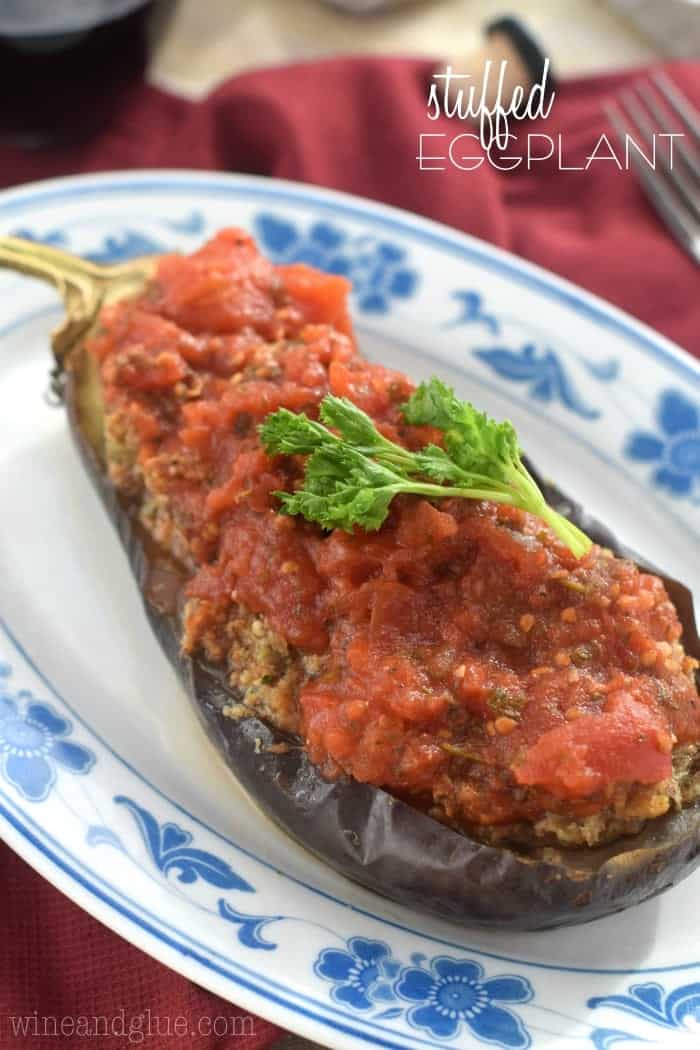 This Stuffed Eggplant recipe comes from my dear grandma, who passed away when I was eleven. That woman, if she put out a cookbook today, it would be a best seller!  There was only one problem with her cooking: she never wrote down her recipes!! My mom told me that she would chase my grandma around the kitchen, trying to write down what she was doing. "How much salt was that??" my mom would ask. "I don't know, a dash!" my grandma would respond. So in a way, all this amazing cooking was sort of lost.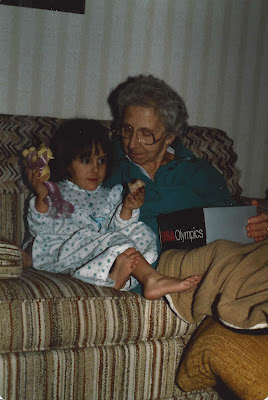 So this Stuffed Eggplant recipe is loosely based on how she made it. But you'll love it just the same. Lots of spicy sausage stuffed into tender eggplant, smothered with her famous homemade sauce and topped with cheese, it's a savory and filling meal that everyone will love! Even if you don't think you're an eggplant fan, you will like this!
Do you eat eggplant? I can't wait for you to try this recipe. Please leave me a comment below and let me know how you like to prepare it.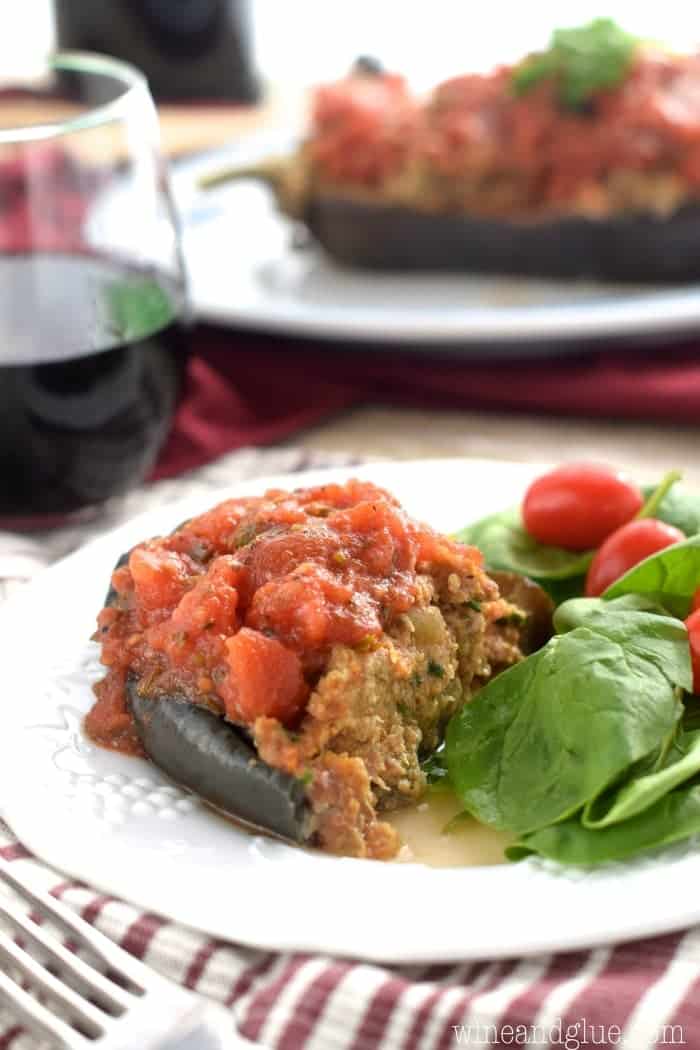 WHAT DOES EGGPLANT TASTE LIKE?
I love eggplant, I really do. But I understand how it can be intimidating to eat and cook with. Eggplant tastes sort of like zucchini, mild and somewhat bland until you pair it with other ingredients. It's not the kind of thing you'd eat raw because it can taste a bit bitter with a spongy texture. Once cooked though, the taste becomes more mild. Eggplant is super good for you, though! High in fiber, low in calories, it can be used as a substitute for meat or pasta.
HOW TO COOK EGGPLANT
There are several ways to cook eggplant: you can boil, grill, sautee or broil it. I'm going to show you how it works best for this stuffed eggplant recipe:
Start by cutting an eggplant in half, and gutting it.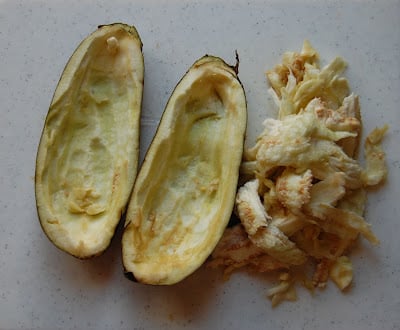 Blanch the eggplant for about four minutes in boiling water.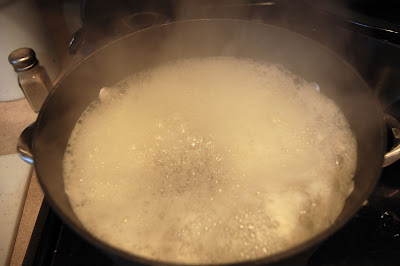 Drain, chop the innards, and combine them with meat, egg, and breadcrumbs.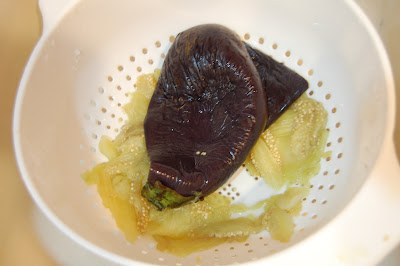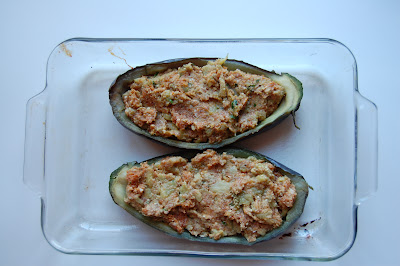 While the eggplant is baking, make some sauce. Of course you could top this with jarred sauce, but the homemade sauce is super easy and I feel like it is what really makes it taste like lunch at grandmas.
Take the eggplant out of the oven, top with the sauce and put it all back in the oven for 10 minutes.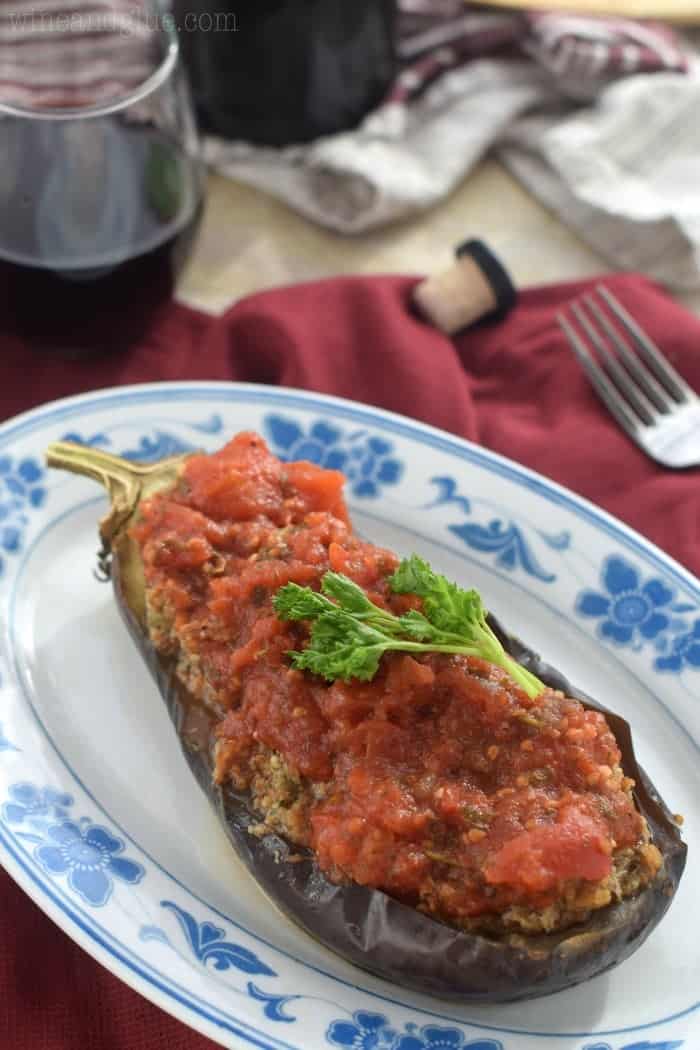 MORE EGGPLANT RECIPES
Once you start cooking with eggplant, you'll find there are so many delicious recipes to choose from! Try some of my very favorite ways to prepare eggplant. You won't believe how flavorful and simple these are to make!
Pair this stuffed eggplant with a simple green salad and some pasta and you have an absolutely delicious lunch or dinner. I can't wait to hear what you think of this recipe. Please leave a comment below and enjoy my grandma's stuffed eggplant recipe!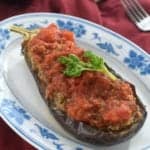 Print Recipe
Stuffed Eggplant
This Stuffed Eggplant is an old family favorite. Tender eggplant and spicy sausage topped with homemade red sauce, this hearty dish is stuffed with flavor!


Ingredients
2

eggplants

1

cup

bread crumbs

1

lb.

spicy Italian turkey sausage - casings removed

the original recipe calls for ground beef, I used Jennie-O Spicy Italian Sausages

2

eggs

2

tsp

chopped fresh parsley

1/2

tsp

black pepper

1

tsp

salt

1/4

tsp

garlic salt

For the Sauce

1

lb.

can

28 oz peeled whole tomatoes

1

clove

garlic finely chopped

2

TBS

chopped fresh parsley

2

TBS

olive oil

1/2

tsp

dried sweet basil

1

tsp

oregano
Instructions
Preheat your oven to 350 degrees

Cut eggplants in half. Scoop out the pulp with spoon. Blanch the eggplant pulp and shells in boiling water (with a little salt thrown in) for 4 to 5 minutes. Drain well.

Let the eggplant cool, then chop the pulp and mix it with the bread crumbs, sausage (raw), eggs, parsley, pepper, salt, and garlic salt.

Fill the eggplants with the mixture, put it into a well oiled pan, and put it in the oven for 30 minutes.

While the eggplants cook, make sauce. Combine all ingredients in a medium saucepan over medium low heat.

Once the sauce is boiling, use a potato ricer to smash up the tomatoes.

Turn the heat down and let the sauce simmer while the eggplant finishes cooking.

After 30 minutes, top the eggplant with the sauce, and put it all back in the oven for 10 minutes.
Nutrition
Serving:
1
half
|
Calories:
640
kcal
|
Carbohydrates:
43
g
|
Protein:
31
g
|
Fat:
37
g
|
Saturated Fat:
11
g
|
Polyunsaturated Fat:
1
g
|
Monounsaturated Fat:
5
g
|
Cholesterol:
173
mg
|
Sodium:
2217
mg
|
Potassium:
690
mg
|
Fiber:
11
g
|
Sugar:
14
g
|
Vitamin A:
39
IU
|
Vitamin C:
42
mg
|
Calcium:
18
mg
|
Iron:
18
mg