These Teriyaki Salmon Foil Packets come together quickly with just a few simple ingredients. This is a 30 minute meal that your whole family will absolutely love! Making this baked teriyaki salmon in foil makes it moist, tender, and done in a flash.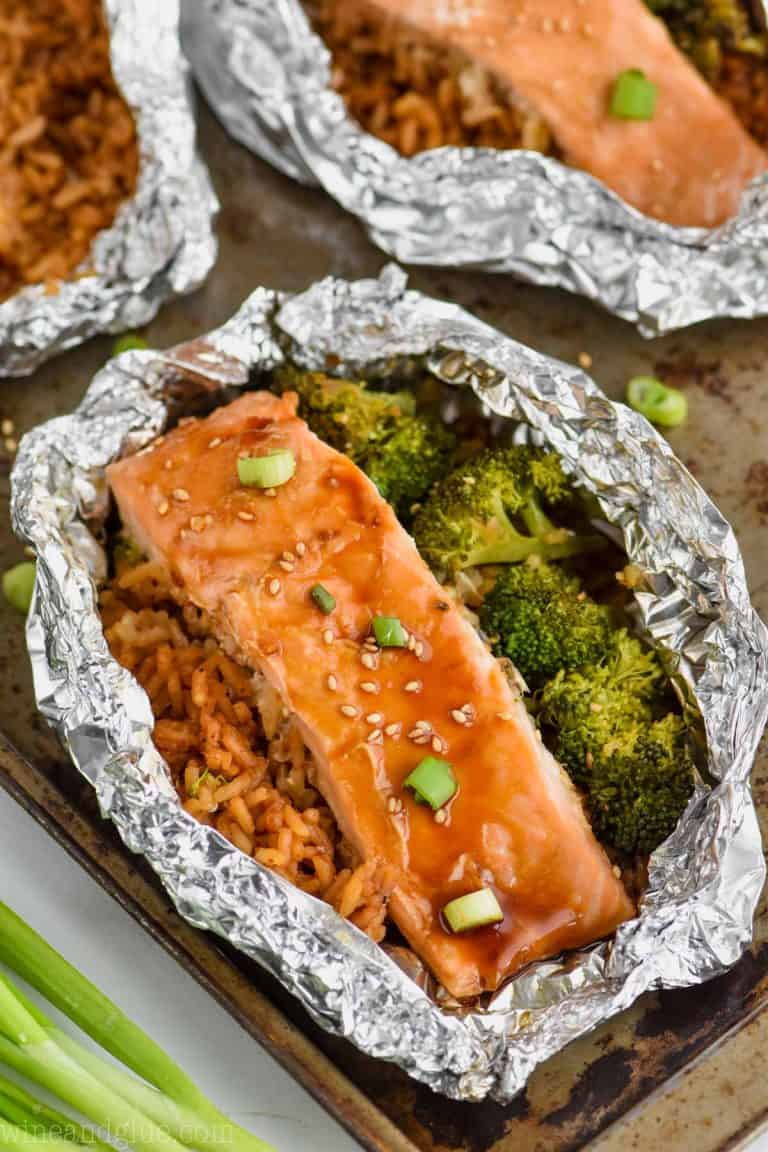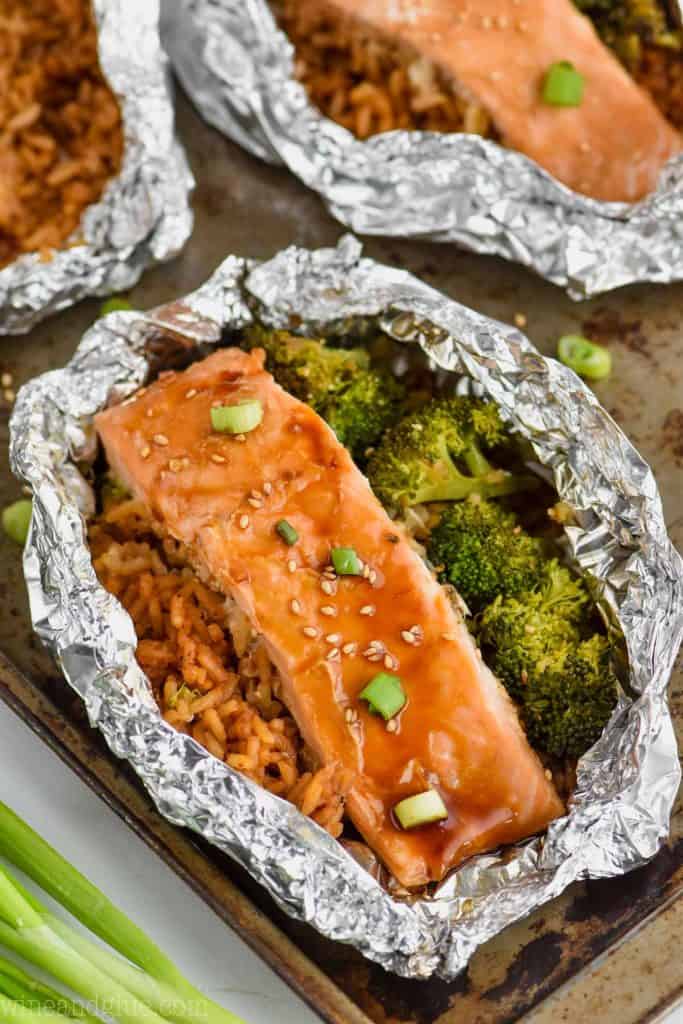 Happy Weekend my friends! The other day I was on the phone with a friend, and it was that crazy after school time. I feel like I write about that time of day so often on the blog . . . you know the hour or two between the kids getting home from school and dinner. But I probably write about it so much because it's such an insane time of day. While I was on the phone, one child tried to participate in my conversation by yelling into the phone. Two other children started fighting over a toy. It all culminated in two children actually trying to murder each other when I abruptly told my friend I had to go and hung up. You guys. Not ideal. Circus ring leader fail.
And to think that I was trying to make dinner too.
This is why we all need super easy low maintenance dinner in our lives, like these amazing Teriyaki Salmon Foil Packets.
TERIYAKI SALMON FOIL PACKETS
Salmon is one of my favorites, I could eat it several times a week and be a happy girl. And it is amazing in this recipe! It's full of flavor and the salmon cooks up perfectly. If you are worried about cooking salmon, this is the recipe for you to start with. Whether you make this while camping, out on the grill in the backyard, or just as an easy weeknight dinner in the oven, this is a recipe the family is sure to love.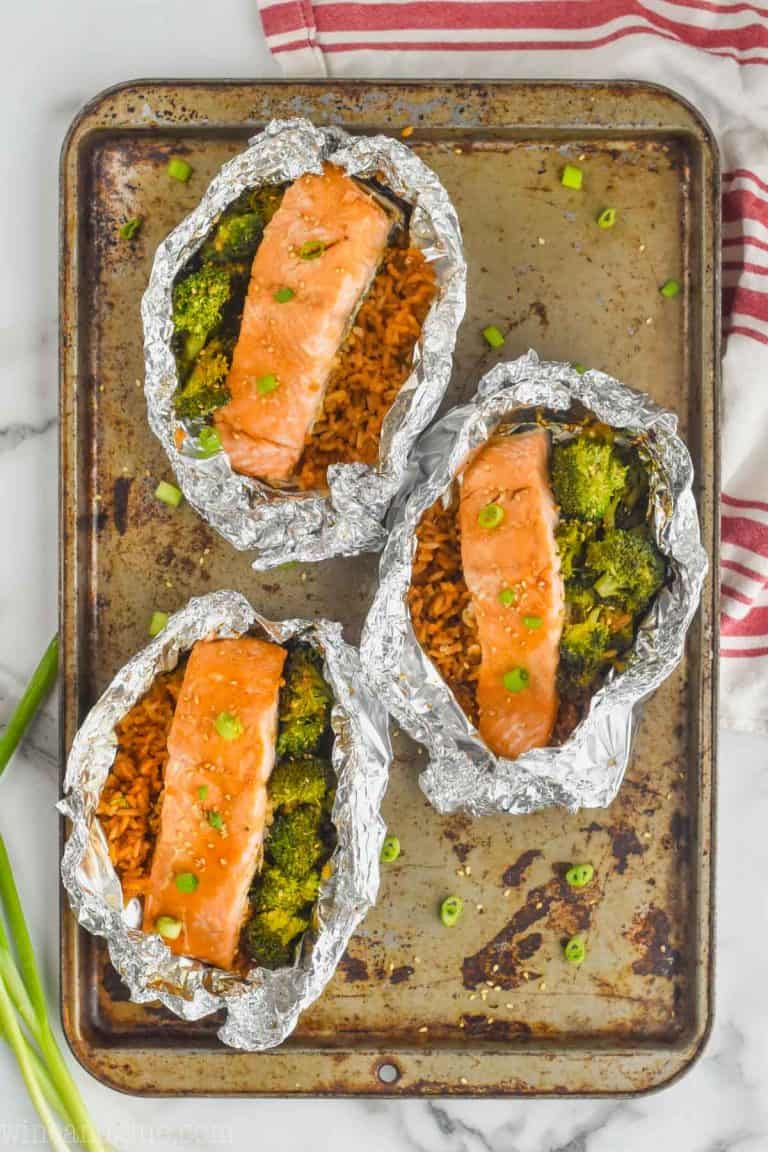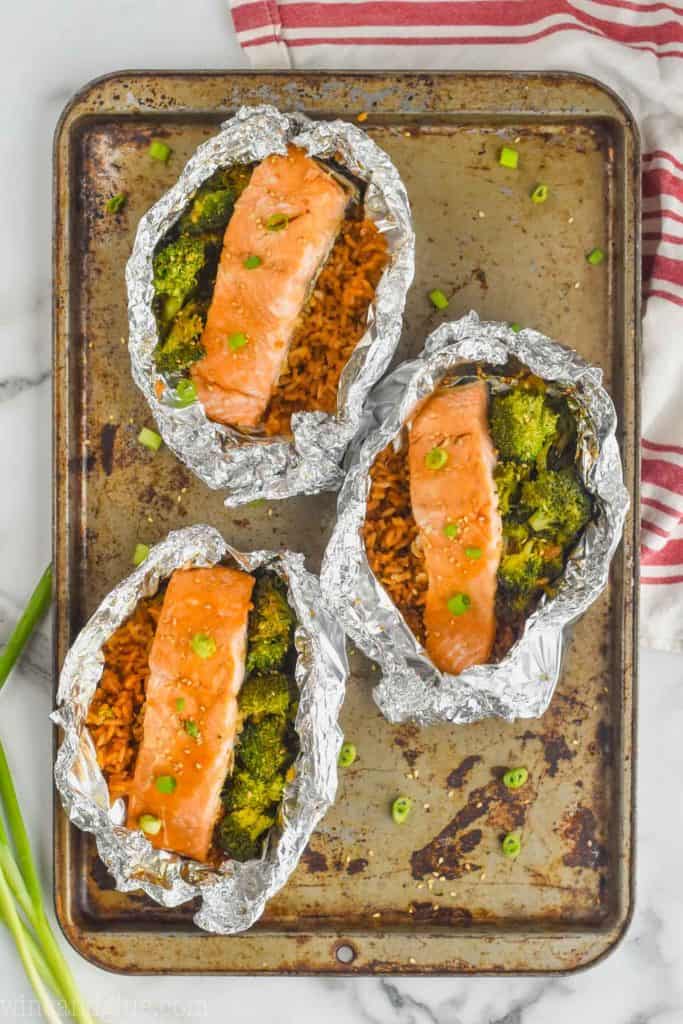 HOW TO MAKE BAKED SALMON IN FOIL PACKETS
The thing I love about this recipe is that it cooks the salmon just perfectly. You can throw it on the grill or make it in the oven and it will turn out delicious and perfect.
Combine the ingredients for the sauce and the rice in a large bowl.
Divide it and the broccoli among the four pieces of foil.
Add the salmon and spoon more teriyaki on top.
Fold up the foil packets and bake!
HOW TO WRAP FOIL PACKET DINNERS
The reason foil packet dinners work so well is because everything steams and cooks up in the foil packet without drying out. You can cook at a higher temperature for a shorter time, making foil packet dinners not just great for camping, but great for weeknights.
Break off four squares of foil.
Place the ingredients in the middle.
Lift two sides up and have them line up together in the middle.
Fold them down over each other one or two times (about half an inch for each fold).
Now fold up each end, folding the foil over on itself a few times.
The most important part is that you make a good seal, not that it is folded perfectly.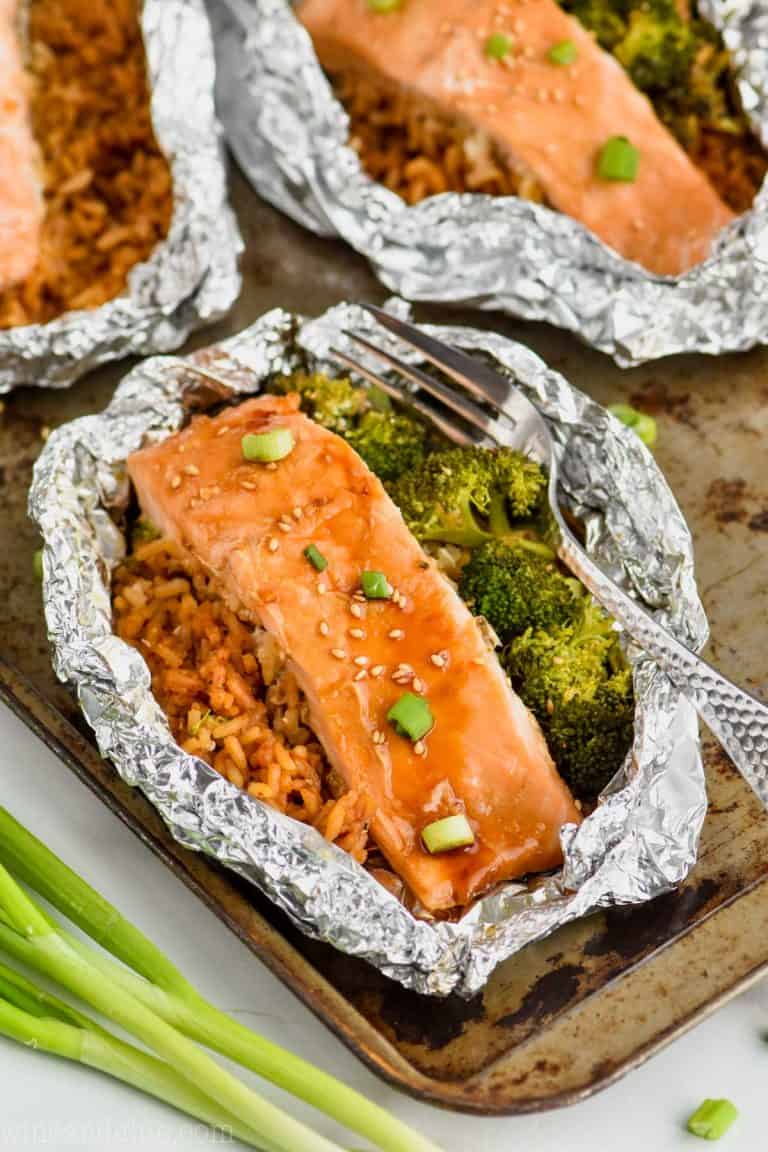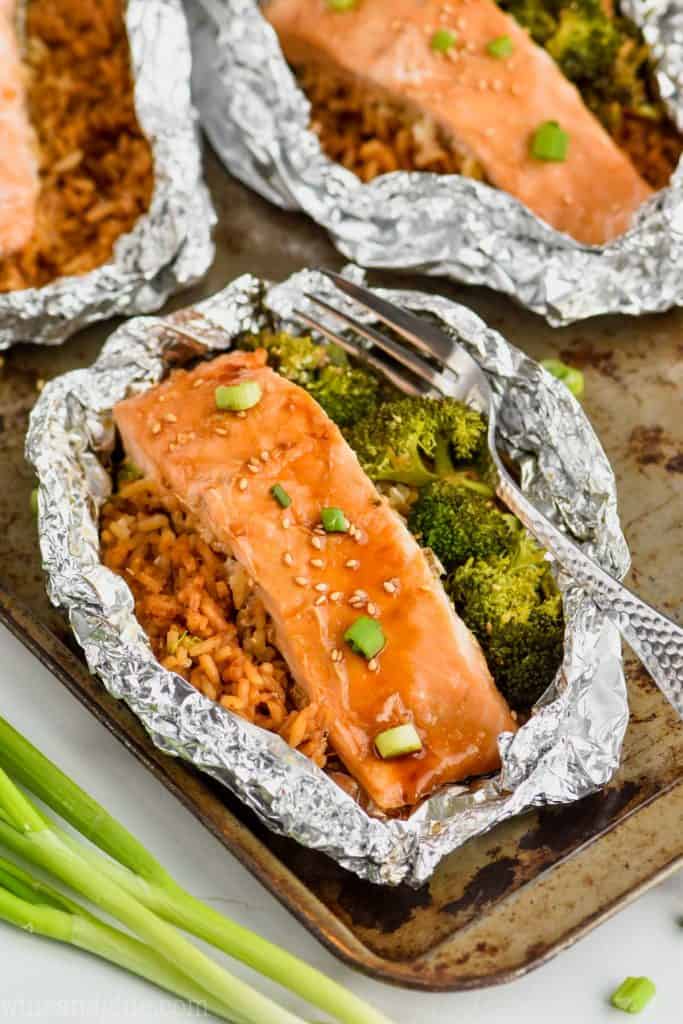 SUBSTITUTIONS AND VARIATIONS FOR TERIYAKI SALMON FOIL PACKETS
CAN I USE A DIFFERENT FISH THAN SALMON?
I haven't tried this particular recipe yet with other fish, but if I were going to I would try shrimp first. Use a thawed raw shrimp that has been deveined with tails removed.
MY FAMILY DOESN'T LIKE BROCCOLI, WHAT CAN I USE IN IT'S PLACE?
I think that carrot slices, green beans, or bell peppers would be delicious in this!
I DON'T HAVE INSTANT RICE, CAN I USE REGULAR RICE INSTEAD?
Nope! This recipe does require instant rice. If you try to use regular rice, it won't cook up properly.
HOW CAN I MAKE THIS RECIPE LOW CARB?
If you are looking to make this recipe low carb friendly, I would cut out the chicken stock and replace the rice with more vegetables.
MORE DELICIOUS FISH RECIPES
If your family can't get enough of seafood, I have a few other good ones for you.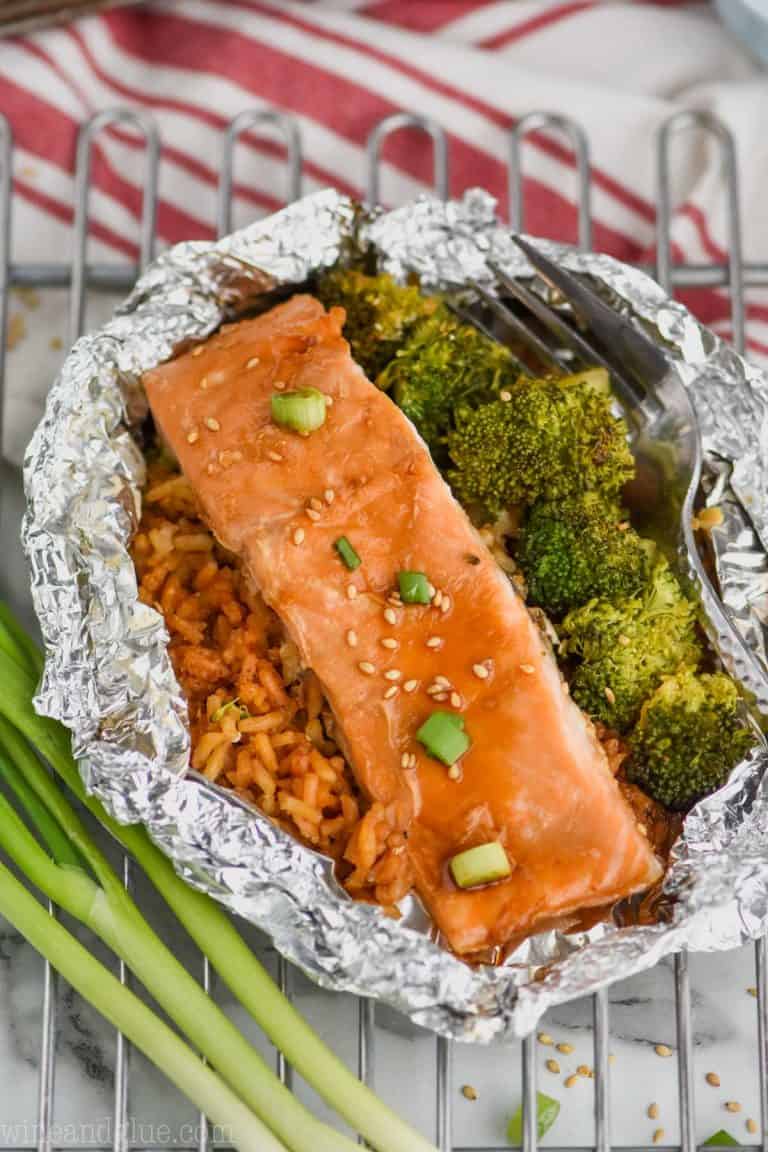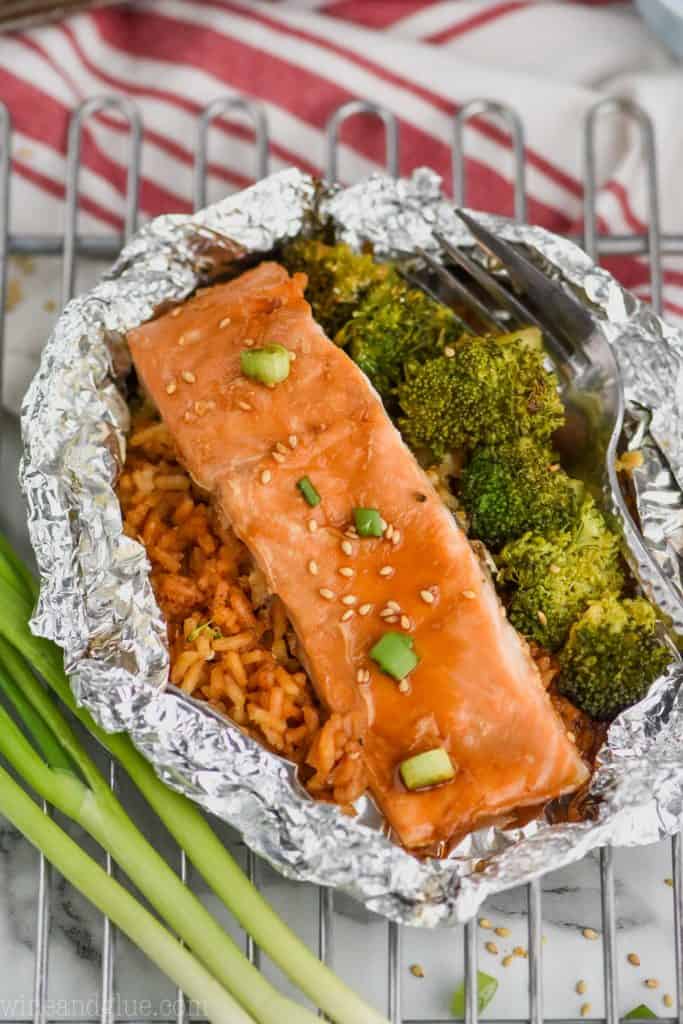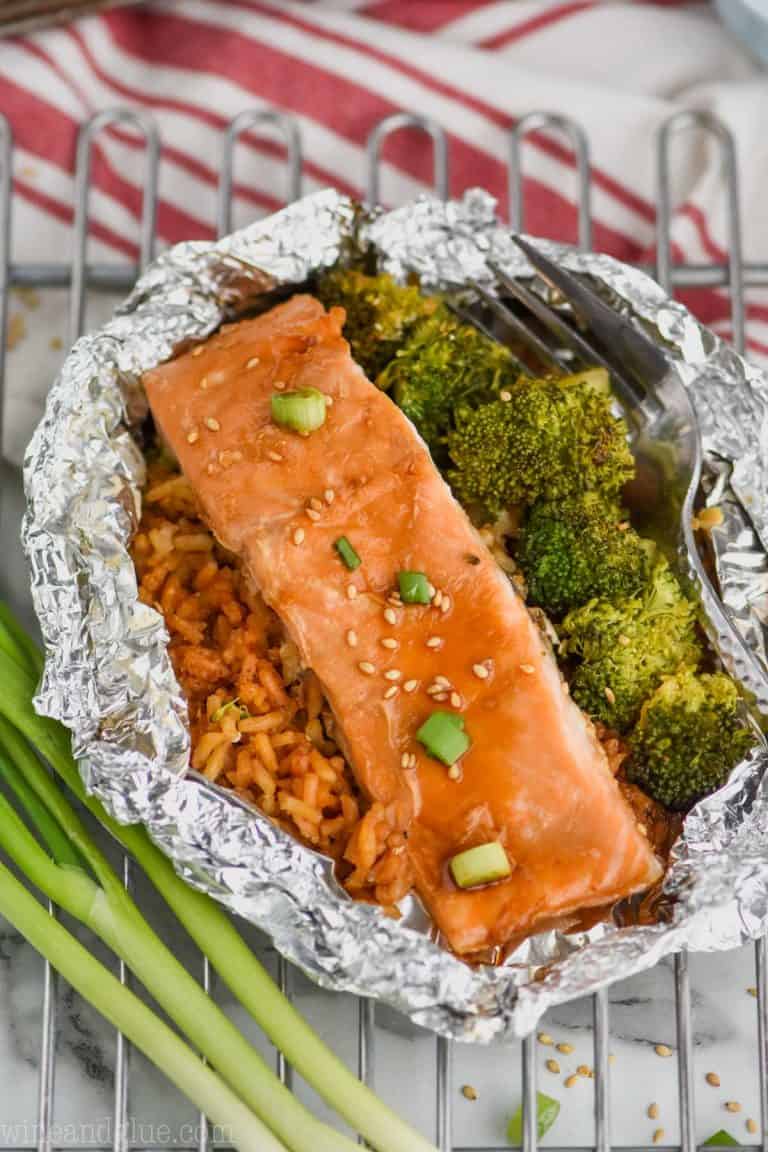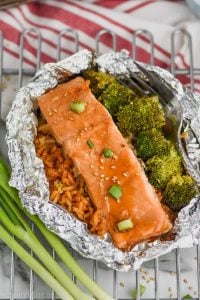 Teriyaki Salmon Foil Packets
These Teriyaki Salmon Foil Packets come together quickly with just a few simple ingredients. This is a 30 minute meal that your whole family will absolutely love! Making this baked teriyaki salmon in foil makes it moist, tender, and done in a flash.
Ingredients
1

pound

salmon fillets

see note 1

1

cup

instant rice

1/2

cup

chicken stock

3/4

cup

teriyaki sauce

divided (see note 2)

1

teaspoon

chili paste

(optional)

1

tablespoon

ginger

(either paste from a tube or grated ginger)

2

garlic cloves

minced

2

cups

broccoli florets

about one large head

sesame seeds

for garnishing

green onions

for garnishing
Instructions
Preheat your oven to 400 degrees.

In a medium bowl, combine the rice, chicken stock, 1/2 cup of the teriyaki sauce, chili pasted, ginger, and garlic cloves.

Rip off four square foil pieces. Place one fourth of the rice mixture in the center of each piece. Top with a salmon fillet and 1/2 cup of broccoli.

Top the salmon and broccoli with 1 tablespoon of teriyaki sauce (you will need 1/4 cup total to do all four packets.

Fold the sides of the foil packets up, lining them up together. Fold that down over itself a few times. Then fold up the ends. The packet should be fully sealed. Repeat with the other packets.

Serve, adding more teriyaki sauce on top as desired and garnishing with sesame seeds and green onions.
Notes
You can either ask your butcher to cut a pound of salmon into four equal pieces or you can grab a pound worth and cut it yourself.
There are many different types of Teriyaki Sauce on the market. I used Kikkomon. You want to use one that is more like a liquid than say a BBQ sauce. If you get a thicker brand, you will need to add more chicken sauce (probably 1/4 cup) to account or the lack of liquid.
Calories:
306
kcal
(15%)
Carbohydrates:
31
g
(10%)
Protein:
31
g
(62%)
Fat:
6
g
(9%)
Saturated Fat:
1
g
(6%)
Polyunsaturated Fat:
1
g
Monounsaturated Fat:
2
g
Cholesterol:
53
mg
(18%)
Sodium:
1901
mg
(83%)
Potassium:
606
mg
(17%)
Fiber:
1
g
(4%)
Sugar:
2
g
(2%)
Vitamin A:
450
IU
(9%)
Vitamin C:
56.9
mg
(69%)
Calcium:
30
mg
(3%)
Iron:
2.2
mg
(12%)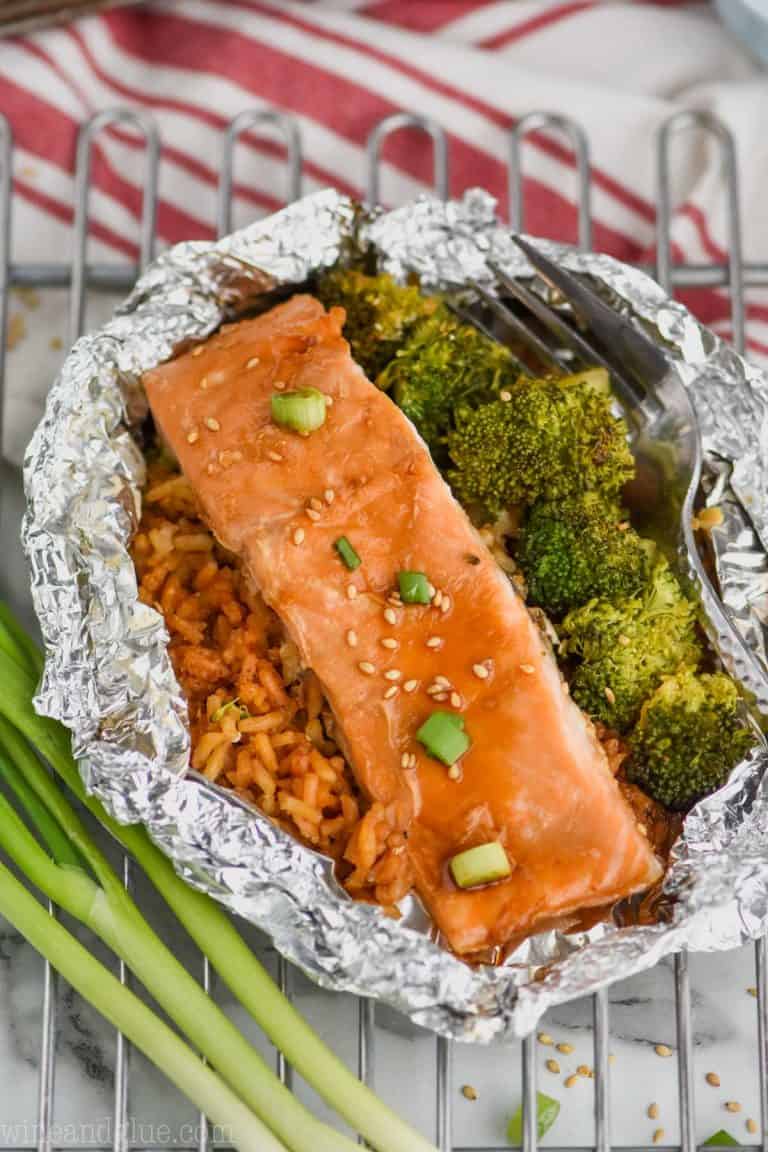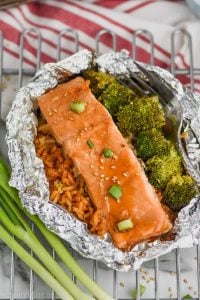 did you make this
Teriyaki Salmon Foil Packets
Other fast dinners:
Instant Pot Chicken Tacos