Teriyaki Sauce is a great ingredient used in many delicious stir fry recipes. It is easy to make at home with a few simple ingredients.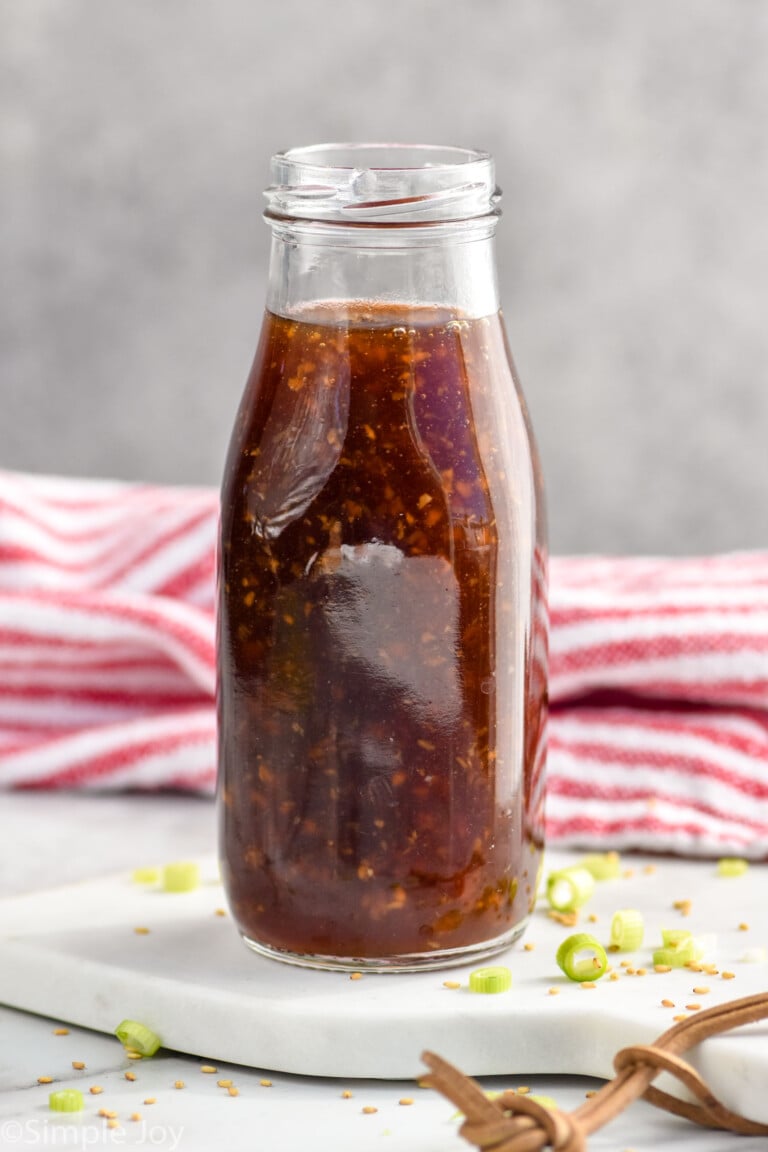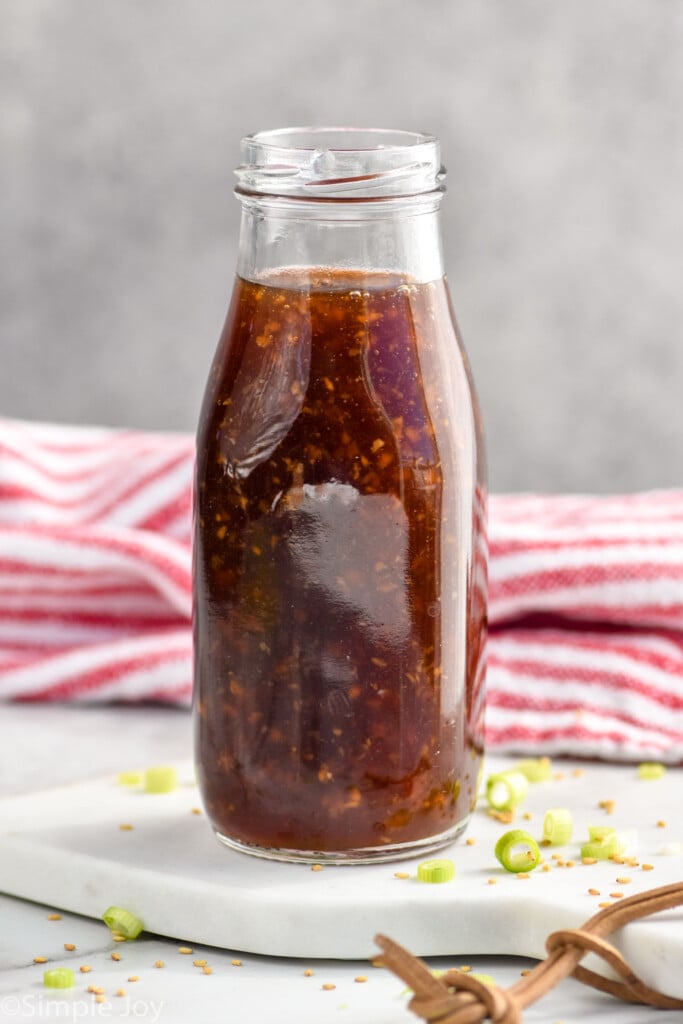 Often when I make condiment recipes or seasoning mixes, I get comments on social media that say: "I can just buy this." That is absolutely true! You are right. Most of those types of recipes can be purchased. In fact, my recipes are meant to mimic the taste of what you are buying at the store.
However! I still think these recipes serve an amazing purpose, or rather a few purposes. First, they make it so that those overseas are able to enjoy all of my recipes. There are things, like Old Bay Seasoning, that aren't available overseas. Second, they are less expensive than the store bought counterpart. With a well stocked pantry you already have so many of the ingredients for these recipes.
Finally, and this is perhaps the most important point for me, homemade condiment recipes allow those with allergies and food sensitivities to enjoy my recipes. When you make something from scratch, you can make adjustments easily.
This is absolutely comes into play with this homemade teriyaki sauce recipe. Read below for all my suggestions on different swaps you can make to accommodate everyone from diabetics to those with a gluten intolerance.
What is Teriyaki Sauce
Teriyaki sauce is a somewhat generic term that was originated in North America to describe a type of sauce. This sauce varies greatly in taste, but is usually soy based and sweet.
How to Make Teriyaki Sauce
This is a brief overview of how to make this teriyaki sauce recipe. For the full instructions and measurements, please see the recipe card at the bottom of the post.
Combine the ingredients over heat. Our teriyaki sauce uses water, soy sauce, rice wine vinegar, brown sugar, honey, fresh ginger, garlic, and corn starch.
Bring it to a boil. Stir regularly while it is coming to a boil.
Simmer for five minutes. After it is boiling, simmer for five minutes. This will thicken up the sauce.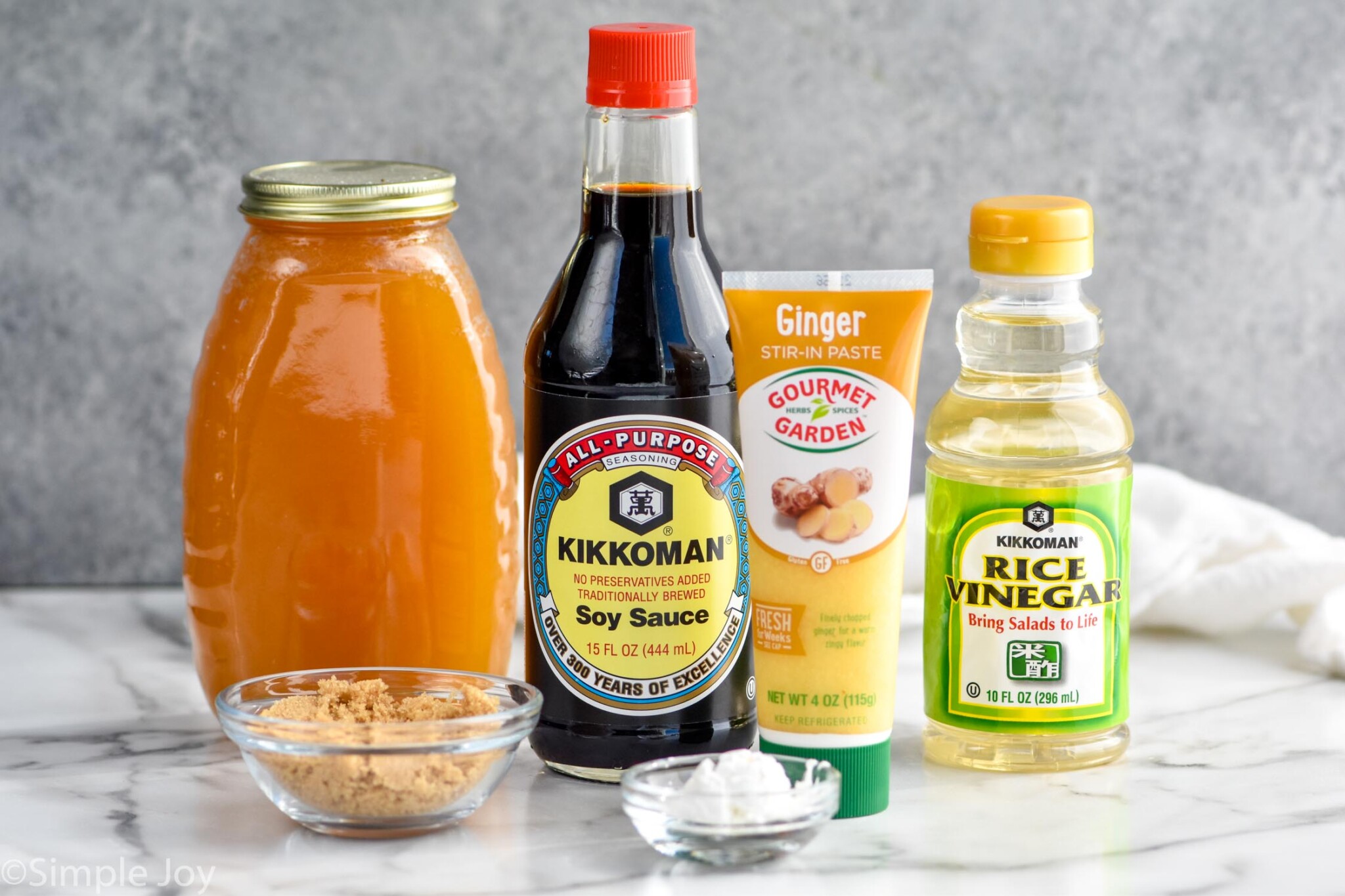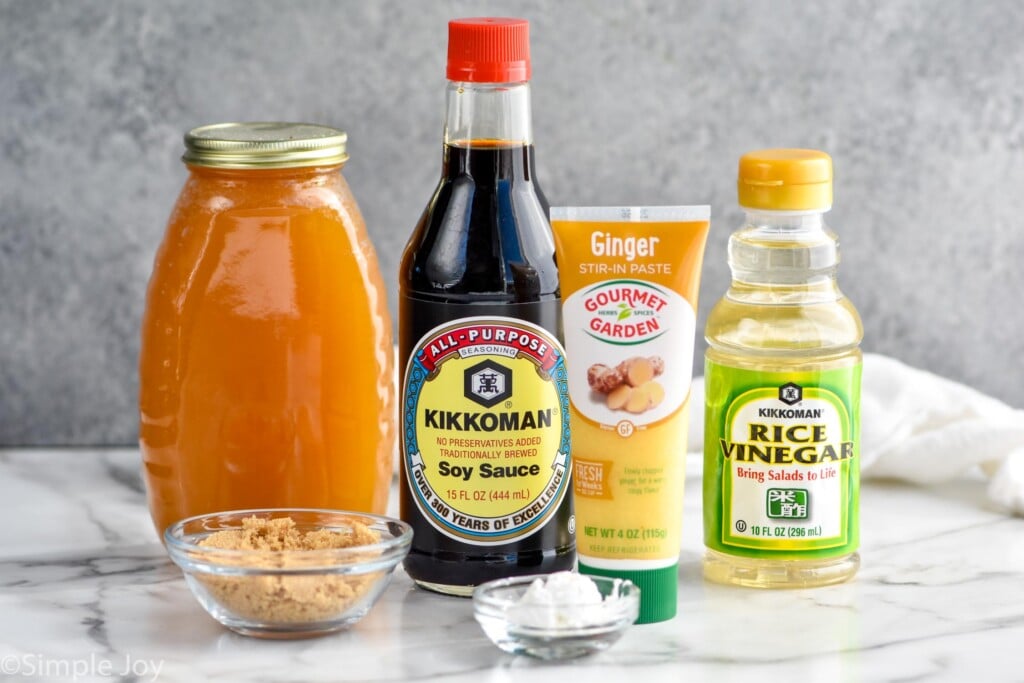 Teriyaki Sauce Ingredients
Water: I start most of my stir fry sauces with water. It gives volume to the sauce without altering the taste.
Soy Sauce: This is the foundation of most teriyaki sauces.
Rice Wine Vinegar: All vinegars are created from different sources. This one is made from rice wine, which gives it a great and unique taste. If you can't find it, you can replace it with half the amount of white vinegar.
Brown Sugar: As mentioned above, teriyaki sauce is traditionally sweet. The brown sugar brings great sweetness.
Honey: This adds to the sweetness, but with another flavor profile.
Fresh Ginger: One of my favorite ways to add flavors to stir fries is fresh ginger. We love to buy it as a refrigerated tube. But you can also buy it as a root. Peel it and then store the left overs in the freezer for future use.
Fresh Garlic: This is my second favorite way to add flavor to stir fries.
Corn Starch: This is what helps thicken up the sauce.
Teriyaki Chicken Bowl
This Teriyaki Chicken Bowl is going to quickly become a go-to dinner for you. It is made with easy-to-find ingredients and comes together in just 25 minutes. Your family will love this good-for-you dinner.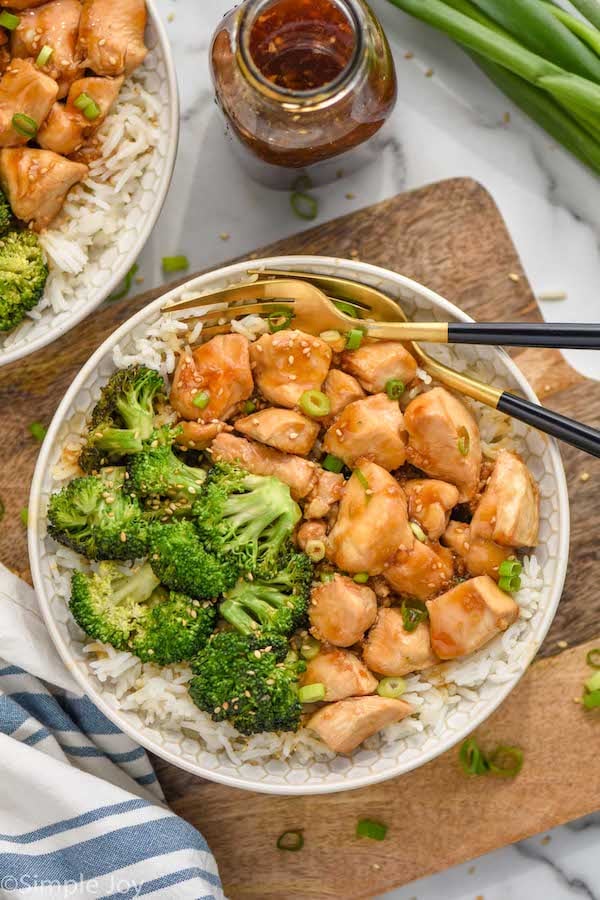 Gluten-Free Teriyaki Sauce
Many people don't realize that soy sauce contains gluten. This, as mentioned above, is why I love making condiment recipes for readers.
To make this teriyaki sauce gluten-free, simply replace the soy sauce with a gluten-free soy sauce or tamari. Tamari can be used in place of soy sauce in recipes though it is thicker a little less salty. You will likely need less corn starch to thicken this recipe.
Sugar-Free Teriyaki Sauce
While teriyaki sauce is known for its sweetness, if you are on a diabetic diet, you will likely want to alter this recipe. You can start by replacing the brown sugar with swerve or monk fruit. If it is still too high in sugar, then also cut the honey in half or cut it out completely.
Low Sodium Teriyaki Sauce
If you are on a low sodium diet, you can alter this sauce by swaping the soy sauce for low sodium soy sauce. This reduces the sodium to about 175 mg per tablespoon. If that is still too high for your diet, you can consider reducing the amount of soy sauce to 3 tablespoons low sodium soy sauce and then make up the difference in liquid with more water.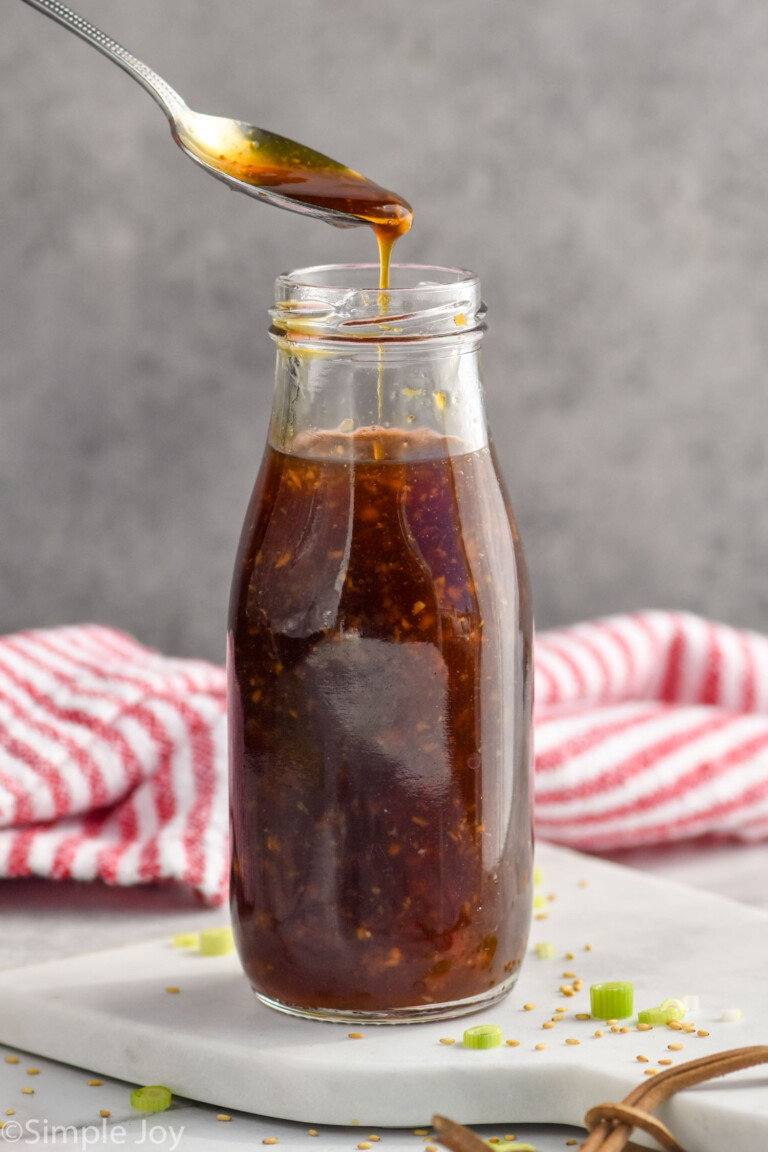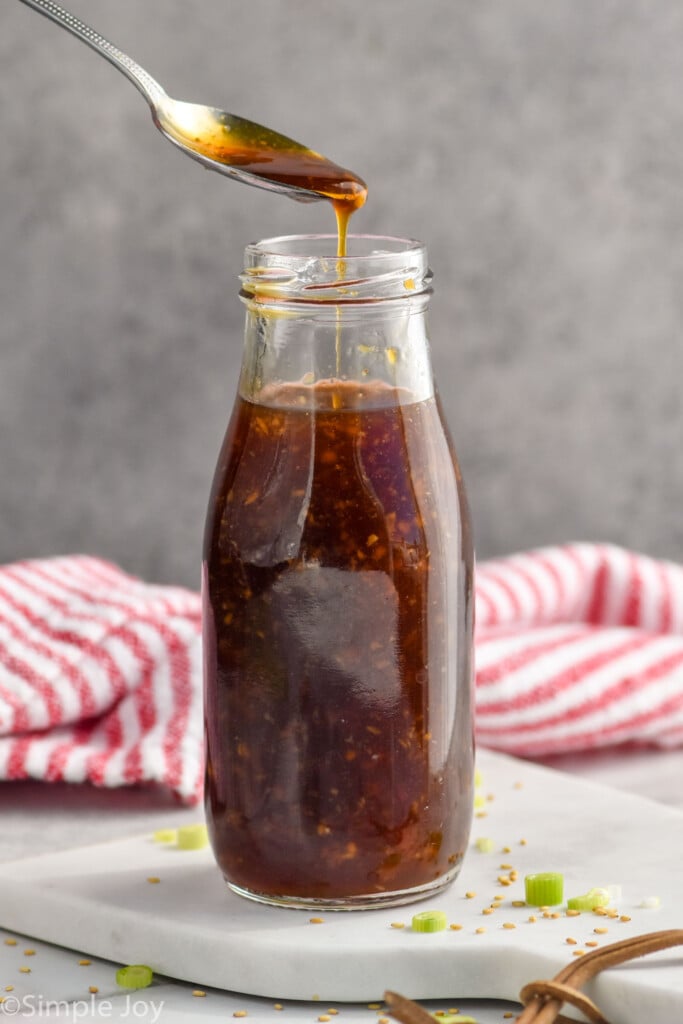 Storing
This homemade teriyaki sauce can be stored in your refrigerator for up to two weeks. Store it in an air tight container. As with any recipe, use your best discretion when it comes to leftovers. Discard leftovers that have an altered taste, smell, or appearance.
FAQ
Is teriyaki sauce gluten-free?
Because the base of teriyaki sauce is soy sauce, which is made using wheat, it is not gluten-free. See my section above on making gluten-free teriyaki sauce.
How do you thicken teriyaki sauce?
Teriyaki sauce is thickened by using corn starch and simmering it.
Is teriyaki sauce vegan?
Yes, teriyaki sauce is vegan.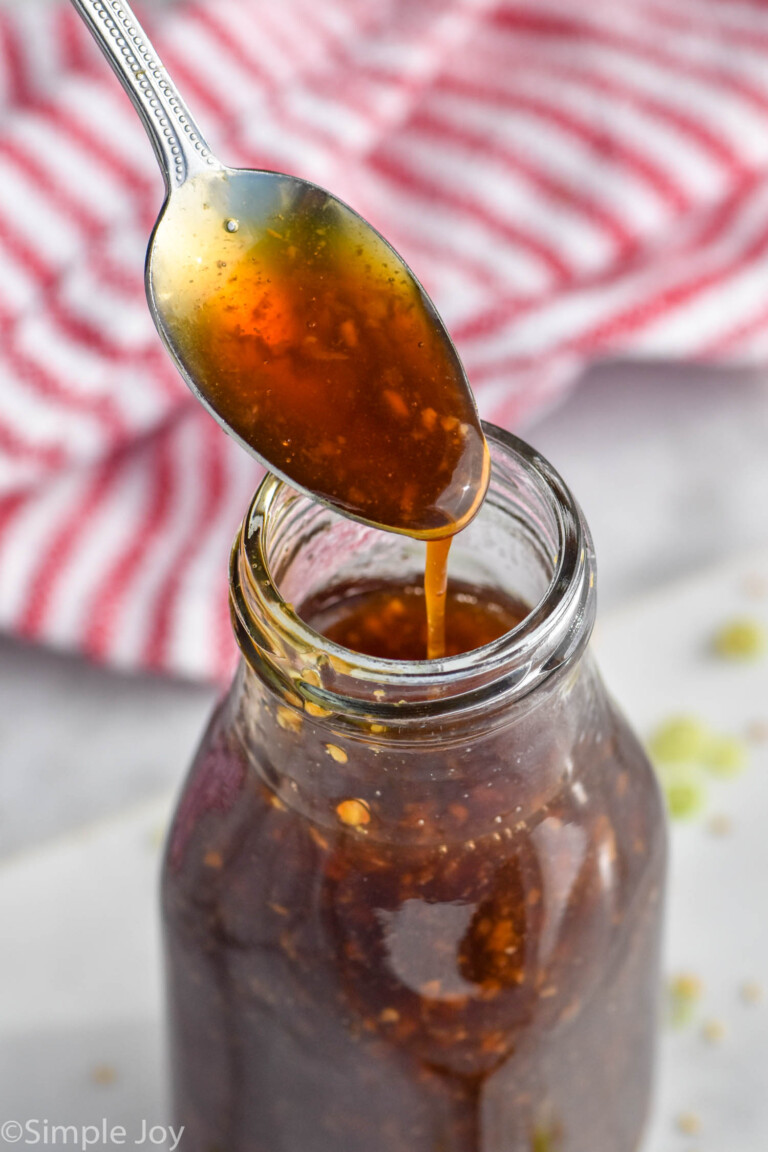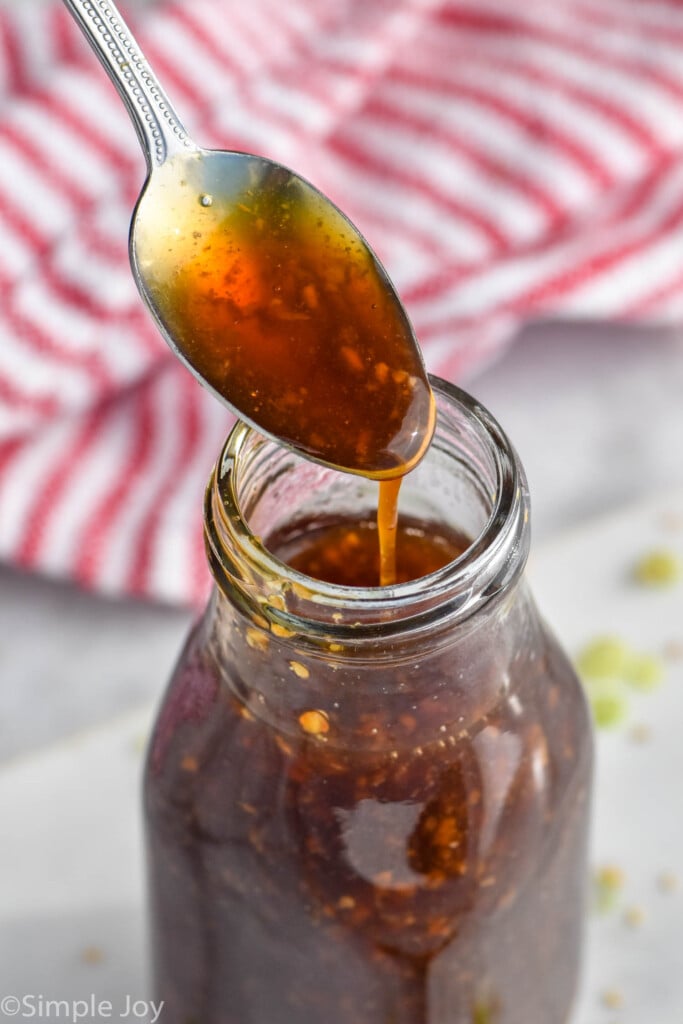 Recipes to Use Teriyaki Sauce
We love teriyaki sauce and have lots of great ways to use this homemade recipe.
If you make this easy teriyaki sauce recipe or any of my other recipes, leave me a comment letting me know what you think!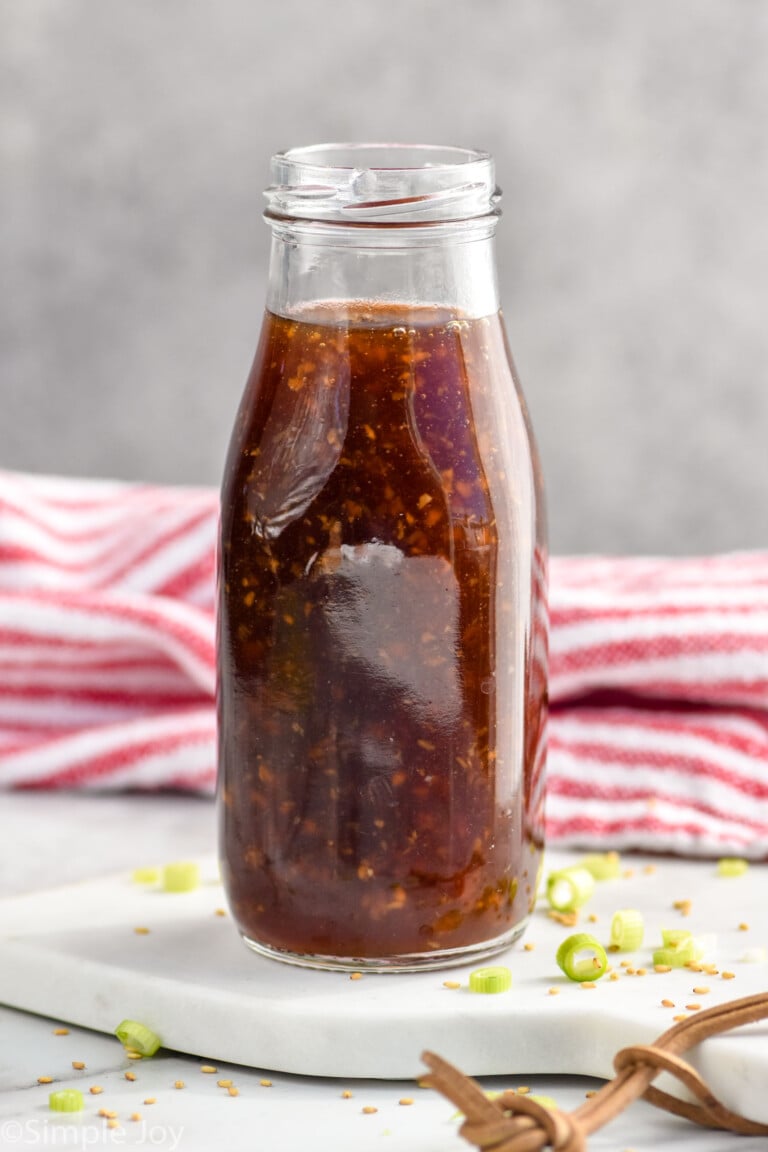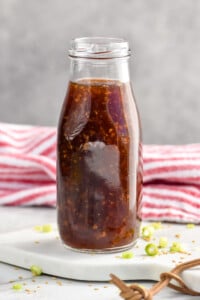 Teriyaki Sauce
Teriyaki Sauce is a great ingredient used in many delicious stir fry recipes. It is easy to make at home with a few simple ingredients.
Ingredients
1

cup

water

1/3

cup

soy sauce

(please see my section in the post on how to replace soy sauce to make gluten free teriyaki sauce)

1

teaspoon

rice wine vinegar

(optional, see note 1)

3

tablespoons

brown sugar

1

tablespoon

honey

2

teaspoons

freshly grated ginger

3

cloves

garlic

minced (see note 2)

1

tablespoon

corn starch
Instructions
Combine all of the ingredients in a small sauce pan over medium heat.

Stir regularly while bringing to a boil.

Once boiling, reduce to a simmer and cook for 5 minutes or until sauce has thickened.
Notes
We love the tang that the rice wine vinegar brings to this recipe. That being said, if it is not something you keep on hand, you can skip it or replace it with  1/2 a teaspoon white vinegar. Though it is also great in my Bang Bang Shrimp.
As you can see from the photos, the garlic and ginger are visible in the final sauce. If you would like a sauce that is uniform in color and texture you can replace the fresh ginger and garlic with 1 teaspoon EACH of ground garlic and ground ginger.
Serving:
1
tablespoon
Calories:
18
kcal
(1%)
Carbohydrates:
4
g
(1%)
Protein:
1
g
(2%)
Fat:
0.01
g
Saturated Fat:
0.002
g
Polyunsaturated Fat:
0.004
g
Monounsaturated Fat:
0.001
g
Sodium:
272
mg
(12%)
Potassium:
17
mg
Fiber:
0.1
g
Sugar:
3
g
(3%)
Vitamin A:
0.1
IU
Vitamin C:
0.2
mg
Calcium:
4
mg
Iron:
0.1
mg
(1%)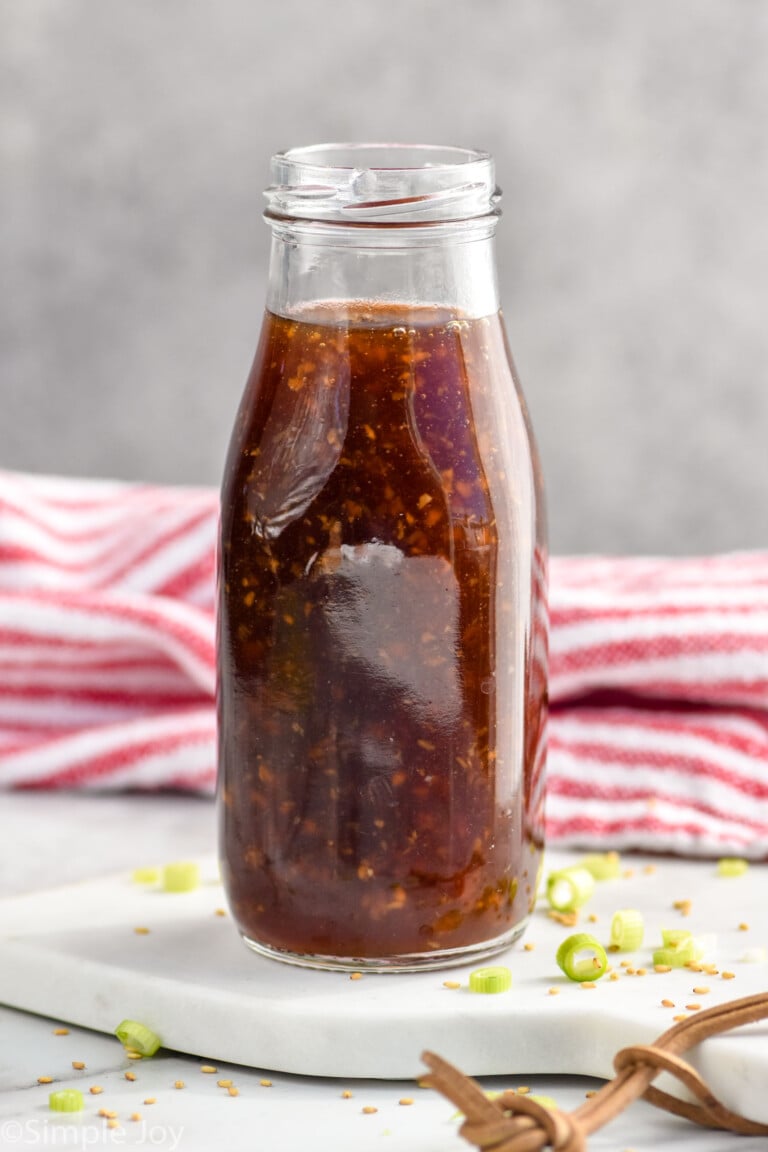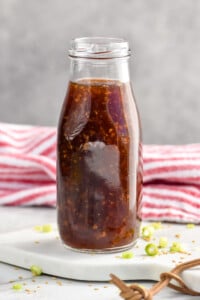 did you make this
Teriyaki Sauce