Tomato Sausage Risotto | This risotto is my all time favorite dish. It's rich in flavor and pretty healthy too!
It's day three of my totally self-indulgent birthday week!!
A few housekeeping details.
First, go sign up for the Kitchen Aid Mixer Giveaway. There are only a few days left!
Second, go sign up to win $250 in Amazon Cash. Because you know what? It's my birthday tomorrow, I love my readers, and I know some pretty awesome bloggers.
Third, I would love if you would go read about spreading kindness in honor of our sweet Elliot.
Okay. Now let's get down to business.
Tomato Sausage Risotto.
It's not that I don't love sweets, I do. But when it comes to comfort food, I want savory. Hands down, every time. I remember one time in college when I was having a particularly stressful week (I probably broke a nail or something, because honestly I can't think of what could have gotten me stressed in college), and I went to the grocery store for some comfort food. I came home with a jar of pickles, a jar of green olives, a bunch of oranges, some tomatoes, Spicy V8 (which I drank by the gallon in college, and not even with vodka), and some Italian dressing (mmmmm . . . Viva Italian, if only the original was still on the shelves).
Tomato Sausage Risotto.
(Do you hear it, like a sweet whisper in your ear calling your name?)
Tomato Sausage Risotto.
This is hands down my favorite dinner. I love it. I could eat the ENTIRE dish by myself. It's not hard to make, though it is a little time intensive. But I love it so much that there is a picture of me standing at the stove, stirring the risotto slowly with one hand, and holding a newborn Quinn in the other arm nursing her.
This is not a meal a mother of a newborn should be making. But I love it so much I went for it anyway.
I would eat this once a week every week, but I live with picky eaters who turn their noses at delightful things like tomatoes and spinach.
Fools.
Tomato Sausage Risotto  (There's that whisper again!)
This is originally a Martha Stewart recipe. I've tweaked it a little bit (to cut some calories), but you will be equally happy with the original. This dish cooks so slowly, that the taste is really rich. If you cut out the dairy (like I did) you won't miss it at all. Just remember that the key to risotto is long time over low heat, and add your liquid slowly. (Not poured in slowly, rather a little bit at a time slowly.)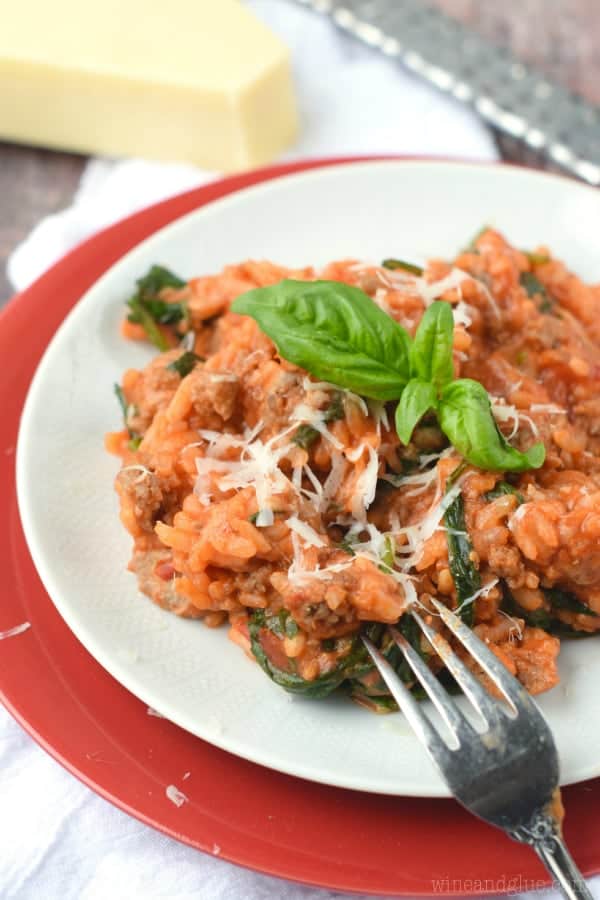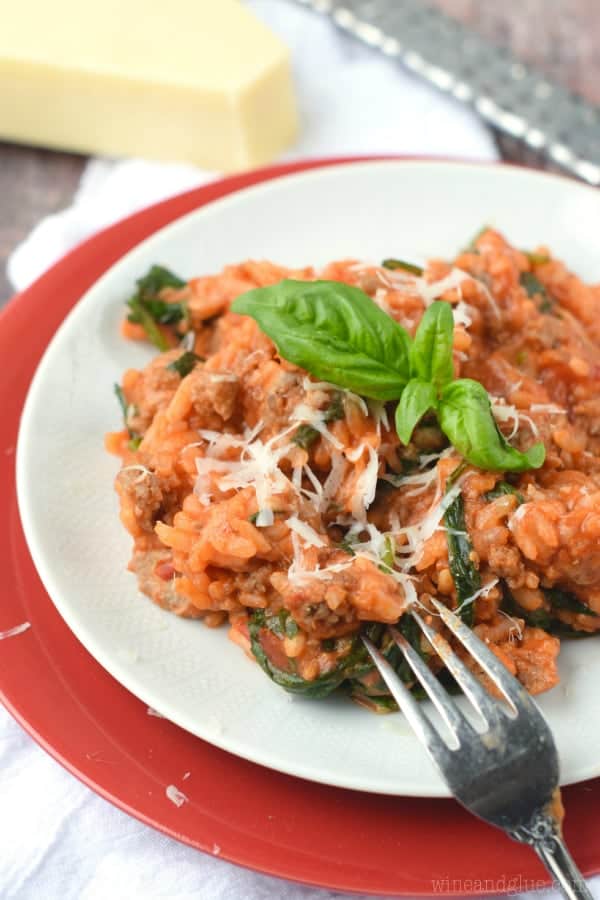 Looking for more risotto? Of course you are!
Red Wine Risotto