Tomato Sausage Risotto is my all time favorite dish. Rich, delicious and comes together with just five ingredients. Super easy to make and gorgeous to serve!
This Tomato Sausage Risotto is hands down my favorite dinner in the world. I could eat the ENTIRE dish by myself. It's not hard to make, though it is a little time intensive. But I love it so much that I have a picture of me standing at the stove, stirring the risotto slowly with one hand, and holding a newborn Quinn in the other arm nursing her. Nothing will stop me from making this, not even a nursing baby.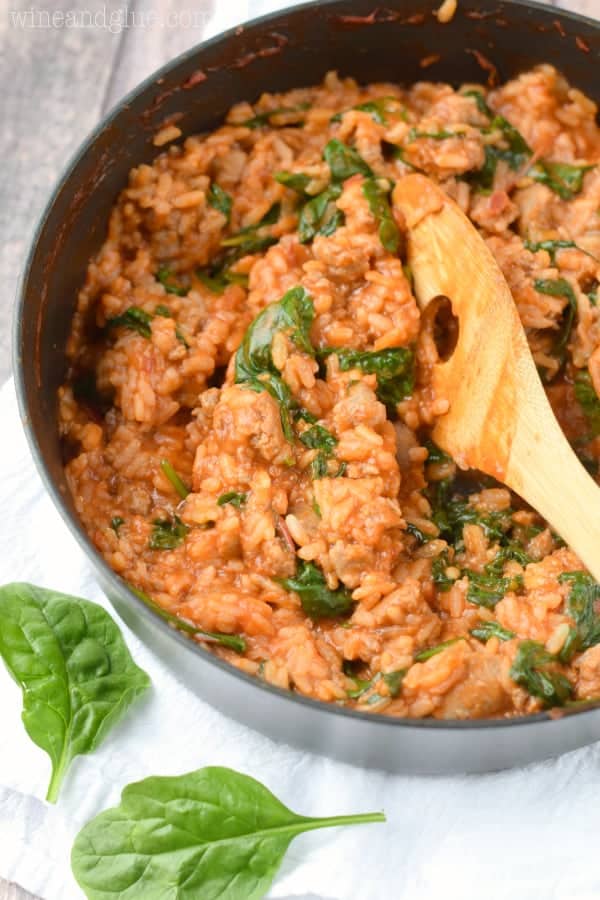 What is Risotto, Anyway?
Risotto is much more than just rice. The creamy Italian dish tastes and looks a lot like macaroni and cheese, if mac and cheese were made with rice. Instead of letting the rice boil, you add a small amount of liquid at a time, which allows the grain to release its starches, turning the whole thing into a creamy, velvety texture. From there you can add all kinds of flavors and ingredients. The possibilities are endless!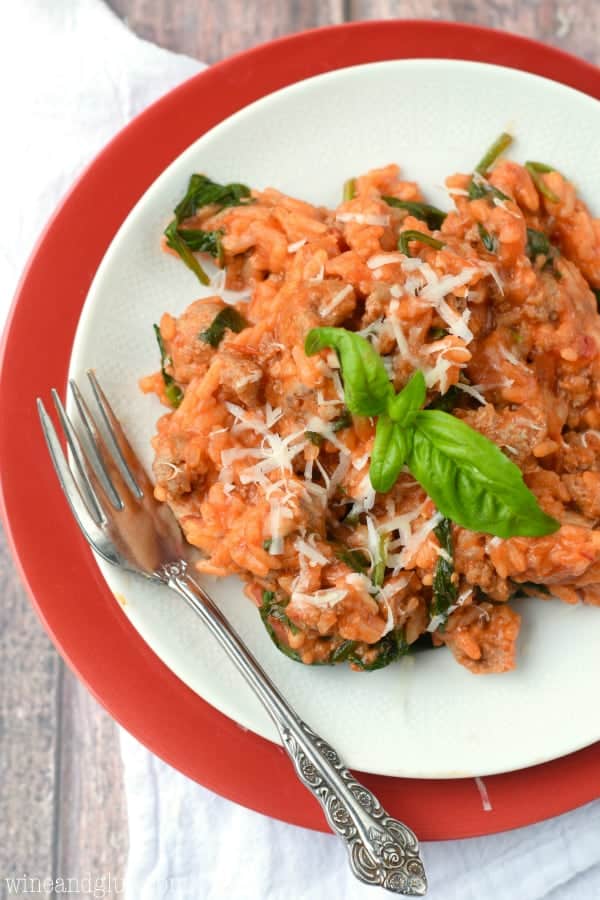 Tip for Creamy Risotto without Dairy
This is originally a Martha Stewart recipe. I've tweaked it a little bit (to cut some calories), but you will be equally happy with the original. This dish cooks so slowly, that the taste is really rich. If you cut out the dairy (like I did) you won't miss it at all. Just remember that the key to risotto is long time over low heat, and add your liquid slowly. (Not poured in slowly, rather a little bit at a time slowly.)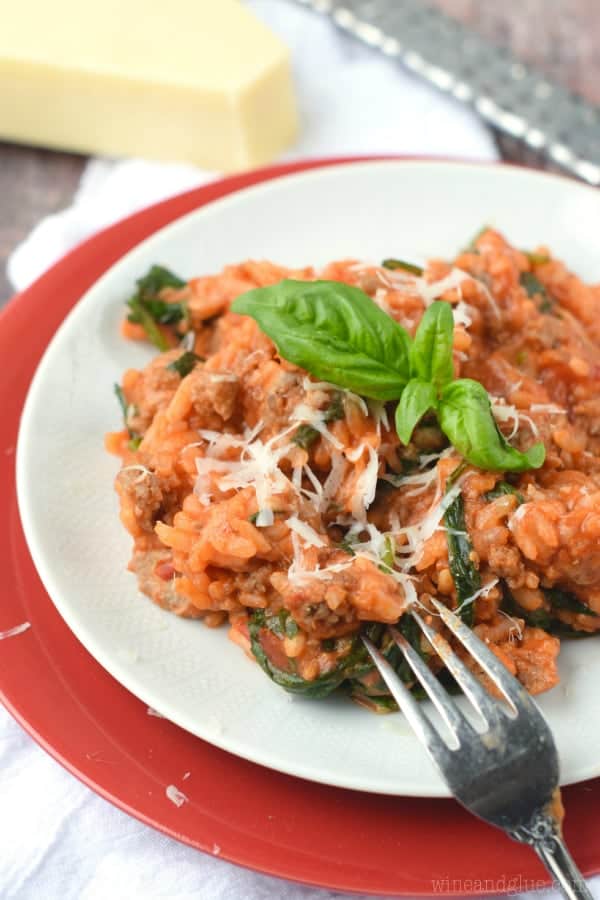 How to Make Tomato Sausage Risotto
There are countless ways to make risotto, but this recipe, with its rich tomato flavor, savory sausage and creamy sauce it such a crowd pleaser! You can make it for your family or for a fancy dinner and you'll be the star! Here's what to do:
First, simmer a can of tomatoes and some water until it starts to boil. Turn it down to low and keep and eye on it.
In a large skillet, crumble and brown some Italian sausage until it's no longer pink.
Next, add the Arborio rice and cook for a minute.
Add white wine, a little at a time, stirring constantly.
Next add about two cups of the tomato and water mixture (again, a little bit at a time) and stir until the rice has soaked up all that delicious liquid.
Remove it from the heat and slowly stir in some baby spinach leaves until they wilt.
Finally, top the beautiful risotto with some parmesan cheese.
What to Serve with Risotto
This Tomato Sausage Risotto is a meal all on its own, or you can pair it with a simple green salad, some crusty bread or side vegetable.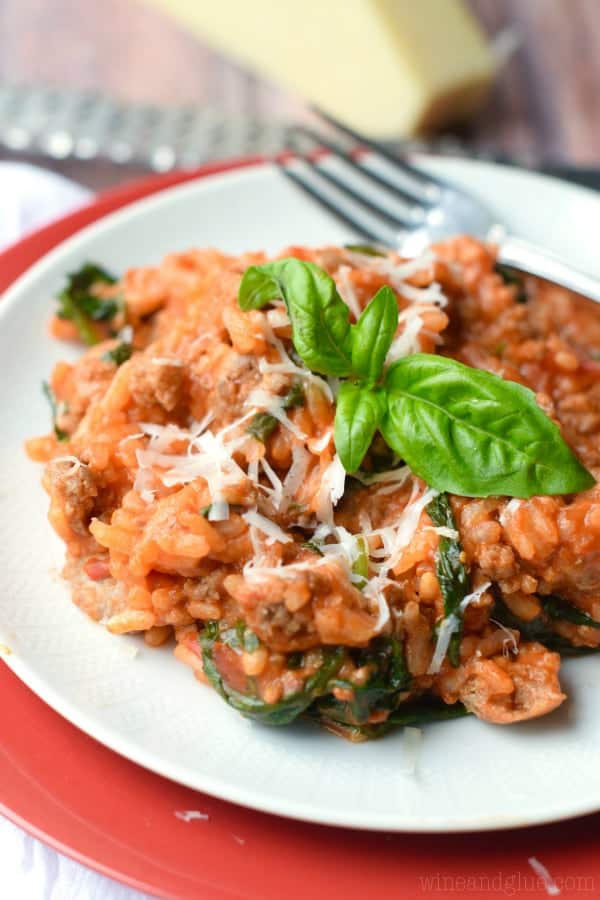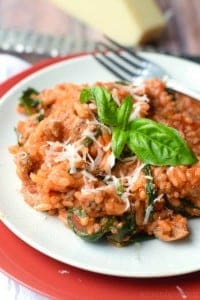 Tomato Sausage Risotto
Ingredients
32

ounces

crushed tomatos

I like Glen Muir with the basil flavor

1

package of Sweet Italian Turkey Sausage

I use Jennie-O

1

cup

arborio rice

1/2

cup

white wine

I use whatever is open in my fridge, sweet, dry, whatever

1 9

ounce

bag of washed baby spinach

parmesan cheese for serving

optional
Instructions
Pour tomatoes into a medium saucepan. Fill the can up with water and add it to the tomatoes. Set it to medium low heat and cover. Keep an eye on it. Once it starts to boil, turn the heat to low.

While the tomatoes heat, spray a large deep skillet with cooking spray and put it over medium heat. Remove the sausage from their casings, and add it to the skillet. Cook it, breaking it apart, until it is no longer pink.

Add the arborio rice, and cook for about a minute. Turn the heat to medium low, and add the wine. Stir and allow the arborio rice to soak up the wine.

Once the wine is absorbed, add two cups of the tomato/water mixture. Stir and allow the rice to absorb it. Continue to add the liquid one cup at a time, waiting for it to absorb before adding more.

Once the rice is creamy and tender, remove it from the heat. (You may not need all the liquid.) Stir in the spinach a little at a time, letting it wilt.

Serve, topping with the parmesan cheese, or just sit by yourself and eat the entire pot.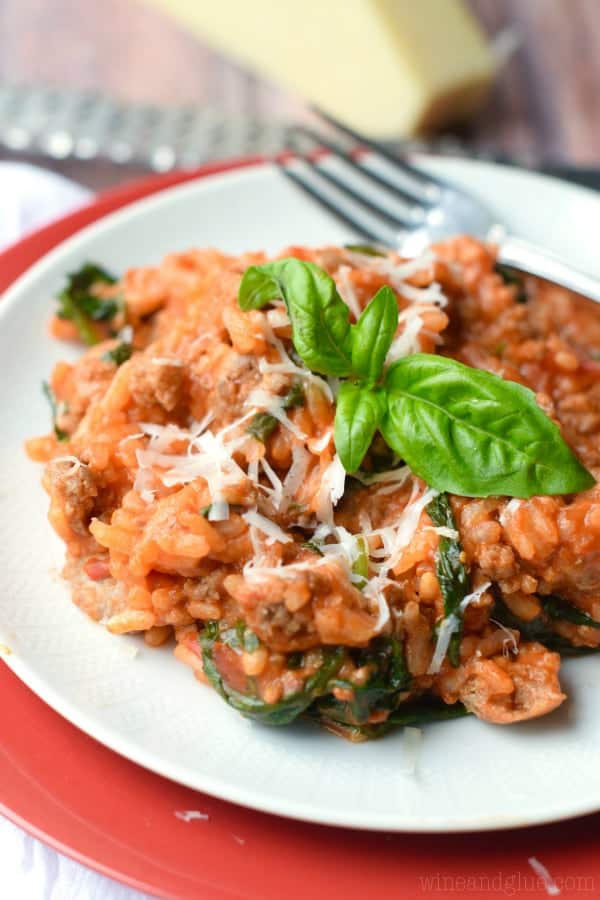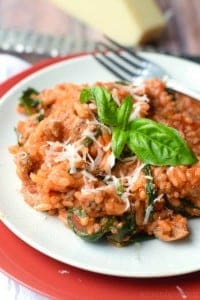 did you make this
Tomato Sausage Risotto