Turkey Broth is simple to make, freezes really well, and is great to replace chicken stock in all of your favorite recipes.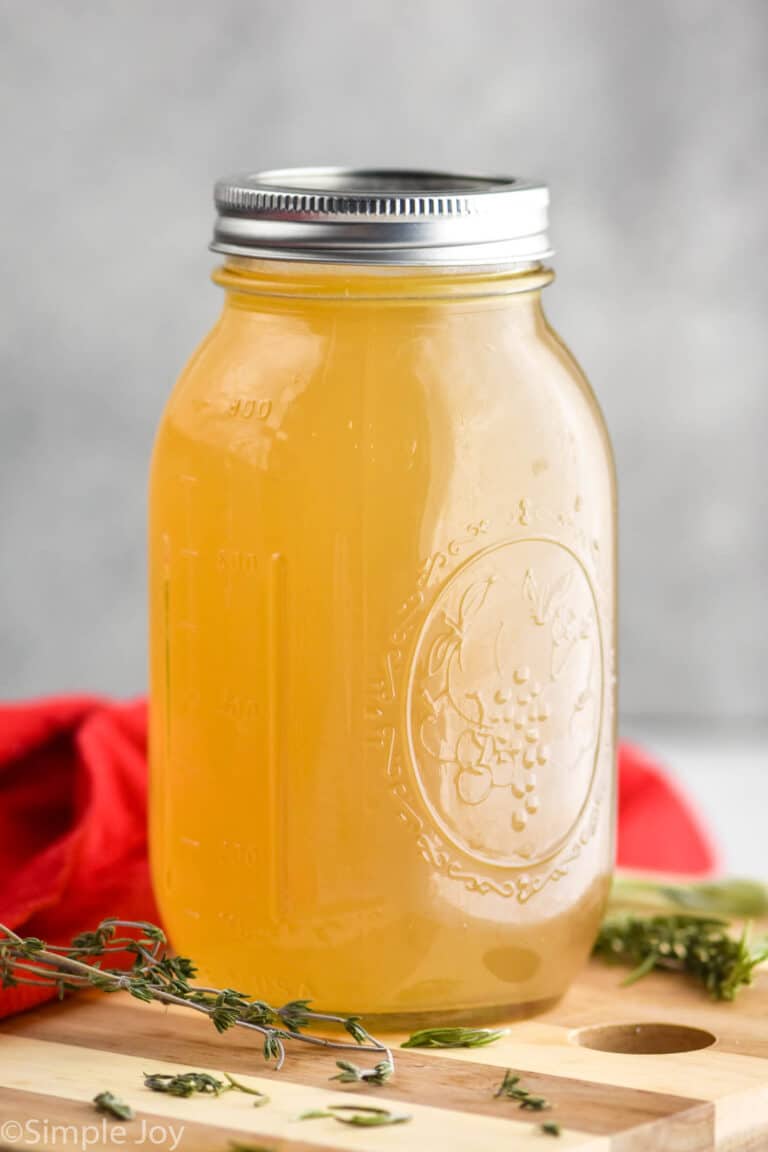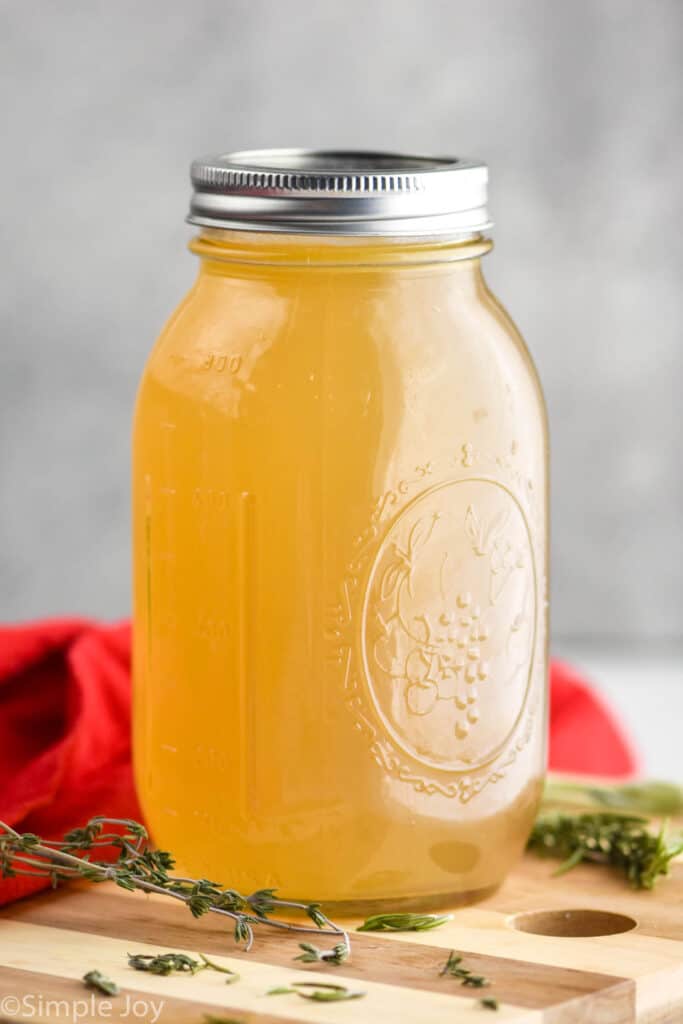 Turkey broth is such an easy way to use the remnants of your Thanksgiving Turkey. In fact, I had all of the ingredients to make this recipe on hand after making my turkey. This recipe is the perfect thing to replace chicken stock in all of your favorite soups.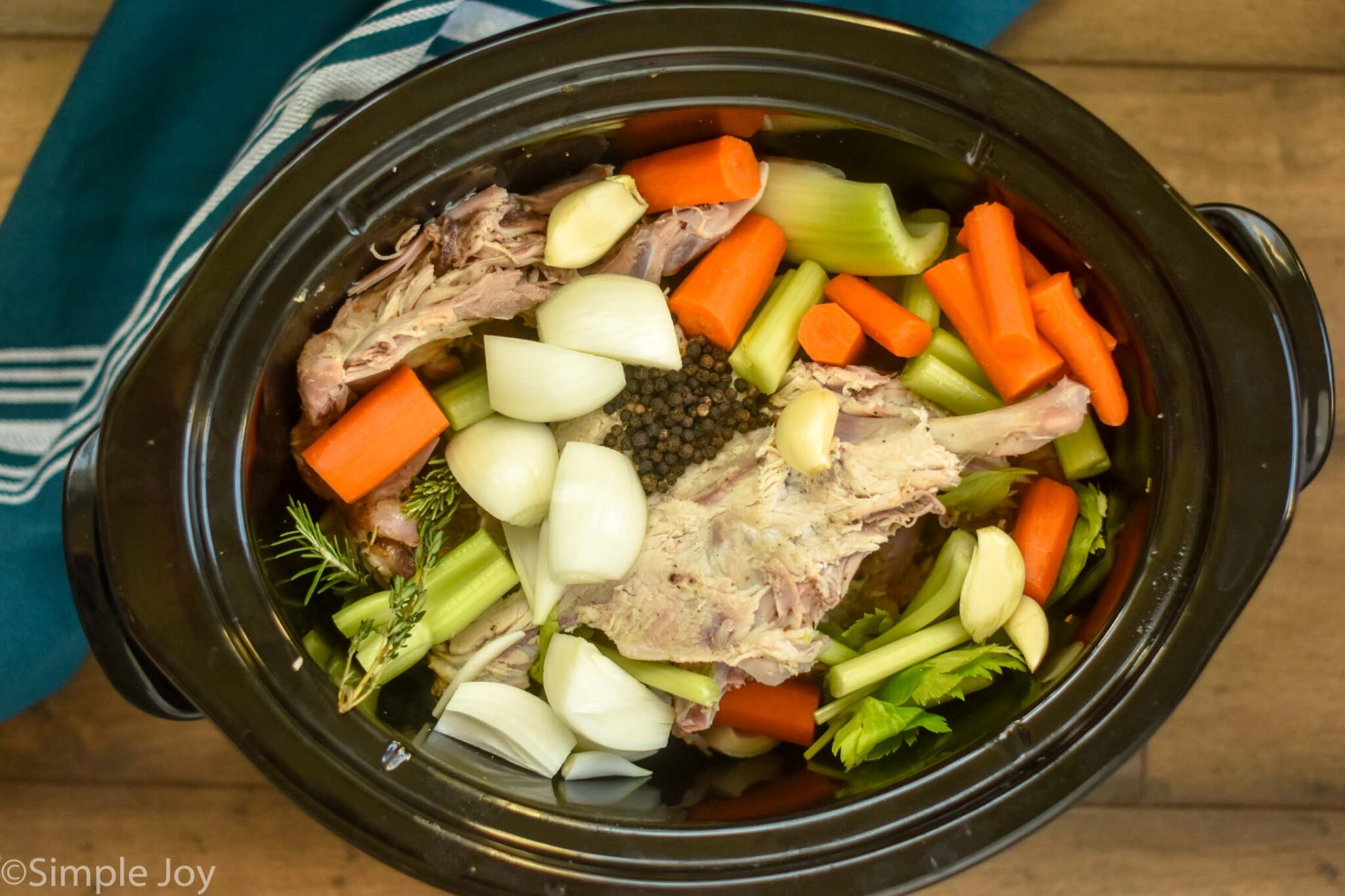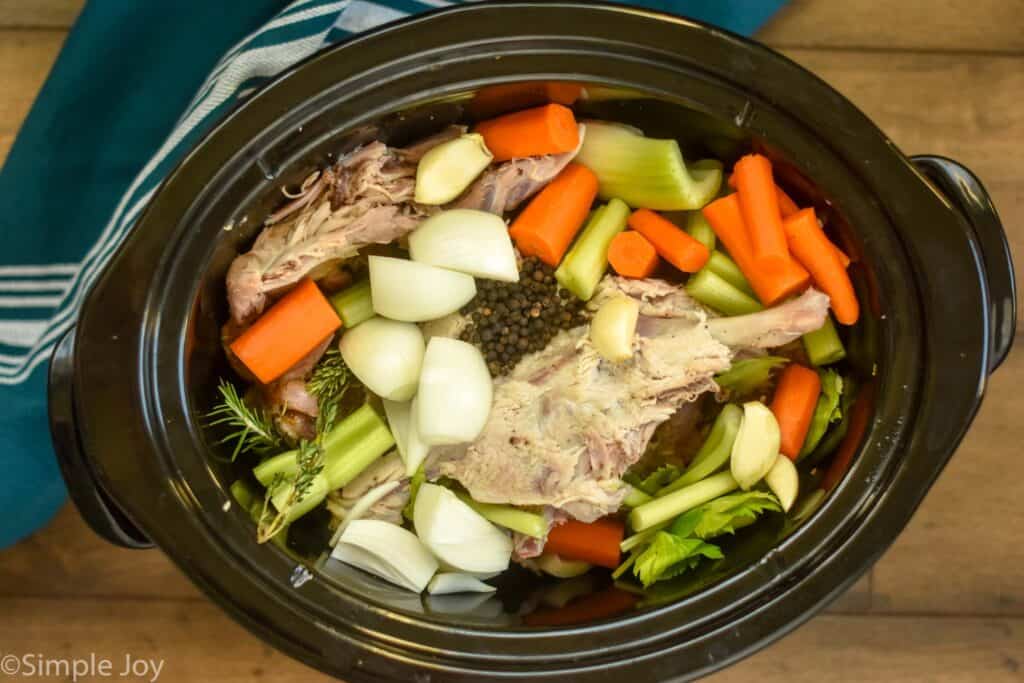 Ingredients for Turkey Broth
For a super savory and rich turkey broth use the following ingredients:
Turkey carcass – cut all the bones and pieces down so it will all fit into a large pot
Onions – Diced roughly or cut in quarters
Celery and carrots – rough chop or dice them into large pieces
Garlic cloves – no need to mince; just crack them with a knife and remove the shell
Rosemary and thyme – I like to use fresh sprigs of these herbs but you can use a couple of teaspoons each of dried rosemary and thyme.
Bay leaves – use a couple of these for extra fragrant broth
Whole peppercorns – this makes for easier straining rather than using ground pepper
a note about salt
This recipe doesn't call for salt because I like to brine my turkey before cooking. This is a terrific replacement for low sodium chicken broth. In using it, you may need to add more salt to your recipes.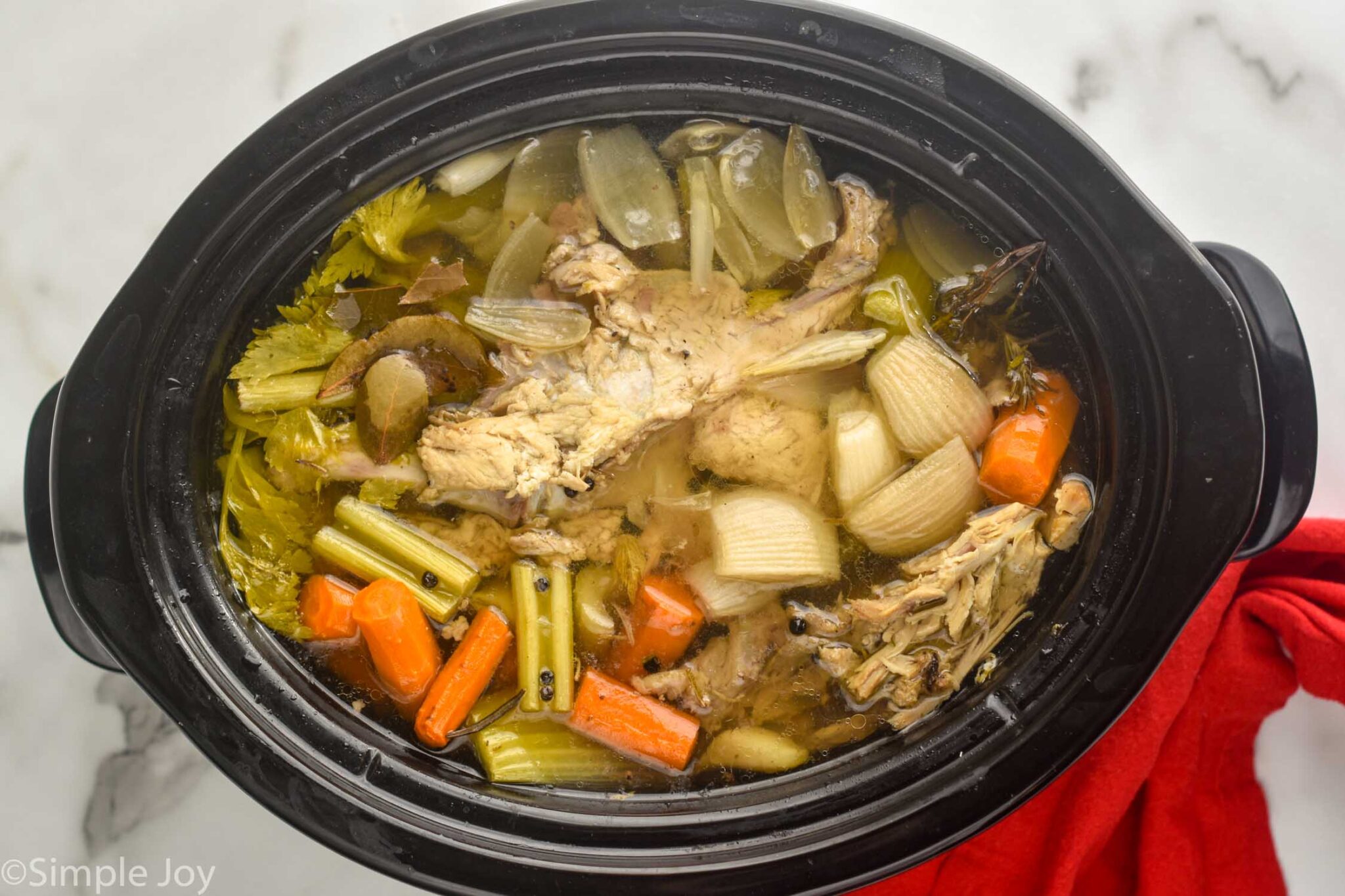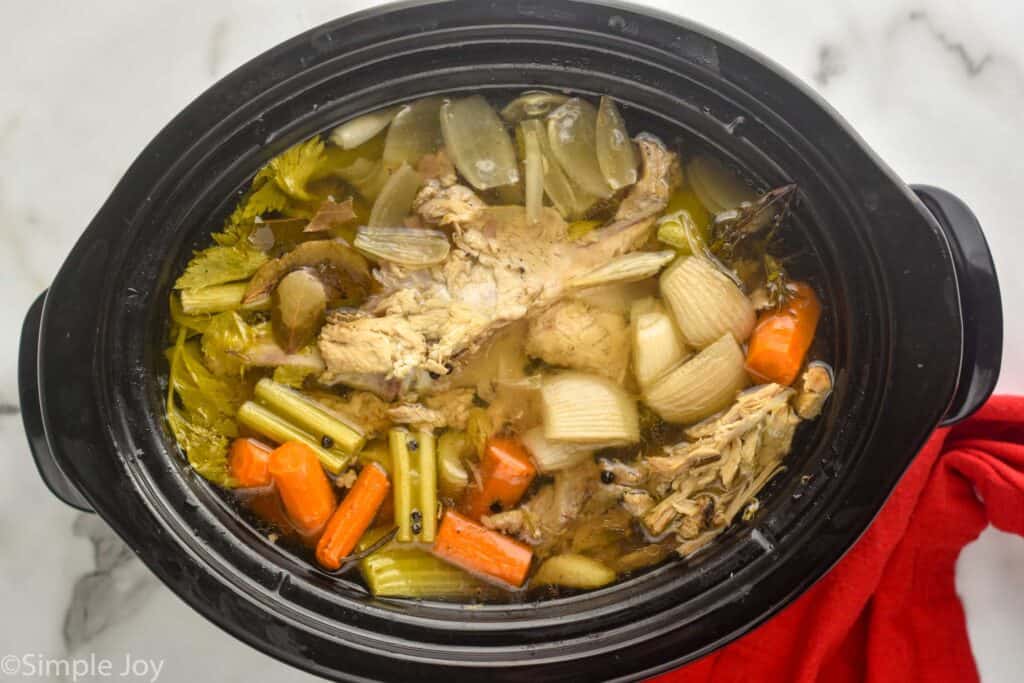 How to Make Turkey Broth
If you've never made your own broth, this is a terrific recipe to start with, It's actually a very simple process and it tastes so delicious in tons of recipes. Check out the recipe card below for complete instructions and ingredient measurements, but in a nutshell here's all you need to do:
First, break down the turkey carcass so it will fit into a large crock pot or heavy stovetop pot.
Next, chop some veggies – the holy trifecta of onions, celery and carrots and toss into the pot.
Then add some cracked garlic cloves, fresh herbs and whole peppercorns
Cover the whole thing in water and let the pot do the rest.
Finally, strain the broth through a cheesecloth covered strainer and toss the rest. You're done!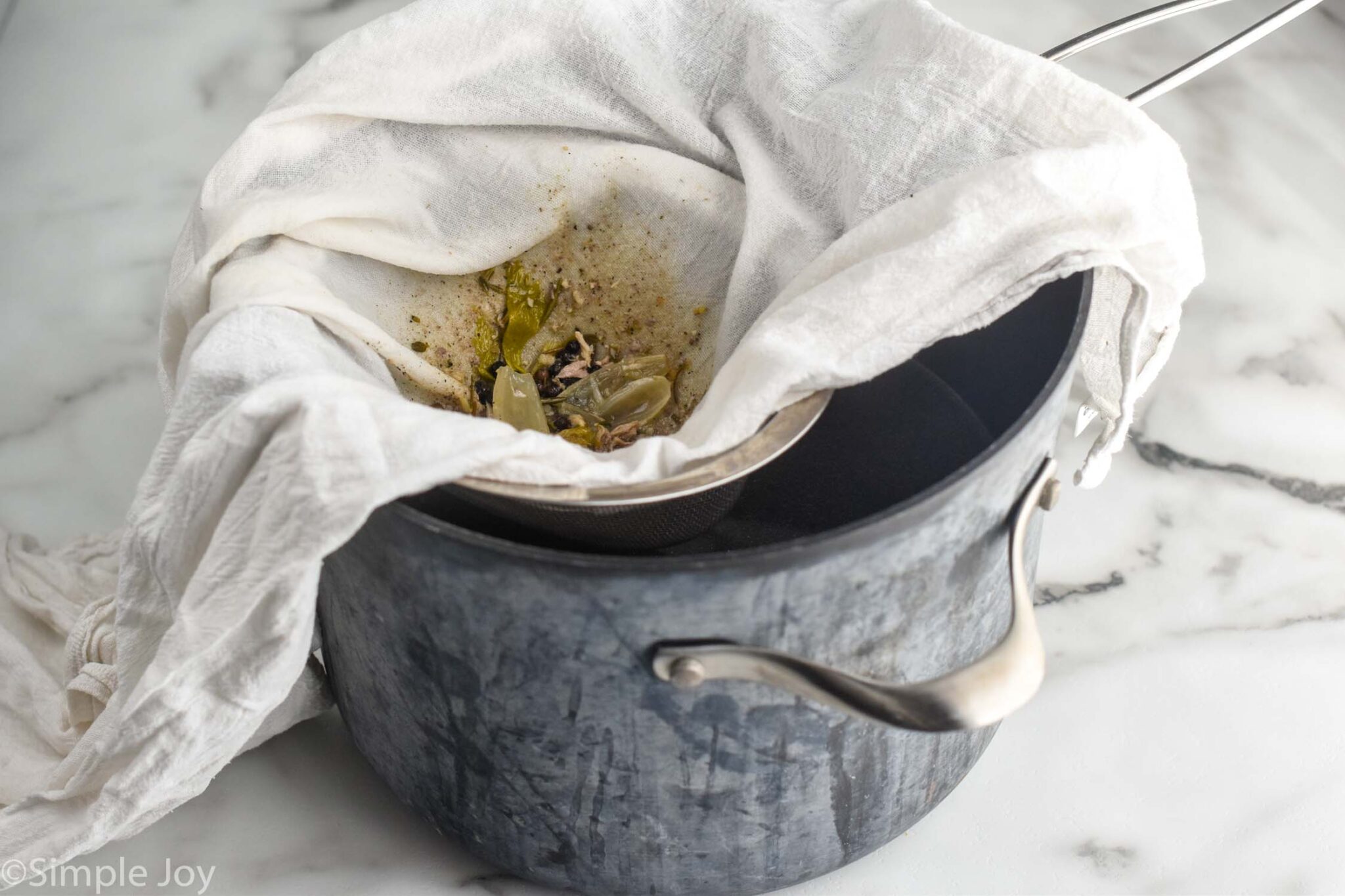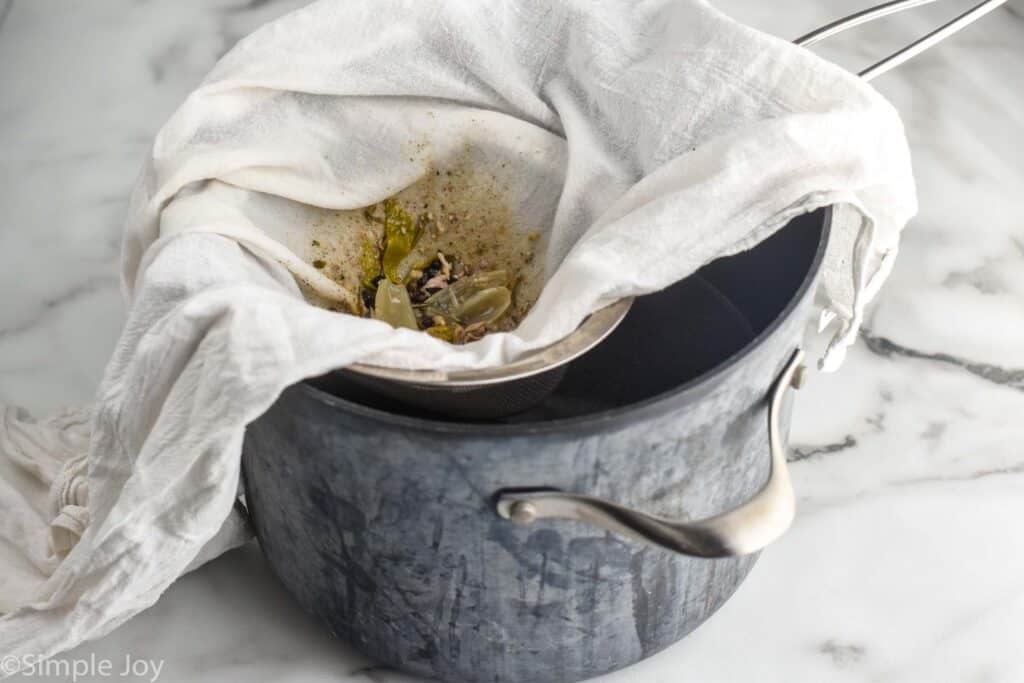 Removing Fat
It's not necessary to remove the fat from this turkey broth recipe. However it's easy to do. Once the broth is cooled, use a fat separator to skim the fat from the top of the broth.
How Much Does this Recipe Make?
This recipe makes a generous 12 cups of broth. Follow the directions below for how to store it.
How to Store Turkey Broth
This recipe will make a LOT of turkey broth that you'll probably need to store for a little while. Once it's fully strained and cooked, cover and refrigerate it for at least a few hours, preferable overnight. You can then portion the broth out into freezer-safe containers or freezer bags for storage.
Homemade turkey broth can be refrigerated for up to three days, or you can freeze and use it within six months.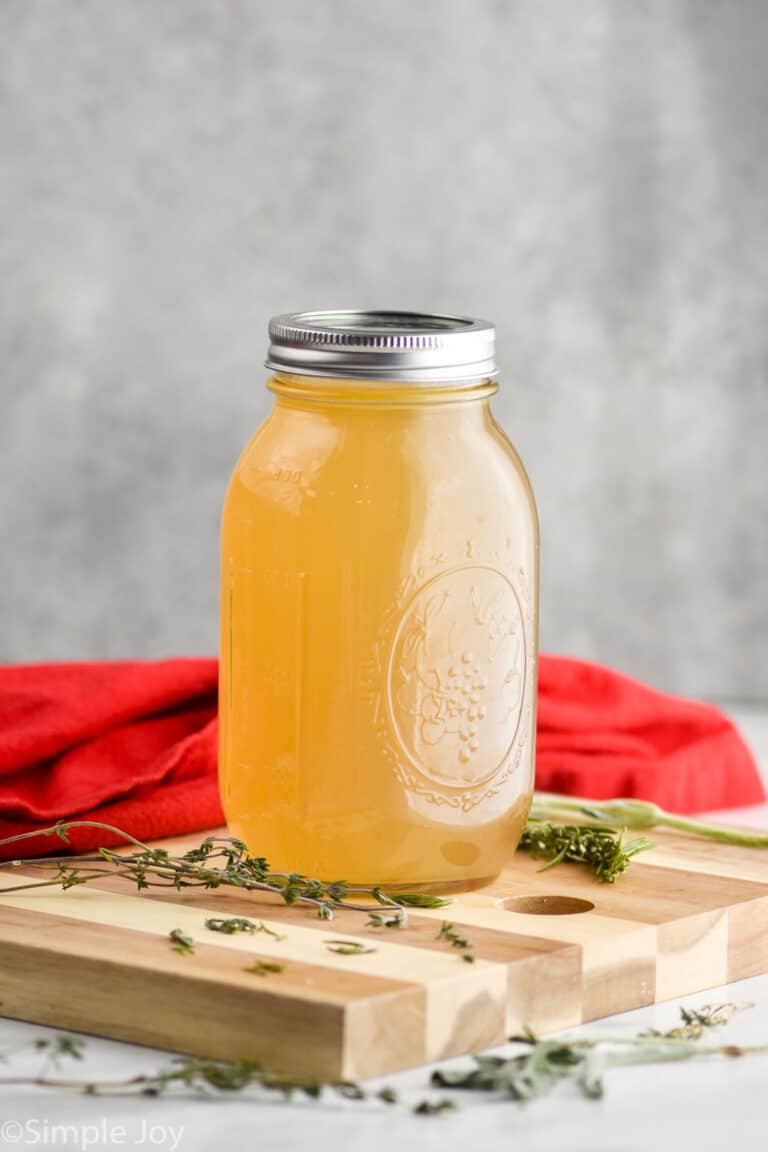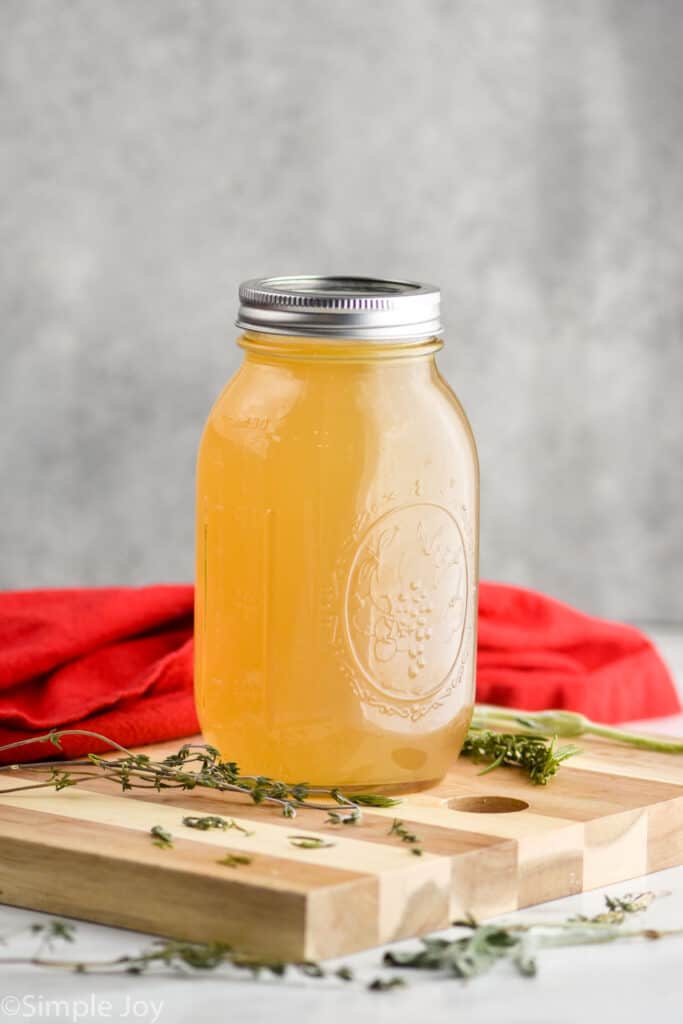 use turkey broth in these recipes
From soups to casseroles, you will love using this fresh turkey broth! The rich, savory liquid will enhance soups, stews, casseroles, stuffing, and vegetable side dishes. Let me know in the comments if you have questions about this or any of my other recipes. I love hearing from you!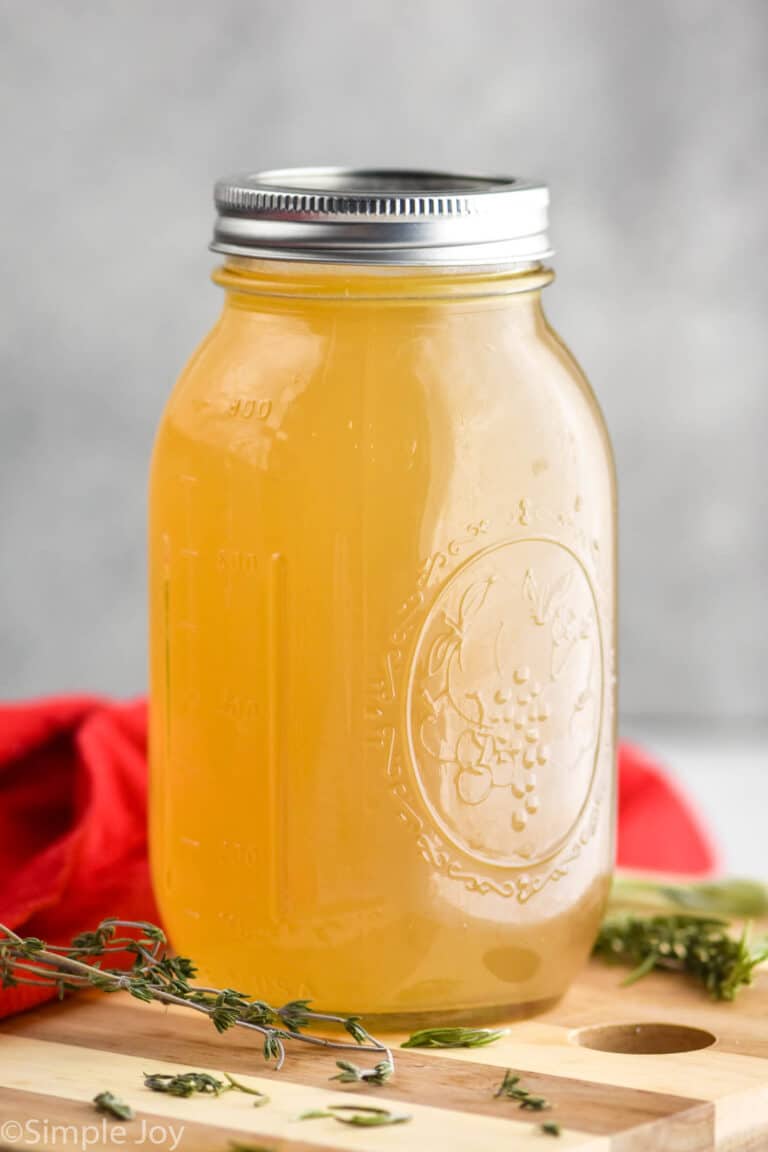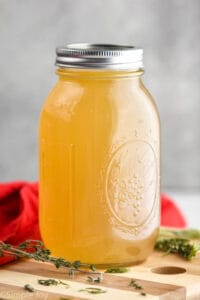 Turkey Broth
Total:
4
hours
20
minutes
Turkey Broth is simple to make, freezes really well, and is great to replace chicken stock in all of your favorite recipes.
Ingredients
turkey carcass

broken apart

2

onions

peels removed and quartered

2

celery stalks

cut into three inch pieces

2

carrots

peeled and cut into three inch pieces

4

garlic cloves

cracked

2

fresh rosemary sprigs

2

fresh thyme sprigs

2

bay leaves

2

teaspoons

peppercorns
Instructions
Place all of the ingredients in a large crockpot or dutch oven. Cover with 12 to 16 cups water.

If cooking in a crockpot, cook on high for four hours.

If cooking on the stovetop, bring to a boil and then reduce the heat to a very low simmer, cooking for 4 hours uncovered.

At the end of the cooking time, strain the liquid though a cheesecloth lined strainer. Then, if desired, use a fat seperator to remove the fat from the top of the broth.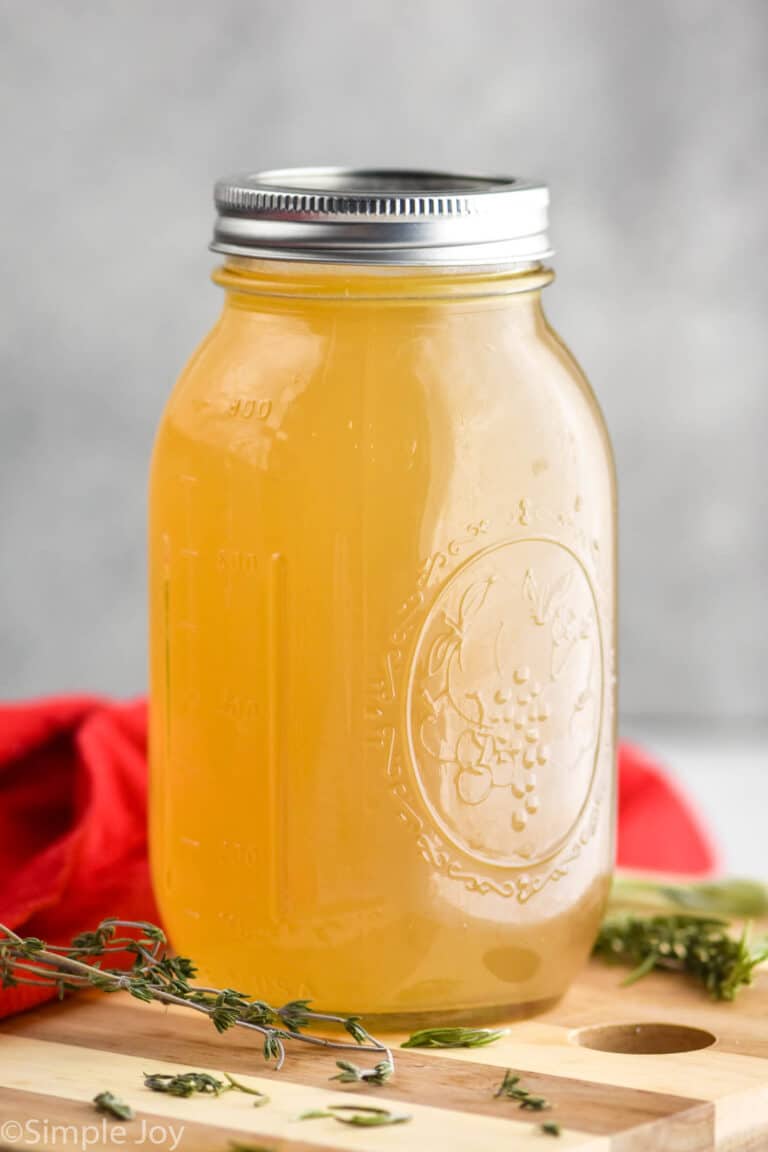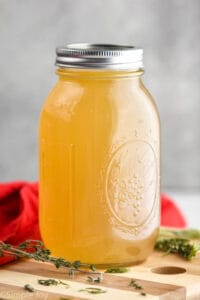 did you make this
Turkey Broth