This Chocolate Buttercream Frosting is fluffy, creamy and so chocolaty. With just six simple ingredients, it's super easy to whip up!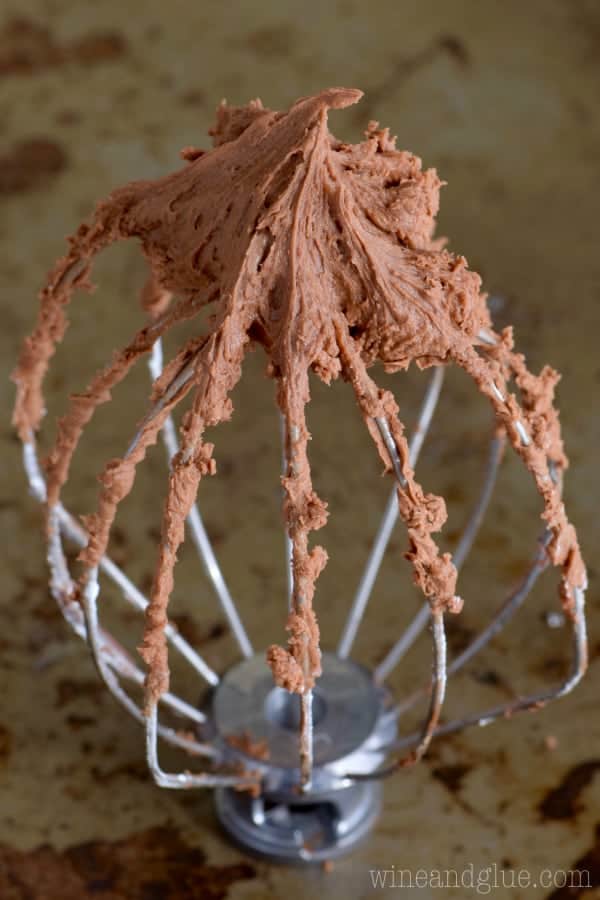 This Chocolate Buttercream Frosting is the cocoa flavored counterpart to my scrumptious Vanilla Buttercream Frosting. I posted it years ago after my sister-in-law asked if I had a good frosting recipe. Um, yes ma'am I do! And because you are my people, it became one of my top searched for posts on the blog! Since I posted that recipe, I have had many requests for a chocolate counterpart. Basically the same recipe in chocolate. So here it is! This is light, fluffy, easy to make and so chocolaty delicious!
What's your favorite kind of frosting? Are you frosting lovers like me? I can't get enough! Please leave me a comment below and we can swap frosting tips!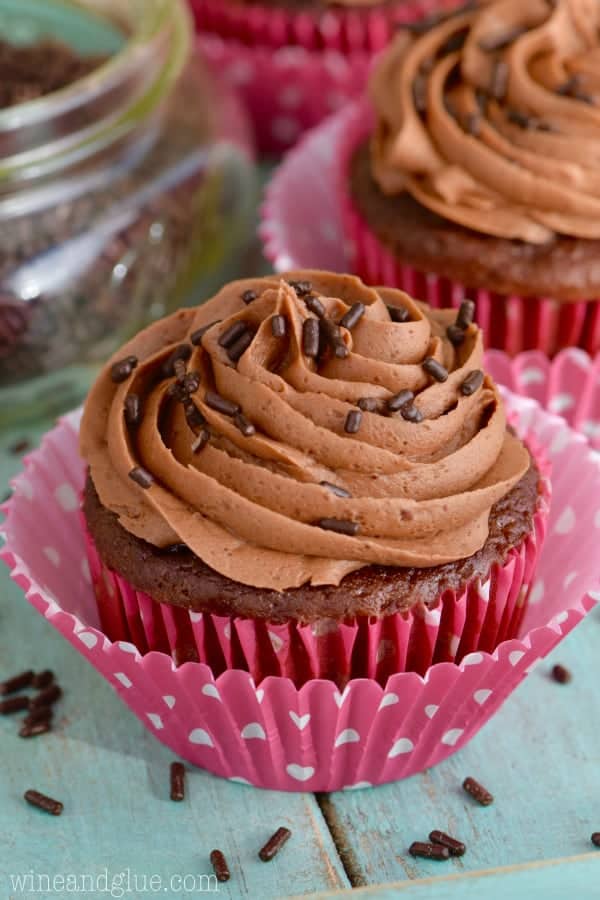 SIX SIMPLE INGREDIENTS
Just like my vanilla frosting, this chocolate buttercream frosting recipe is easy, with ingredients you probably already have in your fridge! Here's all you need:
Unsalted Butter: I'm going to get stern with you about something really quick: use real butter, friends! I beg you. I have friends who use the salted, sweetened butter, and that's yummy too. But with unsalted butter you can control the sodium and flavor a little bit more, and it won't come out too sweet. Also, make sure it's at room temperature. More on that in just a minute.
Chocolate Chips: It's really easy to melt chocolate chips in the microwave, and you just can't beat the smooth, rich texture and flavor that melted chocolate adds to this frosting recipe. I like using semi-sweet chocolate chips but you could use milk or bittersweet chips too.
Vanilla: Even though this is chocolate frosting, the vanilla adds a smooth, rich flavor to help keep the chocolate from tasting too bitter or chalky.
Cocoa Powder: Along with the chocolate chips, cocoa powder gives this homemade buttercream frosting a rich chocolaty taste.
Powdered Sugar: Regular confectioner's sugar works great in this recipe; the finer the better.
Heavy Cream: Here's where your frosting will achieve its fluffy, airy texture. That heavy whipping cream blends in with the other ingredients beautifully, making this frosting lighter than air!
TIPS FOR PERFECT FROSTING
Make sure your butter is room temperature! Don't microwave it or this recipe won't work. Leave it on the counter for about an hour until you can gently press your finger into the cube to make a dent but not push it all the way through. If the butter is too soft (like if you're making it on a hot day) throw it in the fridge for a few minutes until it's soft but not too soft.
Whip that butter in a mixing bowl for at least thirty seconds to a minute until it's nice and fluffy before adding your chocolate and vanilla.
Sift the powdered sugar before adding it slowly cup by cup to the mixture.
You can also alternate adding the powdered sugar and heavy cream, mixing well between each addition.
Once all the ingredients are added, whip at a high speed for a couple of minutes until the chocolate buttercream frosting is fluffy.
If the frosting seems too soft, you can add a tiny bit more powdered sugar, but be aware that it does stiffen up slightly once it sets. It pipes beautifully, then sets up a little bit more.
If it's too stiff, add a bit more heavy cream until the chocolate frosting is the consistency you like.
HOW TO USE CHOCOLATE BUTTERCREAM FROSTING
Frosting is my absolute weakness. I remember as a kid how my mom would let me put frosting between graham crackers for a treat. A little frosting sandwich. And I was HOOKED. Every time I make a bowl of frosting I have to stop myself from eating it by the spoonful. Or not. A girl's gotta live! Try this frosting in all kinds of ways:
Do like I do: spread some chocolate frosting on a couple of graham crackers and you'll have a delicious after school snacks for your kids.
Use it is a dip for strawberries. YUM!
Pipe it onto cupcakes. A good chocolate buttercream tastes delicious on chocolate, vanilla, yellow, peanut butter, or even strawberry cakes.
Spread it on this Chocolate Snack Cake
Frost this Chocolate Peanut Butter Cookie Cake for your next birthday!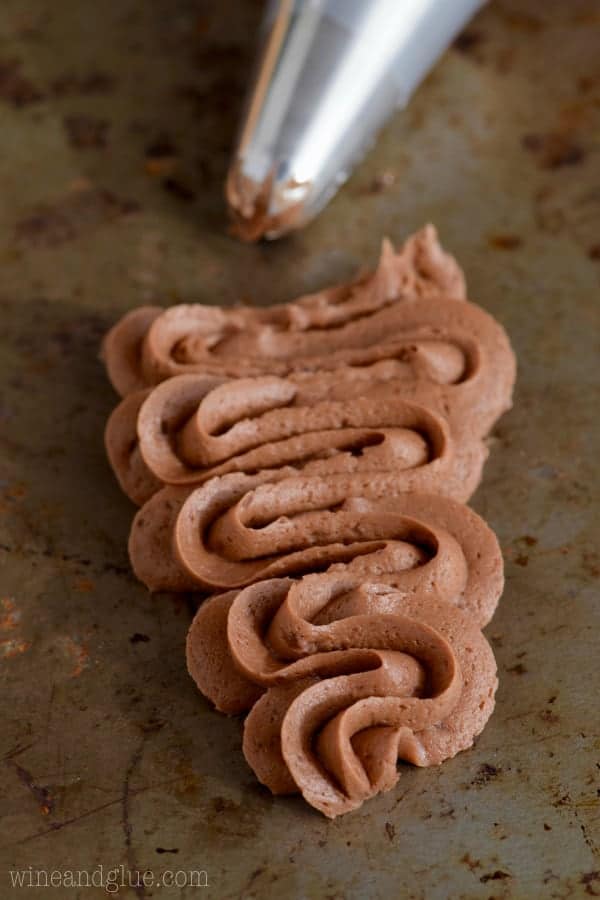 MORE TASTY FROSTING RECIPES
In addition to my favorite Vanilla Buttercream Frosting, try a few of these favorite frosting flavors next time you bake. You'll love them all!
I can't wait to hear how your frosting turns out! Please feel free to drop me a comment below. If you have any questions, I look forward to helping you with anything you need. Enjoy this delectable frosting recipe!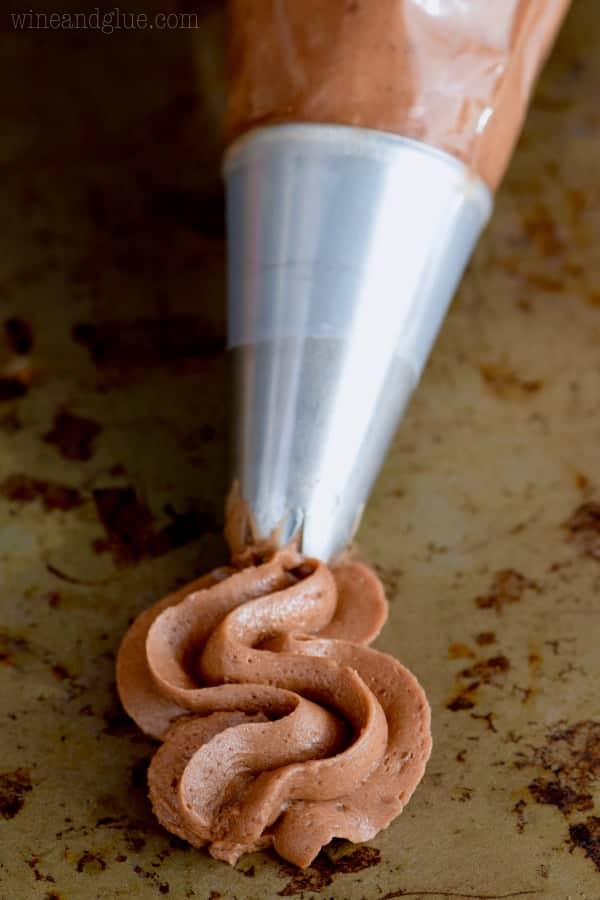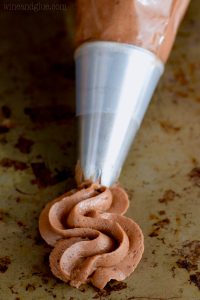 Chocolate Buttercream Frosting
This Chocolate Buttercream Frosting is fluffy, creamy and so chocolaty. With just six simple ingredients, it's super easy to whip up!
Ingredients
1/2

cup

unsalted butter

room temperature (see note)

1/2

cup

chocolate chips

melted

2

tsps

vanilla

1/4

cup

cocoa powder

5

cups

powdered sugar

1/2

cup

heavy cream
Instructions
Beat the butter in a stand mixer or a large bowl with a hand held mixer.

Add in the melted chocolate, cocoa powder, and vanilla extract.

Slowly add in the powdered sugar one cup at a time. Then add in the heavy cream.

Store in an airtight container until you are ready to use.
Notes
The butter **must** be room temperature for this recipe to work. Do not microwave it. You should be able to easily dent the butter with your finger but NOT push all the way through. If your butter is too stiff or too soft, the recipe will not turn out.
Calories:
455
kcal
(23%)
Carbohydrates:
50
g
(17%)
Protein:
1
g
(2%)
Fat:
28
g
(43%)
Saturated Fat:
18
g
(113%)
Cholesterol:
73
mg
(24%)
Sodium:
1
mg
Potassium:
29
mg
(1%)
Fiber:
1
g
(4%)
Sugar:
46
g
(51%)
Vitamin A:
19
IU
Iron:
6
mg
(33%)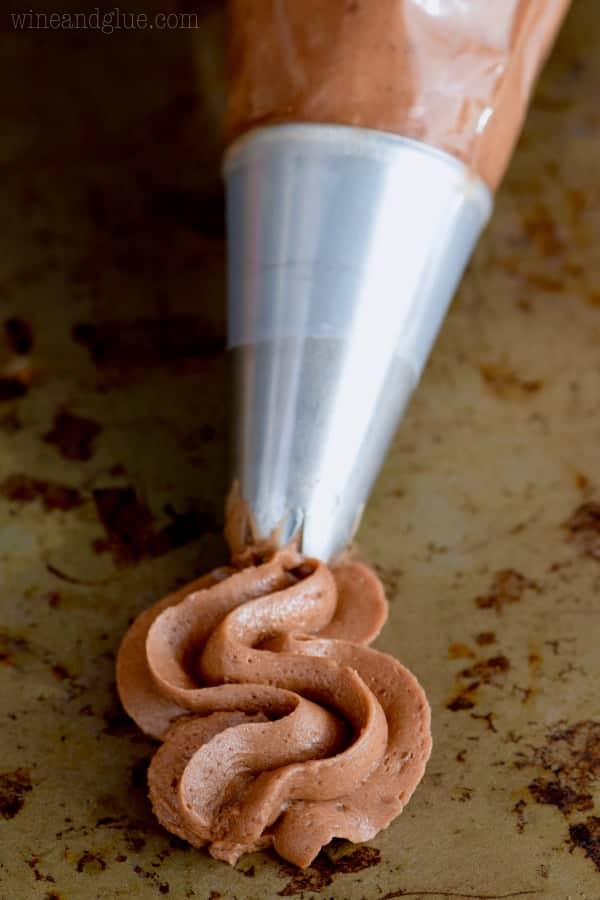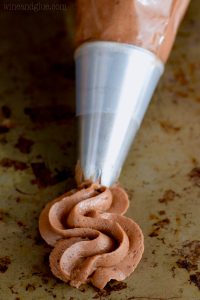 did you make this
Chocolate Buttercream Frosting