This Cajun Chicken Alfredo is an easy weeknight meal with the most perfect homemade Alfredo sauce. Your family will love this delicious dinner.
This post is sponsored by Mirum, but opinions expressed are my own.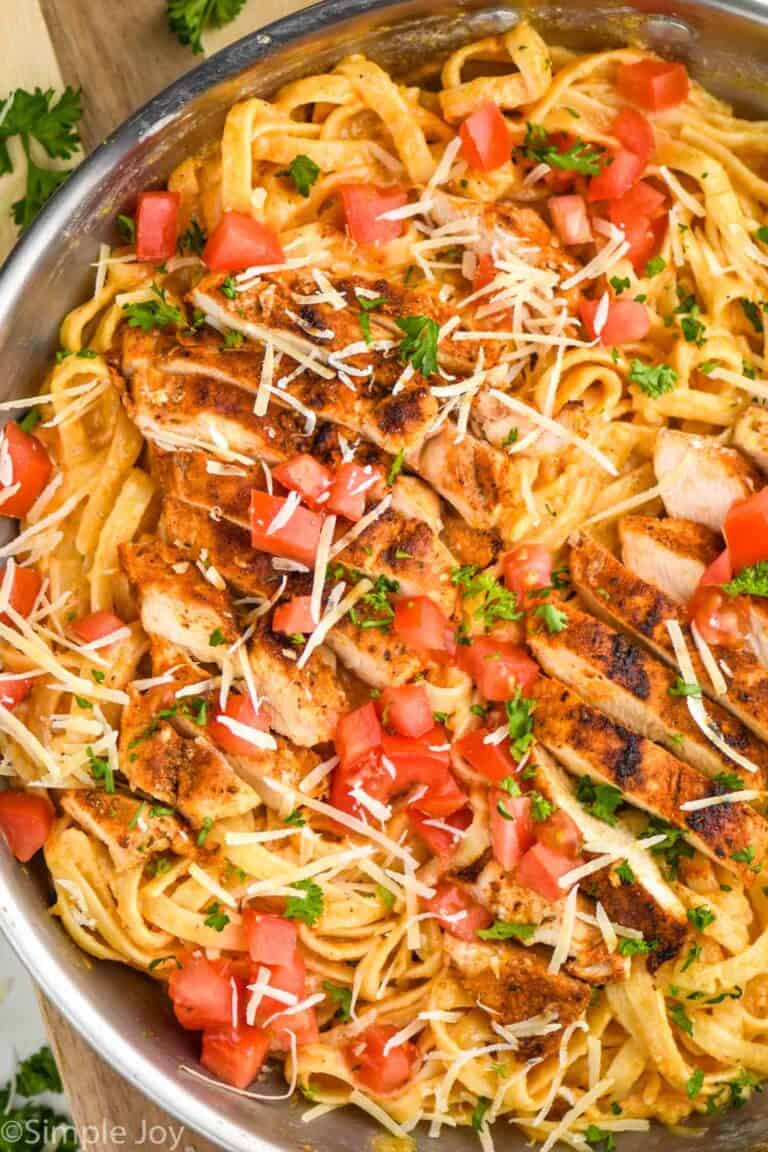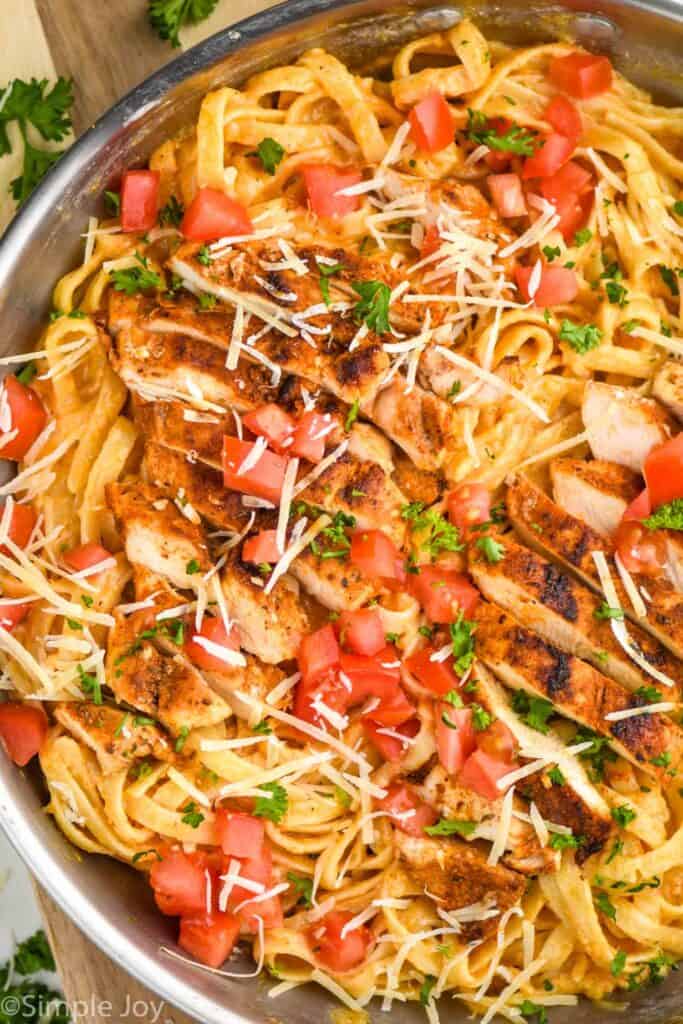 Our family loves delicious pasta recipes. I swear that my kids could have pasta every single night for dinner and not get tired of it. They come by it honestly. I'm pretty sure that pasta is one of my many love languages.
One way we like to keep it interesting is by mixing in different seasonings. I love my homemade Cajun seasoning. It works so well with the homemade sauce in this Cajun Chicken Alfredo.
As much as I love the little kick that is in this recipe, with the seasoning and the rich sauce, it can kick up my occasional heartburn. If you have frequent heartburn, I suggest you try Omeprazole Orally Disintegrating Tablets (ODT).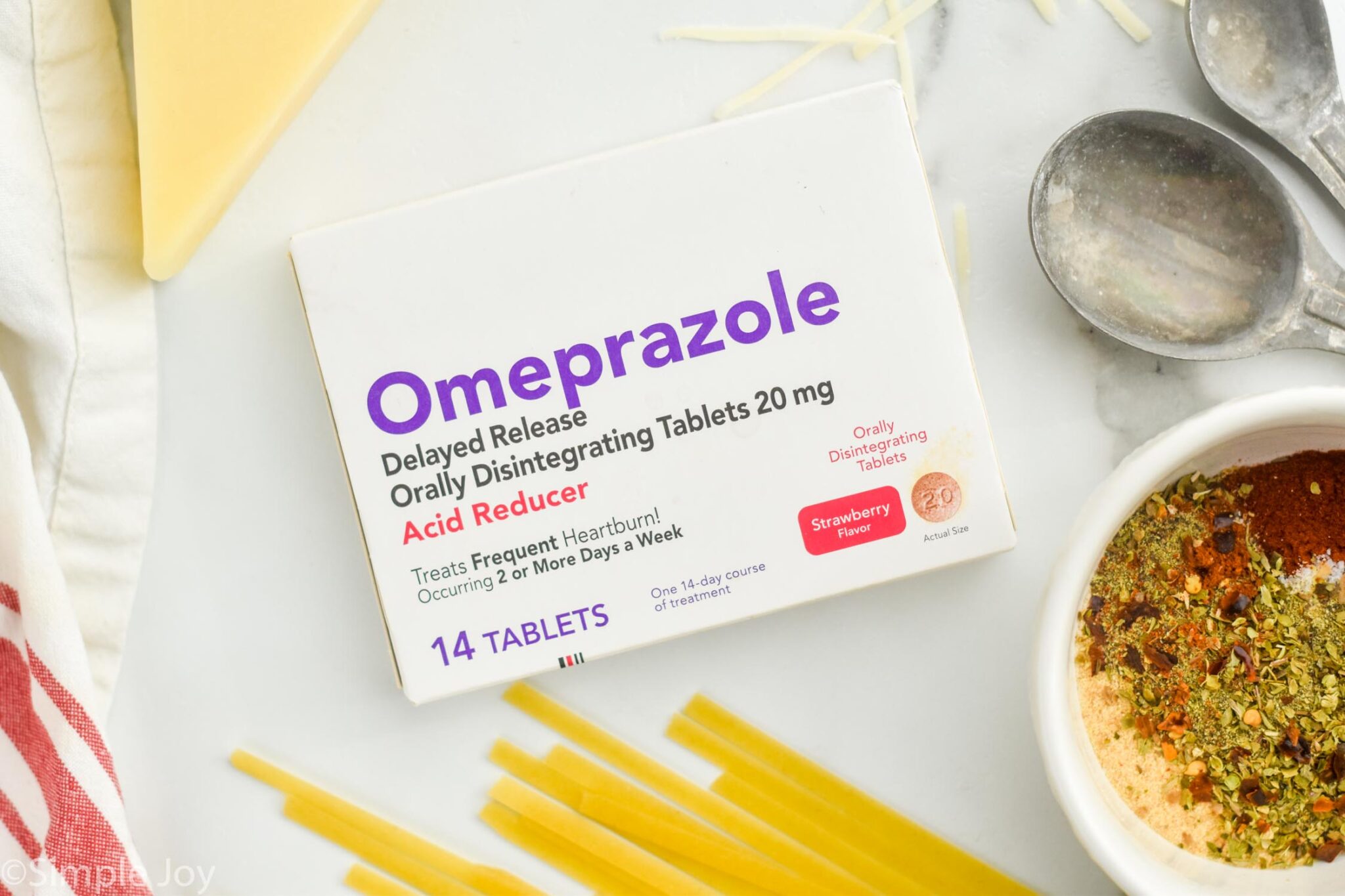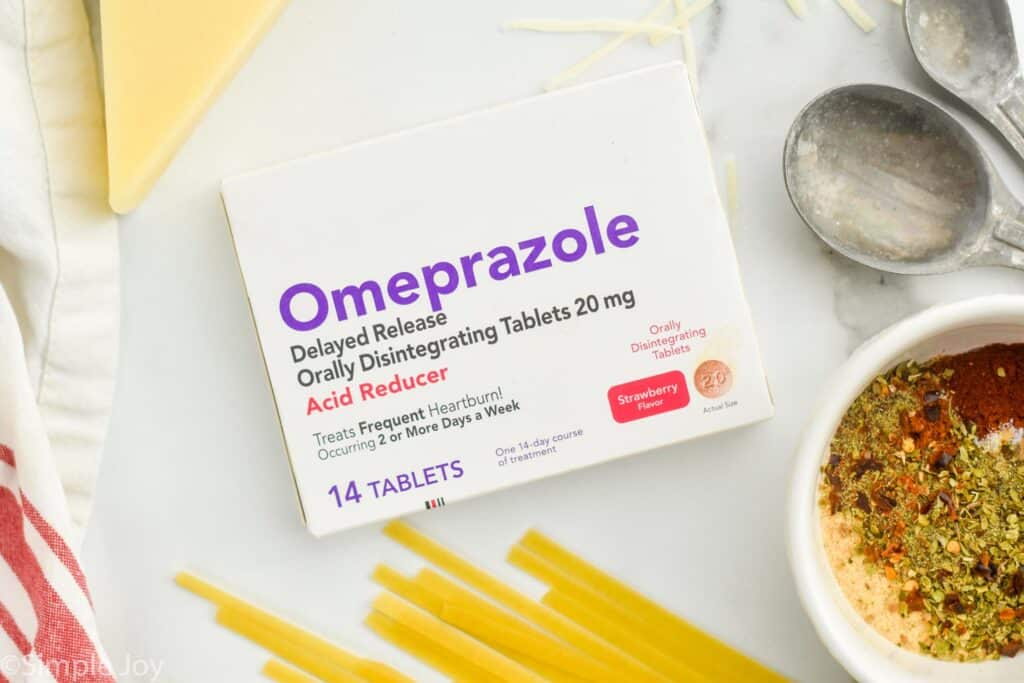 Omeprazole ODT, used to treat the symptoms of frequent heartburn (2-3 days a week or more), is so great. With a subtle strawberry flavor, they dissolve on your tongue, so you can take them without water. Using Omeprazole ODT is a great way to relieve heartburn and continue enjoying all the delicious pasta recipes you can dream up. Learn more here.
Use as directed for 14 days to treat frequent heartburn (occurring 2 or more days a week). May take 1-4 days for full effect. Not intended for immediate relief.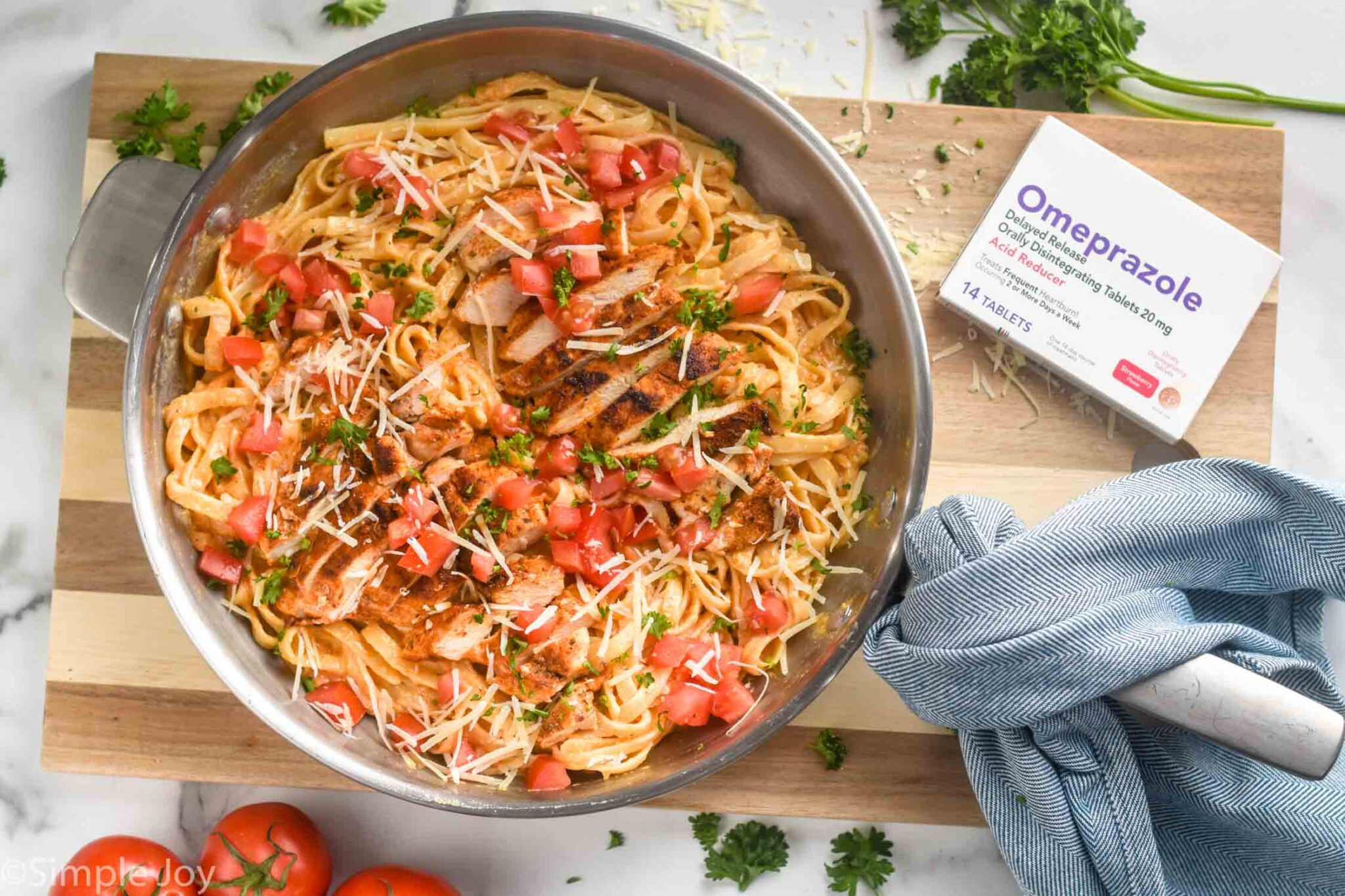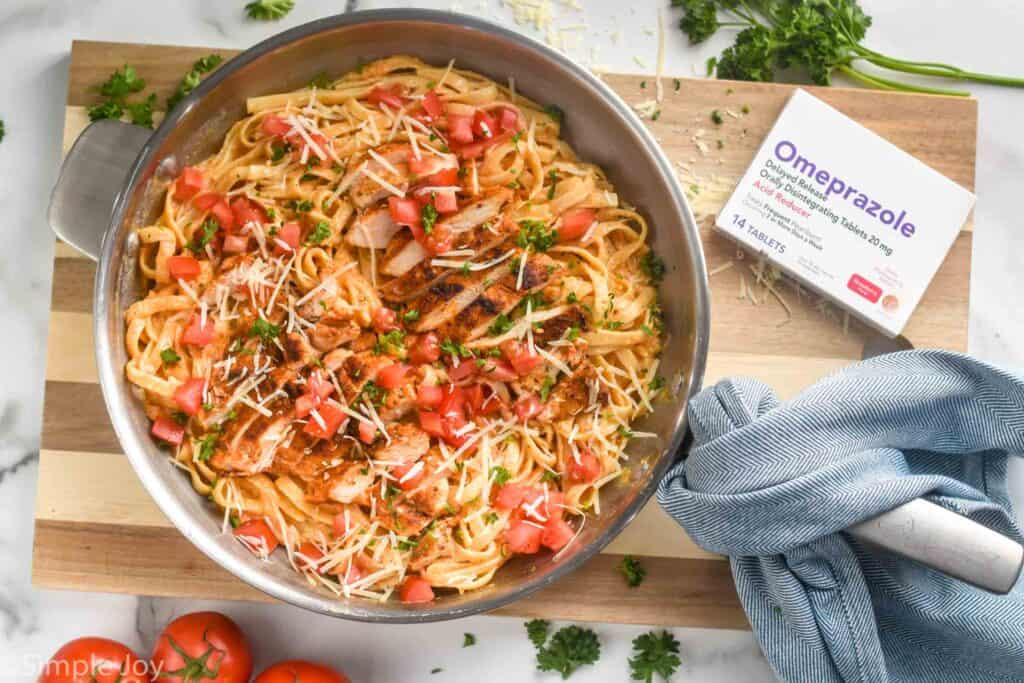 How to Make Cajun Chicken Alfredo
This recipe has a few moving parts to, so the key to this guy is multitasking. This is a brief overview. Be sure to get the full recipe at the bottom of the post.
Bring a large pot of salted water to a boil. Cook the fettuccine according to package instructions. Drain and set aside.
While the fettuccine is cooking, make the chicken. Cut the chicken in half width wise to make thinner breasts. Rub with Cajun seasoning and cook for four minutes on each side in a skillet.
While the chicken is cooking, start the Alfredo Sauce. Melt a little butter in a pan, then whisk in heavy cream. Simmer for 15 minutes to reduce, then melt in Parmesan cheese and stir in Cajun Seasoning.
By starting the next step before the previous step is done, you can keep this recipe moving and make it a 20 minute meal.
You can see all this come together in the video in the recipe card.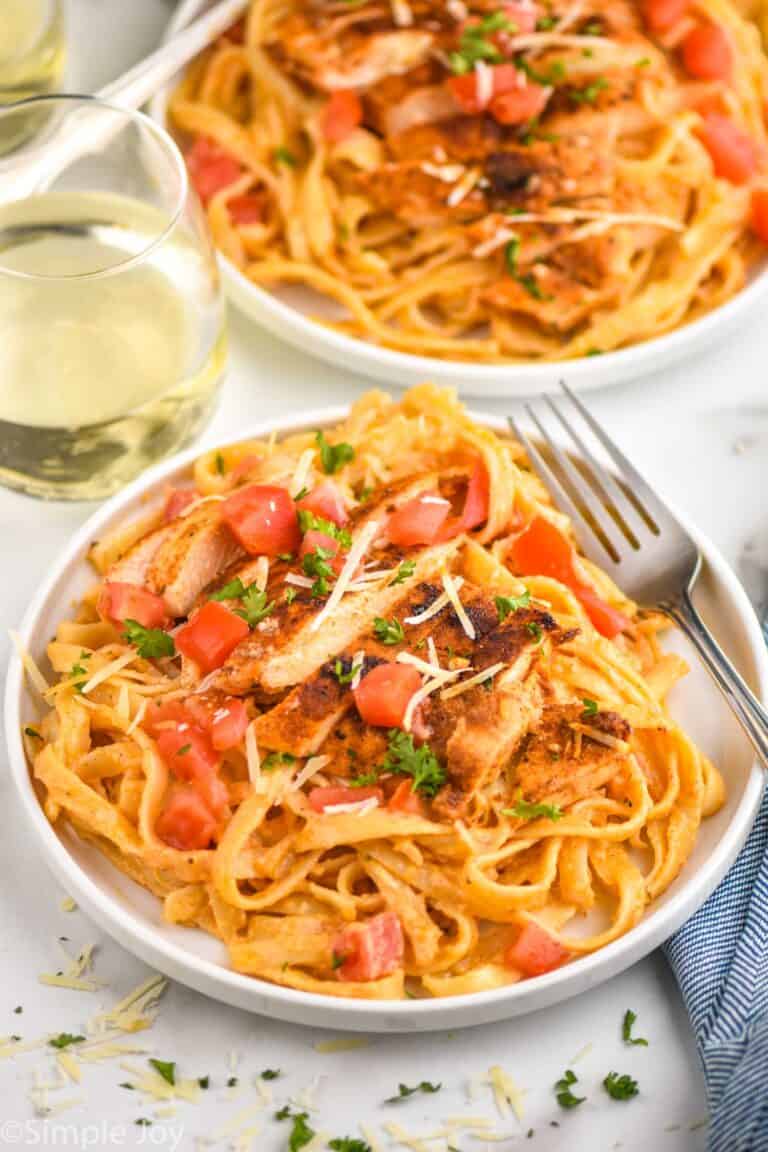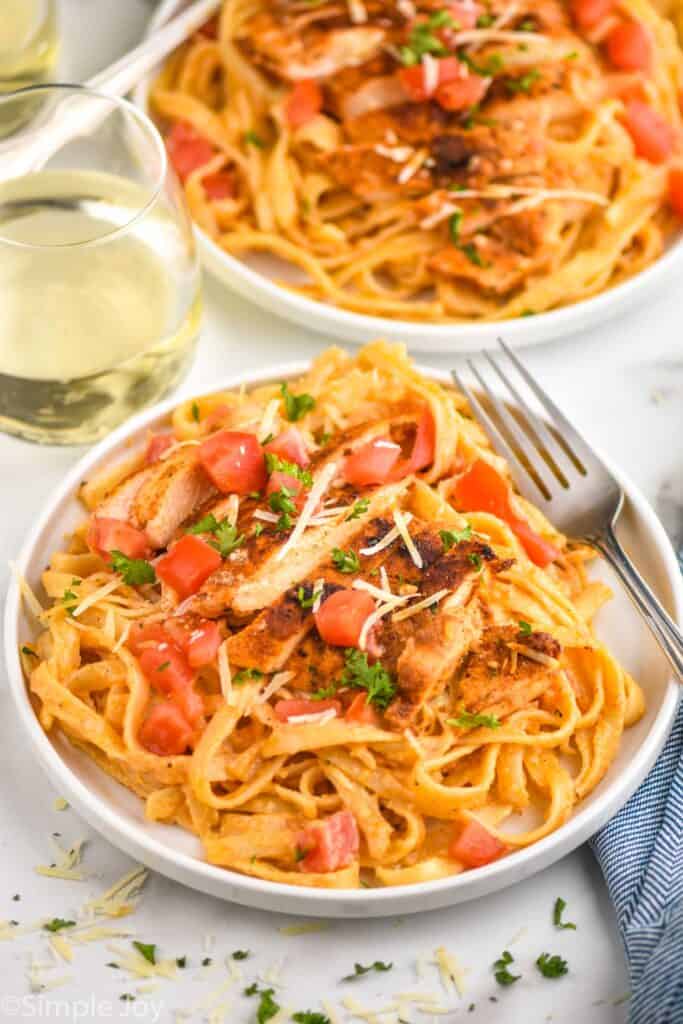 Cutting Your Chicken into Cutlets
One of the things that keeps this recipe quick is thin chicken. Having a thinner chicken breast allows it to come to 165 degrees more quickly. Rather than pounding the chicken thin, in this recipe, I opted to cut the chicken into cutlets.
Not quite sure what I mean by this? You can see it in action in the video in the recipe card.
Making Your Own Cajun Seasoning
This recipe calls for homemade Cajun seasoning, and one of the reasons for that is because you can control the spices in it. I go into a lot more detail in my post about this seasoning mix.
I love a spicy Cajun Chicken Alfredo, so I up the cayenne pepper and red pepper flakes. If you like it a little more mild you can cut back on those. It's the beauty of making your own spice mix.
That being said, if having to make your own seasoning mix will hold you back from making this recipe, buy some Cajun Seasoning!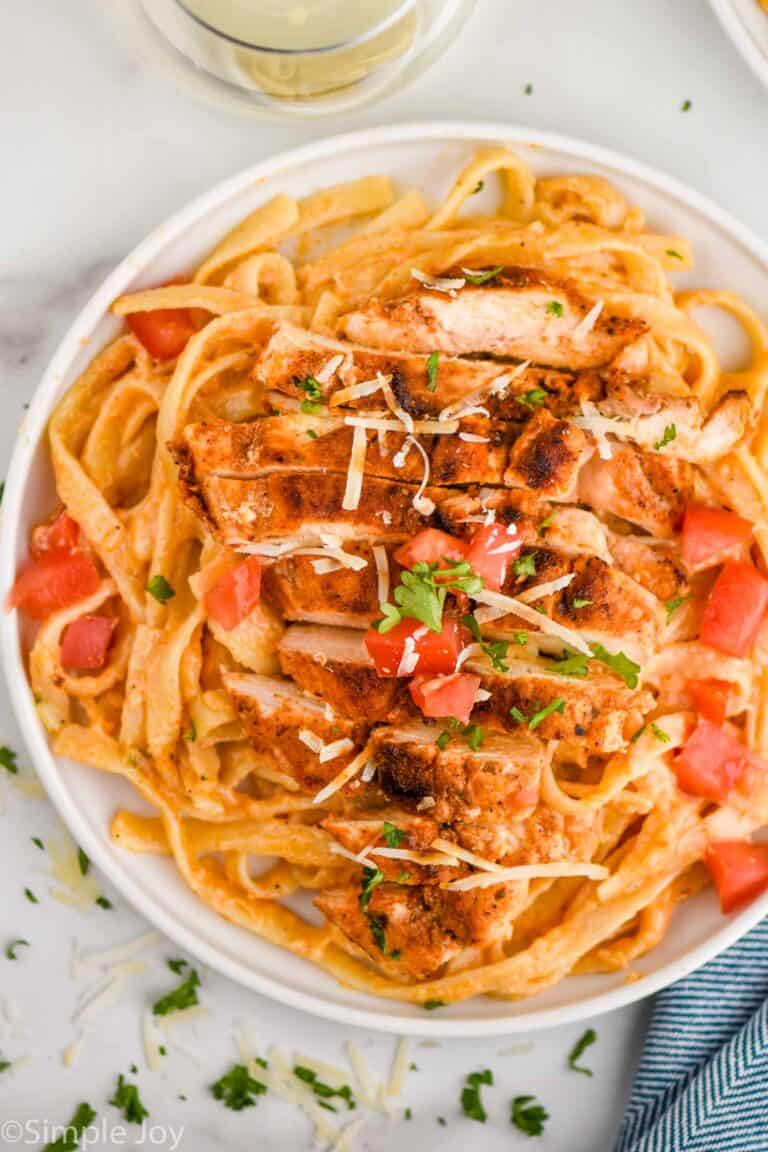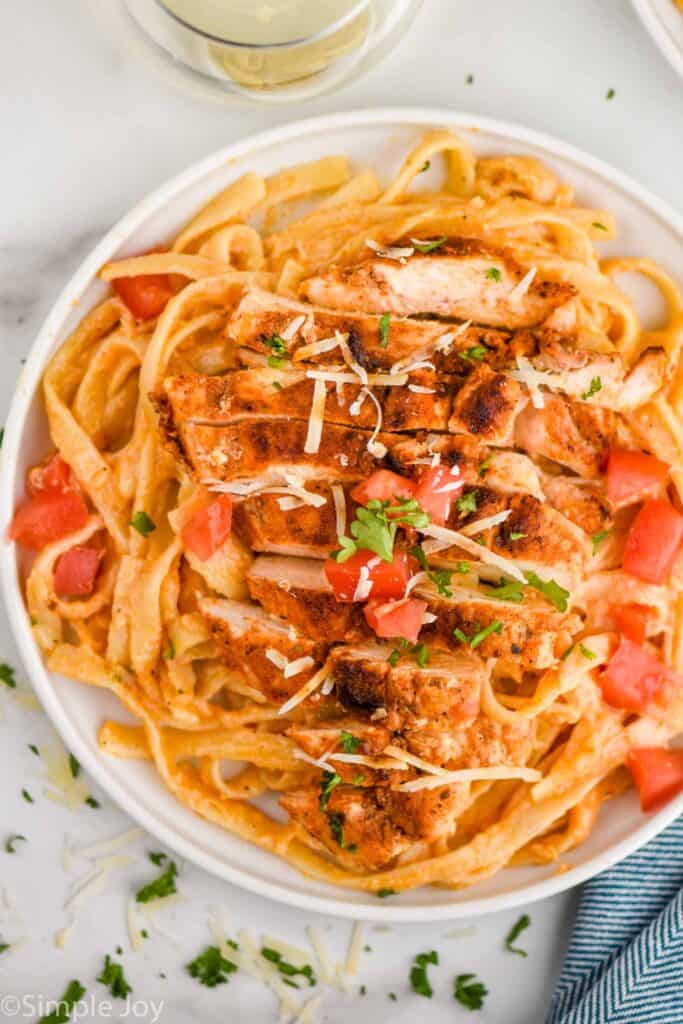 FAQ
What type of Parmesan should I use?
You want shredded Parmesan in this recipe (rather pre grated). The texture will be much better. I would also encourage you to buy a brick and shred your own. It melts a lot better.
Can I use a different noodle?
Absolutely! I stuck with fettuccine because that's the classic that goes with Alfredo, but use what you like.
Does the chicken burn?
It may look in the photos like the chicken is burnt, but it is blackened. This is a technique in which you season a meat with seasoning and then cook it in oil or butter. It's delicious. You can read more about it in my Blackened Shrimp.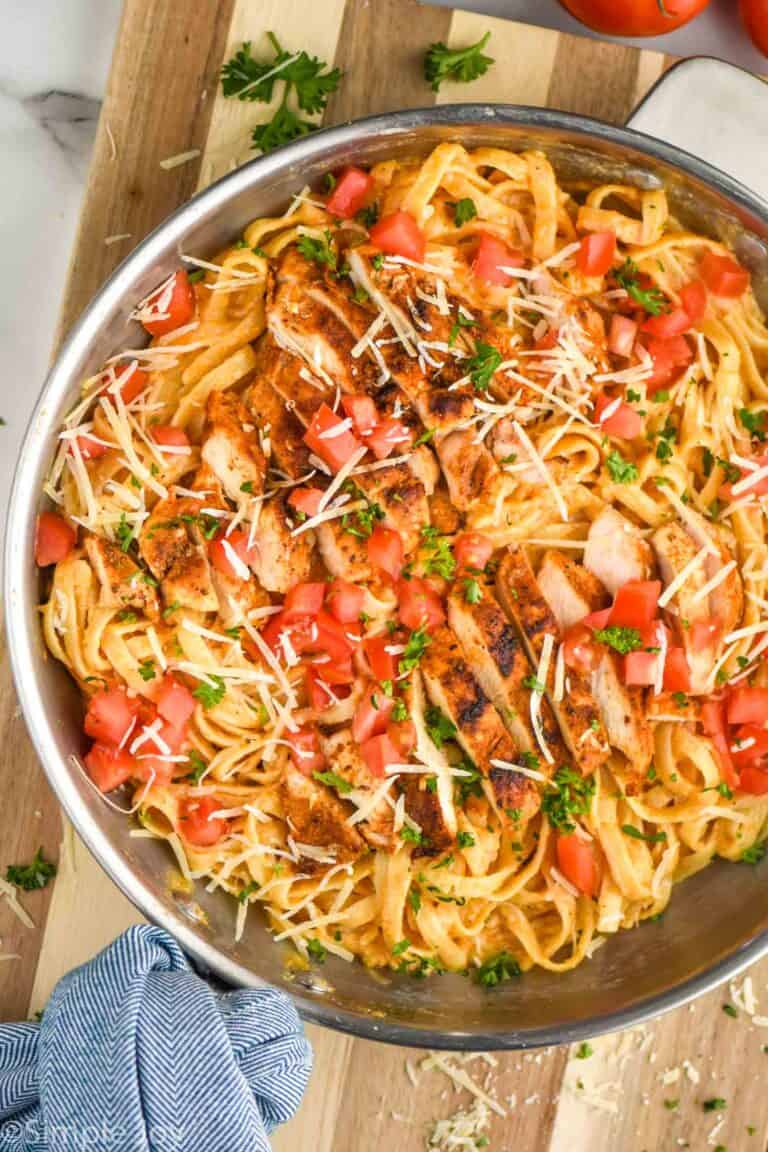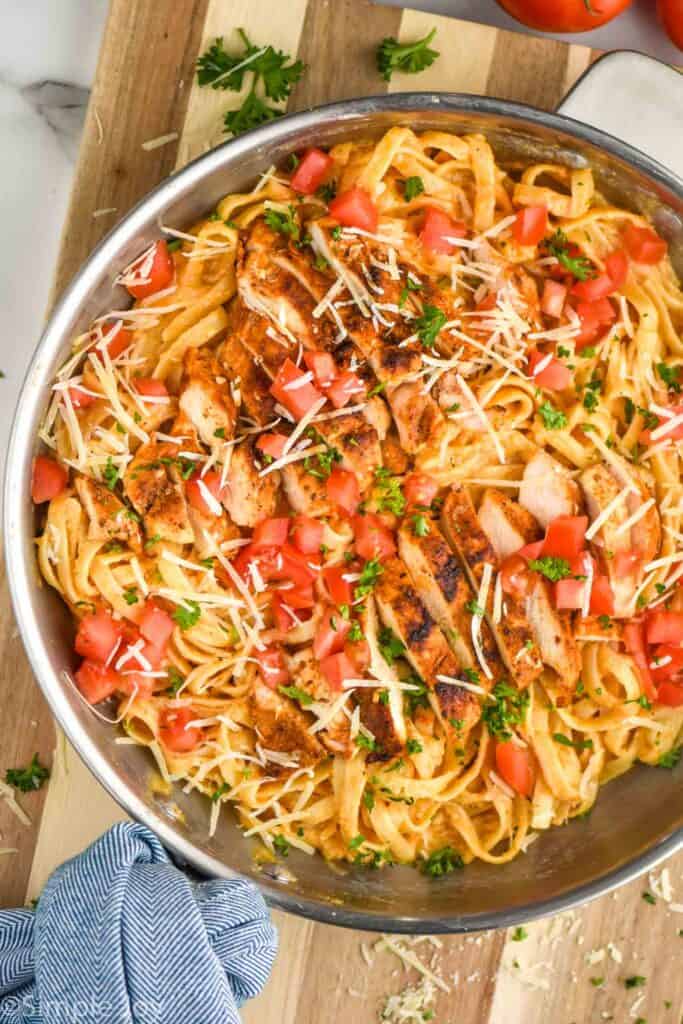 Other Great Cajun Inspired Dishes
If you can't get enough Cajun flavored food, make sure to make a big batch of my seasoning! Then grab your Omeprazole ODT, and make one of these:
If you make this Cajun Chicken Pasta Alfredo or any of my other recipes, please leave me a comment and let me know what you think!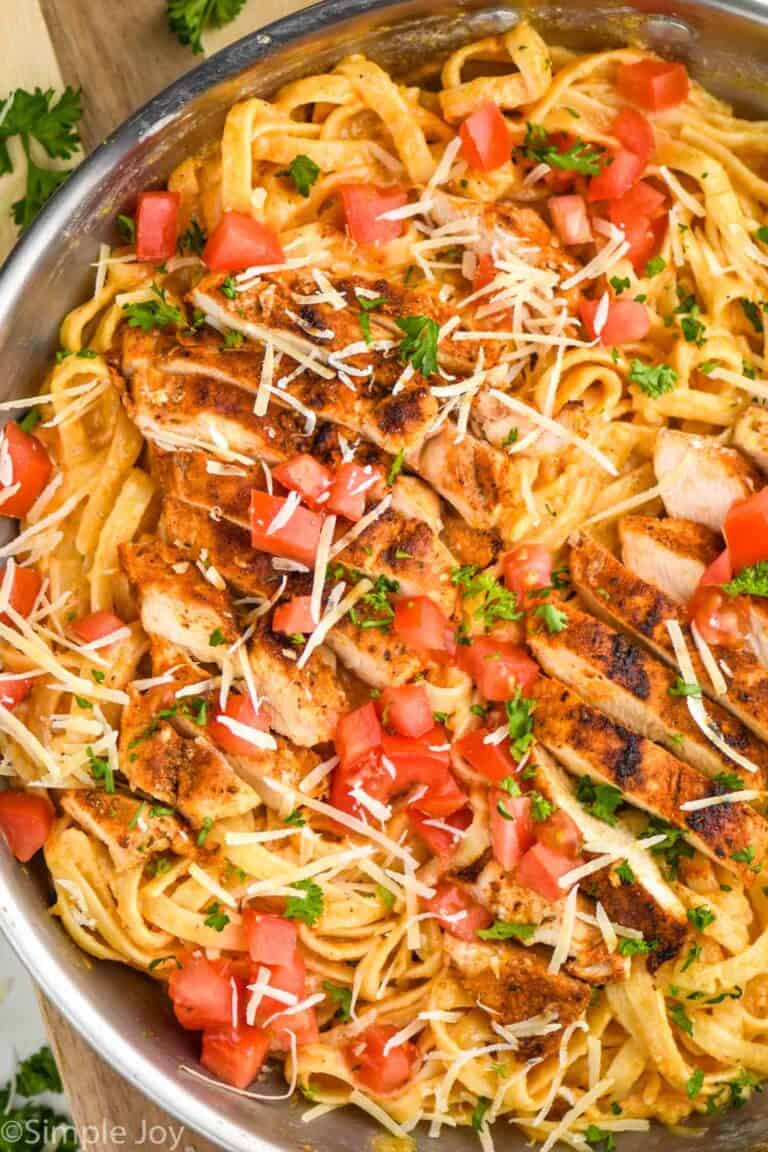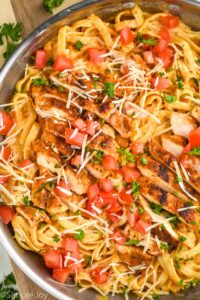 Cajun Chicken Alfredo
This Cajun Chicken Alfredo is an easy weeknight meal with the most perfect homemade Alfredo Sauce. Your family will love this delicious dinner.
Ingredients
16

ounces

fettuccine

2

tablespoons

extra virgin olive oil

1

pound

boneless skinless chicken breasts

3

tablespoons

Cajun seasoning

divided

2

tablespoons

butter

2

cups

heavy cream

2 1/2

ounces

shredded Parmesan

(about 1 cup) plus more for topping

salt and pepper to taste

1

diced tomato

fresh parsley

chopped
Instructions
Bring a large stock pot to a roaring boil. Add 2 teaspoons of kosher salt. Add the fettuccine and cook according to package instructions. Drain and set aside.

While the pasta is cooking, slice the chicken in half width wise to make chicken cutlets, or thin looking chicken breasts. You can see this in the video below. Season the chicken on both sides with 2 tablespoons Cajun seasoning.

Heat the extra virgin olive oil in a large skillet over medium heat. Add the seasoned chicken to the skillet. Cook for about four minutes on each side or until the chicken reaches an internal temperature of 165 degrees. Set the chicken aside, tented.

While the chicken is cooking, in a medium sauce pan, melt the butter. Once melted, add the heavy cream. Bring to a simmer, and cook for 15 minutes. The sauce should reduce and thicken.

Stir in the Parmesan cheese and allow it to melt completely. Add the remaining 1 tablespoon Cajun Seasoning and season with salt and pepper to taste.

Toss the cooked fettuccine with the sauce. Slice the chicken and top the pasta with the chicken, parmesan, parsley, and diced tomatoes.

Enjoy immediately!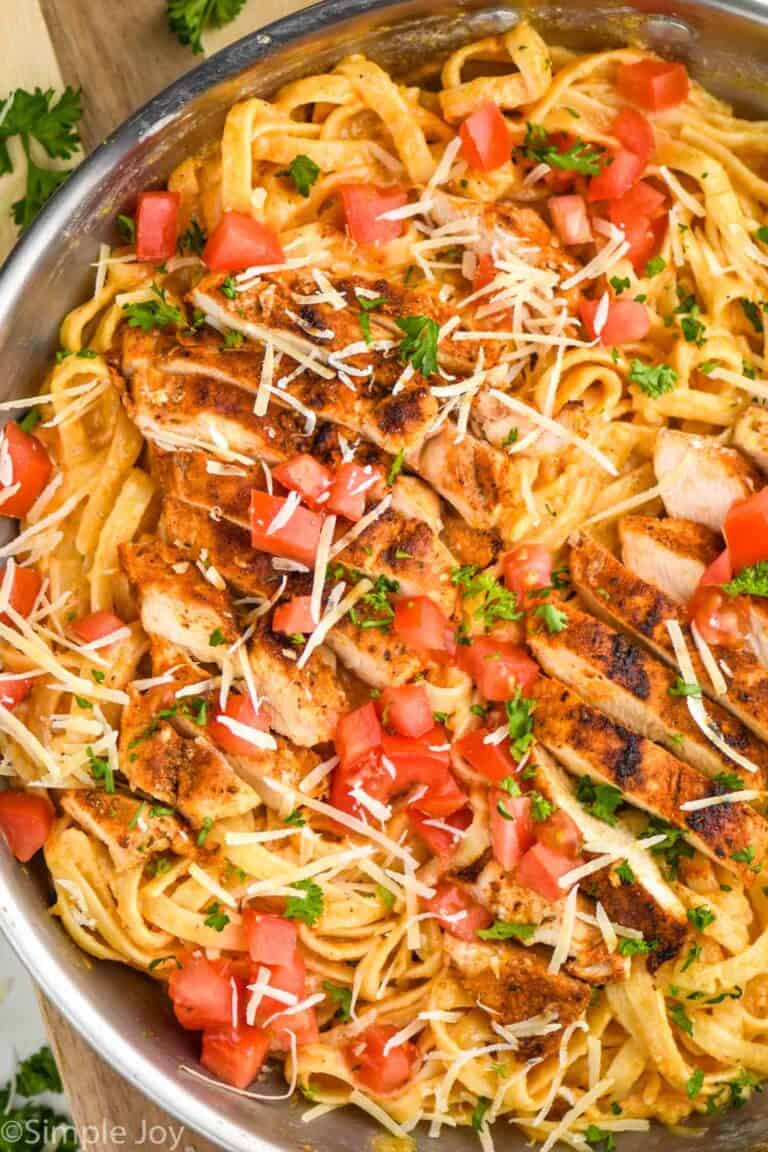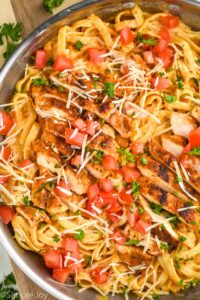 did you make this
Cajun Chicken Alfredo
you might also like . . .