This Shrimp Scampi is the perfect easy pasta recipe that comes together in just about 30 minutes. It's delicious, fast comfort food!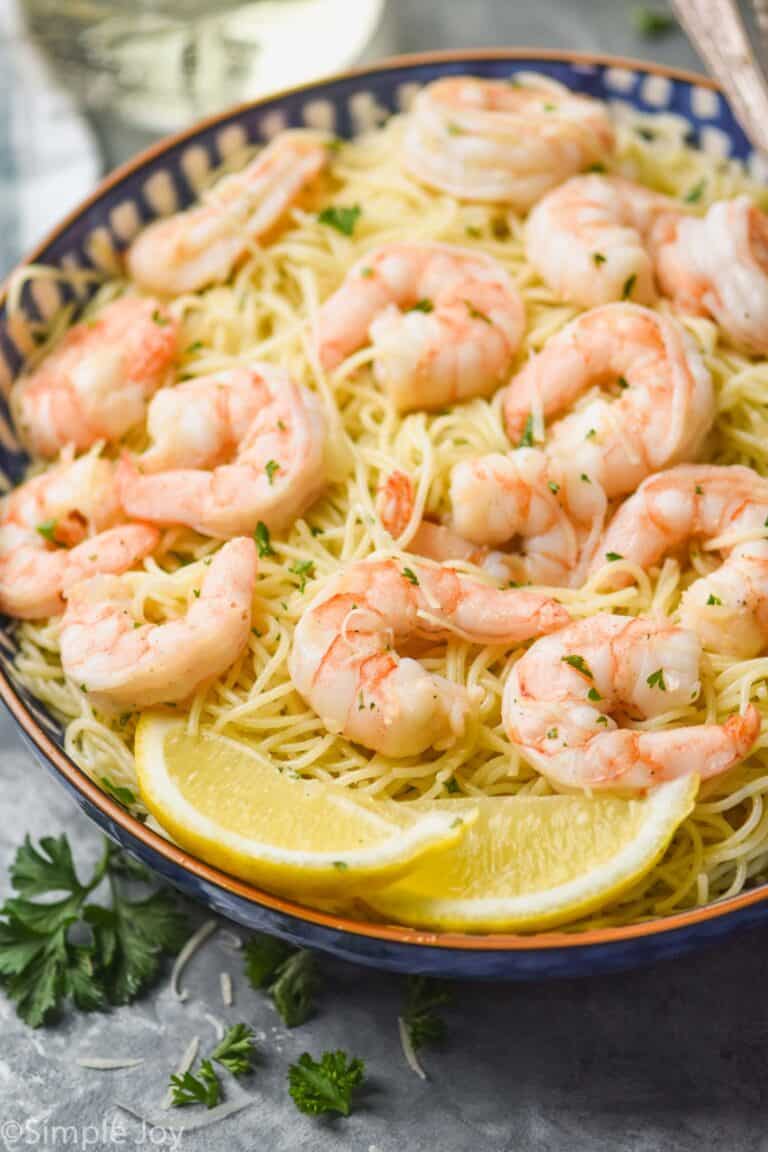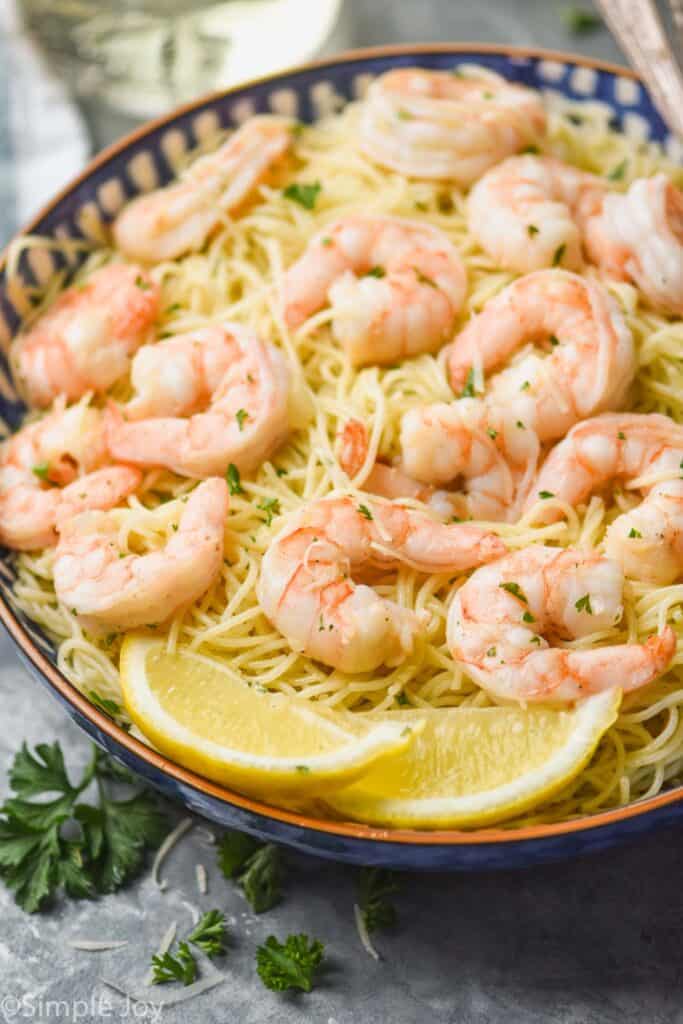 Sometimes simple recipes are the best. This isn't an overly complicated recipe, but that doesn't mean it is anything short of delicious.
Butter, lemon, wine, and pasta come together with shrimp pin this amazing dinner recipe to a perfect dish. This recipe is easy enough for a weeknight dinner, but delicious enough to serve guests.
Reader Review
OMG, what a great recipe. I made it with a good dry Chardonnay, my husband went bonkers. Thank you!
How to Make Shrimp Scampi
Cook angel hair pasta in a large pot of boiling water, making sure to salt the water and reserve pasta water before draining.
Sauté garlic, shallots, and red pepper flakes in butter and oil.
Season raw shrimp with salt and pepper. Cook them in the butter and oil just until they turn pink. Remove them from the pan.
Deglaze the pan with dry white wine, add in more butter and oil, and lemon juice.
Add the pasta to the sauce, tossing in fresh parsley. Add some of the reserved pasta water if it is too dry.
Top with the shrimp and grated fresh parmesan cheese.
Shrimp Scampi Sauce
The sauce for this pasta recipe is super simple. It really is just the mixture of a few ingredients. But they come together so simply that it makes it absolutely delicious.
Be sure to scroll to the bottom of the post to get the full printable recipe with all of the measurements.
Dry White Wine
Lemon Juice
Butter
Olive Oil
Shallots
Garlic
Red Pepper Flakes
Salt and Pepper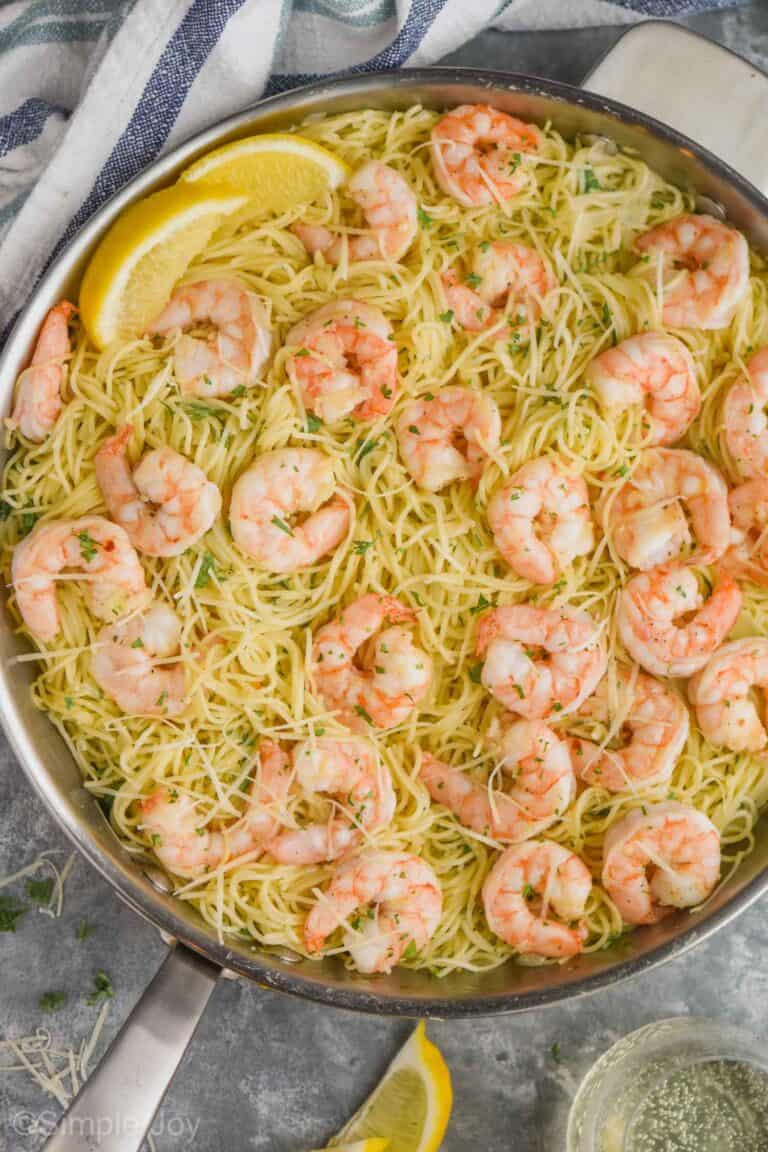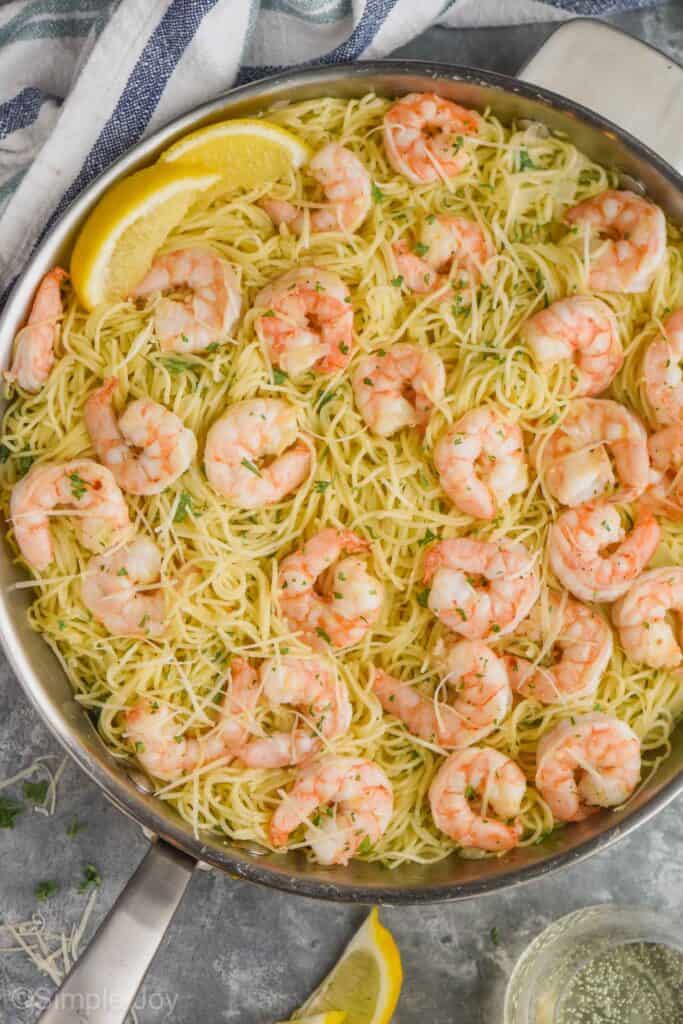 Reserving Pasta Water
You will notice that a key in this recipe is reserving the pasta water. Pasta water is full of delicious salty starchy taste. It can often be the perfect backbone to a simple sauce like this one.
Without this reserved pasta water, it is very easy for this recipe to feel dry. Make sure you do this crucial step!
Thawing Shrimp
This recipe calls for a pound of raw shrimp. It is often easiest (unless you are lucky enough to live by a coast) to buy frozen shrimp and thaw it before cooking.
I usually thaw my shrimp under cold running water for about 10 minutes before cooking. Make sure you follow the directions on the package when thawing your shrimp. The safest way to thaw it is in the refrigerator overnight.
Cooking Shrimp
Shrimp cooks very quickly. I used large shrimp for this recipe, so they cooked in about 6 minutes total with 3 minutes on each side. Because the size of shrimp does vary quite a bit, it is more important to look at the shrimp rather than the clock.
As shrimp cook, they turn from gray to pink. They also begin to curl inward. You want to flip them and then remove them from the pan once they have just turned pink. Overcooked shrimp will really ruin this dish.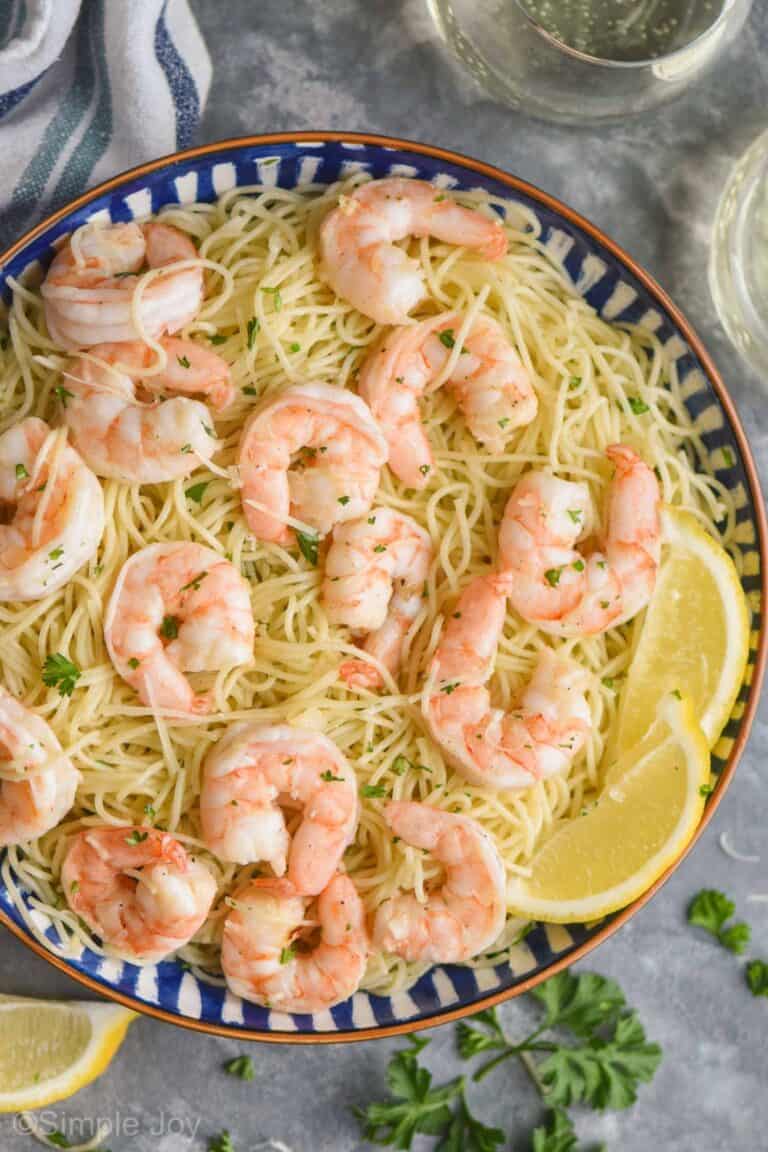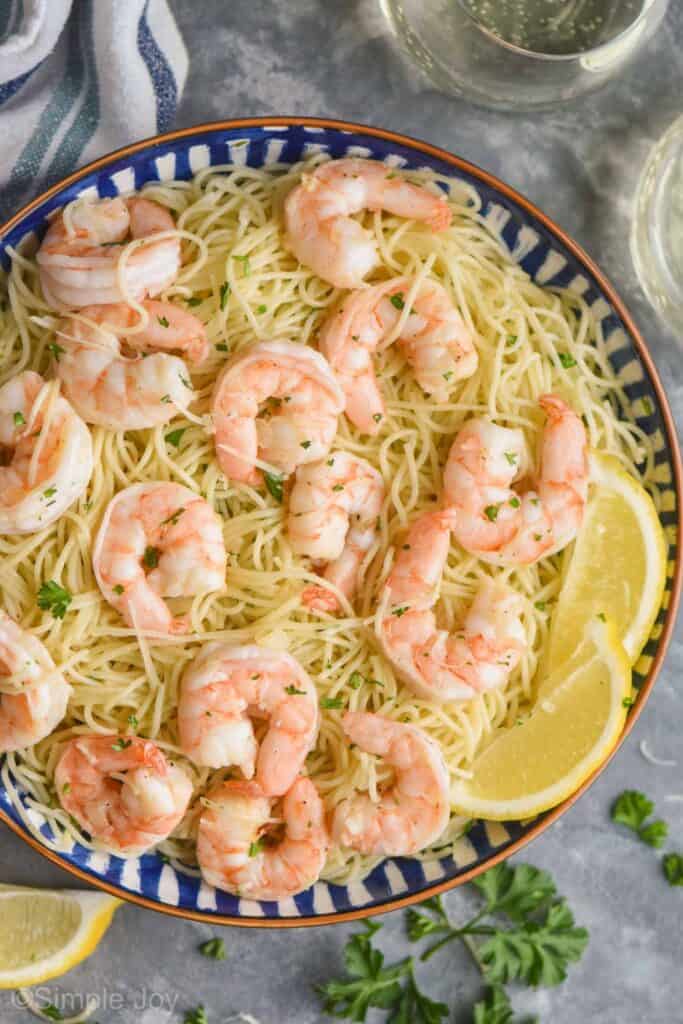 Cooking with Wine
Cooking with wine is such a simple way to elevate a dish. Here are a few tips for cooking with wine.
Buy a wine that you would drink. If you aren't a wine drinker, ask for help! Just be sure to use a drinking wine, not a cooking wine.
Get a pack of four small bottles if you aren't a drinker. You can buy small bottles of wine that are perfect for recipes like this. This way you don't have to open a big bottle you won't drink.
Check the type you need. This recipe calls for a dry white wine like a Chardonnay or a Sauvignon Blanc. A sweet wine won't work here.
Fresh Parsley
One of the parts of this recipe I love the most is the fresh parsley at the end. It brightens up the dish with flavor and color. In fact, I love having curly parsley on hand because it's such a bright finishing touch.
Don't skimp on the parsley in this recipe!
Follow these steps when you get home from the store to easily store parsley and have it last for weeks.
Cut off the ends (about an inch or two) of the parsley bunch when you get home.
Place the parsley in a drinking glass with enough water to cover the ends by two inches.
Cover with the plastic grocery bag you got it in.
Store in the refrigerator for two to four weeks.
Spicness
This recipe has a kick to it! I love it and think it adds great flavor to this shrimp scampi dish. If your family can't handle any heat then make these two changes:
Reduce the amount of black pepper to a pinch.
Reduce the red pepper flakes to 1/4 teaspoon.
FAQ
What can I
use instead of wine in Shrimp
You can replace the wine with chicken stock and an added teaspoon of lemon juice. It will have a slightly different taste, but it will still be a delicious dish.
How do you make Shrimp Scampi gluten free?
Outside of the noodles, there is no other ingredient in this recipe with gluten. You can simply replace the angel hair pasta with gluten free spaghetti. I've also had readers make this with spaghetti squash and really enjoy it.
I'm allergic to shellfish, what can I replace the shrimp with?
I recommend chicken cutlets. They are so thin that they will cook quick like the shrimp. You could slice the similarly to the chicken in our Tuscan Chicken Pasta.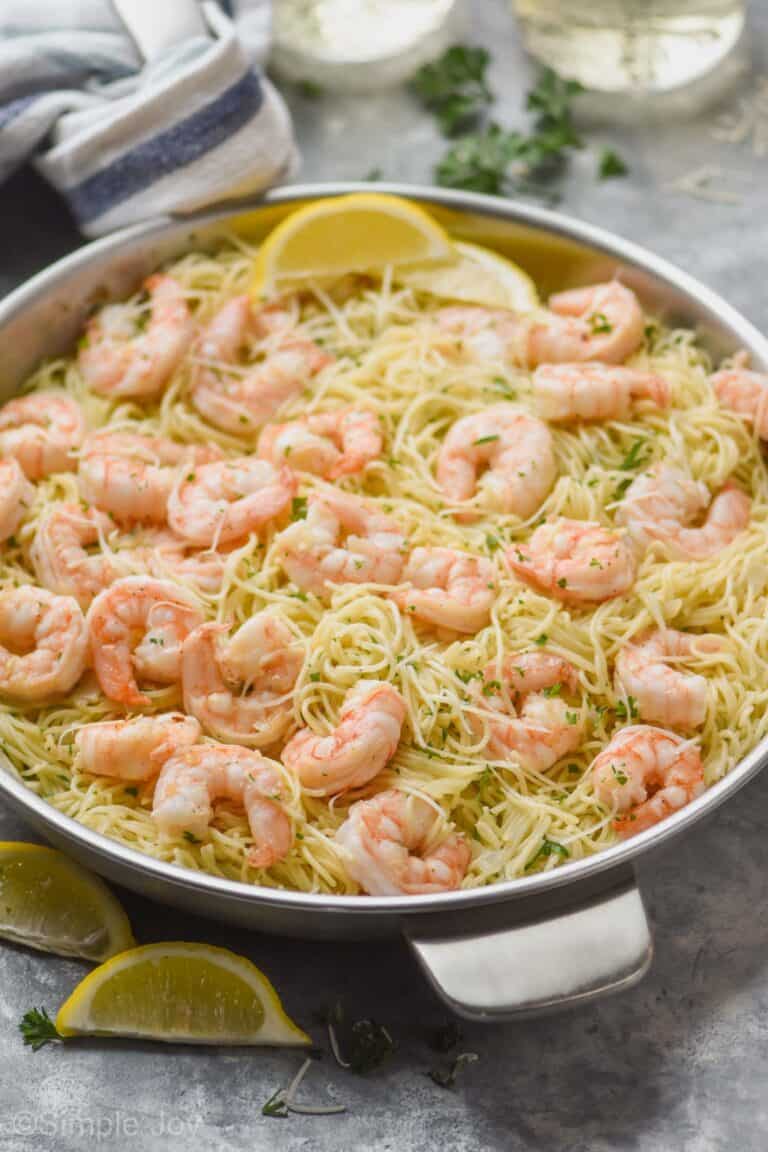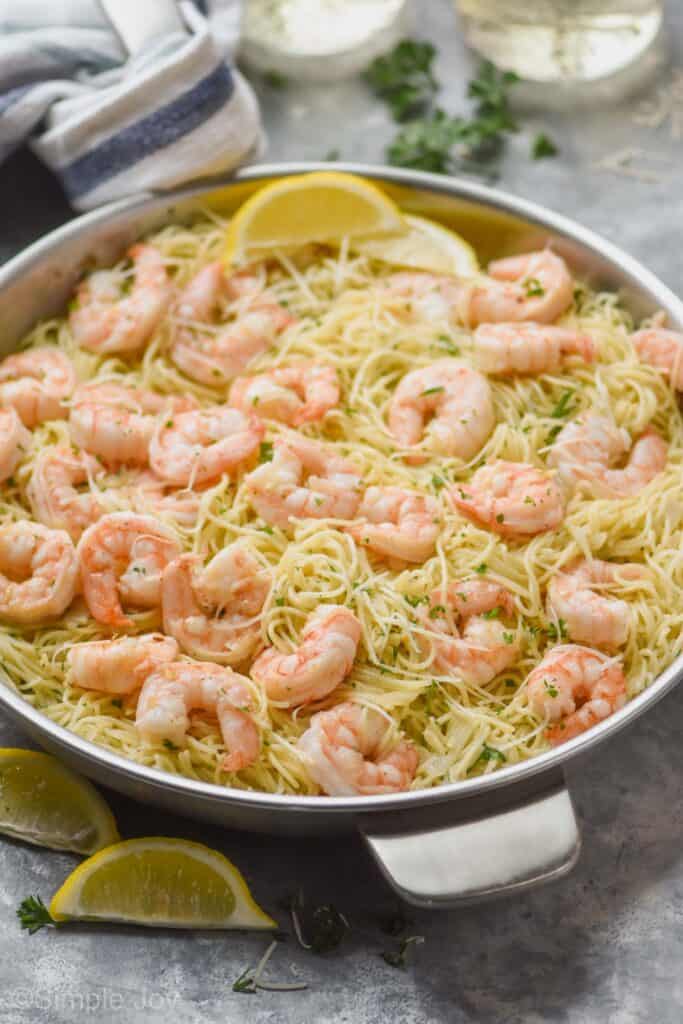 Other Great Pasta Dishes
If you can't get enough of carb loading, you are not alone. Pasta is my love language, and here are a few more of my favorites: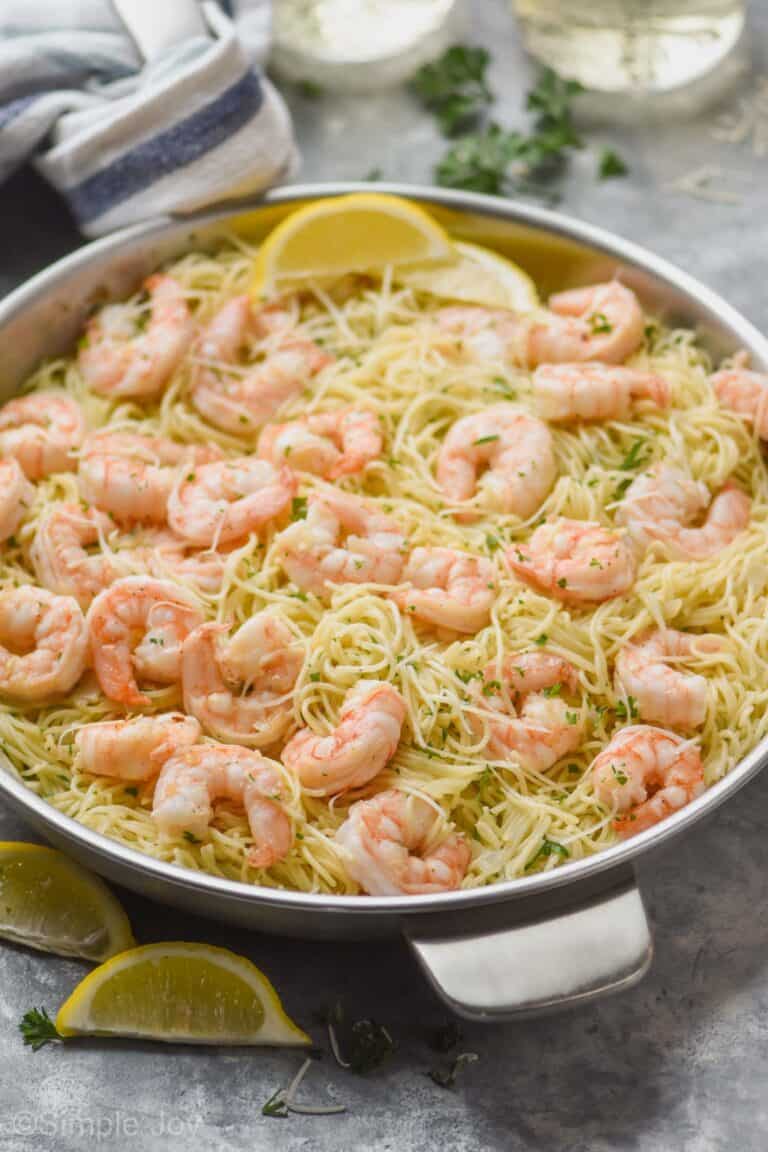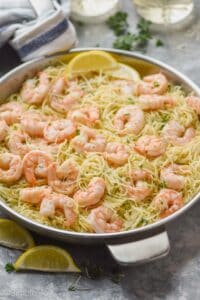 Shrimp Scampi
This Shrimp Scampi is the perfect easy pasta recipe that comes together in just about 30 minutes. It's delicious comfort food!
Ingredients
16

ounces

angel hair pasta

cooked according to package instructions (1/2 cup cooking water reserved)

4

tablespoons

butter

4

tablespoons

extra virgin olive oil

2

small shallots

diced fine (about 1/2 a cup)

2

garlic cloves

minced

1/2

teaspoon

red pepper flakes

1

pound

shirmp

peeled and deveined, and patted dry

3 1/2

teaspoons

kosher salt

divided

1/4

teaspoon

black pepper

1/2

cup

dry white wine

2

tablespoons

lemon juice

1/4

cup

fresh parsley

for serving

fresh parmesan

for serving
Instructions
Bring a large pot of water to a roaring boil. Add in 2 teaspoons of kosher salt. Add the angel hair pasta and cook according to the package instructions. Just before draining the pasta, reserve 1/2 cup of the starchy pasta water.

While the pasta is cooking, melt 2 tablespoons of butter with 2 tablespoons of olive oil. Add the garlic, shallots, and red pepper flakes. Cook until the shallots are transluncent, about 3 to 4 minutes.

Season the shrimp with salt and pepper and add to the pan. Cook until they have just turned pink, about 1 to 2 minutes, then flipped and 1 to 2 more minutes on the other side. Be careful not to over cook the shrimp. Transfer the shrimp to a plate and set aside.

Add the wine to the pan and scrape up the brown bits. Bring to a boil. Add in the remaining 2 tablespoons olive oil and butter. Once melted, remove the skillet from the heat and toss in the shrimp, pasta, and lemon juice. Add enough reserved pasta water to thin out the sauce.

Add in the fresh parsley and parmesan cheese, serve and enjoy!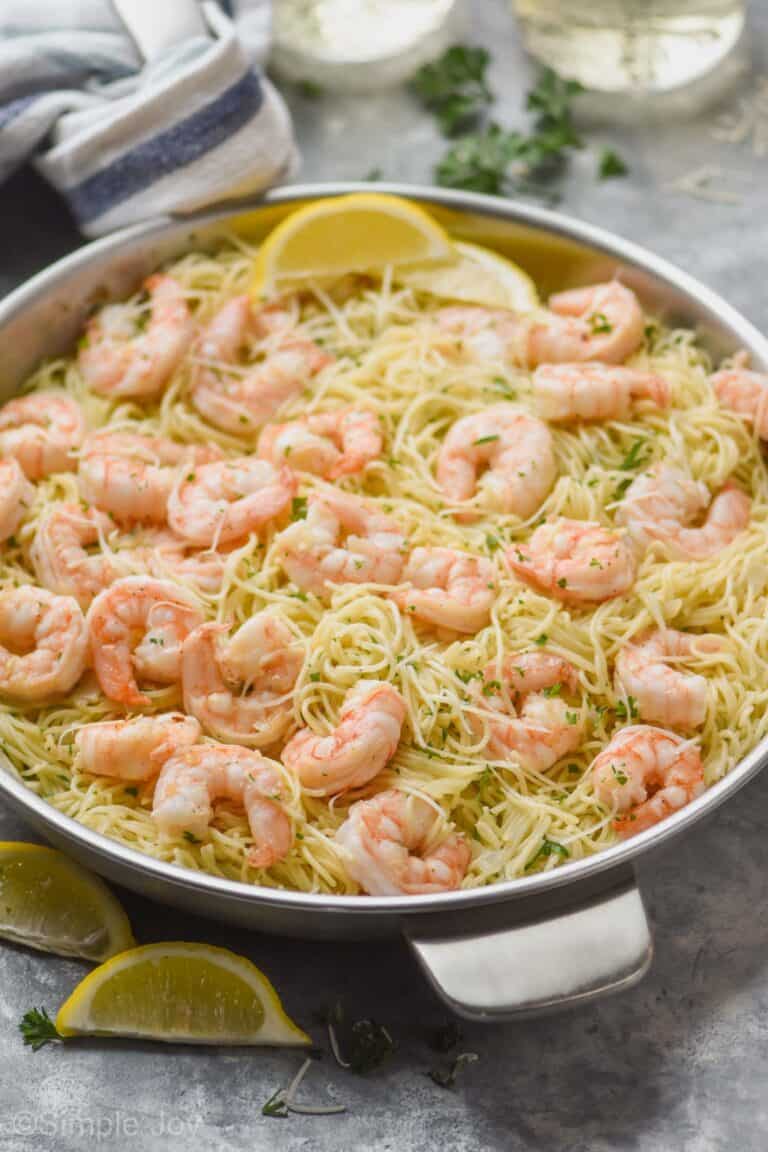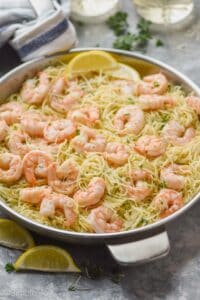 did you make this
Shrimp Scampi
you might also like . . .