Blackened Chicken is an easy weeknight dinner. With my perfect Cajun Seasoning, you will fall in love with this delicious meal.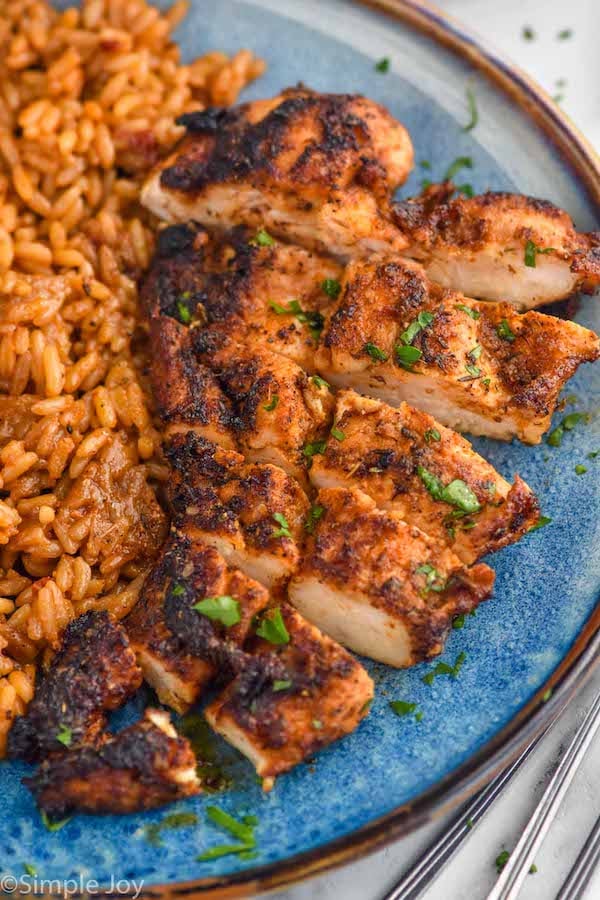 Our family is always on the lookout for new and exciting chicken dinners. There are so many great ways to avoid boring chicken, and we are about to give you one more. This blackened chicken recipe takes just minutes to prepare and make, and you will be shocked by how flavorful and delicious it is. This is a perfect fast throw together meal when you are out of ideas.
What is Blackened Chicken
Blackened doesn't mean burnt, but rather it is meat, such as chicken, or seafood, such as shrimp, that is dredged in seasoning and cooked in a very hot skillet. The high heat blackens the seasonings on the chicken, giving the outside a dark brown or black appearance. It creates a delicious flavor that is a star ingredient for many dishes including alfredo and salads.
How to Make Blackened Chicken
This is a brief overview of how to make this delicious dinner recipe. For the full recipe with all of the measurements, see the recipe card at the bottom of the post.
Preheat your oven and skillet. Get your oven warmed up and a skillet heating on the stove until it is smoking. It is important not to add oil to the skillet.
Season the chicken. Mix your cajun seasoning with oil and rub over the chicken cutlets.
Fry the cutlets. Add the seasoned cutlets to the hot skillet, cooking for 1-2 minutes on each side.
Bake the chicken. Add the fried cutlets to the baking dish and bake until cooked through. Use a meat thermometer to ensure they are done.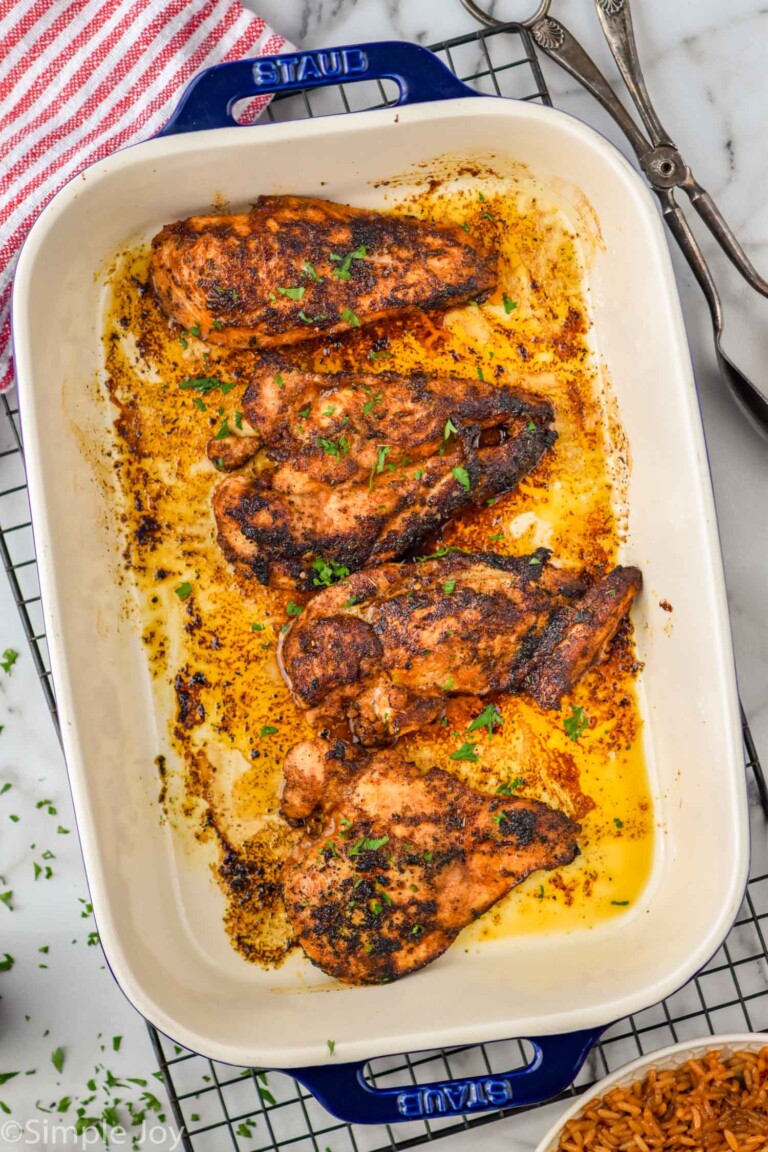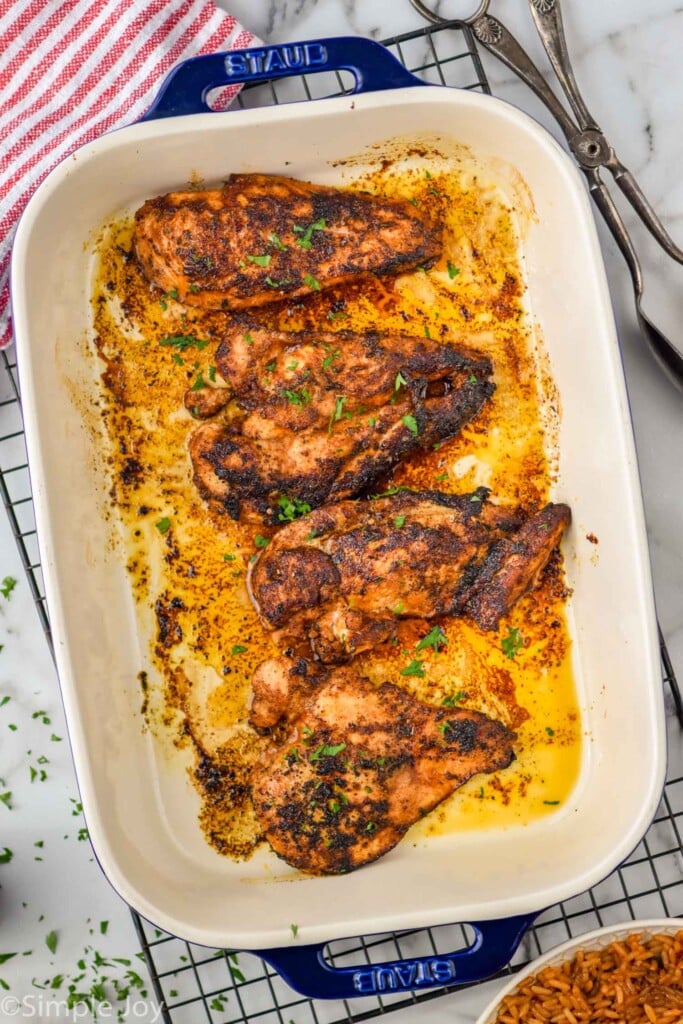 Homemade Cajun Seasoning
If you have been hanging around these parts for a bit of time, you know that I love making my own seasoning mixes. There are so many great benefits to making your own from saving money (you probably already have everything you need in your pantry) to being able to control the sodium and heat levels.
It is no different with my Cajun Seasoning. While it has a slight kick to it, this post has all the information you need to make it less spicy or more spicy. Additionally, we have a whole list of recipes to use it in. For this recipe, we have everything listed in the recipe card that you need, but the basis for the seasoning in this blackened chicken is this great recipe.
Cajun Seasoning Recipe
Homemade Cajun Seasoning is easy to make and adds zesty flavor to so many recipes! Sure, you can find a similar seasoning at the store, but you can make your own for much cheaper.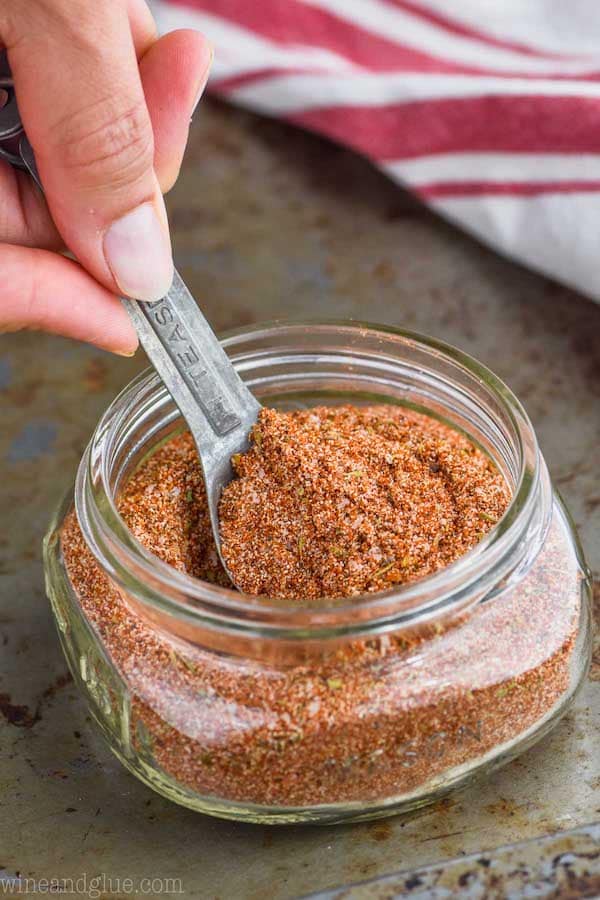 Cutting Chicken into Cutlets
Made by cutting a chicken breast in half, chicken cutlets make for a very quick dinner recipe. The thin chicken cooks really quickly, making this the perfect fast dinner hack. Butterfly the breast open using a very sharp knife, then finish by cutting it all the way through.
You can purchase cutlets at your local grocery store meat counter, but I prefer to buy a pound of chicken breasts and cut them myself. See the photos below for how I do this.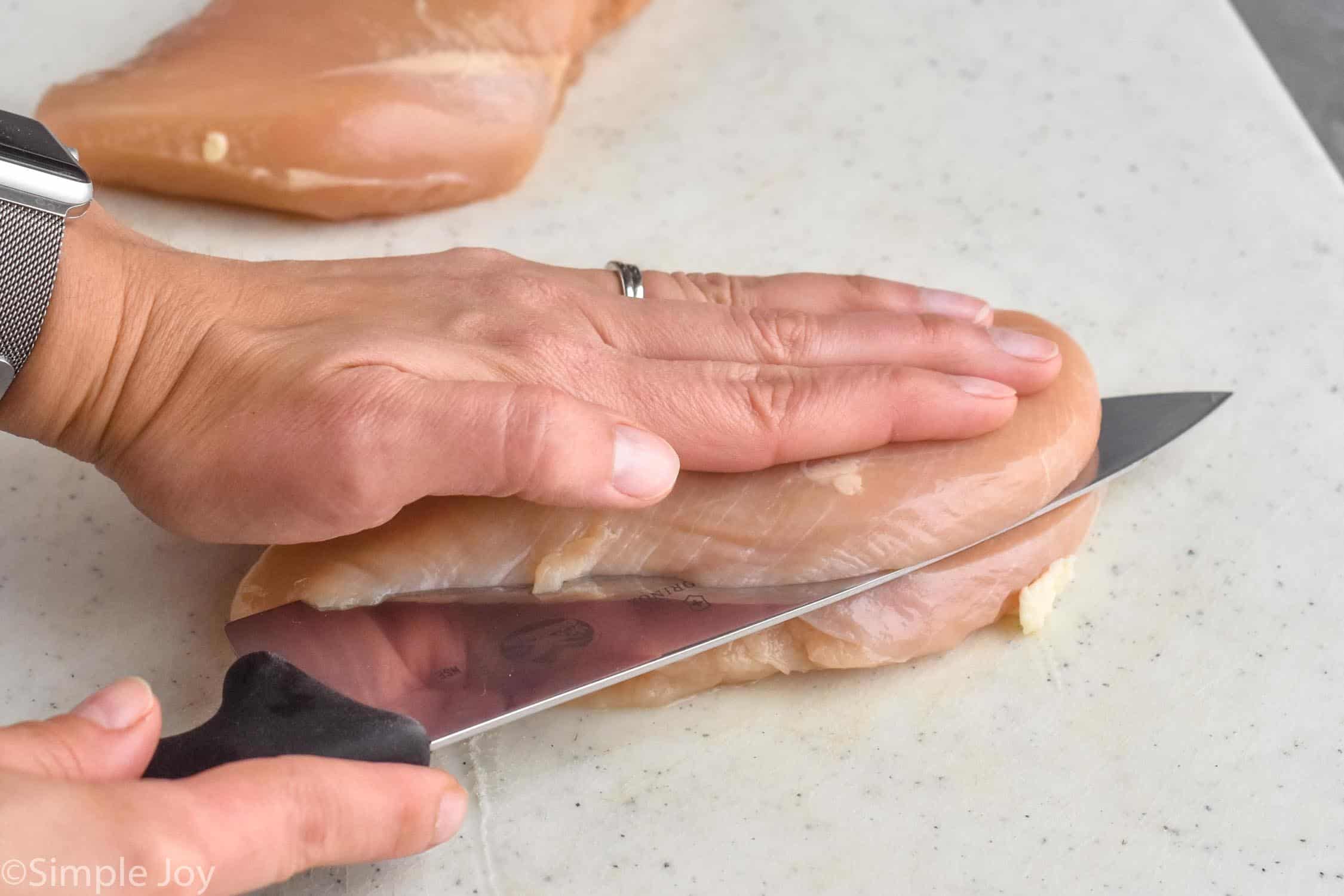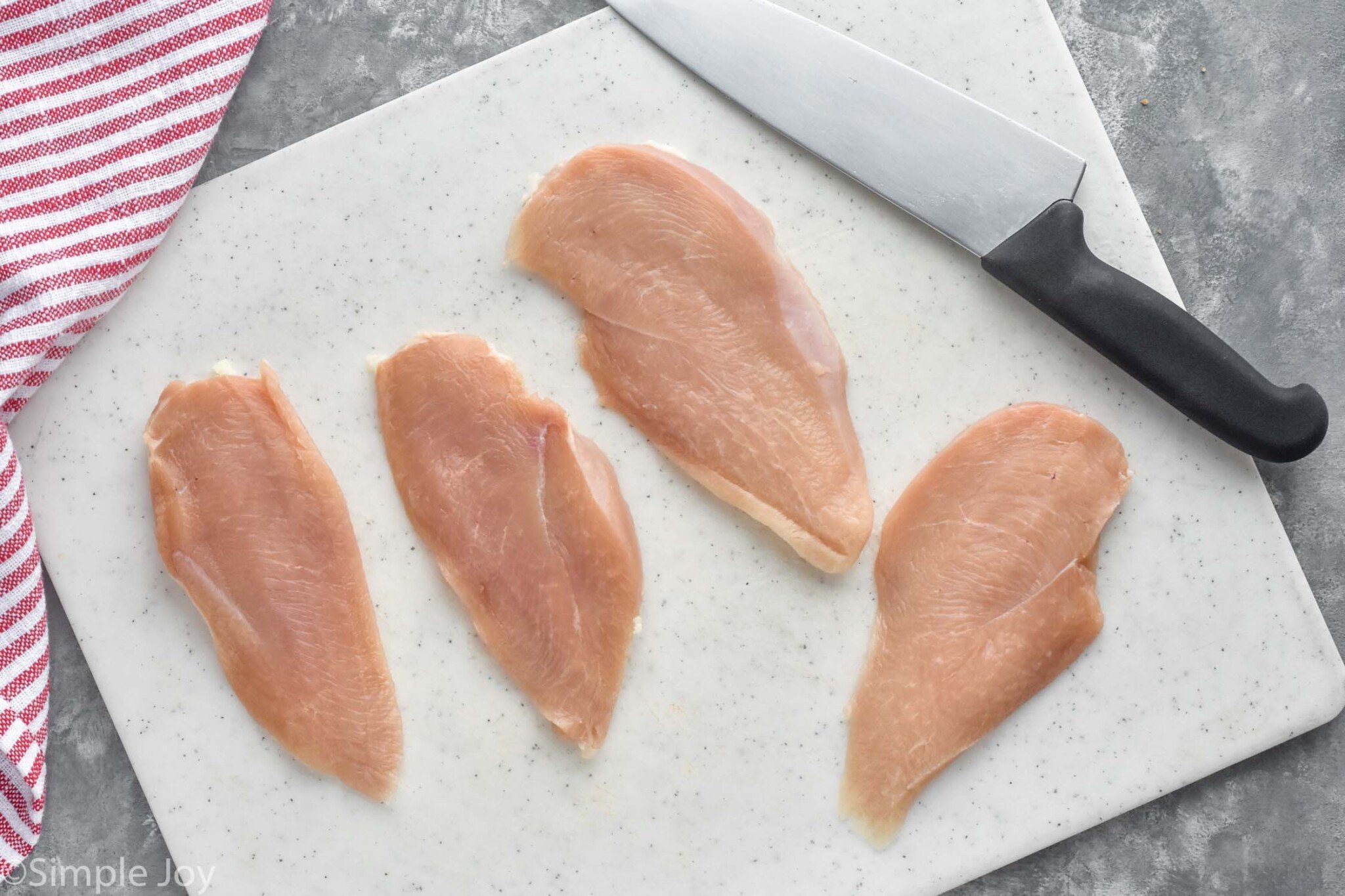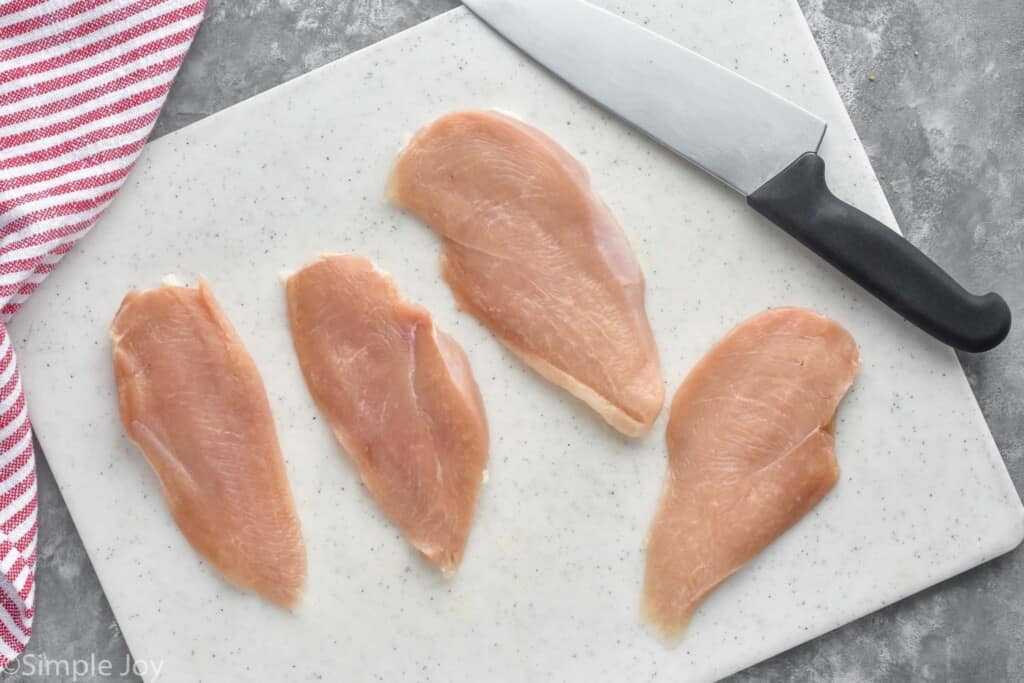 Cooking Chicken
Follow these tips to get perfectly cooked chicken. It is important to pay attention to how it is cooked for this recipe to avoid overcooked chicken.
Use a heavy-bottomed skillet over high heat. See my recommendation below.
Only cook for 2 to 3 minutes on each side. It will not be fully cooked until it is baked.
Use a meat thermometer to guarantee the chicken is thoroughly cooked yet not overdone. The goal is for it to be 165 degrees Fahrenheit. Once it reaches that temperature it should be removed from the oven. This is our favorite thermometer for meat that is baking as it can be left in the meat while it cooks.
TOP PICK
Cast Iron Skillet
Cast Iron Skillets are a kitchen essential in my mind. They are perfect for recipes like this and they hold up for decades.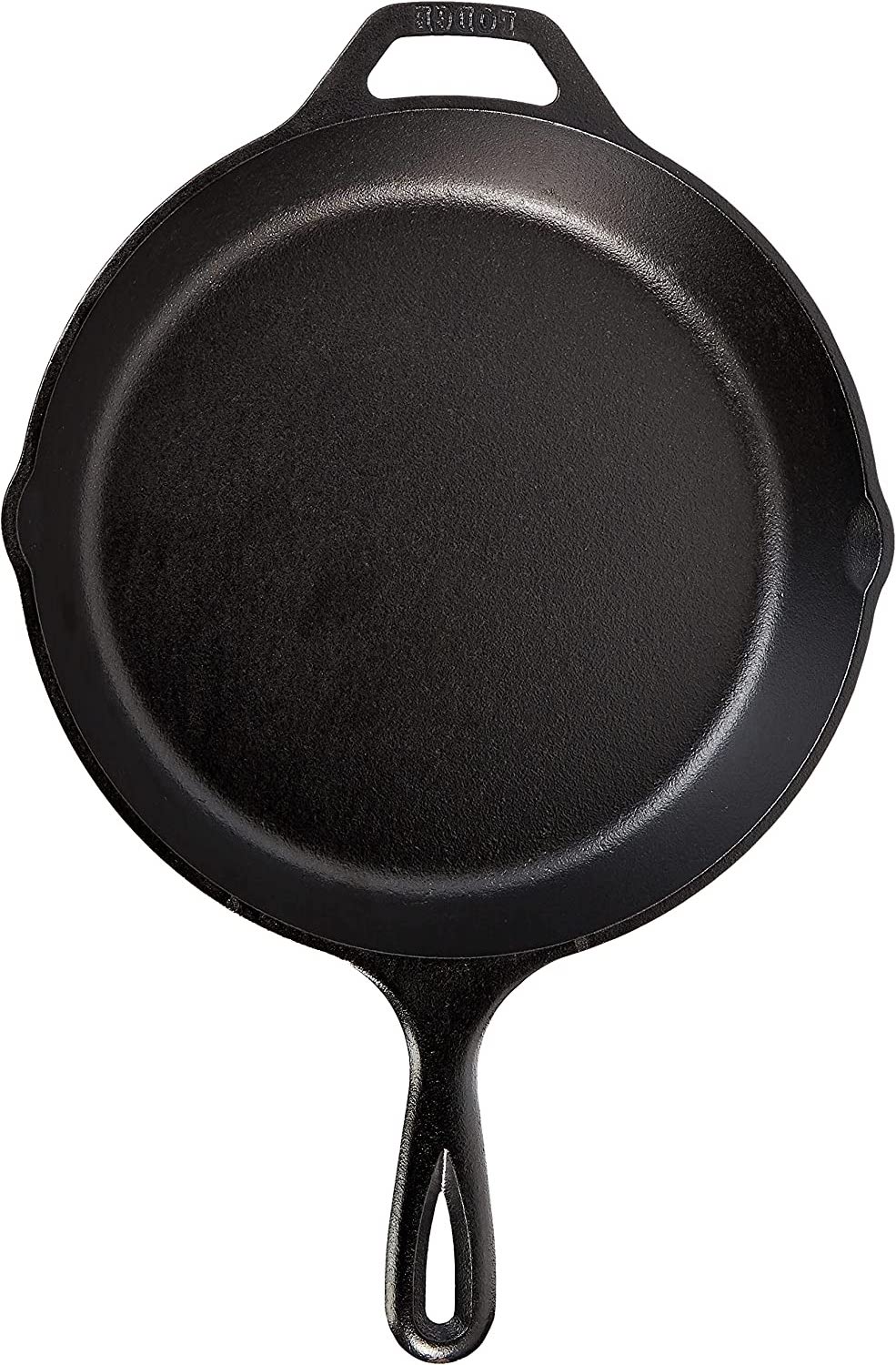 FAQ
Is blackened chicken spicy?
This chicken has a slight kick to it. To make it less spicy, cut the black pepper in half and cut out the cayenne pepper entirely. For a spicier blackened chicken, increase the cayenne pepper to 1/4 teaspoon.
Is blackened chicken gluten free?
Yes! This recipe is gluten free. As with any recipe double check your ingredients (especially if you are using store bought Cajun seasoning) to ensure they are gluten free.
Is this recipe low carb?
Yes! Blackened chicken is a great low carb dish. It would pair well with our Mashed Cauliflower too!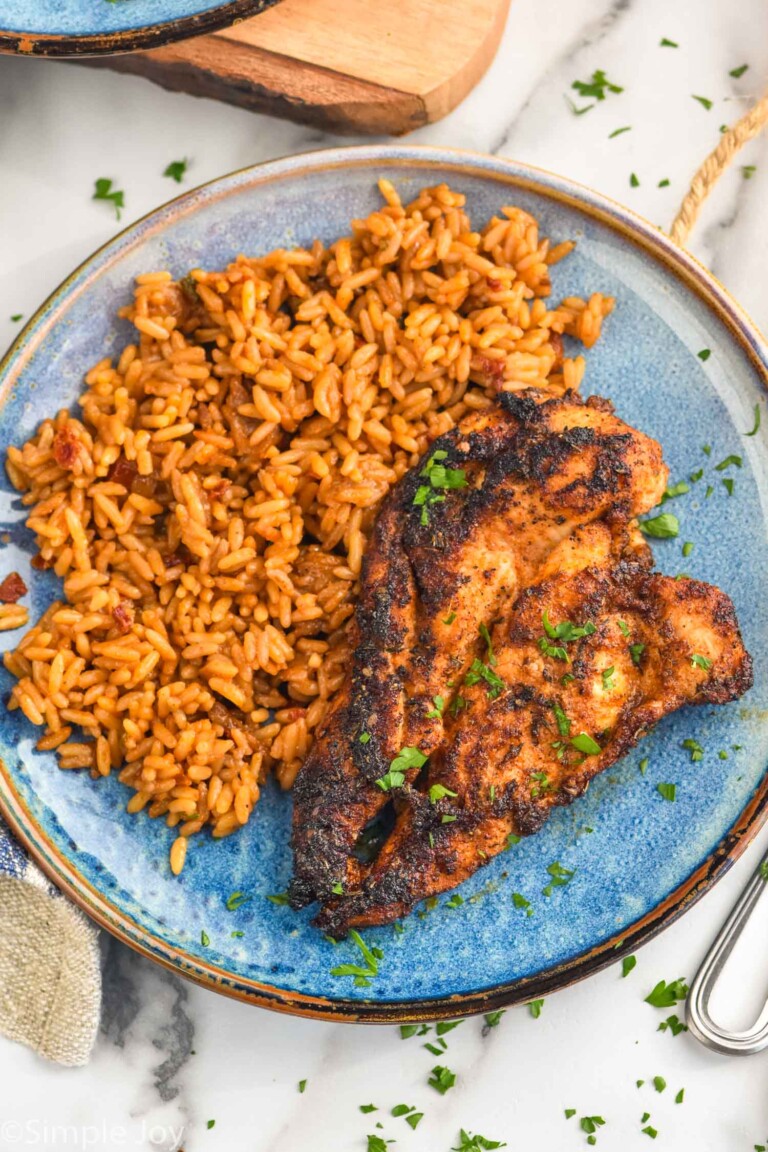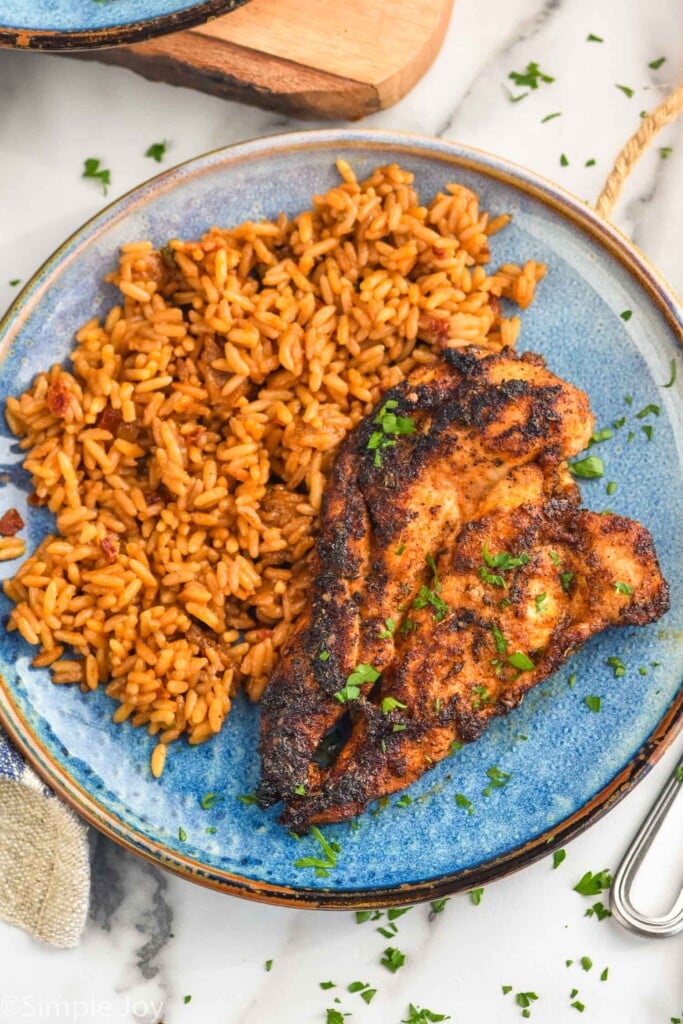 Storing and Reheating Leftovers
Leftover blackened chicken can be stored in an airtight container in the refrigerator for three to five days. As with all leftovers, use your best discretion.
I personally love blackened chicken cold. I think it is the perfect addition to my salads at lunch time. But if you are adding this to tacos or pasta, you may want to warm it up. Cover it in an oven proof baking dish and warm it up in your oven for about 20 minutes at 350 degrees. It is very important to cover it so it doesn't dry out.
How to Eat Blackened Chicken
This recipe is delicious eaten straight, used in a salad, or in a delicious pasta recipe like Cajun Chicken Alfredo.
You can also make tacos with it by serving it with shredded cabbage and topped with Chipotle Corn Salsa.
But my favorite way to eat this great dinner is on top of my Caesar Salad with homemade Caesar Dressing. It's perfection!
Caesar Salad
Who doesn't love a big giant Caesar Salad? This Caesar Salad recipe is easy to make with a simple delicious dressing. It is the perfect add on to dinner and great to bring to a BBQ or picnic.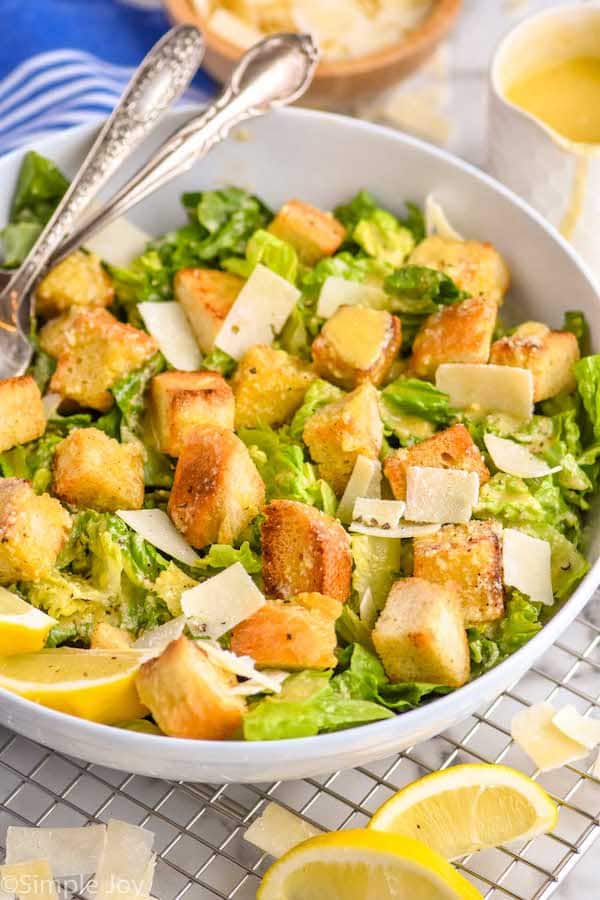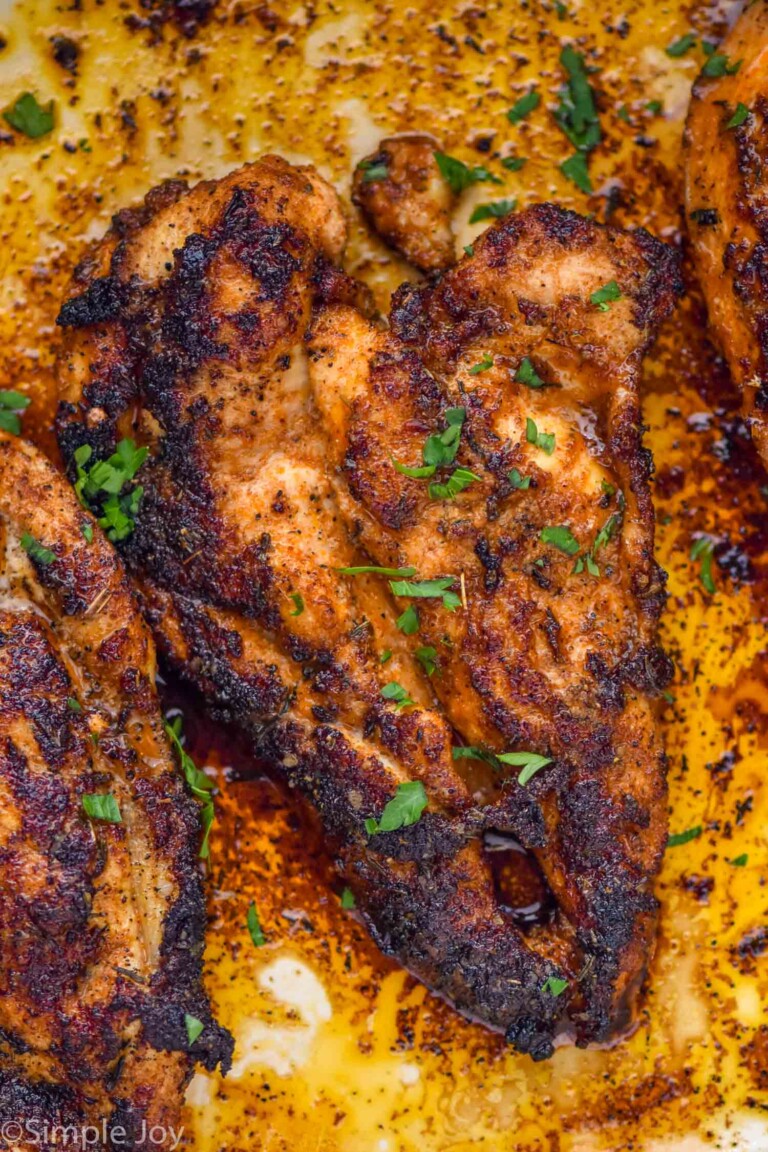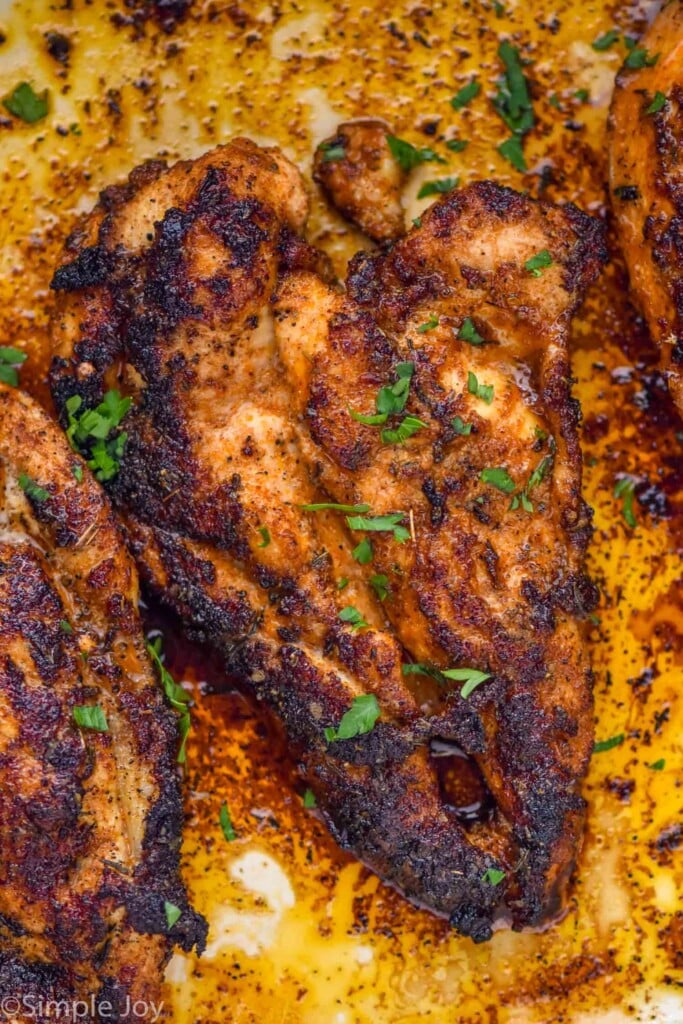 What to Serve with Blackened Chicken
We have a few great suggestions above as how to eat this delicious blackened chicken, but if you want to eat it on it's own with some side dishes, here are a few great choices.
My Homemade Cornbread is so easy to throw together, and would go perfectly with this delicious dinner.
These Instant Pot Baby Potatoes are a family favorite and are the perfect accompaniment to any meat dish main.
My Creamed Corn is crazy good and it comes together on the stove top, leaving your oven free for this great chicken.
If you make this blackened chicken recipe or any of my others, leave a comment telling me what you think!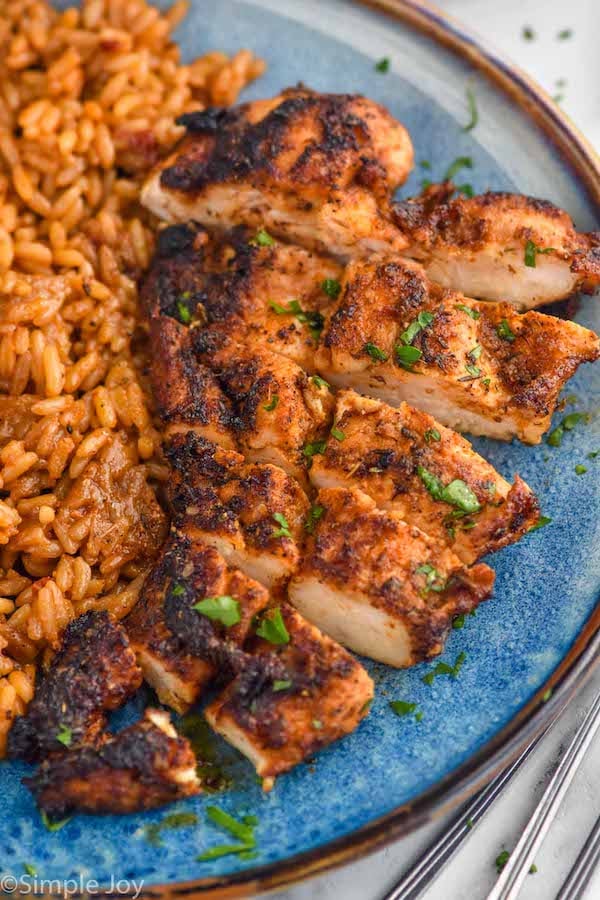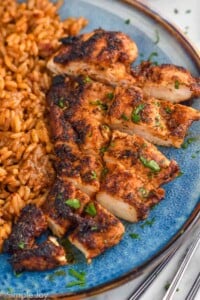 Blackened Chicken
Blackened Chicken is such an easy weeknight dinner. With my perfect Cajun Seasoning, you will fall in love with this delicious meal.
Ingredients
3

tablespoons

Cajun seasoning

(see notes for the breakdown of spices)

1

pound

boneless skinless chicken breasts

cut into cutlets

1/4

cup

vegetable oil
Instructions
Preheat your oven to 350 degrees Fahrenheit. Spray a 9 by 13 baking dish with cooking spray. (Alternatively, if you have an oven-proof skillet that can hold all the chicken, you can just transfer this to the oven.)

Heat a heavy bottomed dutch oven or a cast iron skillet over high heat until it is smoking. This will take about 5 minutes. Please note that you are not adding anything to this skillet while it is preheating.

Mix the Cajun seasoning with the oil. Rub it all over the chicken cutlets.

Add the prepared chicken to the skillet. Cook for 1 – 2 minutes on each side. (You may need to do this in batches depending on the size of your skillet.)

Transfer the chicken to the prepared baking dish. Bake for 15 to 20 minutes, or until the chicken registers 165 degrees Fahrenheit with an instant read thermometer.
Notes
The 3 tablespoons of Cajun seasoning can be replaced with:
1 tablespoon paprika
1/2 tablespoon kosher salt
1/2 tablespoon onion powder
1/2 tablespoon garlic powder
3/4 teaspoon black pepper
1/2 teaspoon thyme
1/2 teaspoon oregano
dash cayenne pepper
pinch red pepper flakes
Calories:
265
kcal
(13%)
Carbohydrates:
3
g
(1%)
Protein:
25
g
(50%)
Fat:
17
g
(26%)
Saturated Fat:
3
g
(19%)
Polyunsaturated Fat:
9
g
Monounsaturated Fat:
4
g
Trans Fat:
0.1
g
Cholesterol:
73
mg
(24%)
Sodium:
135
mg
(6%)
Potassium:
539
mg
(15%)
Fiber:
2
g
(8%)
Sugar:
1
g
(1%)
Vitamin A:
2620
IU
(52%)
Vitamin C:
1
mg
(1%)
Calcium:
18
mg
(2%)
Iron:
2
mg
(11%)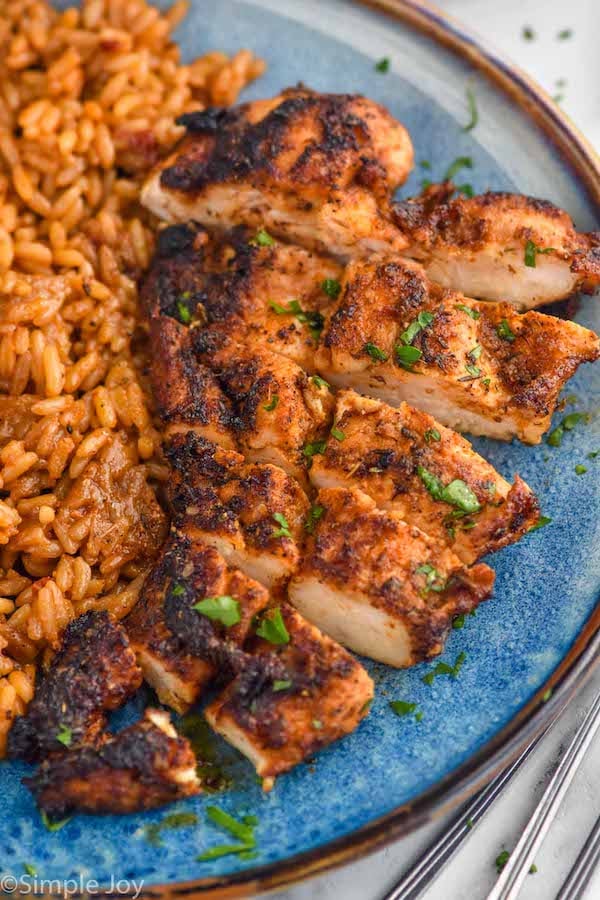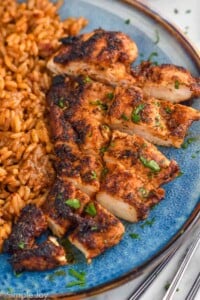 did you make this
Blackened Chicken