This Cookie Dough Lush is rich layer after rich layer, making for the most decadent amazing no bake dessert ever.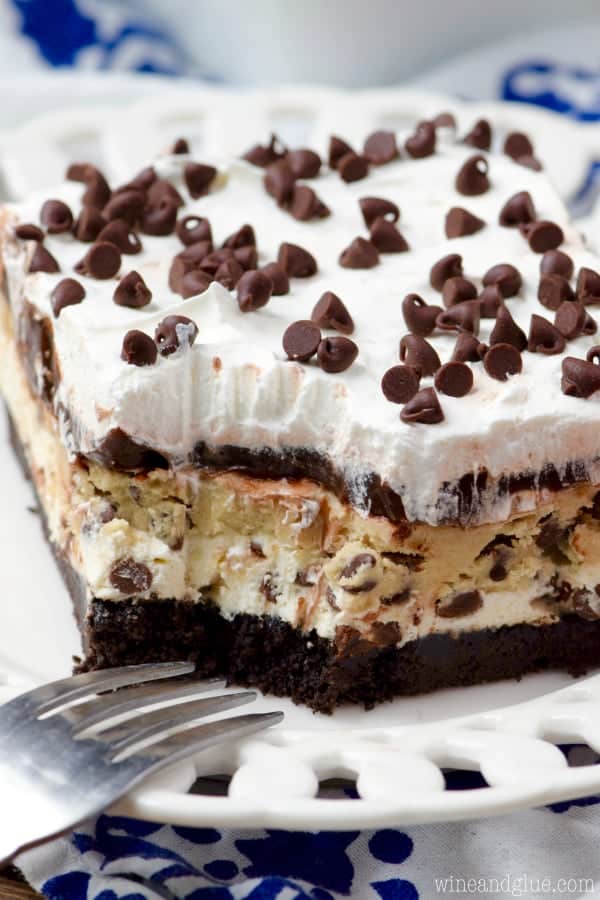 Do you ever have one of those moments when you love your kids so much you feel like your heart is going to explode? I mean . . . I don't have those moments as often as I would like everyone to think I do . . . and they are even fewer and further between in the summer months when I'm working 40+ hours a week and my kids are all, "MOM!MOM!MOM!MOM!"
Sigh.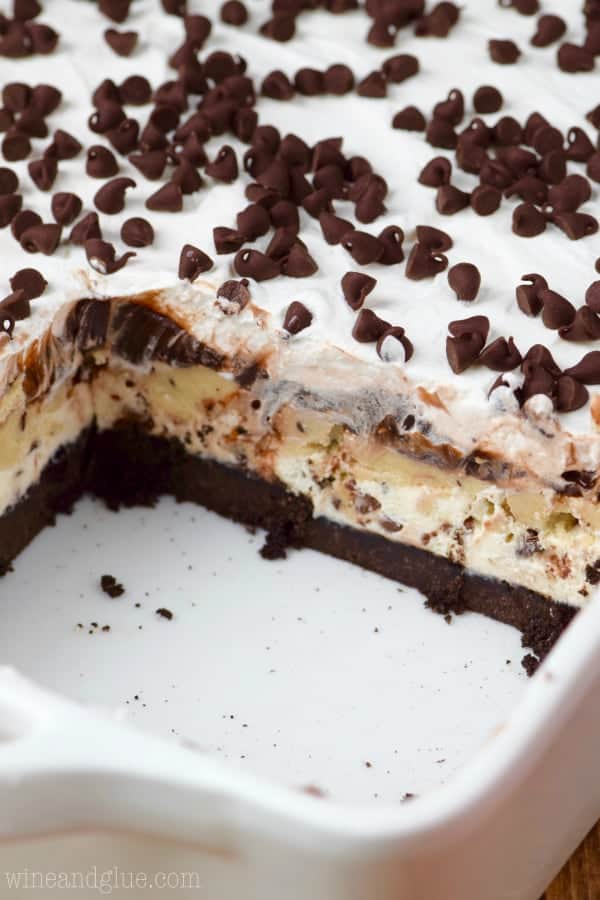 But last night I introduced the kids to The Never-ending Story. Please tell me that you've watched it and you loved it and we can still be besties. I totally forgot how very 80s it is . . . probably because the last time I watched it was in the 80s. But it is so incredibly packed with awesomeness. And I sort of feel like Gavin is Bastian.
Anyway. Watching it with them, sharing this very fond memory of my own childhood and then watching it again through their eyes . . . heart explosion. I didn't even want to murder Quinn when she spilled her root beer float all over the couch. #win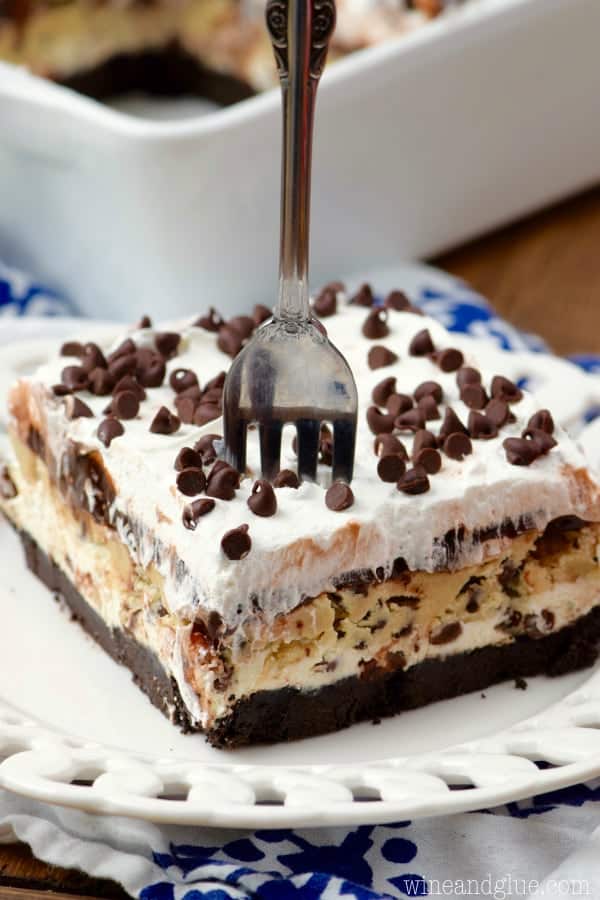 The other day we were out to eat and Piper threw a bottle at the man sitting behind us (seriously cannot take that kid anywhere), and he looked at us and said, "It's okay, I've been there. My youngest of three just graduated from med school." And then he said, "It really does go by so fast," while I was still struggling with the idea of Piper-the-bottle-thrower going to med school.
Whenever anyone says that to me I have completely equal parts of myself yell, "HOORAY!!!" and "NOOO!!!! SAY IT ISN'T SO!" Because isn't that what parenting kids this age is? I mean, the age when they need all.the.things. from you. When they can't go five seconds without talking about why the moon is so far away or asking why they can't eat boogers. When they want to know your reasoning behind each and every thing, and where now (at age 8) they want to question that reasoning.
And . . . when they want to crawl onto your lap and snuggle with you while watching a movie that is so dreadfully 80s just because you asked them to. When they insist on a million hugs before bed. When they are upset and they ask you to hold their hand to make them feel better. When they want to know everything about what you were like when you were a kid.
I know that this stage won't last. And I know that there are things about it that I WILL NOT MISS. But I also know that I will desperately miss it. This parenting of young kids . . . it's such a weird time in life, no?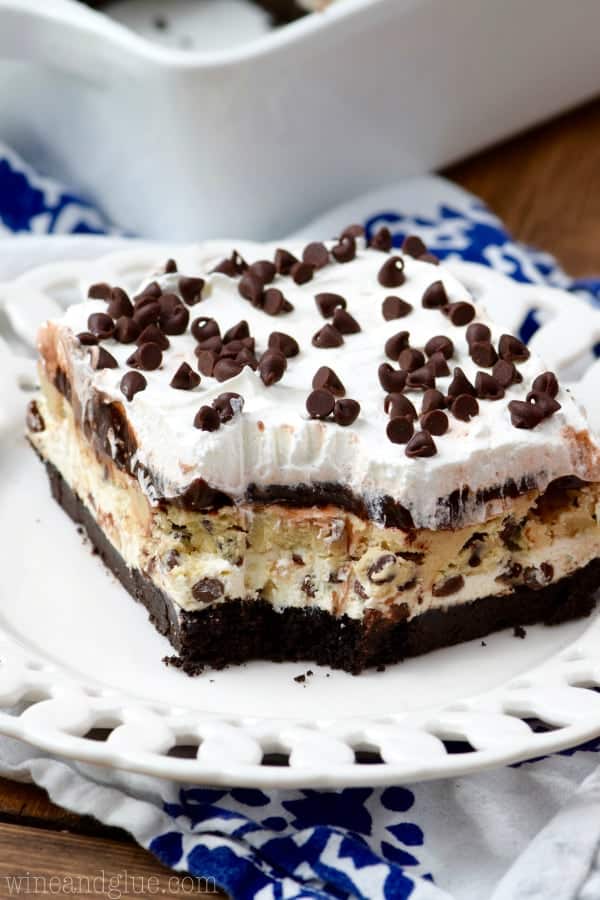 And when I get all too emotional about those kinds of things I turn to . . . Cookie Dough.
If you have never made a batch of edible cookie dough . . . I mean we can still be friends, but if I'm being honest, I'm on the fence a little. Just kidding! #notkiddingatall
Edible cookie dough is almost as amazing as The Never-ending Story. You make it without eggs, but obviously with tons of butter. And in this no bake lush (I told you you were only going to get lushes now), it is squished between Oreos, kind of a cheesecake like layer, chocolate pudding, whipped topping, and copious amounts of mini chocolate chips.
I'm not going to lie, it is a rich dessert. So don't cut a piece as big as you see here. Do yourself a favor and cut a piece about a third this size. And then savor each and every bite because it is totally amazing. Quinn has already decided that it is going to be her birthday cake. ???? #heartsplosion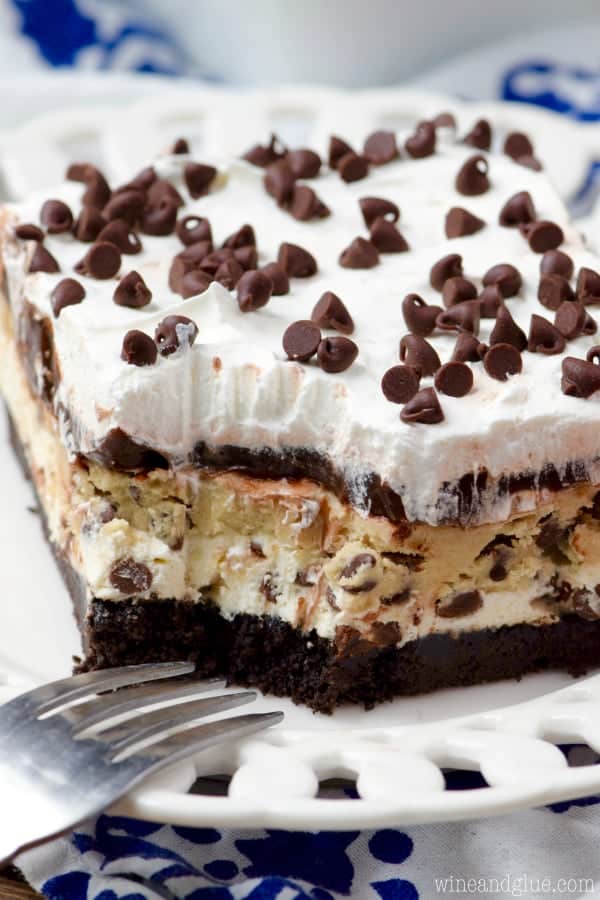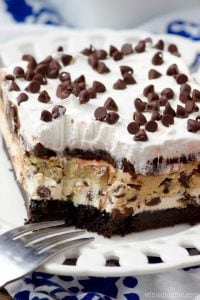 Cookie Dough Lush
Ingredients
Crust

20

Oreos

crushed

3

TBSPs

butter

melted

Filling

8

oz

cream cheese

room temperature (I always use Philadelphia)

4

oz

whipped topping

1

tsp

vanilla extract

1/2

cup

mini chocolate chips

Cookie Dough

1/2

cup

unsalted butter at room temperature

3/4

cup

brown sugar

packed

1

tsp

vanilla extract

1/2

tsp

salt

3/4

cup

all purpose flour

1

TBSP

milk

1/2

cup

mini chocolate chips

Pudding Layer

3.5

oz

box of instant chocolate pudding

1 1/2

cups

milk

I used skim

Topping

4

oz

whipped topping

1/4

cup

mini chocolate chips
Instructions
Lightly spray a 9 by 9 baking dish with cooking spray (see note). Mix together the Oreos and the melted butter and press into the bottom of the pan.

Beat together the 8 oz cream cheese, the 4 oz whipped topping, and the 1 tsp vanilla extract. Stir in 1/2 cup of mini chocolate chips. Spread over the Oreo layer.

Beat together the 1/2 cup butter, and 3/4 cup brown sugar until light and fluffy. Beat in the vanilla extract, the salt, 3/4 cup all purpose flour, and 1 TBSP milk. Stir in the 1/2 cup mini chocolate chips. Gently spread over the cream cheese layer.

Mix together the pudding mix and the 1 1/2 cups milk. Let sit for a few minutes before gently spreading over the cookie dough layer.

Finally, top with 4 oz whipped topping and then the remaining 1/4 cup mini chocolate chips.
Notes
I really don't think this dish will work in a pan that is bigger than 9 by 9. The layers will be too thin to spread. Though it might work in a pan that is 8 by 8.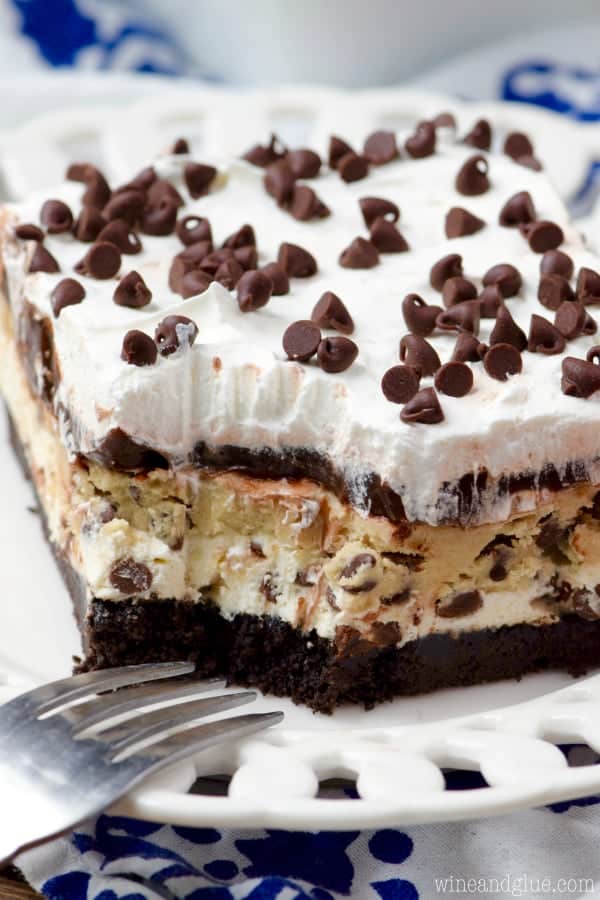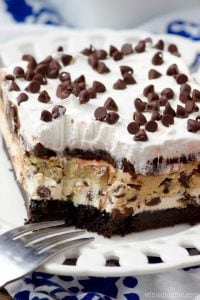 did you make this
Cookie Dough Lush