Edible Cookie Dough is the easiest and most addictive treat known to mankind. You need to make this simple recipe for a fun indulgent dessert.
I won't tell anyone if you eat the whole bowl.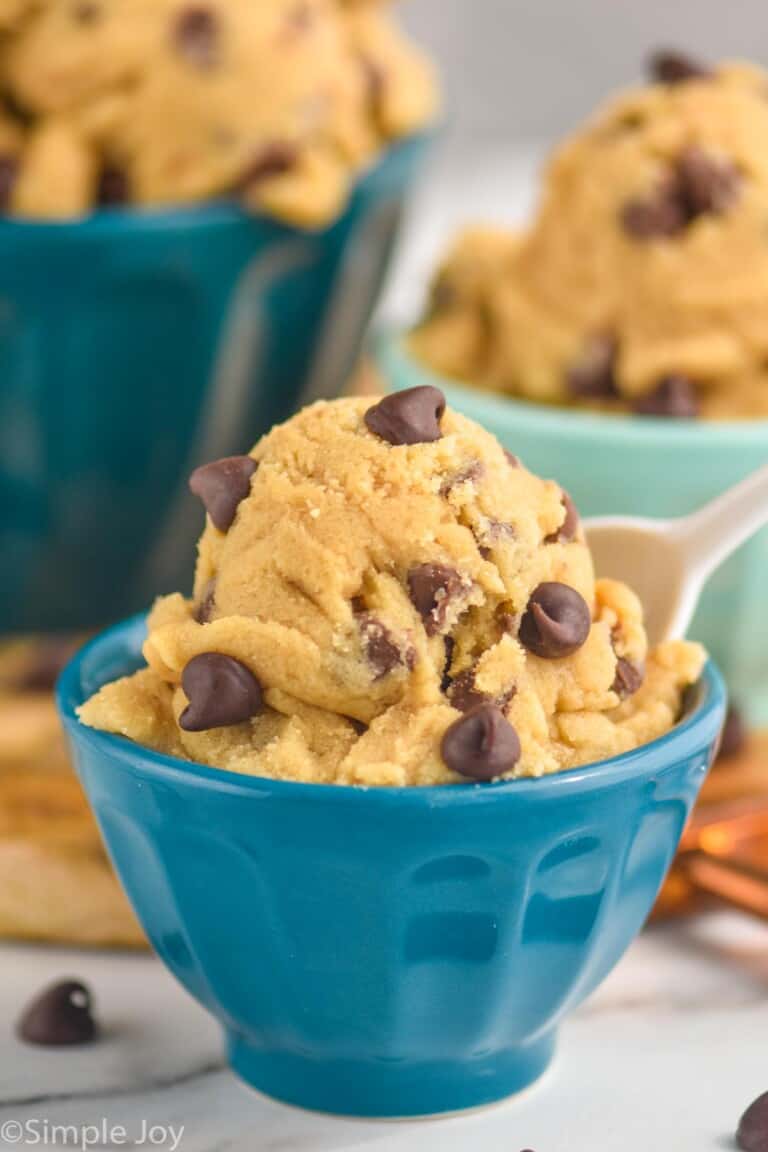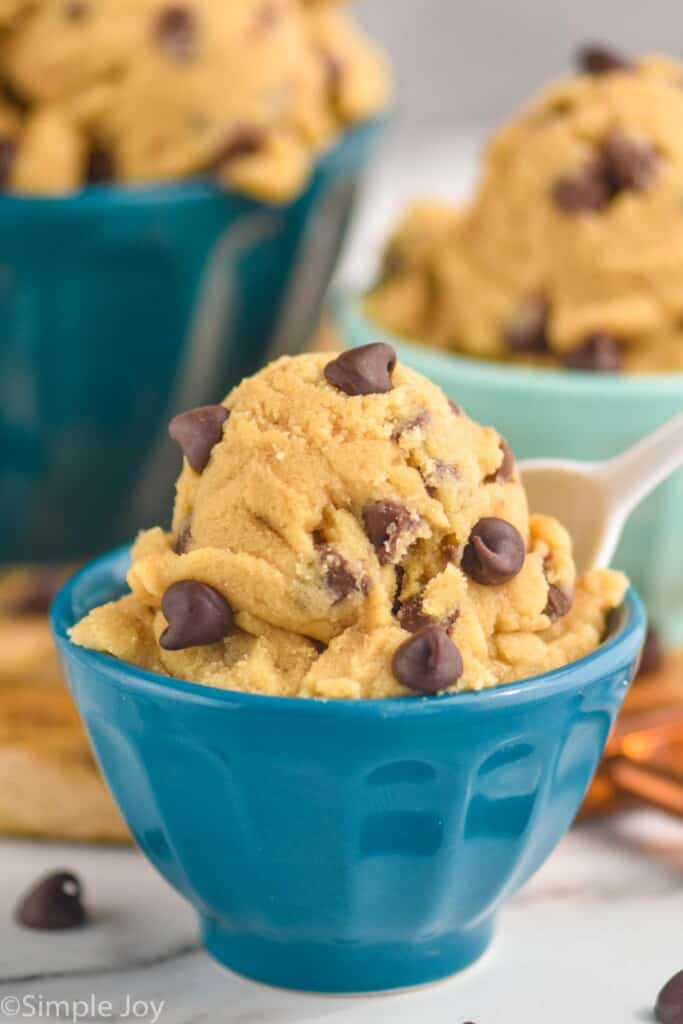 Those who know me, know that cookie dough is a weakness of mine. If I'm being honest, it is more than half the reason I bake cookies at all. I would far rather eat the dough than the cookie.
This addiction was enabled with the craze over edible cookie dough and years and years ago, I made these incredible Easter Egg Cookie Dough Truffles. They were an instant hit. Delicious, cute, and absolutely addictive, they are a very popular recipe year after year around Easter.
But, really, you shouldn't haven't to wait for Easter.
This Edible Cookie Dough recipe is easy to make and so delicious. With just a few simple ingredients you can have this delicious treat that is totally safe to eat, but tastes just like traditional cookie dough.
How to Make Edible Cookie Dough
Toast the flour. There is a small risk of e coli in uncooked all purpose flour. To eliminate that risk, cook the flour on a rimmed baking sheet for 5 minutes in a 350 degree oven.
Beat the butter and the sugar. The key to good cookies is butter that has had air whipped into it by sugar. And the same holds true here.
Add in the vanilla extract.
Mix in the flour. Make sure you scrape down the sides and the bottom of the bowl so it is fully combined.
Beat in the sweetened condensed milk. I like to grab a small spatula and scrape down the can to get every last bit out.
Finally, mix in some chocolate chips. I like to use milk chocolate chips, but semi sweet would work as well.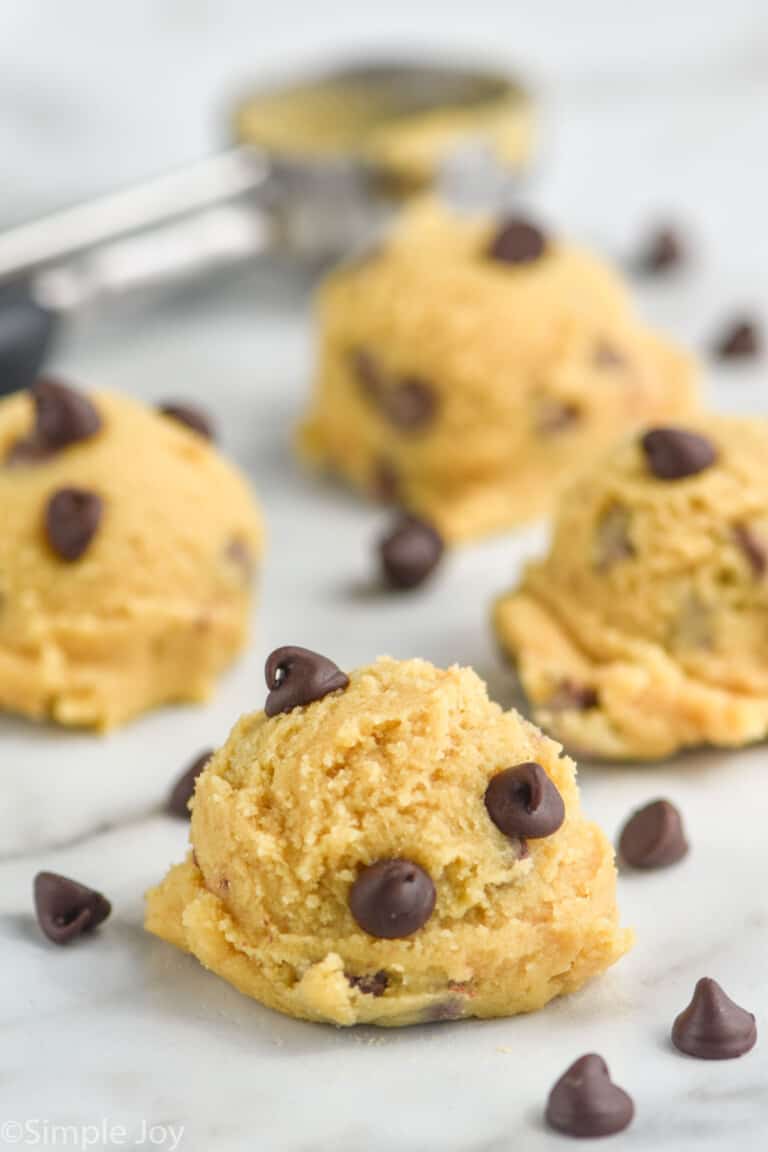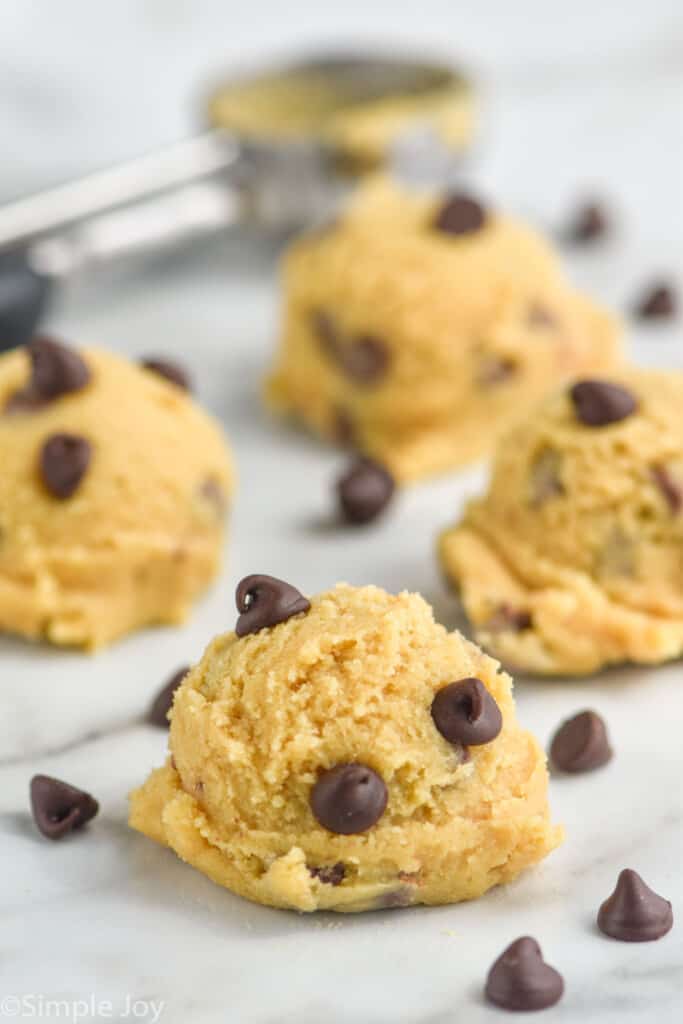 Toasting Flour
This was mentioned above, but I felt like it deserved it's own section. The reason we are toasting the flour is because there is a small risk of an e coli infection when you consume raw flour. Use an abundance of caution and toast the flour before making this recipe.
Toasting flour only adds about five minutes to this recipe. You simply spread your flour on a rimmed baking sheet and pop it in a 350 degree oven for 5 minutes. This is hot enough and long enough to kill anything.
Sweetened Condensed Milk vs. Evaporated Milk
Sweetened Condensed Milk and Evaporated Milk are sold right next to each other. They even come in the same sized jars with similar branding. It is very easy to buy the wrong one.
Make sure that you use Sweetened Condensed Milk in this recipe. It is thick and results in the perfect cookie dough like texture.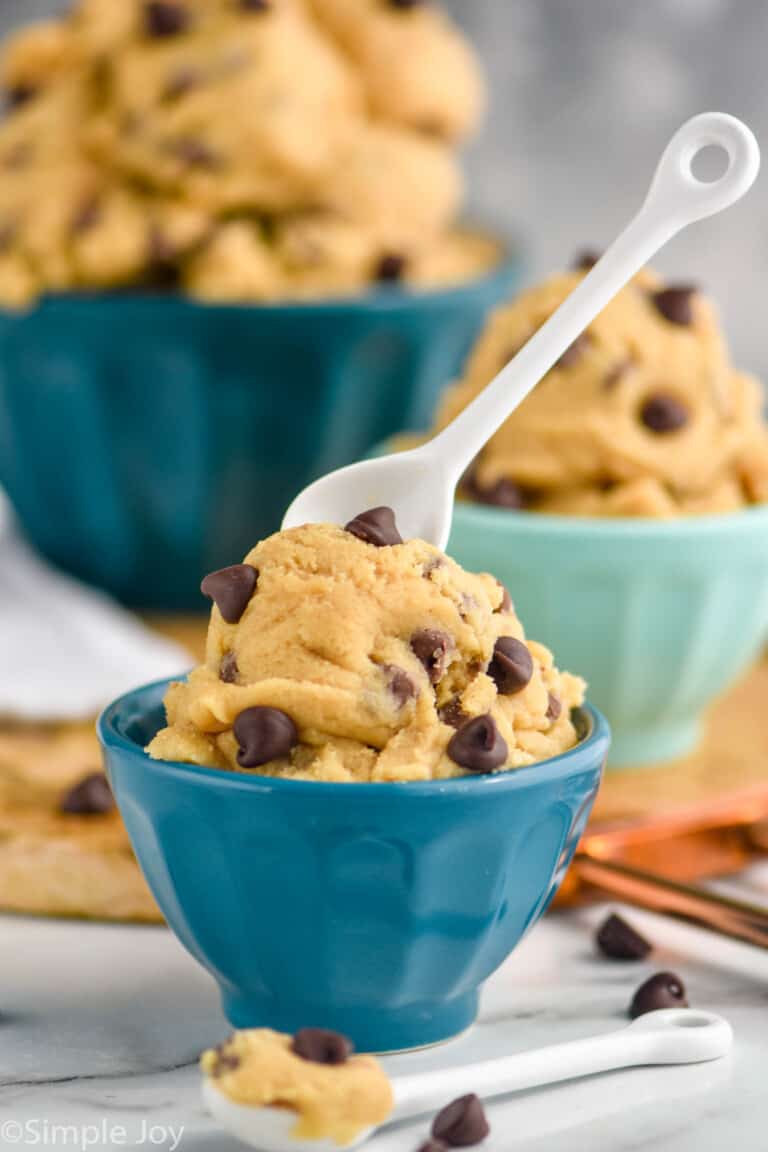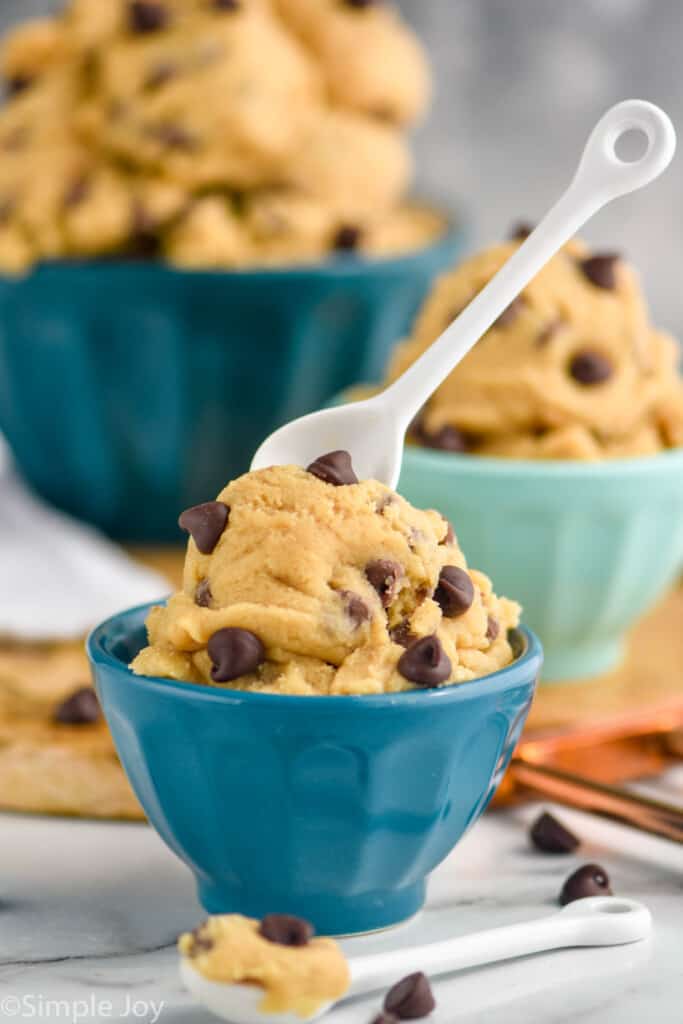 Edible Cookie Dough Tips and Tricks
Make sure the butter is room temperature. Just like with actual cookie dough, butter should be room temperature for the proper combination of ingredients. It will be cold to the touch, but you should be able to easily dent it with your finger.
Properly measure the flour. Using a spoon, scoop the flour out of the container you keep it in and into a measuring cup. Then level it off. If you scoop it directly from the container, you will pack the flour and end up with too much.
Buy sweetened condensed milk. As mentioned above, triple check that you are buying sweetened condensed milk and not evaporated milk.
Storing
This edible cookie dough recipe should be kept in an air tight container in the refrigerator. It will last for 4 to 5 days. As with all of my recipes, use your best judgment when it comes to left overs.
FAQ
Is edible cookie dough safe during pregnancy?
Yes! Because we are baking the flour first, we are eliminating the risk of e coli.
Can I use gluten free flour?
Yes! Because we aren't actually baking this it is the perfect opportunity to swap 1:1 with all purpose flour.
Can I make vegan edible cookie dough?
Yes! Replace the butter with vegan butter and the sweetened condensed milk with this vegan sweetened condensed milk. Then substitute in vegan chocolate chips.
Can you make cookies with edible cookie dough?
No, please do not try to make this into cookies.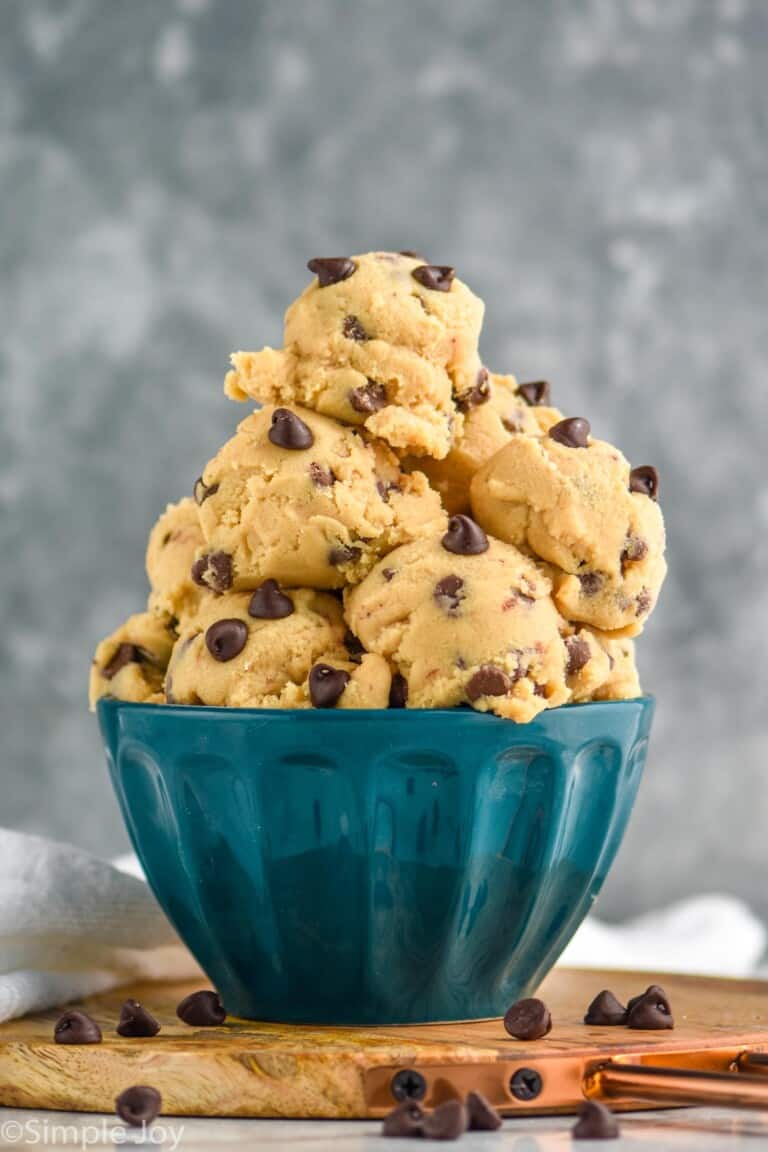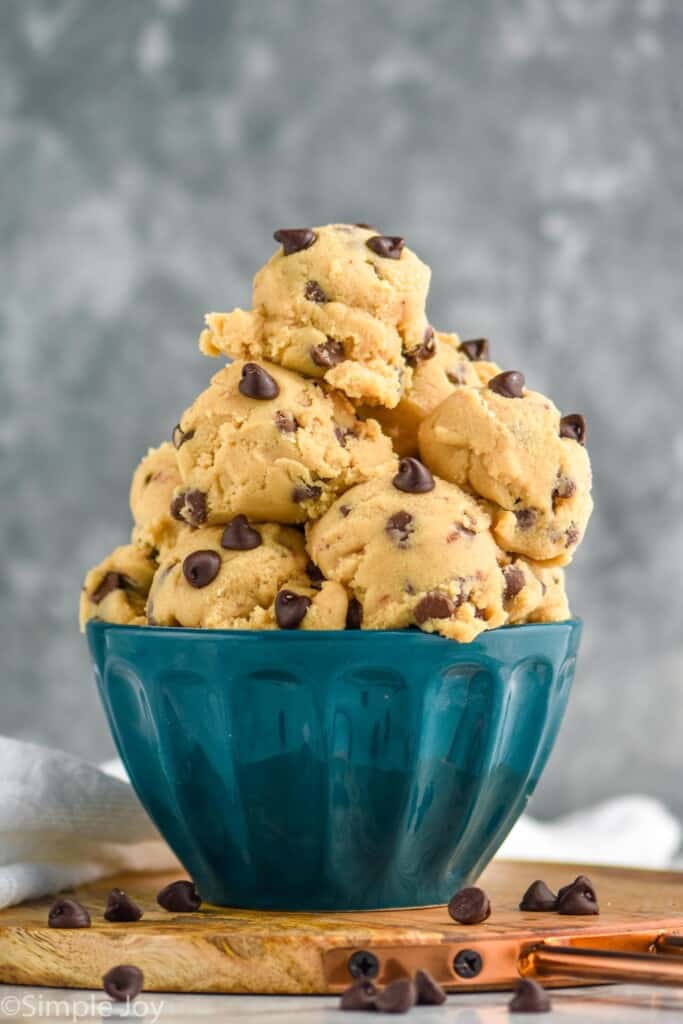 Other Edible Cookie Dough Treats
If you make this edible cookie dough recipe, leave me a comment and let me know what you think!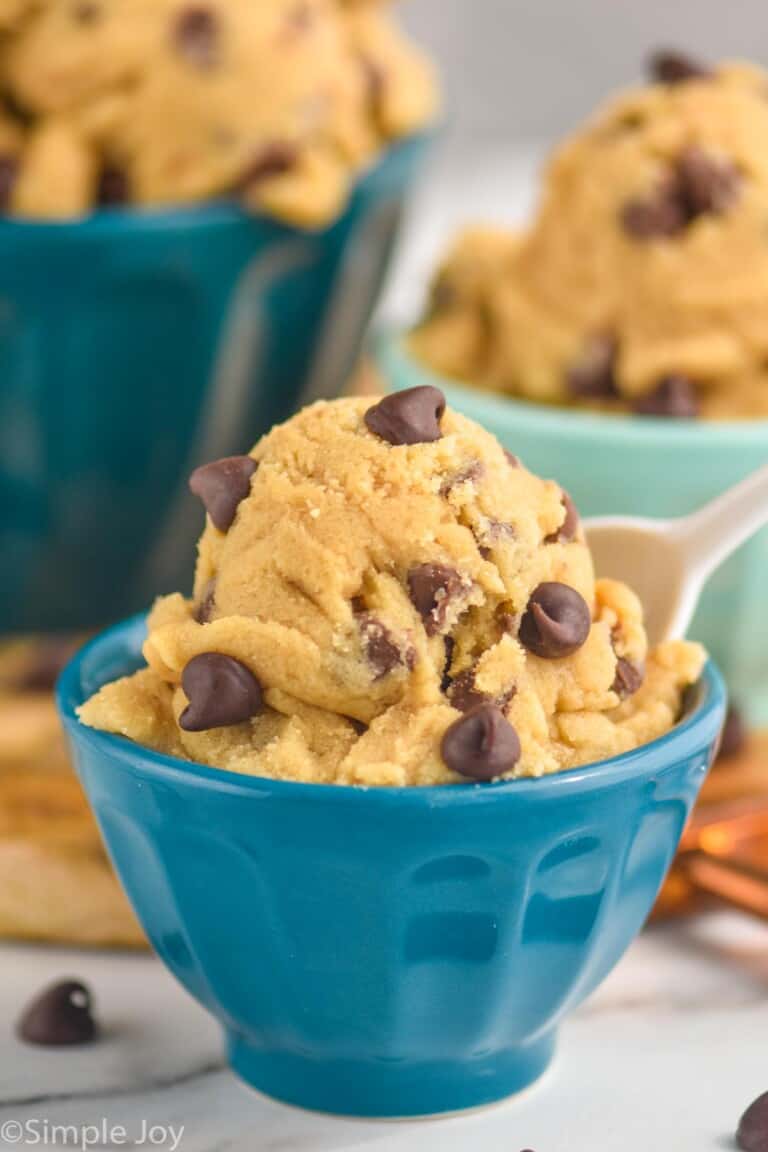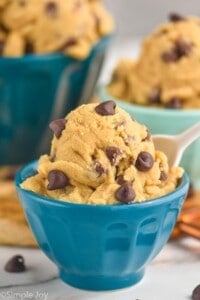 Edible Cookie Dough
Edible Cookie Dough is the easiest and most addictive treat known to mankind. You need to make this simple recipe for a fun indulgent dessert.
Ingredients
1/2

cup

of butter

room temperature

3/4

cups

packed brown sugar

2

cups

all purpose flour

see note

2

teaspoons

vanilla extract

14

ounces

sweetened condensed milk

(I recommend Eagle Brand as it is the most reliable)

1

cup

chocolate chips

(both milk chocolate and semi sweet work)
Instructions
Preheat your oven to 350 degrees. Spread the flour on a rimmed baking sheet and bake for 5 minutes.

While the flour is baking, in the bowl of a large stand mixer, cream the butter and the brown sugar until light and fluffy, about 3 to 6 minutes. Beat in the vanilla.

Slowly add the toasted flour, scraping down the sides as necessary.

With the mixer still running, slowly add in the sweetened condensed milk. You may need to stop the mixer periodically to scrape down the sides.

Once it is fully combined, stir in the chocolate chips.

Enjoy immediately or store in the refrigerator for 4 to 5 days.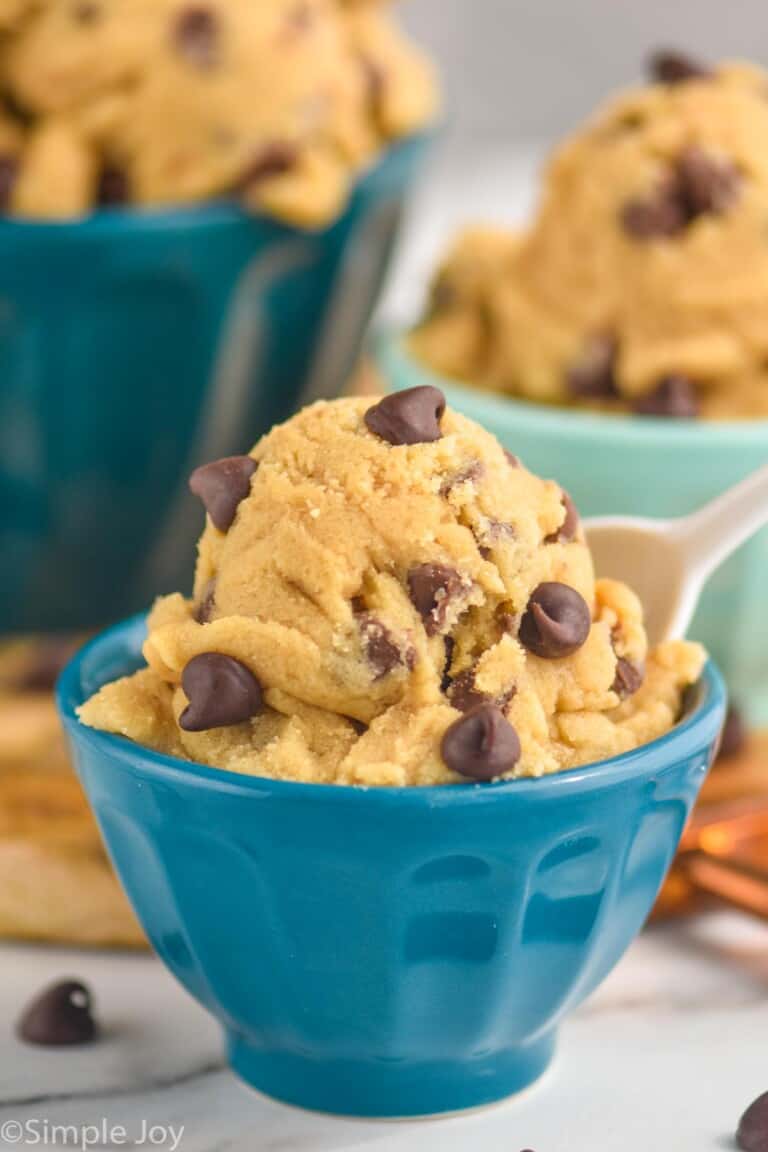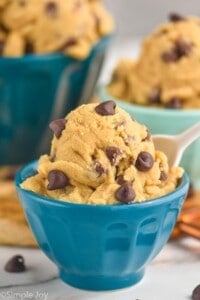 did you make this
Edible Cookie Dough
you might also like . . .