This post was sponsored by Mirum. All opinions are my own.
This Cranberry Orange Coffee Cake is the perfect treat to celebrate the holidays with. Made with simple-to-find ingredients, this easy dessert has the best tastes of the holiday season.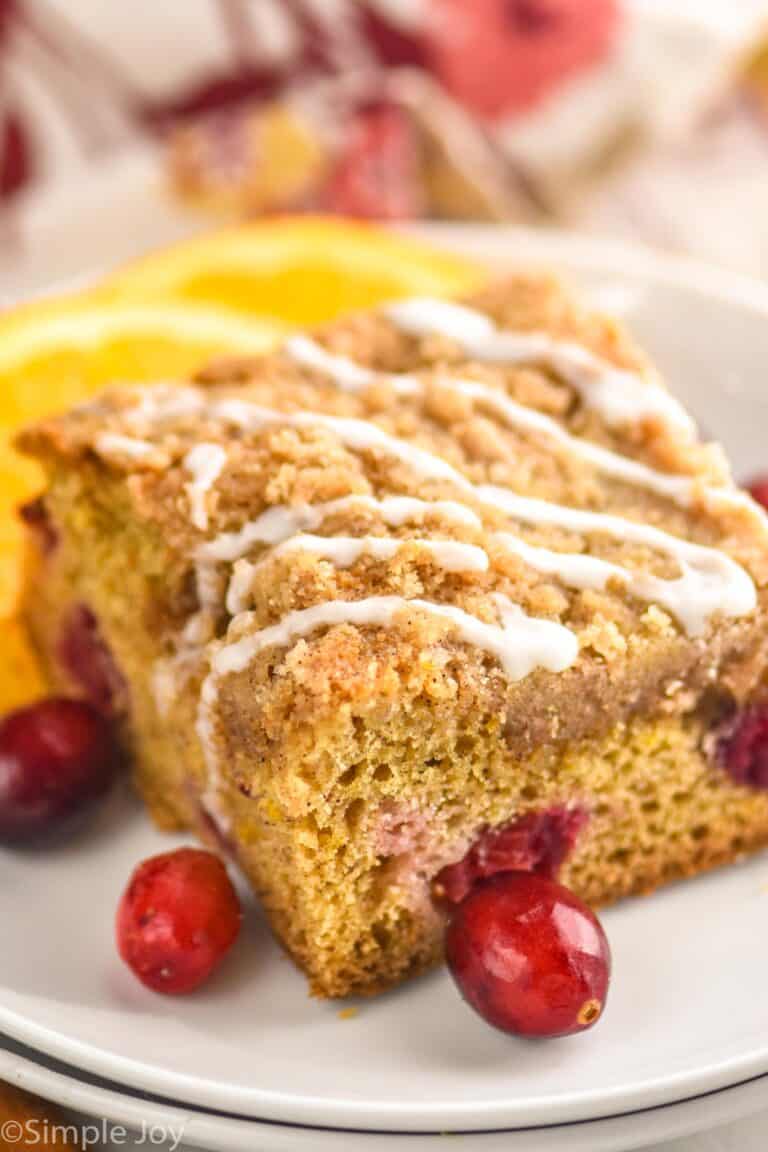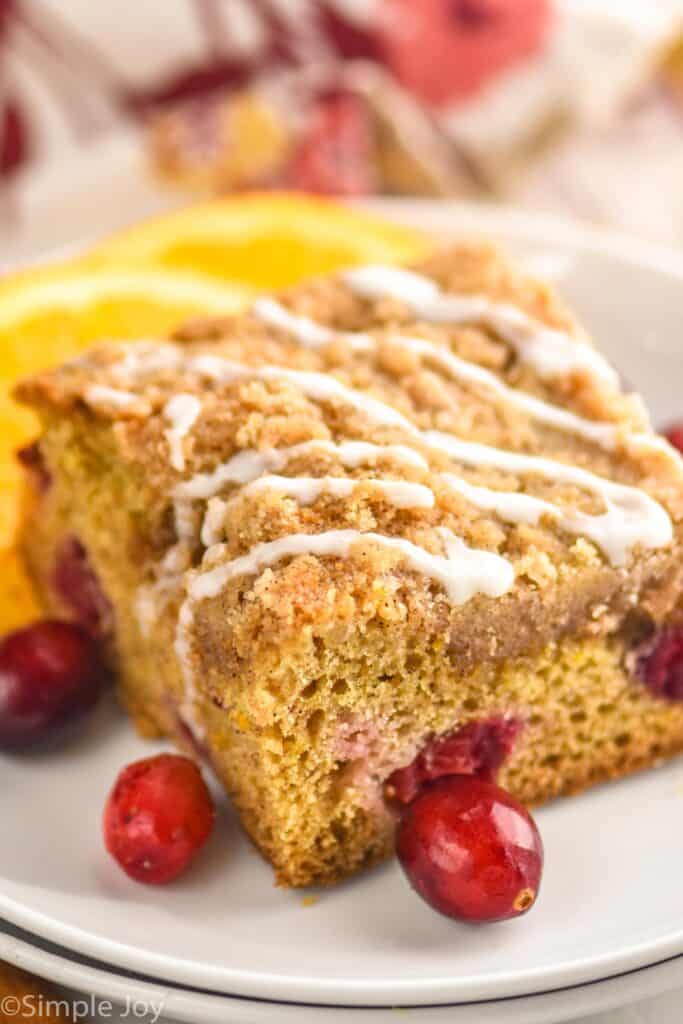 Christmas morning is truly one of my very favorites. Seeing the magic and wonder of the morning through my kids' eyes is a surprise of parenthood that I love.
We always follow up opening presents with a sweet little brunch, just the five of us. Every year I'm on the prowl for delicious foods that I can make the night before that will be perfect for a Christmas brunch.
This Cranberry Orange Coffee Cake totally fits the bill. It is delicious, whispers "Merry Christmas" with every bite, and is perfect to make the night before. The flavors of orange and cranberry work so well in this recipe. However, with those ingredients and the added sour cream, this recipe can trigger my frequent heartburn. If you have frequent heartburn, I suggest you try Omeprazole Orally Disintegrating Tablets* (ODT).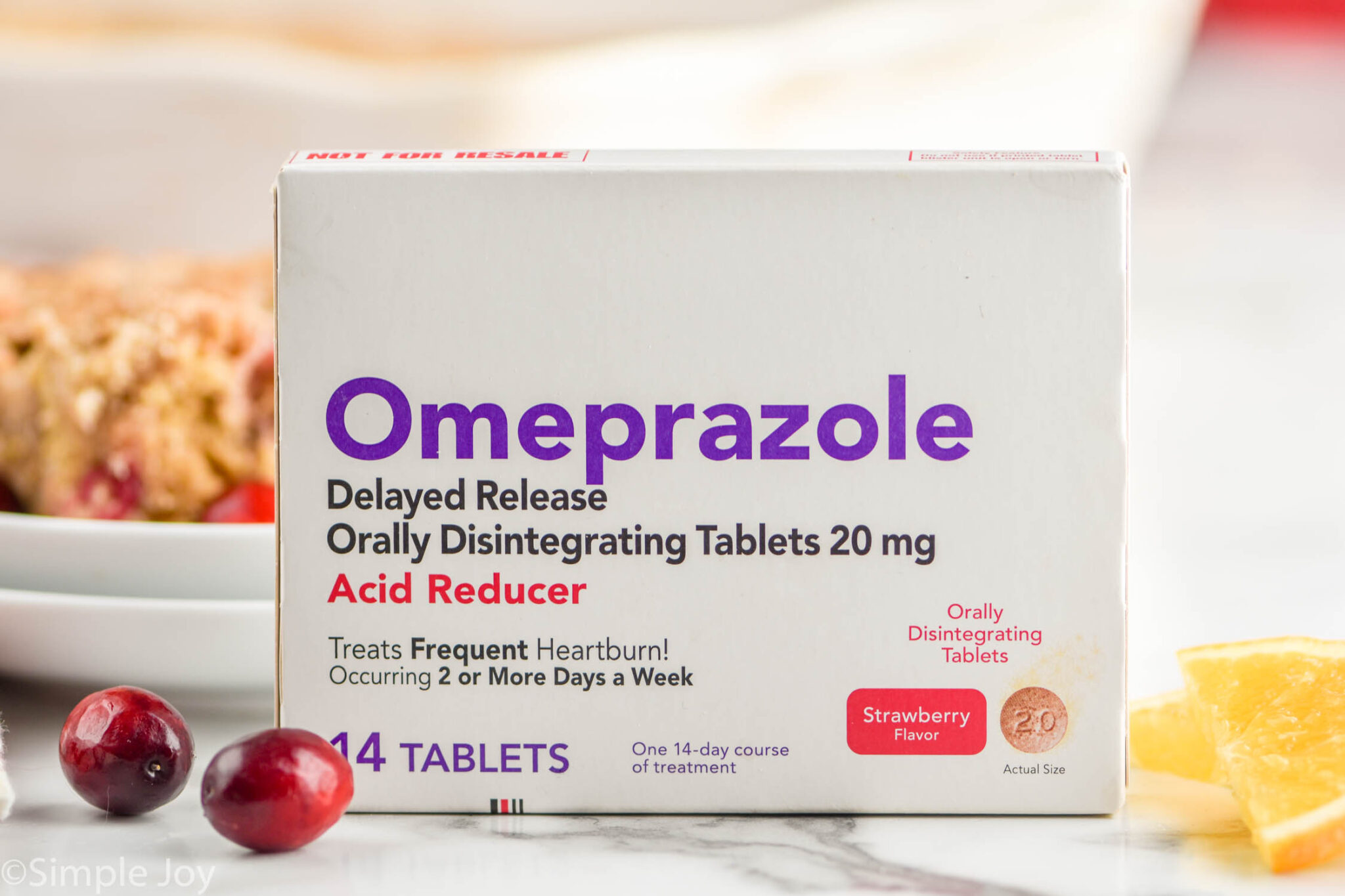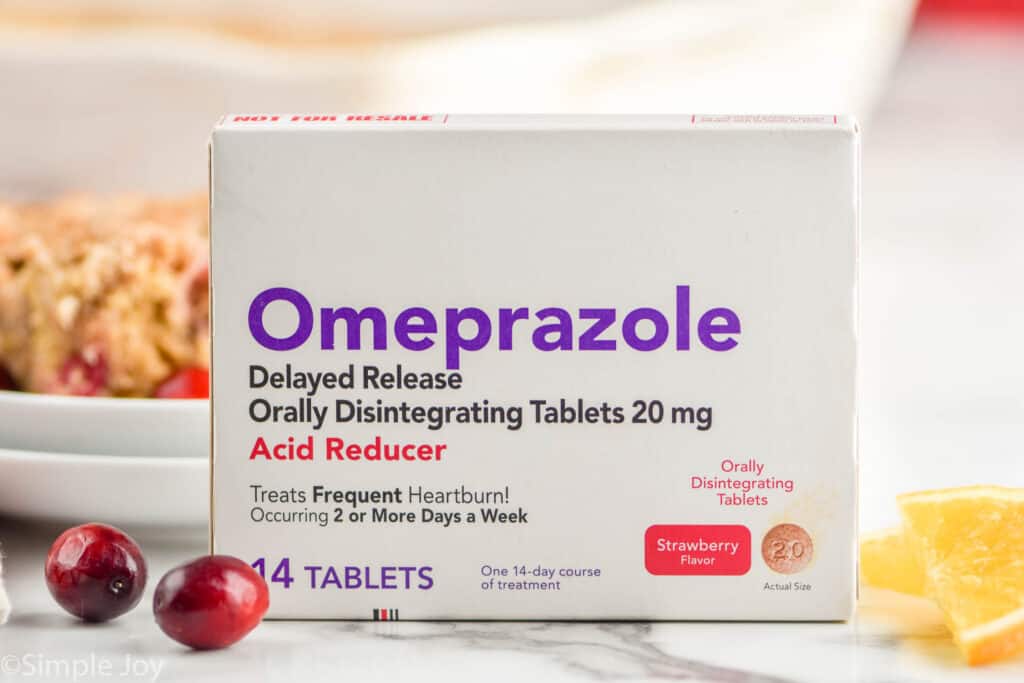 Omeprazole ODT is used to treat the symptoms of frequent heartburn (2+ days a week or more). It has a strawberry flavor and dissolves on your tongue, so you can take them without water. Using Omeprazole ODT is a really good way to be proactive about treating heartburn so you can enjoy amazing treats like this throughout the holidays. Learn more here.
*Use as directed for 14 days to treat frequent heartburn (occurring 2 or more days a week). May take 1-4 days for full effect. Not intended for immediate relief.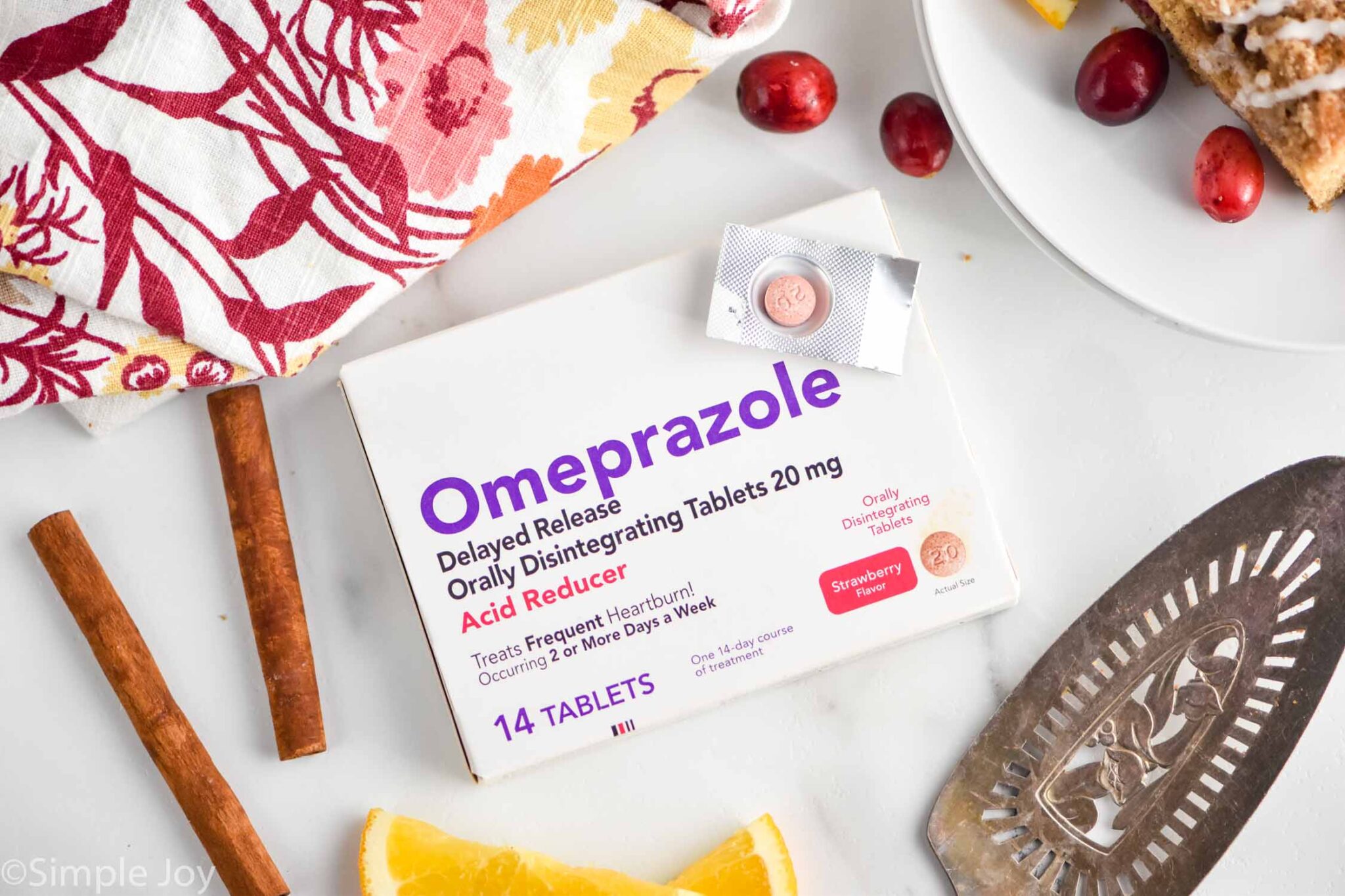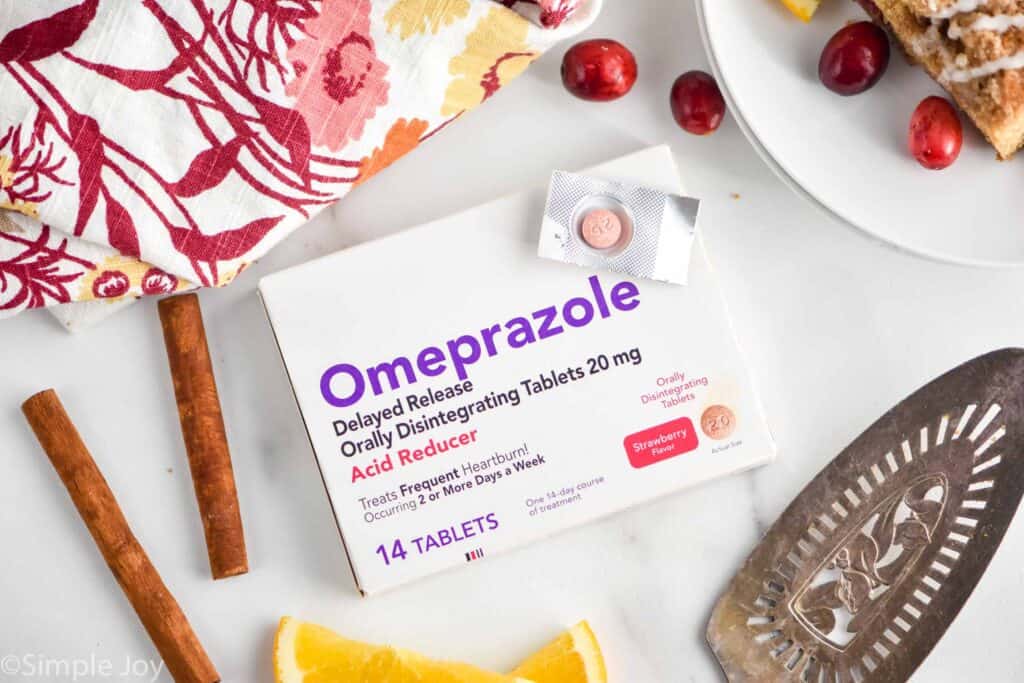 How to Make Coffee Cake
A great coffee cake is a perfect recipe to keep on hand, because you can make so many variations of it. This recipe is no exception.
This is a brief overview of the recipe. For the full recipe and steps, use the recipe card at the bottom of this post.
Make a streusel topping using flour, brown sugar, and cinnamon and then cutting in cold butter.
Whisk together the dry ingredients for the cake – flour, baking powder, baking soda, salt, and cinnamon.
Beat together butter and sugar. Then add in eggs, vanilla, orange zest, and sour cream one at a time.
Beat the dry ingredients into the wet ingredients. And stir in the cranberries.
Pour the batter into a pan and the streusel topping.
Bake and top with a powdered sugar milk icing if you like!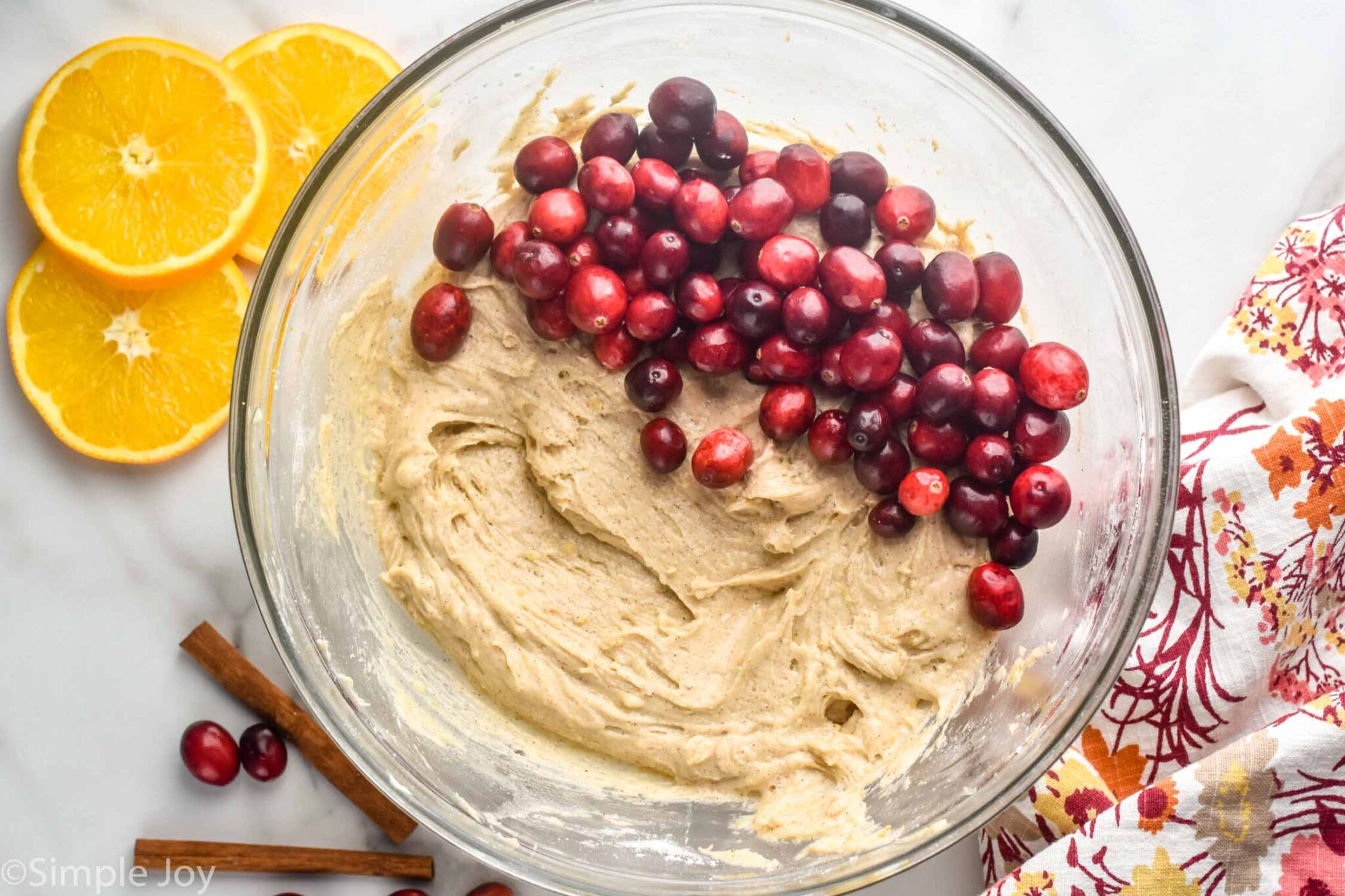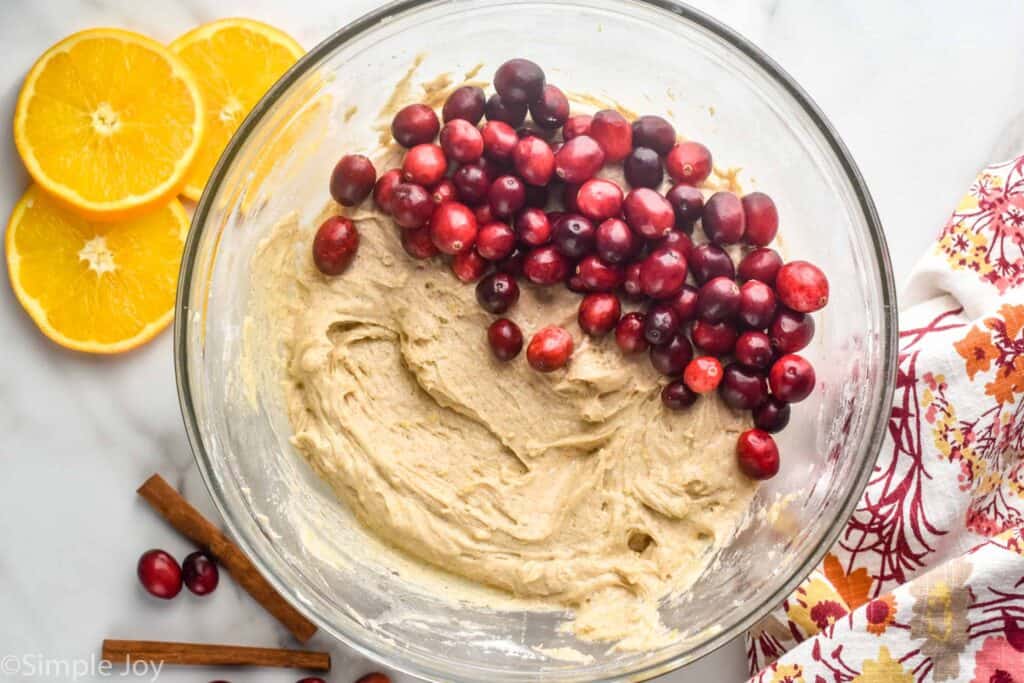 Tips and Tricks for Coffee Cake
There are a few things that will ensure that this recipe turns out perfect for you every time.
Ensure that your baking soda and baking powder are still reactive. You can test the baking soda by combining it with vinegar and the baking powder by adding it to water. Both should bubble right away. If they don't, replace them.
Make sure the butter for the streusel topping is cold.
The butter for the cake batter should be room temperature. You should be able to dent it easily with your finger, but not push your finger all the way through.
The eggs should be room temperature as well. You can place them in a bowl of lukewarm water for five minutes to bring them to room temperature quickly.
Make sure you measure the flour correctly. Scoop it from the container using a spoon into a dry measuring cup and then level it off.
Measuring Flour
As mentioned above, measuring flour correctly is critical to recipes. Follow these steps and you will have the correct amount for my coffee cake recipe and all of my great cookie recipes.
Use a dry measuring cup (these are the plastic ones, not the glass ones with the lines).
Using a spoon, scoop the flour from the container or flour bag into the measuring cup.
Finally, level the measuring cup off with the straight edge of a spatula.
By measuring flour this way, you avoid packing it. Packing flour, when measuring right from the container it is kept in, can result in 25% more flour. This can really change the outcome of a recipe.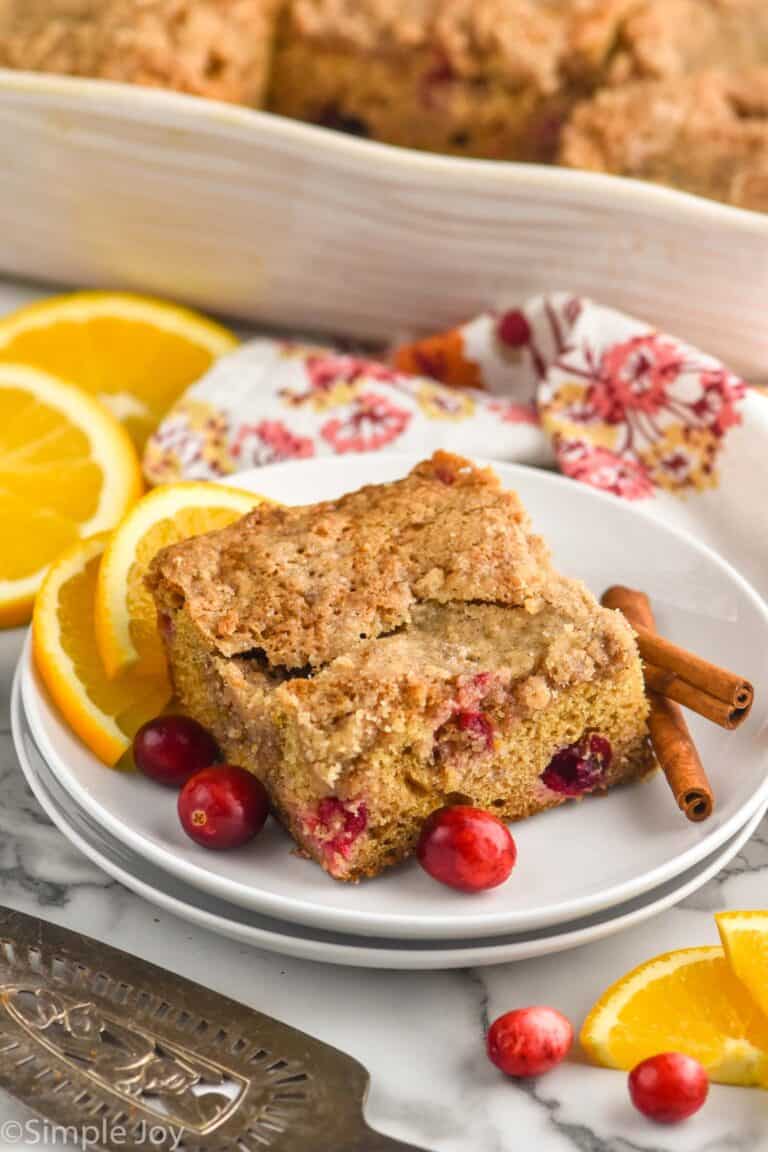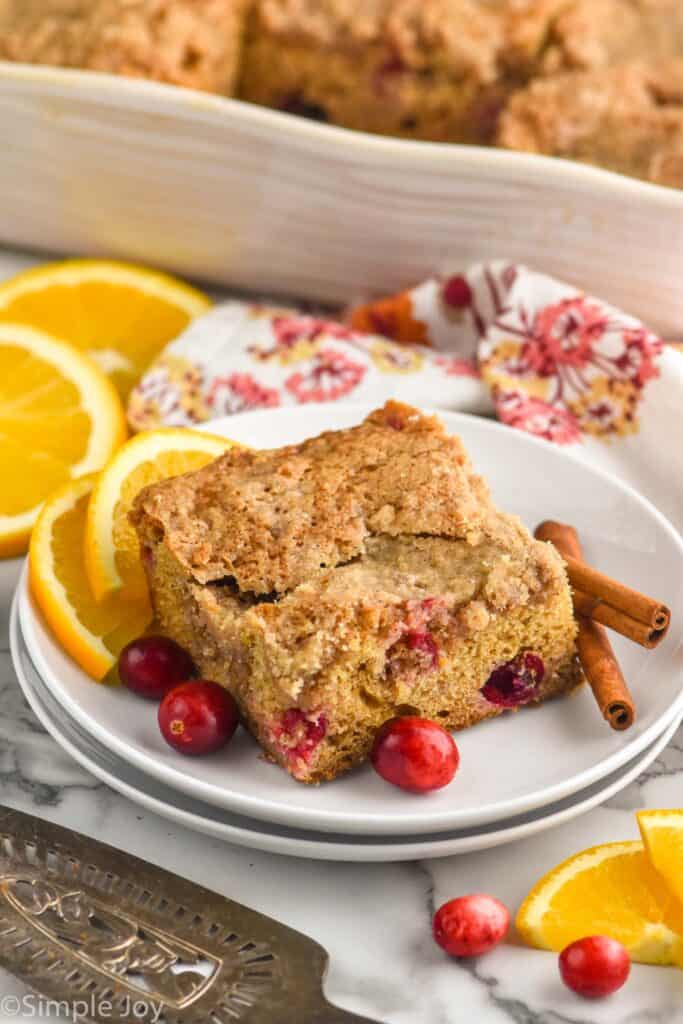 Sifting Ingredients
You will notice in the video that I sift the flour mixture. I have found that this is a great way to ensure that the baking soda and baking powder are well distributed, which means a more successful cake.
If you don't want to sift your dry ingredients, make sure to whisk them very well.
CRANBERRIES
This recipe calls for cranberries. They bring an amazing flavor to this holiday coffee cake. You can use either fresh or frozen cranberries. Both will become tender and delicious inside the coffee cake. If you use frozen cranberries, do not thaw them before using them in this recipe.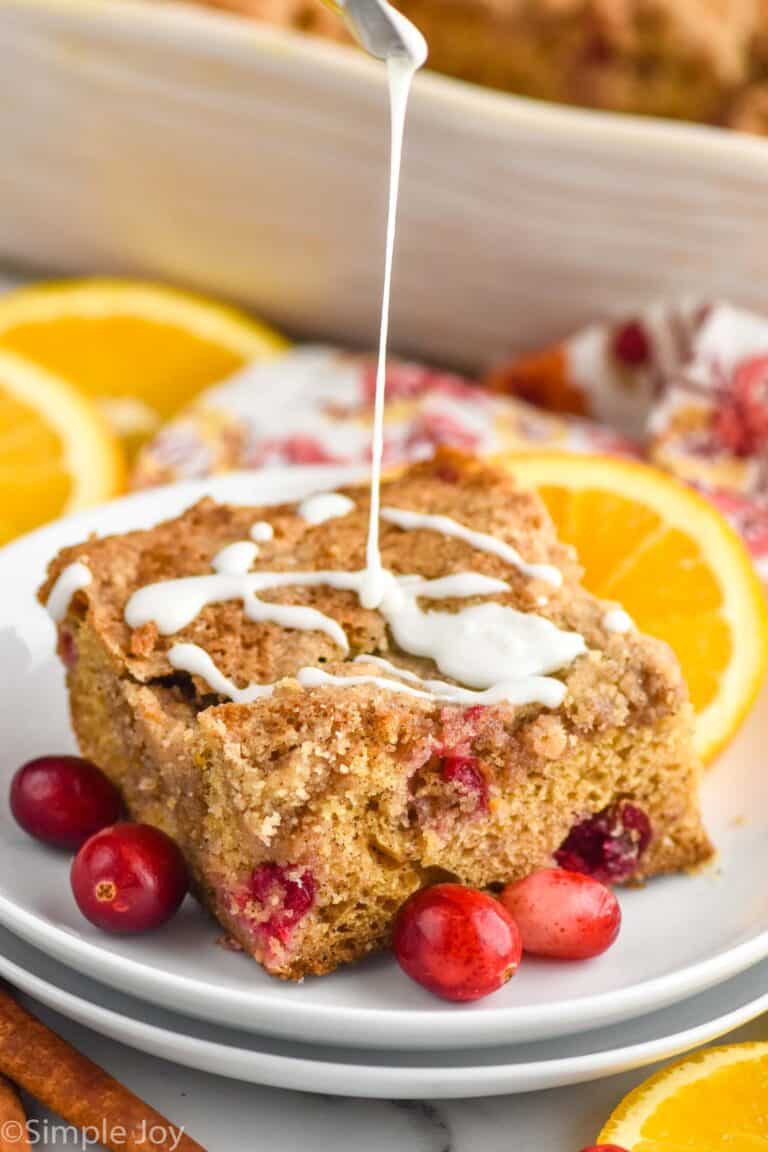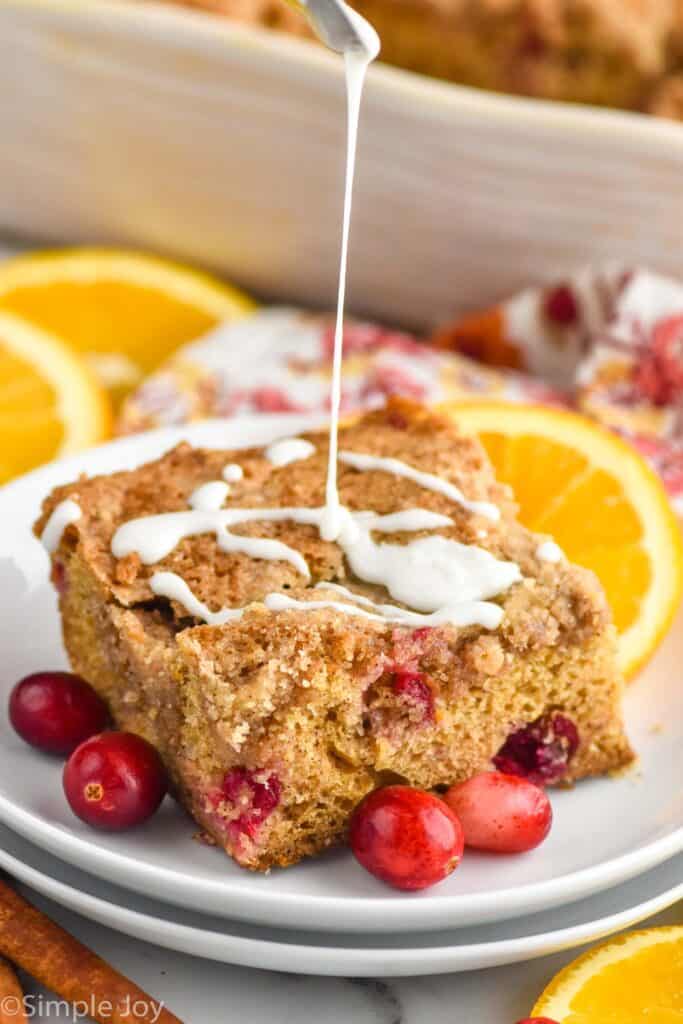 other recipes for christmas morning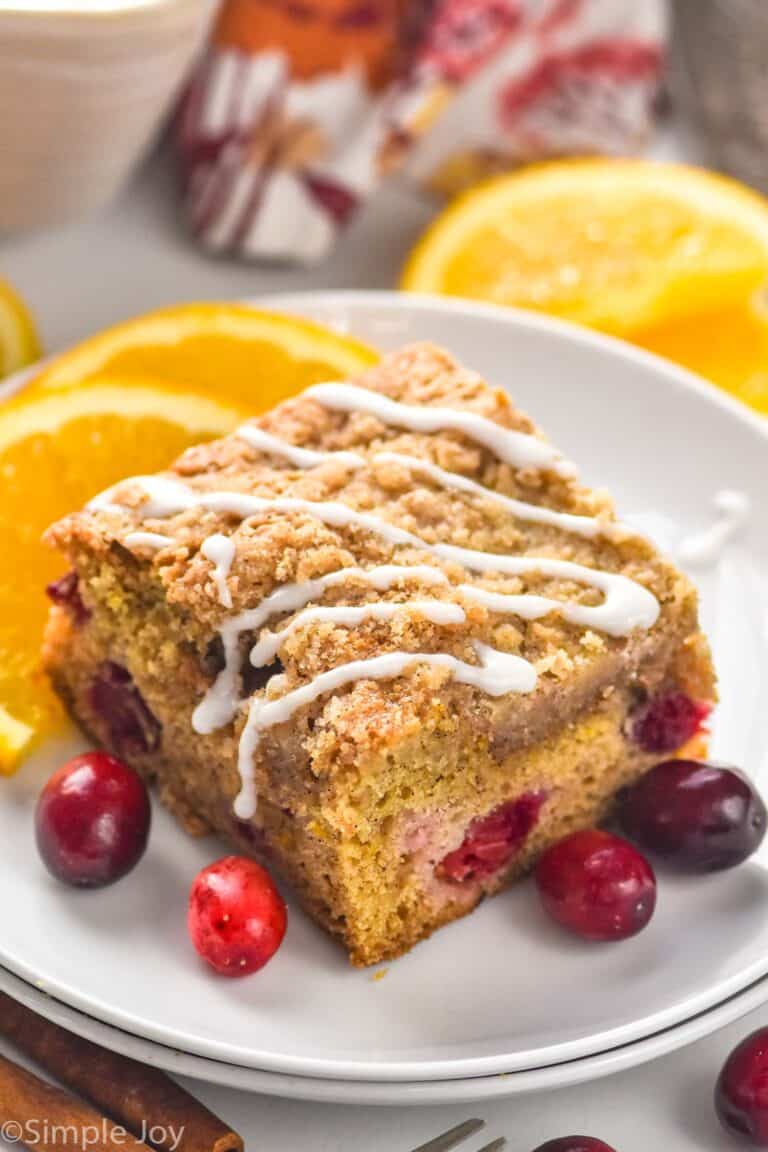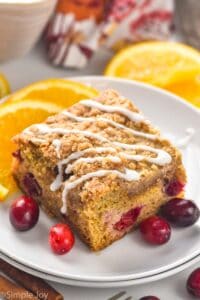 Cranberry Orange Coffee Cake
This Cranberry Orange Coffee Cake is the perfect treat to celebrate the holidays with. Made with simple to find ingredients, this easy dessert has the best tastes of the holiday season.
Ingredients
Streusel Topping
1

cup

brown sugar

packed

2/3

cup

all purpose flour

1

teaspoon

cinnamon

8

tablespoons

unsalted butter
Cake
2

cups

all purpose flour

scooped and leveled

2

teaspoons

baking powder

1

teaspoon

baking soda

1

teaspoon

cinnamon

1/2

teaspoon

salt

1/2

cup

unsalted butter

room temperature

1

cup

granulated sugar

2

eggs

room temperature

2

teaspoons

vanilla extract

3/4

cup

sour cream

1

teaspoon

orange zest

1

cup

whole cranberries

fresh or frozen (if using frozen, do not thaw first)
Icing
1/2

cup

powdered sugar

2

tablespoons

milk

(more as needed)
Instructions
Preheat the oven to 350 degrees. Spray a 9 by 13 inch baking dish generously with cooking spray. Set aside.
To Make Streusel Topping
In a small bowl, whisk together the dry ingredients for the streusel topping – 1 cup packed brown sugar, all purpose flour, and cinnamon.

Using a pastry cutter or a fork, cut the butter into the dry ingredients until the mixture is crumbly. Set aside.
For the Cake Batter
In a large bowl whisk together the flour, baking powder, baking soda, cinnamon and salt. Set aside.

In a stand mixer fit with the paddle attachment or in a large bowl using a hand mixer, beat the butter and granulated sugar together until light and fluffy, about 3 to 6 minutes.

Add in the eggs, one at a time. Now beat in the vanilla extract. Scrape down the sides, and beat in the sour cream and orange zest until the mixture is smooth and combined. Scrape down the sides again.

Add in the flour mixture, beat on a low for a few moments until you are able to beat on high until the mixture is just combined. The batter will be thick and sticky. Stir in the cranberries.

Pour the batter into the prepared pan. Add the topping and bake for 40 to 45 minutes or until a toothpick inserted int the middle comes out with just a few crumbs.
For Icing
Before serving, whisk together the powdered sugar and milk. If necessary, add a little more milk until the mixture is runny. Drizzle over the coffee cake.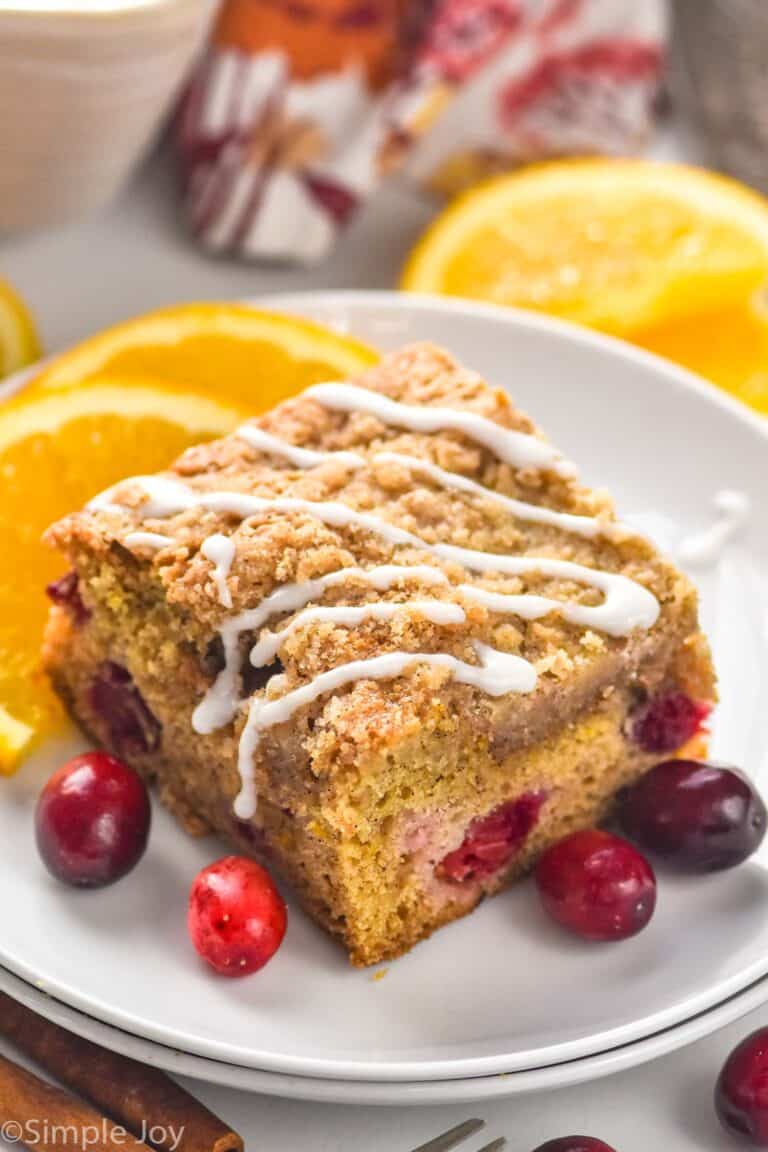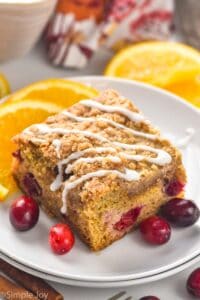 did you make this
Cranberry Orange Coffee Cake