French Toast Casserole makes the perfect brunch recipe. You can even make it the night before and throw it in the oven the next morning. Everyone will ask for seconds!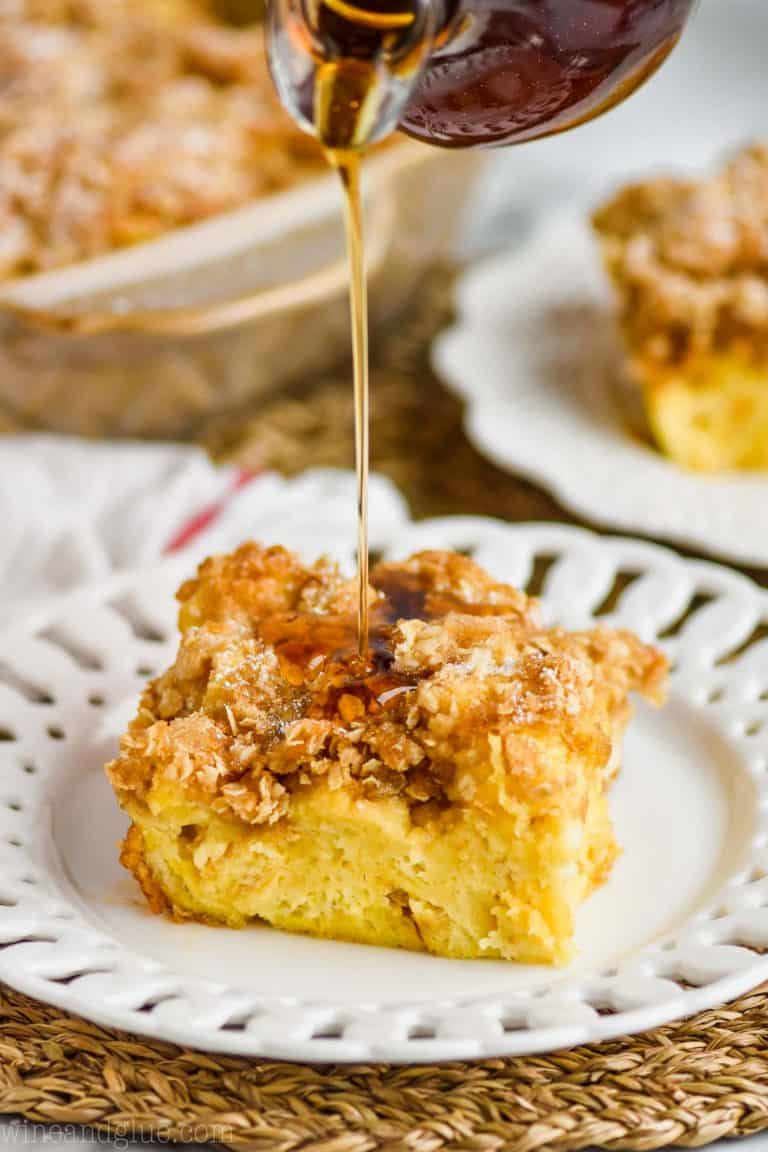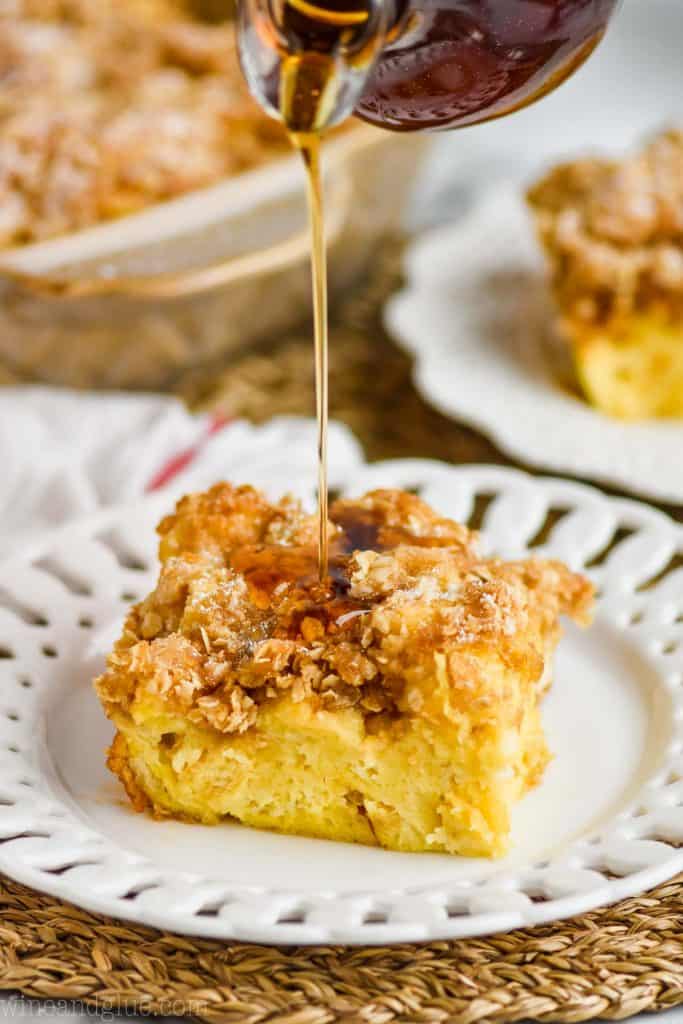 This French Toast Casserole is basically magical. It comes together with minimal ingredients, it can be made overnight, and it tastes like heaven on a plate. It is the perfect recipe for a holiday brunch, but if you wanted to make it every single weekend, I would not judge you.
Reader Review
Oh my goodness, Lisa!!! Another easy and delicious recipe. Definitely a keeper!
How to Make Baked French Toast Casserole
This is a brief overview of how to make this delicious recipe. For the full recipe with all of the measurements, see the recipe card at the bottom of the post.
Dry the bread. Just like in regular French Toast, dry bread is the key. Read more about how to do this below.
Combine the wet ingredients. In a large bowl whisk together the eggs, whole milk, and vanilla.
Make the streusel topping. Combine the butter, oats, and brown sugar. You can read more on this below.
Add the bread to the egg batter. Make sure that the bread is fully covered by the mixture.
Put it all together and bake. Pour the bread and egg mixture into a greased baking dish. Top with the streusel and bake. Serve and enjoy.
Drying Bread for French Toast Casserole
Drying bread before making French toast or bread pudding is key to helping the bread soak up the egg batter. The drier it is, the more it can soak it up.
You can dry out the bread by cutting it up and setting it out overnight. Or you can pop it in the oven for 30 minutes. If you put it in the oven, make sure to flip it once during baking so that it is dried out all around.
What type of Bread to Get
My favorite type of bread to make this French Toast Casserole recipe is French Bread. I like buying a 16 ounce loaf from the grocery store. Once it is cut up and dried out, it will give you 10 cups of dry bread cubes, which is perfect for this recipe.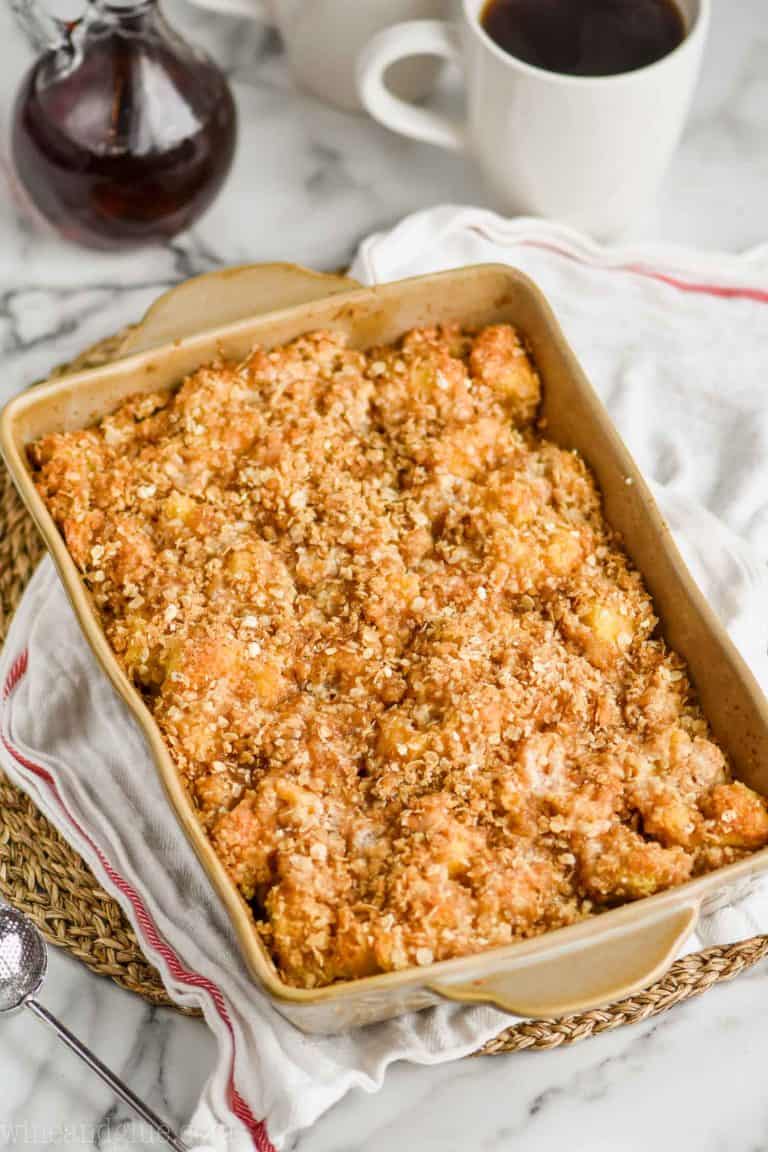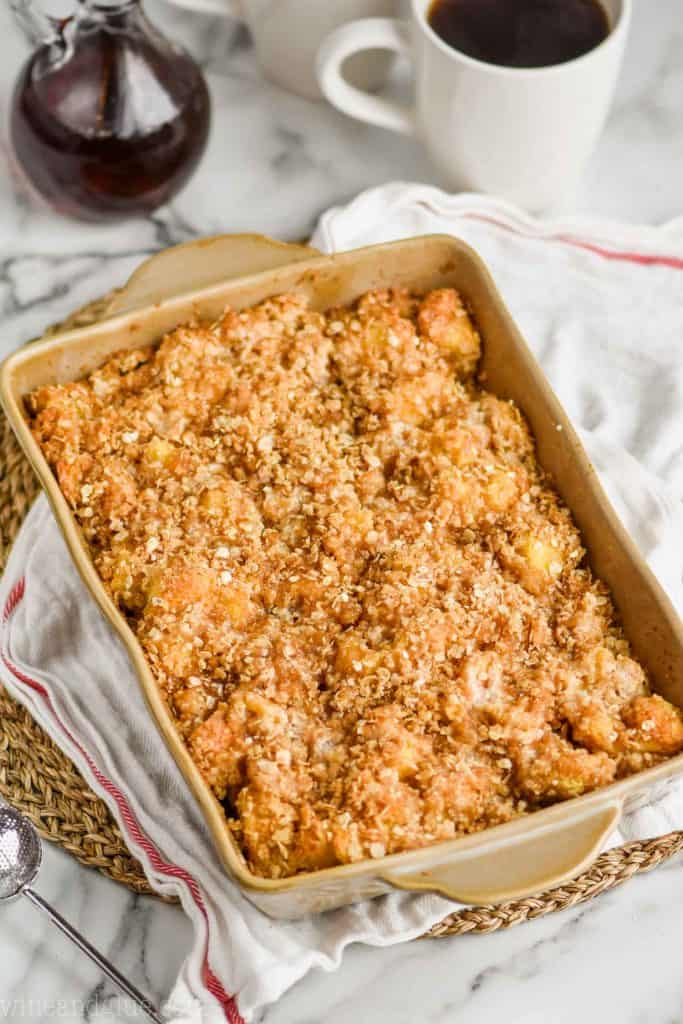 Streusel Topping for French Toast Casserole
One of my favorite parts of this recipe is the streusel topping. Typically streusel is made by combining flour, butter, and brown sugar. In this recipe, we are using quick cooking oats instead of the flour to change things up a bit.
Here are a few tips and tricks:
Make sure the butter is cold. This can make it harder to combine, but it will help it hold up to baking.
If you don't have a pastry cutter, you can use two forks. (See my recommendation below.)
If you would prefer flour over oats, you can replace the 1/2 cup oats with 2/3 cup all purpose flour.
If you only have rolled oats, you can give them a quick chop in your blender to get the consistency of instant oats.
TOP PICK
Pastry Cutter
This is such a great tool to work with, and a great one to keep on hand.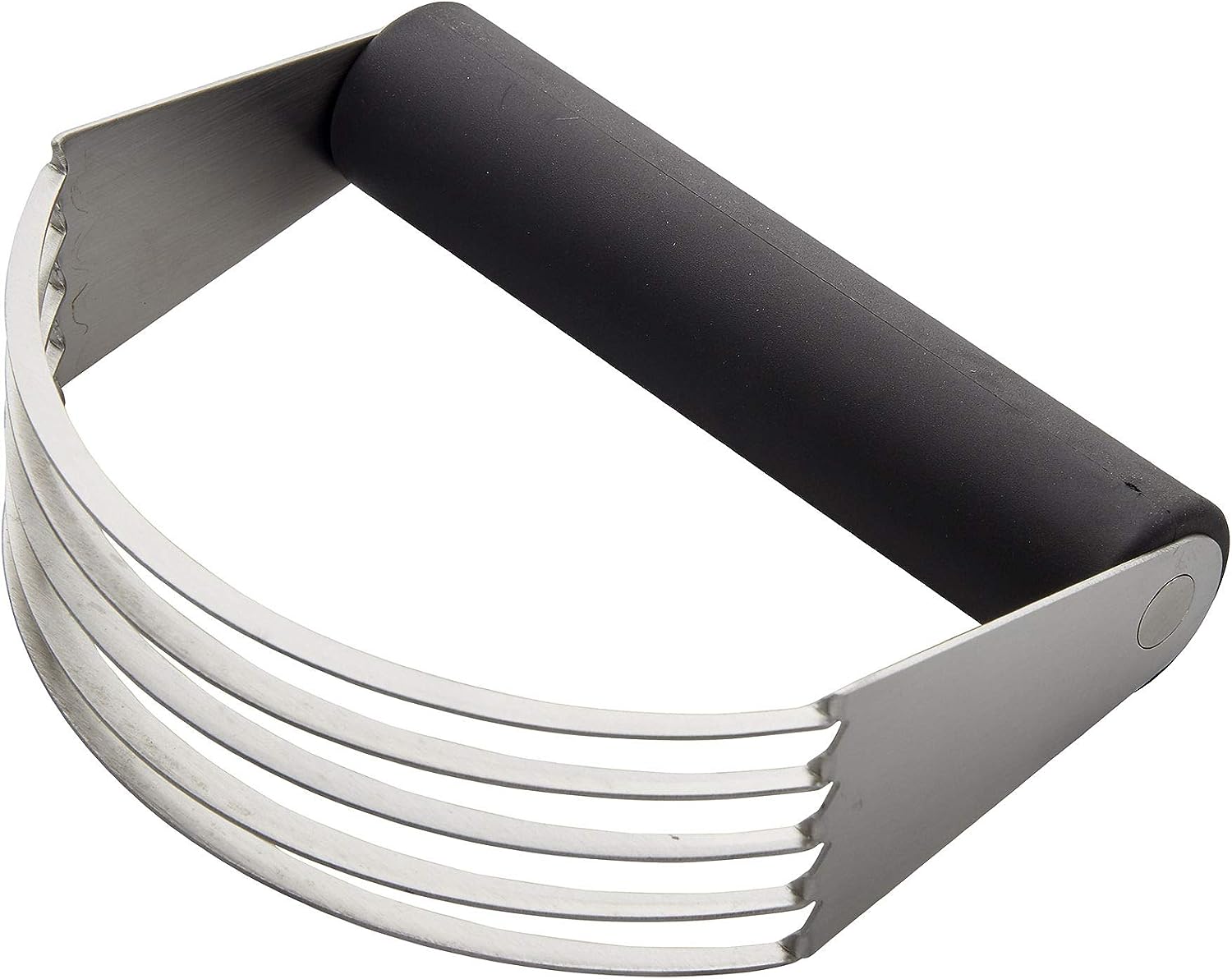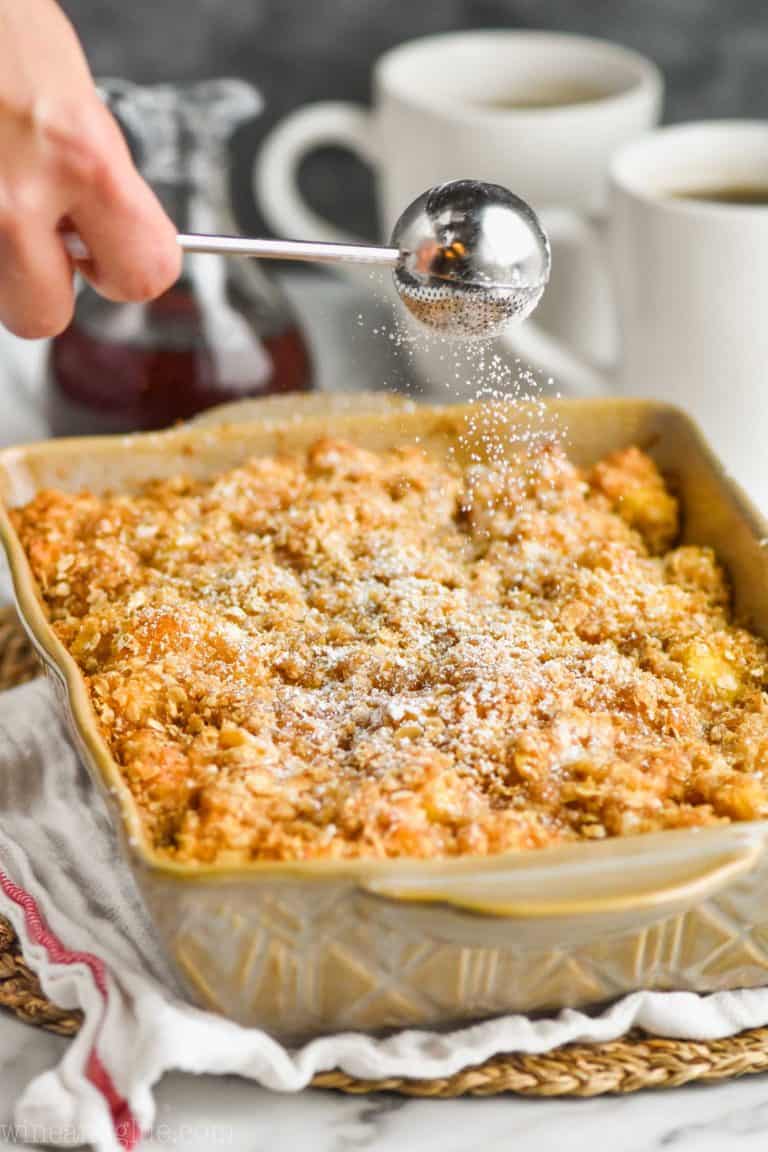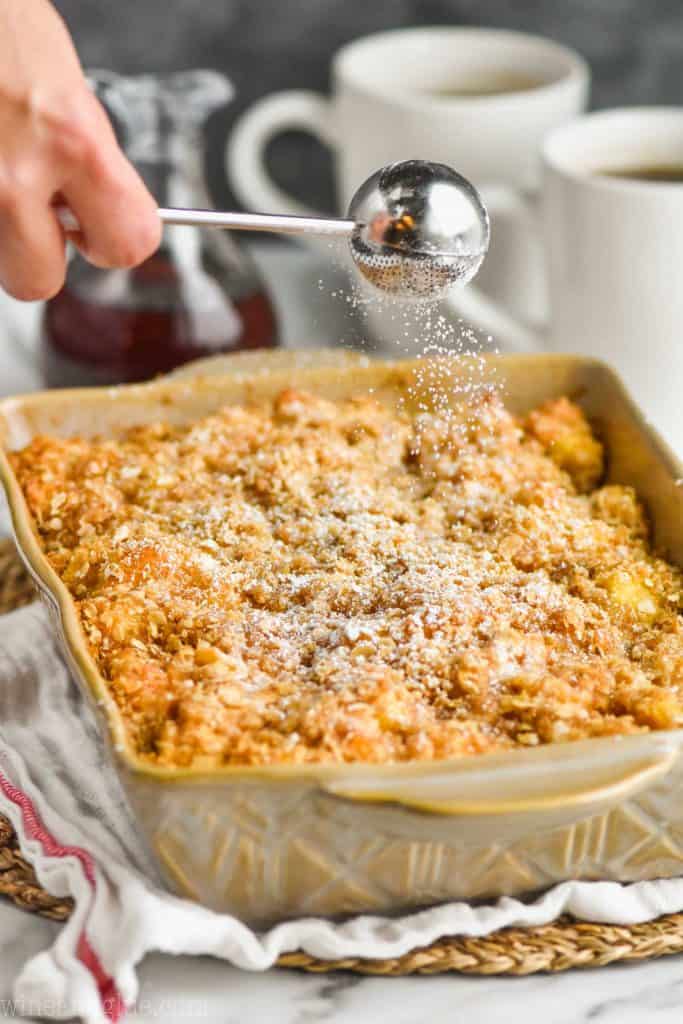 Make the Night Before
It is easy to make this the recipe for French Toast Casserole the night before. Follow these simple steps:
Follow the recipe as written through step three.
Cover the casserole dish and put it in the refrigerator for up to 24 hours.
When ready to bake, make the streusel topping and add it to the casserole.
Bake the French toast casserole uncovered for 40 minutes.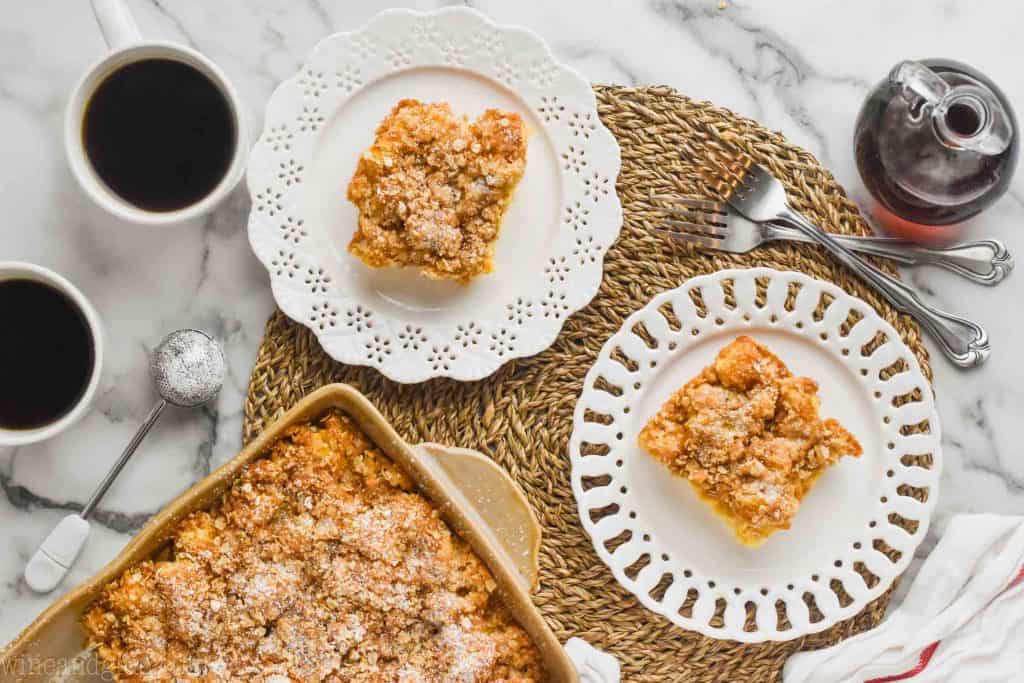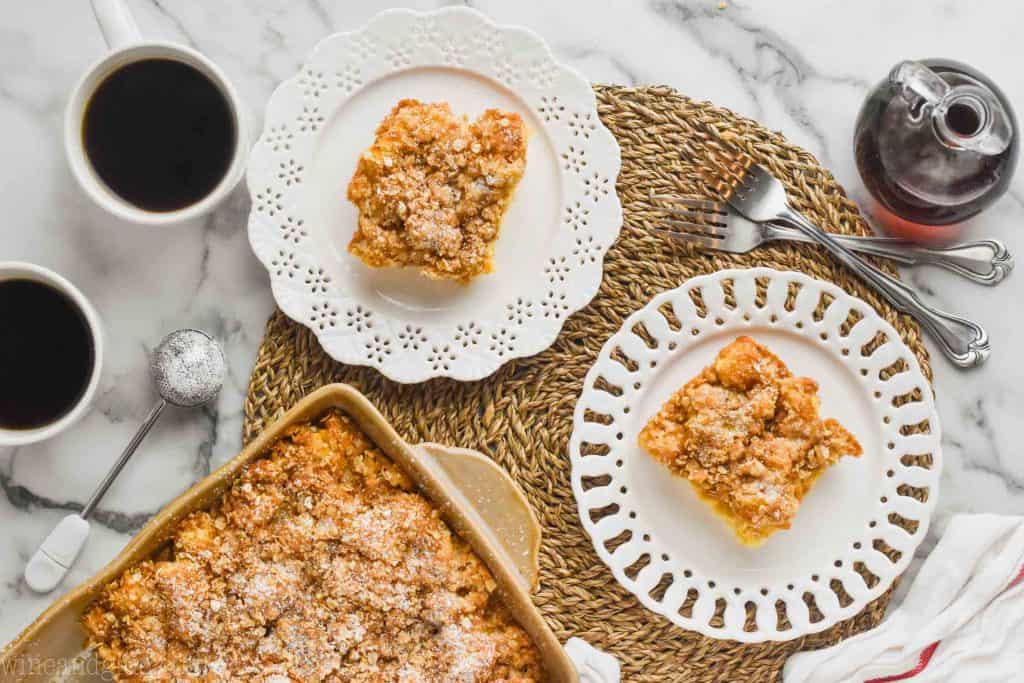 Freezing
If you want to prepare this in advance, you can freeze this French toast casserole after pouring it all in the baking dish. (After you have completed step three in the recipe card below.)
Wrap the casserole dish at least two times with aluminum foil and place in the freezer for up to three months.
Proceed with caution when using glass or ceramic baking dishes. I have had baking dishes shatter when putting them directly from the freezer into the oven. You are better off using an aluminum baking dish if you want to freeze it.
When ready to serve, bake the casserole for 20 minutes at 350 degrees. Then add the streusel topping and bake for an additional 45 minutes.
FAQ
How do you tell if French Toast Casserole is done?
Your casserole – or really any egg bake – is done when it starts to pull away from the side of the baking dish it is in. You can even seeing this happening in the photo below.
Can you use regular bread for French toast casserole?
You can use any bread you like as long as it makes 10 cups of dry bread cubes. I love using French bread for this recipe but challah is another popular choice. You could even use dried croissants.
Can you freeze French toast casserole before baking?
Yes, please see my instructions above on freezing.
Why is my French toast casserole soggy?
The most likely reason is that your bread wasn't dry enough before you combined it with the egg batter. This will keep the bread from soaking up the mixture, leaving excess mixture in the casserole, or sogginess. The other down side to this is that the inside of the individual pieces of bread will be dry rather than full of batter goodness.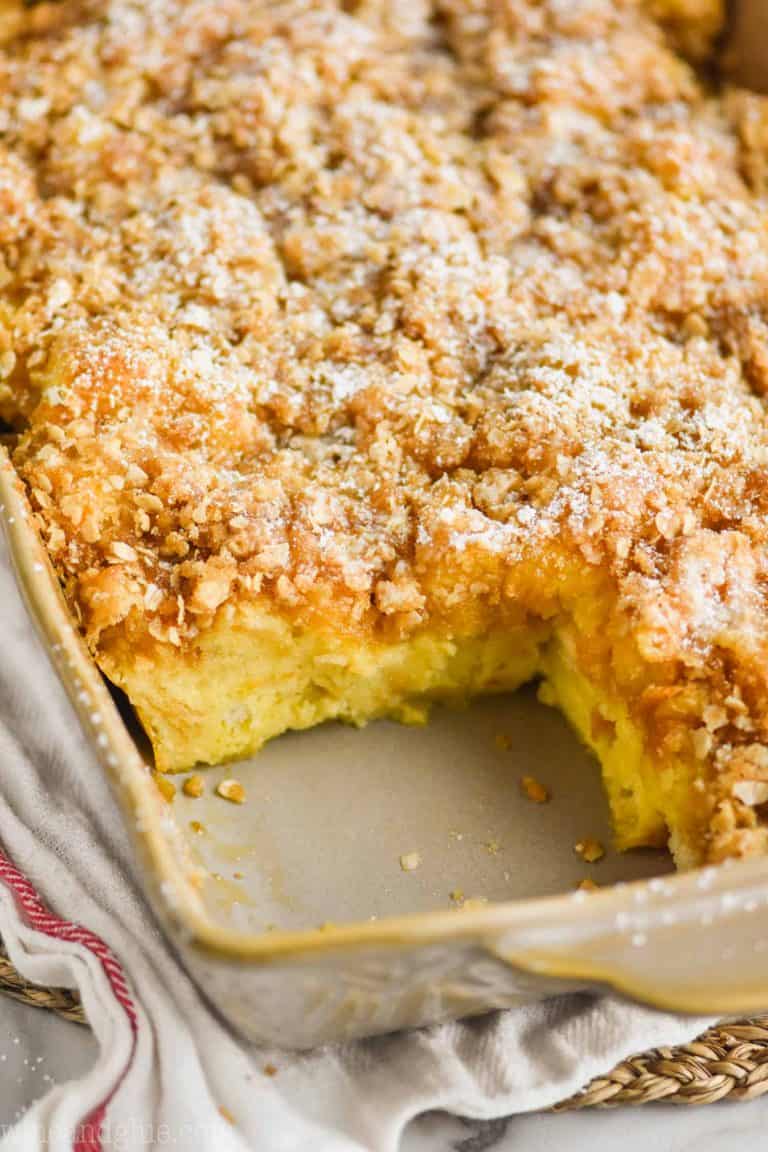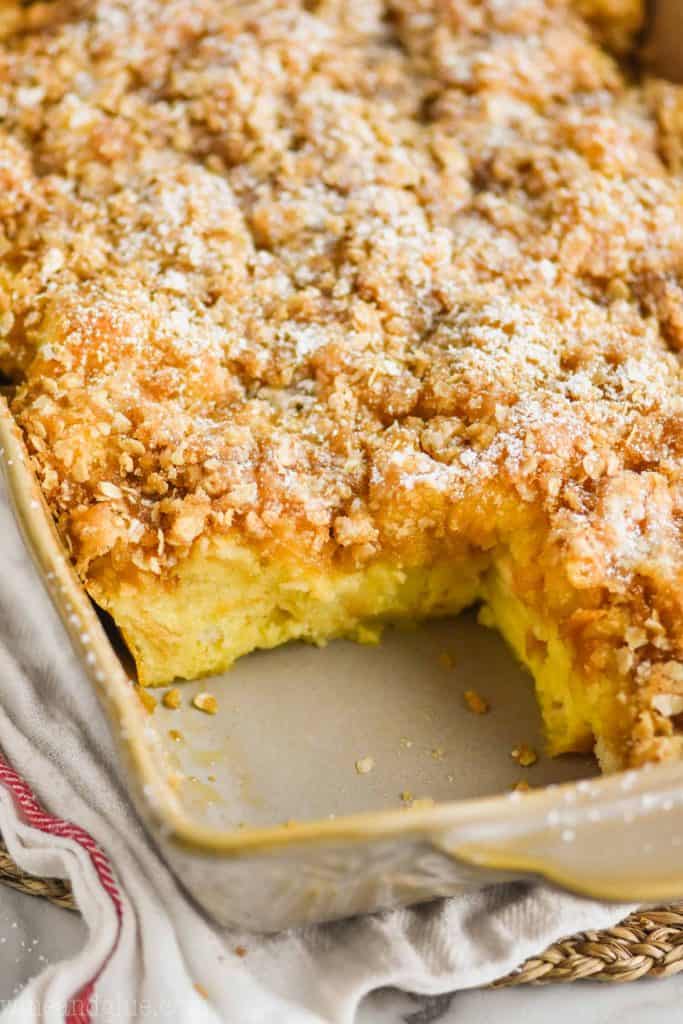 Other Brunch Recipes
Not sure what to serve with this? Any of these ideas would be perfect with this great recipe.
If you make this easy baked French Toast Casserole or any of my other recipes, please let me know! I love hearing from you.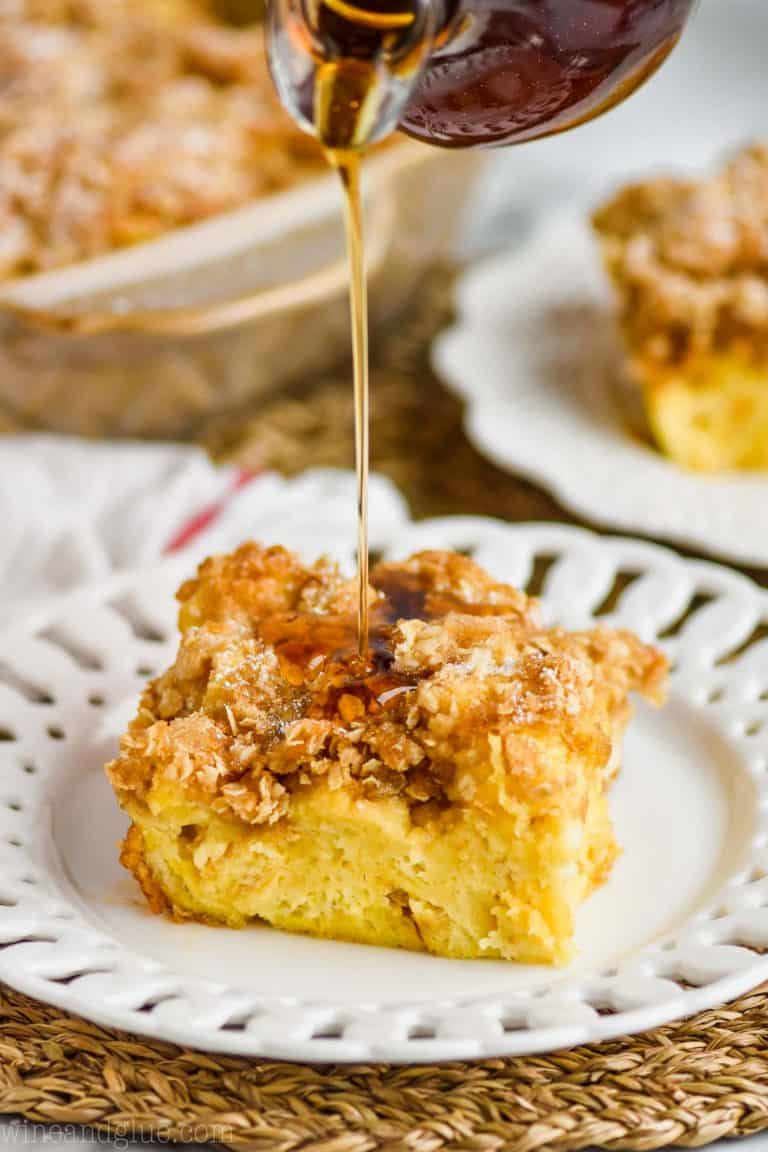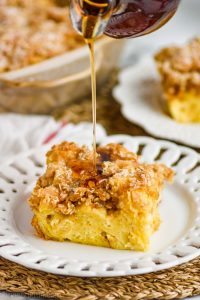 French Toast Casserole
French Toast Casserole makes the perfect brunch recipe. You can even make it the night before and throw it in the oven the next morning. Everyone will ask for seconds!
Ingredients
16

ounces

French Bread

cut into cubes, and dried (see note)

8

eggs

2

cups

whole milk

2

teaspoons

vanilla extract
Topping
1/2

cup

unsalted butter

1

cup

brown sugar

packed

1/2

cup

quick cooking oats
Instructions
Preheat your oven to 350 degrees. Spray a 9 by 13 inch baking dish with cooking spray and set aside.

In a large bowl combine the eggs, milk, and vanilla extract. Whisk until all the eggs are fully broken down and the mixture is smooth.

Toss the egg mixture with the bread until all of the bread is fully coated. Pour the mixture into the prepared baking dish.

In a small bowl, using two forks or a pastry cutter, combine the butter, oats, and brown sugar.

Top with the streusel, and bake uncovered for 30 to 35 minutes or until the casserole begins to pull away from the sides of the baking dish.

Cut, serve, and enjoy with powdered sugar and syrup.
Notes
You are looking for approximately 10 cups of dried bread cubes. If you buy a 16 ounce loaf of French bread, cut it into cubes and dry over night, you can use all of that. You can also put the fresh soft cubes onto parchment lined baking sheets and bake for 30 minutes at 250 degrees (toss half way through baking) and use right away.
Calories:
482
kcal
(24%)
Carbohydrates:
63
g
(21%)
Protein:
15
g
(30%)
Fat:
20
g
(31%)
Saturated Fat:
10
g
(63%)
Polyunsaturated Fat:
1
g
Monounsaturated Fat:
4
g
Cholesterol:
222
mg
(74%)
Sodium:
451
mg
(20%)
Potassium:
192
mg
(5%)
Fiber:
2
g
(8%)
Sugar:
31
g
(34%)
Vitamin A:
131
IU
(3%)
Calcium:
97
mg
(10%)
Iron:
15
mg
(83%)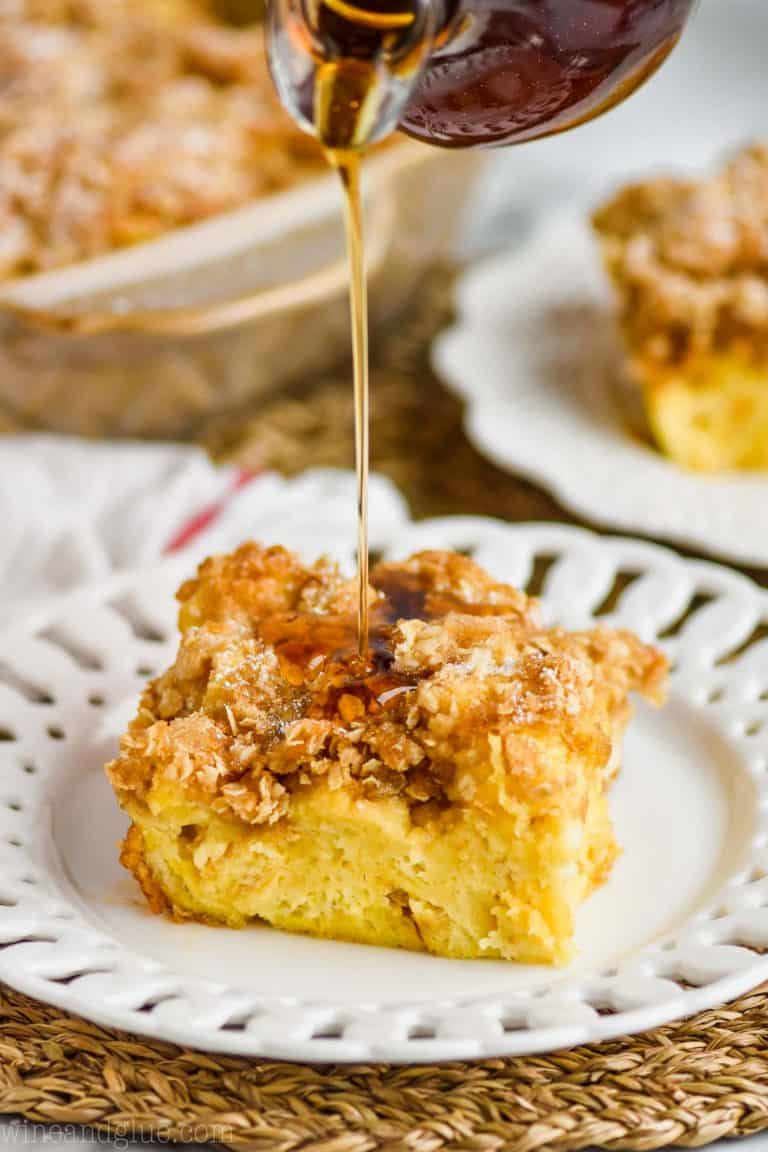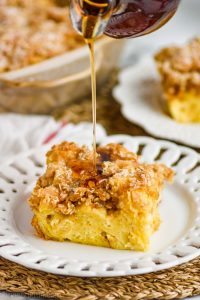 did you make this
French Toast Casserole